Welcome to our guide on staging a home office including the best ideas & tips to help sell your home.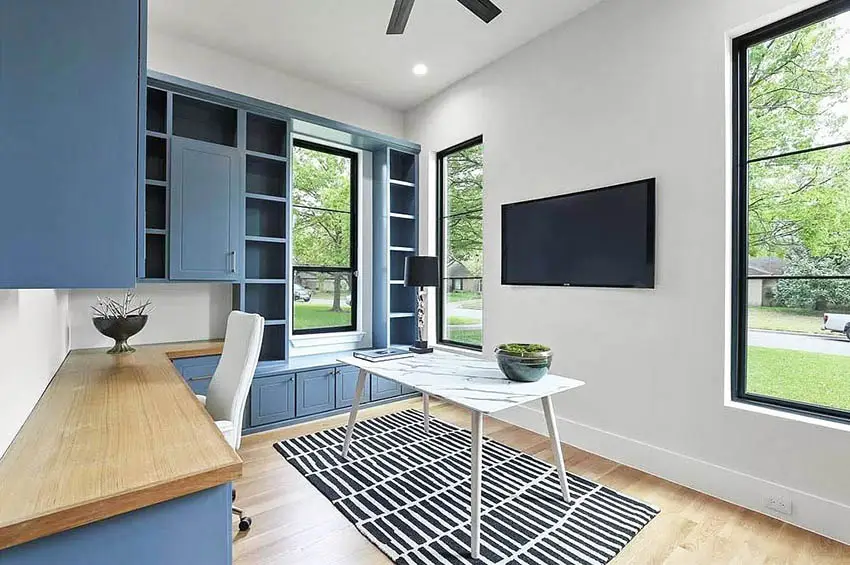 When selling a home, staging is referred to as the process of decluttering, decorating, and organizing to show potential buyers the best assets of the home. This preparation helps to sell the home quickly and for the highest possible price.
Part of readying a home to sell is staging a home office. When you have a room to use as a dedicated space for work, personal household tasks, homework, or all three, that room creates an attractive option for many buyers.
To define your home office, a room makeover may be needed. Consider your audience when you begin the task of staging the room. Instead of the kitchen or master bedroom, many buyers want to see the office before other rooms; especially with the changing times and increase in home-based jobs and schooling.
The office should only be set up for that… an office. Having a home office with mixed-use items such as a treadmill or a craft table makes it difficult for interested buyers to see themselves in the room.
Office space to work in at home is not just a work zone, it should also be a quiet and peaceful room to motivate and inspire. Not all business is without a creative side. Read through this informative article to learn about the best ways to stage a home office so buyers will consider purchasing your home over other properties for sale.
Organizing Office Clutter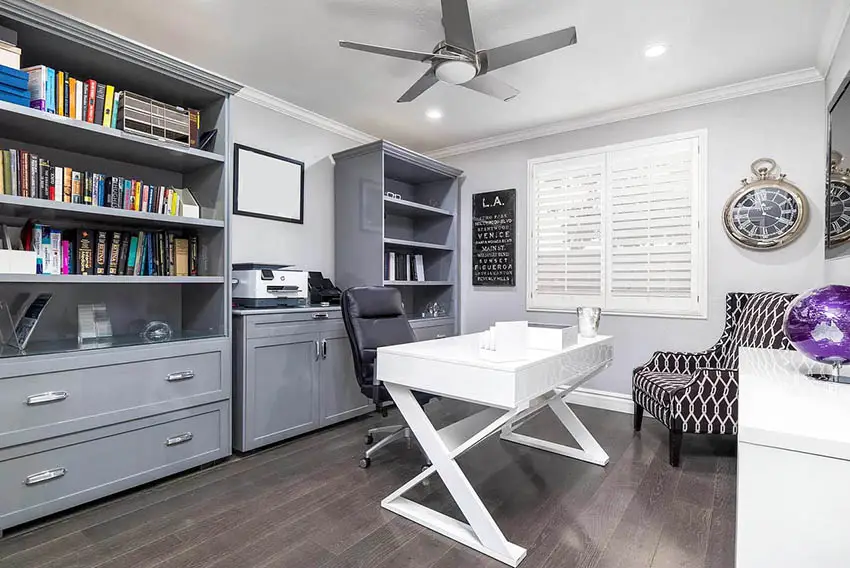 The first thing to do if you have a separate room for use as a home office is to remove clutter by eliminating piles of paper and mail. Go through every sheet of paper and immediately file it in a filing cabinet or shred it and throw it in the recycle bin.
For mail, open each envelope and determine if it's something to be taken care of now or later, and place it in two separate, labeled letter trays. It also helps to have a box ready to put paperwork in if you're not sure what to do with it at the time.
If you're not sure what papers can be thrown out, here is a short list of retention times for common paperwork:
• Utility bills, deposits, and withdrawal records (Store 1 month)
• Bank and credit card statements/pay stubs (Store 1 year)
• Medical bills and health insurance statements (Store 1-3 years)
• Supporting tax documents (Store 3-7 years)
• Tax returns, major financial records, and vital records (Store permanently)
Once the piles of paper are cleared, survey the room for tangled power cords, extra supplies sitting on the floor, and used boxes. For cords, try to organize them in a way that they all go in the same direction and if possible, are hidden from sight.
Supplies are necessary for a home office but can take up precious space. Either stack the supplies in a closet or find another place in your home or garage where they can be stored even temporarily.
Bookshelves tend to be convenient when you're not sure where to place items such as knick-knacks, family pictures, or figurines. Bookshelves should be for books only—and if you want to impress a potential buyer, organize your books by subject.
How to Create More Space in Your At-Home Office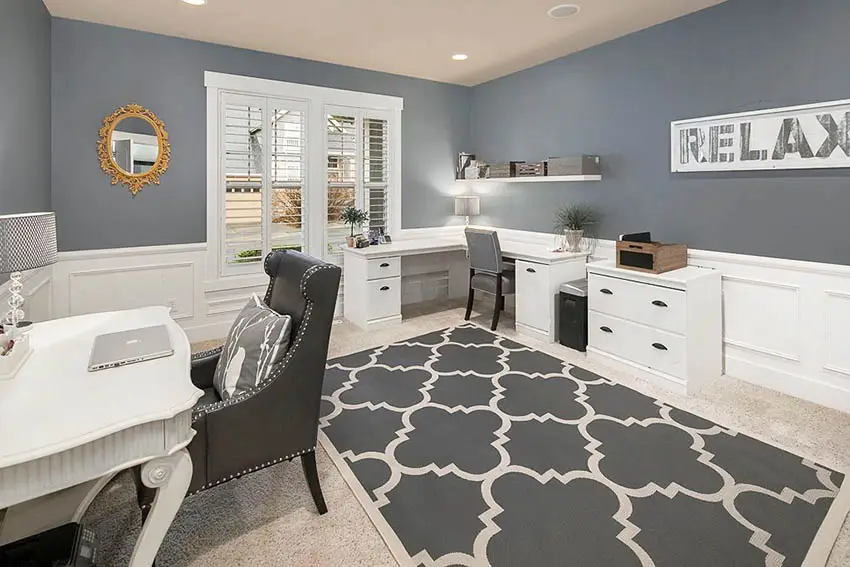 Whether your home office is spacious or a small multipurpose room meant to be a closet or washroom, you can create more space by removing some furniture, downsizing furniture, or simply rearranging furniture. It doesn't have to mean you have to buy a new desk, shelf, or computer station.
The goal is to create the allusion of more space and in doing so you may just create space you didn't realize you had. (See a variety of small home office ideas here.)
Remove any furniture not needed such as the extra dining room chair dragged in by a visiting friend, the end table that serves to only hold a lamp, or the decorative vase with tall twigs and branches. Replace the vase with a floor lamp to light the room without taking up extra space.
If the closet is deep enough, make room to store filing cabinets inside. They can be easily accessed when the door or sliding panels are open.
Hanging storage pockets provide a place for odds and ends and can be suspended from the closet rod. And make use of the top shelf of the closet for some of those supplies you need to get at often. If the closet is organized well, it can be shown off to potential buyers as a great way to store items needed in a home office.
Once things are removed and organized, stand at the doorway and visualize where the furniture can go to create a better working space. A home office will need a computer desk with drawers and room for a computer, bookshelves, and a printer cart or stand.
Be creative; turn the desk sideways and let it face a large calendar or day planner hanging on the wall in front of it. This creates a workstation that allows more space to be used for shelves and cabinets. Keep it functional but allow for walking space.
Set Up a Dedicated Workspace for Your Office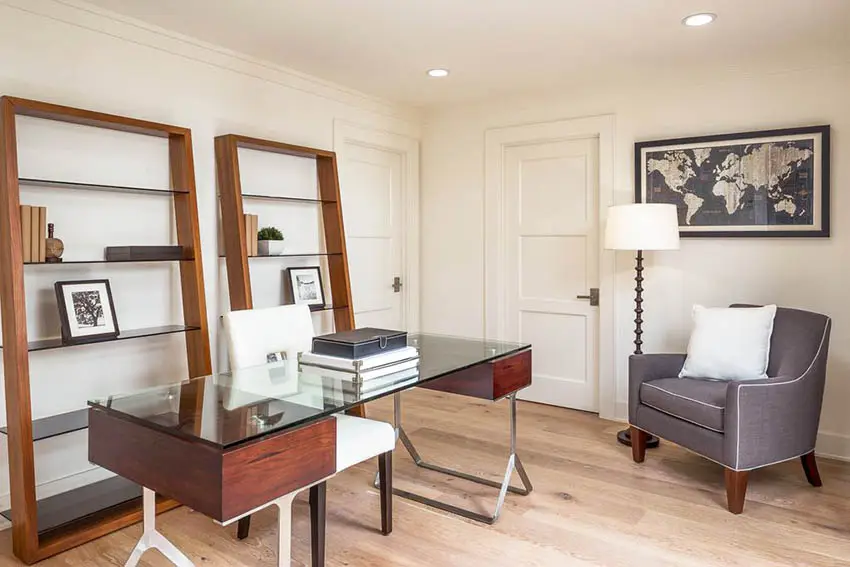 The main purpose of a home office is a space for homeowners to work, handle paperwork, go over homework with children, or have a place for themselves to study. If possible try to avoid working out of the living room and dedicate a room to the office space.
A workstation is best situated on the desk. Place the computer system or laptop in the middle, leaving room on both sides for pen cups, a stapler, a notepad, and charging stations for phones and other electronics.
Place the mouse on a pad next to the keyboard. Even if you use a computer that doesn't work, at least you're giving buyers an idea of how the room allows a place a computer. The printer should be on a cart or small stand preferably with storage under it. If possible, place this up against one of the desk's ends for easy access to printed materials.
Consider the top surface of the desk. If it's scratched or dotted with half-peeled stickers, you can place a dining room table runner on top or use contact paper to recover it. This gives a clean spot to start creating a place to work.
Try to keep enough empty space on the desk to keep things simple. Add a desktop lamp for working at night when the floor lamp may be too much. If you need a place to plug everything in, a multifunction power strip with USB charging outlets helps to keep everything in one place. Follow the tips below to de-personalize and add décor.
Add Defined Décor to the Office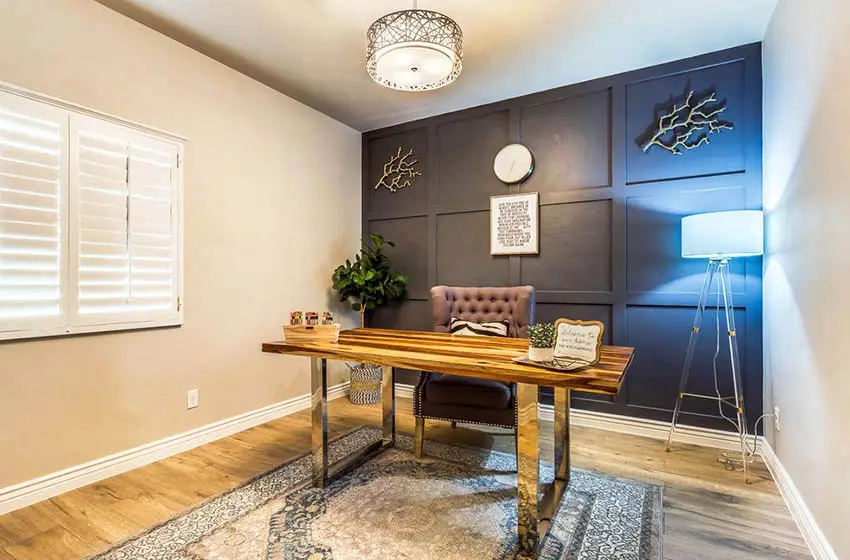 By now, you should have an organized home office with space to move around and a clearly defined workstation setup. To create the final piece, add some décor! Staging a home office doesn't mean blank walls, empty shelves, or unadorned windows.
Think of a neutral theme interior design to tie the room together such as business, nature, famous places, famous people, or technology. Base your décor on this theme.
Be sure to depersonalize by removing family pictures, adorable artwork from the kids, or favorite knick-knacks. Instead, hang only one or two framed posters or pictures having to do with whatever theme you choose. Medium-sized wall art is okay also.
If the room was painted a favorite color such as blue or yellow, take the time to paint a neutral beige or gray. It should be easier to move things around to paint now that a lot of clutter is gone.
Once you decide on a color, consider one accent wall with a color that's one or two shades lighter or darker than the main color. Stay in the same color family. Most paint centers or paint departments in a large home supply store provide paint samples with a family of colors on one sample sheet.
Window blinds are a good choice but curtains may not be needed. Skipping curtains can add more visual space to the feel of the room. Use a top valance if you want to have something on the window.
The blinds should also be a neutral color similar to the walls. Mini blinds work well as do larger slatted blinds made from vinyl or wood. If late afternoon sunlight beams in on the space for the workstation and bleaches out the monitor, choose room darkening blinds.
Another consideration is to set up a feng shui home office design which can help provide a more harmonious space.
Take a Good Look Around the Room
Now it's time to take a look around the room and survey your work. Less stuff sitting around creates a welcoming feeling and a sense of calm a good workspace needs. Look to be sure you put away anything that's not necessary and walk around to see if you can maneuver through the room without having to squeeze past anything.
Staging a home office for sale can be a lot of work. However, you're not only increasing the chances of selling your home fast and for a good price, but you're also getting organizing and packing done for the move! Staging a home office may just prove to be a catalyst for a more productive and peaceful work environment while you're waiting for your house to sell.
Did you find all the office staging tips you need or have experience of your own to share? Add your ideas and comments below for our readers to see. For more related designs visit our gallery of home office built-in ideas.