Here share our 25 wall decor ideas for your home office guide including decorative shelves, geometric frames, metal grids, and other decorations you should consider.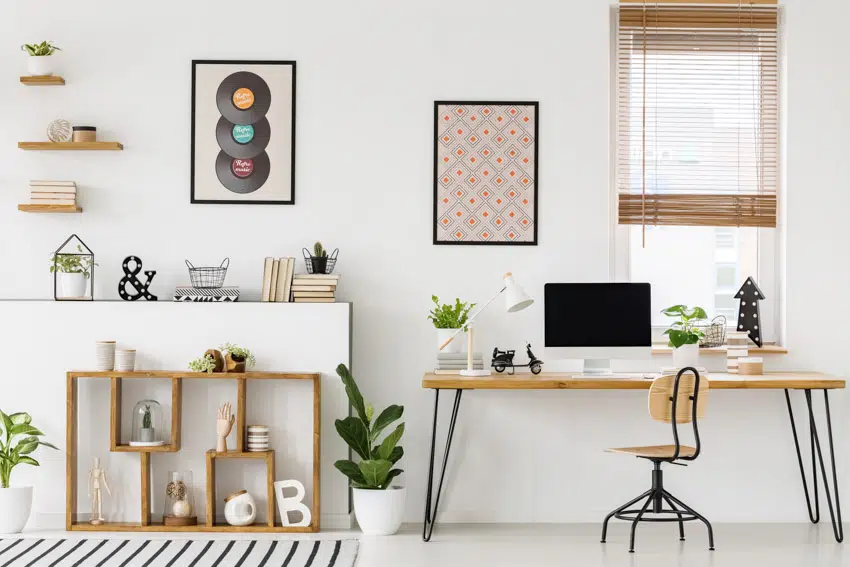 Because of the pandemic, companies had no choice but to operate on a Work-From-Home basis, in fields that are able to. Since the pandemic, thousands of employees have been working in their own homes, and thus, a demand for home office improvement has seen a surge.
Because home offices aren't equipped with facilities and furniture pieces like companies do, people have started to DIY and create a comfortable environment to work in.
And because these home-office set-ups are in their own homes, people have found many different ways to decorate the home office space to give it a more personalized look.
One of the many easy ways to decorate your home office is through wall decors. There are many different types of wall decors – some purely ornamental, some functional.
Depending on your needs, you will definitely find something in the market. Here are some great wall decor ideas you can apply to your own home office.
Decorative & Multi-Functional Shelves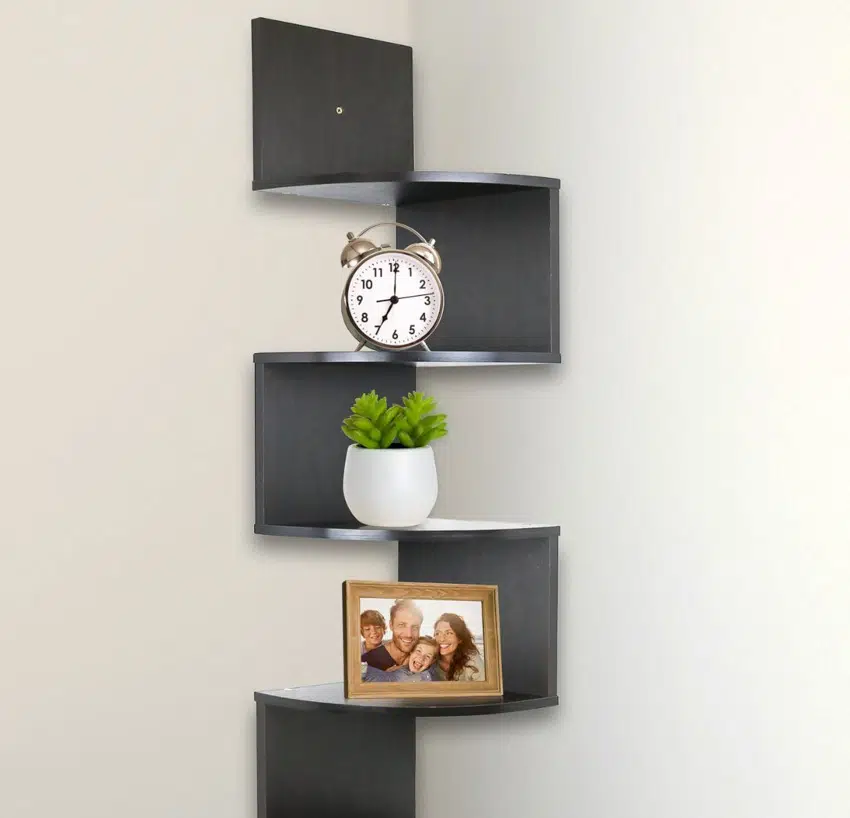 See this decorative and multi-functional shelf at Amazon [sponsored link]
This product is perfect if you have an empty wall corner in your home office. It doesn't take up much space, so this also works well in apartments.
At the same time, because this is a shelf, this is a functional piece that enables you to display small items and trinkets to show more personality in your space.
Wooden Geometric Frames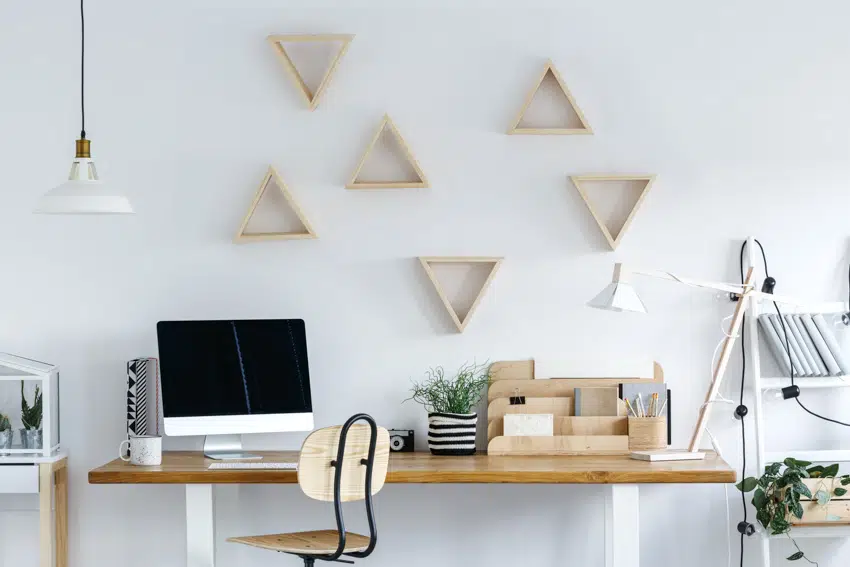 Geometric frames are more ornamental than functional, but it does add a funky vibe to any blank wall you have in your room. If you have small photos, trinkets, or dried flowers, you can probably add an acrylic sheet on the front and place your photos or dried flowers inside to give it a new look.
Metal Grids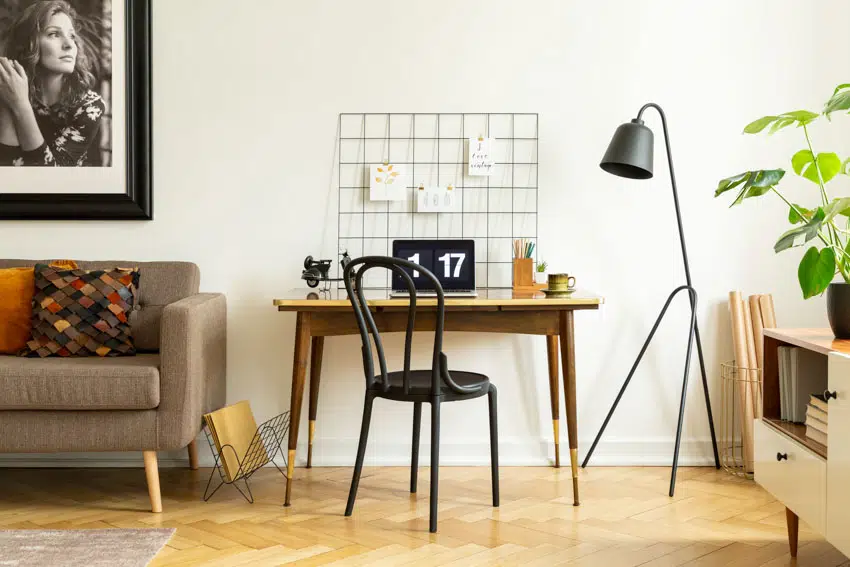 Metal grids come in many different colors, sizes, and styles. These are functional wall decor that you can hang on the wall, or simply lean against the wall depending on your preference.
You can clip on photos, notes, postcards, etc on these metal grids – this is a great choice for creatives that wants to constantly see into images, or simply for people who love to display memorable photos.
Uncluttered Task Lists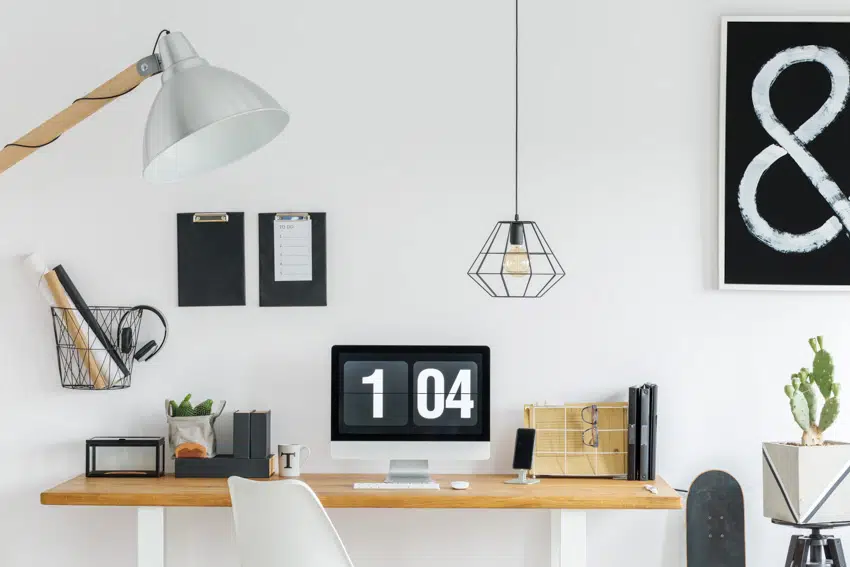 This is a smart low-cost way to decorate your wall – hang a clipboard on the wall! Clip boards can be easily bought in any craft store or bookstore, and you can easily purchase a number of different wall tacks to secure them anywhere on your wall.
When setting up a home office for remote work, this is a great idea if you like seeing your schedule or task list in front of you to keep yourself organized.
A Pop Of Color On The Wall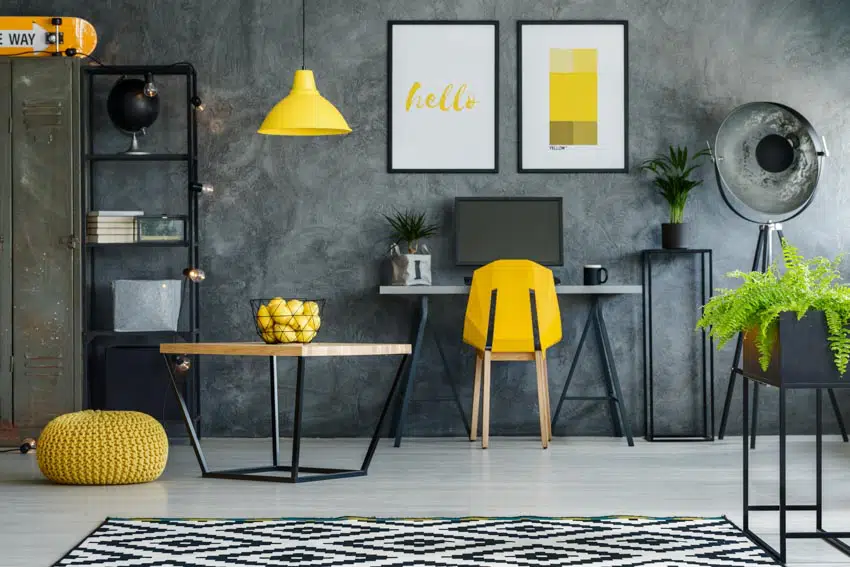 Sometimes, your wall decor doesn't need to be functional. If you feel like your home office is feeling a little plain or lacking in energy, how about adding colorful framed artwork on your wall to give it a little more life?
Vinyl Records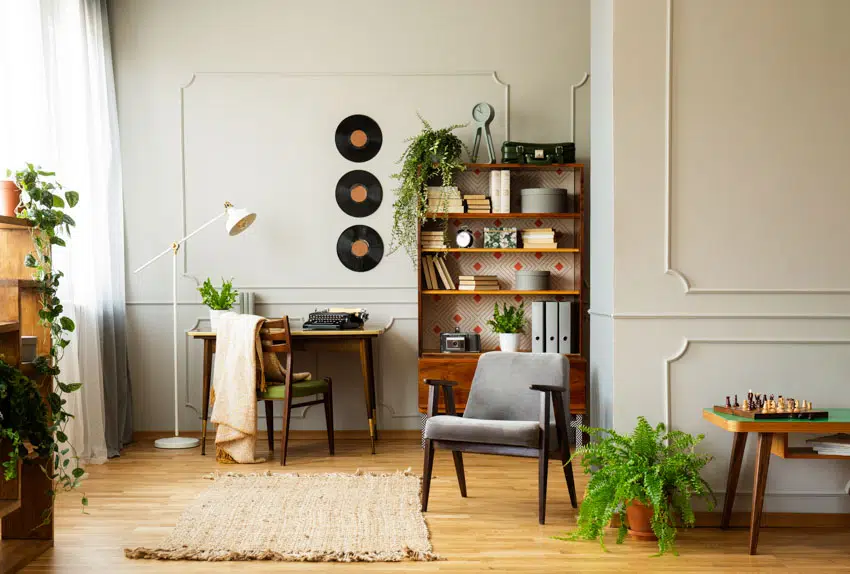 If you're a music-love, this idea might tickle your fancy. Display your vinyl records on the wall as decoration! You can hang your vinyl records, or maybe if it has a beautiful cover you want to show off, you can also add brackets to display the record cover/
Picture Frames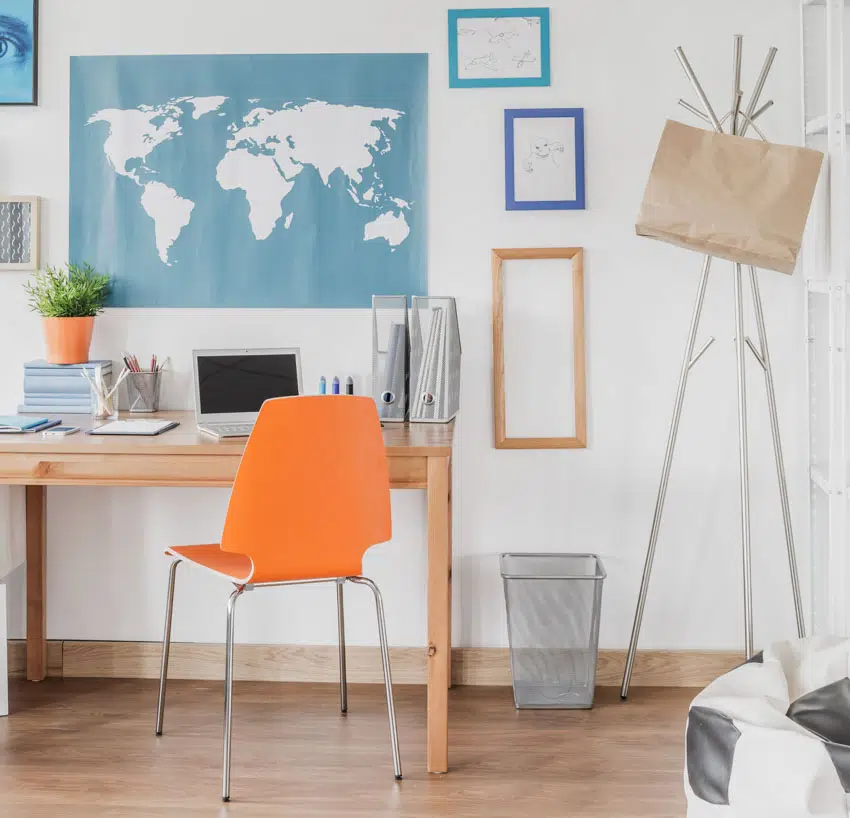 Picture frames are also a quite common way to decorate your walls. You can easily fill them with photos, artworks, or even prints or posters of your favorite movies or comics.
You can also experiment with combining different colors of frames to give it a little more pop, adding a fun element to your walls.
Family Photos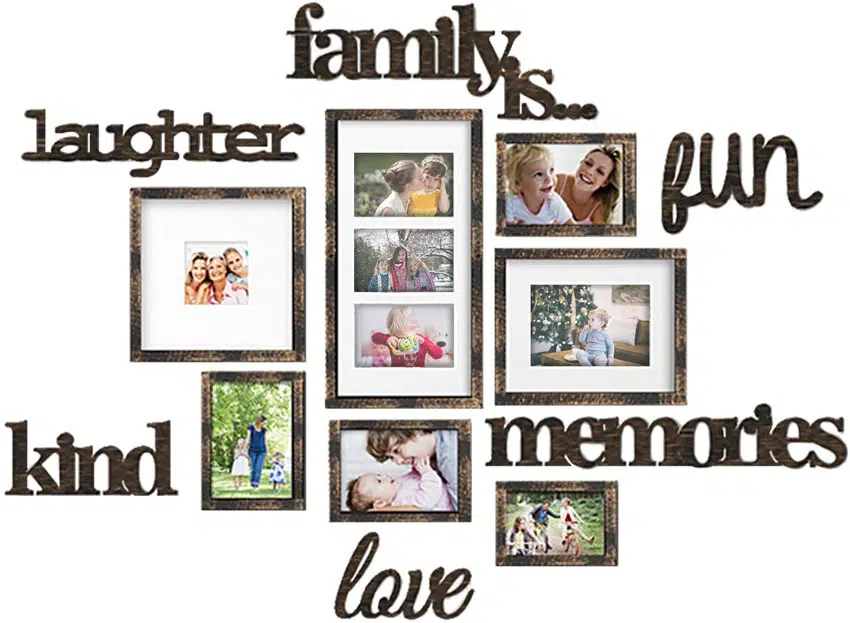 See these family picture frames at Amazon [sponsored link]
You can also mix and match different-sized photo frames to use as your wall decor. Got beautiful family pictures? Display them on your home office's wall for that extra sentimental element that will keep you happy and inspired.
Big Analogue Clock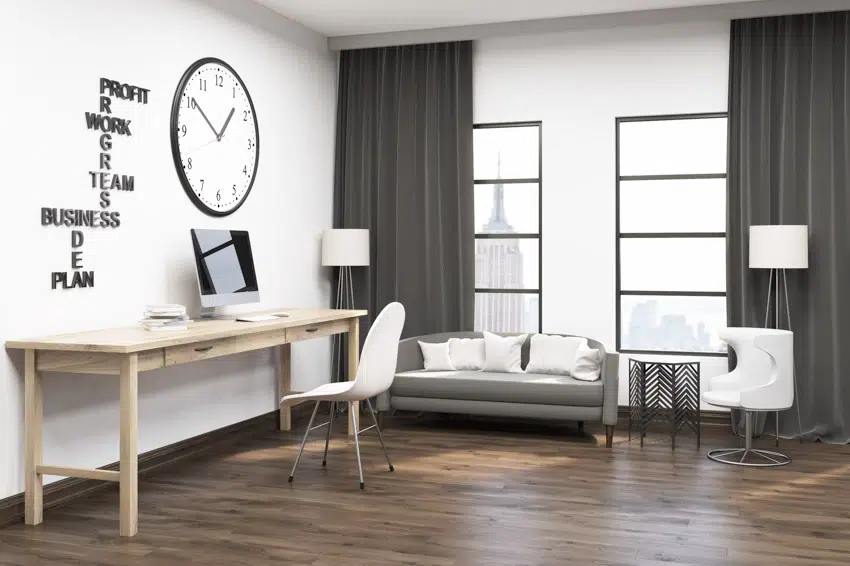 We often just check the time on our phones or our watches, but Analog wall clocks still give a nice charming look to any space.
An oversized clock like this will definitely be a conversational piece in any room you put it in. Plus, you can keep track of time!
A Changeable Calendar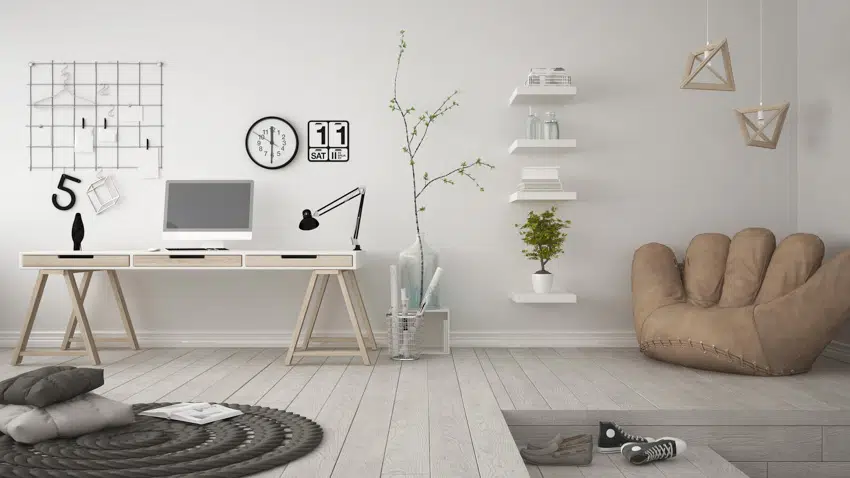 Another great wall decor idea would be changeable calendars. Not only does it help you keep track of the dates and special occasions, but it also has a nice retro-industrial charm to it.
Bookshelves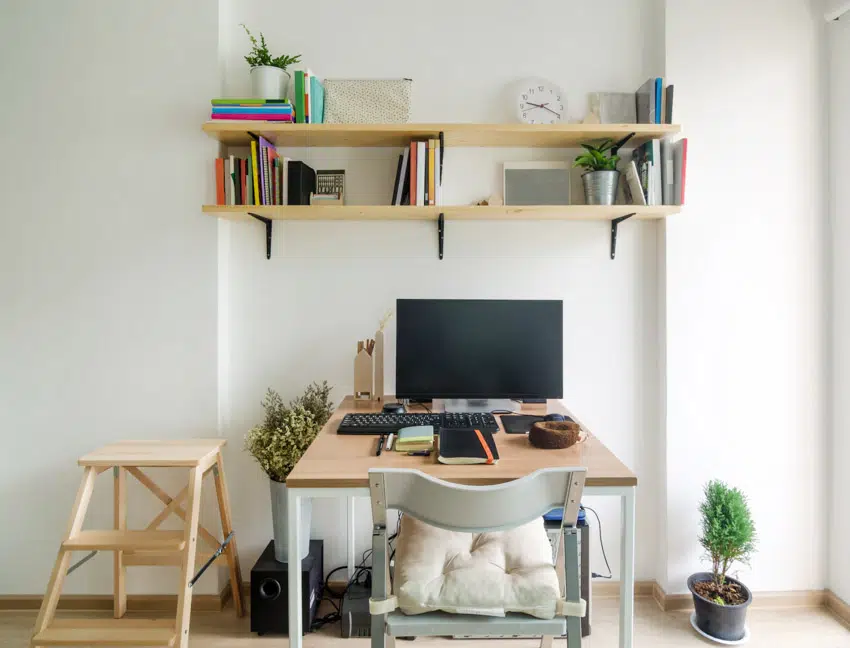 One of the most common, functional ways to decorate a home office would be the addition of built-in bookshelves or wall mounted bookshelves.
For those with little space in their home office, you can opt for floating shelves or bracket-type hanging shelves like this product. The exposed angle brackets give it a raw, industrial style feel, making it among the creative small home office ideas to consider.
A Dark Painted Wall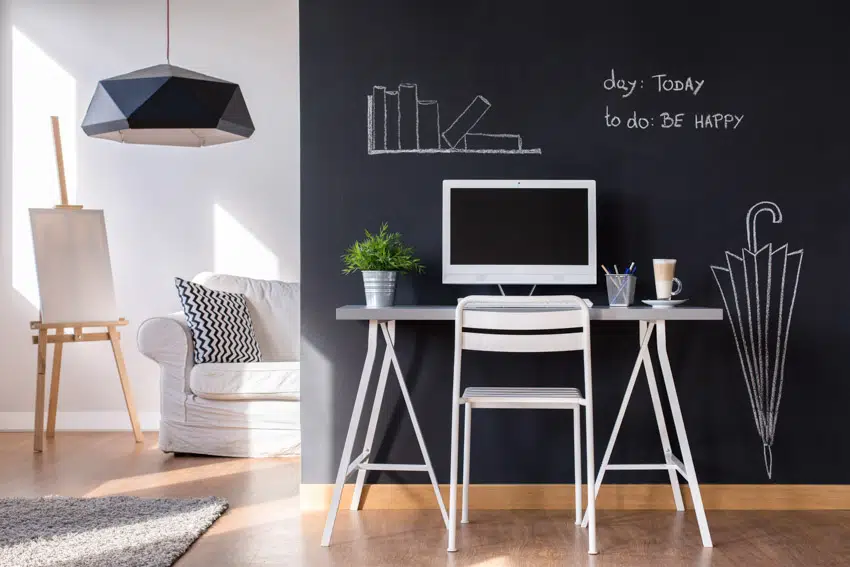 If you're going for a dark-themed home office, do consider using blackboard paint on your walls. It offers a very opaque matte finish, which you can also use as a blackboard!
Unleash your creativity (or your children's) by drawing on the walls, or perhaps write down your tasks or schedule? It's a simple and functional solution that can work in a room of any size.
A Wall Frame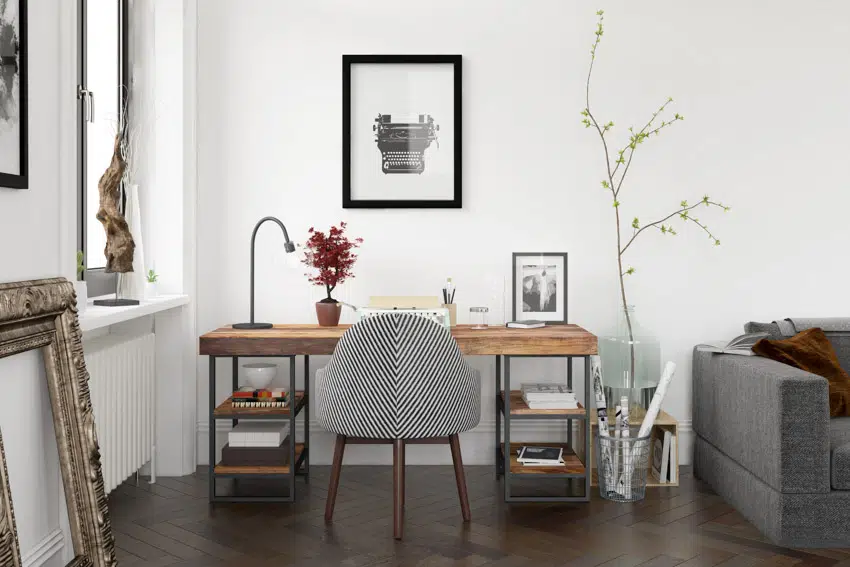 Wall frames are low-cost and a very common way to decorate walls. If you want a minimalist look, you can look for line art prints or art with lots of white spaces to give a clean aesthetic. Read more about how high to hang pictures here.

Wall Art Inspirational Wall Decor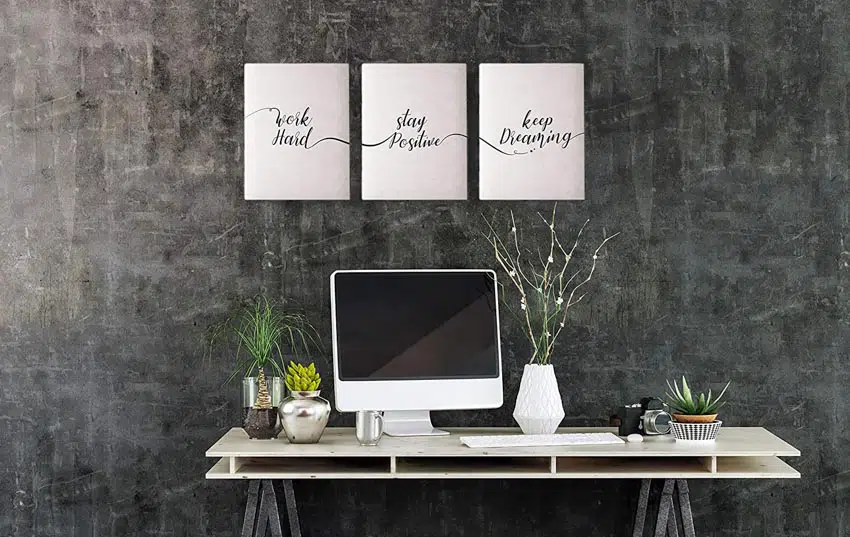 See this inspirational wall art decor at Amazon [sponsored link]
Sometimes, we need to constantly be reminded of our goals and aspirations. If you like motivational quotes, you can find many affordable motivational quote wall decor on canvas.
Framed inspirational quotes can also work alternatively. Oversized quote frames give a bolder look. You can find many inspirational quotes in different styles that can match any home office concept – or maybe you can make it on yourself, too!
Floating Shelves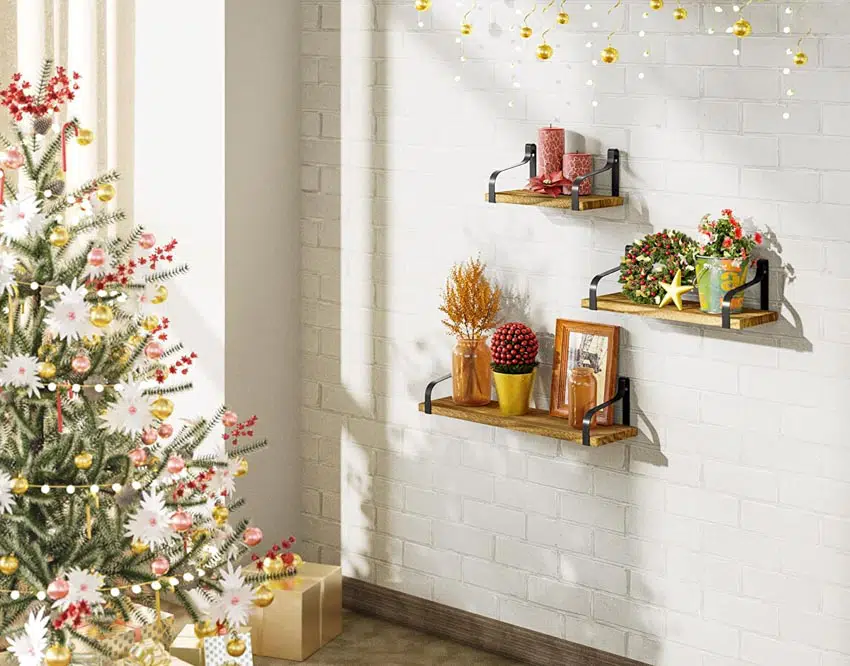 See these floating shelves at Amazon [sponsored link]
Floating shelves help keep your space organized and also allow you to display different knick-knacks you have in your home office.
Plants Wall Art Canvas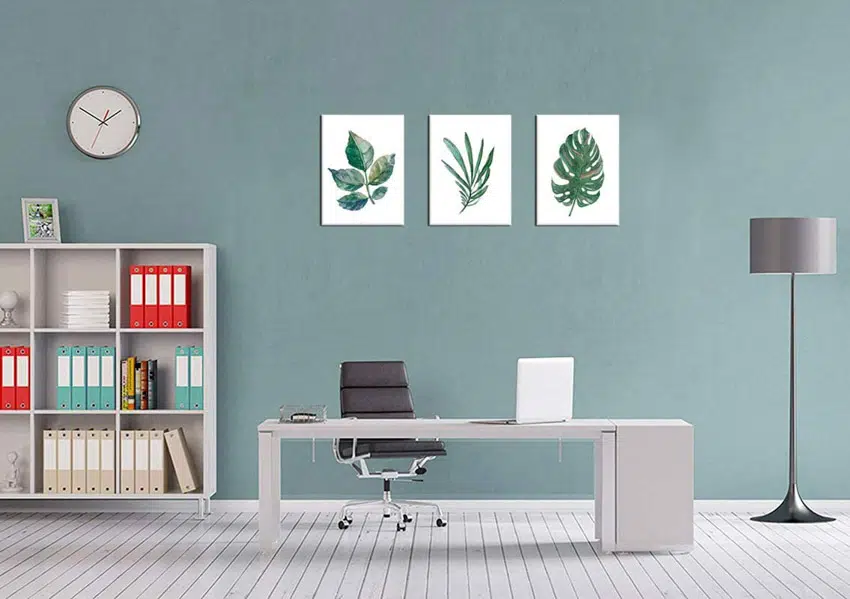 See this plant wall art canvas at Amazon [sponsored link]
For those who love the tropical look, give your home office's walls a tropical paradise feel with a wall art canvas of plants and leaves to give it a refreshing look!
Pegboards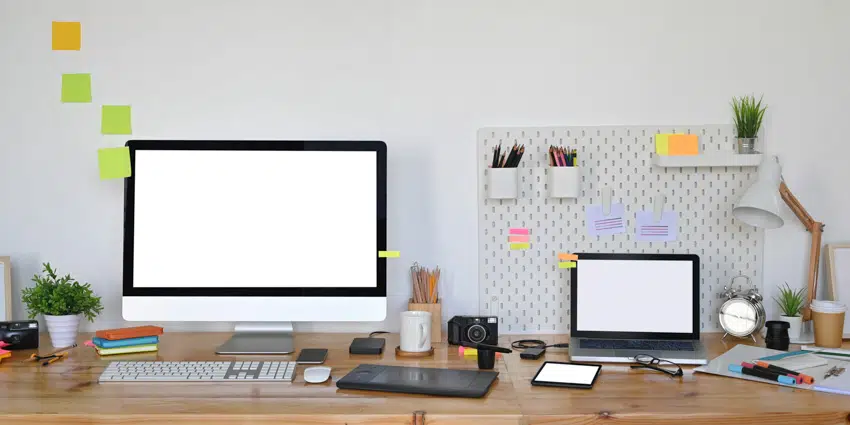 A peg board is another functional way to decorate your walls. You can hang pen trays or small shelves on them as well to help keep all your small clutter away from the desk.
Shadow Box Shelving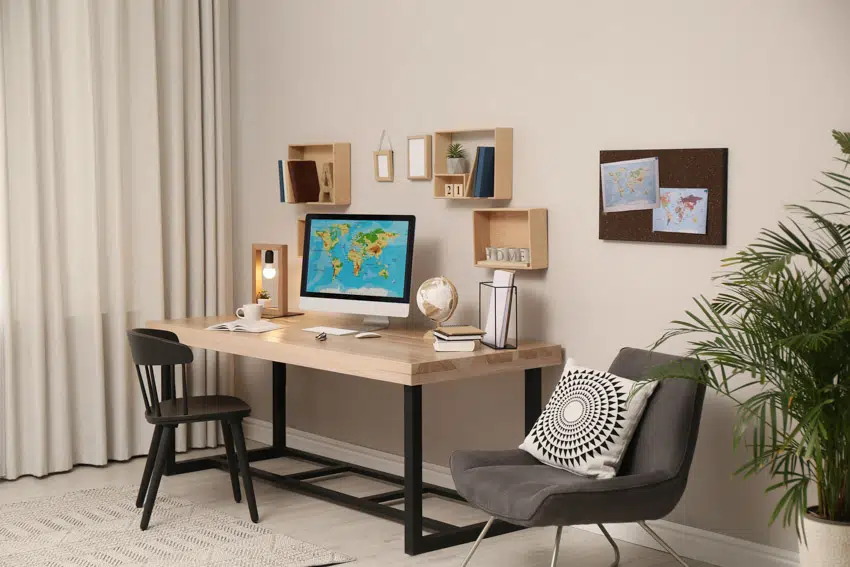 If you want a great DIY option to decorate your walls, do try using shadow boxes. They're simple and easy to make – you just need basic tools and plywood.
Shadow boxes are like small frames with a little more depth, so they can also function as a small shelf for your plants or other small items to display.
Plasma Screen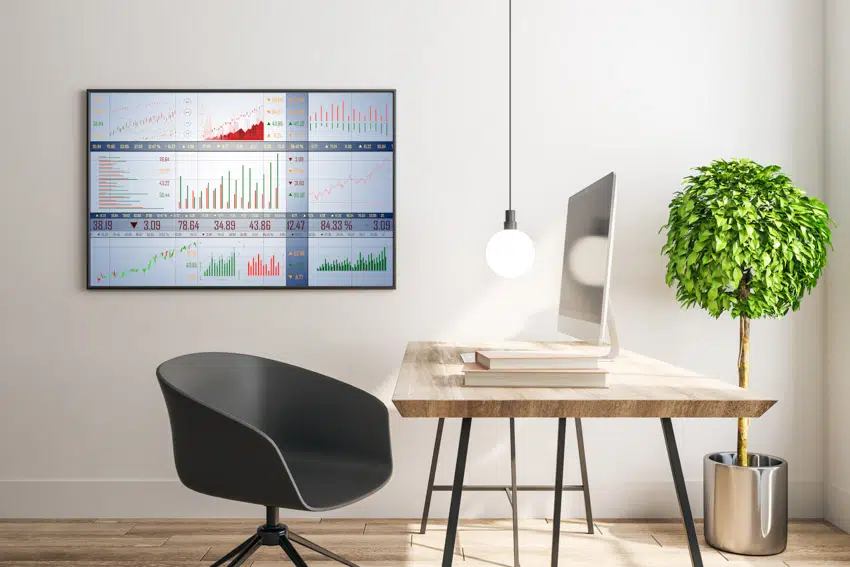 If you're a person who likes to multi-task, how about mounting another monitor or a TV on your home office's wall?
You can sync it with your computer to function as an additional screen, program it to show the latest stock prices, or simply play your favorite movie in the background while you work. Read more about the different TV dimensions to find the best fit for your home office wall.
Portable Metal Basket Organizer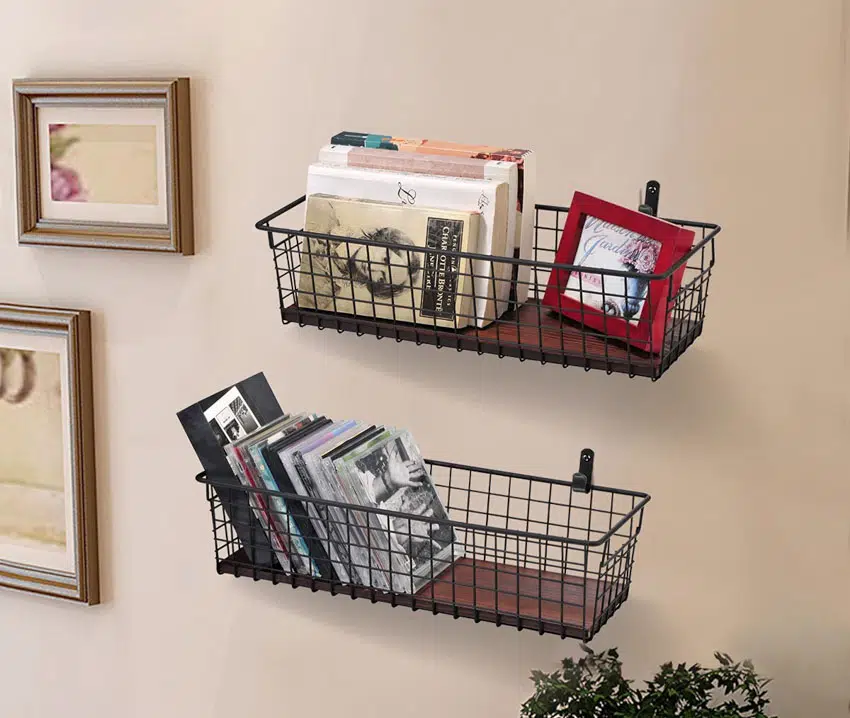 See this metal basket organizer at Amazon [sponsored link]
This is a great alternative to wall shelves. Wire baskets have a cute industrial style charm and a very functional way to decorate your walls. You can place your small plant pots, store your pens and more.
Woven Wall Decor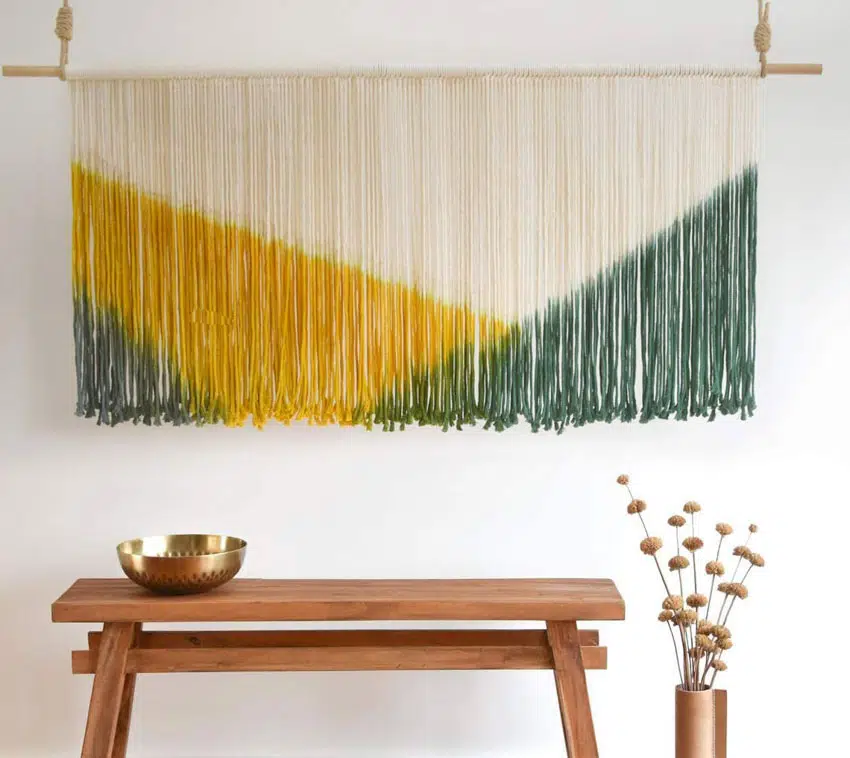 See this tie-dye yarn tapestry at Amazon [sponsored link]
If you like the bohemian/gypsy look, how about hanging woven wall decor? You can go for simple dyed yarn wall decor like this or maybe go for more intricate woven designs like a macramé.
Pin Board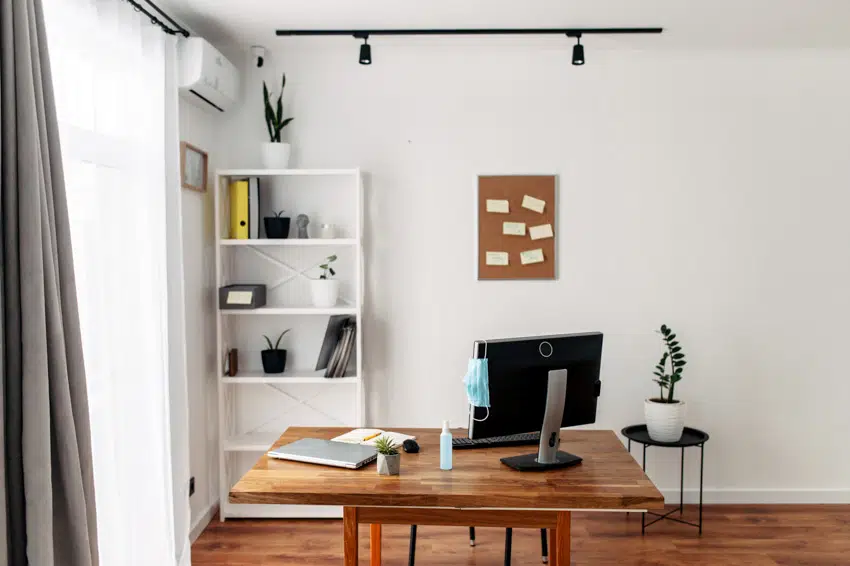 A corkboard is a simple, functional, and affordable way to decorate your home office's wall. You can purchase these as aluminum-framed boards in a variety of fixed sizes, or you can also buy cork in rolls and cover a larger area of the wall.
Whether or not you fill it with task lists and photos, the cork gives a unique texture and pattern to the wall.
Wall Organizer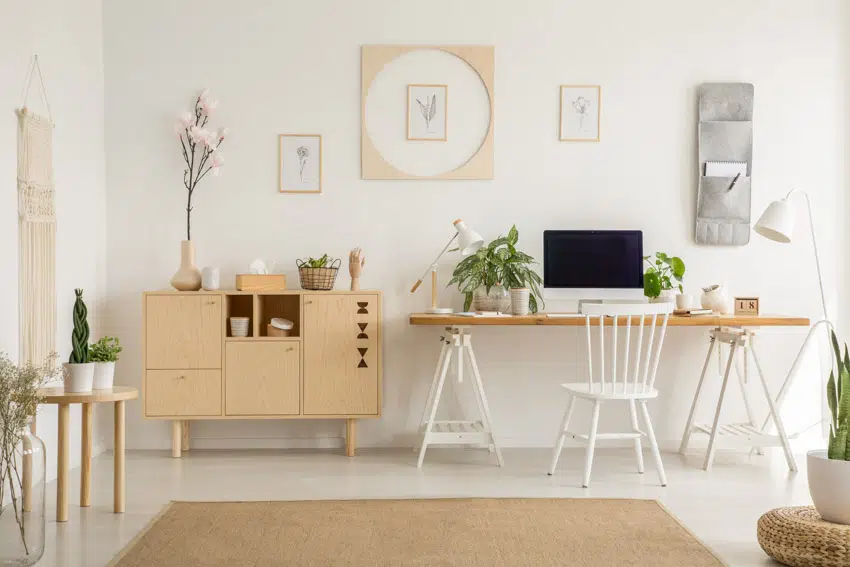 Want to keep your papers and notebooks off your desktop? How about mounting a felt organizer on your wall? These organizers have spacious pockets where you can keep papers and other small items, keeping your desktop space nice and clean.
Handmade Hanging Wall Basket Decor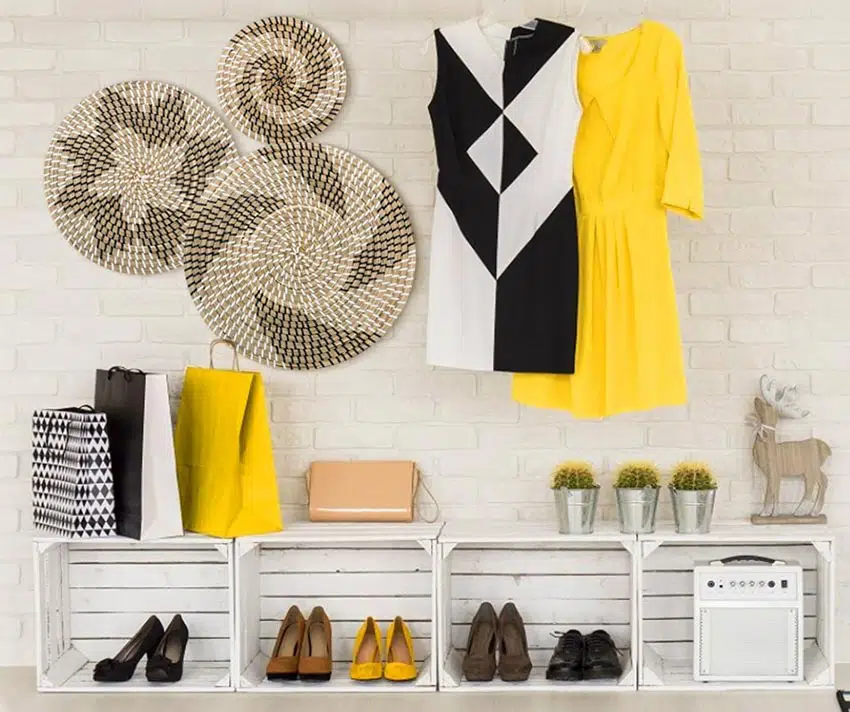 See this round rattan wicker wall decor at Amazon [sponsored link]
Wicker wall decor adds both color and texture to any plain wall. They often come in different shapes and sizes, and sometimes also have color accents that can match any room theme.
3D Acoustic Wall Panels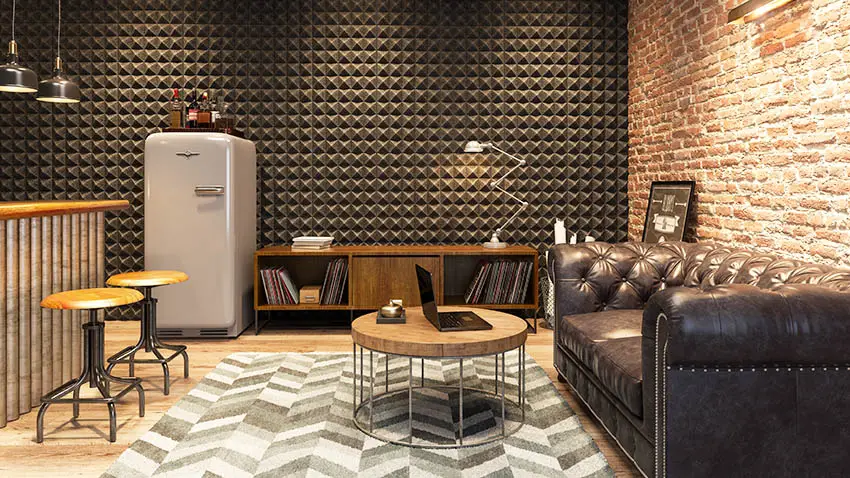 It may seem purely decorative at first because acoustic panels come in different colors and shapes that can easily beautify walls, but they are also excellent sound dampers.
If you are often in calls or online meetings, 3D acoustic panels will help improve the acoustics of your home office.
Are there any wall decor ideas for your home office that we missed? If so let us know in the comments. See more related content in our article about how to soundproof a home office on this page.