Here's our home office gym benefits guide including the advantages, how to set up, layouts, different gym equipment, electrical tips, and the best flooring.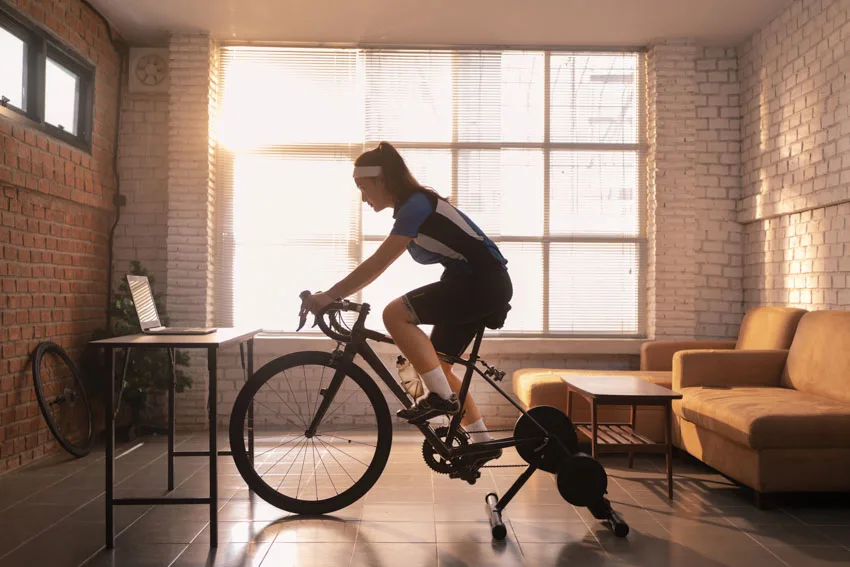 Having an office and a gym in the house is perhaps every man's dream come true. Imagine not leaving the house and getting stuck in traffic just to go to work. And if you have a gym and office all rolled into one, it feels like you've won the jackpot.
Creating a work and exercise space in one area doesn't have to be complicated. It doesn't even have to be expensive, either. In this article, we will explore how to do that.
Benefits Of A Home Office Gym
Having a home office gym saves you the hassle of driving to another place so you can exercise.
That becomes even more challenging if you have to commute, or you get stuck in a traffic jam on your way to the gym. Jut the thought of it dampens your enthusiasm to exercise and stay fit.
Aside from this, what other benefits do you have from having a home office gym?
Flexibility: You can always fit in a quick session any time you want. Medical professionals say that short exercise sessions spread out throughout the day benefit you like one long workout.
Short sessions also make it easier for you to exercise. If you spend four 10-minute sessions a day, that's equal to 40 minutes. It becomes more enjoyable because it's short and quick.
Freedom: If you enroll at a gym, you have to follow the program even if it's difficult. Having a gym in your home office allows you to create exercise routines that fit your needs. There are also lots of exercise apps to help you with that.
Privacy: When you are at a gym, you might be embarrassed if you don't know how to use a piece of equipment. That's not the case if you have a home office gym.
You have all the time in the world to get to know your equipment and perfect your routines.
There are no time constraints either, and you are free to wear anything. You have no competition for music or videos that might distract you during your exercise routine.
Most of all, you won't have to worry about making small talk if you don't want to.
Low Cost: Gym memberships are expensive. You have to pay hundreds of dollars every year just to use the gym's equipment, space, and tools. There's no guarantee as well whether you will use it often or not.
If you don't, that will be a waste of money. More so, if you add everything you spend for the gym, getting your own exercise equipment is a smart move.
Time Efficient: Driving to and from the gym takes time. Add the time spent waiting to use the equipment and chatting with other gym members. That's a lot of wasted time on something trivial.
With a home office gym, you eliminate all these time wasters. You can go straight to your routine and have more time to rest after that.
When you add a gym to your home office, you're increasing the resale value of your house.
Added Value: Any improvement you do or additional features you put in your house can add to its value. So when you decide to put it up in the market in the future, you'll be able to command a higher price for it.
How To Create A Home Office And Gym Combo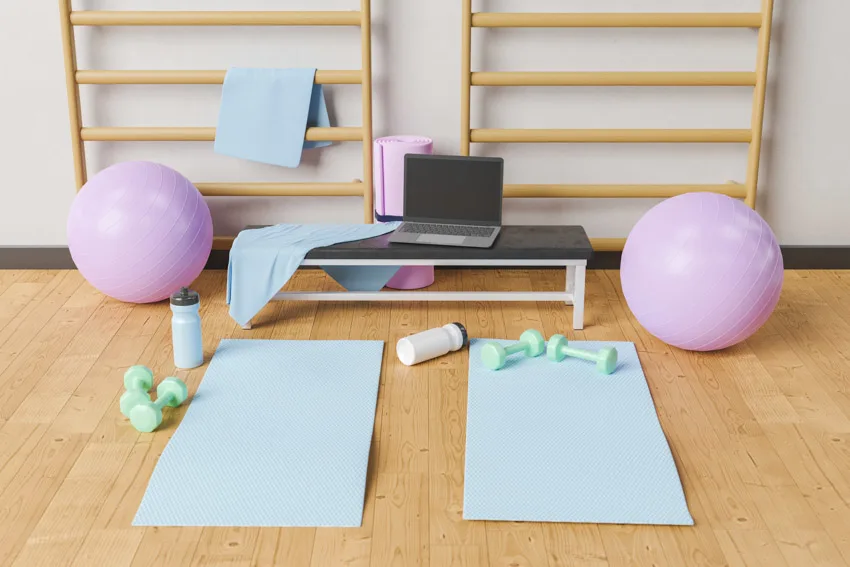 Whether you have a big or wide space in your home office, you don't want bulky gym equipment to get in the way. The last thing you want to see is your office looking like a gym. You also don't need a big budget to get started.
Before you start setting up your home office gym, there are a few things you need to consider. Don't forget that the home gym size you're envisioning is still your office — your workspace — so you don't want these scenarios:
• Your office smelling like sweat
• Big, bulky equipment dominating your office
Create a space that promotes your health and well-being: One of the tempting but terrible decisions you'll make is fitting a lot of exercise equipment in a limited space. On the other hand, it's not fun to have a gym with just dumbbells or a treadmill.
So how can you maximize your space without overcrowding it? Go for multifunctional gym equipment. It allows you to perform your exercise routine without cramping your space. A lot of exercise companies are creating revolutionary equipment that saves space.
An example is the Echelon Reflect. It looks like a TV screen but after touching a few buttons, you have a personal trainer in the comforts of your office.
Choose gym equipment that suits your needs: What are your fitness needs? If you are not sure yet, the safest bet is cardio and strength.
There are a number of gym equipment that suits this need from treadmills to cross trainers. They are also compatible with different fitness levels.
Aside from meeting your exercise goals, a warranty is also important when choosing the right equipment. You need to be safe while staying healthy so you need something that will ensure that.
Along with equipment its a good idea to have the right layout and paint colors that promote a good work/life balance. See some of our picks for the best home gym colors here.
Home Office Gym Layout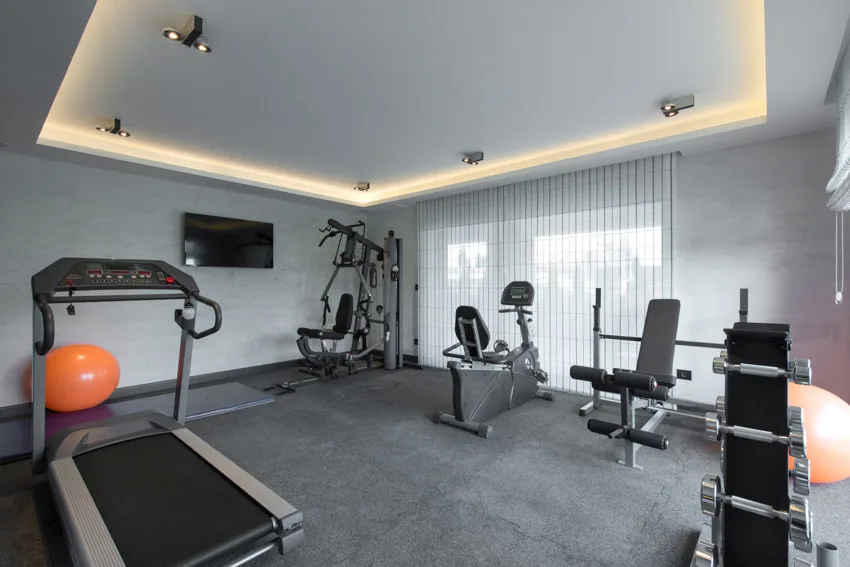 A gym in the comfort and privacy of your home office makes it more convenient to follow a daily exercise routine. You have all the room and equipment all to yourself.
But before you start shopping for equipment, create a layout plan first. This process will help you balance your space and budget.
How much space do you need?: Before you can create a layout, determine how much space you are willing to allocate for your gym. Will you put it in a small space in the corner of the room? Or will you allocate half of your office space to your gym?
We recommend taking measurements so you'll know what type of gym equipment will fit in that allocated space. See our home gym size guide to help determine how much room you need for the different types of exercise equipment.

What are your exercise goals?: Your fitness goals are also important factors in creating your home office gym layout. Here are some possibilities:
• Cardio: If you want a healthy, happy heart, a jump rope is just one of the many options you have. It keeps your heart rate up but it requires a small space.
But if you have a bigger space and the budget, add a mid-sized stair machine or rowing machine to your layout.
• Weight training: If you have limited office space, barbells and kettlebells can help you achieve your weight training goal. Plus, they do not take up so much space.
Add full-body types of mirrors on the wall to check your form. If the space can still accommodate a bench, then add it to your layout for your bench/barbell routine.
If you have a lot of space, add a full-size power rack provided you really need it.
• Yoga: If you prefer to use your gym for stretching and yoga, adding a ballet barre on the wall for balance is highly recommended. Then, add resistance bands, a yoga mat, and foam roller to complete your yoga equipment.
Home Office Gym Equipment Needed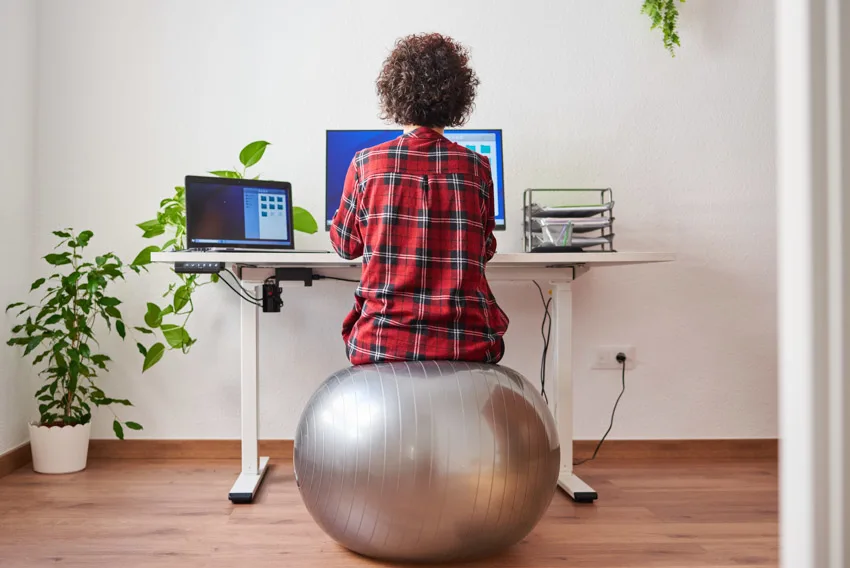 Your exercise goals and available space are primary considerations when thinking of the perfect equipment for your home office gym. Here are some suggestions:
Cardio
With all the limitations a home office gives, nothing beats walking and running.
However, you can't easily do that if it's raining or snowing. Thus, you need a good treadmill, so you can run or walk indoors regardless of the weather.
If you think a treadmill will take up a lot of space, go for an under desk elliptical or bike. They're similar and the only difference is that the latter has bike pedals.
These pieces of exercise equipment allow you to move while sitting. Plus, you can tuck it away under your desk.
• Folding treadmill
• Under desk elliptical
• Under desk bike
• Rowing machine
• Exercise bike
Strength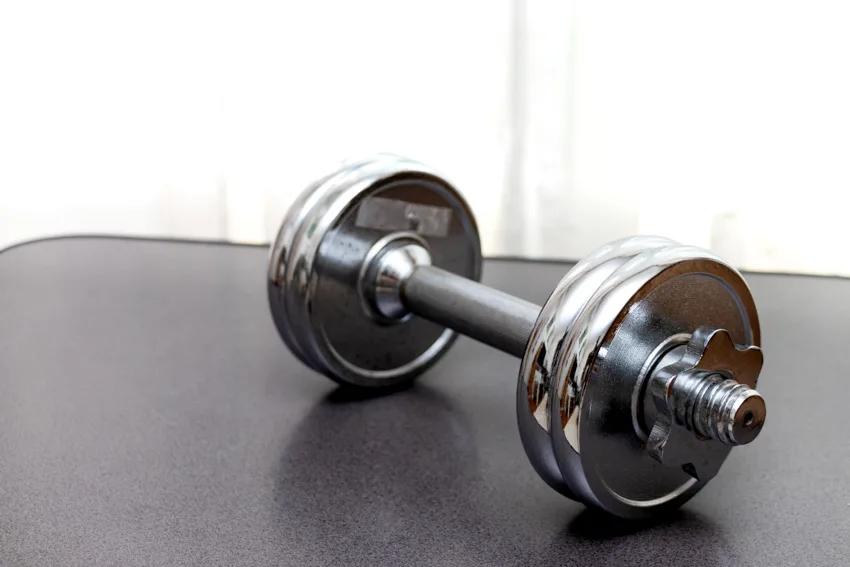 Doing some form of strength training at least twice a week is good for your heart.
If you have limited space, it's still not impossible to set up a practical home office gym. And remember, your goal for creating a gym is exercise, not aesthetic.
• Dumbbells
• Kettlebell
• Barbells
• Functional trainer
• Resistance bands
Yoga/Stretching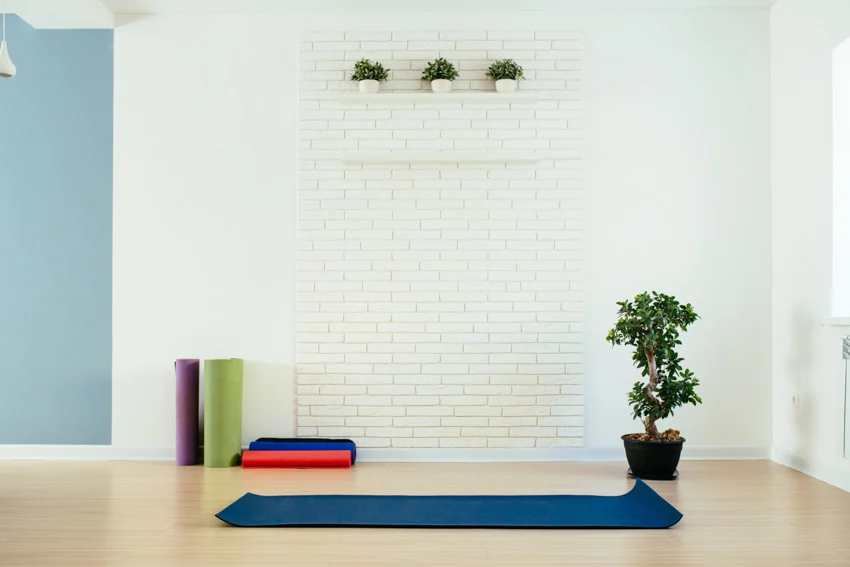 Your home office gym might not look like a yoga studio. But you can make it more conducive for your yoga practice by adding some essentials like:
• Yoga mat
• Foam roller
• Yoga strap
• Cushions
• Incense
Other Accessories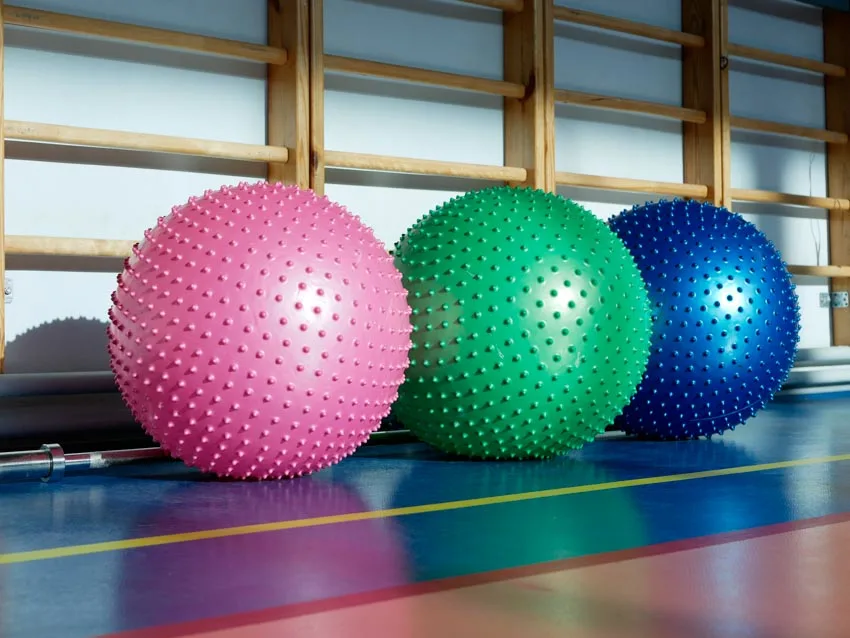 The following are for additional workout options:
• Stability balls
• Balance trainer
• Power rack
• Ab wheel roller
• Grip trainer
• Bluetooth speaker
Office Gym Electrical Requirements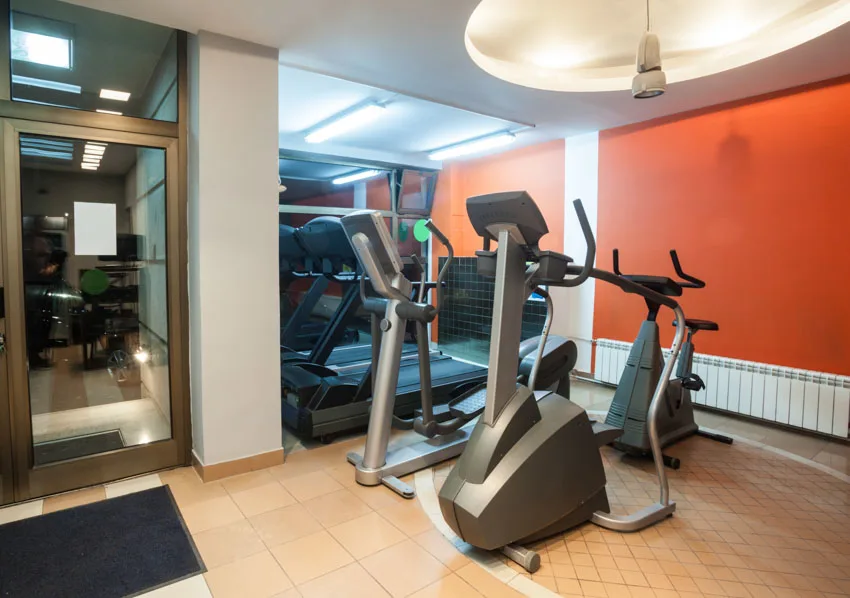 Don't overlook the safety aspect while trying to stay fit and healthy. That's why you have to make sure that your home office can handle the electrical equipment you'll buy.
The last thing you want to happen is damaging your gym and office equipment.
Electric gym equipment varies among brands and models. But no matter what their voltage requirements are, they should have a dedicated and grounded outlet.
It is also recommended to use a surge suppressor that meets the recommended standards.
Voltage requirement: Generally, most residential gym equipment requires a 120-volt circuit. But there are others that run on a 110-volt circuit.
But the actual voltage is between 117 and 124 volts. Thus, an equipment that has a 11- to 120 volt circuit rating can use a 120-volt outlet.
Grounded Outlet: Plugging your electric gym equipment to a grounded outlet protects you from shock and against machine malfunctions. The grounded outlet connects to the soil, making it less resistant to electricity.
Surge suppressors: As the name suggests, it protects your equipment from sudden power surges. Use a single-outlet suppressor with a UL suppressed voltage rating of 400 volts or lower. Additionally, use an electrical rating of 120 volts and 15 amps.
Plug your equipment into the surge suppressor; then, plug the suppressor into the grounded outlet.
Dedicated circuits: Gym equipment, like treadmills, are not compatible with outlets equipped by ground-fault circuit interrupter (GFCI).
Thus, you need to plug them into a dedicated circuit. In other words, electronic gym equipment should not share outlets with other appliances.
Also, do not use an extension cord to plug your gym equipment. It could damage your equipment or short-circuit and hurt you. Always follow the manufacturer's manual on the proper handling and care of your equipment.
Best Flooring for a Home Office Gym Combo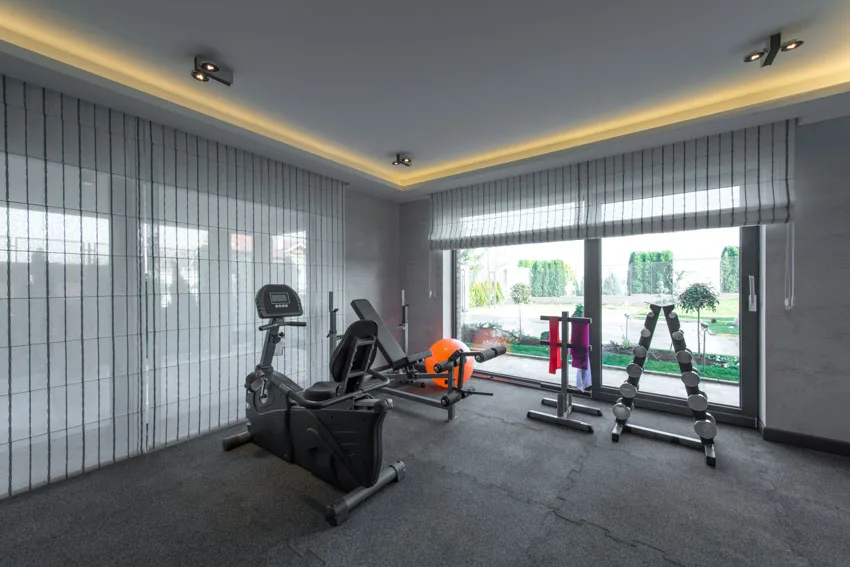 You have your equipment in place. You have even checked your electrical requirements. There's one final element to focus on — your home office gym flooring. Below are some popular floor materials along with their pros and cons:
Rubber: Rubber is resilient and sturdy, making it one of the most popular flooring choices for commercial and home gyms. It is both shock and water-resistant. It has different levels of thickness and can be purchased in mats or rolls.
Rubber is also easy to install — you can conveniently put it on any surface type. On the downside, rubber is more expensive than other flooring materials.
Cork: Cork can support any high-intensity workouts because of its high shock absorption. It is highly resistant to mildew and molds, so you don't have to worry about bacteria growing in your home office gym. It is also eco-friendly and biodegradable.
Cork, however, is easily scratched or torn. If you are using heavy gym equipment, put cork glue-down tiles over a cork floating floor to make it a bit stronger. Another con to cork floors is that they easily fade from direct sunlight.
Vinyl: When it comes to practicality, vinyl is the perfect choice. It has a wide range of colors, patterns, and designs to choose from. It looks chic but durable. It is highly resistant to moisture and mildew, and easier to clean, too.
But like other types of flooring materials for interior design, it also has its disadvantages. It can easily get damaged by sharp objects. It also gives off harmful VOCs since it's synthetic.
Foam: Foam flooring is very comfortable, especially if you're doing yoga or stretching. It is highly resistant to shock, versatile, and easy to install.
However, it is the least durable among flooring options. So if you have heavy equipment, foam flooring is not for you.
Carpet: Carpet is the most popular flooring option for home office gyms. It's soft, comfortable, and versatile.
Take note that for your home gym, you don't need to splurge on expensive carpets. Since you'll be using it for exercise, a cheaper, commercial-grade carpet will do.
Creating a home office gym is good for your mental and physical health.
You can exercise in the comfort of your office without wasting time going to and fro the gym. Consider the suggestions given here if you are planning to add a gym in your home office.
See more related content in our article about the different home gym lighting ideas on this page.