Here's our guide to rugs for hardwood floors including the best types to use, what kind of rug pad is safe, and why you should use a rug on hardwood floors.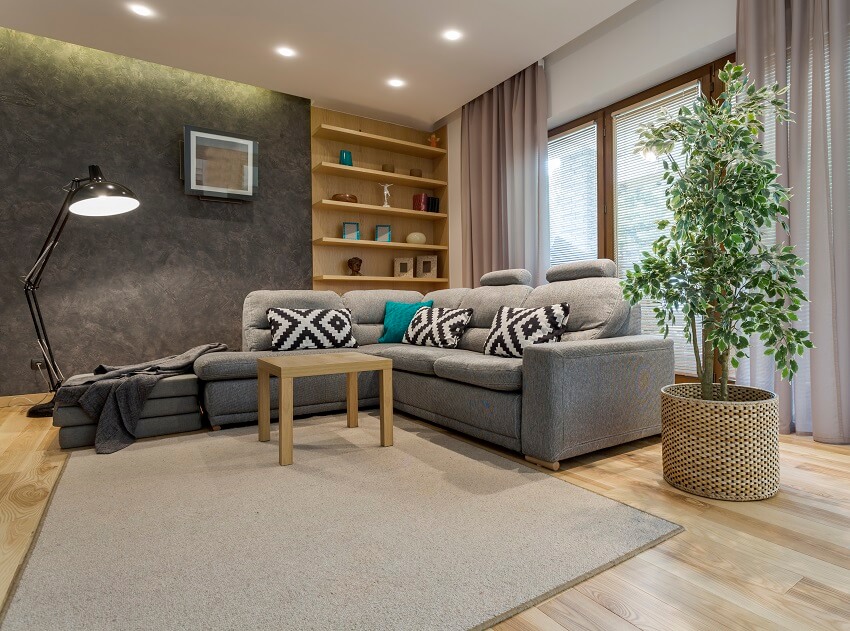 Use rugs to protect your hardwood floor and integrate it into your overall design scheme. Hardwood floors are a prized architectural feature, and not without good reason.
Hardwood is one of the most durable flooring materials and never goes out of style. With proper care and protection, a hardwood floor can remain both beautiful and functional for many decades.
Caring for your hardwood floor involves regular cleaning and periodic resealing or refinishing. To protect hardwood floors, you have two options: carpeting, or rugs.
While carpeting completely obscures the floor underneath, rugs only cover part of the floor. Using a rug on your hardwood floor allows you to customize your protection, saving it from excessive wear and tear while still allowing its natural beauty to shine through.
Choosing a Rug For Hardwood Floors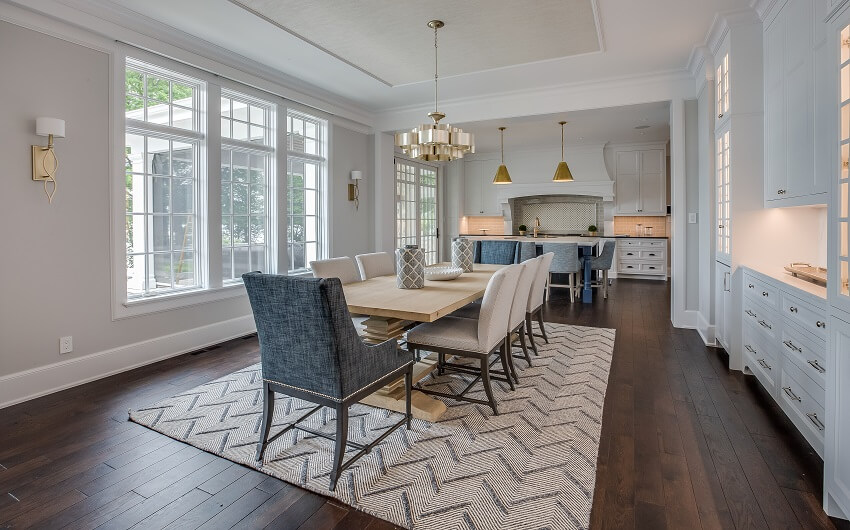 There are two kinds of rugs that are frequently used with hardwood floors: area rugs, and runners. A runner is a long, rectangular rug. They are ideal for placing in hallways to absorb sound, add texture, and protect the hardwood floors from foot traffic. A runner may also be used to protect stairs made from hardwood.
Successfully decorating with area rugs means following a few simple rules: The border of the rug should be at least ten inches away from any wall.
Standard area rug sizes include: 3'x5′, 5'x8′, 8'x10′, 9'x12′ and 12'x15′.
Where rugs are used to define or divide a room into seating areas, the front legs of all furniture should rest on the rug. Some people prefer all four legs of the furniture to rest on top of the rug, and this is a legitimate design choice as well.
This concept is important for dining room rug sizes, so that all of the legs of a chair are completely on the rug whenever it is pulled out.

Before choosing a rug for your hardwood floor, consider your design goals. Whatever rug you choose will have a major impact on the overall design and feel of the room.
Where multiple rugs are used, they must all work together to achieve cohesive decor. Begin by considering the appearance and style of your hardwood floors, and how they contribute to the overall feel of the room.
Perhaps you have very dark hardwood floors and insufficient natural lighting. In this case, you might use a light-colored neutral rug to break up the expanse of dark wood and help bounce light around the space.
Very light hardwood floors are a stunning design choice that will stand out even further when combined with a contrasting rug color.
The pattern of the hardwood floor must also be considered, including the length, width, and orientation of the individual planks. For instance, an intricately-patterned area rug will compete for attention with a detailed parquet floor. In this case, consider choosing a simpler, subtle design.
Best Types Of Rugs For Hardwood Floors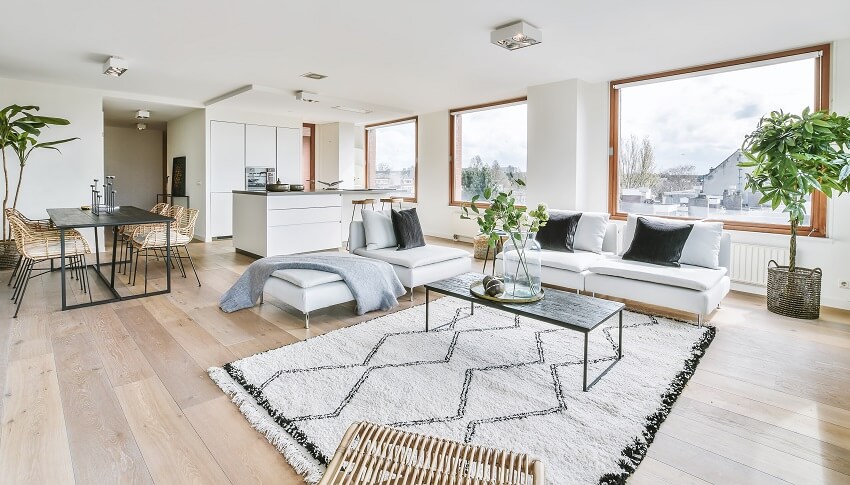 Some types of rugs are better than others for hardwood floors. Besides integrating with your design scheme, the rug you choose should provide protection to your hardwood floors rather than damaging or degrading them.
Hooked or tufted rugs are made from loops of yarn tightly wedged into a backing material. The loops may be cut, producing a tufted appearance, or left alone as in the case of hooked rugs.
A rug woven on a loom is known as a flat-weave rug. These reversible rugs have no backing material.
The most complicated and expensive rugs available are hand-knotted by an artisan weaver. These make beautiful statement pieces that elevate the look of any room when paired with hardwood floors.
The material of your rug affects how it will feel underfoot, and also how it will interact with your hardwood floors.
Natural-Fiber Rugs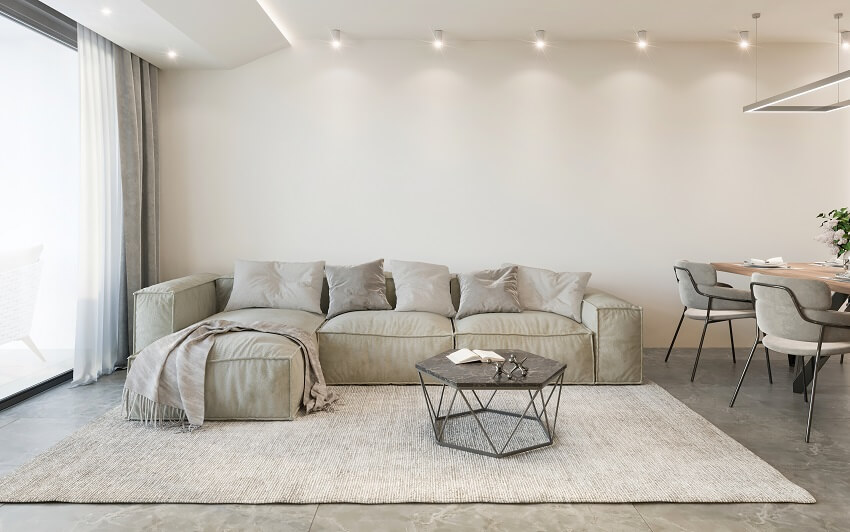 The most common types of natural fibers used to make rugs are hemp, jute, sisal, and seagrass. Natural fibers are a renewable resource, so the production of natural-fiber rugs can be done in an eco-friendly way and is generally considered sustainable.
Jute, sisal, and hemp can all accept dyes and are available in a variety of colors. Seagrass is not so dye-compatible, but still has an attractive natural hues.Hemp, seagrass, and sisal are all highly durable, but can feel a bit rough compared to other rug materials.
Jute is softer than the other three, but slightly less durable as a result. Some tufted or hooked rugs use jute as a backing material.
Natural-fibers rugs tend to slip, and the rough threads can scratch or scuff your hardwood floors. To prevent this, pair your natural-fiber rug with an underlay that is safe for hardwood floors.
Cotton Rugs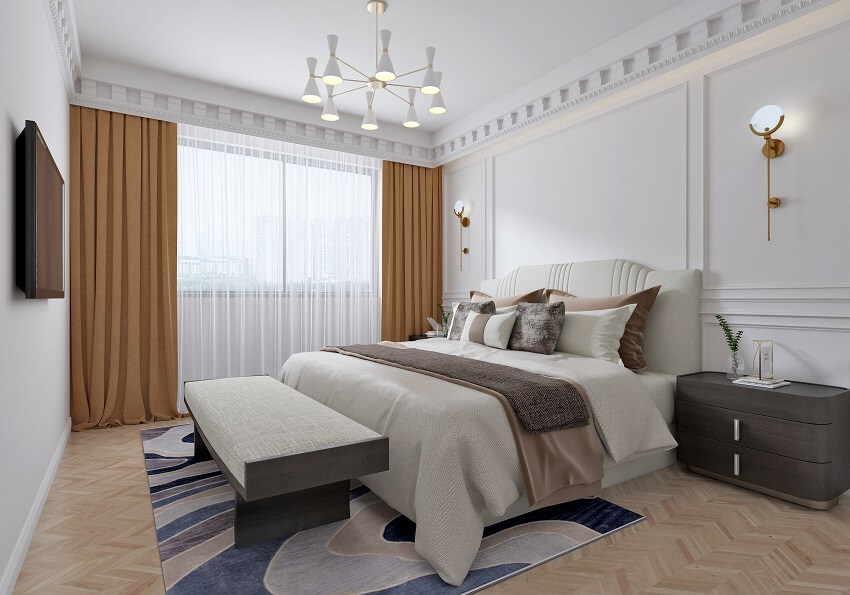 While natural fiber rugs come from the leaves or stalks of plants, cotton bolls are the fruit of the cotton plant. When processed and spun into thread, cotton can be used to produce rugs of all types. Cotton rugs are sustainable and eco-friendly, and only slightly more expensive than synthetic rugs.
Cotton rugs are both beautiful and touchable, but require some extra care. They are fairly durable and machine-washable. Cotton rugs tend to have a more relaxed and casual look than some other types of rug material.
They are perfectly safe to use on top of hardwood floors, but a rug pad may be necessary to stop cotton rugs from slipping.
Wool Rugs
Wool rugs are made from animal fiber (either fur or hair). These fibers excel at repelling small amounts of liquid but can become stained if they are saturated for a prolonged period. Blotting spills quickly is essential, lest the fiber become perpetually stained.
This excellent absorption of colored liquid allows wool rugs to retain their color and pattern for a long time, making them an excellent investment. It is not uncommon for wool rugs to become heirlooms.
Rugs made from wool are extremely durable, and feel softer to the touch than natural fiber rugs, though not as soft as cotton or silk. It is best to use a rug pad under a wool rug to prevent slipping and scratching.
Silk Rugs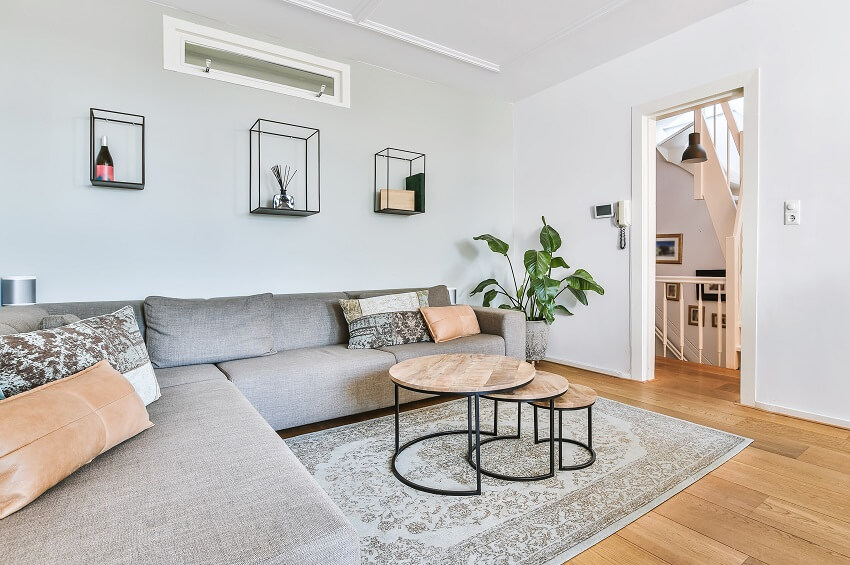 Silk is a fiber produced by insects. The silk produced by moth caterpillars is harvested and used to create threads, which are knotted together to create silk. Silk has a beautiful, lustrous appearance, and the thin strands of silk allow artisans to create mesmerizing, intricate patterns.
This delicate fabric is expensive to create, easy to mar or stain, and loses strength when wet, so it is not the ideal material for a rug intended to cover hardwood floors.
If you have your heart set on a silk rug, consider hanging it on the wall instead, and protecting the floor with something more durable.
Synthetic Rugs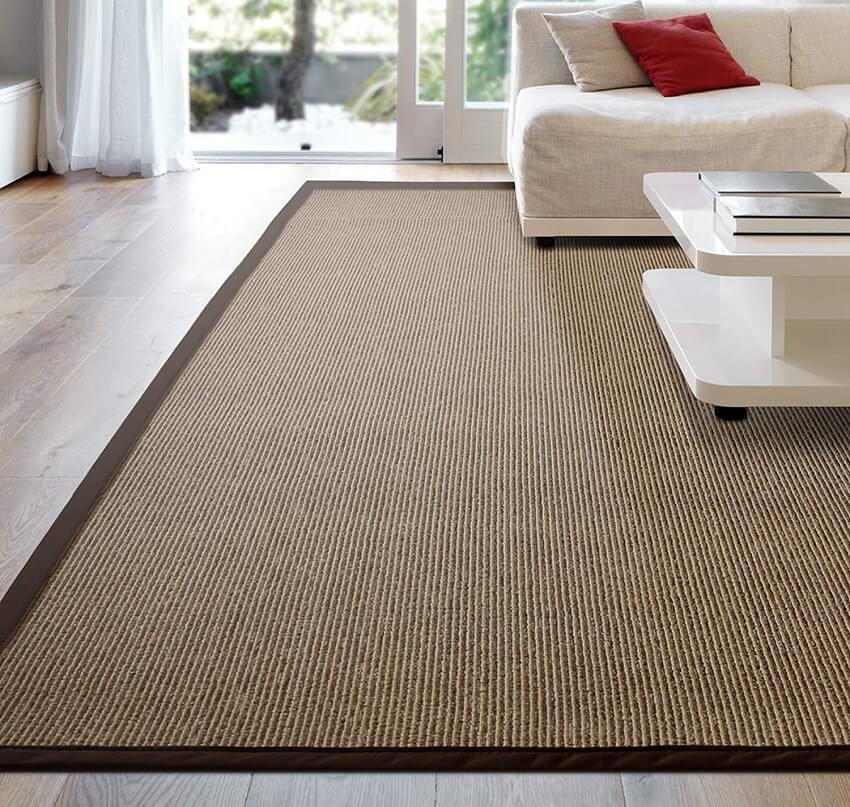 See this synthetic rug at Amazon [sponsored link]
Rugs can also be constructed from synthetic materials such as nylon, polypropylene, or polyester. Polyester, latex, or synthetic rubber may also be used to form rug backings.
Synthetic rugs tend to be the least expensive options on the market, and are very stain resistant, making them a practical and popular choice for many flooring purposes.
However inexpensive they may be, synthetic materials cause problems when used as a covering for hardwood floors. Not only do these materials emit volatile organic compounds that degrade indoor air quality, but they can also degrade or dissolve the finish on your hardwood floor. Read more about polyester rugs here.

Rug Pads For Hardwood Floors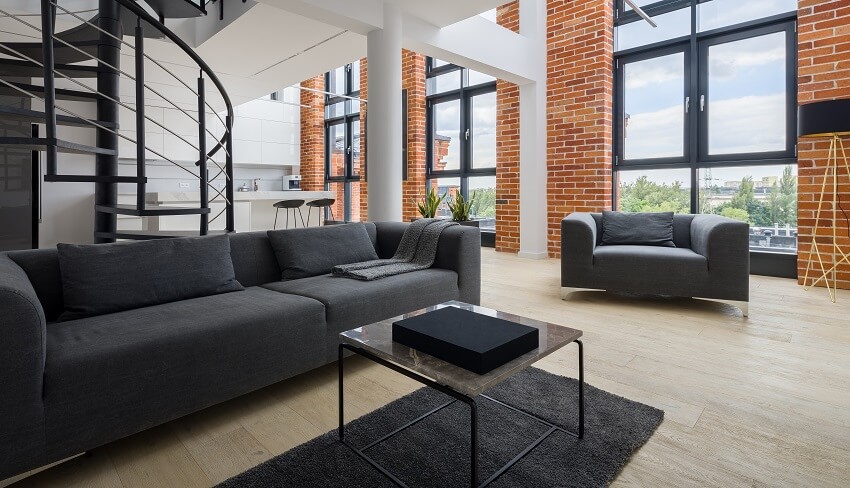 Hardwood floors have a timeless beauty and can be integrated into any kind of decor, be it contemporary, modern, or traditional. If you're fortunate enough to have hardwood floors and want to top them with a rug, you should use a rug pad as well.
Using a rug pad maintains the condition of both floor and rug. Repeated sliding of the rug can damage the backing, causing ridges and creases to form over time. Once the backing of your rug is broken, it will no longer lie flat. Not only is this frustrating and unattractive, but it can also pose a trip hazard.
Depending on the backing of your rug, it may scratch or scuff your hardwood floors. Adding a protective underlay provides a barrier between the hardwood floor and rug backing, while also eliminating movement of the rug to decrease the likelihood of scratches.
Rug underlays or rug pads are usually made from rubber, felt, or plastic. There are also adhesive spray options for keeping a rug in place. Not all these solutions are safe for your hardwood floors, so be careful when choosing a solution.
What Kind of Rug Pad Is Safe for Hardwood Floors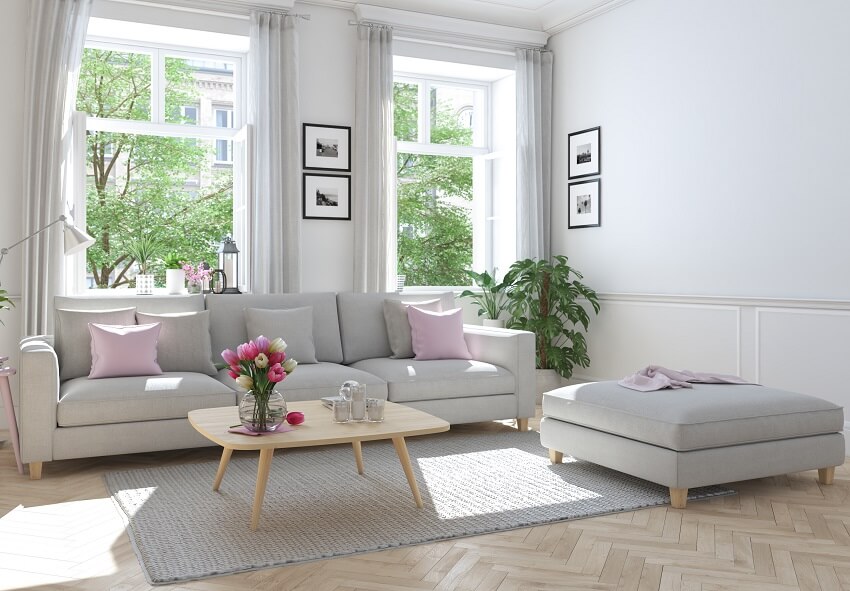 Not all rug pads are safe for hardwood floors. In fact, a cheap rug pad can ruin your hardwood floors and introduce polluting chemicals into your home environment.
One purpose of a rug pad is to provide a grippable surface. Rug pads made from rubber provide natural grip without the use of additional chemicals. Where anti-slip precautions are not necessary, felt rug pads provide cushion, insulation, and protection to your hardwood floors.
Synthetic rubber or plastic rug pads, on the other hand, are coated in chemicals to increase their grip. These chemicals can leach into your air, lowering the indoor air quality. They also may react with the finish applied to your hardwood floors, resulting in transfer of the plastic that stains your hardwood floors.
Even worse than plain plastic rug pads are adhesive rug tapes or adhesive sprays used to glue the rug to your floor. When the adhesive works well, you are unable to remove the rugs for cleaning. When it doesn't work well, the rug tends to bunch up and get stuck to its own backing.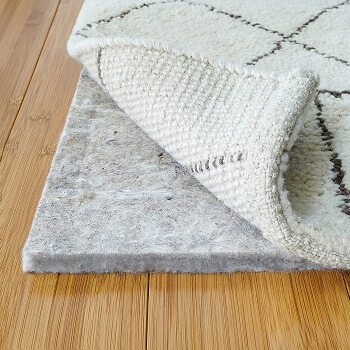 See this synthetic rug at Amazon [sponsored link]
To keep your hardwood floors safe and in good condition, restrict your choice of rug pad to products made from natural rubber, felt, or a combination of the two materials.
Rubber and felt rug pads hold your rug in place, do not emit harmful gasses or odors, and will never mar the surface of your hardwood floors.
Rug pads can be cut from a larger roll of material or purchased pre-cut in a size that matches your rugs. The rug should overlap the pad or underlay by about half an inch on all sides. This is enough of an overlap to avoid showing the underlay inadvertently, but not so much that it will affect the rug pad's performance.
Why Use Rugs On Hardwood Floors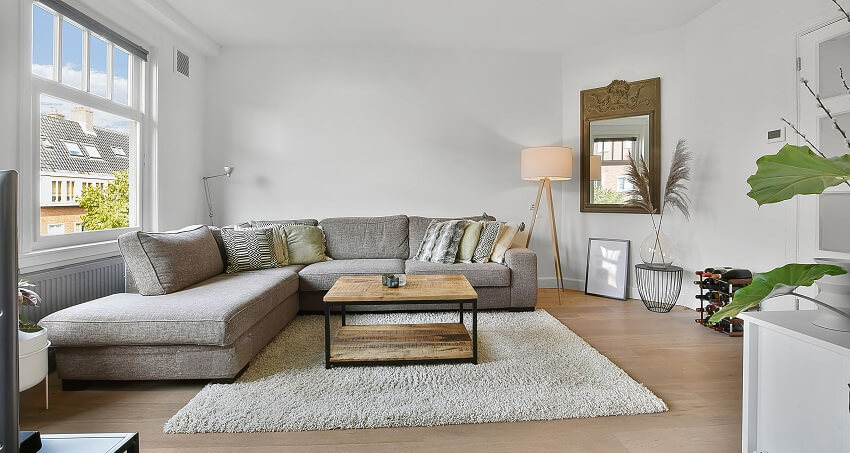 Hardwood floors are a highly-desirable feature. Keeping them in good condition preserves their value. Without a rug, hardwood floors can sustain damage and may require refinishing or repair. Use rugs on hardwood floors to provide protection from scratches, moisture damage, and staining.
High-traffic areas of your hardwood floor are the ideal candidate for a protective covering such as a rug. Without a rug, your hardwood floors may wear unevenly. Hallways and entryways are particularly vulnerable to wear and tear from foot traffic.
While properly finished and sealed hardwood floors are extremely resistant to damage, it is possible to scratch, scuff, or even dent them. Scratches are not only unsightly but also make the hardwood more vulnerable to moisture damage, especially if the scratch is deeper than the protective coating.
Hardwood floors are also stain-resistant, but color changes can occur from oily or waxy spills. Ultraviolet light can also cause fading or discoloration of your hardwood floors and finishes.
A quality rug with appropriate padding acts as a barrier to UV discoloration as well as stains and scratches, offering the best protection for your hardwood floors. Protection may be the primary reason to use rugs on hardwood floors, but there are other benefits as well.
Depending on the rug you choose, you may find it more comfortable to walk on the rug than on the bare hardwood floor. Rugs also provide a layer of insulation that will aid your heating and cooling system in maintaining a steady temperature.
Textiles like rugs are also excellent sound absorbers. A rug on your hardwood floor will decrease the noise of footfalls, both in the room with the rug and any rooms directly below.
Along with all the practical reasons to use rugs on hardwood floors, there are also aesthetic considerations. Rugs are a major design element that can be used to introduce color and texture into your home. Besides protecting and insulating your hardwood floors, rugs beautify and unify the space.
Visit our guide on how to pick rug sizes for more related content.