Here's our home gym size guide including different home gym dimensions for floor plans, layouts and space needed for many types of gym equipment.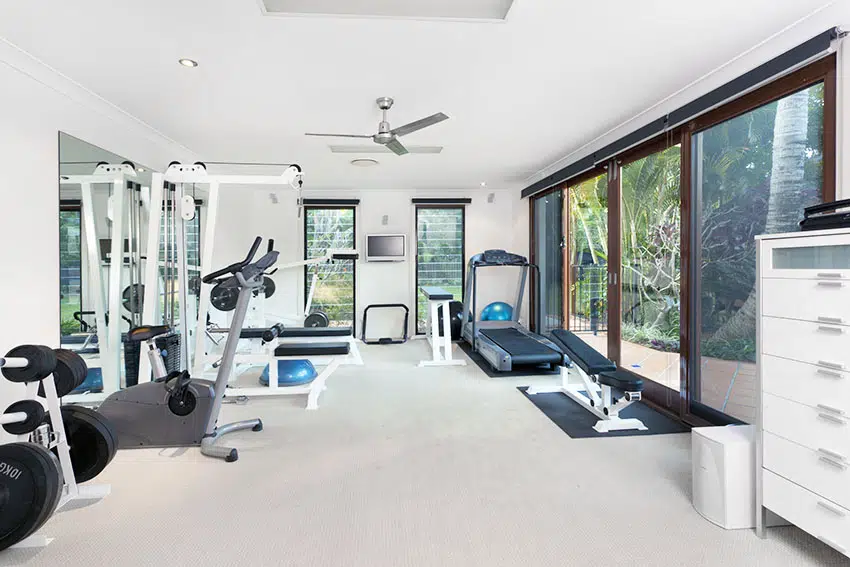 It might be difficult to picture what will and will not fit in your home gym while you're designing one. Fortunately, you can make the space work for you whether you have a small or huge area in which to design your home gym.
You might need to be creative in how you organize your equipment and the activities you perform based on the size of your room. However, it is indeed possible to establish a functional fitness area no matter how big your space is.
We will show you several home gym floor designs in this article to show you how you can create a home gym that can help you accomplish your objectives.
Average Home Gym Size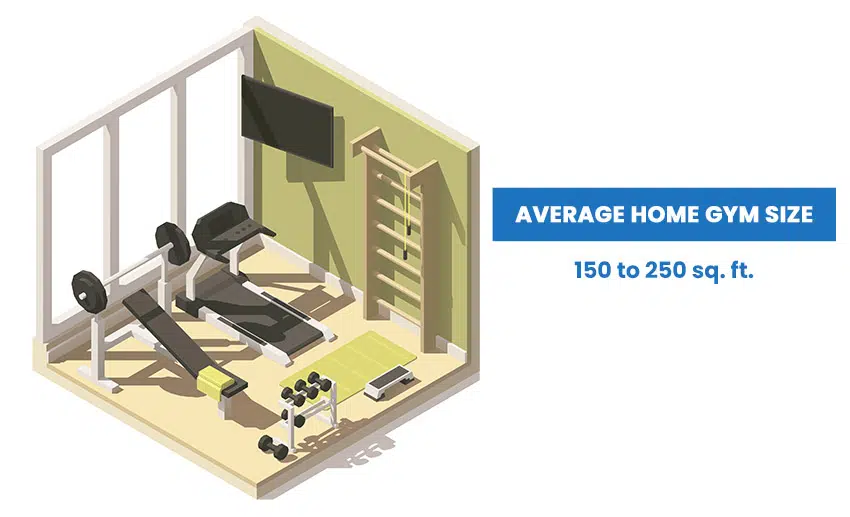 The average size of a home gym is around 150 to 250 square feet. This provides adequate space for both muscle and cardio equipment. However, you are approaching the point where you will have to start making some adjustments at 250 square feet.
You can still accommodate a lot of equipment, but you will have to be more meticulous about which machines and equipment are most necessary to you.
A 200-square-foot home gym is probably spacious enough for a power cage, but you might want to choose a squat stand rather than free up space for other exercises.
You may also acquire a wall-mounted folding squat rack, many of which occupy less than a foot when fully deployed.
If you are considering a home gym that is less than 200 square feet, you will need to trim out your equipment inventory and stick to a few important things.
Because many large isolation machines will not fit in a 150 square foot home gym, you'll have to rely on conventional weights for the majority of your strength training. Although you can incorporate a treadmill or rowing in addition to a squat rack, the space will seem claustrophobic.
Home Gym Space Needed
Free weights typically require 20 to 50 square feet of room to be used effectively, treadmills take around 30 square feet, and a multi-station gym with different large gym machines requires 150 to 500 square feet.
Before you begin searching for equipment, you must decide where you want your home gym to be. The size, number, and configuration of your equipment will be influenced by space limitations.
Best Size for Home Gym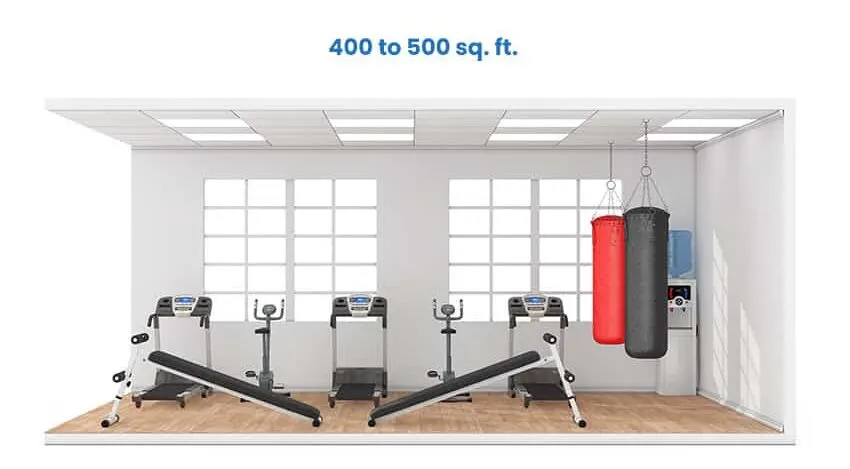 To accommodate plenty of gym equipment, the most ideal home gym sizes are either 400 or 500 square feet.
You will have a lot of selections for designing a home gym if you have 500 square feet to work with. There is plenty of area for both weightlifting and cardio equipment, and you will be able to work out with several friends or household members.
A 400-square-foot home gym, on the other hand, is roomy enough to house a squat rack or power cage, storage shelves for dumbbells, use an exercise ball and free weights, and many more.
Moreover, you will still have room to exercise with others if you want to work out with your spouse or children.
Square Feet Needed for a Home Gym Equipment
The content below indicates how much room is required for the most common types of home gym equipment. The requirements of each particular manufacturer may differ seemingly, but you can use these ideas as a reference to help you measure out your home gym area.
Cardio machines, like weightlifting equipment, vary greatly in terms of how much area they take up. Fortunately, most cardio equipment does not require a lot of space around them to function correctly. This makes it easy to put them and determine how much room is required.
There are many distinct kinds of cardio machines, and within each type, there are several versions of varying sizes. Because it's impractical to provide the dimensions of each model here, we have chosen to present you with the averages.
The average footprints of the specific type of cardio equipment for home usage are shown below. Commercial machines are often larger. These are only guidelines; please check the measurements of your machine.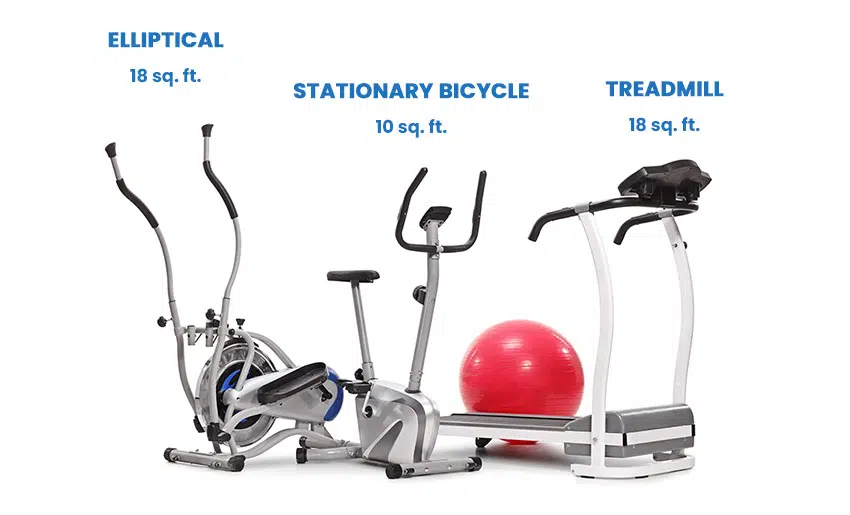 • Stationary Bicycle – 57.6" x 24.9" (10 Square Feet)

• Treadmill – 75" by 35" (18 Square Feet)

• Elliptical – 68.1" by 28.5" (18 Square Feet)

• Rowing Machine – 96" by 24" (16 Square Feet)
The treadmill and elliptical trainer do not require any additional room to be used. When operated, a rowing machine requires at least 4 feet of width, whereas a stationary bicycle requires around 3 feet. That is just while it is in use. When not in use, you solely need the measurements shown above.
• Stair Climber
Stair climbers come in a wide range of sizes — some are over 6 feet tall and take up 5' x 3' (15 square feet) of floor area, while others are half that height and occupy half that floor area.
Aside from the physical area a piece of equipment occupies, you must also consider the durability of your flooring and the impact the stair climber will have on them. Larger and heavier equipment will be rougher on your flooring, whilst lighter equipment would have less of an impact.
• Single-Station Gym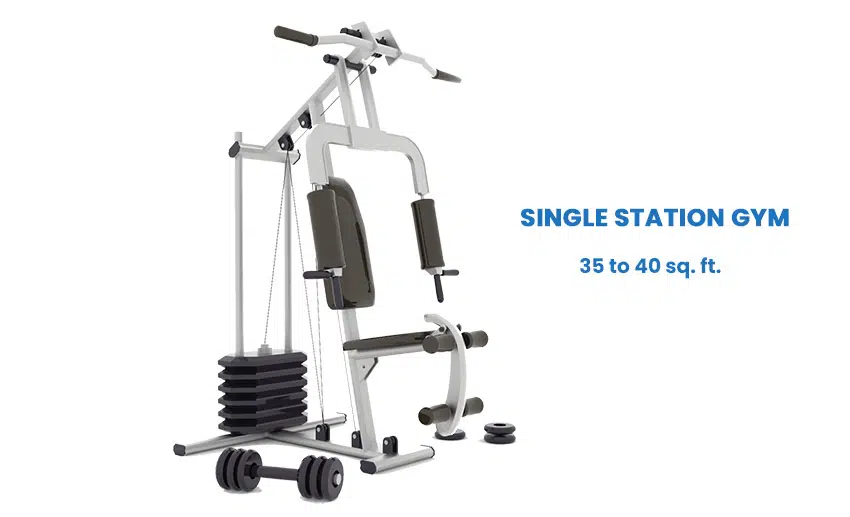 You will need about 35 to 40 square feet to accommodate a single-station home gym.
• Multi-Station Gym
A multi-station gym will require 50 to 200 square feet of space to operate in full functionality, according to the American Council on Exercise.
• Weight Bench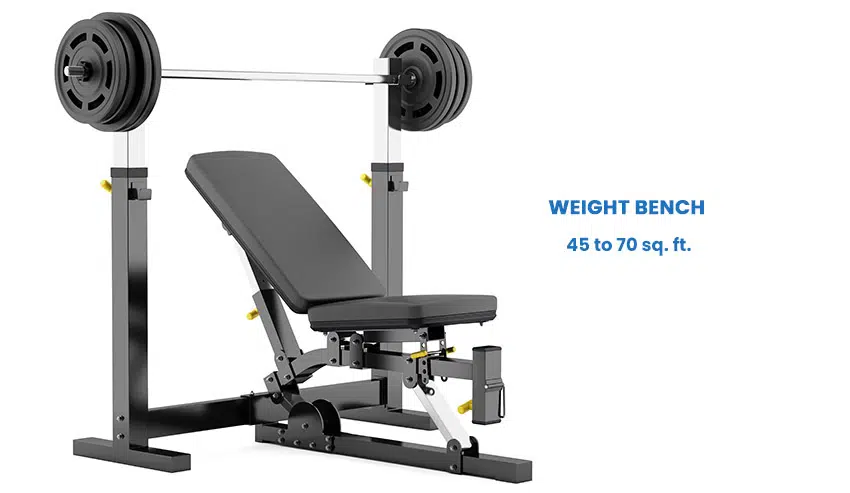 Weight benches come in a range of sizes and styles. The width of most benches ranges from 15 to 19 inches, but the length takes up the most room.
Non-adjustable flat benches are 45 to 50 inches longer than adjustable flat benches, which are generally 50 to 55 inches long.
Non-adjustable benches, on the other hand, limit your training and exercise possibilities. The additional utility provided by an adjustable bench is often worth the extra space it requires.
Benches with connected leg extension pads, curling equipment, or a barbell rack take up a lot more room and aren't valuable for a quality exercise.
A weight bench will not take up much space, but you also want space to walk around and conduct a range of activities.
Allow several feet of room around the bench, two to three feet on each side, and a few feet on each end. When you include the size of the bench, you need to have an open area of 45 to 70 square feet.
• Free Weights
A space of at least 7′ x 8′ is required for this setup with dumbbells and a bench (56 square feet). You can reduce the size of the area, but this will restrict the workouts you can undertake. 6′ x 5′ would be the absolute minimum (30 square feet).
Moreover, you will likely smack your knees on the opposite wall when you push your bench against the wall on one side. However, it is neither pleasant nor practical.
Almost every exercise may be done conveniently in a 7′ by 8′ (56 square feet) area. It also has enough space for a rack and a complete set of dumbbells and other free weights.
In terms of free weights, it's fairly basic. However, you can already conduct a plethora of workouts using dumbbells and benches.
The disadvantage is that you cannot lift as much weight as you could with a barbell and rack. Plus, if you run out of dumbbells and want to get heavier, you'll have to buy a new set. This may quickly add up to your expenses.
Hence, this is only appropriate for persons who want to lift a minimal amount of weight. Most basic dumbbell sets have a weight capacity of 50 or 60 lbs. You can buy heavier ones, but they are more expensive and take up so much room that it may not be worth it.
Since there is no barbell at this moment, the minimum width required is slightly less. But it's not as little as you would imagine.
The dumbbell fly is the broadest dumbbell exercise you're likely to undertake. That implies you extend both your arms out to the side while holding a dumbbell in your hand. Your 'wingspan' is roughly proportional to your height.
Since they protrude a bit, the dumbbells will contribute a few inches on both sides. That implies you will need at least your height plus 10 inches of width. That also means that most individuals can work out with dumbbells in a 7′ wide space.
• Yoga Mat
Yoga is more than just a physical workout; it is a full-body and mental workout that improves general posture, develops muscles, and enhances balance. Some of these positions need the use of equipment such as yoga mats.
When it comes to exercising, safety is the number one consideration. A home gym with a yoga mat should normally have around 20 to 25 square feet of space. This provides ample room for a person to practice their moves safely.
Home Gym Floor Plan
Before you head shopping and purchase equipment, make a plan that includes a home gym layout. Going through this procedure might assist you in balancing your fitness objectives, usable space, and money. Here are some ideas and floor layouts to help you design your perfect home gym.
500 Square Feet Floor Plan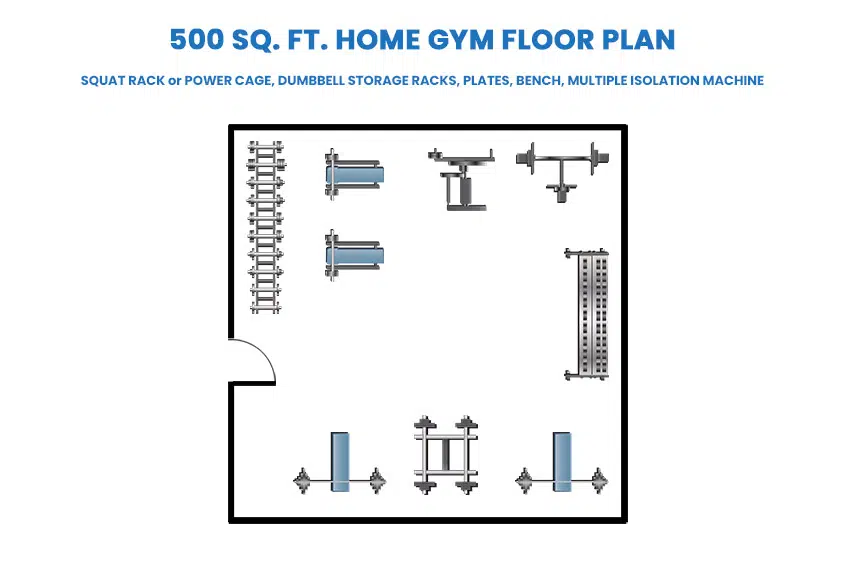 You can put a squat rack or power cage, dumbbell storage racks, plates, a bench, multiple isolation machines, a PLYO box, and a few cardio machines in a 500-square-foot home gym whilst still having an abundance of space to roam around and perform other workouts on your ground.
You have enough capacity for both strength and cardio equipment in this amount of space, but what you put in it depends on your objectives and priorities. In a 500-square-foot home gym, you will also have ample space to exercise with your friends or family members.
400 Square Feet Floor Plan
A home gym with a size of 400 square feet is indeed big enough to accommodate a squat rack or power cage, dumbbell and plate storage racks, a bench, a PLYO box, and other types of barbells such as a deadlift bar or a trap bar.
This home gym size can also accommodate much cardio equipment as well as isolation machines such as a cable station, leg press, or lat pulldown apparatus.
This room can accommodate various pieces of weightlifting and cardio equipment, but what you include in your home gym mainly depends on your objectives and preferences.
300 Square Feet Floor Plan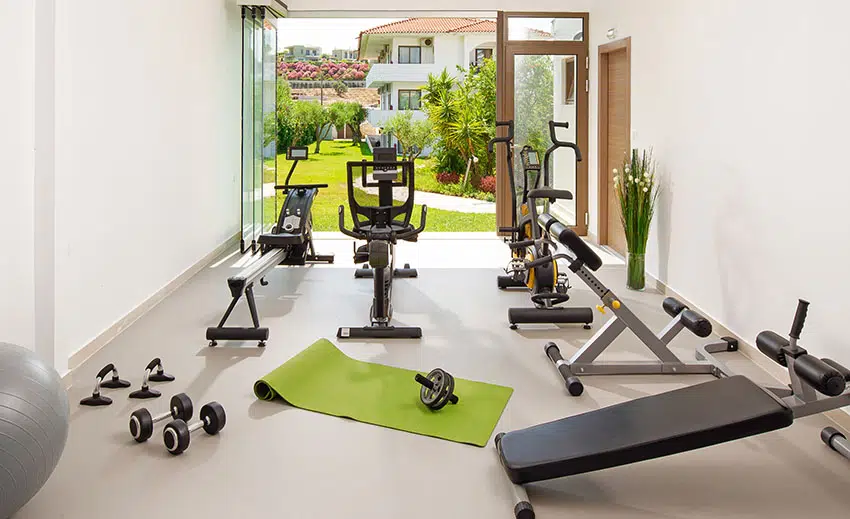 Inside a 300-square-foot home gym, you have a lot of freedom in terms of equipment. A power cage, dumbbell storage racks, a bench, a PLYO box, and weightlifting machines are all possible to be placed in it.
Large cardio equipment such as treadmills and rowing machines, as well as a lifting platform, will also fit.
The optimal plan for you will be determined by the type of exercise you perform, but you can still design a very functional home gym with an overall space of 300 square feet.
250 Square Feet Floor Plan
A power cage can operate in a 250 square foot home gym, but it will restrict the number of additional equipment you can include if you also need cardio equipment or isolation machines.
You might be able to accommodate a multi-station machine, but you might not be able to fit a squat stand, power cage, or other single-station machines given how big it is.
200 Square Feet Floor Plan
A 200-square-foot home gym is still roomy enough to accommodate a power cage. A wall-mounted adjustable squat rack, many of which occupy less than a foot when fully extended, is also an alternative.
150 Square Feet Floor Plan
Since many huge isolation machines will not fit in a 150-square-foot home gym, you'll need to rely on free weights for the majority of your strength training.
To minimize space, try using a squat stand instead of a power cage, and search for items such as foldable dumbbells and wall-mounted storage shelves.
100 Square Feet Floor Plan
Although 100 square feet is a little space for a home gym, a few pieces of equipment may still be added. You won't be able to accommodate isolation equipment, hence you'll have to complete your strength training using free weights.
Furthermore, you won't be able to put a power cage in there and still have space for other activities, so you'll need to acquire a squat stand.
Home Gym Mirror Size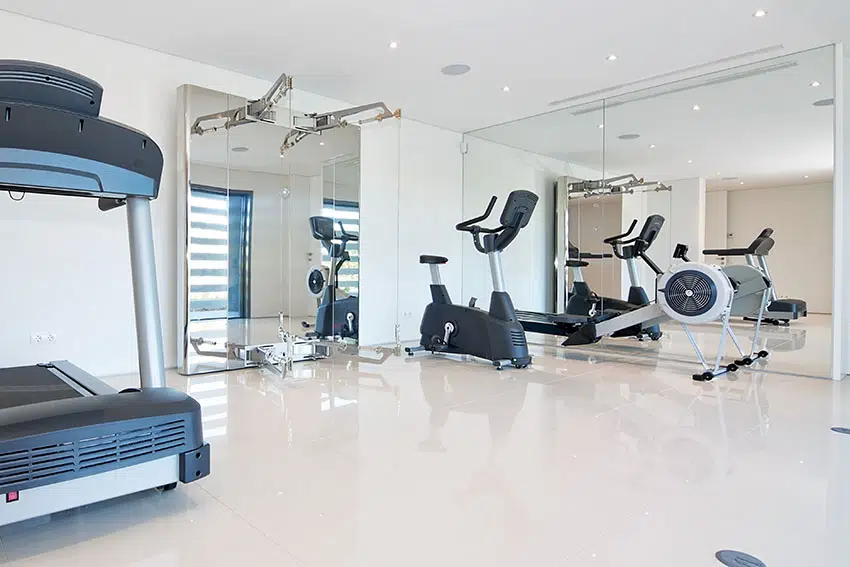 Gym mirrors should be at least 3 feet wide and 5 to 6 feet tall. A gym mirror must be positioned 2 feet from the ground, which indicates the top of the mirror should be 7 to 8 feet high.
This is ideal for weightlifting and most other types of training. Mirrors should be placed on the floor for yoga and comparable workouts. See more types of mirrors here.

Visit our guide on how to choose home gym colors for more related content.