See the different types of wood ceilings including the benefits, different ceiling styles, materials, classifications, and differences between hardwood and softwood.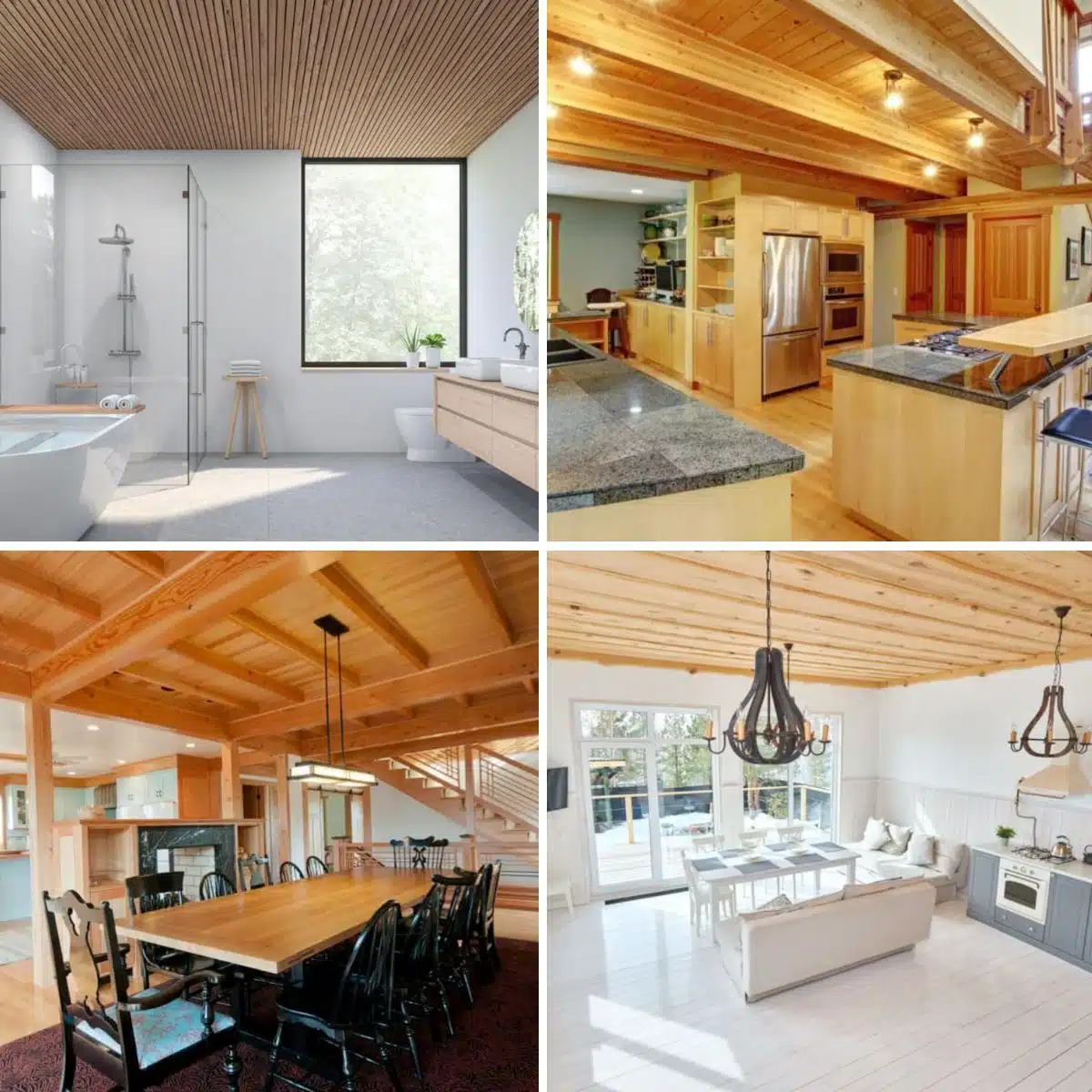 If the look you're going for at home is something inviting and cozy, you should definitely look into the possibility of getting timbered overheads. They're simple and unassuming but they also have an understated sense of elegance in them.
The main rule of thumb, if you're planning on playing around with wood ceilings, is that you should make it your priority to uphold the authenticity of the timber at all times or as much as possible.
Play on the wood's natural strengths and beauty. You can go with whatever finishing you may want but always make it a point to preserve the timber in the best possible way.
Quicklook: Different Wood Types For Ceilings
• Wooden Beam Overhead
• Wooden Plank Ceiling
• Shiplap Ceiling
• Wooden Slat Ceiling
• Tongue And Groove Ceiling
• Flat Ceiling
• Coffered Ceiling
• Slanted Ceiling
• Vaulted Ceiling
• Panned Ceiling
• Cathedral Ceiling
• Drop Ceiling
• Arched or Curved Ceiling
• Tray Ceiling
• Facing Plates
• Combination Ceiling Design
• Wood Wallpaper On Ceiling
• Ceiling Wooden Moldings
• False Wooden Beams
• Wooden Lattice Design
Why Use Different Types of Wood Ceilings?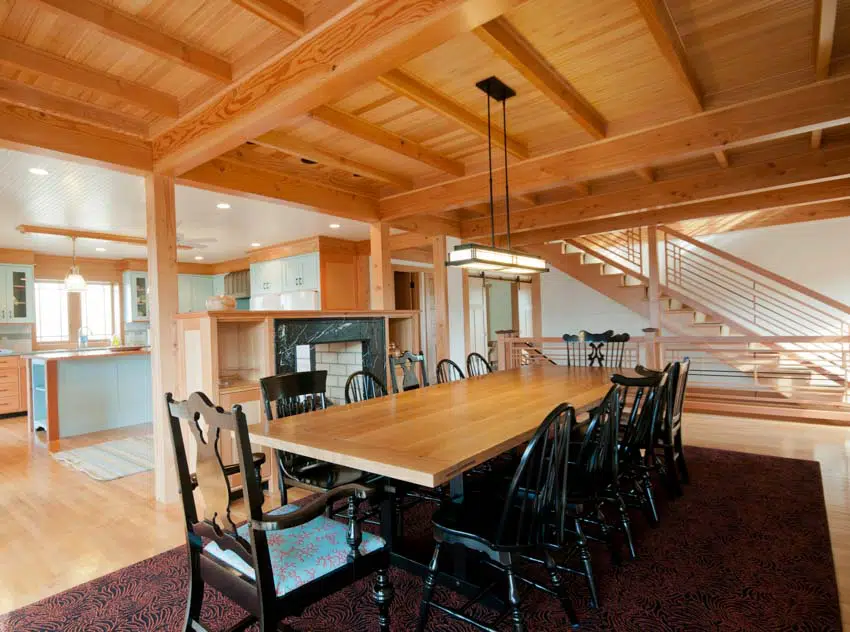 Why go with one of the many types of timbered ceilings in the first place? They're organic and sustainable. Wood has the flexibility to allow you to come across a lot of different ways and directions when it comes to decorating your interiors.
If you have a wooden overhead in place, you're bound to find a specific design that will fit right into the rest of the other elements you have in that space. That's always a guarantee.
If overhead decorations have always been a bit of a hurdle for you to design or decorate, then wooden overheads just might be the answers that you're looking for. There are a lot of wooden overhead decorations and variants to choose from.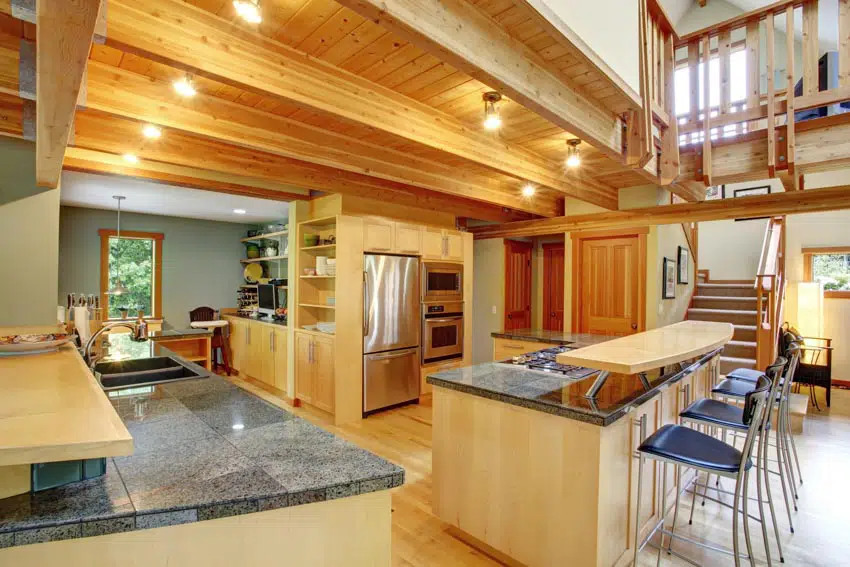 Because of the fact that there are so many variations and designs to choose from, the best way for you to pick out the wooden overheads type that would work best for you and your home is to make sure that you familiarize yourself with the choices that you have in the first place.
We've gone ahead and made the entire process so much easier for you to understand and take in. Read on down below.
Wooden Beam Overhead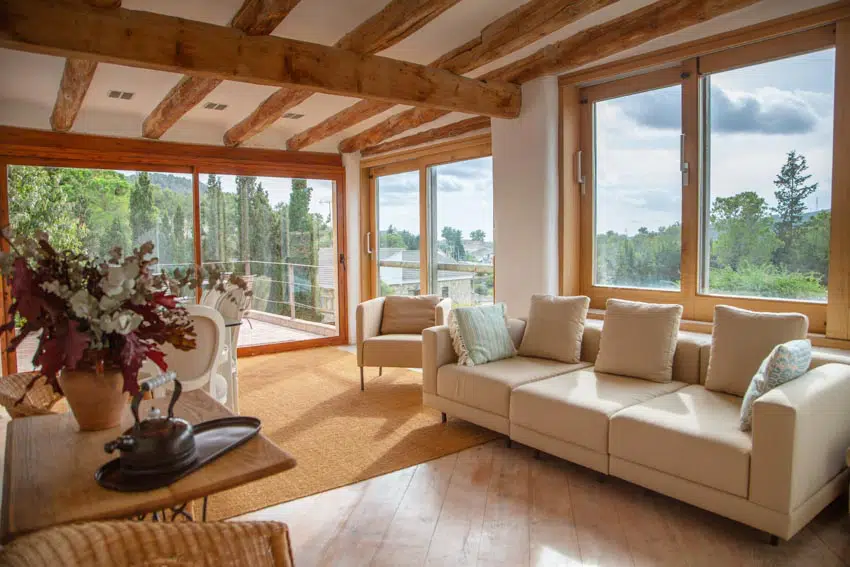 A wooden beam ceiling is great for spaces wherein the look you're going for is something rustic or traditional. This is among the different types of wooden ceilings that are often seen in dining and living rooms that typically have elevated or much taller ceiling heights.
Exposed ceiling beams are especially attractive in older homes built of logs or post-and-beams. The roof beams, or rafters, of a sloped roof ceiling are often exposed while the underside of the roof sheating between the rafters is covered with insulation board and then finished with painted gypsum board. – Home Inspection Handbook, John E. Traister
A wooden beam ceiling typically aims to visually lower the ceiling length, making the space look and feel a bit more welcoming and cozy. A lot of contemporary styles in the home would finish the look off with wooden beam ceilings as a classic touch.
You have the option to go for an all-wooden beam ceiling or play around with a combination of wooden and metal beams if you would like to create a nice contrast.
Timbered Plank Ceiling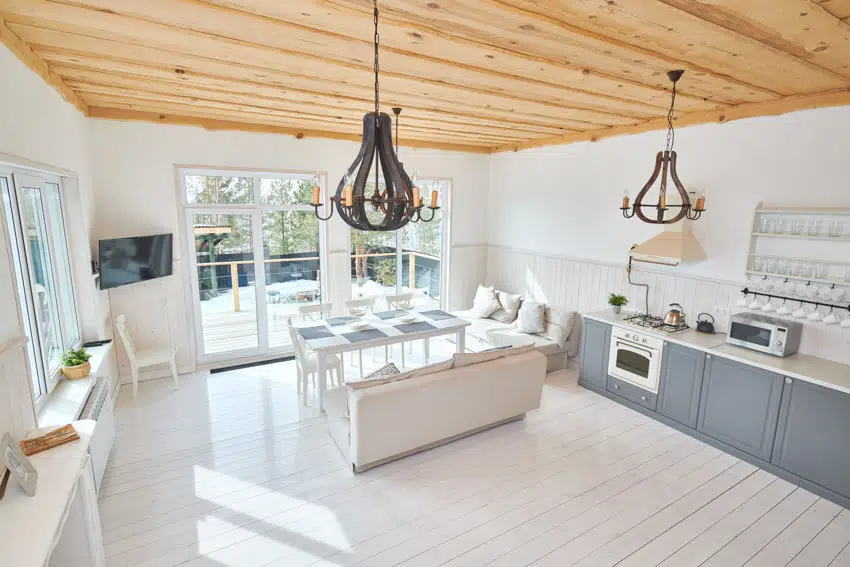 Nothing beats the natural beauty of wood and this is something that a wooden plank overhead can really showcase accordingly. This is one of the many types of wooden overheads that are characterized by putting wood planks together.
Real wood planks in particular have the added benefits of getting tongues and grooves featured. This means that there might be some gaps in between the wooden pieces.
Caulk is usually used to smooth these gaps over, making the overhead look seamless. This costs a bit more compared to the other overhead designs because of the sheer amount of material used but when achieved, its design component is unlike any other you've ever seen.
Shiplap Ceiling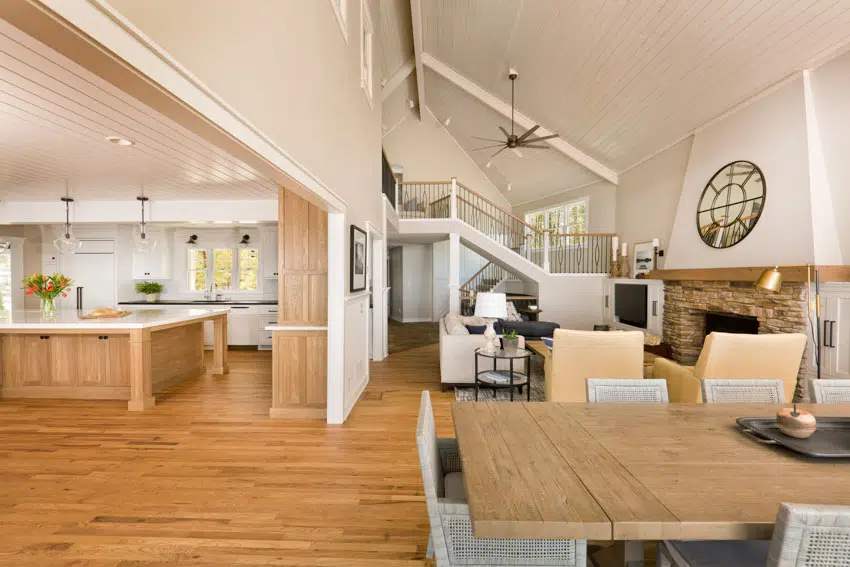 A shiplap ceiling makes for interesting design options and they are surprisingly cost-effective and really easy to install as well.
This overhead design is comprised of long and horizontal panels of timber that are usually installed with gaps in between the boards. Although shiplap is more commonly seen in walls, they are now becoming more and more popular for the ceilings as well.
If you happen to be in an area that has harsh weather and you need a bit more of protection and insulation, this is among the types of wooden overheads that can definitely be something worth considering.
Wood Slat Ceiling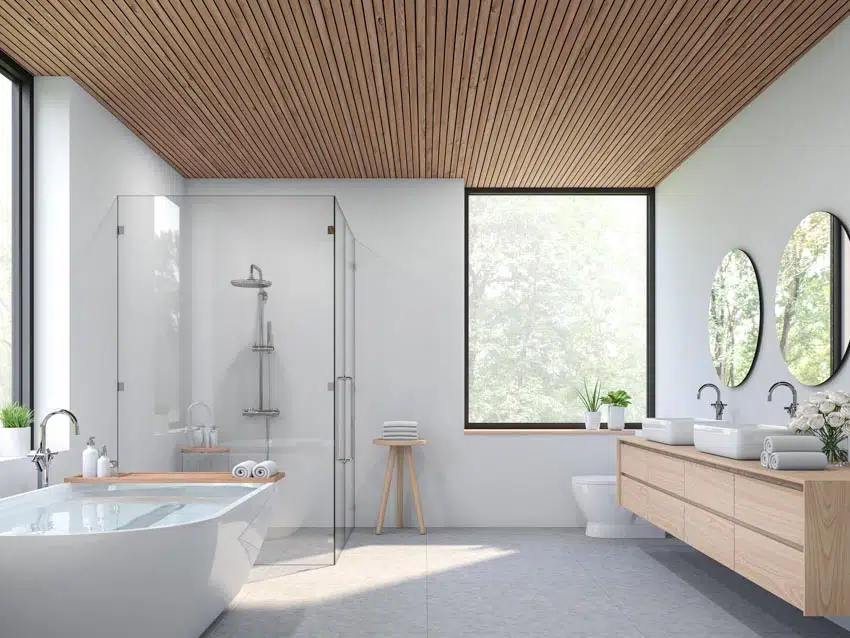 Wooden slats can often be seen on the floors of houses but it's not uncommon to see them installed in the ceilings as well. The basics of wooden slat ceilings are pretty simple.
The key to achieving this is that when you look up to the overhead, you see nice slats of timber that are comparable to a flooring system. The biggest offering of wooden slat ceilings is the acoustics that they bring in.
There's usually a little bit of open space in between the wooden planks, which is where its acoustic value comes from. The slats can either be directly screwed into a grid or it can be attached to the main overhead with a clip.
Tongue And Groove Ceiling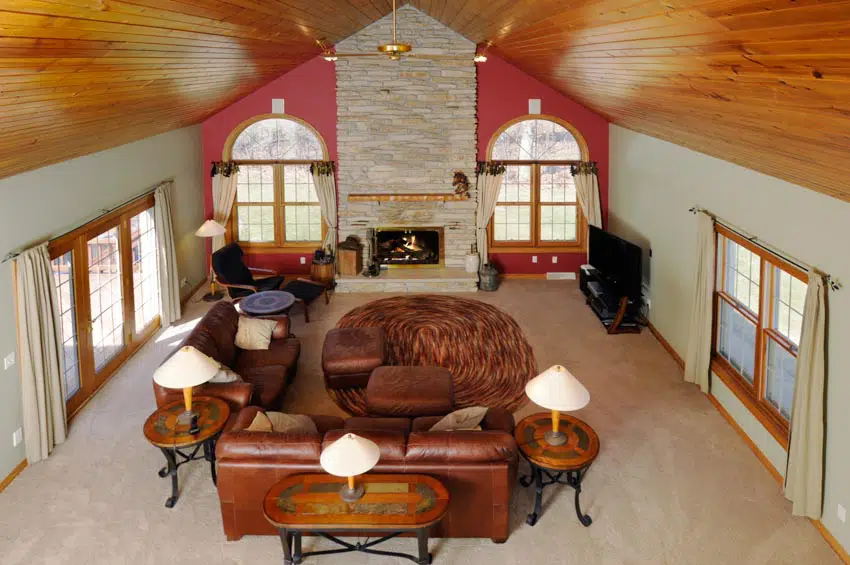 A tongue and groove wood ceiling is constructed with long boards that fit side by side with a tongue that fits into a groove.
A protruding tongue side fits into a receiving groove side which cuts down on using nails or glue. The T & G boards are frequently long and stretch across the overhead without any visible seams.

Flat Overhead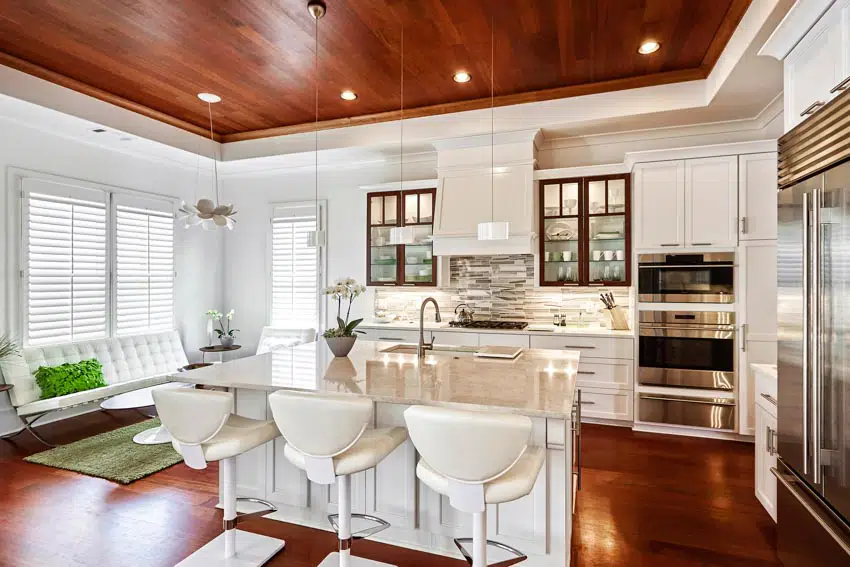 Flat wooden overheads is also called traditional wood overhead This is among the few types of wood ceilings that are simplistic and straightforward. If you aren't too fond of frills and extra fusses, then this might be the wood overhead choice for you.
It's comprised of wooden panels that create a simple and low-cost yet still elegant overhead design. If you like the flat timber design but don't want the surface to be too plain, you can always get patterned woods to bring in that added element of design.
Coffered Ceiling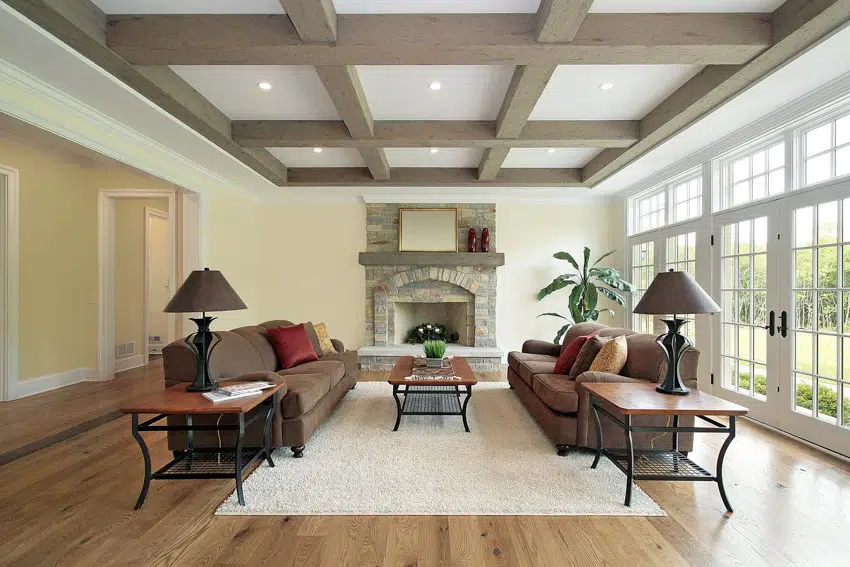 If you want to achieve something luxurious and classy for your home, you might want to consider getting a coffered wood ceiling. This overhead decoration can elevate the aesthetics of any overhead design.
These types of wooden ceilings are expensive to install mainly because it takes up so much more materials, time, and requires a lot of strategic planning and execution to get done.
However, despite of the obvious challenges, it's something worth having because the finished effect can be breathtaking. This works particularly well for vaulted ceilings.
Slanted Ceiling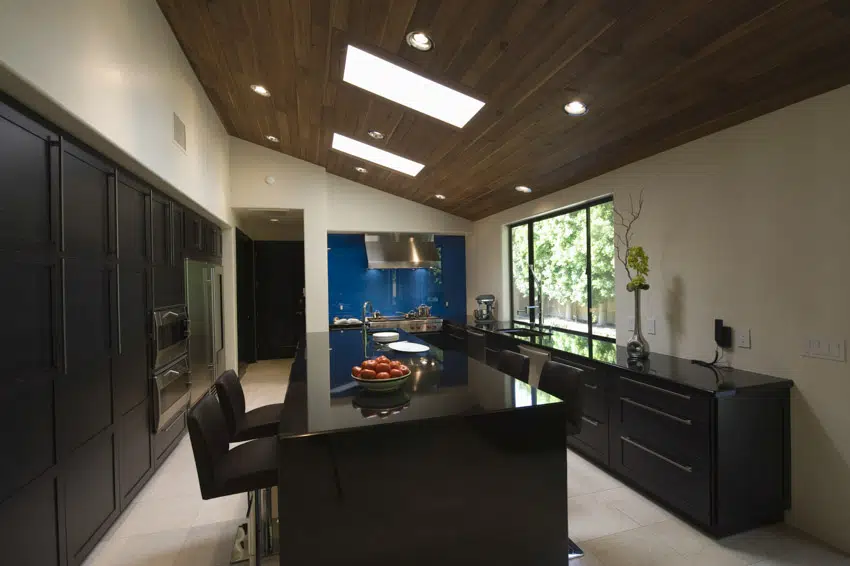 Another ceiling design that can really make your overhead stand out is by opting for a slanted wooden overhead design. This design is characterized by the overhead starting off at a high point and then sharply sloping down to a low point in the wall.
The effect these types of wooden overhead designs create is a great attention grabber. It's a bit disorienting and has a certain edge to it. This can be done in spaces that have particularly high ceilings.
Vaulted Ceiling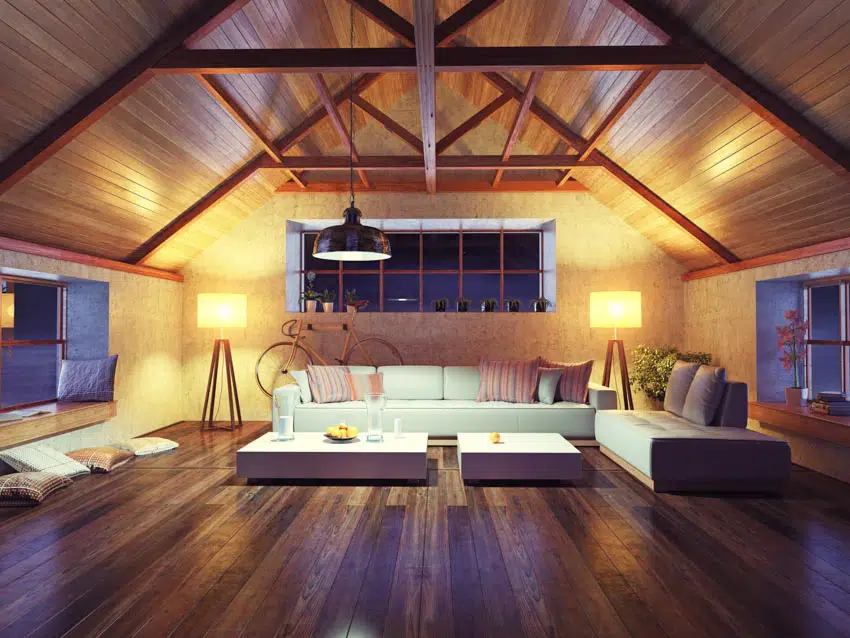 Vaulted wooden ceilings are characterized by beams forming an inverted V shape in the overhead. This is a favorite among home designers as it has the ability to open up certain spaces and make rooms look so much bigger than they actually are.
A vaulted overhead is usually recommended for the living room, the dining area, the master bedroom, or basically any other room or space in the home that enjoys a fairly ample amount of square footage.
Panned Ceiling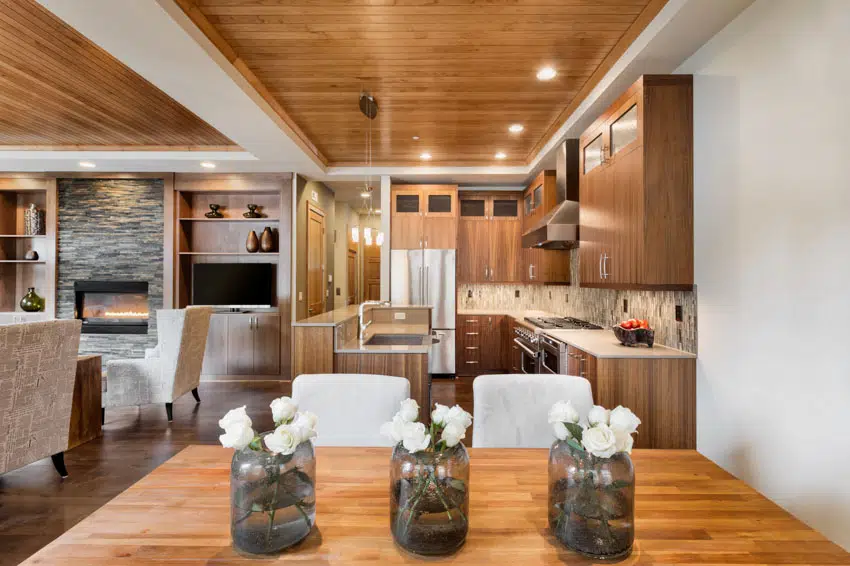 A panned wooden ceiling is a multilevel ceiling design that plays on angles and differing heights. It's great for making a room appear bigger and because it's characterized by 2-3 different layers, it can make a really interesting design angle in any room that you put it in.
Cathedral Ceiling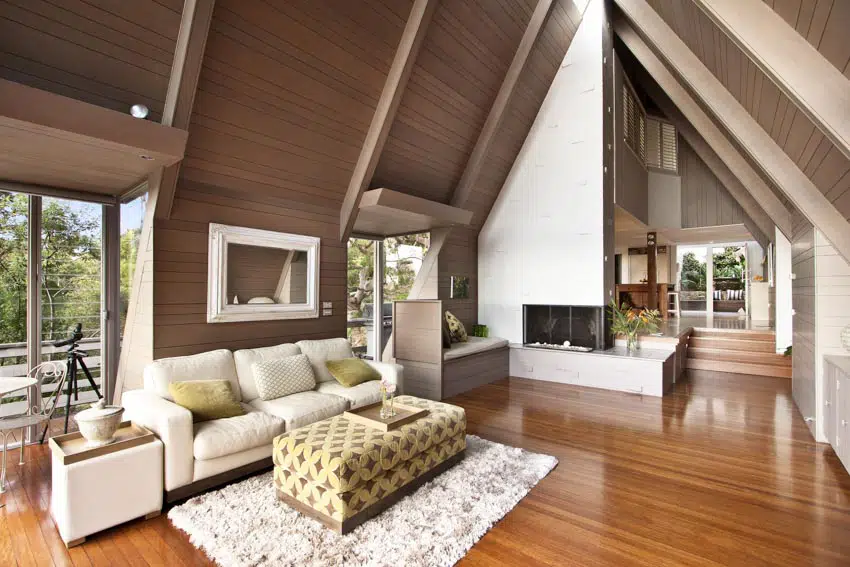 A cathedral ceiling is a ceiling design that's characterized by having straight wooden sides that slope upwards, very similar to the slope of a roof.
Both of these sloping sides are usually parallel and symmetrical to the pitch of the roof, which marks out its difference from the vaulted ceiling design. This design got its name from the shapes of the cathedrals and churches it resembles.
There are two wooden slanted sides that meet at a certain point, usually smack in the center of it. There's just so much architectural design and substance that goes into this that it really is worth the cost to put it in.
Understandably, cathedral ceilings are extremely beautiful. They are often found in large dining rooms, living rooms, and even in master bedrooms. However, they do present special challenges because the sloping fixtures are steep and hard to get to.
It makes it difficult to install fixtures or even get them cleaned. Suspension loads also need to be considered along with other types of professional fastening methods to get the installation done right and properly.
Drop Ceiling
Drop ceilings made out of timber are characterized by creating a double-layered look. What this means is that a secondary wooden overhead is suspended from the main or original ceiling.
There's usually a metal grid added to the said main ceiling to support the secondary suspended overhead. This is perfect for spaces that have flat ceiling designs but you want to add in a bit more personality and detail to it.
Arched or Curved Ceiling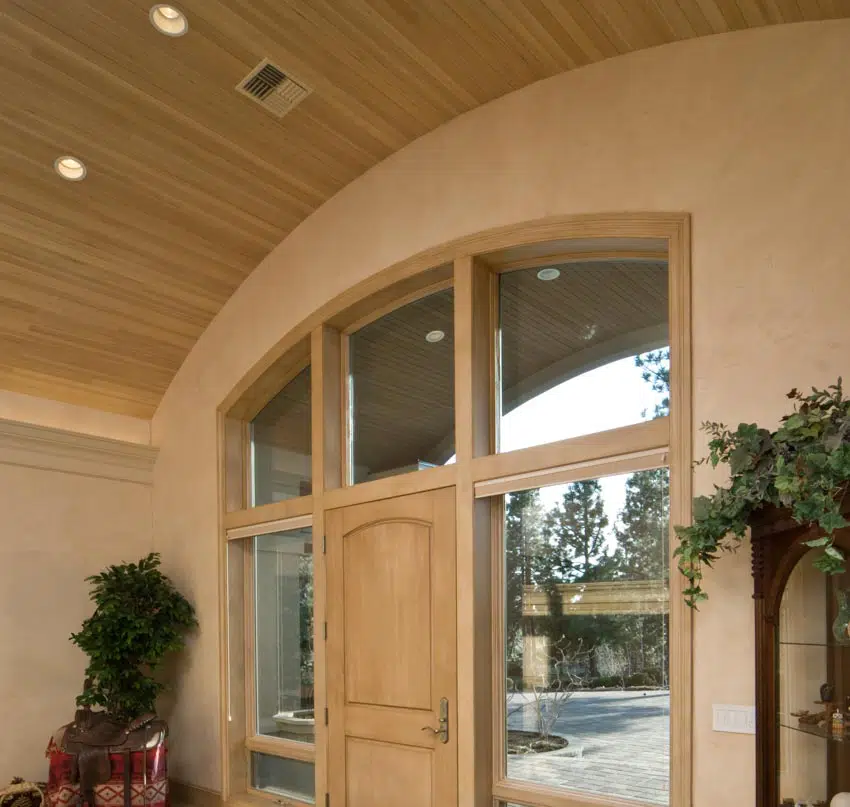 This ceiling design is characterized by a concave shape. This wooden overhead design is softer and a bit more stylish in terms of its design. If you want to create a theater-like effect in certain spaces in your home, then a curved timber overhead should work perfectly.
This can be in spaces where you want to connect rooms and give it an archway effect, or if you'd like to pump up the acoustics in your entertainment rooms at home.
Curved ceilings require a lot of engineering though and will cost a lot more compared to other overhead designs but higher-end homes do take advantage of its aesthetics and advanced functions.
Tray Ceiling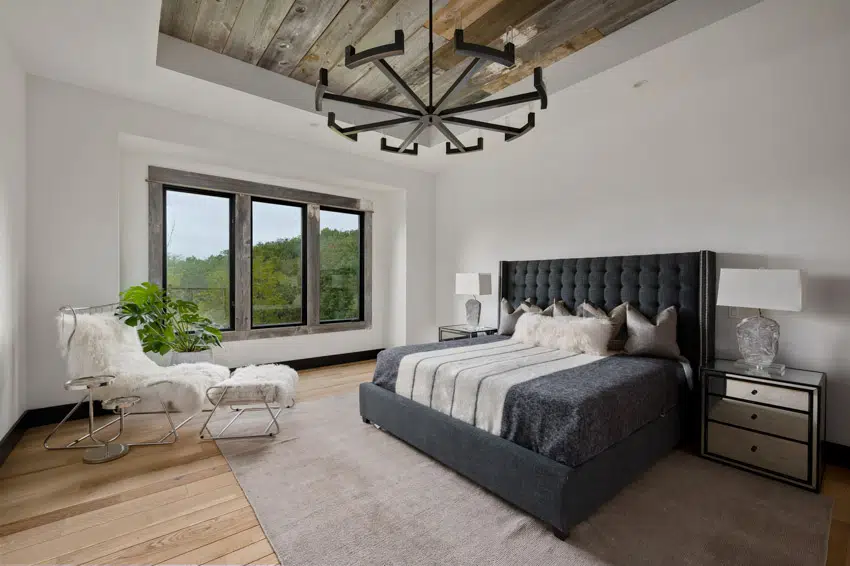 Tray wooden overheads are also nicknamed step ceilings. This particular overheaddesign is characterized by a recessed overheadeffect. It kind of mimics an upside-down tray, hence the name.
The center part of this overhead design is around 6 to 14 inches higher compared to the main overhead perimeter.
This ceiling showcase a visual difference in the overhead height that naturally makes it the focal point of the room that it's in. It also puts in a multi-dimensional effect and can totally change the look of even the smallest rooms in your home.
Tray ceilings usually start off from one height and then they drop as you go on and continue to add levels. Since the layout resembles a tray, the flat overhead on the outside of that tray surrounds the raised center, which is the highest part of the overhead.
The dramatic effect this brings in is that it can make a room look taller because it provides a somewhat vertical illusion because of the design. You also have the option to add some molding in between the layers for some added aesthetics.
Facing Plates
If you want to go for a more Victorian and formal look for your overhead design, you might want to look into facing plates. This ceiling design is characterized by having plate-like pieces made out of timber installed on the ceiling, with the effect of those plates looking down.
You can go with simple designs but more often than not, people who have facing plates installed on their ceilings go for the carved and art deco-inspired designs. This is perfect for high overhead heights and for spaces where you often entertain or have a lot of people coming to and fro.
Combination Ceiling Design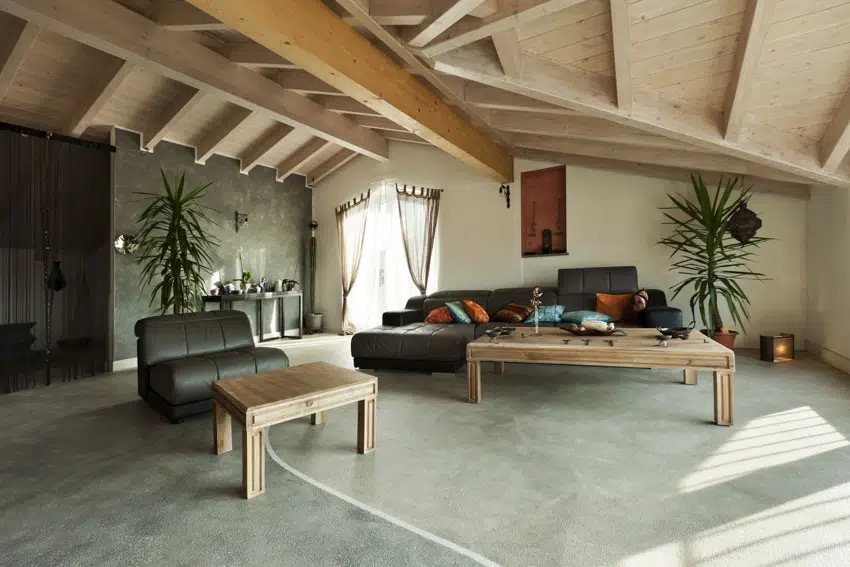 The thing with wooden ceiling design types is that you have more than just one option to go with, literally. What we mean by this is that if you want to be a bit more daring and playful with the design, it's definitely OK for you to combine two or more overhead designs in order for you to come up with your own distinct style.
With so many wooden overhead designs to choose from, it can be quite understandable why it would be challenging to pick out or stick just one particular design. All you need to make sure is that your designs are cohesive and meaningful and that they'd work for the space that you're creating.
Everything really is up in the air and completely up to you at the end of the day.
Wooden Wallpaper On Ceiling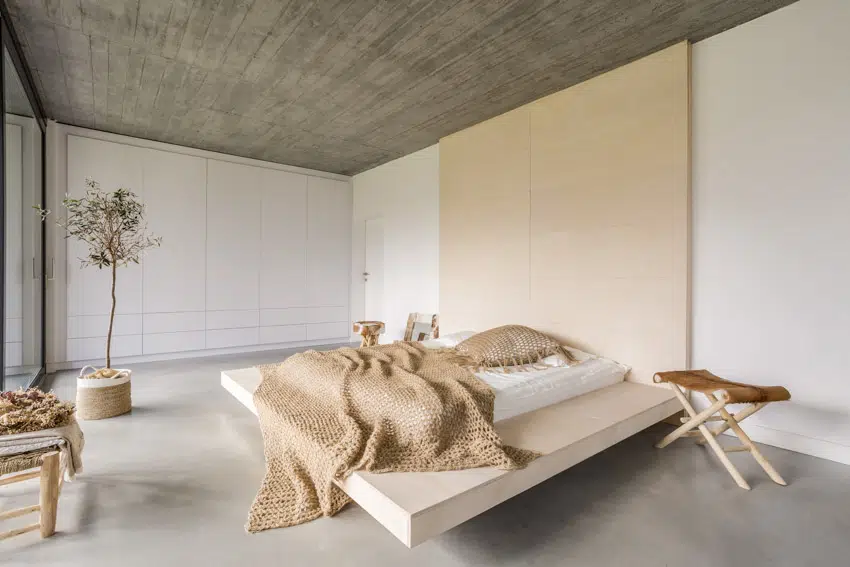 If you want the luxury of a wooden look on your overhead but you happen to find yourself on the shorter end of the stick for the budget, there's no need to despair.
You can still achieve that natural but elegant wooden look for your home ceilings with wallpapers that are made to look like wood.
This can create a unique look and there are tons of options for you to choose from because there are literally hundreds of wallpaper designs to choose from and they can come in every color, pattern, and wood grain imaginable.
This is also something that you will be able to DIY to help you save up on a lot of costs since there isn't a need to hire out professionals to get the job done.
Ceiling Wooden Moldings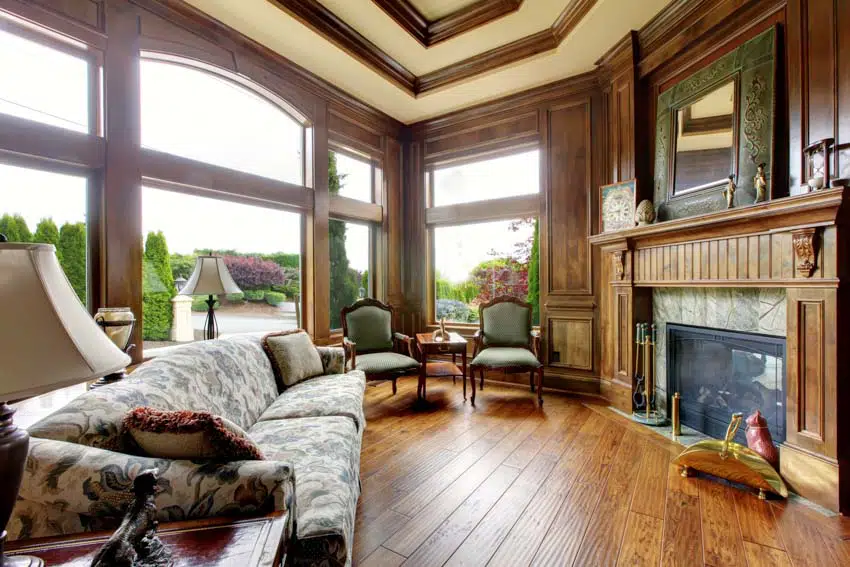 Molding is technically a type of material that comes with various profiles being used for decoration. It can either be made out of solid milled timber or some type of plaster.
It can come in a lot of various materials. Wooden moldings on the overhead are some of the most original decorations that you can use to decorate your ceilings. They're quite versatile as they can work with either modern or classical interiors.
They can definitely make your ceiling design unique and you can get them custom made or you can buy them in prefabricated pieces.
False Wooden Beams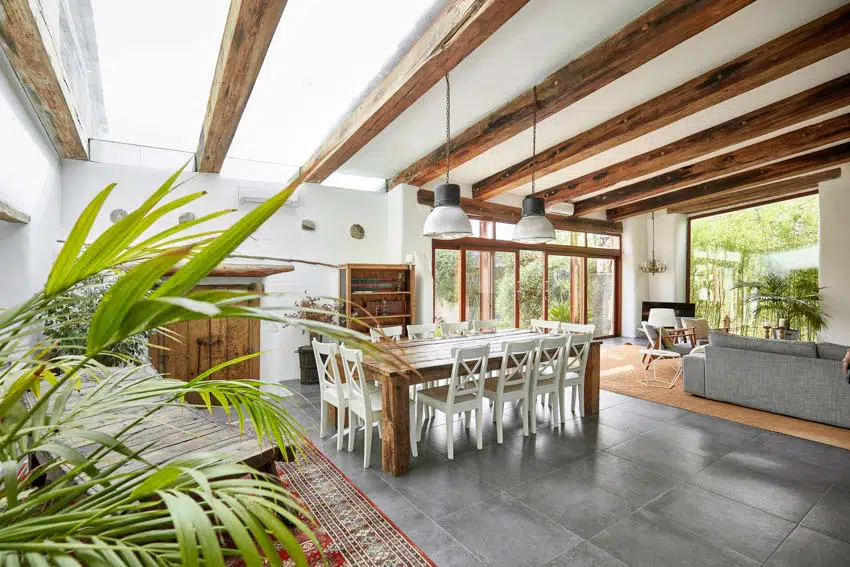 Wooden ceilings are great and all but they do come at a much higher cost compared to the rest of the other overhead design options out there. The answer to still being able to achieve the high-end look of having wooden beams in the ceiling without the crippling cost is to go for faux timber ones.
It's usually made out of a high-density polyurethane material that's made to look and feel just like the real thing. They're easily obtainable and widely available in different textures and styles.
They're also incredibly lightweight and are much easier to install compared to regular wooden beams. Read more about faux wood beams here.

Wooden Lattice Design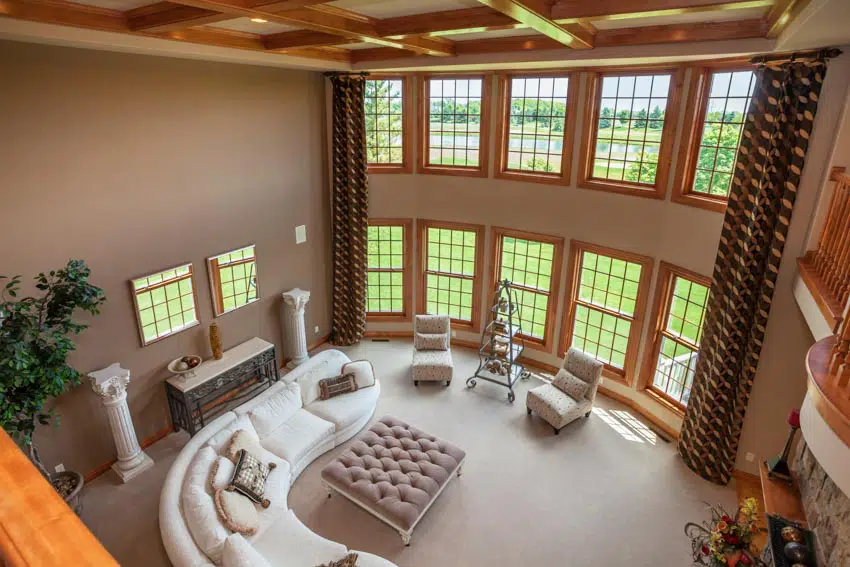 If you're looking for something a bit more dramatic for your ceiling design, the wooden lattice design is a nice option to check out. This particular design uses wood gratings to make multiple cubes that are uniform in size.
This makes up your overall ceiling design. This particular ceiling can definitely hold its own weight in terms of attention. You're almost always guaranteed that this is bound to be a conversation starter for people visiting your home, especially if it's their first time to step into that certain space in your home.
This ceiling design can often be seen in bedroom ceilings as well as in public spaces. Its appeal specifically lies on you being able to see it while you're lying down or while you're looking up. This is why it's perfect for public spaces with vaulted ceilings or in the bedroom.
What Type Of Wood Is Used For Ceilings?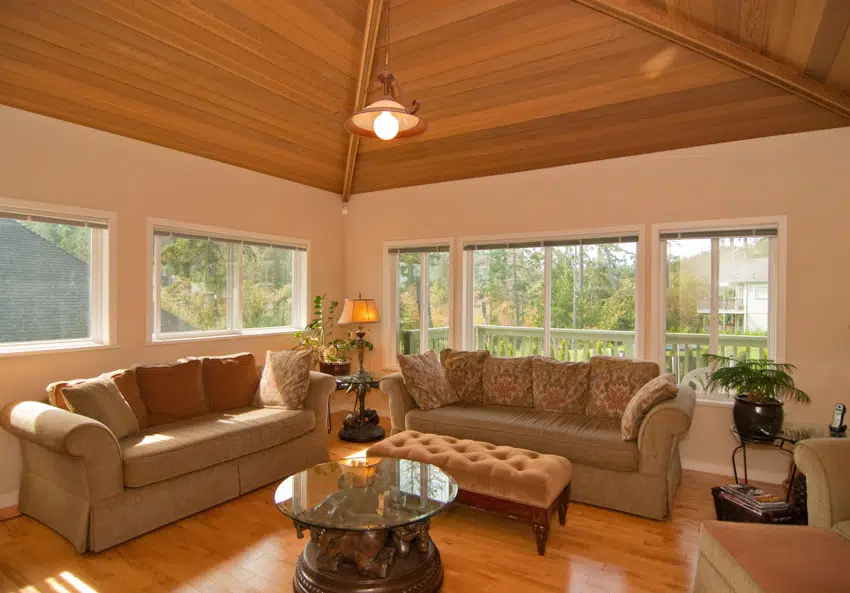 You have a lot of different options to choose from when picking out wood materials for your ceilings. Although it may seem intimidating in the beginning, it really isn't all that complicated to understand. We've simplified it even more for you by itemizing the different woods used for ceilings and what their particular traits are.
The first categorization in woods to pick out for your ceilings should be based on the cut. Here are the common cuts available.
Veneer: If you would like to go for an economical wood choice for your ceilings at home, then veneer is a great option to go with. Aside from ceilings, wood veneer is also commonly seen in lower end furniture pieces as well.
Veneer is an interesting material because it has a specific way of manufacturing. To make it, a thin layer of wood needs to be sliced off of a solid wood piece. It is then glued to either a chip board or some sort of fiber board.
Veneer is made to look like solid wood. It also offers out a natural wood grain finish but its majority comes out of a composite material. The main benefit of opting for veneer is that it comes at a much cheaper rate compared to wood. It does, however, have a downside.
When the surface eventually gets dents over time, it cannot be sanded over as this process can tear the finish away.
Plain Sliced Wood: As opposed to veneer, plain sliced wood, on the other hand, is made out of solid and real wood. It is still a pretty cost-effective cut so if you're on a budget, this is still a pretty good option for you to consider for your ceiling construction.
The boards are cut one after the other after an initial slab has been cut off of a log. Once it gets nearer to the heart or the center of the wood, the log is then flipped over, making its opposite side positioned and ready for the next series of cuts to be made out of that same log.
Popular wood types used for this particular cut are white maple, red oak, white birch, white oak, cider, beech, black walnut, poplar, carbonized bamboo, white fire, cherry, white ash, alder, mahogany, and even flat-grain hemlock.
Quarter Sliced Wood: Quarter sliced wood is a slightly pricier cut of wood. Similar to the plain sliced wood though, it is also cut from a solid piece of wood.
To get this particular cut, the woodcutter would usually first cut the log into quarters. After that, the quartered pieces are cut so that the rings in the wood are at a 90-degree angle, or at least in its closest approximation.
Popular woods that are being cut this way are oak, white oak, white birch, black walnut, sycamore, bamboo, white maple, cherry, vertical grain hemlock, and vertical grain Douglas fir.
Now, for actual wood types.
Luan: Luan is a common wood type that comes from the Pacific Rim species. It is also known as Meranti and Philippine mahogany.
Although Luan isn't true mahogany, it is named as such because its finished surface area closely resembles it. This type of wood is oftentimes marketed as a solid wood board in the US but it also isn't uncommon to see it supplied in the form of light plywood.
Luan plywood is much softer than the other types of plywood out there and is oftentimes used as trim work or for furniture pieces. This is a type of wood that can be readily carved or worked on.
Because this type of plywood is available in thin panels, it's also a favorite for dollhouse constructions. Its plywood is ¼ inch thick or thinner than that. This is also at times referred to as die-cut plywood because it can be cut to shape with dies instead of saws.
Mahogany: Mahogany is a type of wood that's considered very sought after. It's mainly because of its beauty, its resilience, and its inherent hardness. This is considered the top choice of wood for high quality furniture all over the world.
Aside from ceiling applications, mahogany can also be used in cabinetry, carving, sculptures, and interior trims.
Mahogany is usually pink, red, or salmon-colored when it's first cut. Its color tends to deepen over time or as the wood matures more and more.
This is why as it ages, mahogany is more known for its brown-red or rich red color. Its texture is from fine to medium and its grain patterns vary from wavy to curly. Irregularities in the grain are considered unique and much desired.
This wood is known to resist swelling, warping, or shrinking over time; which makes it a really great choice as a wooden ceiling material.
Different Classifications Of Wood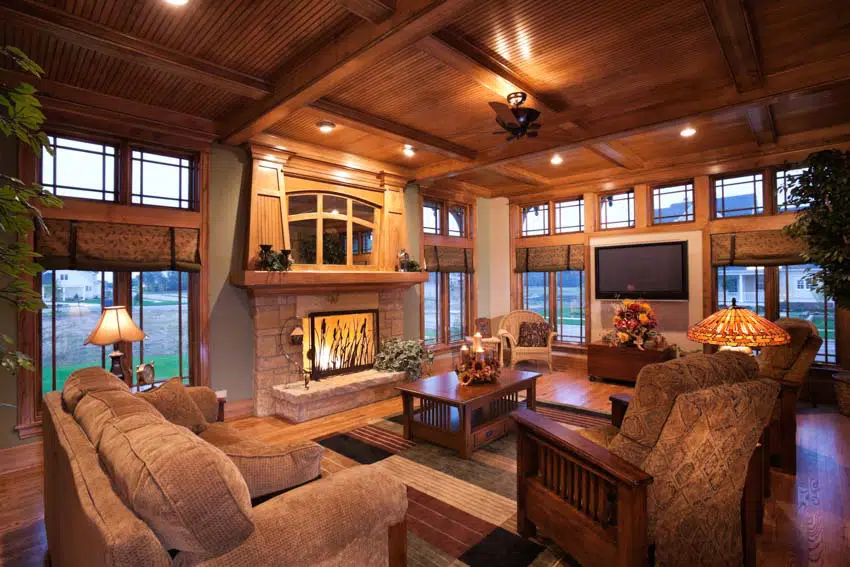 Woods are classified depending on their pre-treatment, size, and timber quality. All of these things figure out in determining which type of timber you should go ahead and pick out for a major construction effort such as your ceilings at home.
By understanding the different ways that timber is classified, you'll be able to identify your wood types better; particularly if you are planning to DIY your ceiling construction.
Classification based on size: One of the first few ways to identify any type of lumber is based off of its dimensions. Lumber typically comes in 2-foot multiples with a thickness ranging from 2 inches to 16 inches.
As the thickness of the lumber changes, so does its name. Any wooden piece that's less than 2 inches thick is called a board. Pieces that are 2 to 5 inches thick are called lumber. Anything thicker than 5 inches is regarded as timber.
Classification based on level of dress: A lumber's pre-treatment is regarded as "dressing". They come in different classifications:
• Rough lumber: this type of timber has been cut to a specific size but other than that, has not really had any type of extra work done on it.
• Dressed lumber: this has been smoothed out and trimmed down into uniform pieces.
• Worked lumber: this is taking it a notch up, with the lumber being prepared specifically for immediate use.
Classification based on grade: Lumber is usually graded on a scale of 1 to 5. Here's how they vary from one another:
• Grade 1: This is lumber that's being used for construction. This comes moderately sized and can be easily painted. Lumber of this grade is ideal for furniture making and siding.
• Grade 2: This lumber grade is similar to Grade 1 but its knots are much larger.
• Grade 3: This lumber is considered as lower quality timber and at times, it can bear certain signs of splitting. This is typically used for non-cosmetic construction work such as for subflooring or crates and the like.
• Grade 4: This lumber shows more signs of defects. This means that much of the timber needs to be cut away so it's also used for non-cosmetic grade purposes.
• Grade 5: This lumber grade has the worst possible quality and is used for throwaway projects such as for concrete pour areas that require some roughing out.
Hardwood Versus Softwood
Then, of course, the major differentiator: hardwood versus softwood. Hardwood comes from deciduous trees such as maples and oaks. Softwood, on the other hand, comes from coniferous trees such as evergreen pines.
The main difference between these two types of woods is in their cellular composition. Hardwoods have cells that are porous and large that can be visible to even the naked eye. Softwoods, on the other hand, are much smaller and less dense.
Both can be utilized for ceilings and floors but softwoods are more recommended for cost-efficiency for ceiling use.
See more related content in our article about ceiling texture types on this page.