Discover what a grasscloth wallpaper accent wall is including what it is, the different types, and the best ideas to consider.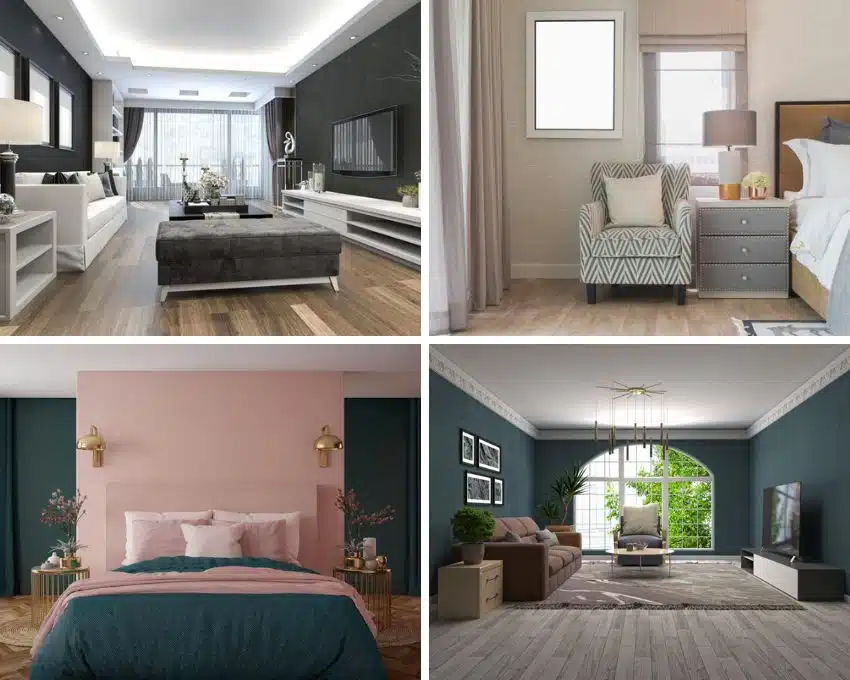 There are many choices when it comes to installing wallpaper, with many different colors, textures and materials available. Whether sprucing up a worn-down backdrop or giving a newly built room some charming finishing touches, a grasscloth wallpaper accent wall can transcend a space into a comfortable and visually stimulating experience.
What Is Grasscloth?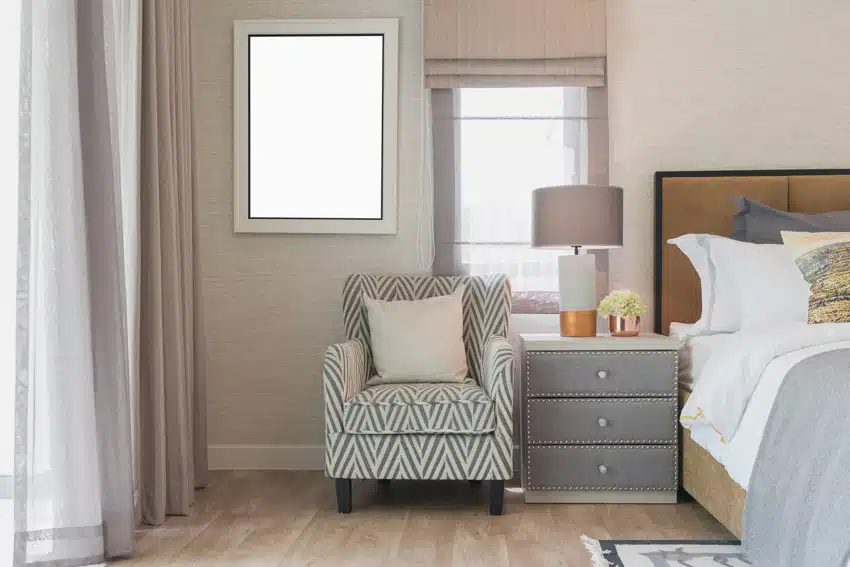 Grasscloth is a general term that refers to a textile that is made by using strands of natural materials woven together to create textured paper.
The preparation of the grasscloth starts with stripping off the fibers from the plants, which are sundried for a few hours to days. Grasscloth or also known as Canton linen or Japanese grasscloth, has its origins in East Asia. It is hand-loomed, then pressed on a rice paper backing, and sometimes dyed prior to weaving to achieve a particular color.
Commercial authentic grasscloth will usually undergo the same traditional processes of harvesting, preparing the fibers, and hand looming, but this time it will integrate the laminating process, which adds a thin and clear protective surface. This finish comes in different finishes, such as matte, glossy, or metallic effects.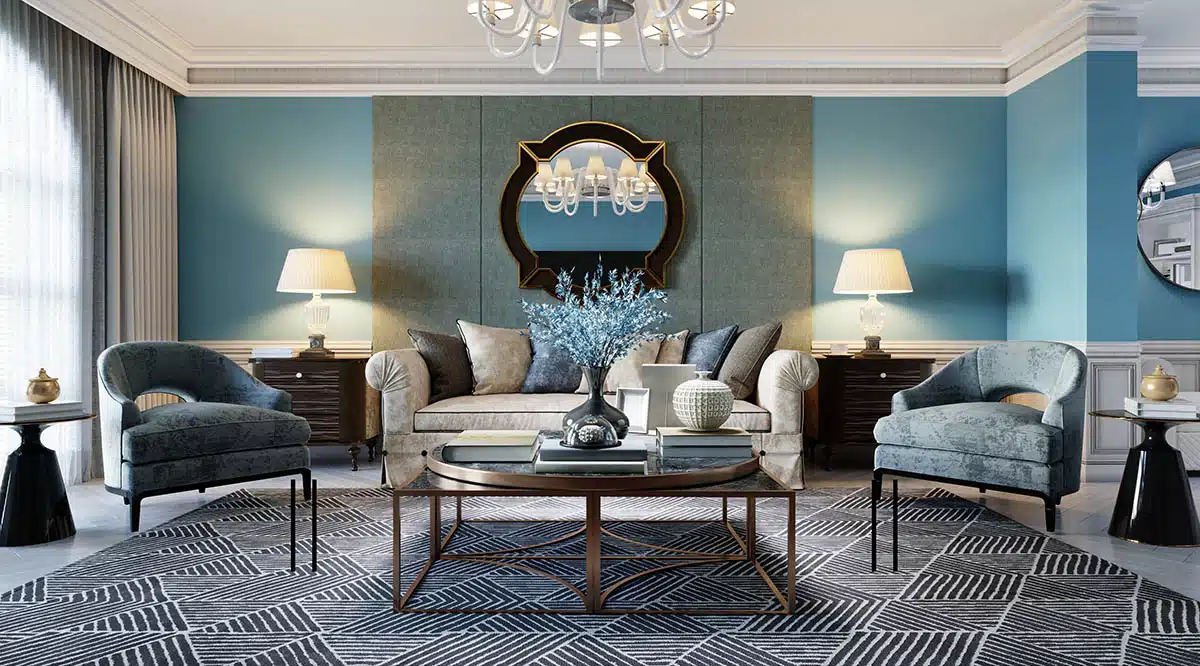 Grasscloth is noticeably rough to the feel due to the woven fibers and has a stiff structure. Quality-made cloth is durable and provides good air permeability. A downside of it when used as wallcovering is that it does not hold well in damp or moist areas and can deteriorate due to water exposure.
Besides faux grasscloth such as those made from PVC, there are natural linen wallpapers that have antibacterial properties, such as bamboo or jute. Grasscloth comes in traditional wallpaper rolls, typically 30 or 36 inches wide
The natural wall cover is typically manufactured in countries where the grasses are cultivated, such as China, Brazil, and Tanzania.
Types Of Grasscloth To Use For A Wall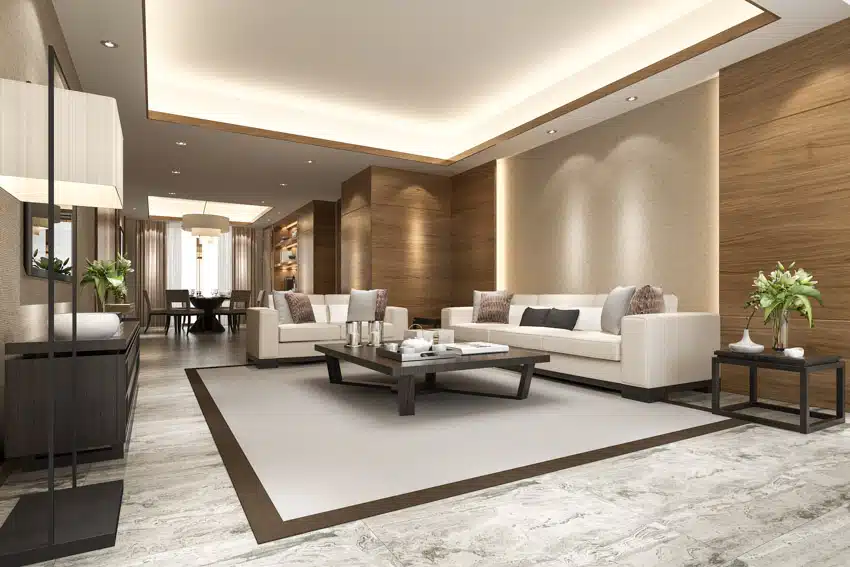 Here we share the different grasscloth wallpaper types to use for a wall.
Natural Grasscloth

Bamboo: When thinking about natural textiles, bamboo is a popular choice. The plethora of species available that grow in diverse climates makes bamboo material readily available and moreover has a varied price range than any other natural grasscloth wallpaper in the market.
A major contributing factor for the woody perennial evergreen plant to grow even in the harshest conditions is its anti-microbial properties. An agent called bamboo kun is responsible for preventing bacteria and other pests to infest the plant.
Seagrass and bamboo wallpapers use thicker and more defined rigid fibers and provide a more textured appearance. Due to the defined look of the fibers, bamboo is an excellent substitute for wood wall paneling.
Bamboo as wallpaper is very durable and with its more rigid fibers like seagrass provides a more textured look compared to other grasscloth types. Bamboo wallpaper can withstand occasional moisture but it is advisable to install the wall covering in dry areas to ensure longer service life.
The color of bamboo wall covering is varied that ranges from earthy to vibrant colors. Light yellow, auburn, wine, brown and striped colors are some of the more common color choices for bamboo grasscloth wallpaper.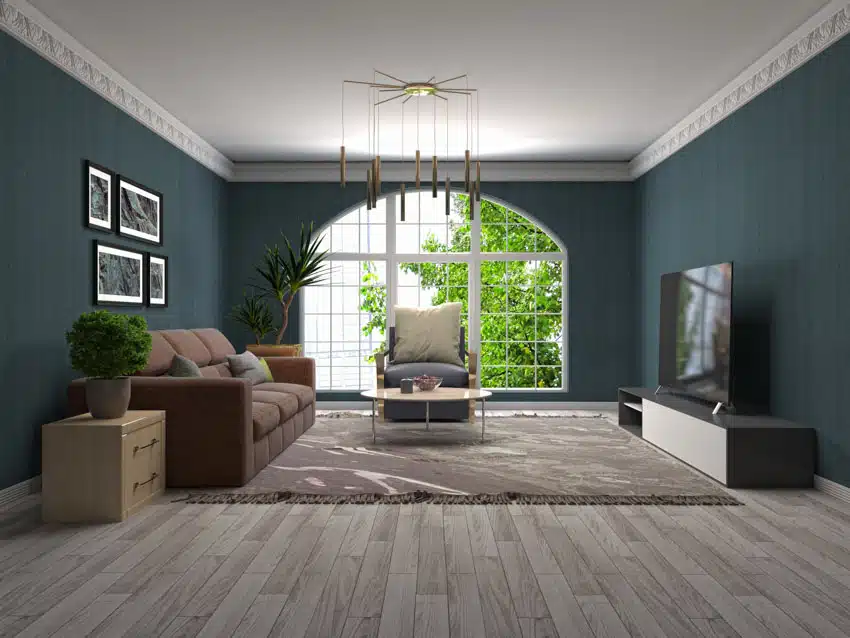 Seagrass
Sourced from coastal waters, estuaries, and bays in shallow regions and inshore areas, seagrass is another antibacterial material and as a wall cover, is an excellent choice for homeowners with allergies. Seagrasses should be differentiated from seaweeds or algae, as they are true vascular plants with roots, stems, and leaves while algae are multi-cellular. Seagrass are typically taller and with wider leaves than seaweeds.
Untreated seagrass grasscloth wallpaper accent comes in only one color, which is green, and over time turns toasty brown. A distinct feature of seagrass is that it has a finer weave but thicker fibers. The subtle sheen of seagrass material is another characteristic that can be seen in its woven form, and it brings a touch of elegance to the interior. The material is also stain-resistant compared to sisal.
Compared to sisal or jute, seagrass is generally cheaper. While seagrass is sustainable, it is important to note that the raw material should be harvested responsibly as the plant holds ecological importance as a coastal habitat. When purchasing seagrass make sure to know the source and method of harvesting.
Jute
Like jute rugs, jute wallpaper is great for pets, as hair won't stick to the wall covering, especially on the lower half, due to the material's antistatic properties, low thermal conductivity, and relative moisture retention.
Jute fibers are commonly used for textile blends. Pure jute grasscloth wallpaper, it is a strong material that can withstand the most common wear and tear of wall coverings, though it has a lower service life compared to other natural linen wallpapers.
Jute wallpaper comes in a saturated, off-white, and sandy undertone that makes a great choice when aiming for neutral to monochromatic interiors. Though the color of jute can turn yellowish when exposed to prolonged sunlight.
Sisal
Like jute sisal is resistant to static electricity, it is a popular textile material for natural fiber rugs and other floor coverings. It is also stain-resistant, making it a great option for social spaces such as the dining or living room.
A strong and durable material, sisal fiber is sourced from the agave sisalana plant, that mainly grows in Mexico and other tropical regions. The plant has sword-like leaves containing strong, firm fibers. Natural sisal grasscloth wallpaper features a distinct tan as well as varying colors of beige to creamy white depending on the species.
Due to this muted tone, the natural sisal wallpaper is an excellent addition to contemporary interiors but can also be dyed to brighter tones or deep grays to accommodate different interior settings. When looking for an excellent flat weave, sisal wallpaper is a great option.
Hemp
Hemp fiber is a durable material and has been used for centuries as rope, oils, and textiles. Modern uses of hemp include construction materials such as hemp boards and hempcrete. The strength and durability of hemp grasscloth wallpaper make it ideal for more busy areas which can be lightly scrubbed off when cleaning.
In its untreated form hemp wallpaper comes with a range of subtle mid-brown tones with soft earthy yellow and gray underlying tones.
Paper Blends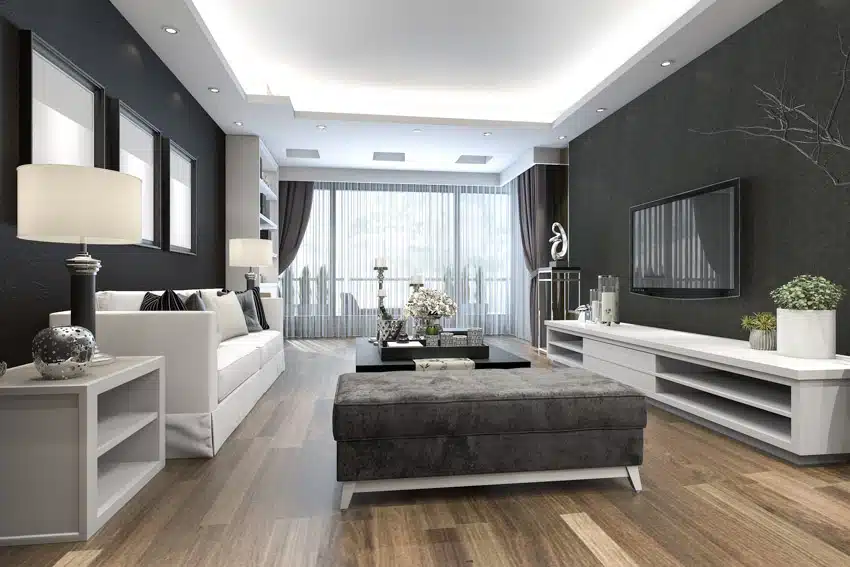 As the term implies, paper blended grasscloth wallpaper is a mix of natural grass fibers and paper, resulting in a textured surface with the smoothness of paper. The amount and particular grass fibers to be used in paper blends depend on the manufacturer's desired outcome.
Each grass fiber has certain properties and benefits that contribute to the quality and behavior of a paper blended wallpaper. Qualities such as texture, durability, printability, and strength will differ from each plant type.
Paper blend wall cover can also include synthetic material and other chemicals, which helps certain aspects of the wallpaper, such as durability and is water-resistant. Color can also be altered by adding certain types of natural grass together, which can improve the brightness and opacity of the wallpaper.
Peel and Stick Grasscloth
An excellent type of wallpaper grasscloth for DIYers, peel and stick wallpaper comes with its own self-adhesive backing. This makes installation faster and it abandons the need to apply the adhesives to the backing during installation, preventing the glue from accidentally going to the surface.
Peel-and-stick wallpaper: Designed to cover smooth surfaces, temporary wallpaper is like a giant sticker for your walls. – Embrace Your Space: Organizing Ideas and Stylish Upgrades for Every Room on Any Budget, Katie Holdefehr
The evenness of the adhesives already applied on the back also prevents bulges from appearing. One of the challenges in installing linen style wallpaper in general is preventing adhesives from oozing out onto the surface between panels during installation.
Peel and stick wallpaper grasscloths are made with just the right amount of adhesive to prevent it from seeping through the edges while keeping the textile in place.
There are linen peel and stick wallpaper products that come as removable wallcovering, allowing installers to adjust or remove the wallpaper when needed.
Vinyl Grasscloth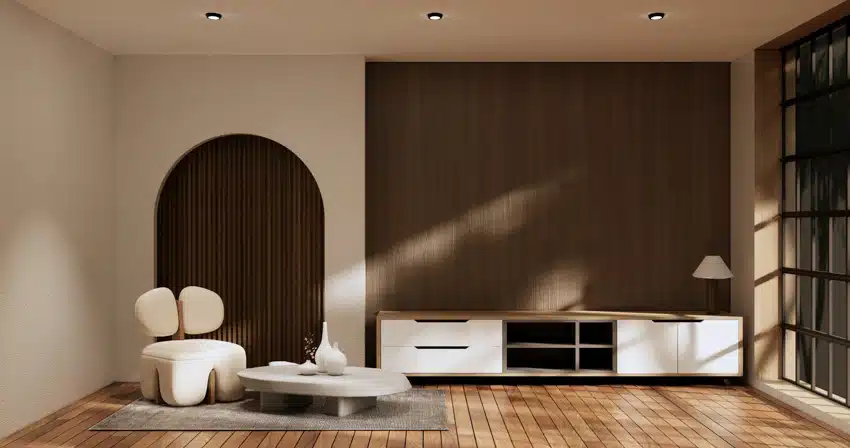 When aiming for that organic backdrop in a kitchen or bathroom, vinyl grasscloth is a great alternative to natural materials. Made mainly from PVC, or polyvinyl chloride it has the benefits of plastic material as it is impervious to water or moisture damage.
Vinyl is also easy to maintain, as it can be easily cleaned with water or a damp cloth and certain detergents without damaging the material.
Vinyl grasscloth is also often more affordable compared to traditional linen. It provides a cost-effective alternative for those who desire the look and feel of the grasscloth but have budget constraints.
The synthetic material can mimic the look of any natural wallpaper, from the color to the texture of the organic material. The major downside is that vinyl is non-biodegradable and can give off fumes over time, especially when subjected to heat.
Moreover, vinyl does not possess the same natural, organic texture and authenticity as traditional grasscloth. While it offers a similar appearance, it lacks the tactile quality and subtle variations in texture that are seen in natural fiber wallcoverings.
Grasscloth Wall Ideas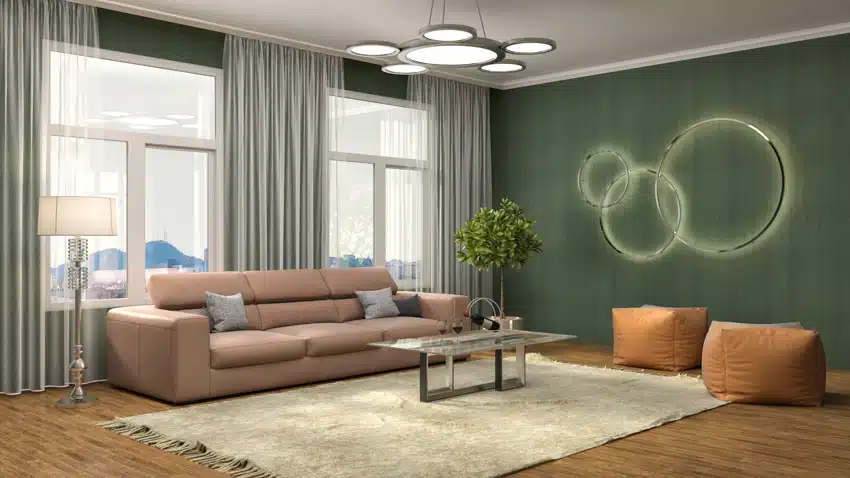 Here we share the different ideas to use for grasscloth wallpapers.
Metallic Grasscloth
Grasscloth wallpaper can add an opulent feel to a space with a metallic glaze. Seagrass glass cloth comes with a natural sheen but can be enhanced with other light metallic coatings. Sisal and jute are other fiber materials that can be easily coated.
Metallic glass cloth that comes with a copper, gold, silver, or bronze finish can be among the effective accent wall ideas to use in a room that can help increase light due to the extra sheen on a wall surface.
The metallic elements can vary in terms of color, finish, and intensity. Some metallic wallpaper may have a subtle shimmer, while others feature a more pronounced metallic effect. The metallic finish can range from warm gold and copper tones to cool silver and platinum hues, allowing for different design possibilities and complementing various color schemes.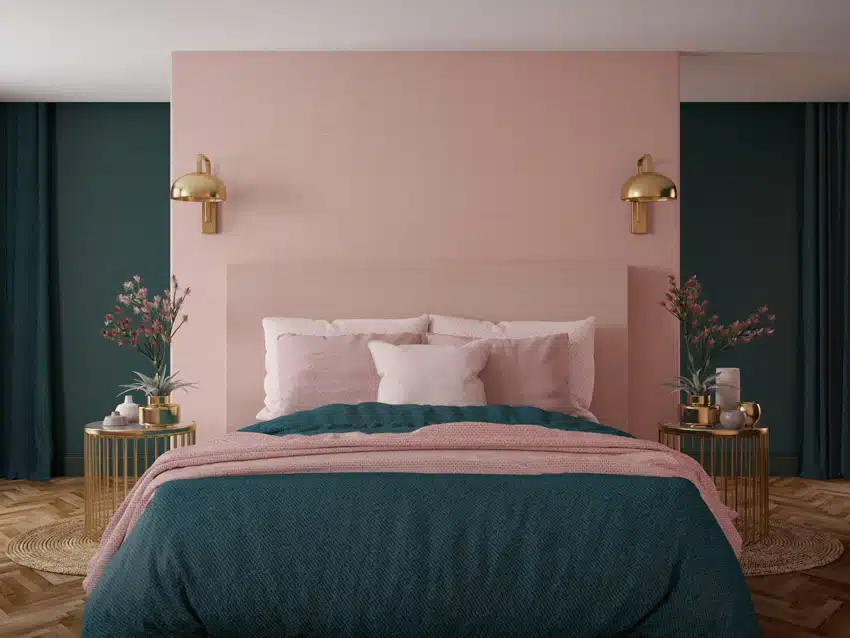 Patterned Grasscloth
A patterned grasscloth can effortlessly add character and dimensionality to a room. From simple geometric patterns to intricate botanical scenes, patterned styles are a versatile wall feature that can fit any room style.
To create a pattern on a grasscloth, natural or synthetic dyes are used, depending on the manufacturer's desired outcome.
Patterned wallpapers are trending in interior design settings today, including residential and commercial spaces. They can be employed as a feature wall or applied to an entire room to create a distinctive and textured backdrop. Patterned coverings can complement a range of interior styles, from rustic and bohemian to contemporary and eclectic.
Since its an organic material, a printing process can still provide variations in color, texture, and pattern can occur. These variations contribute to the unique charm and character of each roll of patterned wallpaper, making it a sought-after choice for those who appreciate the natural and artisanal aesthetic.
Printed Grasscloth
Giving the material a wider range of designs, printed grasscloth adds to the handwoven texture detailing such as intricate patterns and scenic landscapes. To create the printed design a computer software program is used.

Hand-drawn illustrations can be transferred into the printed grasscloth, with also the possibility of customized prints, making a more personalized wall cover.
Printing techniques can also include screen printing or block printing. For the more traditional color application, multiple colors will need to be applied separately to the natural fibers.
Variations in texture and color may still occur in printed grasscloths due to the handcrafted nature of the material. These variations contribute to the unique character and charm of each piece of grasscloth.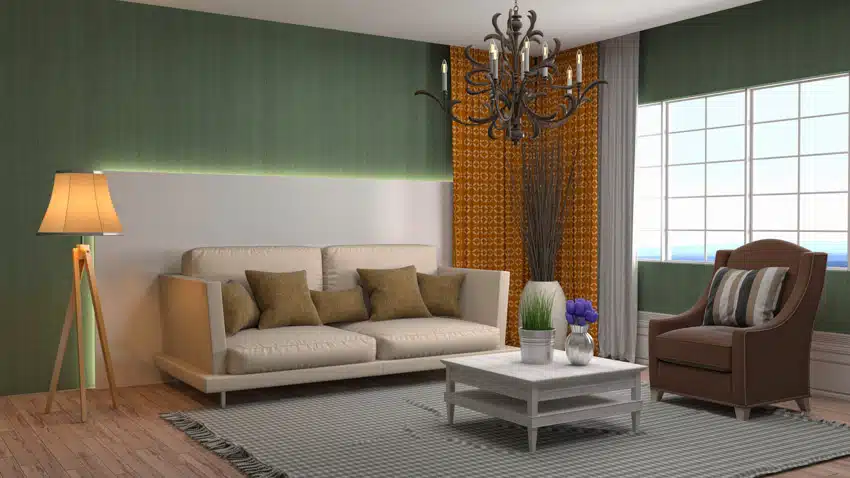 Vertical Grasscloth
A different take on the typical linen wallpaper, vertical grasscloth has grass fibers that primarily run vertically instead of the usual horizontal weave. The prominence of vertical fibers creates the visual illusion of a taller space and emphasizes the sense of height.
A vertical application is excellent for rooms with both low and high ceiling heights, as it can magnify the spaciousness of a high ceiling. Vertical layout wallpaper can also be used as a feature wall, emphasizing a wall, décor, artwork, or any other architectural feature. It can also add contrast to horizontal lines and give balance to the space.
Another way to emphasize the verticality of the installation is to use vertically striped grasscloth. The vertical stripes are a trending design, and many manufacturers have offered exciting variations of the pattern.
Did we cover everything about the information details you're looking for regarding wallpaper styles? Share your experience using this product, uplifting tips, decor ideas or questions in the comments. See more related content in our article about wallpaper vs paint on this page.