Find out what does the color green mean for interior design by looking at a variety of rooms uses the color for paint, decor, cabinetry and furniture.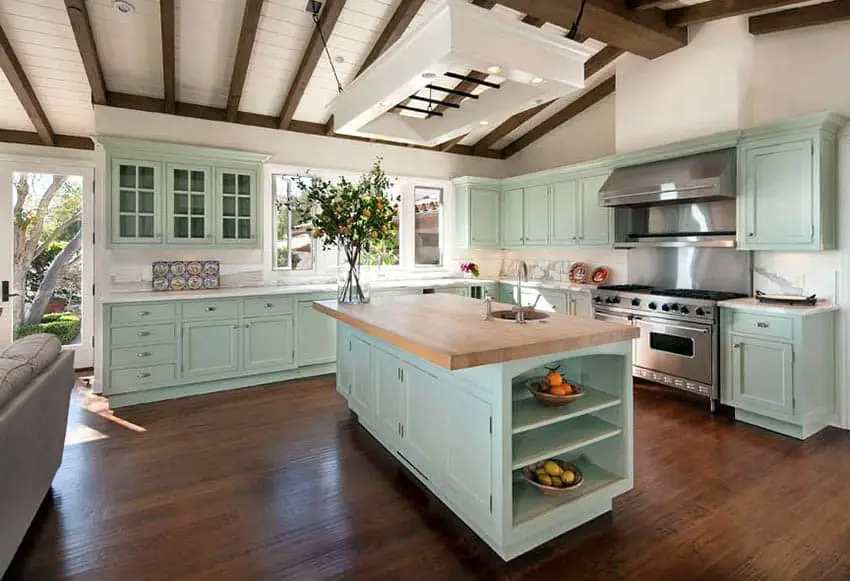 When designing spaces, one of the most important factors people decide on would be the colors. Some people tend to stick to their favorite colors, some prefer "safe" colors such as neutrals and monochromes, some prefer to choose the trendy colors or even refer to the "Color of the Year" to decide their color scheme, while others tend to choose colors based on their associated meaning or the feelings they invoke.
Green is probably one of the most common colors we can see in nature, and is mostly associated with nature as well. As such, green has always been associated with things related to nature such as life, renewal and nature itself. As with many other colors, green has many different meanings and associations, depending on culture, and also has different psychological effects.
Green Color Meaning
Nature – green is most commonly found in nature, so it is most often associated with all things nature, such as life, growth, renewal, birth, rebirth, environment, etc. It is no surprise that Sustainable Design is alternatively called "Green Design"
Wealth / Generosity – this usually applies for the USA & other cultures that use green for their monetary notes. In relation to this, green is also associated with green, envy & jealousy.
Good Luck – for Ireland and similar cultures, green is associated with good luck and good health
Optimism – in graphics and signage, green is often associated with positive movements, like when stock price rises, they are marked green, when the traffic light is green it means go, etc.
Psychologically, green is a calming & soothing color and it encourages positivity & healing (both mentally and physically). In fact, there was a study which investigated the effect of window views towards patients recovering from abdominal surgery by Roger S. Ulrich, PhD, director of the Center for Health Systems and Design at Texas A&M University. In his study, he found that hospital rooms which overlooks trees (green) recovered faster & had fewer complications than those which were only able to stare at a wall.
Other similar studies also show how simply depicting nature in art or photos and placing them in a room helps relieve anxiety and the need for pain medication. (source: http://www.apa.org/monitor/apr01/greengood.aspx)
Some studies also show that seeing green/nature helped in the overall mental health, improving positivity, performance, mood & lowering stress levels. Studies by Terry A. Hartig, Stephen Kaplan, Rachel Kaplan & Frances E. Kuo are some great references citing the positive effects of nature has to people.
Depending on the shade of green you use and the colors you combine it with, green will have a different effect and meaning as well. For example, bright lime green will invoke positivity, cheerfulness and youth, mossy green is more somber and calming while olive is more elegant and earthy.
What Color Goes with Green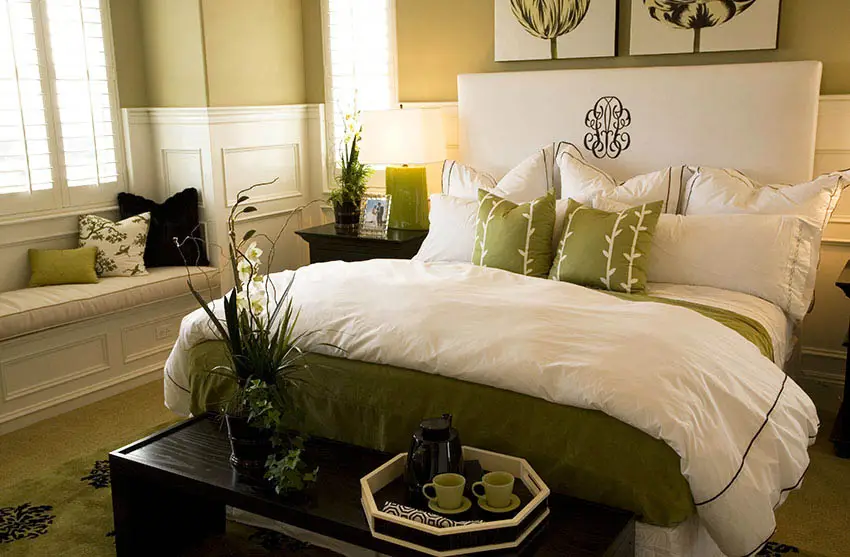 Green is easy to use as our eyes are used to seeing it, and it takes up more space in the spectrum which is visible to the human eye. Even if it isn't the main color, you can easily inject greens into your space without making it look out-of-place.
A great example of such is adding plants – the green surprisingly doesn't compete with the existing colors, no matter where you put it. However, different combinations with green also have different effects & meanings. It also depends on what shades of green you use. Below are some colors often combined with green and their associated meanings/effects:
Blue – combining blue with green will definitely mimic the feel of nature and has a calming effect. Greens & Blues are often used on interiors that want to give a fresh, sea/beach/tropical theme.
Browns / Beige – often associated with organic materials. When combined with a sage green or other warm greens, it has a soothing & calming effect. Using more muted greens with brown and beige can also give a charming, shabby chic effect
Red – often associated with Christmas especially when using basic green & red, but this combination will never go wrong as they are complementary colors. Do try experimenting with different shades of green and red to achieve desired effect.
White – white goes well with any color, but combining it with green usually produces a bright, crisp & cool feel, especially if you use cool-toned greens such as mint green and kelly green
Yellow – using brighter and lighter greens & yellows together give off a youthful & fresh vibe, while using darker yellows and greens produces a somewhat antique/vintage feel to it
For more ideas about fining complimentary shades that go with green, visit our page about matching colors using a color wheel.
Green Interior Design Ideas
Here are some examples of green being used in a variety of interior designs.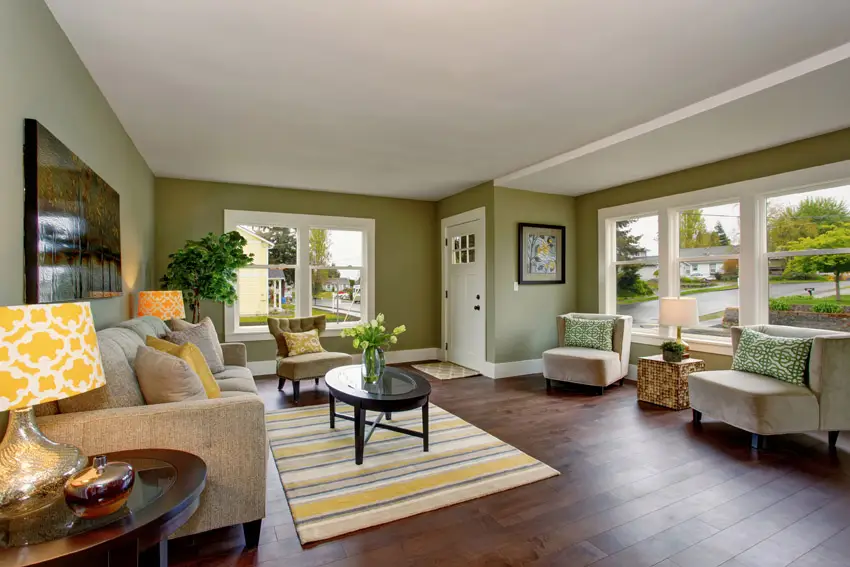 This living room looks fresh and inviting by utilizing a sage green color palette combined with white trim, colorful accent decor and hardwood flooring.
This bright modern living room features green throughout with a horizontal striped green accent wall and matching green armchairs with a bright area rug.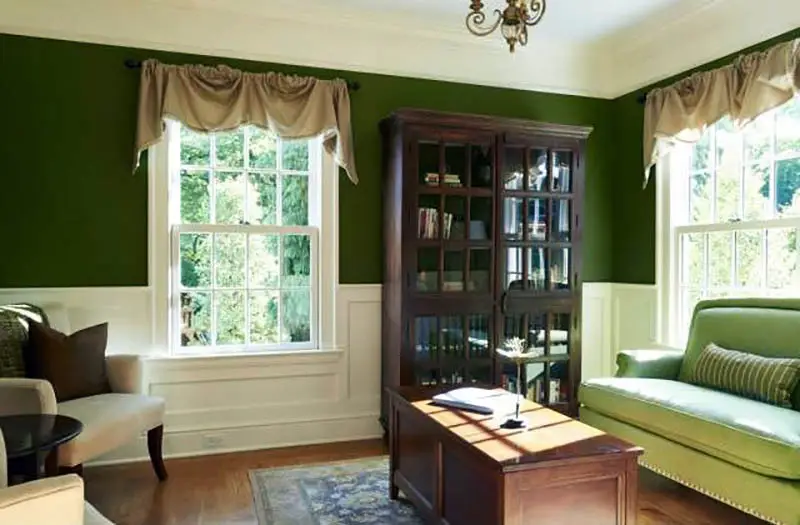 The living room paint colors shown here feature white wainscoting combined with dark green color to create a relaxing ambiance. White framed picture windows provide a lot of natural light and a painted white ceiling and light wood hardware floor help to keep the room looking bright.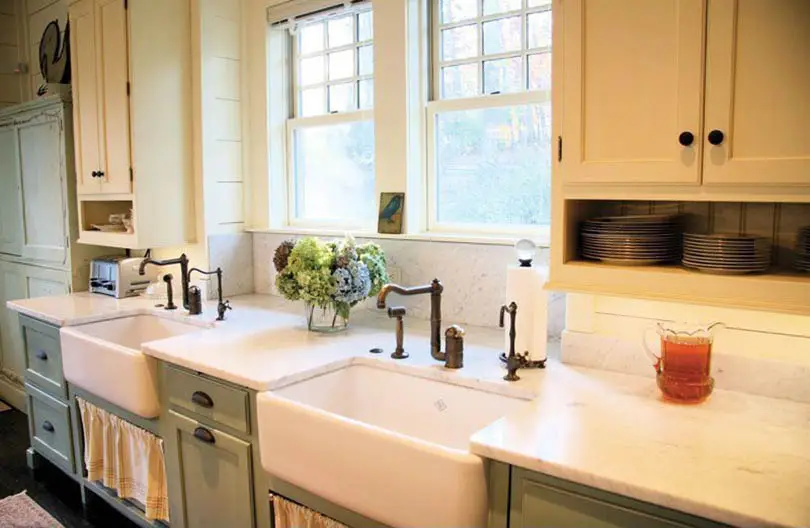 The color green works well with cabinetry and is fitting for a cottage or farmhouse style design.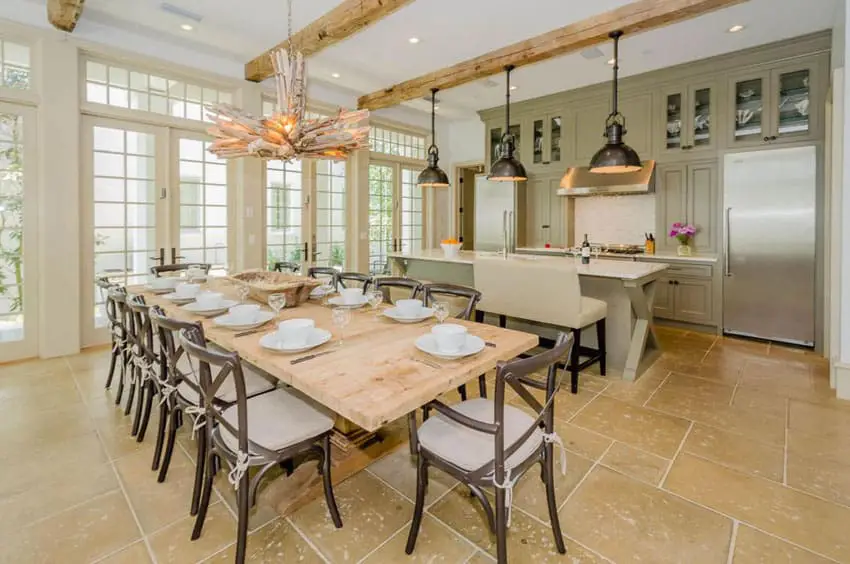 This transitional kitchen looks beautiful by combining muted green cabinets with lovely French doors in white with an exposed beam ceiling.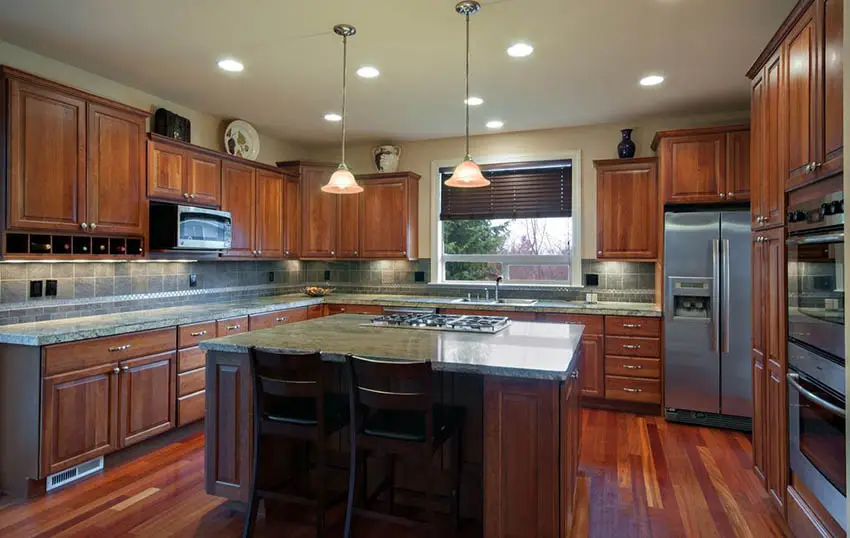 This kitchen features a gorgeous green granite countertops with cherry wood cabinets and hardwood flooring.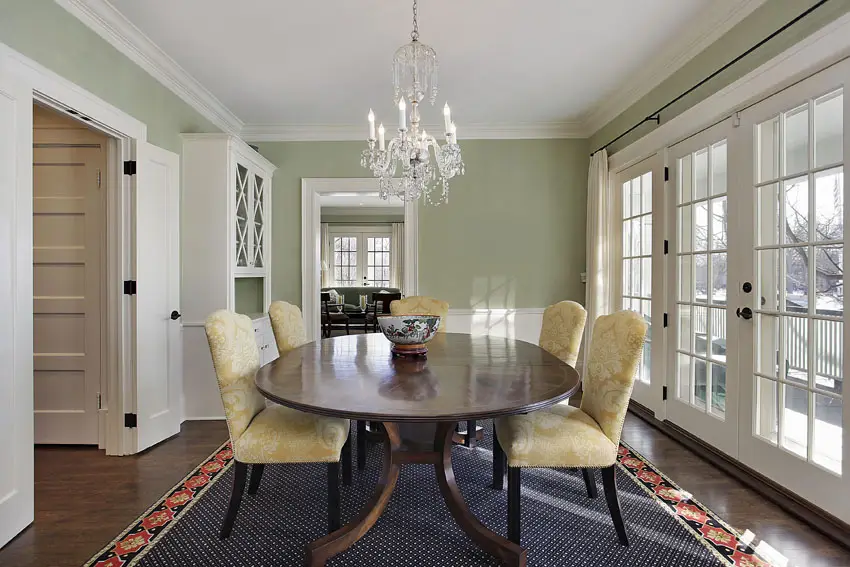 This luxury dining room is well suited by using a neutral green for its main paint color and a white wainscoting with white French doors and dark wood flooring.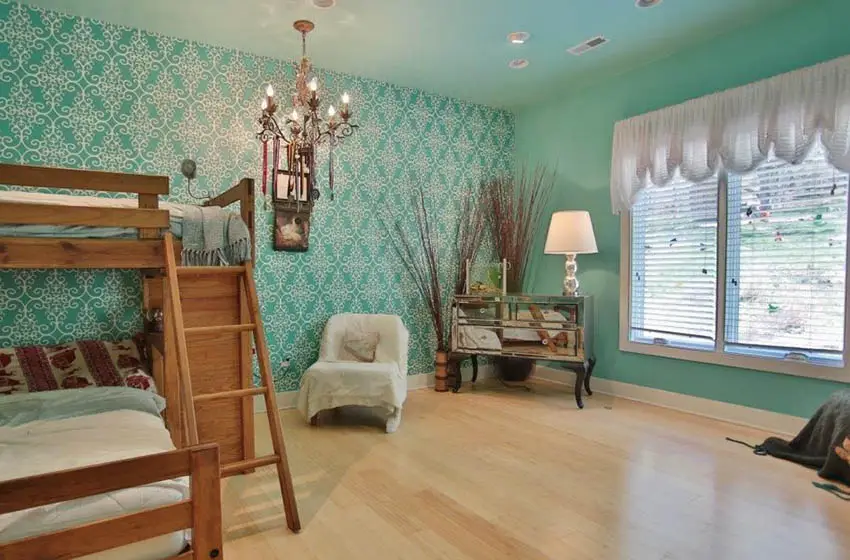 This kids bedroom offers green pattern wallpaper with a mint green wall paint and light wood floors to create an attractive design.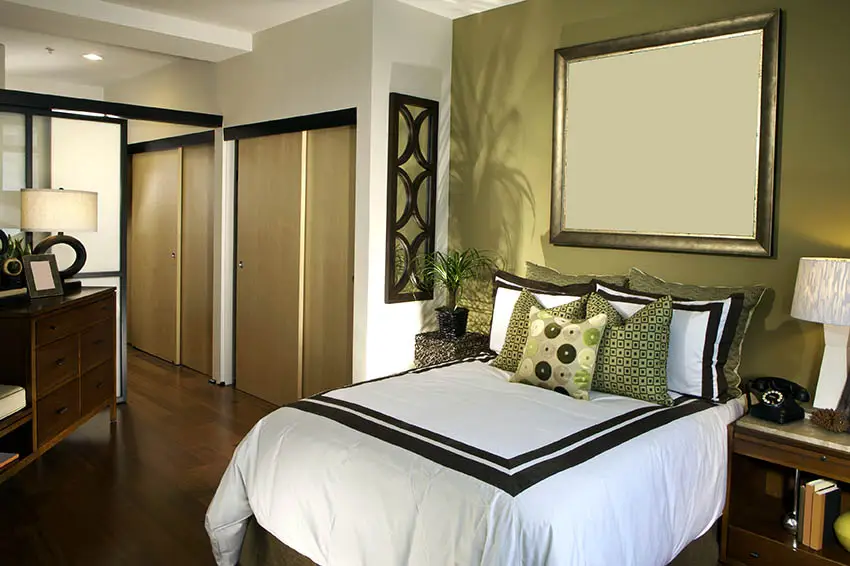 This inviting guest bedroom paint color showcases an olive green accent wall with the rest of the walls in an off white color combined with dark wood floors. Other green accents such as the pillows and indoor plants tie the design together.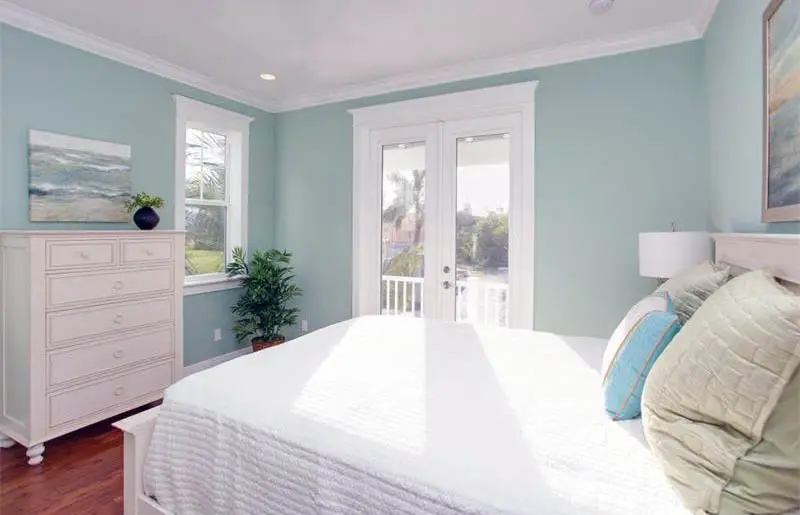 A seafoam green paint color partnered with white trim and white furniture brings a light and airy atmosphere to the space that is further complemented by large double doors leading to a small balcony.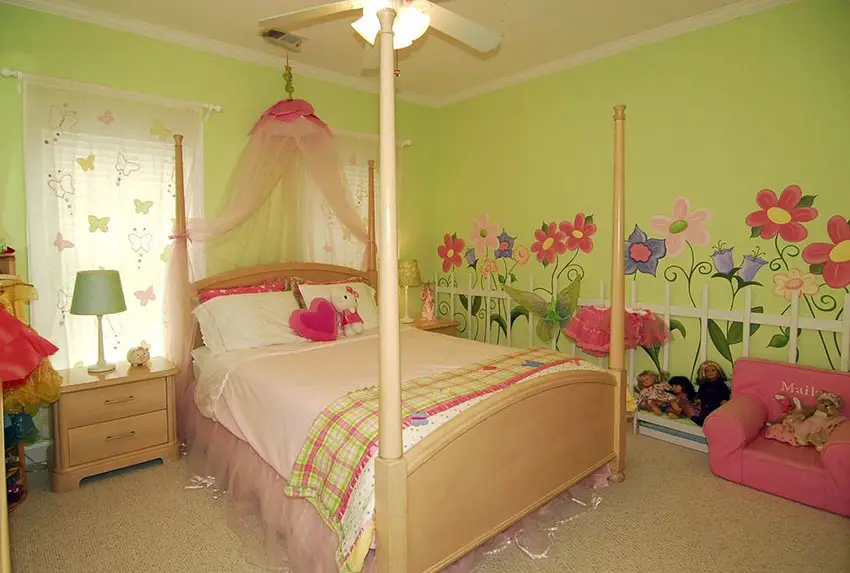 This bright kids bedroom features a fresh green color paint with painted flower wall mural and a large canopy bed.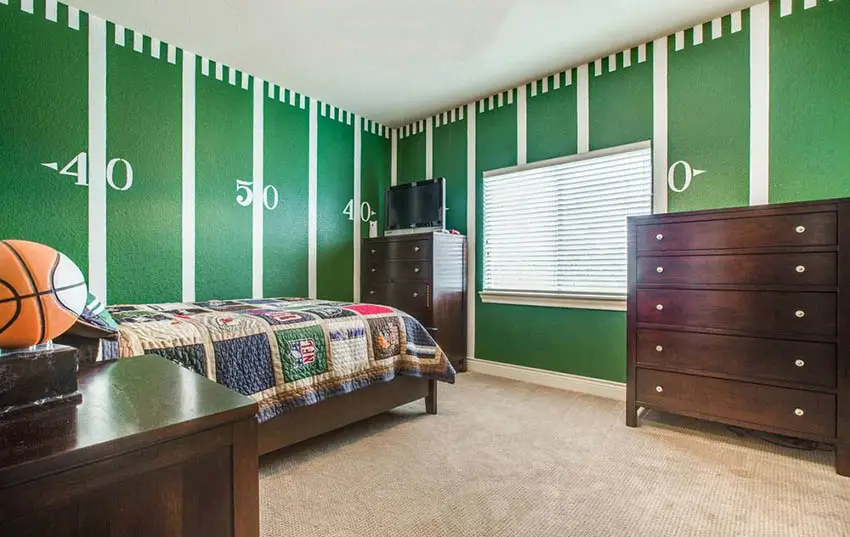 This fun kids bedroom is a football lovers dream with a large wall mural of a green football field that wraps around the interior.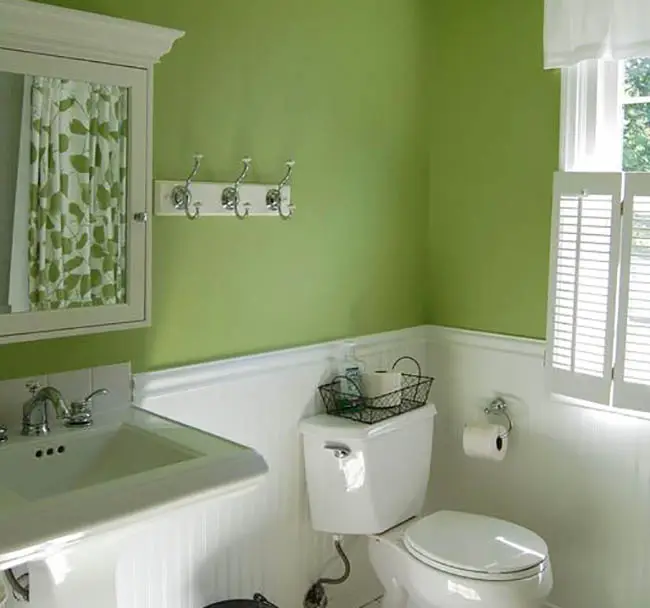 A bathroom can be an excellent place to use a green color palette. This small bathroom uses a green paint with white wainscoting, and faux white plantation shutters to create a soothing ambiance.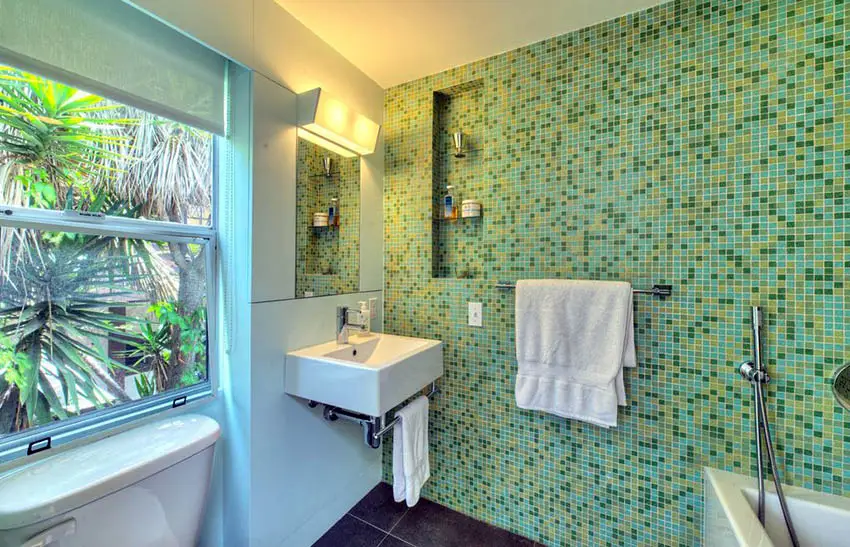 Green mosaic tile in the bathroom creates a dramatic backdrop that provides a relaxing feel to the space.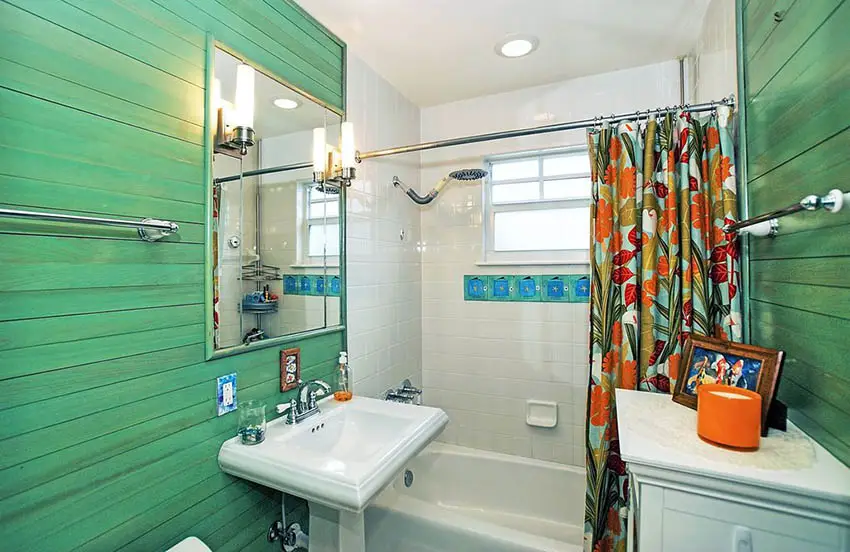 This small bathroom uses horizontal wood planks that are painted green with a white tile shower/tub and white vanity for its design. A large mirror, adequate lighting and window over the tub helps to keep the space looking fresh and bright.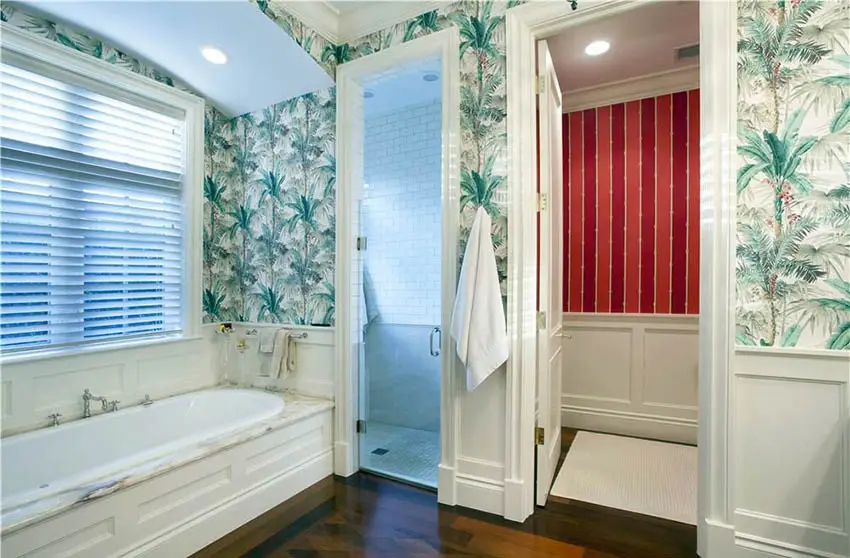 Tropical wallpaper is one way to bring a touch of green in to your interior design. There are a variety of green wallpaper prints to find a style that suits your personal preference.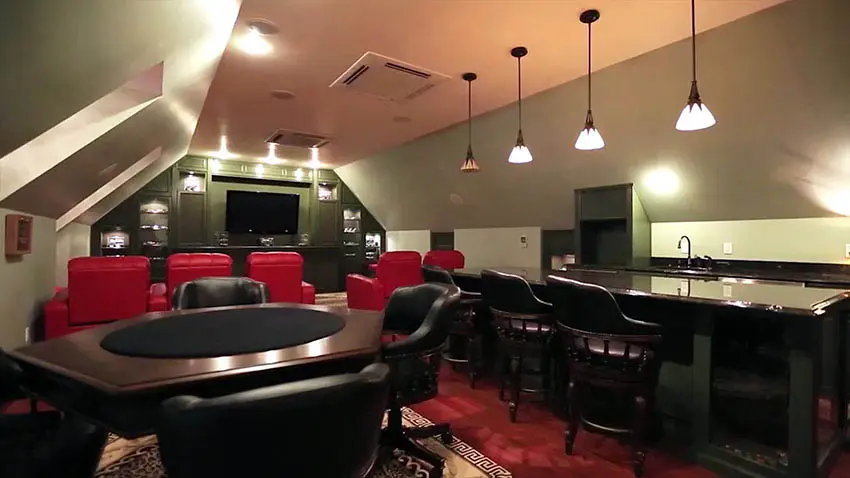 A sage green wall paint makes a soothing backdrop for this attic man cave complete with poker table, home wet bar and media center.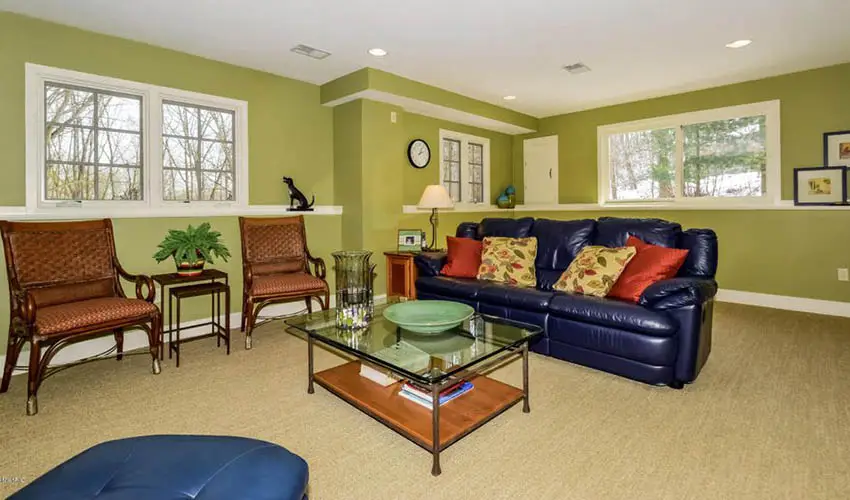 A basement can also benefit from a light green color theme combined with light beige carpet, white trim and white casement windows.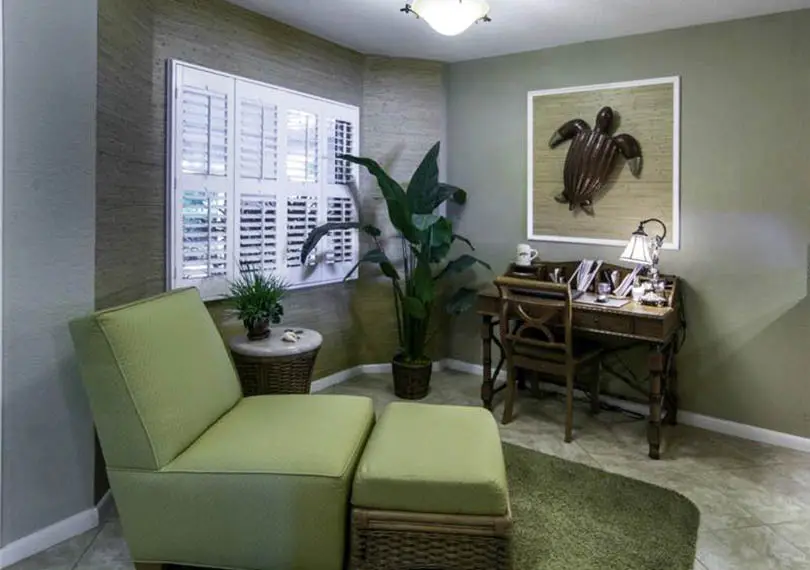 This home office features green accents in the wall paint color, green fabric side chair, small area rug and indoor plants to create a soothing work environment.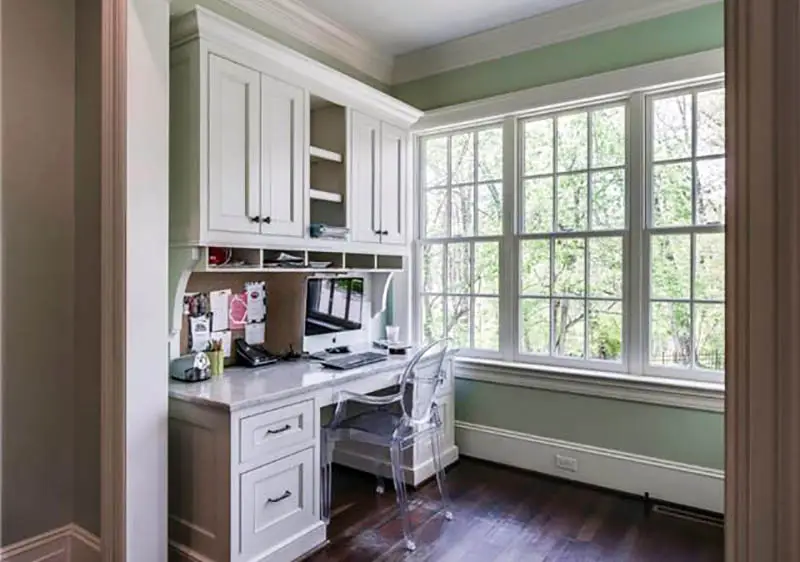 A light green wall paint complements this white built-in desk and dark hardwood flooring to make a cozy work corner in this open space.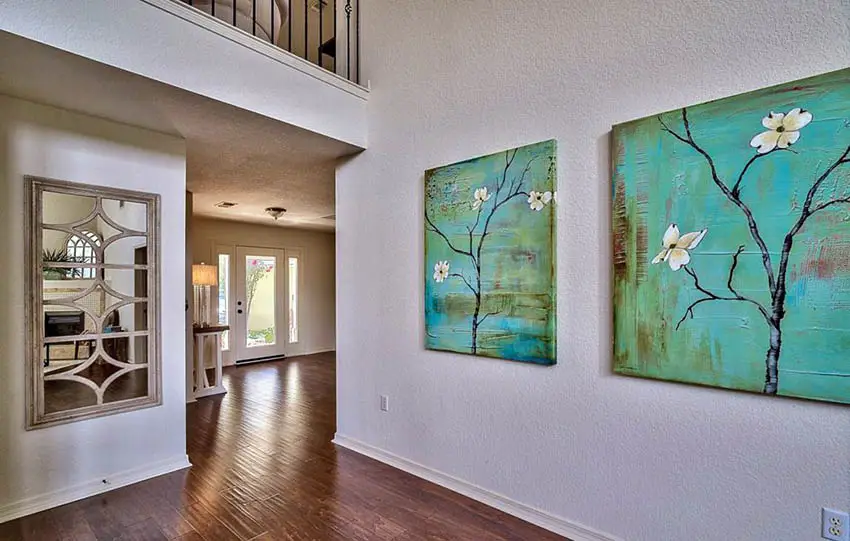 Paintings are another way to bring a touch of green in to your interior designs.
This home's hallway & entryway paint uses a muted green color with white trim on one side and an olive paint color leading upstairs.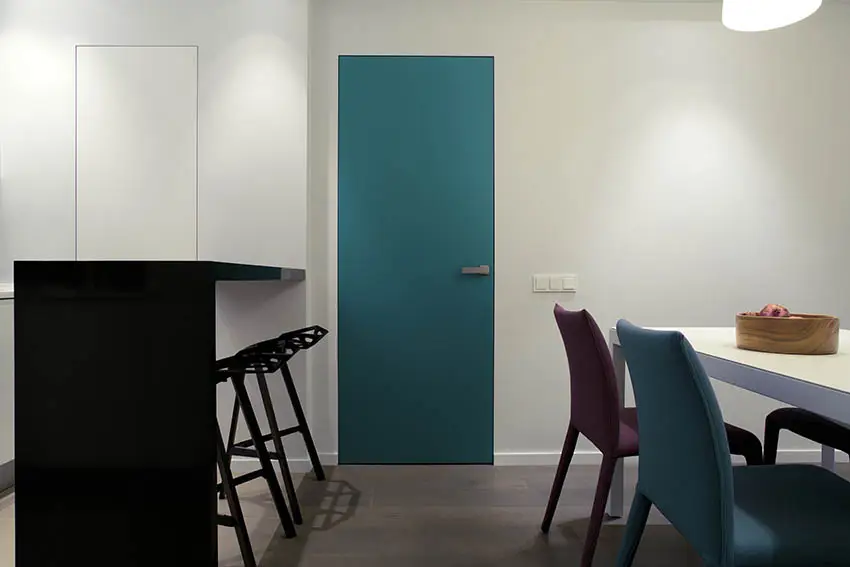 This apartment brings a sense of style to the space by using a dark green door and a combination of burgundy and green dining room chairs. Visit this page for more front door paint colors to find one you'll love for your home.