These rug under coffee table ideas share the reasons why, popular materials, types to use, and the recommended rug sizes to go for.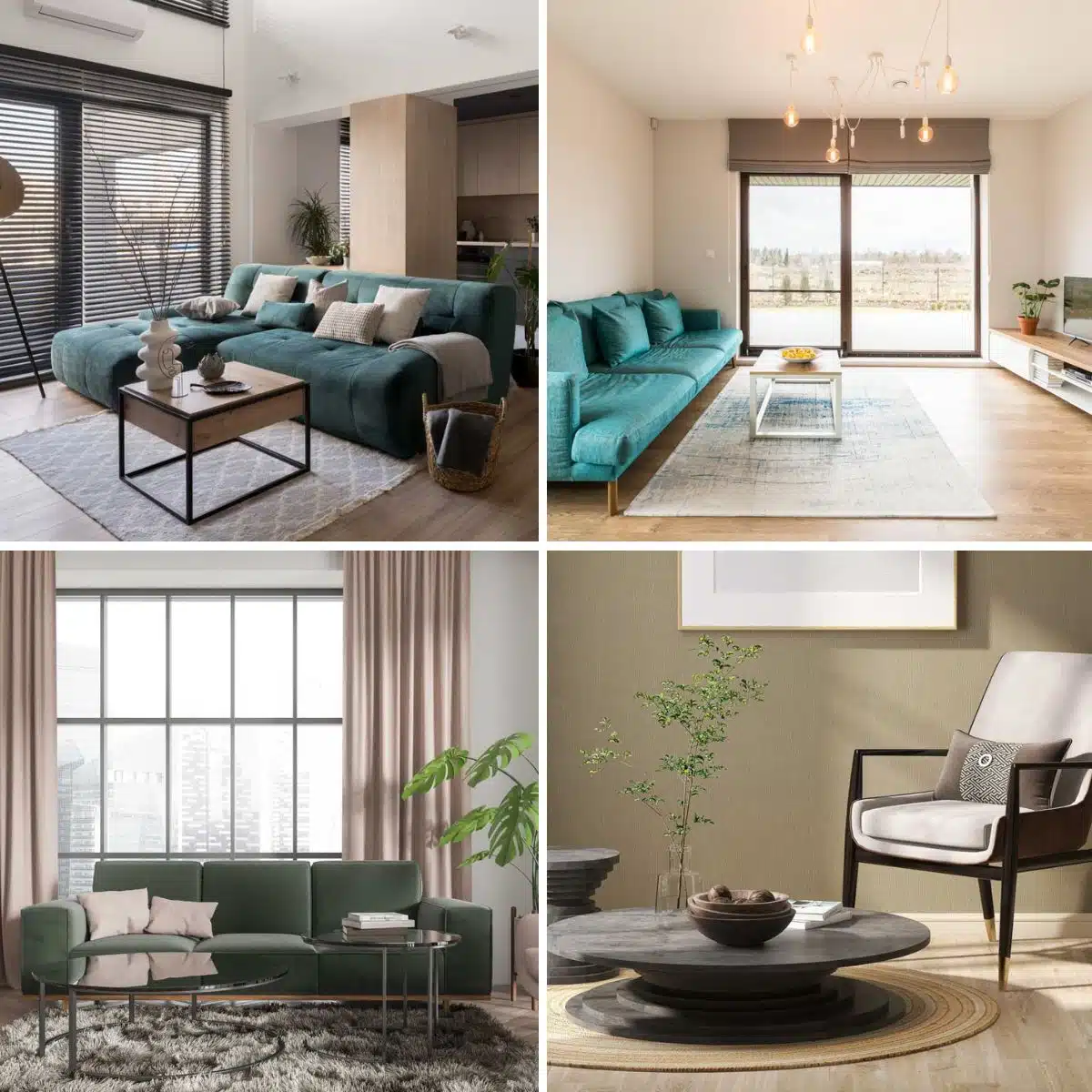 A coffee table looks incomplete without a rug under it. Together, this perfect interior decor combo helps ground living room spaces and create stunning visuals. But since rugs and these tables come in a variety of sizes, shapes and styles, choosing the perfect combination can be quite overwhelming — Which shapes go best with each other? How big should the rug be? How do I place other furniture pieces around it?
We've put together this guide to help you choose the best ideas, along with some expert tips on how you can design your space. Read on below if you want to know more.
Why Should You Use a Rug Under a Table?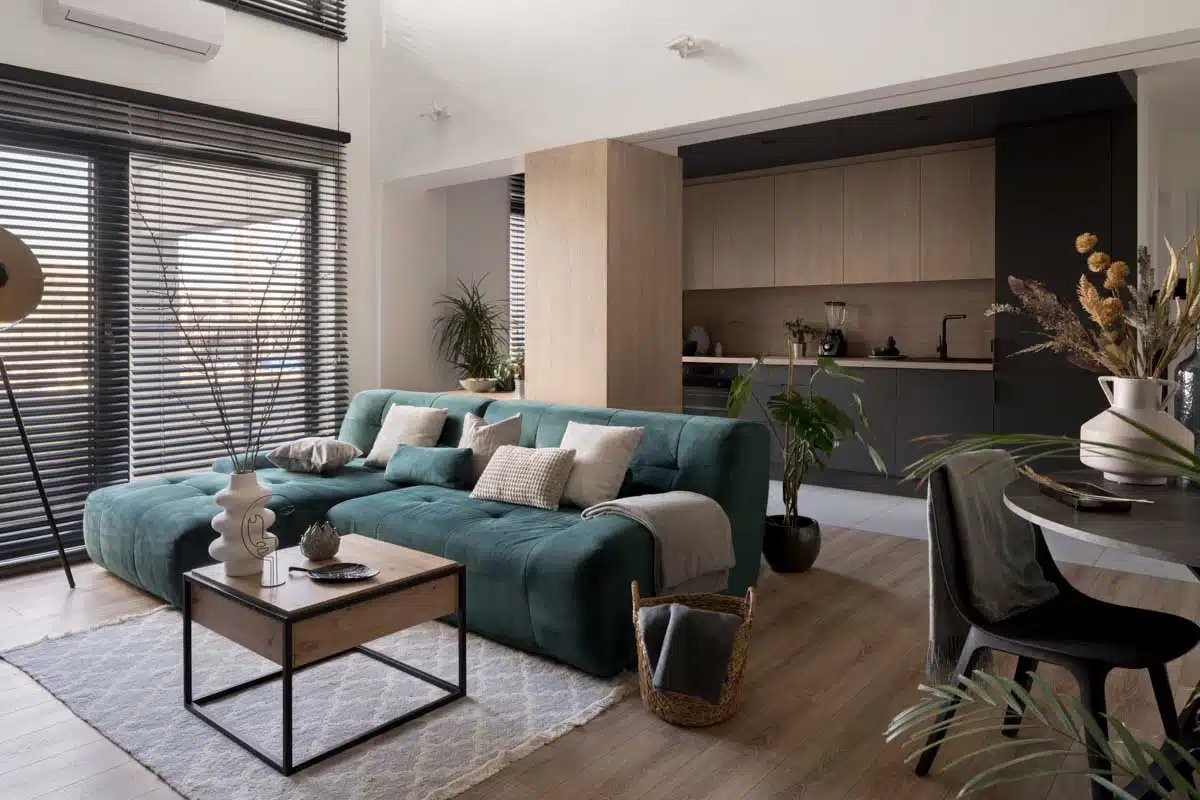 Along with enhancing the look of a space, rugs can serve a variety of purposes. Not only does it offer versatility and design flexibility, but it also comes with practical benefits. Below are some of the reasons why you should have a rug under this table type:

Enhances the way a room looks: A rug is one of the simplest decors you can add to a space to make it look stunning. It offers versatility since it can anchor the space, ground your overall color palette, provide a great focal point and can also be used to introduce an accent or contrast in the room. Additionally, there are many types of rugs that can be used to add life to drab interiors.

Defines space: Area separation is one of the main purposes of a rug. It visually separates an area from the rest of the space. For example, if you have a very large living room, a rug can be used to define the seating space, create an intimate environment, and separate it from a reading space or watching space.

In the same way, it can be used to define and highlight furniture like a coffee table. Glass tables, for example, can be easily visually distracted, so a rug can help put emphasis on it.

Adds warmth and comfort: Rugs are comfortable and warm underfoot and can give cushion. It also gives a cozy warmth during cold winters where a tile flooring or a natural stone flooring can feel cold.

Noise reduction: Rugs are good insulators and prevent noise from sliding furniture pieces or walking by absorbing the sound.

Protects the floor: Rugs protect the floor from damages, scratches and dents from foot traffic or furniture.

Adds a firm grip: Flooring materials like tiles, wood and polished stone can be slippery and a rug can help hold furniture pieces like a coffee-type table in place. It also helps prevent slip accidents.
Popular Materials for Table Rugs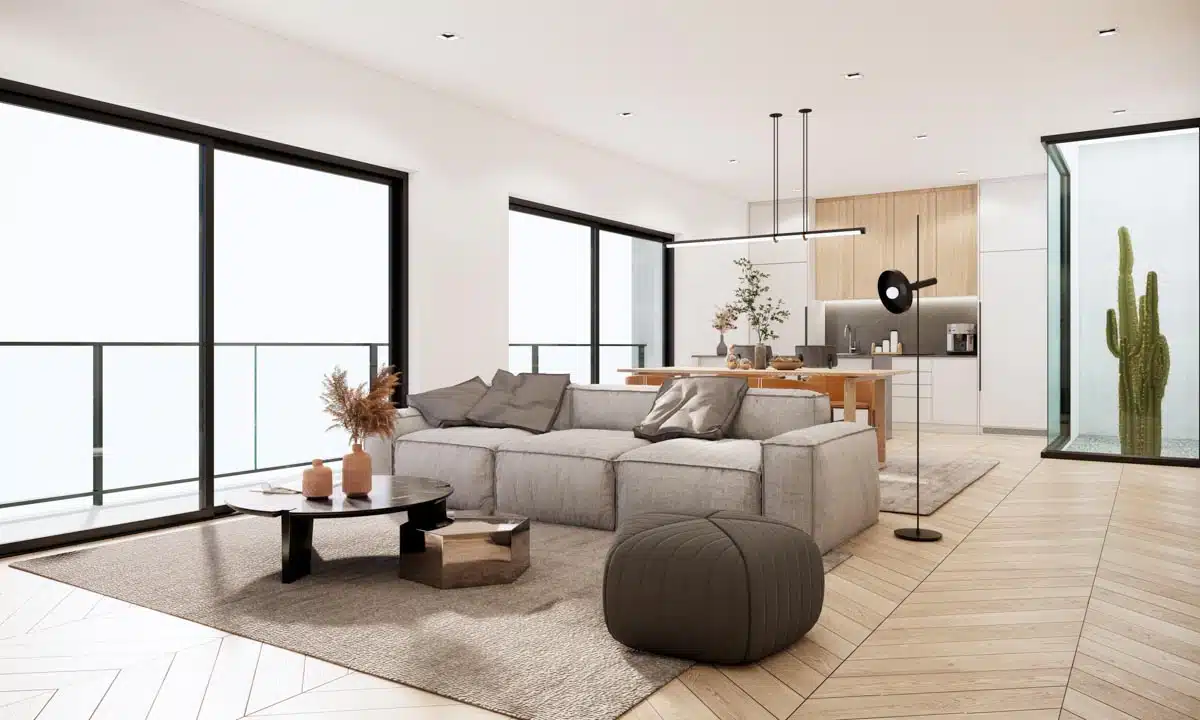 Rugs come in a variety of styles, designs, sizes and materials and each one of these have their own benefits and distinct characteristics. Here are some common rug materials available in the market.

Cotton: Cotton rugs are all natural yet very durable. It is available in a lot of colors, which make it easy to find one which will match your coffee table and living room style. It is easy to maintain and perfect for laid back to contemporary style spaces.
Most trade experts consider that a good – quality all-wool rug still offers the best all- around combination of durability, soil resistance and resiliency. – The Signalman's Journal, Volumes 39-40, 1958
Wool: Wool rugs are your best bet if you want something super soft and comfortable. They have superior wear and tear and their durability makes them the ideal choice for areas like living rooms. Wool rugs are typically made of sheepskin or goat hair.
Silk: Silk rugs are well known for their elegance, luxury and beauty. Among all of the natural fibers, silk is one of the strongest, luxurious, and most durable. Silk rugs have a smooth, shiny appearance but are very delicate. Because of this, they require more care. Silk rugs are more suitable for low traffic areas.
Synthetic Fibers: Synthetic rugs are made of artificial materials like nylon, polyester, viscose or a blend of these. They are low maintenance and incredibly durable which make them an ideal choice for living rooms and under coffee-type tables.
Types of Rugs You Can Use With a Living Room Table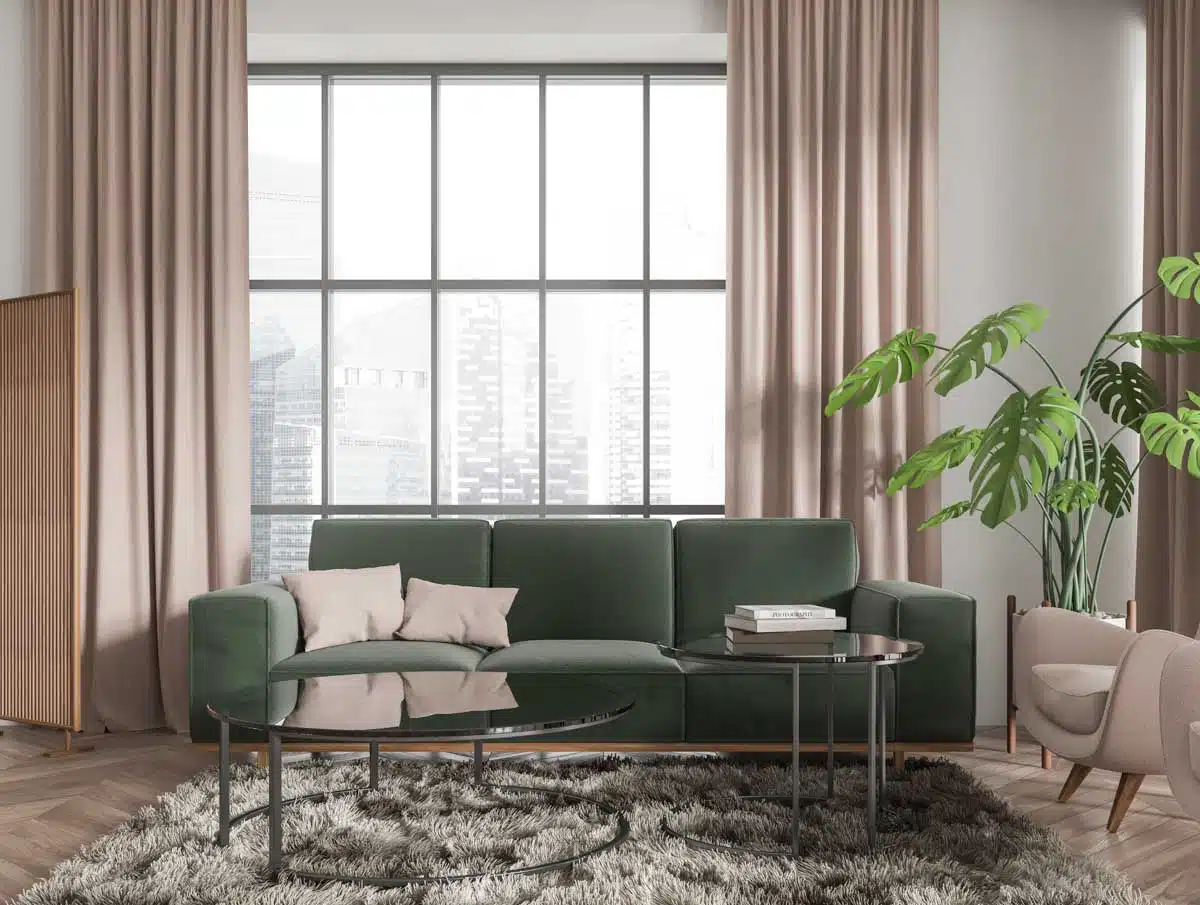 • Runner: Runners are rugs that are long and narrow. These rugs are rectangular in shape and are commonly used in high traffic hallways and stairs. Runner rug sizes are often several times more than their breadth — typically two to three feet wide and six to fourteen feet long.
• Area Rugs: An area rug is a carpet which is much smaller than the size of the room. Area rugs come in a variety of sizes like 4'x6', 5'x8' and 8'x11' and are also available in small sizes which work best for compact spaces. Small area rugs typically have a size of 4'x'4 feet or have a diameter of 4 feet.
How Big Should a Rug be Underneath the Table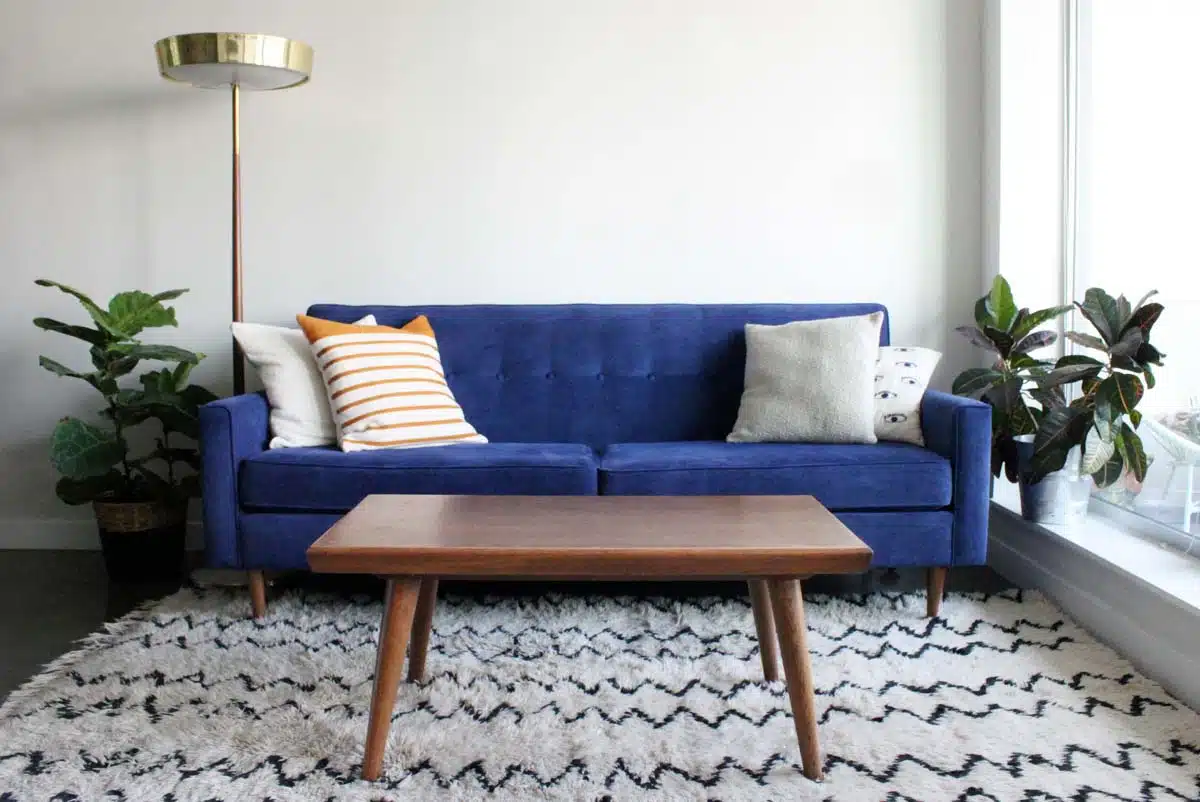 For starters, the size of the rug and the coffee table should not be the same and must at least be 1 ½ to 4 feet longer than the table. It is up to you to decide the final size of the rug but make sure that the difference between their sizes is not less than 18 inches.

Area Rug Sizes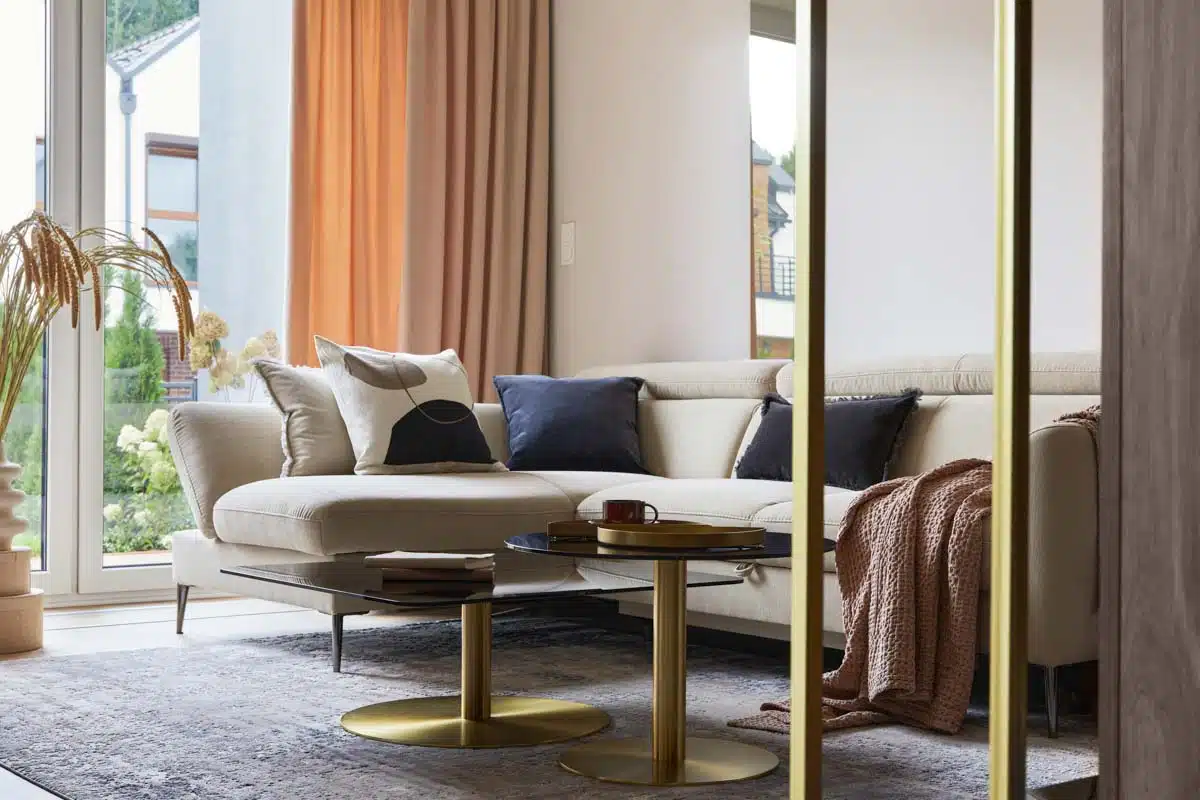 Rug sizes depend on the shape and size of the coffee table. Standard sizes for coffee tables range from 18 to 24 inches wide by 36 to 48 inches long.

Rectangular coffee tables are available in various dimensions such as (width x length) : 20 x 30 inches, 20 x 40 inches, 20 x4 8 inches, 30 x 48 inches, 20 x 54 inches and 30 x 54 inches.

For square tables, the most common size is 36 x 36 inches. While for round tables, 36 inches diameter is also the most popular one. Here are the recommended rug sizes for different coffee tables:

Rug sizes for rectangular coffee tables
• 3 feet long rectangular table: 4ft x 6ft rug or 5ft x 8ft rug , depending on the size and style of the sofa.
• 4 feet long rectangular table: 5ft x 8ft rug
• 5 feet long rectangular table: 6ft x 9ft rug
Rug sizes for square coffee tables

As a general rule, the rug should at least be 18" to 24" bigger than the table.
• 2ft x 2ft square coffee table: 4ft x 4ft square rug
• 3ft x 3ft square coffee table: 5ft x 5ft square rug
• 4ft x 4ft square coffee table: 6ft x 6ft square rug
Rug sizes for round coffee tables

Round coffee tables pair well with rectangular rugs. However, if paired with a sectional, corner or L shaped sofa, it is best to use a round rug with a round coffee table.
• 3 feet diameter round coffee table: 4ft x 6ft rug or 5ft x 8ft rectangular rug
• 3 feet diameter round coffee table: 5 feet diameter round rug

Rug sizes for oval coffee tables

Oval coffee tables also pair well with rectangular rugs

• 2 feet long oval coffee table: 3ft x 5ft rug
• 4 feet long oval coffee table: 5ft x 8ft rug
Rug sizes for nesting coffee tables
• Set of two nesting tables: 4ft x 6ft rug
• Set of three nesting tables: 5ft x 8ft rug
Rug sizes for asymmetric coffee tables

Asymmetric tables are those that have an irregular shape or look sculptural. It may look a bit tricky to furnish with a rug, but most asymmetric tables actually look best when paired with rectangular shaped area rugs.
The rule of thumb for placing a rug under an asymmetric coffee table is that it should be at least 1 ½ feet or 18 inches bigger than the coffee table around the edges.
Using a Rug Under the Table Only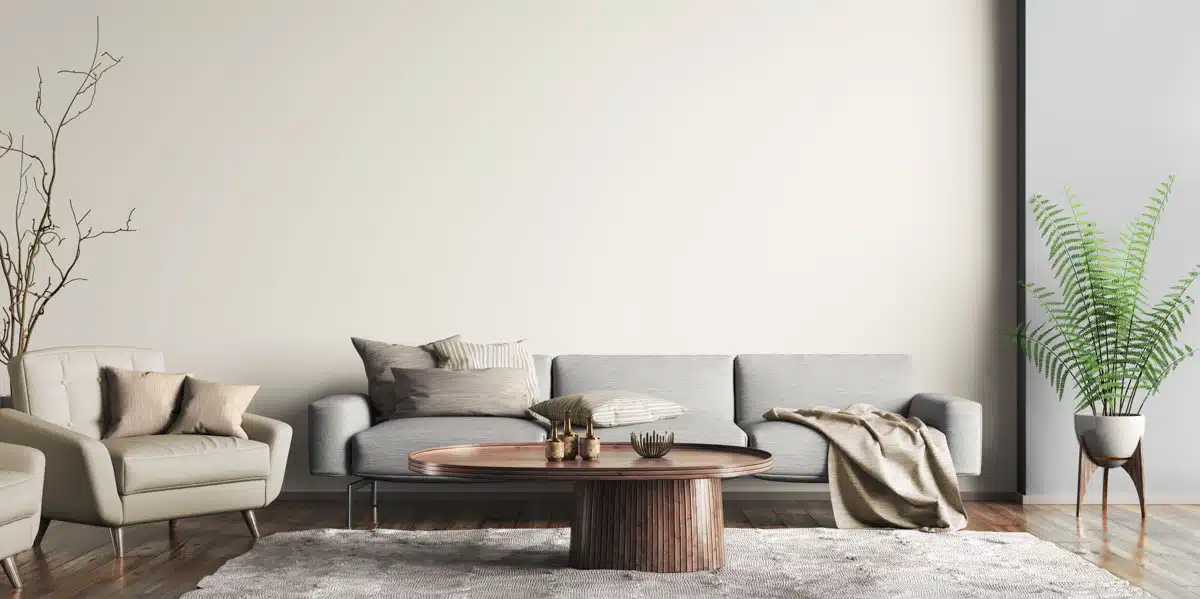 There are mixed opinions on putting a tiny rug under coffee table because of its tendency to look disproportional with the rest of the space. However, our in house design expert, Rachel Razal Padilla says there are actually ways to make this look work.

According to Rachel, you can set up your living room in a way that the coffee table is the only furniture that sits on an area rug if the dimensions of your table is smaller than the rug. So the area rug can be slightly bigger than the coffee table and smaller than the sofa arrangement but it would still look stylish and appealing.
There are exemptions to this rule though. If you plan on using your rug to anchor the whole space, do not use a tiny rug. Make sure that the entire living room furniture arrangement fits inside the rug, not just the coffee table.
Small Rug for a Table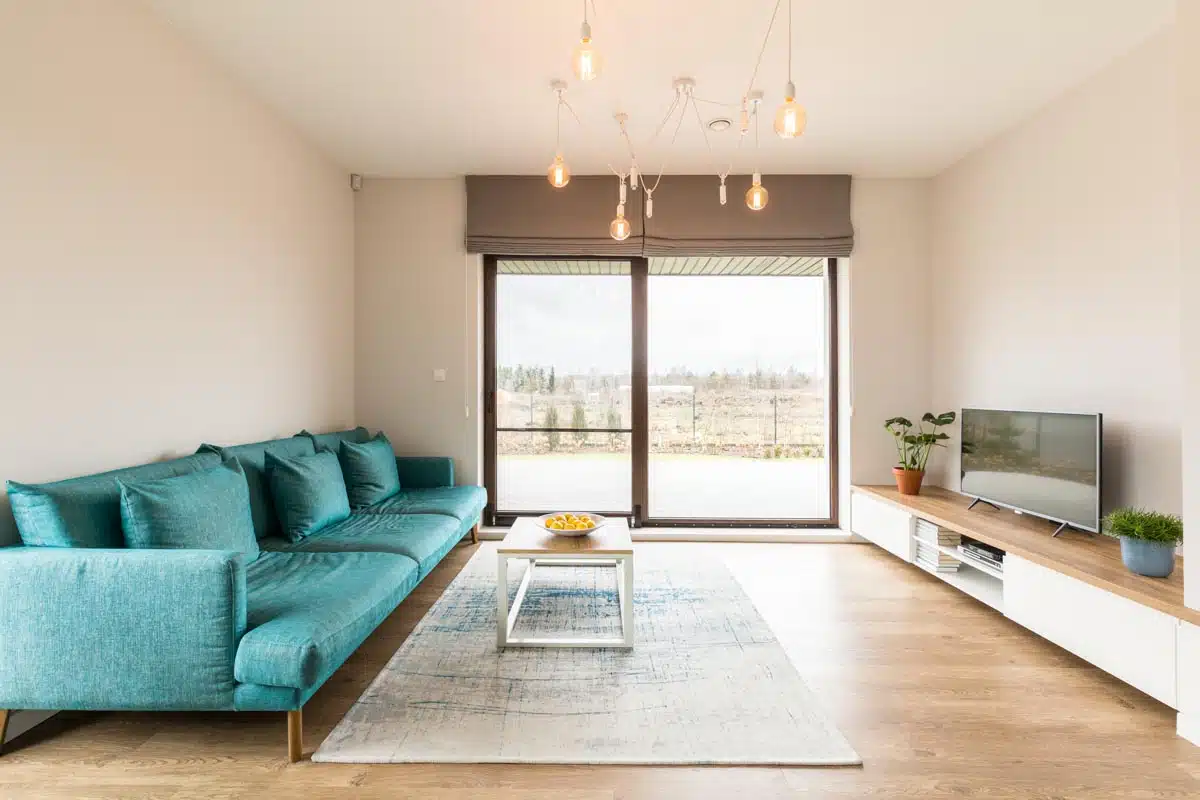 As mentioned, you can have a small rug under a coffee table , only if your table is smaller than the rug. For example, a 2 feet long rectangular table can still look proportional with a 3'x5' area rug even if it's the only furniture that sits on it.
Area Rug Tips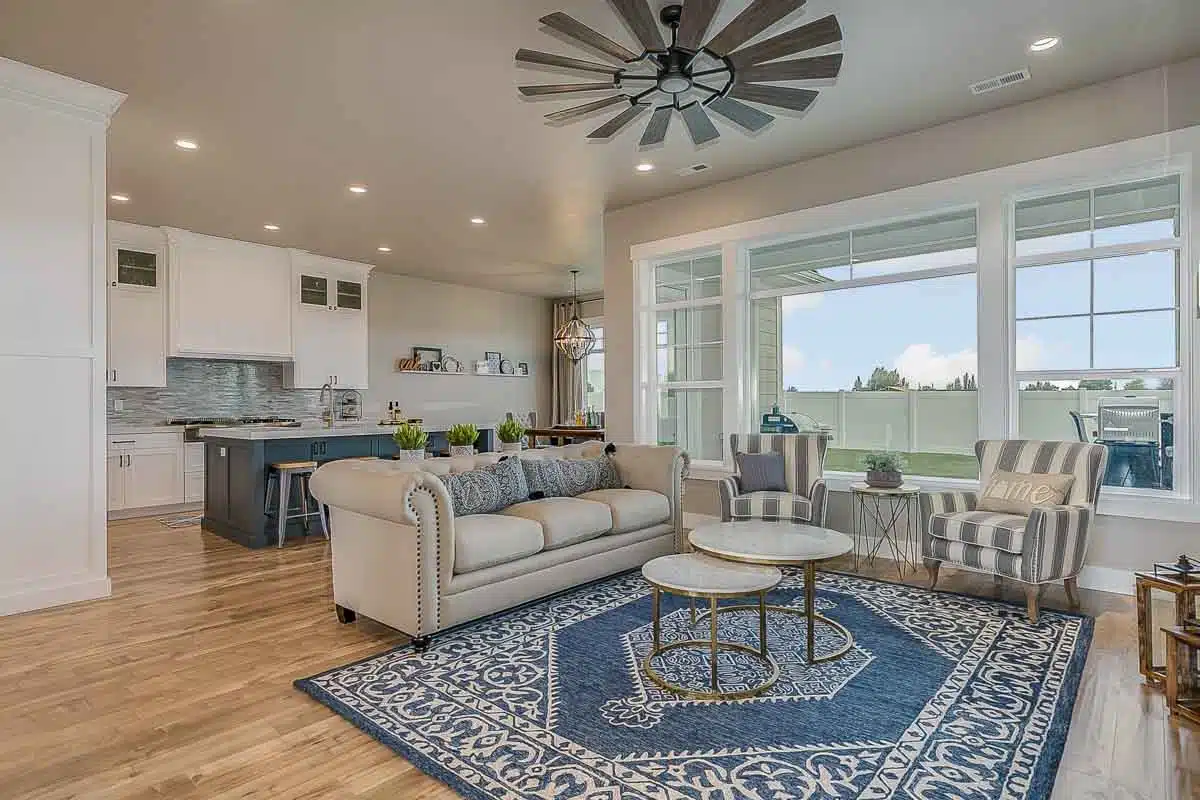 Area rugs are rugs that are intended to fill a part of the room. It is not similar to carpet flooring which is usually wall to wall and is smaller than an accent rug. Typically, area rugs are bigger than 4 x 6 feet and are usually rectangular in shape.
When used under a coffee table, an area rug often covers much more furniture pieces. You can include the couch or seating area to rest on top of it. In choosing the right shape and size of an area rug for a table, you will also need to consider the type of sofa you have.
There are several layouts you can try, but typically, when you place an area rug in a living room, you place the table at the center of it and adjust the placement of the seating area surrounding it according to the standard clearances.
Round Rug Decorating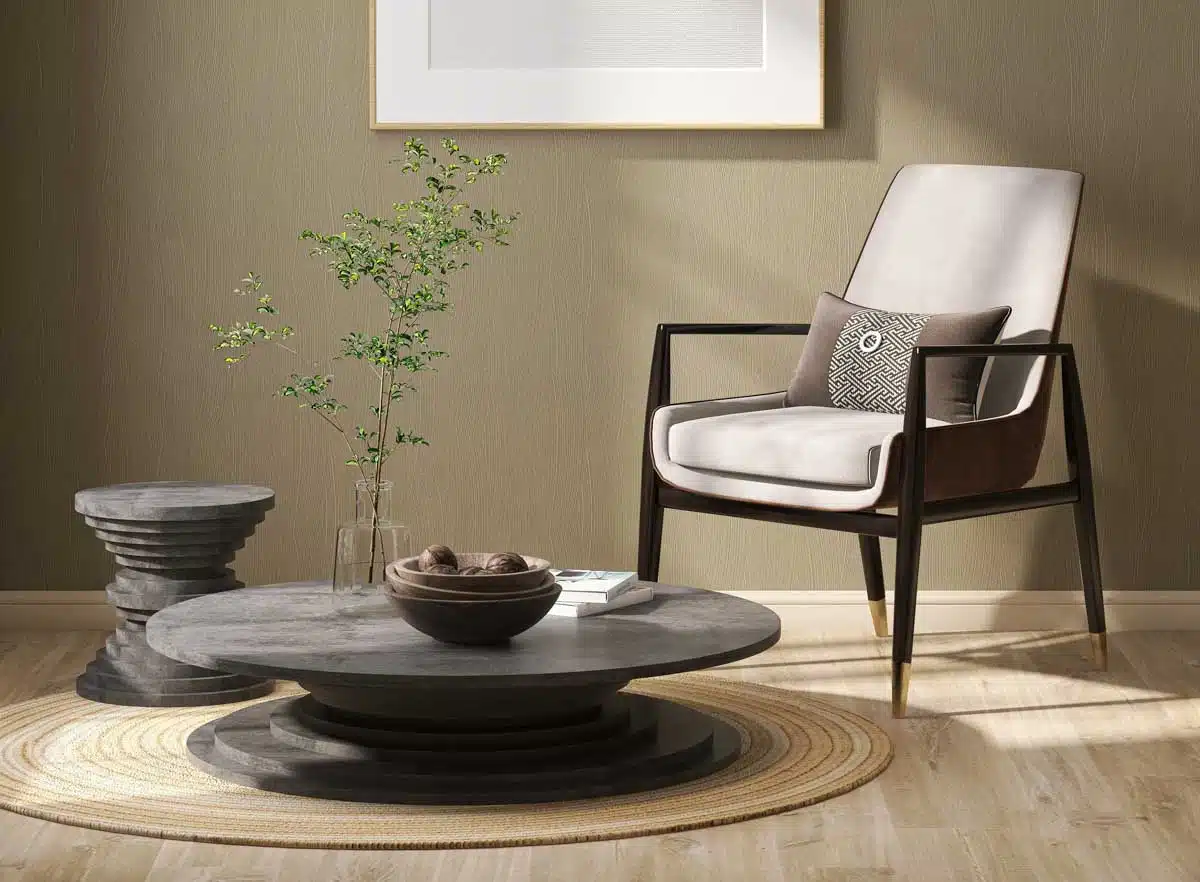 Round rugs best complement circular shaped coffee tables because they maintain cohesiveness. When using round rugs, the same standard clearance of 18 or more inches between the end of the table and the rug still applies. You can find round rugs in different sizes, with the most common diameters as 3 feet, 4 feet, 6 feet and 8 feet.
Interior Designer Rug Placement Tips
Here are some additional design considerations for putting rugs under a coffee table by interior designer Rachel Razal Padilla:

• Clearance between the rug and sofa: The standard clear space between an area rug and the sofa should be around 12 to 24 inches, depending on the size of the lounge. Typically, the front of the sofa requires a bigger space because that is where most foot traffic is.
• Rug edge and table size: The most common living room lay-out places the coffee table at the center of the room. The rug edges should measure at least 18 inches larger on all sides.
• The coffee table must at least be half or ⅔ the size of the sofa.
Other design ideas you can use when putting a rug under your coffee table:

• If your room is already carpeted from wall to wall, you can still add a small rug beneath your coffee table. Layering a small rug or an area rug with a carpet adds more texture to a space. This is also a great way to introduce an accent color to a room.

• The most traditional style in choosing the right rug for a coffee table is to match their shapes — for example a round rug for a round coffee table, a rectangular rug for a rectangle coffee table. Complementing the shape of the table will create visual cohesion in the room.
what is your experience with rugs placement under a coffee table? Share your information, home decor tips or questions in the comments section to let us know. See more related content in our article about coffee table staging on this page.