This guide shares the different types of towels including the materials, sizes, thickness, cotton variants, best towels for kitchens & bathrooms, and ideal options for drying dishes.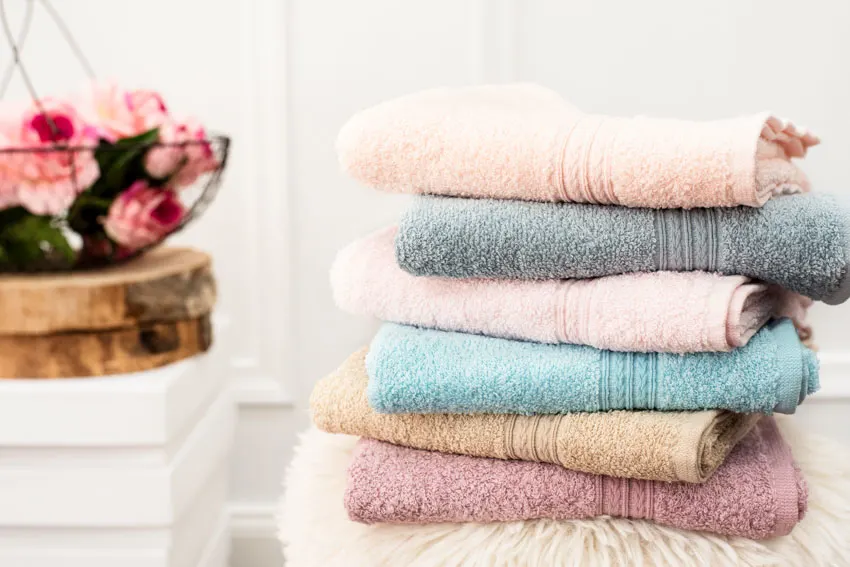 Having a large, soft, dry towel can definitely make you feel like a king or queen. But are you aware that there are numerous kinds of towels for different purposes? Furthermore, although we usually associate towels with the bathroom, many other types of towels are utilized around the house and beyond as well.
Towels are classified according to their purpose, thickness, material, texture, and size. Although you can use one type of towel for multiple chores, their original purpose yields the ideal benefits. As you continue reading, you will get a complete guide to almost every type of towel you can use in your daily life.
Bath Towels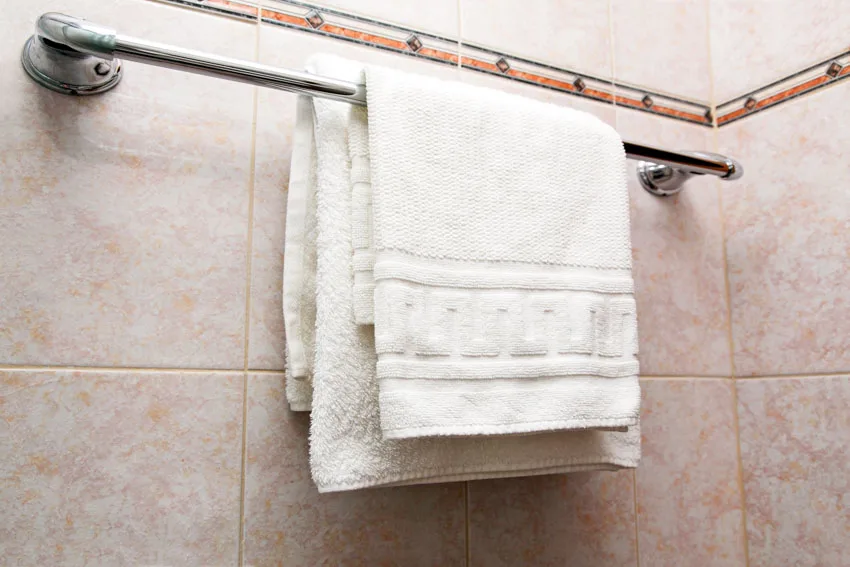 A bath towel is the most fundamental form of towel that everybody should possess. This is the type of towel that you usually take as you get out of the shower or bath. Bath towels are ideal for drying your hair as well as your entire body since they comfortably wrap around your head without getting too cumbersome.
Bath towels are the typical choice for bath linens, thus they are more widespread and extensively employed. While they are smaller than bath sheets, they might be the ideal size for both adults and youngsters and provide excellent absorbency. Moreover, bath towels are ideal for small bathroom sizes since they fit easily into towel racks and inside closets.
Bath Towel Sizes: Bath towels normally measure 27 x 52 inches or 30 x 58 inches. If you need to deal with a significant number of towels, the larger size may be the best option.
We also assume that the towel we take and use after showering has a significant impact on our bathing experience. Therefore, if you are using an improper towel, you might not be able to dry yourself properly.
Standard Bath Towel Size: The standard size of a conventional bath towel is 30 x 56 inches.
Bath Towel Fabrics: You can even wrap and effortlessly twist it around your body to swiftly dry yourself. Bath towels are made from a range of fabric materials, which include linen, cotton-polyester blends, rattan, as well as pure cotton.
Bath towels, while not as large as bath sheets, can be useful, particularly if thoroughly maintained and managed to keep dry. Special Hygro, Supima, as well as Egyptian kinds of cotton are soft, luxurious, and extremely absorbent, but Turkish or basic cotton dries quickly, is ultra-light, and is simple to manage.
Bath Sheets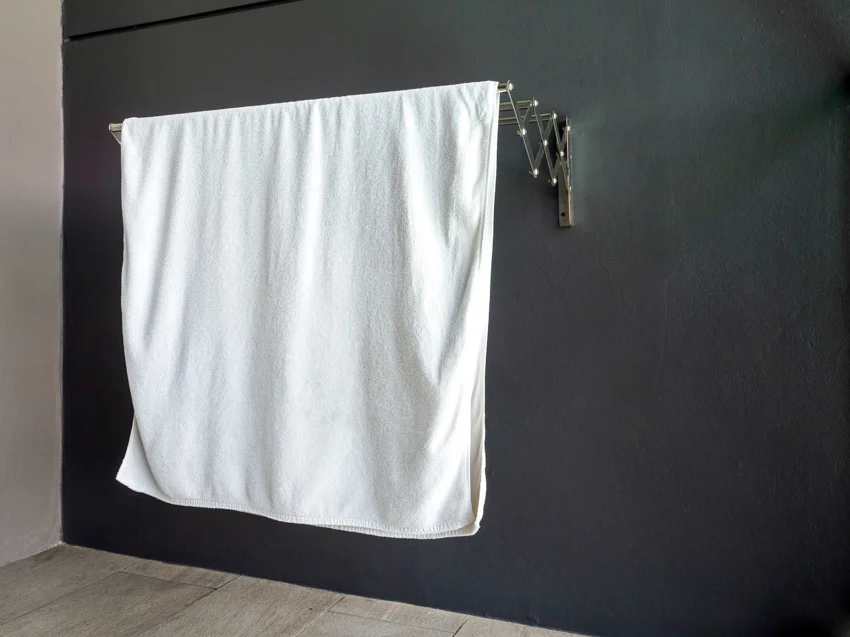 A bath sheet is a bigger type of towel compared to a bath towel, hence you may wrap it completely around your entire body. A bath sheet is not only longer and wider, but it is also more well-absorbing and dries faster. Its dimensions range from 35 to 60 inches.
Should you wish to experience a more hotel-like sensation, then we highly suggest that you utilize a bath sheet. This is the type of towel that we love to wrap around ourselves after a fast shower and whenever we want to prepare our hair or do our makeup.
But do not fret! These bath sheets are equally fantastic for males as well. They are so free to use it to wrap around their body whenever they shave.
Bath sheets feature excellent absorbency and a velvety, plush feeling, rendering them among the finest bathroom towels on the market. Although white is the most common color option for bath sheets, you can also select from a variety of colored alternatives.
Hand Towels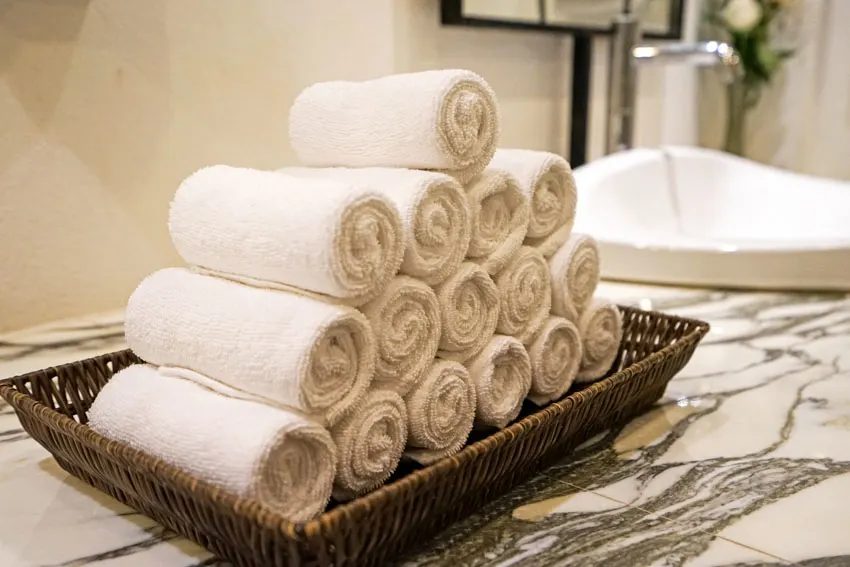 Hand towels, as the name implies, are intended to wipe your hands until they become dry. You may believe that hand towels are unnecessary, but when you are anxiously looking for something in the washroom with damp hands, you may reconsider using them, and eventually, you might find them useful as well.
Reasonably, you would not prefer to use the very same towel that you are normally using for your body or face to wipe your hands dry. Thus, to ensure excellent hygiene, you must choose the suitable one based on the underlying materials.
Hand care is, without a doubt, very essential for both your skin and your wellness. Thus, this calls for the usage of a proper hand towel.
Hand Towel Size: In terms of measurement, hand towels are typically 16 by 32 inches in size. However, 15 x 28-inch options are also offered. Cotton, cotton-polyester combination, and linen hand towels are the most ideal options. They are generally seen suspended from a hook or bar affixed to the bathroom or sink wall.
Hand Towel Materials: Hand towels produced from various raw materials are accessible in the marketplace. However, cotton, linen, bamboo, and synthetic microfibers are the most widely utilized. They are also available in a range of colors, designs, and patterns.
Wash Cloth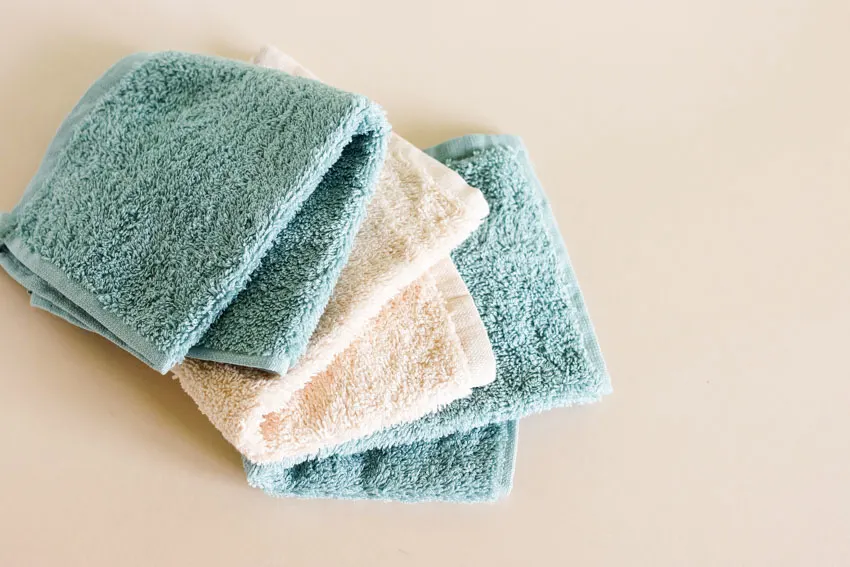 Washcloths are little towels used to exfoliate your skin and are useful to keep around the house for a brief rinse. A washcloth is a little cloth, usually made of absorbent toweling, that is normally used for cleaning a specific part of your body.
A washcloth is comparable to a hand towel. However, it is smaller and designed to be used damp or fully wet. It is used to moisten and soak with soap, as opposed to a towel, which is used to dry after cleaning or rinsing. Washcloths can also be used to remove dead skin cells and scrub the face, as well as to prepare for a cold or warm compress.
Wash Cloth Sizes: Washcloths typically measure 12 x 12 inches or 13 x 13 inches.
Wash Cloth Materials: When purchasing washcloth sets, make sure they are made of 100% cotton, a cotton-polyester combination, or bamboo. Soft washcloths that are easy to use with water and soap are ideal. After each usage, you have to make sure the washcloth is completely dry.
However, due to the raw materials utilized to create this towel, you should exercise caution when using it. Luckily, the raw materials are normally mild on the skin and are used to eliminate dirt, toxins, dead skin cells, and other waste.
Bath Mats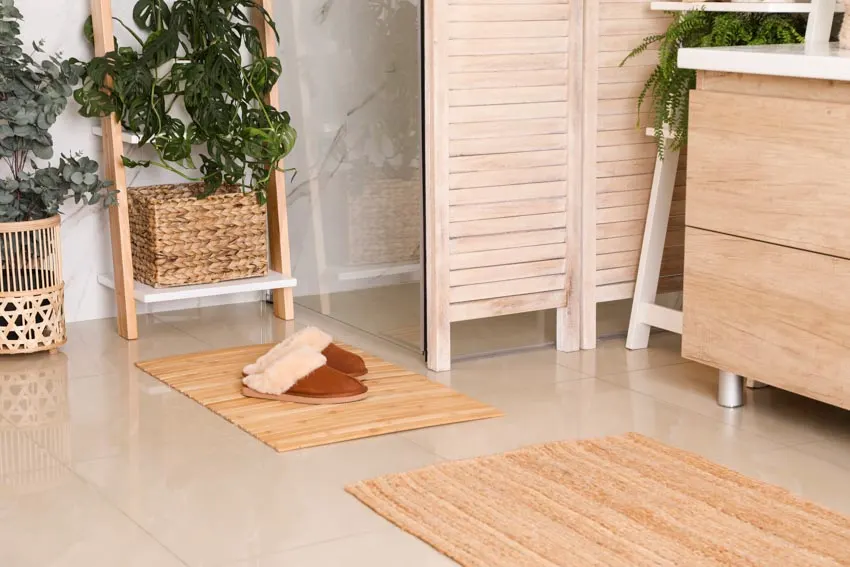 A bath mat is an incredible asset to any bathroom. It is indeed a one-of-a-kind towel with a separate design on the front and rear. It has a softer front side than standard types of rugs, carpets, or mats, with a fixed layer on the contrary side to grip the floor.
A lovely foot towel can assist in making your bathroom more appealing while also saving you the hassle of constantly cleaning your bathroom floor. Bath mats are typically put directly at the front of the shower or bathtub to absorb any water that falls off of you as you leave the bathing area.
Nonetheless, you may need to take certain measurements in order to determine the precise size of your bathroom. A 20 x 30 inches bath mat is the recommended default size for most bathrooms. Larger bathrooms, on the other hand, may fit a 24 by a 36-inch mat.
Face Towels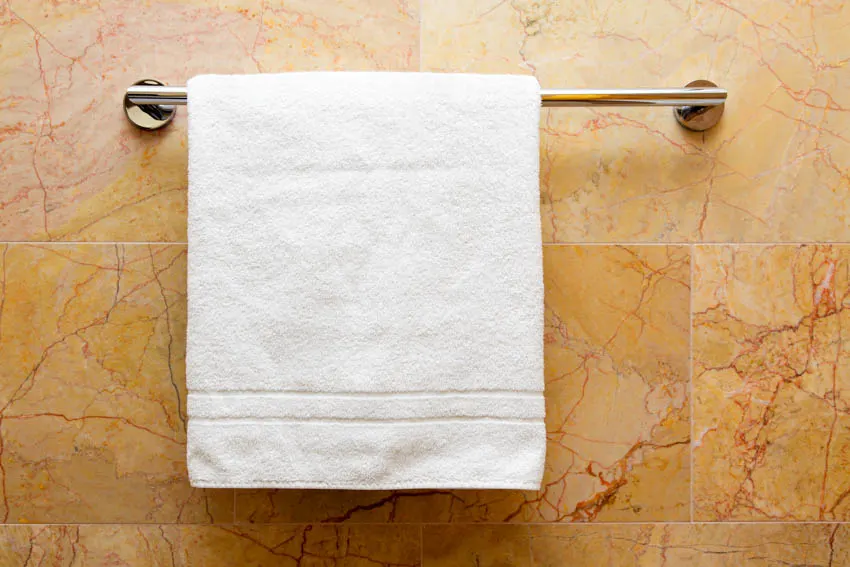 A face towel is designed to wipe your face dry in the same way as a washcloth. It is generally square in terms of shape and is often smaller. It can be used to exfoliate as well as erase makeup from your face, for instance. If you have extremely sensitive skin, a face cloth must be used rather than a washcloth.
Face Towel Size: The usual measurements of a face towel are 11.8 x 11.8 inches and 12 x 12 inches.
Face Towel Materials: You should look at structural properties like softness, excellent absorbency, and high-quality fiber composition. In this case, cotton, bamboo, or faux microfiber face towels could be the best alternatives.
Kitchen Towels
Kitchen towels are comparable to hand towels in the bathroom. They are typically used to dry hands after washing, which is a common activity in the kitchen. Most people hang kitchen towels over the oven or dishwasher handles, or both.
Kitchen towels are more long-lasting and absorbent than other towels. These towels are also finished with heavy stitching along the edges to strengthen the towel and keep it in place over time.
Kitchen towels are utilitarian and one of the most adaptable products you can have in your kitchen, in addition to being visually nice and highlighting your kitchen's décor.
Nowadays, kitchen towels come in a wide range of colors, designs, fabrics, weights, and sizes, each tailored to a certain activity in the kitchen. Clean backup kitchen towels are frequently kept on reserve so that a new towel is always available to come to aid in future mishaps.
Kitchen Towel Fabrics: Kitchen towels are often composed of cotton or microfiber. You have to pick kitchen towels that suit your kitchen design as well as function as a decorative component.
It is indeed a good idea to acquire a pack of four or more so that you have fresh ones on standby; they get dirty quickly. Temporary kitchen towels, including Christmas-themed kitchen towels and other holiday patterns, are also appealing.
Kitchen Towel Sizes: Kitchen towel sizes vary, but they are normally 26 inches in length by 16 to 18 inches in width.
Decorative Towels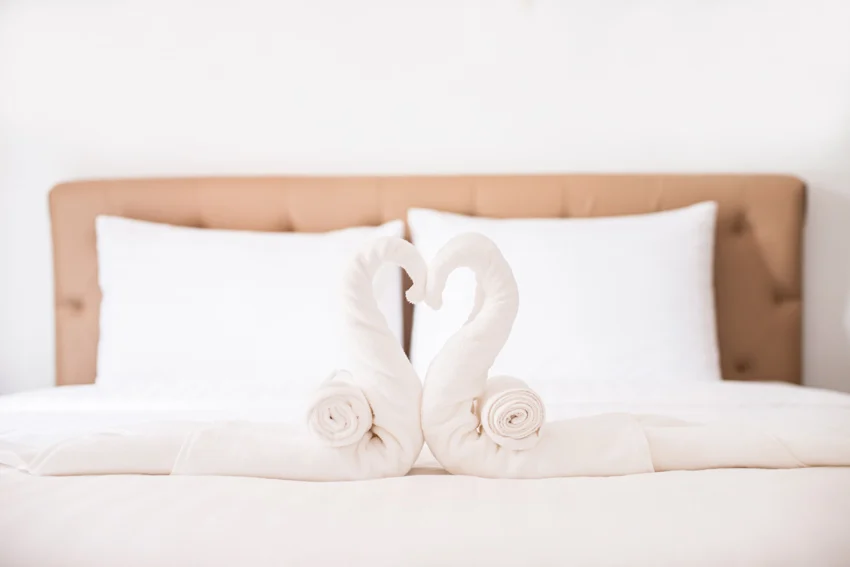 Using decorative towels is one of the easiest solutions to add vibrancy to a room while keeping it functional. To add some visual interest, you can experiment with tassels, fringe, and stitching. They are also a great option for guests who need to wipe their hands in the guest bathroom.
Decorative towels have been deliberately designed for aesthetic purposes. This could entail conventional towels being artistically upgraded with specific motifs such as accents and embroideries, crocheted, or simply folded into distinctive shapes – all with the goal of enhancing the décor of the room where they are employed.
To produce a subtle and appealing perspective that sits pleasantly on the eyes while using decorative towels, the towel color, texture, as well as shape should blend into the environment.
Tea Towels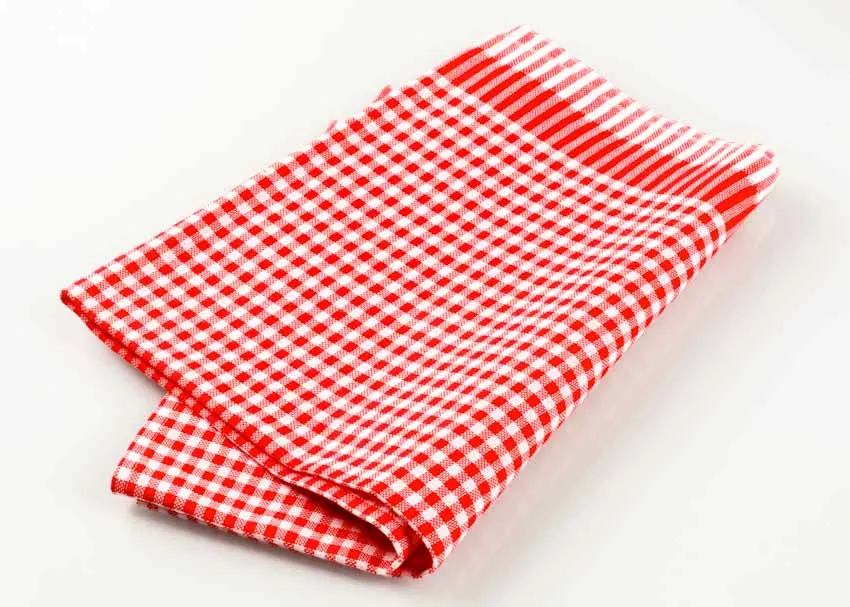 Tea towels are under the category of kitchen towels, and they are used to protect hot baked products. A tea towel is often made from cotton or linen, which can be any size based on how much baking you perform at any given time.
A tea towel is similar to a regular towel or napkin. However, it is soft and thin rather than heavy. It is fashioned from linen or cotton, or a blend of the two. It is embellished with a woven or imprinted design to make it more attractive and ornamental.
Tea towels are typically the diameter of a hand towel. They have been utilized in tea traditions since the 18th century. Tea towels are now widely used in households and restaurants all over the world. Apart from being a napkin, it can be used in a variety of ways.
Fingertip Towels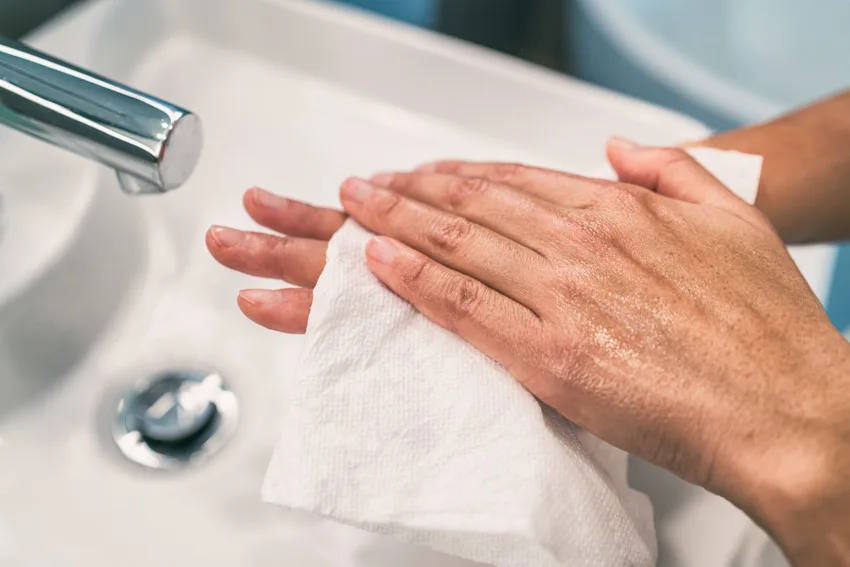 A fingertip towel is a little towel that is intended to quickly dry hands and primarily your fingertips. It is commonly 11 inches by 18 inches and is between the size of a washcloth and a hand towel. It functions as both a decorative and functional piece in the bathroom. It is, nevertheless, largely used for decoration.
Furthermore, it is most frequent in guest bathrooms, although it can also be seen in the kitchen. Linen, cotton, rattan, as well as artificial microfibers, are the most common fabrics used to make fingertip towels. They also come in a variety of colors, textures, and styles.
Paper Towels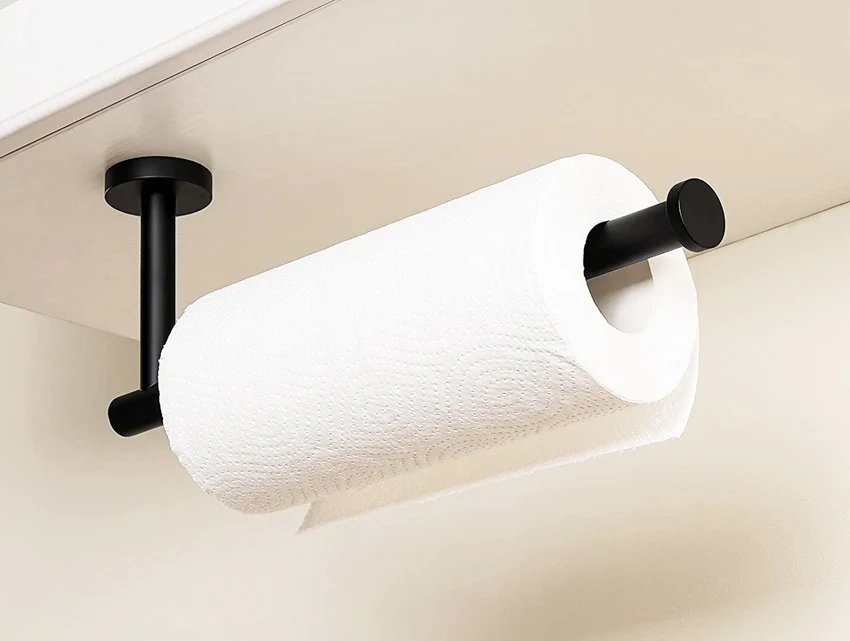 See this paper towel holder at Amazon [sponsored link]
A paper towel is an extremely absorbent type of towel that is disposable. It comes in rolls, as well as folded and pre-cut layers; they resemble tissue rolls and papers.
Unlike other towels, it is throwaway and should only be used once. Since we just use it once, we suppose it is more sanitary than any other towel. It is suitable for use in both the kitchen as well as the bathroom.
Paper towels absorb water since they are coarsely woven, allowing water to flow between them even against gravitation. Paper towels can be packaged separately. They provide nearly the same functions as traditional towels, such as wiping hands dry, cleaning windows, tidying, and mopping up stains.
Pet Towels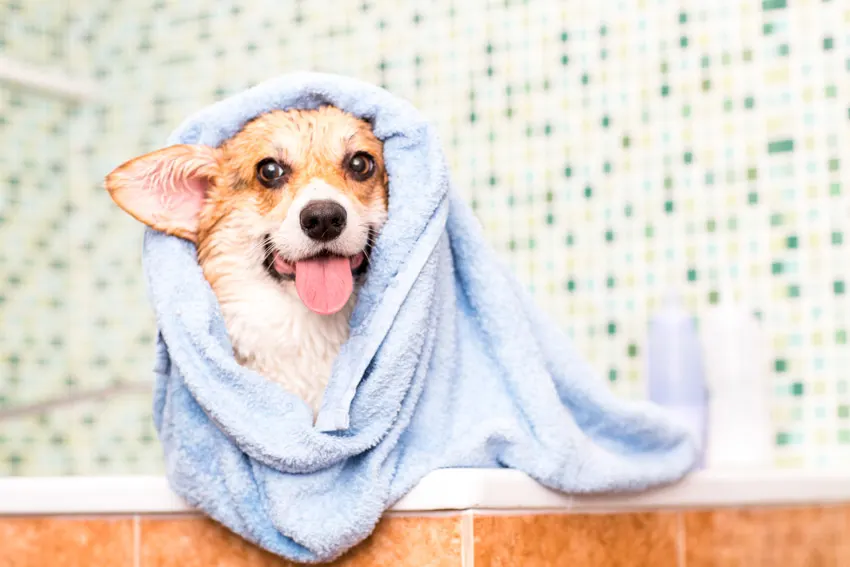 If you have pets, you should keep an extra set of towels for them as well. Pet towels are lightweight as well as easy to tidy and transport. Furthermore, they dry the pets immediately after washing them. For pet towels, a synthetic microfiber pet towel would be an excellent choice. It will help you keep your pet dry and cozy.
A pet towel is often a long-lasting sponge towel for pets that absorbs water rapidly with a little push and regains absorbency when squeezed dry. It can help keep pet hair from becoming knotted. With a moderate push, the material collects water swiftly.
Beach Towels
We enjoy going to the beach on occasion, thus a beach towel must always be present in my bathroom. These are possibly the largest towels we have. Beach towels are great to have on reserve for swimming days or other fun trips where a bigger towel would be required. They can be up to 40 by 70 inches in size.
Moreover, beach towels are designed to be used over the duration of a day. These are flat mats that are placed in the sand or on the ground next to a pool. These have vibrant colors and dry quickly in the sun. As a result, it is a must-have accessory for beach sunbathing. It is also used to surround the body at times.
Spa Towels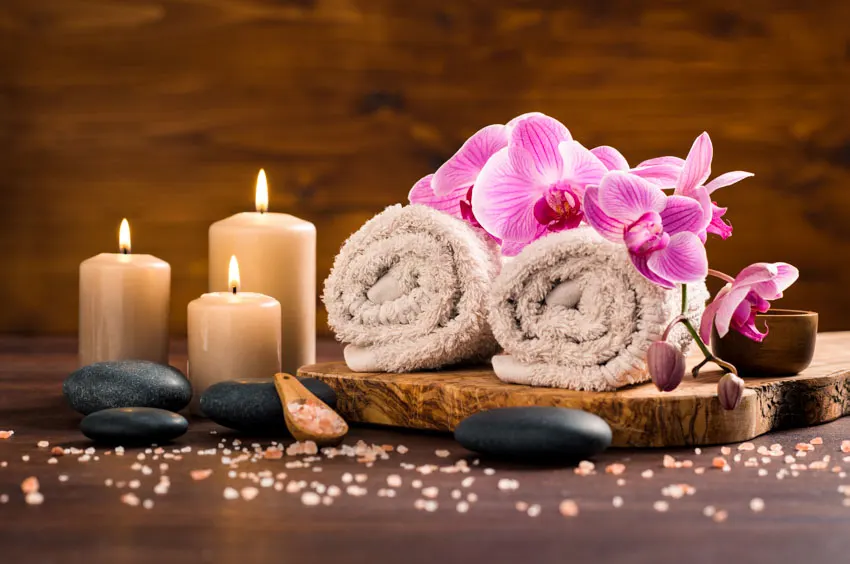 The spa towel is used to simulate a spa treatment. It is exceptionally soft and absorbent, providing you with a genuine sense of being at the spa. Nonetheless, because you will be washing the towel regularly, it should be bleach-resistant. Spa towels are not designed to be washed with chemicals regularly.
Gym Towels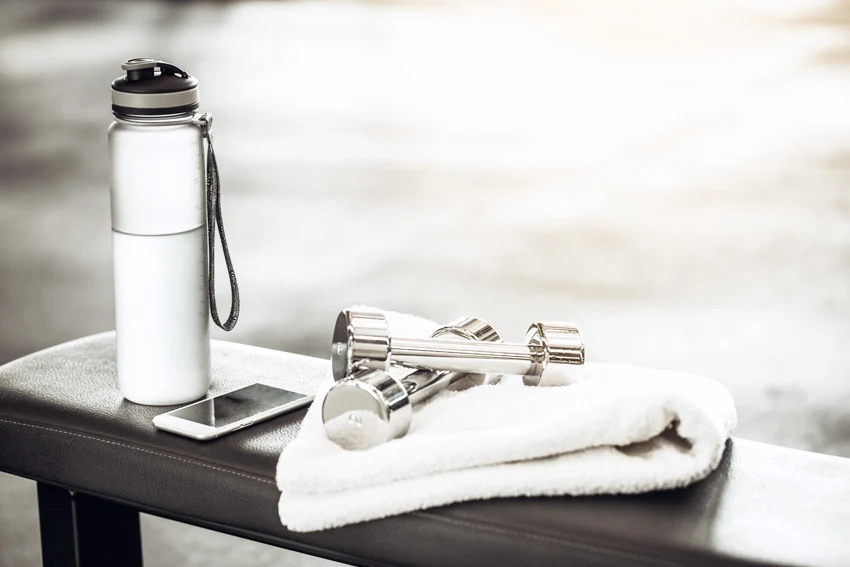 A gym towel is often used to remove the sweat after a training or workout session at the fitness center, outdoors, or the home gym. This is also referred to as a workout towel or a sweat towel. It helps with body cleaning and refreshing.
Burning calories gets easier when you know you can depend on a decent towel to absorb your sweat. A gym towel is typically smaller than a bath towel but somewhat larger than a conventional face towel.
A good-quality gym towel must be extremely absorbent yet very quick to dry to ensure that it is always good to go whenever you burn fat. You must always choose a cotton-made gym towel, but there are also linen, bamboo, and microfiber gym towels available.
Turkish Towels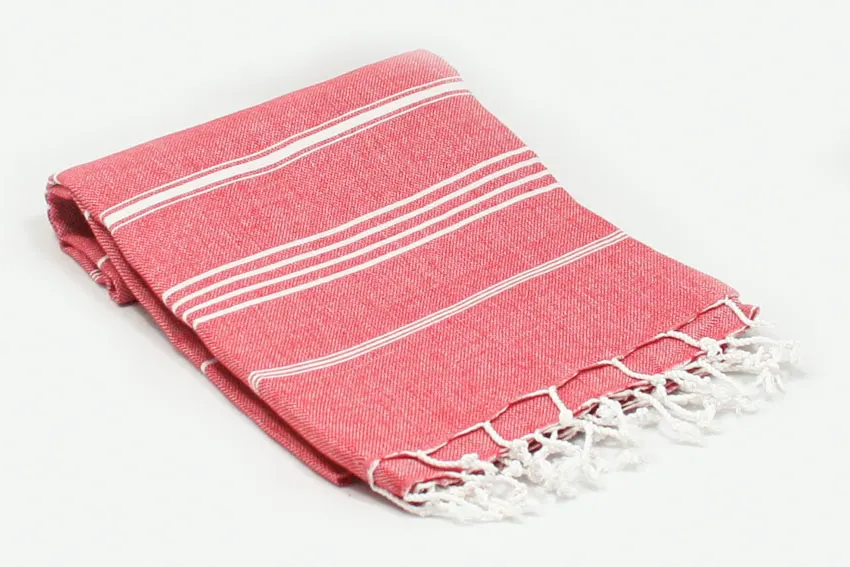 A Turkish towel may also be referred to as a Hammam towel or a Fouta towel. The name comes from the fact that it is made of Turkish cotton. This particular fiber is well-known for its length, which renders the towel itself highly durable.
This particular towel is made of Turkish cotton, which is noted for its long strands. Although this may not seem significant to you because you have a large collection of towels, Turkish towels are frequently firmer.
Apart from that, Turkish towels are frequently thinner than fluffy towels, making them excellent for vacationers who wish to carry light items or save space in their suitcases. You can wear one as a shawl on a chilly airline flight or as a swimming suit cover-up as you stroll back to your apartment to cleanse from the sunlight.
Aside from the obvious functional advantages, they are also simply stunning. There are numerous sources and a plethora of patterns, sizes, and forms of Turkish towels floating around the internet.
Shop Rags
Shop rags are the business-standard cleaning material for any workplace that encounters spills such as water, mud, or grime on a regular basis. These are heavy-duty rags that are both absorbent and resilient and can be used to mop up grease, fluids, and other mishaps in most types of garages or workshops. They are often very durable and operate well even when wet.
When it pertains to absorbency, shop rags are often superior. They are big and thick, and they can be dried out easily and reused right away. A shop rag can be used multiple times before its capacity to absorb dirt and moisture deteriorates.
Shop rags are created from a variety of materials, both natural and synthetic. Several manufacturers offer towels that can be used numerous times before being thrown away.
Shop rags are a flexible product that may be utilized in a variety of situations due to their durability. Whether you operate in a garage, kitchen, automobile shop, or even a medical clinic, you will likely need shop rags at some point.
Shammy (Car Buffing Towel)
Shammy or chamois alludes to the towel's weaved substance, which has a velvety, felt-like texture. They are a form of absorbing synthetic rubber that is excellent for large vehicles. When chamois is dry, it might become rigid.
Moreover, shammy absorbs water swiftly and dries rapidly with minimal pauses to ring out. It is quite best suited for huge car surfaces or the outside of a yacht. It is indeed dependable, thus you will only need one to dry your whole vehicle. Furthermore, it is strong enough to withstand numerous vehicle washing procedures.
Aside from that, a shammy is often constructed from a particular form of chamois leather. The leather is ideal for polishing and sparkling everything from a car's surface to expensive jewelry. As a result, a genuine shammy might be a fantastic addition to your car maintenance arsenal.
Towel Materials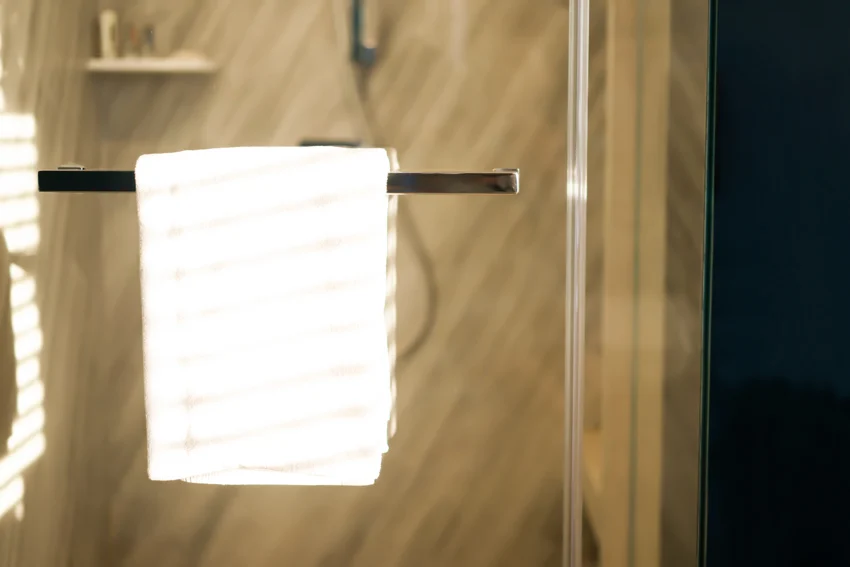 Cotton: Cotton is the most common primary material used in the production of towels. Because it is a naturally occurring product, practically everyone prefers it. When it is organically-made cotton, it is chemical-free. It is also more absorbent than any synthetic fiber.
Apart from that, cotton is a breathable textile since the fibers enable air to move through. Cotton is quite soothing because it is non-irritating to the skin. It is commonly used as a bath towel due to its high absorbency.
Cotton Blend (With Polyester): Alongside cotton, cotton-polyester blends are the most often used raw materials in the production of towels. These normally have a stunning appearance. You do not have to worry about fading or harming the color because of its excellent colorfastness. It also offers exceptional absorption and breathability.
Because of its mixed content, it has a better contact experience and is more long-lasting than other towel materials. Cotton-polyester blends are commonly used for hand and bath towels.
Linen: Traditionally, linen was the primary natural resource used to create towels, and it is still frequently used today. Essentially, it offers certain inherent qualities such as antimicrobial and anti-static characteristics. It is also long-lasting and dries quickly.
It is the ideal eco-friendly towel just like cotton. It takes up very little space in your bathroom and collects moisture more quickly than other towels. It is customarily utilized in the production of bathroom, kitchen, spa, and tea towels.
Lyocell: Lyocell is a soft raw material derived from renewable wood sources. It is used to make high-quality towels. It is very smooth and soothing on the skin because of its unique qualities. It has the same absorbency as cotton. Towels are occasionally made with a cotton-lyocell combination.
Bamboo: It is yet another basic material utilized in the production of towels. Bamboo towels are both very soft and smooth. Because of its softness and silky smoothness, it is used to make elegant kitchen and bath towels. Truly, the absorbency of this towel is its best characteristic. It also offers natural moisture-wicking characteristics.
Synthetic Microfiber: Polyesters, polyamides, and their mixtures are normally used to make synthetic microfibers. These towel materials have a smaller diameter than silk.
They are tiny and lightweight with a high absorbency capacity. These items are also rapid-drying. Towels composed of synthetic microfibers are henceforth perfect for travelers, hikers, gymnasts, as well as beachgoers.
Different Towel Sizes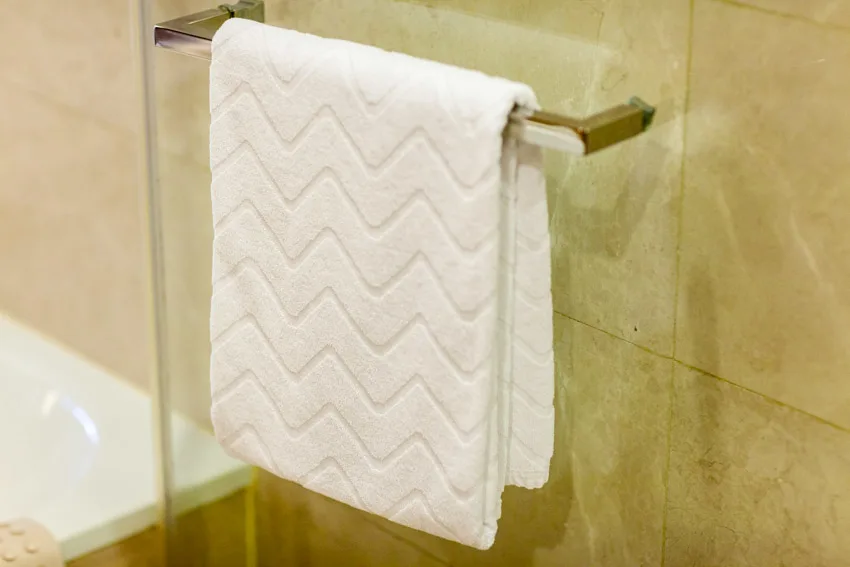 Here are the standard sizes of each type of towel.
• Face Towel: 11.8 x 11.8 inches
• Guest Towel: 11.8 x 19.7 inches
• Hand Towel: 19.7 x 39.4 inches
• Bath Towel: 27.6 x 53.1 inches
• Bath Sheet: 39.4 x 63 inches
• Bath Mat: 19.7 x 31.5 inches
• Beach Towel: 48 x 58 inches to 54 x 70 inches
• Gym Towel: 28 x 53 inches
You may encounter non-standard towel sizes. Jumbo bath sheets are oversized bath sheets that normally measure 39.3 x 63 inches. Any larger towel, in our perspective, gets awkward to use.
Extra large bath sheets, enormous bath sheets, plus size towels, or giant bath sheets are some names for them.
Towel sizes in the United States and Europe are largely the same as in the United Kingdom. However, there are minor size differences between manufacturers as in the UK.
There are two smaller sizes produced in the United States:
• Washcloths: Face towels are commonly referred to as washcloths in the United States, which are normally 12 × 12 inches.
• Fingertip Towels: In the United States, fingertip towels are also available. They work similarly to a guest towel and are somewhat smaller than hand towels, but bigger than washcloths. Fingertip towels are typically 11 x 18 inches in size.
How Thick Should Your Towel Be?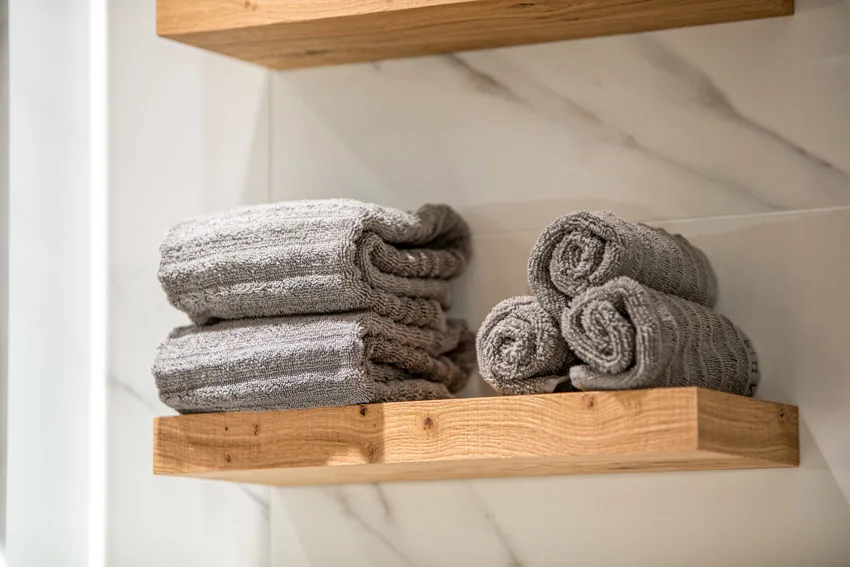 There is no 'thickness' classification for towels. The pile height and density of a towel usually define its thickness. It is necessary to strike a compromise between pile height as well as pile density.
If the pile is too low, then the towel will be less fluffy, and if it is too high, it will require too much time to dry. The same can be said about density.
Best Type Of Cotton For Bath Towels
Turkish cotton is arguably the best type of cotton for bath towels. Towels are available in a variety of textiles, which define the majority of their characteristics. Cotton is undeniably the most commonly used towel material. However, not all cotton towels are the same.
The softest, smoothest, and most absorbent towels are normally made from top-quality Turkish cotton. Cotton bath towels are problem solvers and great for everyday usage, whether you use them for yourself or your guest bathroom.
Turkish cotton is high-quality long-fiber cotton cultivated solely in the Aegean area. Longer fibers, similar to Egyptian cotton, produce stronger and finer threads than conventional cotton. Turkish cotton, like Egyptian cotton, softens and becomes even more comfortable with age.
For decades, much of Turkey's cotton has indeed been handwoven in local households by artists using weaving and looming methods passed from generation to generation.
In addition, Turkish cotton has proven to be an excellent choice for bath towels. Turkish bath towels are meticulously fashioned from vintage cotton that moves into strong and delicate threads.
Such threads, when woven in a flat weave, generate a lightweight fabric with highly absorbent characteristics. The end result is what people now call Turkish bath towels.
Because of its versatility, usefulness, and elegance, this lightweight material has gained a cult-like reputation around the world. Furthermore, as compared to a typical cotton towel, Turkish towels are highly resilient and long-lasting, making them ideal as bathroom essentials.
Ultimately, Turkish bath towels are a wonderful addition whether you are headed to the beach, the workout place, or the pool, or if you simply want an extremely absorbent, quick-drying, and trendy bath towel set. With so much to enjoy, it is very easy to picture them comfortably tucked into your everyday routine.
Best Type Of Towel To Dry Dishes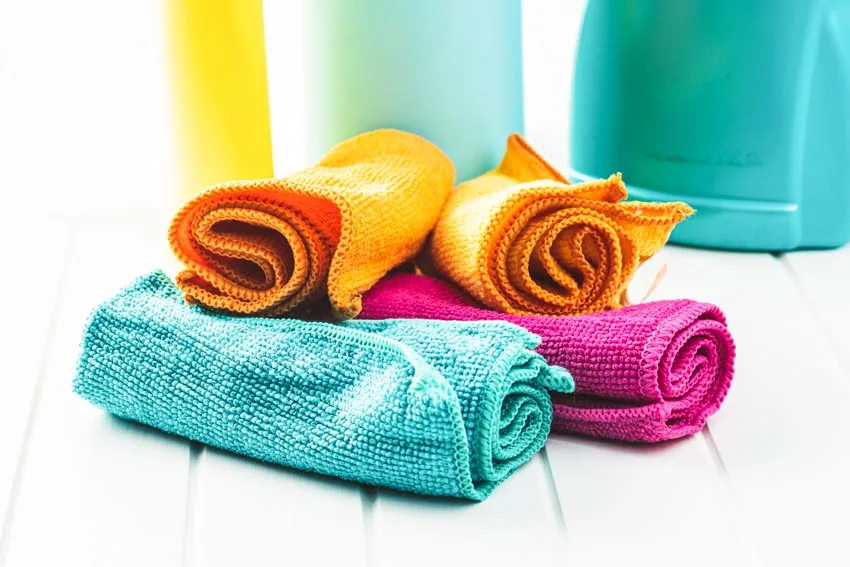 The best type of towel you can use when drying your dishes is a microfiber kitchen towel. Microfiber kitchen towels are often more absorbent than cotton and dry rapidly, rendering them an excellent choice for wiping up spillages, and above all, for drying dishes in the kitchen. The material is great for drying glassware without having left behind marks or scratches.
When it comes to bacterial containment, microfiber outperforms cotton. This is an extremely useful function, especially when wiping the dishes and keeping them dry.
Most credit this advantage to the microfiber's net-like structure. This feature is really useful for cleaning dishes. Hence, microfiber kitchen towels are the most ideal choice.
Furthermore, the net-like pattern of the fibers in a microfiber kitchen towel makes it ideal for capturing or picking up various forms of dust, dirt, and detritus. A standard cotton towel could be used, but it will basically just distribute the dirt and dust over the surface. Fortunately, it can be easily cleared out using a microfiber kitchen towel.
Microfiber towels nowadays are far more absorbent and quick-drying than typical cotton towels. Nevertheless, certain cotton varieties, such as the top-pick Turkish cotton that is ideal for bath towels, may bring considerable competition.
Although this is accurate, microfiber kitchen towels are still quite absorbent. This is one of the chief factors it is such a widely known option for dealing with dishes.
Types Of Towels In Hotels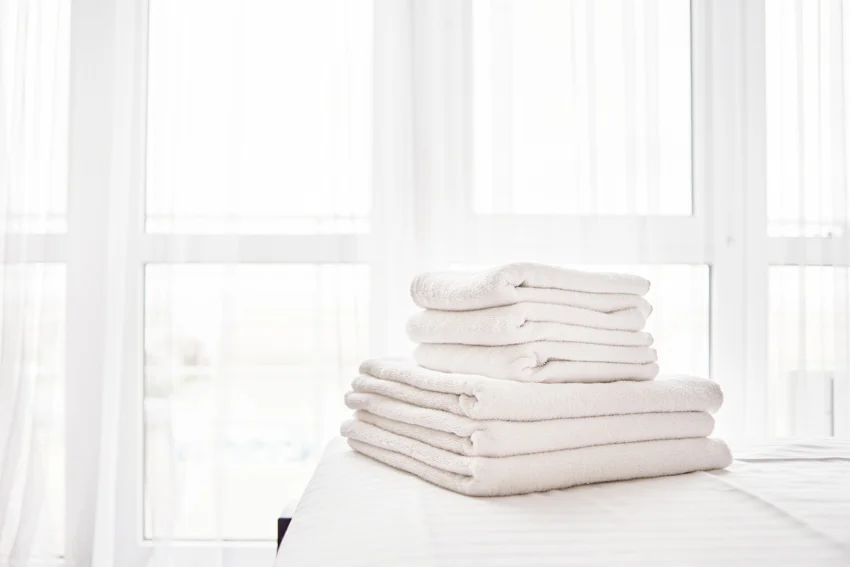 The following are the most essential types of towels that should be present in hotels.
Washcloths: Although washcloths come in a range of sizes, the traditional size is a square that is employed to distribute soap all over the entire body. Using washcloths rather than your hands would be a fantastic technique to exfoliate dead skin and properly administer soap all over your body.
Indeed, they are highly useful and convenient because they are soft and flexible. They are generally available in the pure shade of white, but there are other varieties in both dark and light tones.
Hand Towels: Hand towels are not only utilized in hotels, but may also be seen in gyms, spas, and even kitchens and dining rooms. However, when it comes to the hand towels used in hotels, they are conventionally shaped, which normally come in rectangular towels that are generally white in terms of color.
When hand towels are made from high-quality cotton, they have a smooth surface that offers a gentle touch against the skin when used. They are normally stored alongside the wash sink to be used. Several of them are even available in a multitude of hues such as green, brown, and yellow.
Bath Mats: Bath mats are bigger than the other towels on the list and are primarily intended to maintain the bathroom's dryness and cleanliness. The towel's rectangular design matches its capacity to absorb moisture quickly, reducing inadvertent slips and falls.
They are appropriate for use in various types of bathrooms, which contributes to their practicality. Bath mats typically have dark textures and eccentric motifs that complement the aesthetic appeal of the bathroom in which they are installed.
Bath Towels: Bath towels absorb a lot of moisture because they are normally made out of cotton. Although they are available in a multitude of forms and sizes, the rectangular shape is the most typically used. They are obtainable in a number of hues ranging from neutral to navy, among many others, to match the design of the bathroom in which they are placed.
Therefore, having a clear understanding of the various bath towels is essential. The interaction between the hotel personnel as well as the visitor is dependent on this essential piece of fabric, which is beyond everyone's comprehension. Reputable hotel towel manufacturers have an extensive assortment of the greatest and most exclusive towels.
See more related content in our article about Airbnb bathroom essentials on this page.