In this quartz bathroom countertops guide you'll find the pros and cons, cost, types of quartz used for vanities, and if a quartz countertop is a good choice for your design.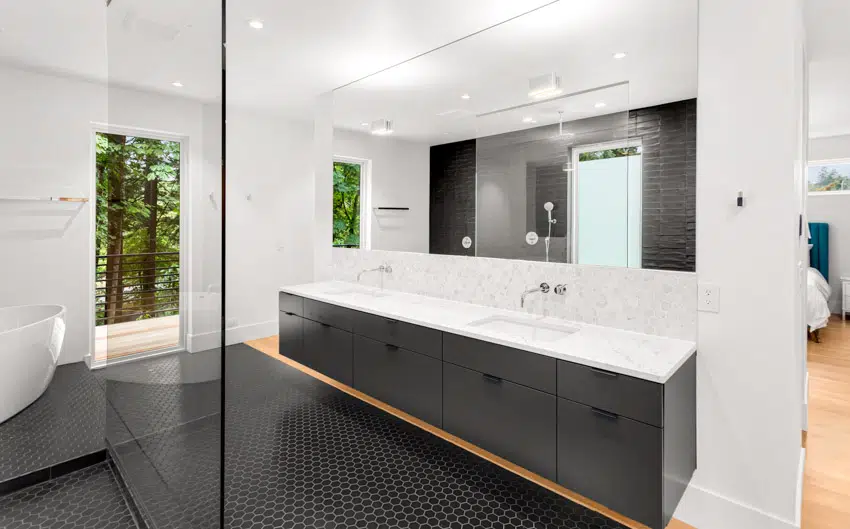 Quartz countertops gained popularity in European kitchens, but now it has been diversely used in bathrooms too. Considered to be one of the best-engineered stones today, quartz countertops are well known not only for their durability but also for their beauty, ease of maintenance, and practical cost.

Below, we take a look at quartz bathroom countertops along with their pros and cons and a comprehensive comparison with other finishing materials. Discover why quartz bathroom countertops make a worthy investment for your home.
What Are Quartz Bathroom Countertops?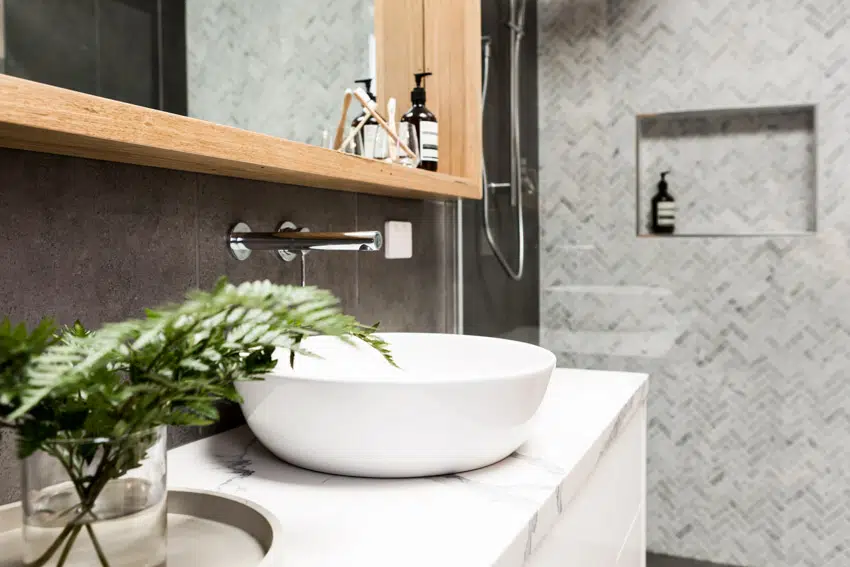 Quartz countertops are often confused with the natural stone quartz. Pure quartz, also referred to as Rock Crystal, is a type of colorless mineral that is ranked as the hardest mineral on earth.
Quartz countertops, on the other hand, are a type of engineered stone that is made of 90% crushed up natural materials like granite and marble with recycled industrial off-cuts like ceramic, silica, and glass.
The remaining 10% is a type of cement-based or polymer binder, resins, and pigment. The addition of resin binders reinforces the inherent hardness and strength of the material making it a very reliable finishing material.
Quartz bathroom countertops are manufactured to look like natural stone, so at first glance, you can't really tell the difference. It closely resembles granite and marble bathroom countertops but offers more benefits because it is engineered to be a very durable material.
Pros of Quartz Composite Bathroom Counters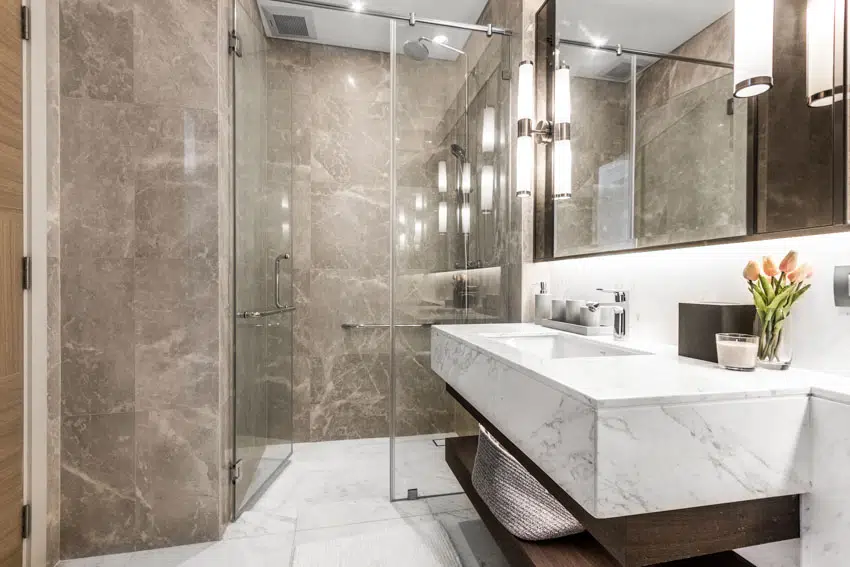 Here are some of the best advantages of bathroom quartz countertops.
• Appeal and high-end visual aesthetics: Quartz is often manufactured to remember natural stone, like granite and marble. It also has a natural luster which makes it visually interesting

• Uniform appearance: The process by which quartz is manufactured results in an almost perfect material. Unlike natural stone which has slight differences in color, quartz countertops have a more consistent color and uniform appearance.
This is because of their through and through body composition. They make a very viable option for homeowners in need of contemporary and modern bathroom design ideas because of their seamless appearance.
• Durability: Quartz is made up of a combination of 95% crushed quartz and other minerals and 5% resin cement-based binders, giving it impressive hardness and inherent durability.
It is one of the most trusted countertop surfaces on the market and is far more forgiving than marble or granite as it won't chip, crack or break easily.
• Scratch, stain, and heat resistance: Quartz resists damages like scratches, dents, chips, and cracks. It will not get scratched by abrasive pads, knives, and other sharp tools. In addition to this, it is also wheat resistant for a specific point in time.
When in contact with hot objects or heat, its surface will not get damaged. It also stands up well to most liquids and will not get damaged or stained from it.

• Non-porous: Quartz has a low absorption rate of 0.5% which is almost similar to a porcelain tile. The resin binders in quartz countertops make it impenetrable to moisture, making them a very ideal choice for bathrooms. In addition to water resistance, quartz countertops also do not require a protective sealer against spilled liquids.

• Hygienic: Water build-up is one of the main causes of bacterial growth. Since quartz countertops are moisture resistant, it does not harbor mold, mildew, and harmful bacteria.
In addition, installing quartz countertops does not require grout, and most of the time dirt and grime get stuck in seams and grout lines. The absence of gaps and joints also makes it antimicrobial and very hygienic.

• Easy to maintain: Quartz countertops require minimal effort to maintain. It does not require special tools or solutions in order to keep it looking good and clean. Unlike natural stone, quartz countertops also do not require periodic sealing.

• Long lasting: Provided that it is properly cared for, a quartz countertop can last for decades, in fact, manufacturers offer them a 10 to 15-year warranty, while some include a lifetime guarantee for the material.

• Adds value to your home: Quartz vanity countertops add around 90% to 100% of their value to a home, this is because it is more durable compared to granite and other natural stones.

• Flexibility, versatility, and high customizability: Quartz offers versatility in terms of design and application. It can match a variety of interior styles – from traditional, transitional, and contemporary to modern.
Colors are available in a wide variety so you can surely find an option that will match your home's palette. And since it is man-made, it can be customized into any shape, size, form, and design. It can be curved or bent easily to produce different edge profiles.

• Installation is easier because it comes in one piece: The advantage of coming in a single piece is not only a seamless aesthetic but also easier installation. Unlike natural slabs which typically come in 60 or 120 inches, some manufacturers offer quartz with little to no visible seams.
Cons of Quartz-Based Vanity Counters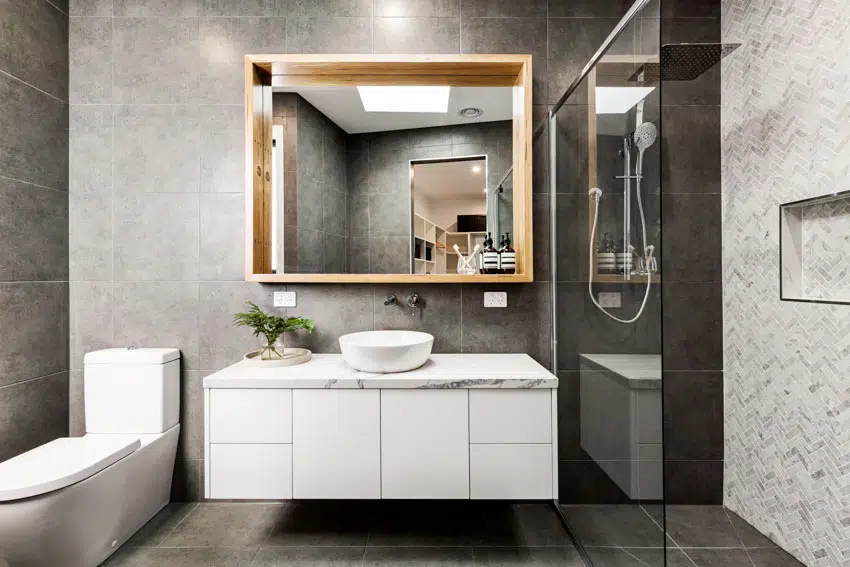 • More expensive than other materials for bathroom countertops: Compared to other materials like wood, laminate and concrete bathroom countertops, quartz is more expensive, but its price point is almost close to granite.

• Only suitable for indoor use: Quartz countertops are not advisable to be used outdoors because exposure to direct sunlight can cause potential damage to them. If exposed to UV, its surface may discolor and excessive heat from the sun can cause it to eventually warp.

• Cannot take extreme heat: Although heat resistant, quartz countertops can only handle up to 300 degrees Fahrenheit. It won't get damaged when it comes in sudden contact with hot objects, but leaving them too long can cause surface cracks.
Engineered Stone Slab Cost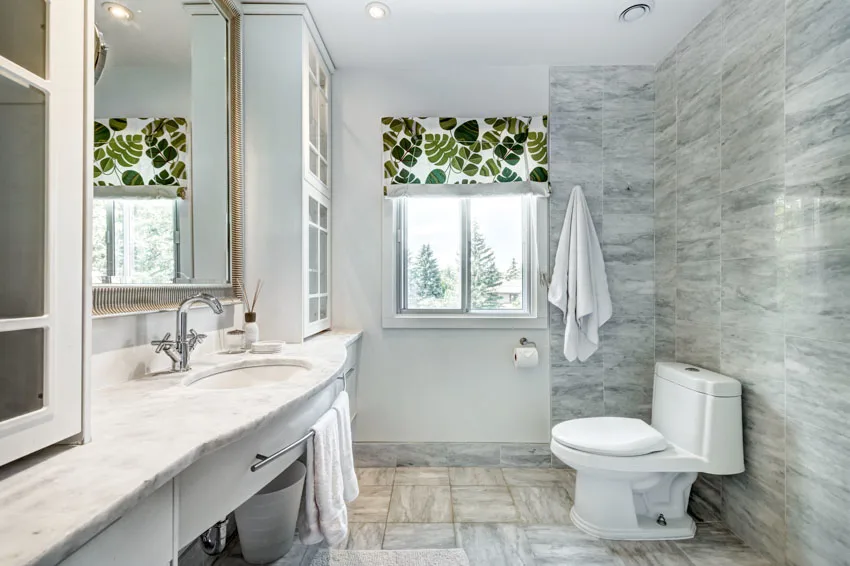 In general, quartz is less expensive than other natural stones like granite and marble. The average cost of quartz runs anywhere between $50 to $100 per square foot depending on the brand, color, and design.
On average, the cost of quartz countertops is around $50 to $60 per square foot for low-quality quartz, $60 to $70 per square foot for mid-quality quartz, and $70 to $100 per square foot for high-end quartz, excluding installation.
The installation cost for quartz countertops is around $150 to $180 per square foot depending on the scope of work, size of the project, edging design, finish, and the number of slabs to be installed. Most bathroom countertop designs will only require a single slab of quartz with no seams, making them easier to install.
Aside from material and labor costs, other factors which add up to quartz bathroom countertops expenses include the fabrication and design of special edging, leveling, jointing of the seams, and cut-outs for the fixtures or faucet. Typically, the fabrication of a quartz countertop only includes basic and standard edging design; special edge profiles will add up to the cost.
The cost of quartz countertops also varies depending on the grade of the material. Quartz is generally categorized as standard, premium, or designer. Standard quartz usually has a solid color and plain design. Whereas premium and designer quartz have richer patterns and colors.
The brand and source of the material are also other factors that can affect the cost of quartz countertops. Each manufacturer offers quartz at different prices.
Composite Stone Counter Colors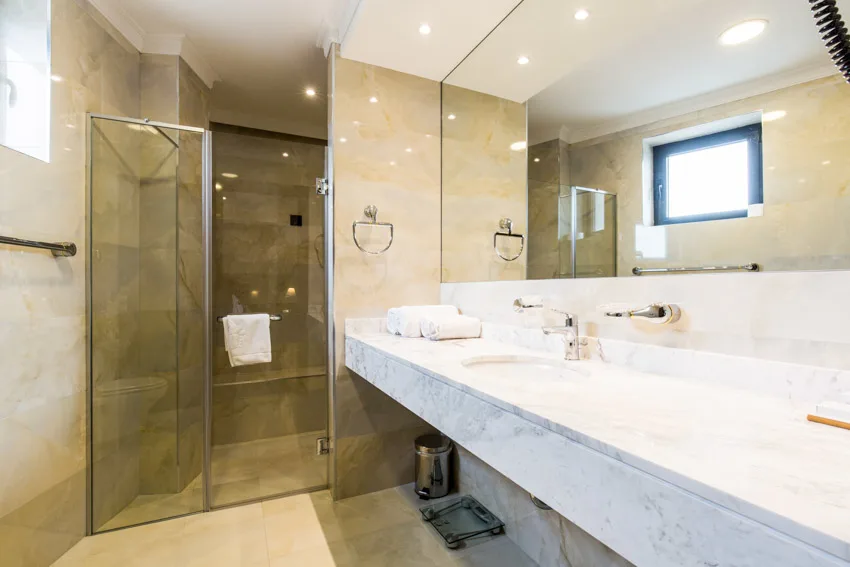 Quartz is offered in a wide array of colors, patterns, and finishes which make them suitable for any design style and motif. During its manufacturing process, pigments are added to the resin and powdered quartz mixture producing a diverse palette of colors.
This also allows manufacturers to develop their own distinct line of quartz countertops — with each brand striving to offer unique and fresh options for designers and homeowners.
Quartz also has a more uniform color compared to natural stone. With marble or granite bathroom countertops, the slabs have slight differences in colors and patterns because they are quarried in various locations.
Quartz comes in different colors but these shades have different names depending on the brand. These colors are mostly neutral and earth-toned like brown, beige, white, shades of gray, black, and green. You can also find quartz in subtle shades of blue and rich tones of gold, copper, dark green, and red.
Here are some popular quartz countertop colors.
• White Quartz: White is the most popular color for bathroom countertops. Considered as a fail-proof color, the neutrality of white countertops make it easy to match with any design style and interior palette.
Aside from being very versatile and flexible, white quartz countertops are also known for rendering a luminous, bright, clean, and airy feel to a space. It is a timeless choice that's super elegant and sophisticated.

Pure white natural stone countertops are hard to find, but quartz on the other hand is available in solid white color. You can also find white quartz in different tones — ranging from creamy off white, beiges to bright ultra white.
Aside from plain white quartz, manufacturers also offer this material in different patterns like dramatic veins, fine grains, or metallic flecks. This variation in texture can add an extra character to your bathroom especially if you are leaning toward an all-white palette.
White quartz is the perfect choice for flawless, minimalist bathrooms. Alternatively, it can also be used to create contrast in a dark-colored space.
White quartz countertops are also the best option for small bathrooms because they can help create an illusion of space when paired with light-colored tiles.

• Beige Quartz: If you do not like the starkness of white quartz countertops, beige quartz is the perfect alternative. Beige quartz has a warm creamy hue and the perfect balance of warm and cool undertones.
Similar to white, beige quartz is also very versatile because it is a neutral color. Beige quartz is a perfect choice for traditional and contemporary classic bathroom designs.
• Gray Quartz: In general, the color gray is considered as the new neutral in interior design because it works as a perfect substitute for white. Gray can be paired with almost any accent color and can be used to create both contrast and harmonious color schemes.

Gray quartz countertops are the perfect choice if you want a dramatic element in your bathroom, without being too overwhelming. You can use gray quartz with both light and dark-colored tiles. It also pairs very well with wood as it can enhance and highlight the natural color of solid wood.
• Black Quartz: If you want added depth and dimension to your bathroom, one great option to try is black quartz. Black quartz countertops can create a bold statement in a space and are perfect for rendering contrast.

Black quartz countertops are best paired with white and light-colored tiles. Most brands offer black quartz with luminous specks that shimmer under lighting. Similar to white, black quartz countertops are another timeless choice that can work for both traditional and modern spaces.
• Brown and Gold Quartz: Quartz also come in beautiful earth tones like shades of brown, tan, sand, yellow, and gold. Brown and gold countertops are the ideal choices if you want to make your bathroom feel more warm, inviting, and homey.
These colors are perfect when paired with warm earth-toned tiles to create a stunning monochromatic color scheme. You can use brown quartz for classic, rustic, country, and contemporary bathrooms.

• Green, Red, and Blue Quartz: Although not as popular as their neutral-colored counterparts, red, blue, and green quartz are some other colors offered by leading quartz brands. These unique colors make striking statements and offer an interesting focal point in a space.

Green, red and blue quartz countertops can be used for modern bathrooms. Ideally, exotic quartz colors are paired with light-colored tiles so that they do not clash with each other in a space.

Types of Quartz Vanity Tops for the Bathroom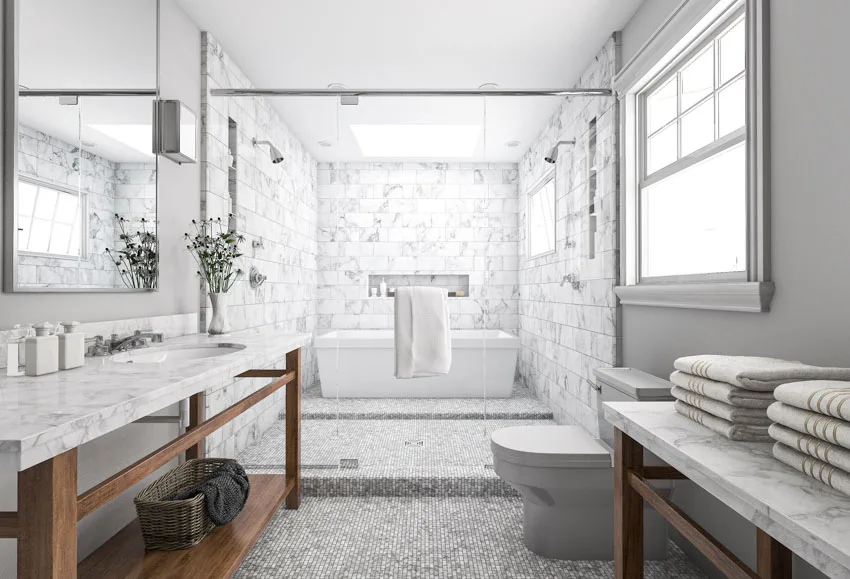 There are two types of quartz that you can use for bathroom vanities — 3cm and 2cm thick slabs. Two-centimeter slabs are more commonly used for bathrooms while three-centimeter slabs are often applied to quartz kitchen countertops because it is stronger and more durable, but consequently, cost higher.
Thicker quartz countertop designs are more luxurious and offer a more classic appearance. Thinner quartz countertops produce a more streamlined and contemporary look. For areas like the bathroom which requires less of a statement than a kitchen, two-centimeter quartz slabs are enough.

When it comes to brand types for bathroom countertops, there are several options you can explore and each of these companies manufactures their own specific line of quartz colors and patterns to differentiate their brand from others.
Silestone and Caesarstone are the most well-known brands for quartz countertops. Other popular brands of quartz countertops are Cambria, LG Viatera, Avanza, DuPont, Zodiaq, Celador, and Technistone.
Is Quartz A Good Choice For Bathroom Countertops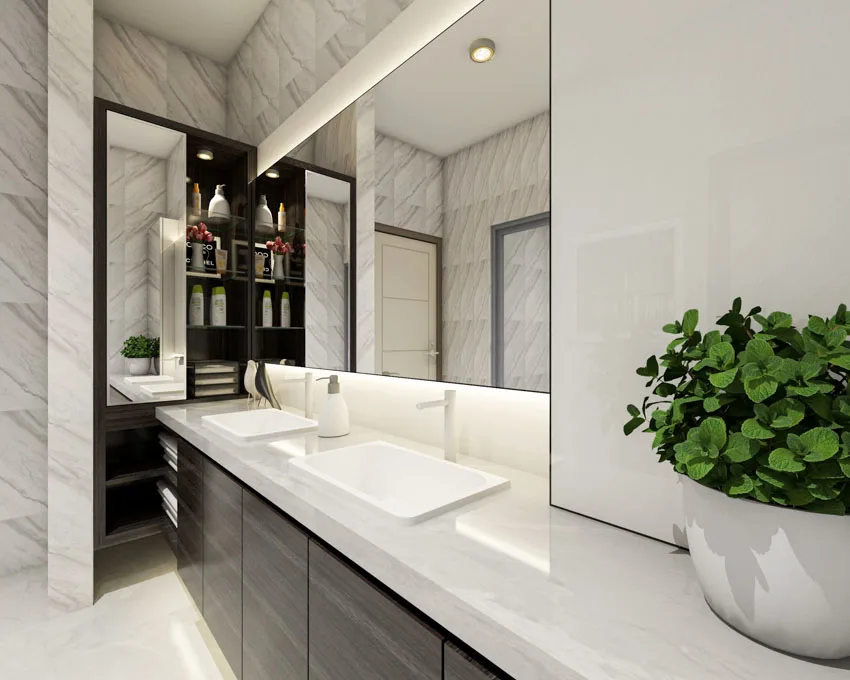 Quartz is not only a good choice for a bathroom countertop, but it is also by far the best material you can find in the market today. Engineered stone has a non-porous nature which allows it to withstand high moisture areas like bathrooms.
In terms of durability, quartz makes the top of the list for bathroom countertops because they are made with an inherently hard mineral.
A reliable and strong material like quartz is the best finish you can use for an area that is constantly used everyday. You also never need to seal it, unlike natural stone, like marble and granite.
Is Quartz Or Granite Better For Bathroom Countertops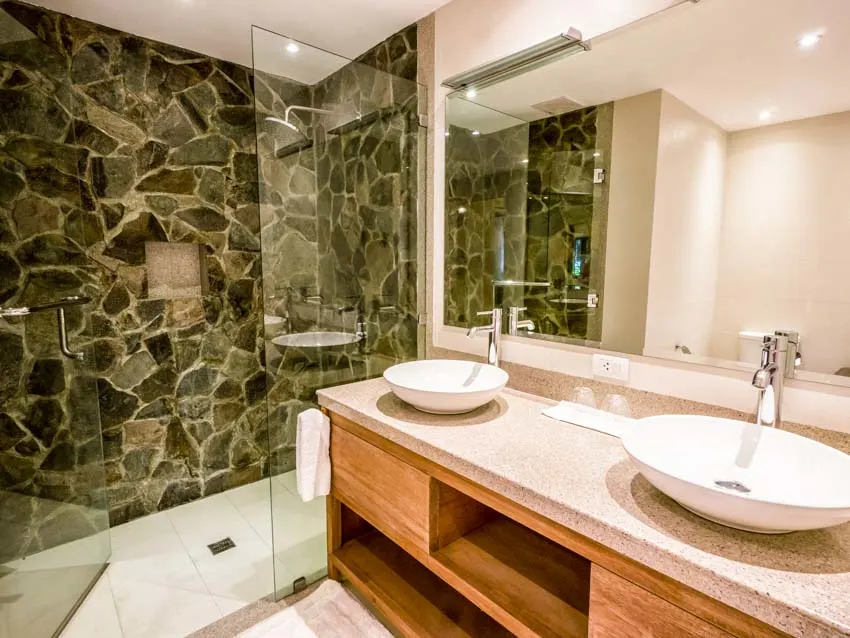 Durability, maintenance, price, and appearance are all significant factors to consider when choosing the right bathroom countertop. Sometimes, deciding which material is better can be quite challenging because the differences are not that apparent.
Granite is a 100% natural stone composed of a mixture of minerals like mica, feldspar, and quartz. Whereas quartz is an engineered stone that is composed of 90% crushed-up minerals and 10% polymeric binders.
Both quartz and granite are excellent choices for bathroom countertops. But quartz is a better option because of the following reasons:
• Durability, Stain Resistance, and Water Resistance: When it comes to durability, quartz precedes granite because it is a harder material. In fact, quartz is almost indestructible. When it comes to water resistance, quartz also has an edge over granite because it is water resistant.
Granite, being a natural stone, is porous and needs to be sealed to protect it from moisture. Since quartz is non-porous, it also makes your countertop bacteria-free compared to granite which can potentially harbor mold and mildew growth if unsealed. Quartz is also more resistant to staining, but granite is more resistant to heat.

• Appearance: When it comes to aesthetics, granite has a more natural look compared to quartz, but it is also a bit more expensive. Quartz, on the other hand, has a more artificial appearance because it is man-made. However, both materials can be used to create stylish and visually appealing bathroom countertops whether traditional or modern.
• Colors and Versatility: Granite is available in neutral colors like soft beige, golden brown, white and black. You can also find it in more exotic colors like light pink, coral, blue, green, red, and yellows. It comes in solid, speckled, or marble patterns and has medium to coarse-graining variations. Since it is a natural stone, each slab is different and offers a unique appearance.

Quartz also comes in a wide variety of options. It is manufactured in almost any color, but the most popular ones are neutrals like gray, black, and white.
The pattern variations range from veins, swirls, flecks, and solid colors — most of which resemble natural stone that it can be hard to tell them apart when placed side by side. The best advantage though is that the slabs are more uniform resulting in a more consistent look.

• Price: Quartz is generally less expensive than granite. The difference is mainly because natural stone needs to be quarried and imported.

• Resale Value: The majority of prospective buyers prefer natural stone countertops over engineered stone. Homes with granite finishes sell at higher prices compared to those with quartz; this is because a granite bathroom countertop can increase the value of your home by 25% of the vanity's retail price.
Marble Vs Engineered Quartz Bathroom Vanity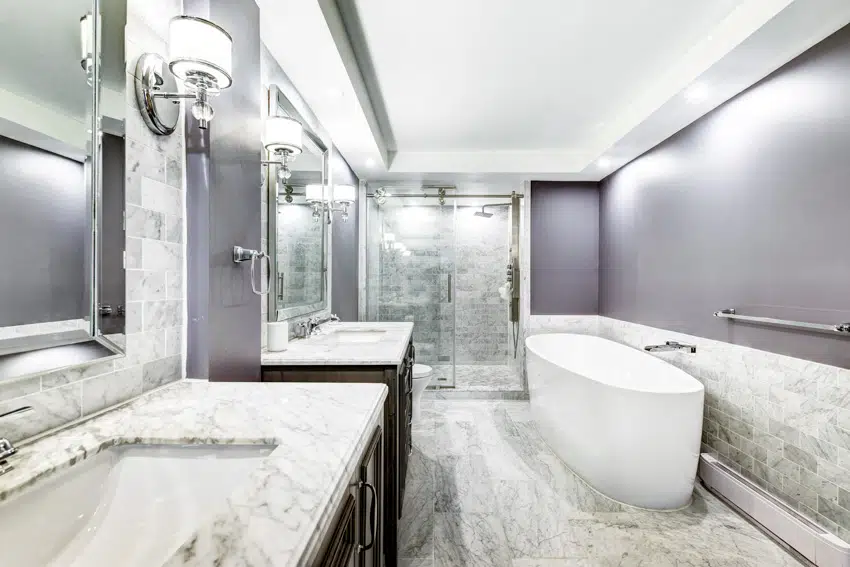 Lauded for its timelessness and beauty, marble has been the material of choice during the classical times for Greek sculptures and architecture. Nowadays, it has been used for various exterior and interior design applications, including bathroom countertops.
When it comes to bathroom use, quartz is a much more reliable material because of its strength and durability. But there are other reasons which make it a better choice for countertops.
Here is a detailed comparison between marble and quartz bathroom countertops:
• Appearance: If you want something classy, elegant, and luxurious, marble is a much more ideal choice for bathroom countertops. Although there are several quartz brands that offer the same look with fewer vulnerabilities, nothing beats the natural beauty of marble.

• Color Variations: Marble is primarily white in color with gray, black, and taupe veins, but you can find exotic variants in black, red, blue, green, brown, and gray base.
The slabs vary in color because they are quarried. With quartz, the slabs are more uniform in color and the colors are more diverse and some of the patterns mimic the appearance of natural stone.

• Durability: Marble is a tough material but it stains more easily than quartz because of its porous nature. It is also sensitive to acidic liquids and etches when it comes in contact with such substances. Quartz, on the other hand, is much harder, stain resistant, and water resistant compared to marble.

• Maintenance: Marble requires more maintenance than quartz as it needs to be sealed and resealed regularly. You also need special cleaners to keep it looking good. Whereas quartz can easily withstand everyday use with very little upkeep.

• Cost: Quartz is generally less expensive than marble with the latter ranging in price from $50 to $150 per square foot.

• Resale Value: As we have mentioned, the majority of prospective buyers prefer natural stone countertops over engineered stone. Homes with marble finishes sell at higher prices compared to those with quartz.
See more related content in our article about laminate bathroom countertops on this page.