Here's our design guide for live edge bathroom countertops with the best type of wood to use, wood vanity maintenance, and tips on sealing a wood countertop.

Are you looking for a way to spruce up your bathroom in a natural yet elegant way? Your countertop can be the avenue for you to improve the look and feel of your bathroom. You could do this in different ways and one of which is by installing a beautiful live-edge wood countertop.
What Is A Live Edge Bathroom Countertop?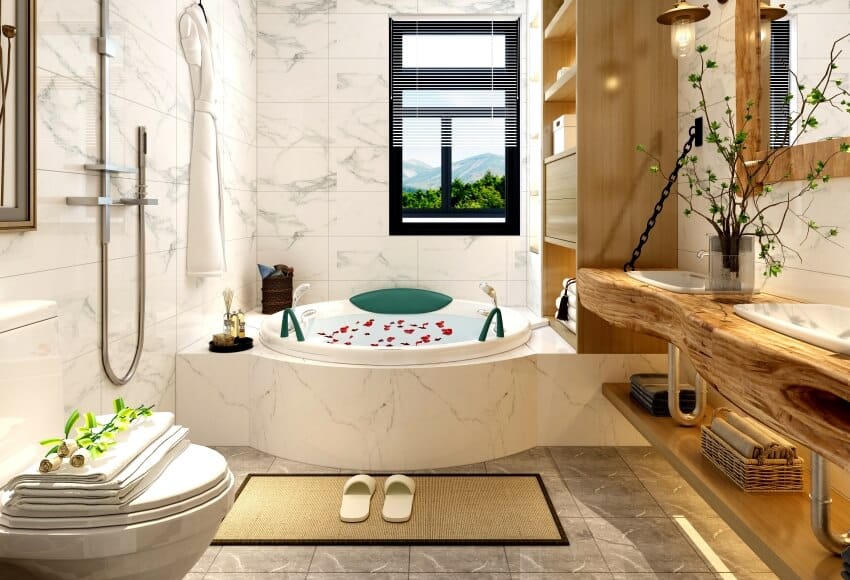 A live edge bathroom countertop is a stylish design feature that involves using a live edge wood slab for the counter. This new trend is getting more popular, especially considering that this design offers designers the freedom to incorporate new ways to style the bathroom. This also makes the countertop an excellent conversation piece and adds plenty of personality to the room.

Live edge is a trendy woodwork style that retains the wood's natural beauty, where trees seem to be sawn into an unfinished slab and this slab is then used to build basic furniture despite being unfinished. And it is exactly this unfinished and rough quality of the live edge that makes it an interesting addition to the aesthetics of your home.
The slab offers this rough character that's different and unique. The most evident characteristic it features is the untouched end of the slabs, which is why it seems like the edge of the slabs are alive in this manner.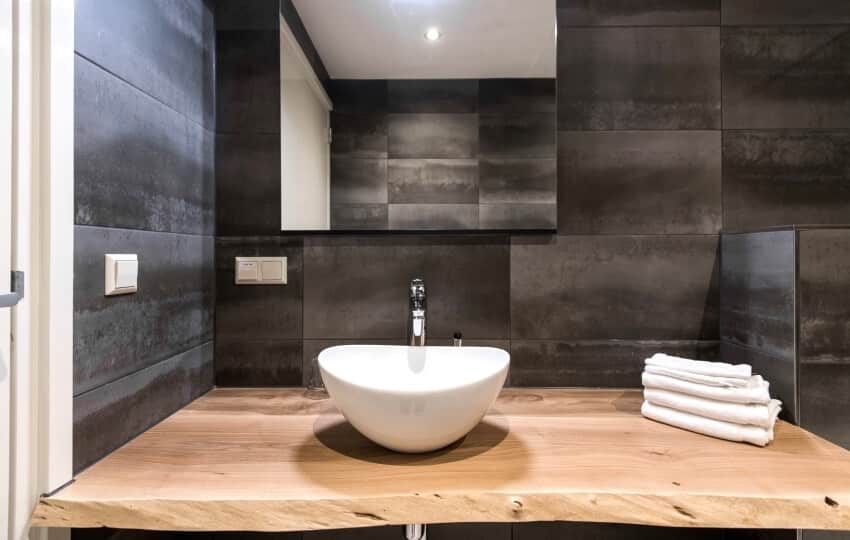 A live edge bathroom countertop offers more than just a rustic appeal but a natural ambiance that makes you feel like you're surrounded by nature. Since the slab is unfinished, it looks more authentic and in nature. So, if that's what you're looking for then a live edge wood countertop is an excellent addition to your bathroom.
These live edge bathroom countertops use wood slabs that range from 16 to 22 inches wide and are all either natural or live edge. The slabs use heavy satin poly-acrylic for treatment, giving them the surface protection they need to last longer.
The surface of the slab needs more attention and treatment because of the stunning wood grains that need to be protected. These grains add to the rustic and natural charm that the slab offers. And in this case, protection is even more necessary since there is a high percentage that the countertops will almost always be wet.
The natural wood coloring of live edge slabs will look wonderful with either white, dark, or neutral-colored tiles. And coupled with a mirror, this will be a wonderful match to look at.
What Type Of Wood Is Best For A Live Edge Countertop?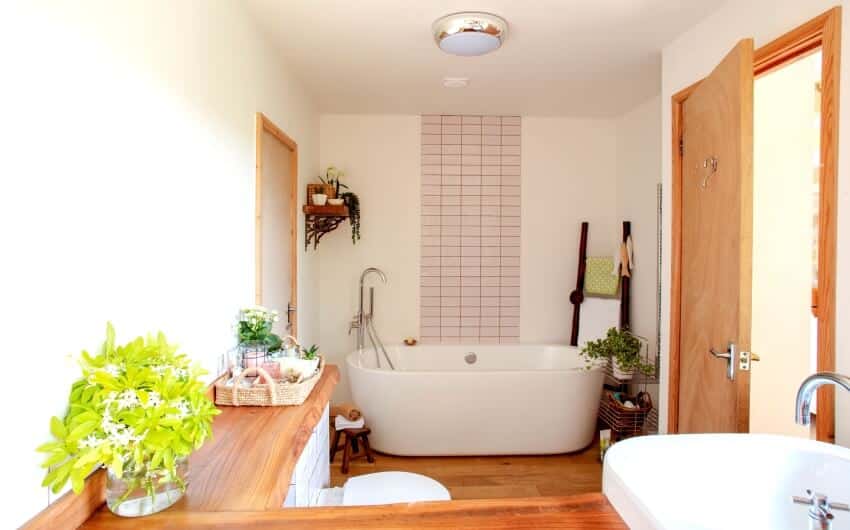 Countertops are vital room features, where you will spend a lot of time working with your hands. Whether it's in the kitchen or the bathroom, there is a high possibility of the surface getting wet.
This is the reason why it is not a good option to use softwood like fir or pine for a countertop. Redwood may be considered because of its natural ability against warping and rotting. Check out our gallery to redwood countertops here.
The best wood for a live edge countertop is hardwood. You will want to work with domestic hardwoods like oak, birch, and walnut, which fall in the Janka scale between 1000 to 1300 pounds.
Mahogany may also be chosen since it has the same Janka score as the domestic hardwoods but make sure to stay away from rare and exotic ones like rosewood and purpleheart since they are difficult to work with.
Domestic hardwoods are durable but workable enough and they are also more affordable than exotic hardwoods.
For more specific recommendations, here are some domestic hardwoods you can try out.
For light-colored hardwood
• Birch
• Maple
• Other Blonde species
For dark-colored hardwood
• Cherry
• Walnut
A slab of hardwood is enough to be used for a bathroom countertop. And when it comes to aesthetics, rugged and untreated ones would be a good consideration to maintain their rustic and natural appeal. For function and maintenance though, a treated slab is better so that the surface will be protected from getting wet.
Wood Slab Bathroom Vanity Maintenance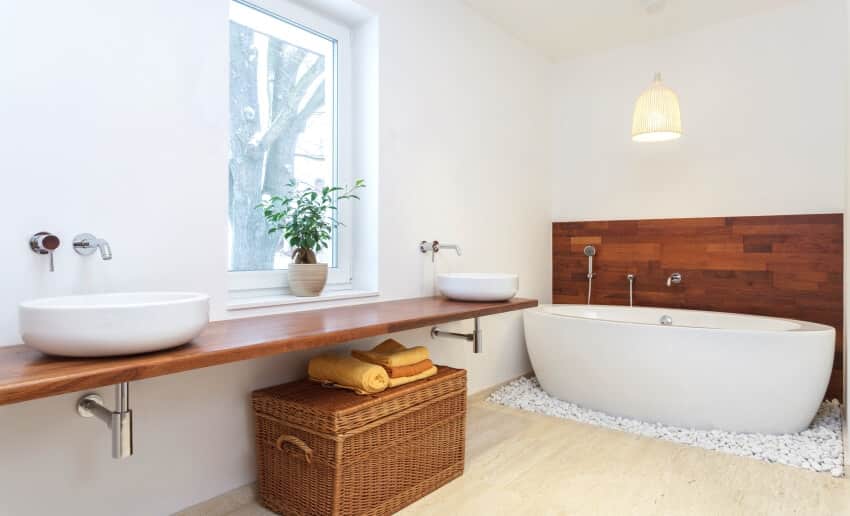 The maintenance of a wood slab bathroom vanity will depend on whether the countertop is treated or not. Another consideration is the kind of wood you choose for your bathroom vanity because some wood needs special attention like those slabs made of cherry or oak.
For regular cleaning and maintenance, here are some tips to follow:
• Stick with mild cleaners and warm water – Abrasive cleaners can remove the wood's sealant and ruin it with repeated use. Stick with either a dishwashing detergent or an oil soap.
• Use soft cloth – Same with abrasive cleaners, using just any cloth can eventually remove the sealant so when cleaning your countertop, use a soft cloth and completely soak it in warm water and the soap solution you use (Make sure to wring it out before wiping the surface).
• Use a drying cloth – Dry as you clean and move from one section of the countertop to another.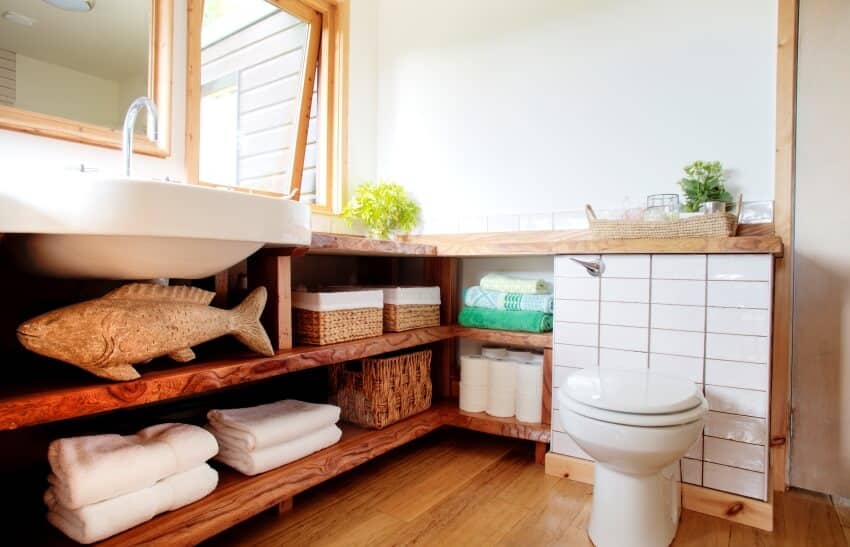 • Clean your bathroom countertop once a week – Cleaning it the appropriate way regularly can possibly extend the lifespan of your countertop.
• Deal with scratches right away – When you see scratches on the surface, clean them, sand around the scratches gently until they disappear, and then reapply the wood stain.
• Clean the metal handles along with the entire vanity – If your countertop has metal handles, clean them appropriately too. Remove the handles from the countertop and soak them for 15 minutes in a solution with half a cup of ammonia mixed with 2 cups of warm.
How To Seal A Wood Bathroom Vanity Top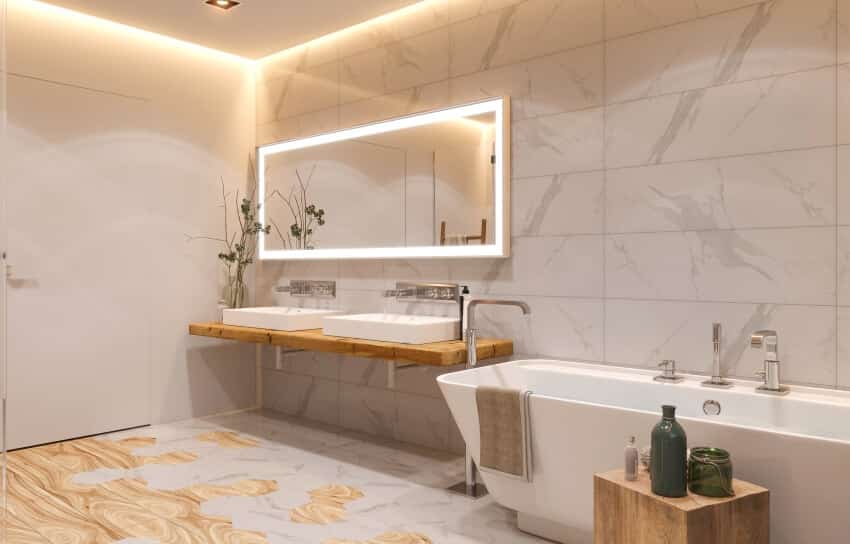 Sealing your wood bathroom vanity gives its surface an added layer of protection, from moisture and other elements that can ruin the wood.
Check out these sealants that are worth considering:
• Epoxy – Offers. Incredible durability and doesn't easily scratch or stain but may be difficult to apply, leaving a thick layer that takes out the emphasis on the wood's design and style.
• Polyurethane – offers similar protection to epoxy and is easier to apply. You have the option to choose glossy, semigloss, or matte, depending on the luster you prefer on the countertop's surface. Water-based polyurethane, while drying quickly, may leave a plastic film on the surface of the countertop. It is safe to use in small bathrooms since it has low volatile organic compound content.
• Oil sealer – The natural wood design will be emphasized but it's better to be used as an undercoat for polyurethane or as an intensive maintenance finish.
Sealing your wooden bathroom countertop is easy enough to accomplish. First, clean the countertop as you would normally do. Sand the surface to get rid of scratches and to have an even surface to work with.
Go along the grain with every stroke of the sandpaper. Finish all the sides of the countertop and just like with the sandpaper, make sure to go with the grain.
This will make sure that the grain design is not covered by the finish but rather emphasized and accented. Let it dry and scuff it out. Apply the final finish after the first layer is completely dry.
If you will be using a brush for the solution, don't stir it so that you won't agitate the solution and end up causing bubbles that can harden it. Don't forget to pay attention to the countertops edges and sides.
Visit our guide on butcher block bathroom countertops for more related content.