See if butcher block bathroom countertops are a good material to use, advantages & disadvantages, bathroom designs, and different wood countertop treatment tips.
Since the butcher's table made its way to the kitchen, the butcher block countertop has become a popular and sensible alternative to natural stone. The unmatched aesthetic, affordability, and functionality make it an easy switch from your usual cold and pricey stone material.
Naturally, when you think of placing wood in the dampest area in your home, concerns about rotting and fungi growth are immediate notions to the idea.
However, there are ways to enjoy your butcher block bathroom countertop while being unconcerned about your countertop's durability. This entails using a sealant to protect your wood from absorbing water.
Can I Use A Butcher Block For The Bathroom Vanity?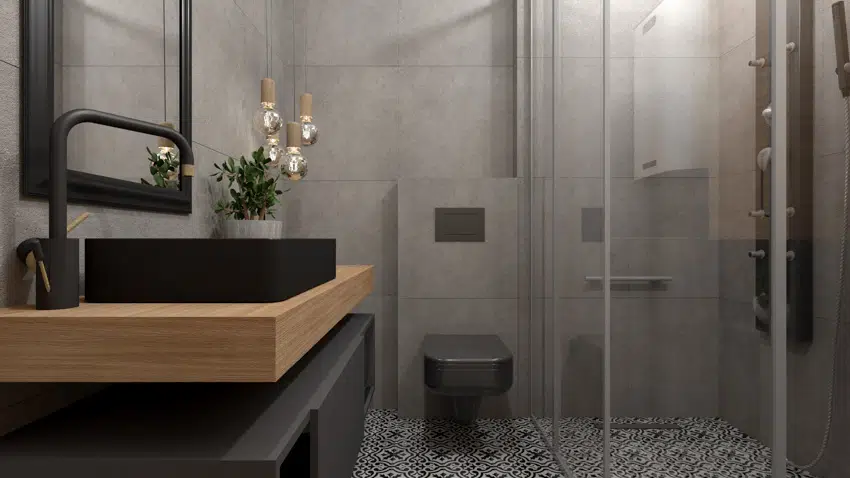 Yes, butcher block remains a viable alternative to natural stone countertops in kitchens, the affordable butcher block for bathroom vanities has also gained much popularity.
As we continue to move into a more sustainable approach to our lifestyle choices, the building industry is also looking into environmentally friendly alternatives to conventional materials.
Moreover, technology has offered many improvements in manufacturing and products, making it easier to customize and water seal your butcher block.
The added depth and decorative look are unmatched by any countertop material, with the bonus of having a durable and timeless piece making it an easy pick by any homeowner for almost all types of bathroom vanity sizes.
Butcher black bathroom vanities can last for years, even forever. It comes down to the type of wood you use and the proper sealing treatment. All kinds of wood can be used for a butcher block, but generally, hardwoods are excellent choices for countertops as they can hold up to the demands of use.
In addition, there are species that are naturally resistant to rot, such as bamboo. Other wood species can also be used, such as oak, cherry, and walnut, which give a luxurious look to your bathroom.
Is Butcher Block Good For Bathroom Countertops?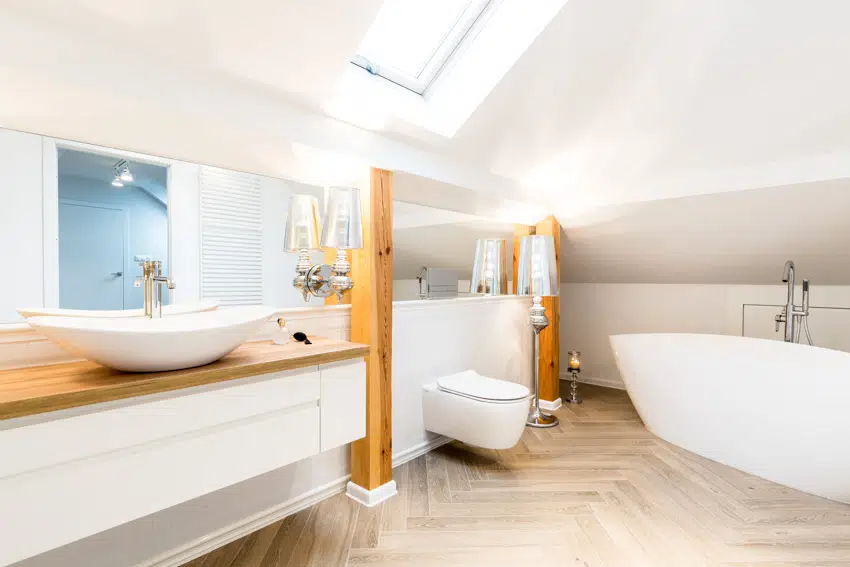 If properly sealed with quality wood material, butcher block is among the best bathroom countertops. The wooden countertop does present some challenges, such as water sealing the material.
Since it is a solid and heavy material, more than one person will need to move it around during installation. But overall, the butcher block is a good investment for your bathroom countertops because of its durability, timelessness, and aesthetic value.
Wood countertops are a less expensive alternative to natural stone, where quartz and granite slabs are usually $75-$150 per square foot, whereas wood is usually $50-$100 plus installation fees. However, if you make your own wood countertops, you can save even more money.
Can Butcher Block Be Waterproof?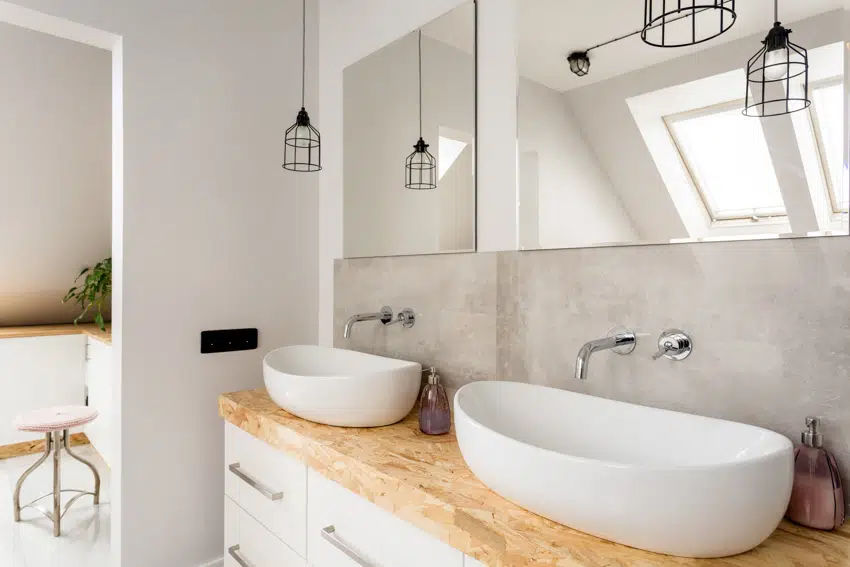 Yes, butcher block can be waterproofed by applying a sealant. Sealants can be clear or have added staining to enhance or change the appearance of your wood surface. The liquid application will fill in the pores of your wood and act as a coating to seal off the water, making your wooden countertop virtually waterproof and dent-proof.
When it cures (curing time can take 24 hours to 30 days, depending on the product used). Make sure to seal within 48 hours to prevent the wood from absorbing surrounding water.
Types of Butcher Block Wood Countertop Sealers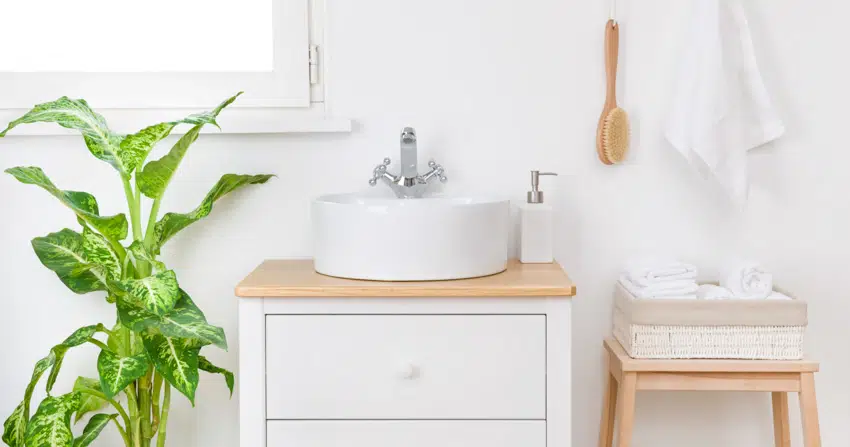 There are two types of sealers, namely natural oil and topical sealers, each with its own pros and cons. Be sure to know more about the distinguishing characteristics of your wood sealer before applying them to your wooden surfaces.
1. Natural oils are excellent penetrating sealers, and they're non-toxic, easy to use and make the wood look rich and luxurious. When there's a scratch or gouge, or the wood begins to look aged, it's relatively easy to spot repair by sanding and blending a little oil into the remaining wood to bring it back to life.
2. On the other hand, topical sealers have won homeowners over because they create a thin, protective film on the surface that is resistant to scratches, keeps out moisture and dirt, and (supposedly) lasts a long time.
It is advisable to choose topical sealers with low VOCs as topical sealers may contain harmful fumes released into the air over time.
How To Treat Butcher Block For A Bathroom?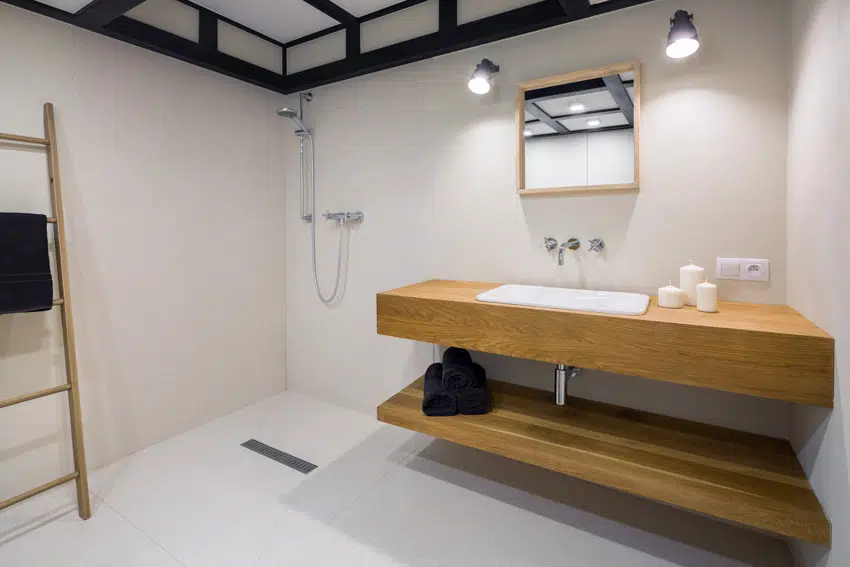 One of the advantages of choosing a butcher block for your bathroom countertop is that you can treat it using simple tools without professional help.
Here are the materials and steps you'll need when protecting butcher block countertops.
You'll need:
• Orbital Palm Sander (with dust collection bag is recommended)
• Tack cloth or cheesecloth
• Wood Conditioner (mineral oil or butcher-block conditioner)
• Wood Stain
• Finishing Wax (beeswax oil repels better than oil alone)
Safety First:
• Choose a well-ventilated room (if refinishing your existing wood bathroom countertop, open windows, and doors for cross-ventilation)
• Safety glasses
• Gloves
• Mask
1. Start by Sanding: For full control, use a hand sander. Using an 80 grit, move through the various grits and finish it off with 400 grit. Wipe excess dust in between sanding using a cloth; if you feel some parts snag off, re-sand until the surface is completely smooth.
2. Apply Wood Conditioner: Follow the manufacturer's recommendations when using wood conditioners. When applying, make sure it penetrates for the amount of time as per instructions. Let it dry.
3. Apply Stain: You can apply more than one type of stain for your staining application to achieve the look and protection needed. Start from the light, then work towards the darkest stain to achieve a seamless result. Don't forget to follow the recommended application from the bottle's instructions.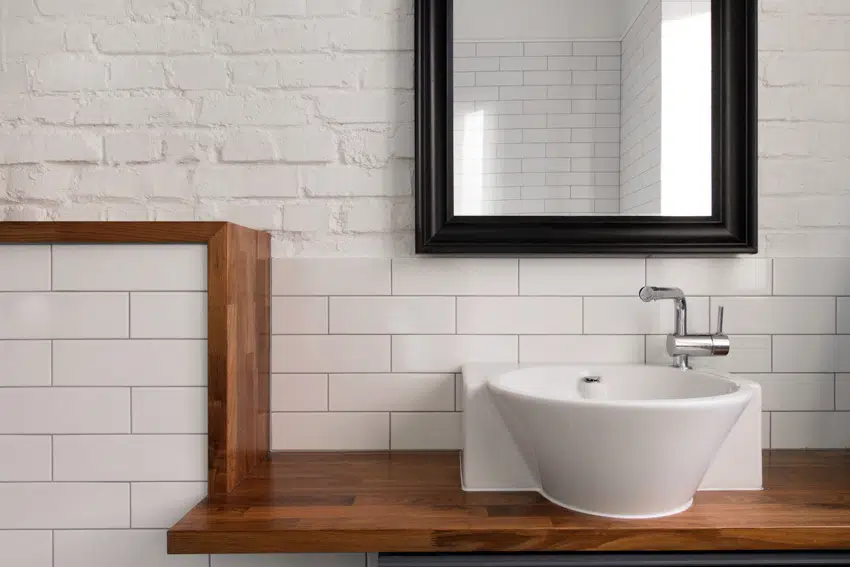 4. Dry Out the Stain: Each layer of stain should dry around 8 hours, so make sure to dry out the first layer before applying the next.
5. Seal Off: Since bathroom countertops are not used for chopping, you can focus on getting a sealant that leans toward durability and is not necessarily food grade. High-quality oil-based spar urethane is a great choice. Apply three coats using a sheepskin applicator pad on your wood surface. Let it dry completely.
6. Apply Finishing Wax: Use 800 grit paper, then buff the wood surface with a finishing wax. The result would be a very durable surface and impermeable to water with a smooth, almost leathery texture. You can use beeswax with oil for added protection as opposed to oil alone.
The edges of your wooden surfaces may need different treatment than the tops especially if you have a live edge cut. The end grain usually absorbs more materials than the top, which means you may need additional coverage to completely seal and protect the edges.
What Type Of Sink Is Best With Butcher Block?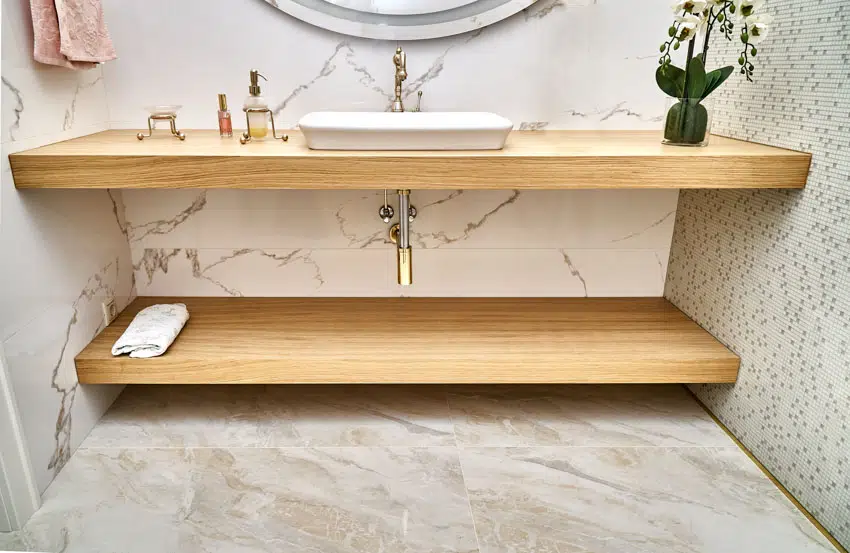 When it comes to the best types of bathroom sinks to use with butcher block, there is one primary choice. Undermount sinks, especially the farmhouse undermount version, are best with a butcher block since its relatively easy to install, easy to maintain, and flexible in any design theme.
An above counter basin can also be an option but have cons to consider before choosing the vessel basin, such as cleaning can be difficult, the exposed sink can easily be chipped off, and shorter folks may find it too high.
When installing your butcher block bathroom countertop, make sure to use silicone or a quality wood sealer around the sink seam to prevent water from seeping through the material.
See more related content in our article about butcher block countertop laundry room on this page.