Here's our granite bathroom countertops guide including pros and cons, different colors, granite countertop types, how to choose colors, cost, and cleaning tips.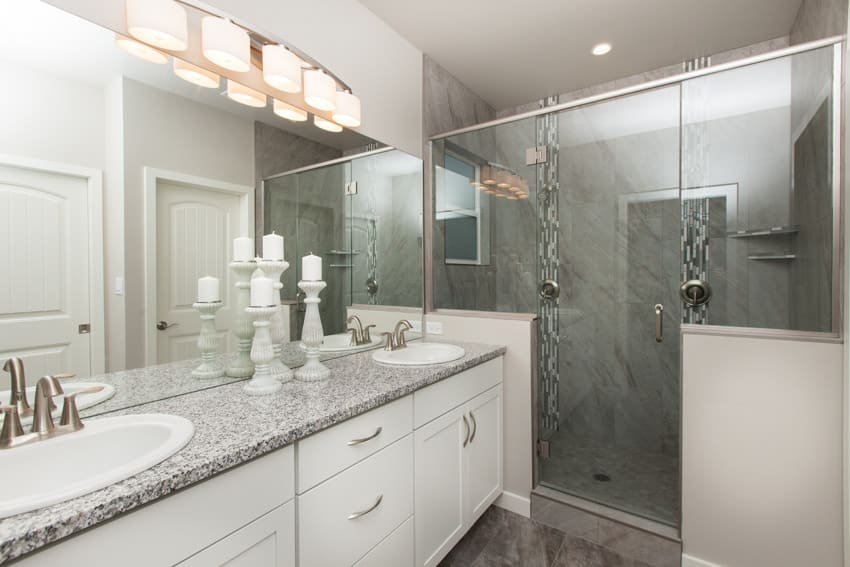 When it comes to countertops, granite has been a long-standing favorite, mainly due to its versatility, superior hardness, and overall durability that could last for decades and even a lifetime.
Granite is as strong as it is stunning and for a granite bathroom countertop, expect to enjoy the organic beauty even with your most contemporary tendencies.
But like any other countertop material, there are pros and cons that every homeowner should know before investing in the natural stone. Here are the advantages and drawbacks of granite bathroom countertops.
Granite Colors For Bathroom Countertops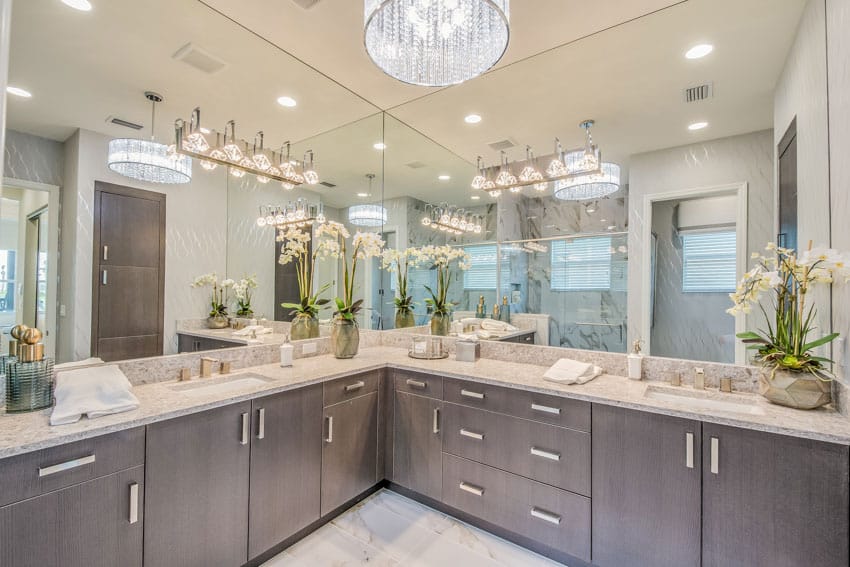 Granite comes in a variety of color tones, which includes ivory, pink, yellow, gray, beige, and black, due to its composition such as feldspar and quartz.
Here's some of the most popular granite colors to consider:
1. White: Colonial White and Cotton White. If you have dark vanities or cabinets, granite with white surround with minimal light to dark specks is a great option because of the contrasting effect. White as a base color also provides a clean look in your bathroom while it brightens up your bathroom interior.
• Colonial White Granite has brown and rose-colored flakes and is a lovely off-white granite color. Colonial White Granite is a highly prized granite from northwest India. The neutral color scheme of natural stone is ideal for both traditional and contemporary homes.
• Cotton White Granite is predominantly white with gray and black accents. It has a uniform pattern with slight variation in color and finish.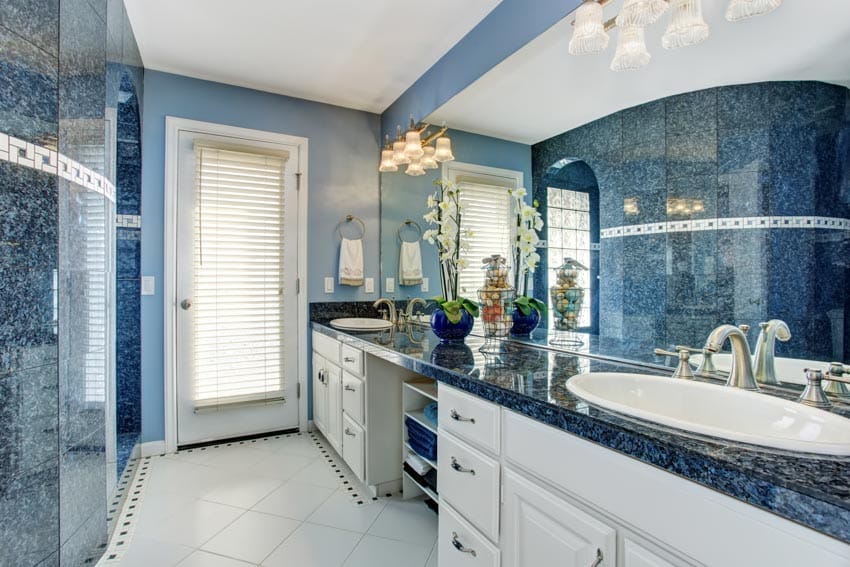 2. Blue: A gorgeous tinge of blue can bring a relaxing youthful vibe to any bathroom. Blue granite is striking, and you'll find it not that hard to jive it with your modern or contemporary bathroom design.
• The Blue Bahia is rare and can cost more than your average granite, but it a worth it adds to your bathroom with its stunning blue veining with white and gold combinations.
• The Blue Pearl Granite boasts spectacular navy-blue tones with dark gray and white subtleties. With a closer look at the granite stone, you'll find varying shapes and sizes of mineral deposits with specks of a wide range of colors, primarily brown, gray, and black shades.
There are also large quantities of reflective minerals, and when polished, these colors add a sparkling sheen to your bathroom counter.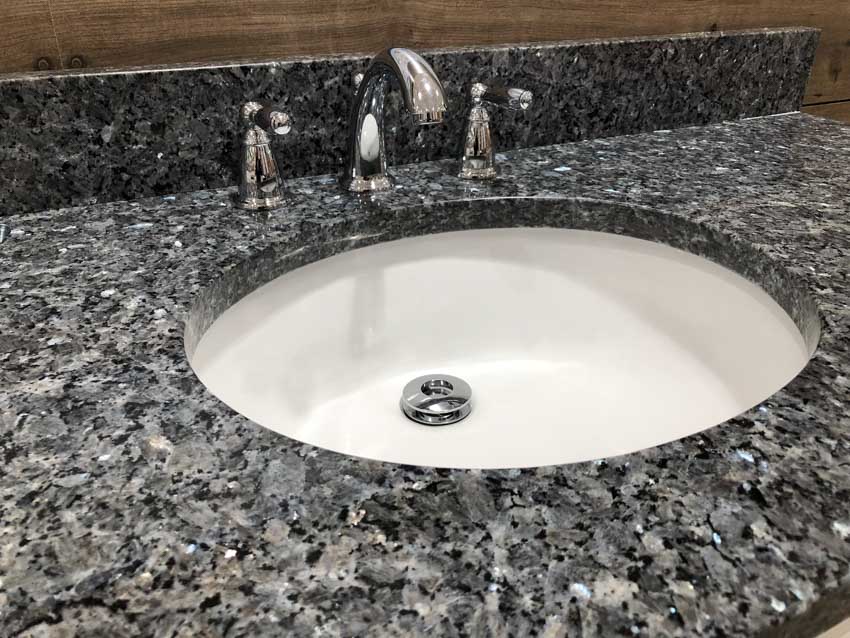 3. Black: Black adds a bold and dramatic touch to any bathroom counter, and when combined with layered lighting, you get an elegant personal space.
Plus, a practical color too, as it doesn't show dirt or stain easily. There are also black granite bathroom countertops with flecks of gold or white veins that are truly striking.
• Black Galaxy Granite, as the name implies, is like staring at the night sky with its jet-black color and specks of white like distant stars. The varying mineral sizes with a hint of gold or green give it more depth or a dimensional character.
• Black Marinace Granite is one-of-a-kind and eye-catching type of granite that makes a bold statement. Thousands of petrified and white, grey, and black stones in various sizes and shapes cover a slab of Black Marinace.
This black granite was likely formed when a glacier tumbled the stones smooth before cementing them into the black matrix. It was quarried in Brazil. Marinace granite in black looks great with white or creamy countertops.
Types Of Granite Bathroom Countertops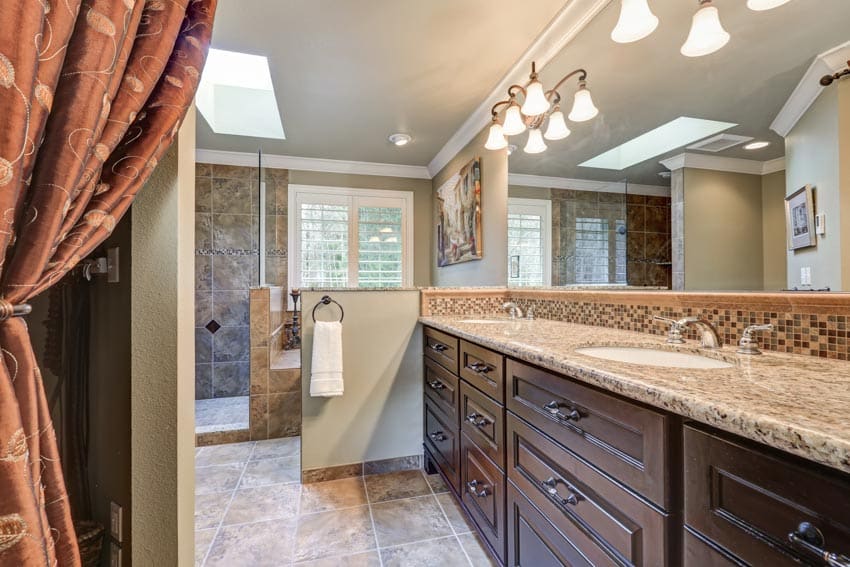 India and Brazil are the two biggest exporters when it comes to granite, with Level 3+ high-grade granite being the most common. While India is the world's leading exporter of rough granite blocks, Brazil is the world's top exporter of granite slabs.
Bianco Antico Granite Bathroom Countertop– Brazil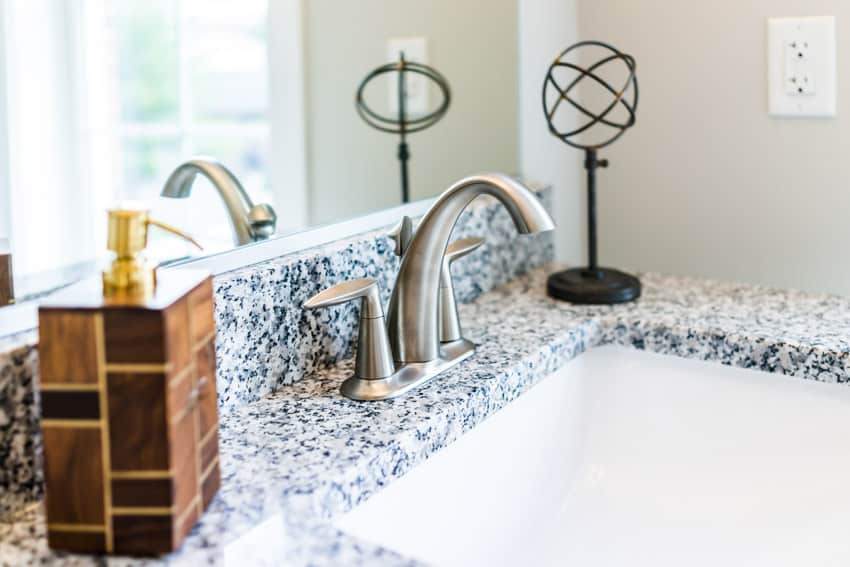 Bianco Antico is a granite color that you'll see all over the internet when looking for the best granite color. It makes sense because this color can help you achieve the minimalist look you want in your bathroom.
It's made of Brazilian white granite. It appears white and grey from a distance, but if you get close enough and concentrate on the details, you'll notice traces of pink and brown.
Imperial White Granite Bathroom Countertop– India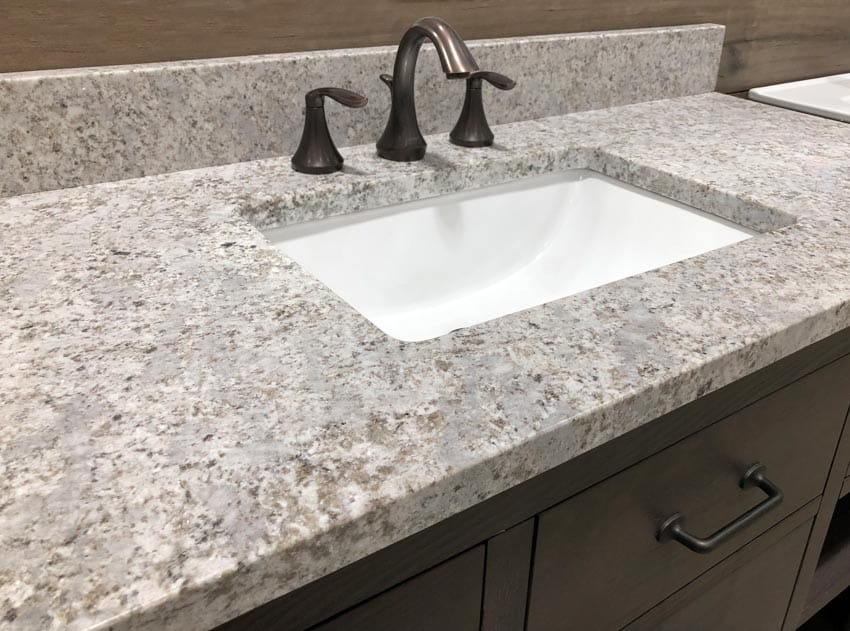 As the name implies, it has a cool-toned white bedrock. The stone's surface is littered with tiny blue-gray crystals, creating a lovely grainy pattern that adds a new dimension to your bathroom countertop, while the hint of pink undertone adds a modern twist.
This tile would work well as the foundation for almost any design. Its subdued color complements both bold looks and a more delicate interior.
Cultured Granite Bathroom Countertops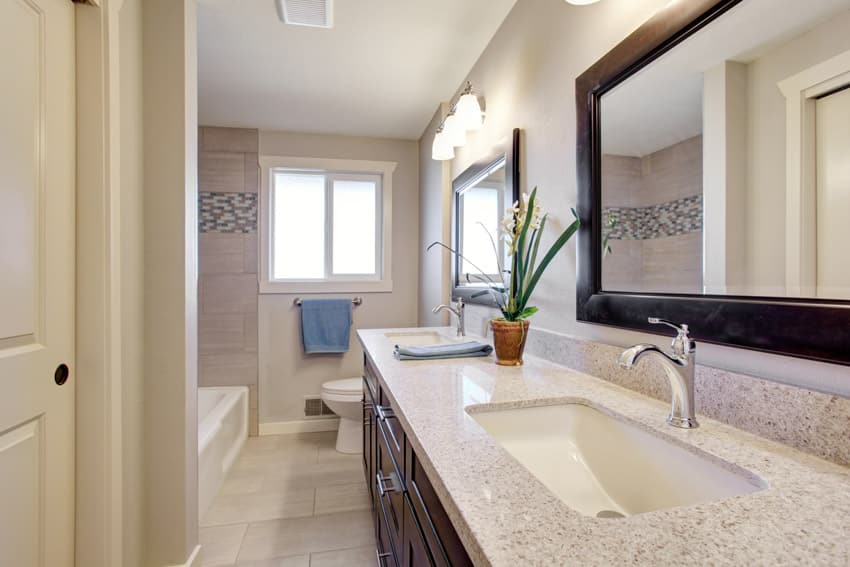 A cultured granite bathroom countertop is a great alternative to natural granite. It is engineered to look like granite without the expensive price tag and is non-porous, meaning virtually no staining. It's customizable, so you can have any color or design you want.
The downside, though, with cultured bathroom countertops is that the surface is not scratch-resistant, so expect some dents and scratches through its service life.
Pros And Cons Of Granite Bathroom Countertops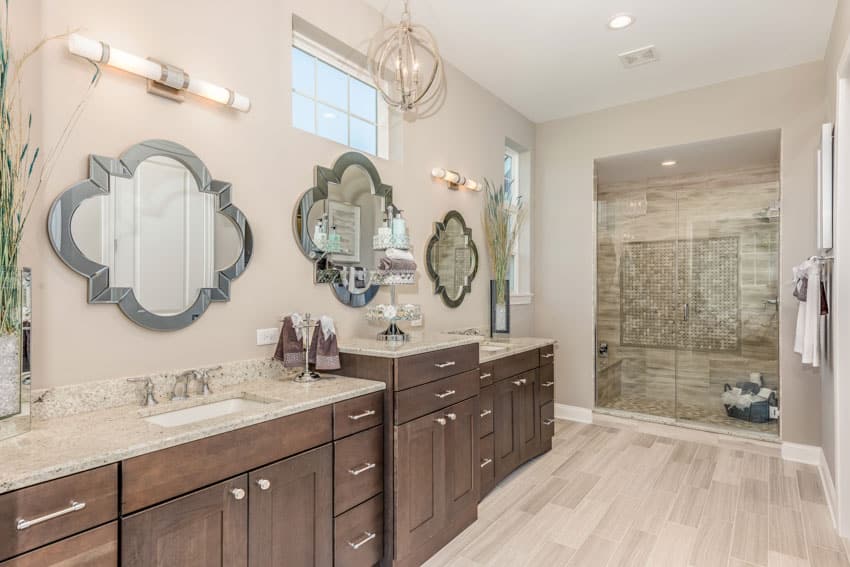 Here we share the advantages and disadvantages of using granite countertops for bathrooms.
Pros of granite counters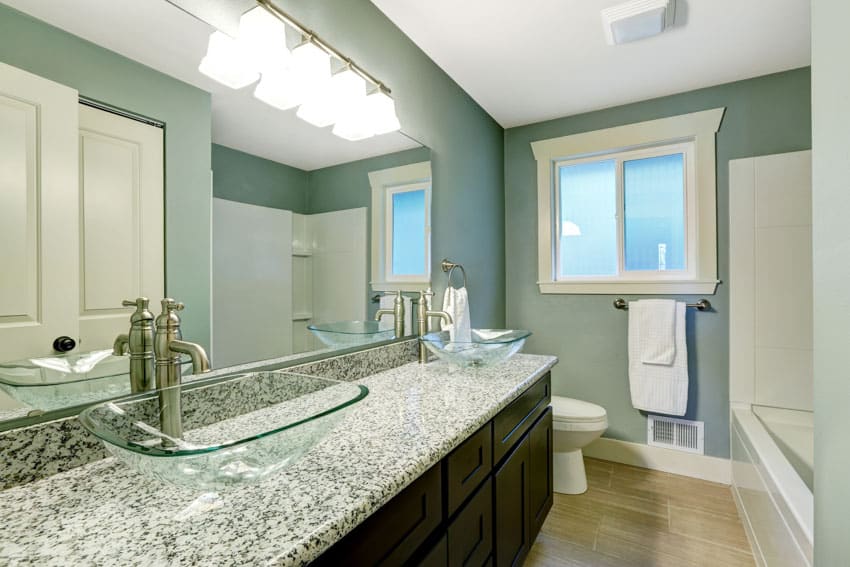 1. Superior Hardness: Won't Crack or Dent Easily. Mohs scale lists granite as 6-7, which means it is a very hard material due to the tight mineral grains formed over a long time as it cooled down.
In addition, granite bathroom countertops are made up of quartz and feldspar, which are harder than steel. The hardwearing surface won't easily crack or dent with regular to frequent use.
2. Naturally Resistant to Bacteria: The CDC has no granite harboring bacteria or cases of people becoming ill due to bacteria from granite, making the natural stone suitable as a food and medical grade surface.
But while granite is naturally resistant to bacteria, there's still a need to regularly clean your granite bathroom countertops to prevent other microbes from forming from stagnant water or accumulated debris. It is also recommended to learn how to seal granite countertops for bathrooms.
3. Easy Maintenance: Since granite is installed with one continuous slab, there are minimal to no seams needed depending on your design. The seams or crevices in tiled bathroom countertops are filled with caulking where soap grime.
Accumulated debris can usually get lodged and harden over time. Discoloration of your caulking can occur and be chipped off by a substandard caulking solution or installation.
4. Resistant to Chemical Damage: The hardwearing surface is not sensitive to most acids and bases, which means you won't be too concerned about placing your makeup or toiletries on your granite bathroom countertop.
Moreover, it can take most cleaning agents and won't damage the surface easily. Although still be wary of repeated use of strong chemicals as it washes away your sealer over time.
5. Versatility and Availability: Granite is the most naturally found plutonic rock found in mountain ranges and continental shields. They won't run out too soon; this availability makes them more affordable than most natural stones.
Although, the price range for your granite bathroom countertop will be affected by many factors such as the rarity of the design, thickness, and required finish. Granite slabs come in a wide range of colors, veining, and patterns due to their nature as natural stones.
These differences can be found from one slab to the next and certainly from one shipment to the next. Granite comes in a variety of color tones and patterns, and each variety can have dramatic differences in color and pattern.
6. Wide Price Range: While granite is considered a luxury material, its wide price range due to its myriad designs and availability makes it a great investment for midrange projects. It is generally more affordable than marble and a practical choice for countertops.
7. A Possible DIY Project: Granite is tough and difficult to cut. Nonetheless, you don't have to be a stonemason to do so. You can make clean and precise cuts with a circular saw and a diamond-cut blade. Cutting granite can be a safe and enjoyable DIY project if you take the necessary precautions.
8. Unique Natural Appearance: While engineered stone can give you consistent colors and veining, nothing beats the organic look of natural stone. And one of the reasons why granite remains a popular choice for countertops is the unique aesthetic appeal and where no two stones are alike.
9. A Sensible Investment: Granite is a sensible investment to enjoy your bathroom countertops without the constant worry of damage and dedication to care.
Granite bathroom countertops can last 100 years or even more with quality materials, the right installation, and standard maintenance. Homes with natural stone installation always sell better with an increased value.
Cons of Granite Counters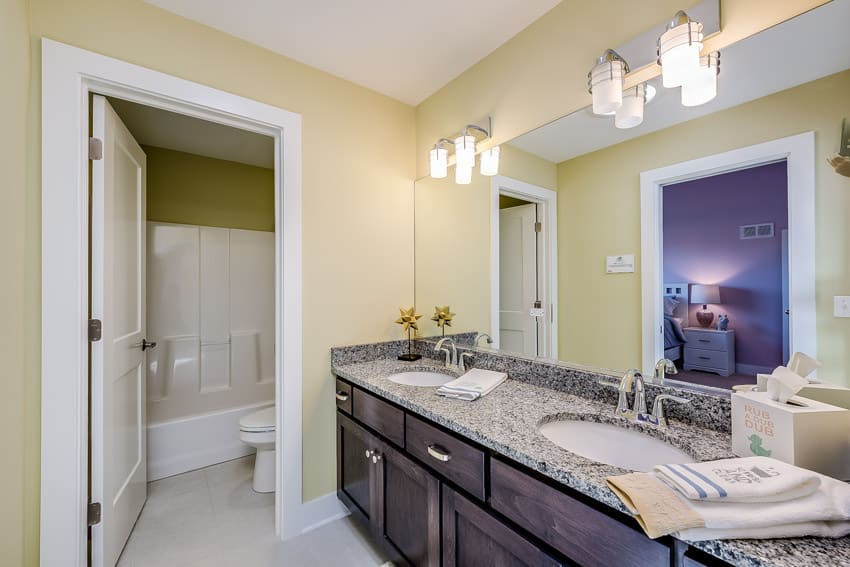 1. Will Stain: Similar to any natural material, expect surfaces to stain when not properly sealed, so the key is sealing your granite bathroom countertop to protect it from nasty stains.
If you want to capture the authentic look and drama of stone, you'll need to deal with the resealing requirements of your granite stone.
In general, resealing annually for a busy countertop is recommended, but as commercial sealants improve over time, you might find this interval goes longer than your yearly resealing time.
Choosing a polished finish for your granite bathroom countertops is another way to keep them from staining. Compared to honed granite countertops, a polished finish seals most of the pores on the stone's surface. Polished granite lessens the pore than other finishes, making it more resistant to moisture.
2. Massive and Heavy: Granite countertops are heavy, especially from a single slab. Transportation costs can be high, mainly if no granite quarries are close.
In addition, getting the granite into position can be challenging once it has arrived on site. A slab countertop can have a lot of trouble, even with a simple staircase. A sturdy floor must support the countertop and the cabinet on which it is mounted.
3. An Outdated Look: While granite is readily available to almost every material supplier with a wide range of colors, the salt and pepper look may not be for everyone.
As minimalist designs take over the interiors, the clean, sleek look is fast becoming the norm for homeowners, and the speckled look may not be the appealing choice today.
But some suppliers offer granite slabs with minimal specks, and white granite isis abundant, which can be easily matched with a modern interior.
How Do You Choose Granite For A Bathroom?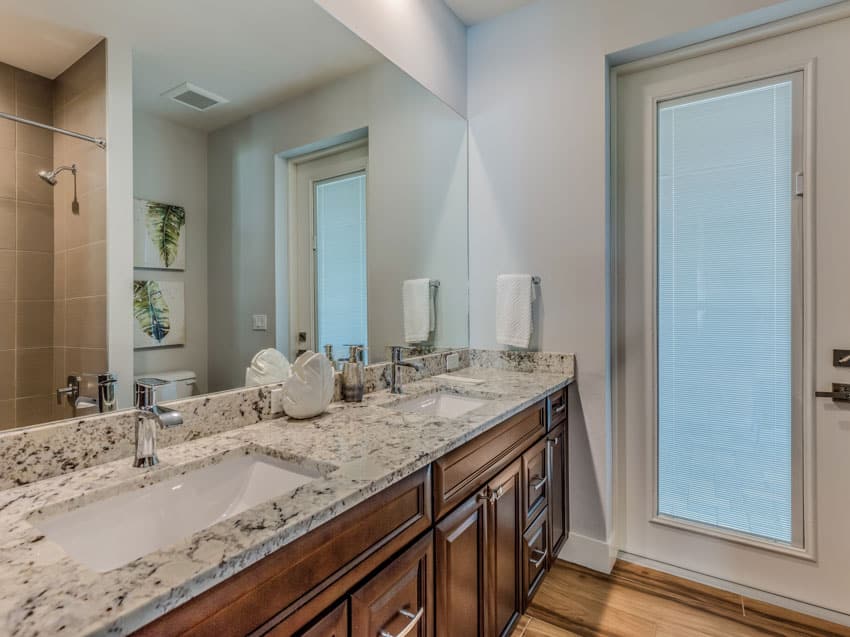 • Understand the Different Tile Grades: A, B, C, D, E, and F are common names for granite boxes. You may notice that Grade' A' granite slabs are less expensive, and as the grade progresses to 'F,' the price rises.
It's natural to believe that grade 'A' granite is of lower quality, whereas grade 'F' granite, which is the most expensive, is of the highest.
However, it is critical to understand that the grades are determined solely by price and have no bearing on the granite's functional quality.
The grading is done for the sellers' and storekeepers' convenience. So, if you prefer the color and pattern of lower-grade granite, choose it.
• Ask Questions and Know Your Granite: Selecting a beautiful piece is great, but you also need to learn about the stone's inherent characteristics.
Surface pitting, fissures, veins, color concentrations, inclusions, and shade variation will all influence the class of your granite stone.
• Consider the Lighting Design: A lighter color tone or speckled granite is an excellent choice for darker spaces with little to no natural light.
A darker color granite, such as Black Marinace, deep obsidian, and sable granite with white streaks, would be a good choice because it's among the best bathroom countertops with a lot of natural light or if you're a busy parent who doesn't want dirt to show. Because darker granite combined with insufficient light can make spaces appear smaller, lighting is important to consider.
• Consider Existing Materials: Take a sample of your materials when shopping for granite unless you plan to work around your granite slab. It's simple enough to unscrew a cabinet door or take a paint sample, but if nothing else, take a lot of photos in natural light to help you choose the right granite color.
• Consider the Dimensions: When you see a granite slab with flowing veins in a tile shop, it may appear to be very aesthetically pleasing, but it may not be what you get on your existing countertop mount.
The slabs will almost certainly be cut to fit, and the vein flow may be disrupted. So, before you make your final decision, talk to your granite fabricator about the size and shape of your countertops.
How Much Do Granite Bathroom Countertops Cost?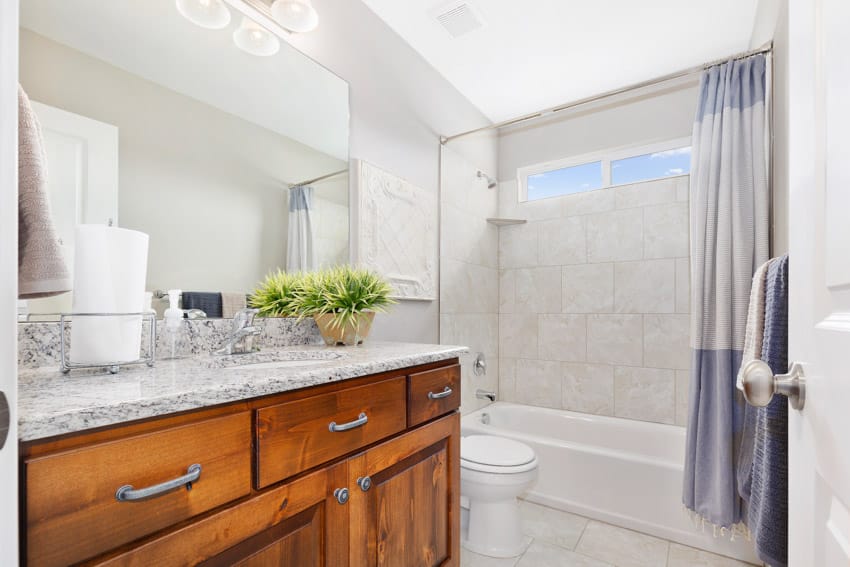 According to a cost data research, homeowners pay between $2,000 and $4,500 for granite countertops, with $3,250 being the average, including material and installation.
Materials cost between $40 and $60 per square foot, with exotic slabs costing even more, and installation costs between $35 and $85 per hour.
How To Seal Granite Bathroom Countertops?
It's simple to learn how to seal granite, and you can do it without any prior experience. Apply a stone-safe sealer directly to the granite in three-foot sections and buff it in with a clean, dry cloth immediately.
To avoid hazing, keep buffing the surface until it's completely dry. Regularly sealing granite is not harmful because it protects against bacteria, stains, watermarks, and acid damage, and it is impossible to over-seal granite.
How To Clean Granite Countertops In A Bathroom?
Here are the materials you'll need to clean granite bathroom countertops and other important tips you should know.
Things you need:
• Water
• Dish Detergent
• Microfiber cloths
• Baking Soda
• Hydrogen Peroxide
• Plastic Wrapper
• Tape
Regular Cleaning: For regular cleaning, use a solution of warm water and mild detergent, followed by a microfiber towel to polish the stone. Abrasive or acidic cleaners can strip the sealer and etch the stone, so avoid them. Read more about cleaning granite countertops here.

Stain Removal: Clean stains on granite or marble countertops using a solution of baking soda and water paste (for oil-based staining); or hydrogen peroxide (for water-based staining) (for water-based staining).
Then, cover the stain with the paste, wrap it in plastic wrap, and tape down the edges. Allow sitting for a few days (or at the very least overnight) before rinsing off the paste.
If the stain isn't completely gone, repeat the procedure. Make a spot test first to ensure that the method won't change the stone's color or finish.
Sealing: These surfaces are popular because of their rock-solid durability, but they need to be resealed regularly to keep them stain-free. It is recommended to seal annually.
Is Quartz Or Granite Better For Bathroom Countertops?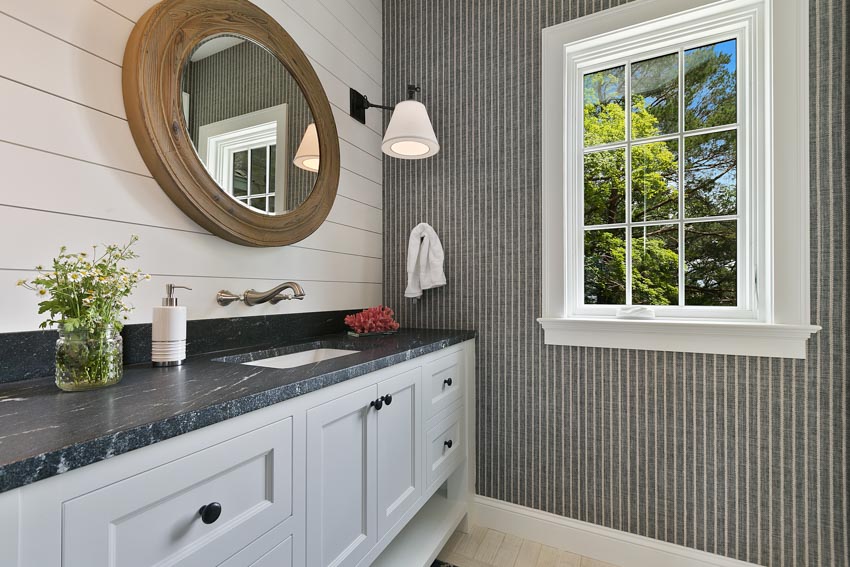 While granite remains one of the top choices for countertops, improved manufacturing techniques have placed engineered stones, such as quartz, as a worthy contender.
As it is bent on toppling down one of the most enduring countertop materials, the quartz now boasts the same durability coupled with the much sought clean, minimalistic look.
On the other hand, Granite bathroom countertops have a one-of-a-kind look and are easier to refurbish in the future. Granite may be more expensive, but it will be well worth the investment. So, it really boils down to your preference, but both work well as bathroom countertops.
See more related content about programs to use for renovations and remodeling in our article about bathroom design software.