Here's our pedestal sink dimensions guide including standard, small, wide and corner pedestal sink sizes, popular brand dimensions, and how pedestal sinks are measured.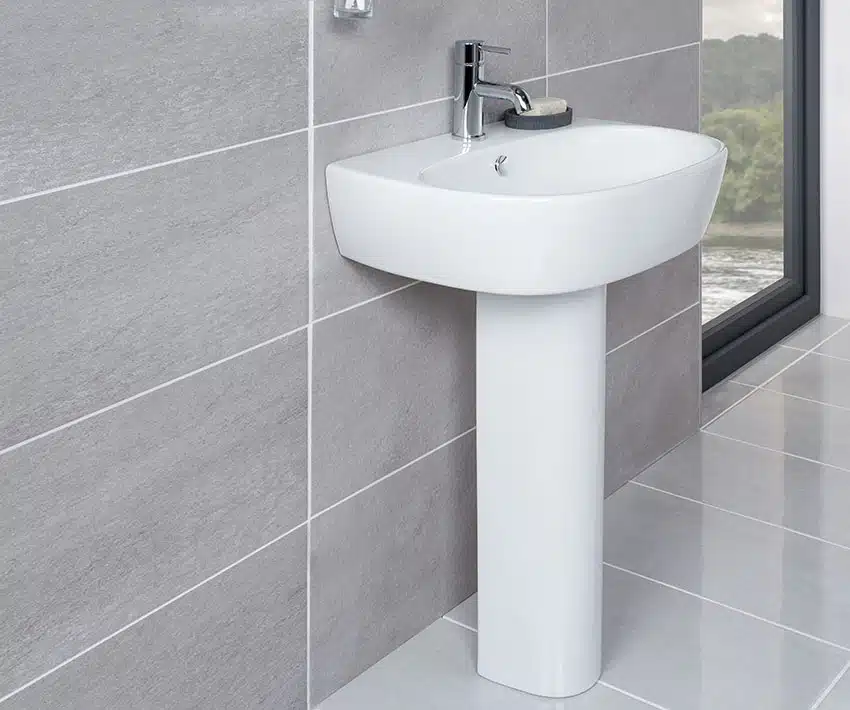 One of the essential rooms in a home is the bathroom, and it is safe to say that most homes will have them. With that, it is also common to have a sink inside that bathroom.
For many homeowners, that is one thing a bathroom should have, and getting the perfect sink will require many considerations, from the type and the size of the sink.
One of the most common sink types is the sleek and space-saving pedestal sink. It is a classic sink with a traditional and particular look designed to fit in tiny bathrooms no matter what look the homeowners are going for.
Standard Pedestal Style Sink Dimensions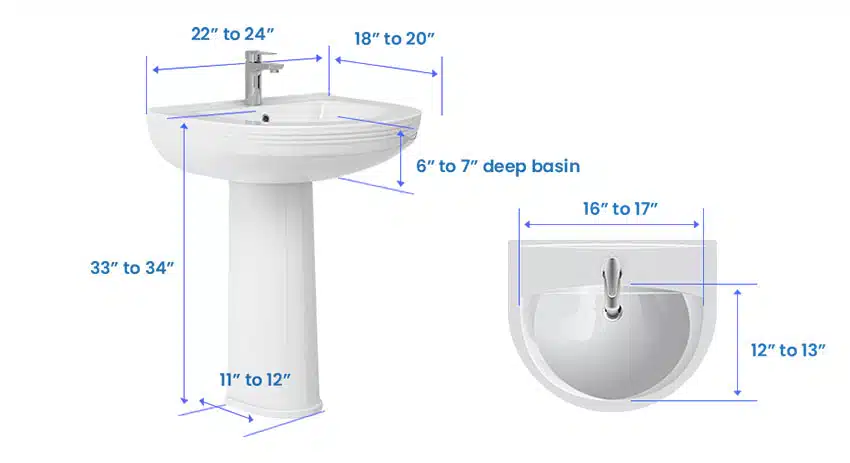 There are many design options available for a pedestal sink, from the classic Victorian style pedestal sink to a more minimal pedestal sink perfect for modern bathroom styles.
Although this is the case, there is a standard size commonly utilized by many homes, from apartments in highrise buildings to homes in the suburbs with porches.
Usually, the width of most pedestal sinks from side to side ranges from 22 to 24 inches or around 56 to 61 centimeters.
At the same time, the height from top to bottom will reach from 33 to 34 inches tall or about 84 to 86 centimeters. The base of the pedestal sink is usually around 11 to 12 inches or 28 to 30 centimeters.
The depth of most pedestal sinks or the measurement from front to back is typically approximately 18 to 20 inches or about 46 to 51 centimeters. Most of the time, the sink can be oval in shape, which is the classic for most pedestal sinks. '
Most pedestal sinks' basins measure around 12 to 13 inches by 16 to 17 inches or 30 to 33 centimeters by 41 to 43 centimeters. The depth for most pedestal sink basins will be 6 to 7 inches or 15 to 18 centimeters.
For circular basins, the measurement usually ranges from 14 to 15 inches or 36 to 38 centimeters in diameter, with the square ones measuring 15 by 15 inches or 38 by 38 centimeters.
Pedestal Basin Height
A pedestal sink's height can range from 33 to 34 inches or 84 to 86 centimeters, but this height can be changed to something higher depending on some factors.
One factor is whether a pedestal sink is installed or mounted on a raised area. If this is the case, the pedestal sink height can reach a number close to 35 to 36 inches or about 89 to 91 centimeters.
Small Sink Dimensions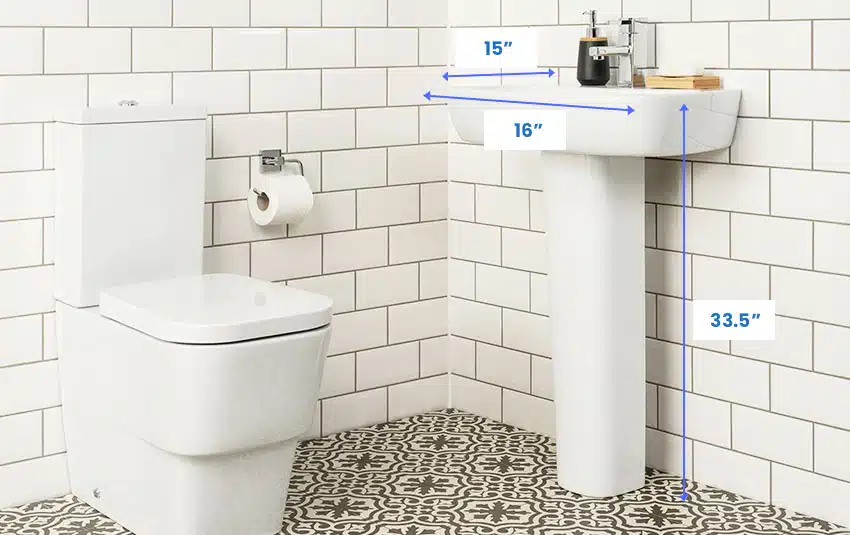 Pedestal sinks are not just available in standard sizes, and there are also more compact versions for smaller bathrooms needing to save space.
This type of pedestal sink will be close to 16 inches or 41 centimeters from side to side with a depth of 15 inches or 38 centimeters from front to back.
This compact size is smaller than standard, meaning that there is less surface space on the sides, which is commonly utilized by many homeowners as somewhere which can hold toiletries or other bathroom accessories.
The heights for these types of compact pedestal sinks average 33.5 inches or about 85 centimeters, with weight starting at 34 pounds which sits on top of a pedestal base.
Wide Sink Size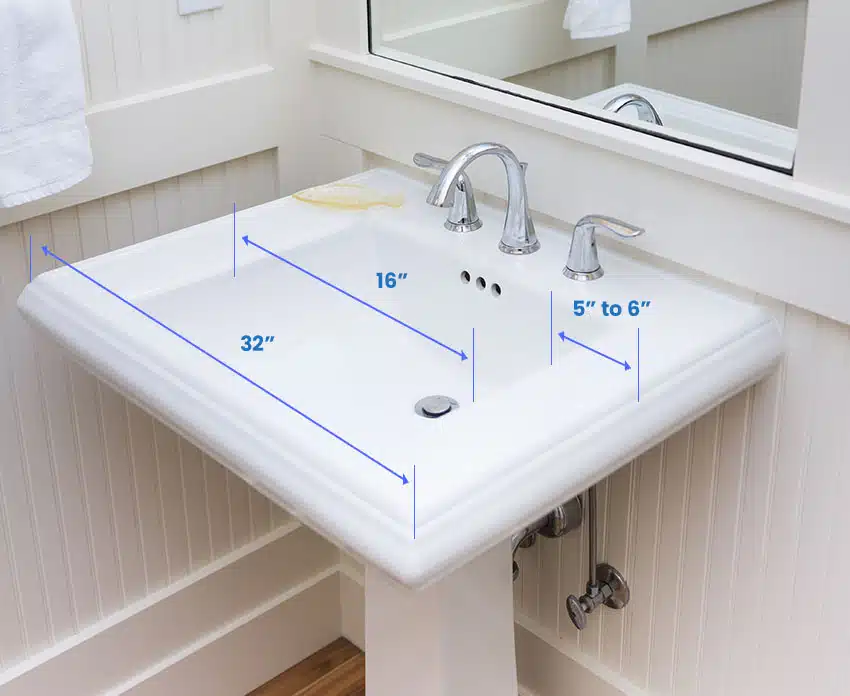 Aside from the compact pedestal sinks, one great thing to have is a more expansive and spacious pedestal sink. For wider pedestal sink basins, there can be free space on each side from 5 to 6 inches or about 13 to 15 centimeters.
To get this, it will usually extend from side to side at 32 inches or 81 centimeters, and the workable surface or the basin will usually be around 18.5 inches or approximately 47 centimeters.
With the extra space of 5 to 6 inches, anything from hair brushes to shampoo and perfume bottles can be placed for extra storage space inside the bathroom, especially for bathrooms without a separate cabinet or vanity.
Corner Sink Measurements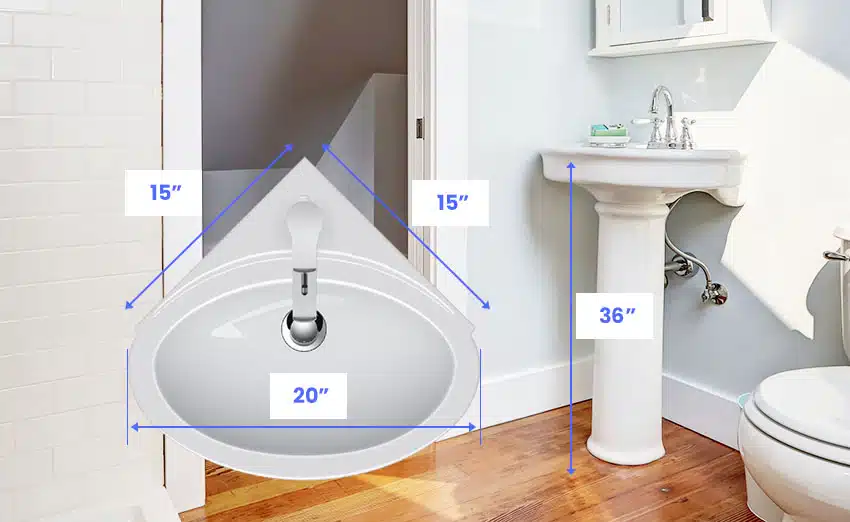 One way to save space in a smaller bathroom, aside from getting a compact pedestal sink, is to consider corner pedestal sinks.
Corner pedestal sinks are affixed on one corner of the room, leaving ample space on three sides and in the middle of the bathroom. These sinks are about 15 inches or 38 centimeters with a midpoint size of 20 inches or 51 centimeters.
These sinks can extend from top to bottom of 36 inches or 91 centimeters while protruding from a wall of 20 inches or 51 centimeters.
Pedestal Freestanding Sink Rough In Dimensions
The best thing about mounting a pedestal sink is that it is straightforward. Most will come with instructions with specific dimensions needed to ensure that the sink is installed properly.
The standard rough-in drain height is 24 inches from the finished floor.
The rough-in for water lines is 4 inches from the finished floor.
The drain size itself is 1 1/4 inches diameter.
The first step is permanently fastening a block for the studs in the wall. Most of the time, these are two by 4 inch boards. The height is also crucial because it will determine how the drain and water supply are installed. Often it will follow the height of a specific pedestal sink and will only change if it is elevated from a riser.
Kohler Pedestal Sizes
Whether the homeowners have a farmhouse or modern theme in their bathrooms, one of the best pedestal sinks to get is by Kohler. Heights for their pedestal sinks are usually 35.5 inches or 90 centimeters high, with a sink width from side to side of around 21 to 24 inches or 53 to 61 centimeters.
The basins are most often 4 inches or 10 centimeters deep with a curved design to provide airflow and prevent spillovers.
Kohler Memoirs Pedestal Sink Dimensions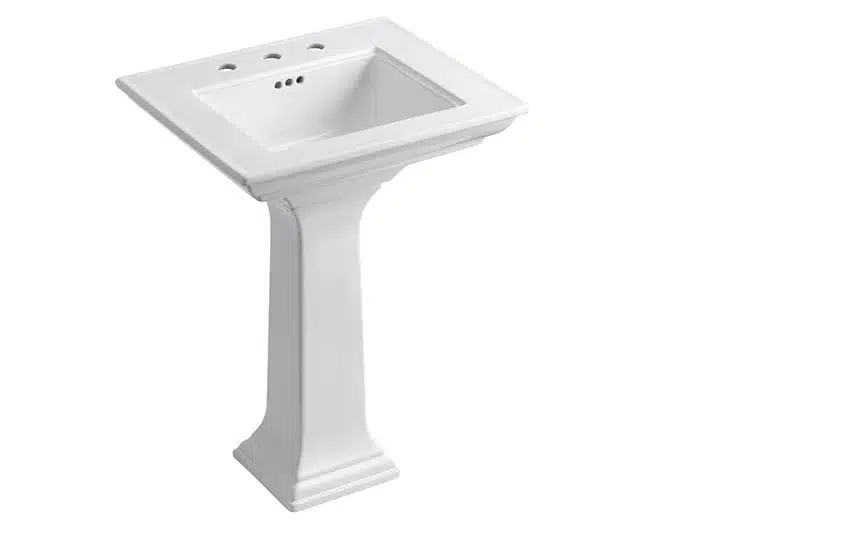 See this pedestal sink at Amazon [sponsored link]
One of the bestsellers in the market for a pedestal sink is the Kohler Memoirs Pedestal Sink. This versatile and stylish sink offers space for storage, whether shampoo bottles, cleaning items, or a cup of toothbrushes.
The product height is usually around 34.75 inches or 88 centimeters. The workable surface or the inner width of the bowl from side to side is 15.5 inches or 39 centimeters with a sink depth of 20.5 inches or 52 centimeters.
Kohler Archer Pedestal Sink Dimensions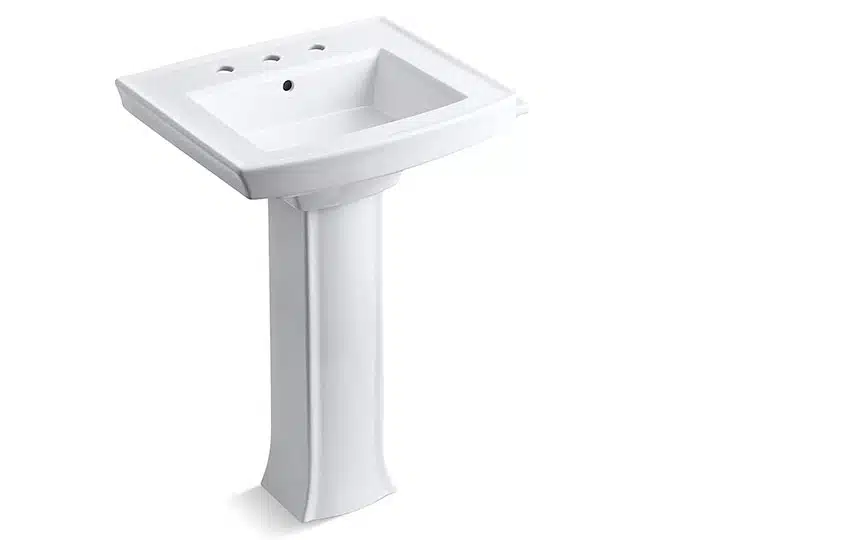 See this pedestal sink at Amazon [sponsored link]
Another coveted sink style from Kohler is the Kohler Archer Pedestal Sink. These sink products are available in four finishes, whether the homeowners are looking for a biscuit white or ice gray colorway.
The height for this sink style is 35.25 inches or 90 centimeters from lid to base. The width of the full bowl with the free spaces is 23.94 inches or around 24 centimeters, with the sink depth coming in at 20.5 inches or 52 centimeters.
American Standard Dimensions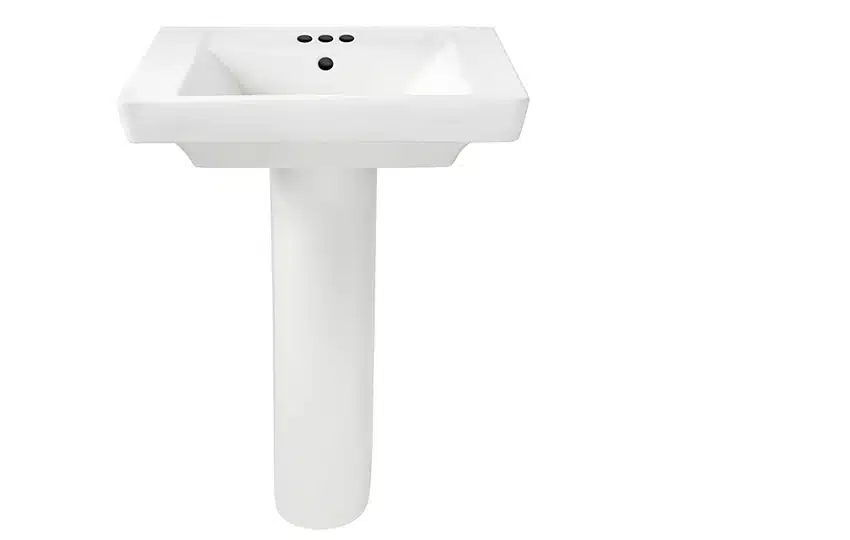 See this pedestal sink at Amazon [sponsored link]
Another go-to for many homeowners looking for a pedestal sink will look at products made by American Standard. Most are straightforward, with sleek designs to fit any bathroom aesthetics. Heights start 35 5/8 inches or about 90 centimeters from the top down.
The bowl size is 17 1/8 inches or 43 centimeters wide with a depth of 12 inches or 30 centimeters from front to back. The bowl is 5 1/4 inches or 13 centimeters.
How Are Pedestal Supported Sinks Measured?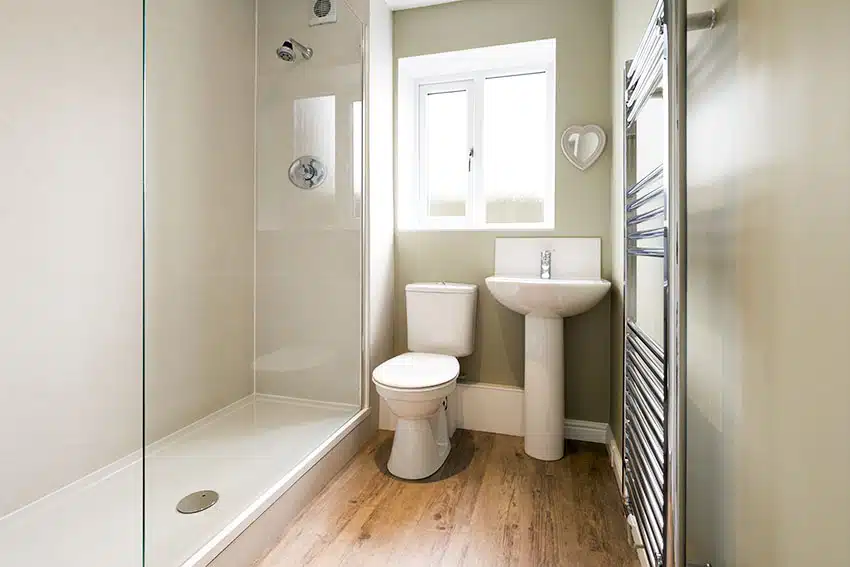 It is easy to measure a pedestal sink and follow the same rules for installable sinks on the countertops, but it will only include measurements of the sink height.
The height is taken by measuring from the top down, with the depth calculated from the overflow hole back to the drain opening.
There is the exception of a pedestal sink model with no overflow; in this case, the depth is measured from the rim top to the drain opening. Width is calculated by taking a measuring tape from side to side by measuring the largest part.
Did we cover all of the sink ideas and details you were looking for? Share your thoughts and tips regarding pedestal basin sinks with our readers below. Visit our bathroom sink sizes guide for more related content like this.