These dresser top organization ideas include decluttering tips, bedroom sorting & cleaning techniques, and the best dresser top organizer options.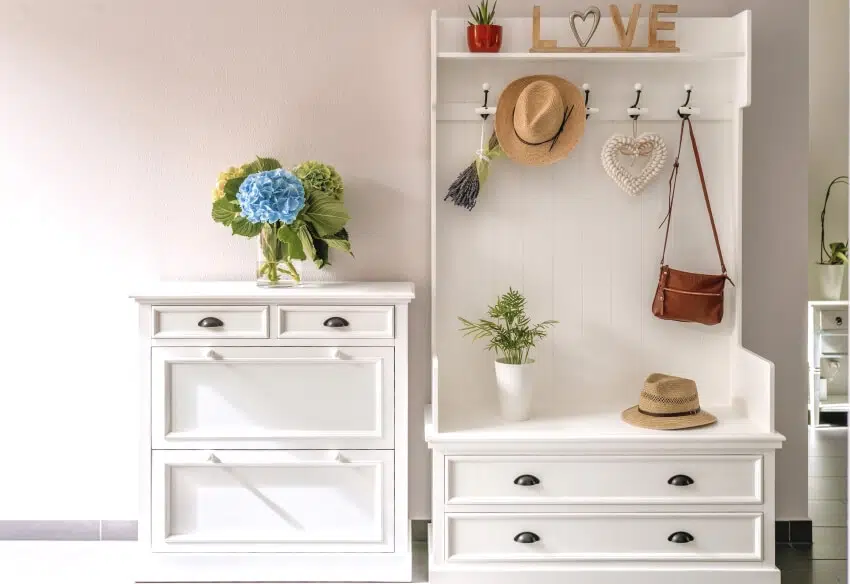 Dressers offer a lot of space for storage and that doesn't just mean the drawers! The top of your dresser is a great place to keep and display things. Yet, it does come with limited space and, unlike dresser drawers, this space is on display, so you probably want to look nice too.
If you aren't sure how to proceed, don't worry! There are a variety of different ways you can organize your dresser and make the most out of the space as possible.
How To Organize Your Dresser Top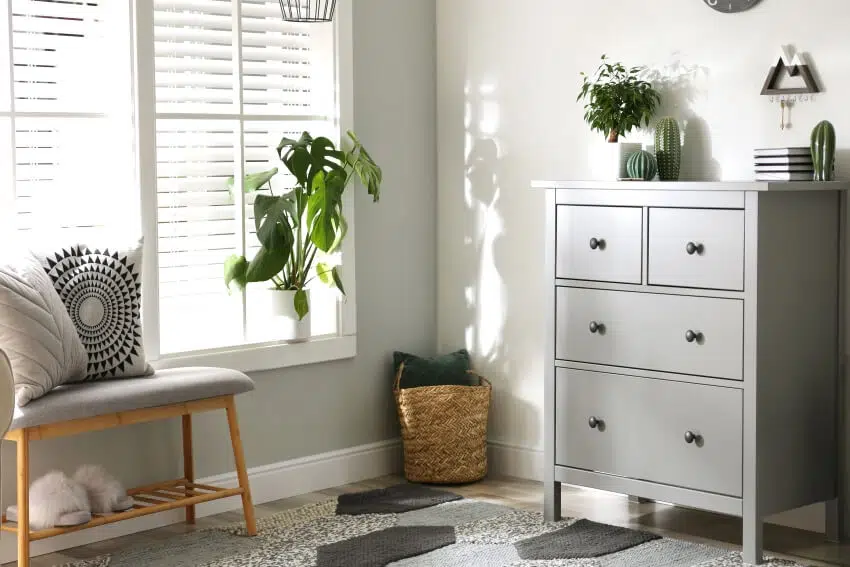 Start with a Clean Slate – The path to organization doesn't always come easy. To help move things along, it's a good idea to start with a clean slate.
In other words, get started by clearing off the top of your dresser completely. This way, you can see all the space you have and you're adding things back in an organized manner rather than trying to wade through the chaos.
Consider What You're Keeping Out – Once you've done this, it's time to prioritize. What do you need to keep on top of your dresser? Which items are you organizing?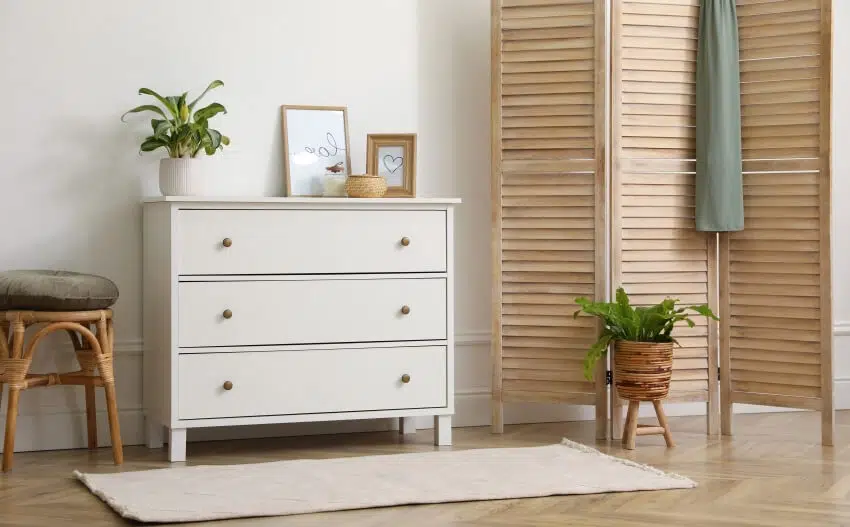 Over time, it's easy to accumulate a lot on your dresser top that doesn't belong there. After all, it's an easy place to set things when you're busy.
There is some clutter that builds up that can go elsewhere. For instance, clothes left on top of the dresser are often better organized in the dresser or in the closet.
Other items you might need to move may include spare change you've tossed on the dresser, loose items like earrings or cufflinks, skincare or beauty products, and even notes or papers you set aside.
This should help you narrow down what you're trying to organize on the dresser top. This can make the entire process less overwhelming.
When you pare down, don't forget to think about space! If your type of dresser doesn't offer a lot of surface space on top, you'll want to keep your pile of items to be organized here to be proportional to that. Overcrowding the space won't help organization!
Consider Where You Are – When you're in different parts of your home, you'll likely do and need different things. This means that where your dresser is will affect what you need there.
As an example, if you're organizing your bedroom dresser, you might make sure the top displays the things you need to get ready or even comfort items you like to keep in your room.
On the contrary, if you have a dresser in your entryway, it might be more appropriate to find a place for items like keys, wallets, and the like. Read more tips on cool things for your bedroom for more related content.
Don't be Afraid to Use Dresser Top Organizers – When you put everything back on your dresser top, setting them all individually in their places can take up a lot of space.
Investing in a few dresser top organizers is often a great way to condense the items you're organizing. This can help you locate items faster, especially if you have smaller dresser sizes in your room.

As an additional benefit, these are often designed to look rather aesthetically pleasing as well and they're often made to hold a lot. This means you won't have to worry about keeping your dresser nearly empty on top just to keep things organized.
What To Put On A Dresser Top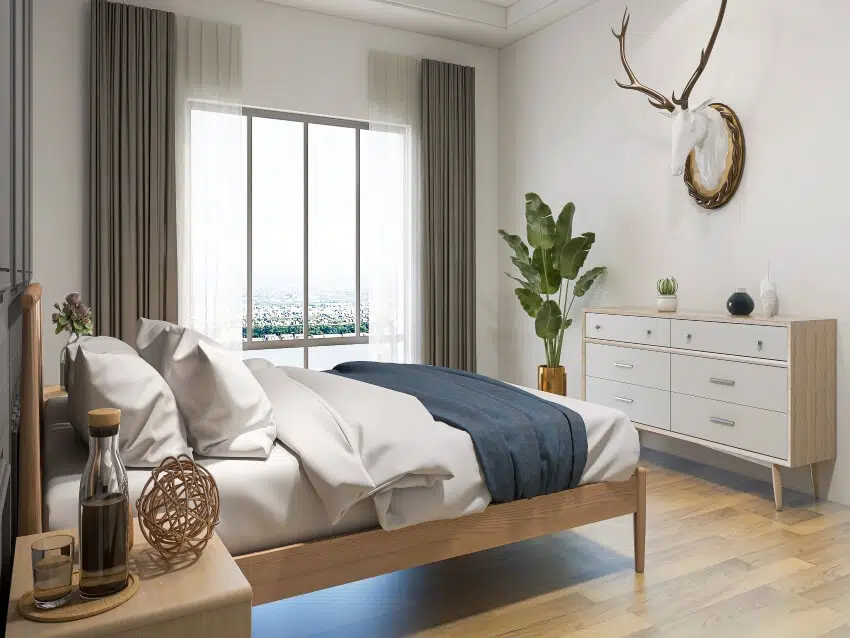 When you're deciding what to keep on your dresser top, you have a lot of options. There are quite a few options to both keep your dresser top looking clean while storing your items and even help to add aesthetic appeal.
To start, we'll talk about storage items. The dresser top can be a great place to keep the cologne or perfume you use every day, a jewelry box, or even electronics such as a TV across from the bed. Depending on the lighting in your room, you may need to make space for a light source like a lamp on your dresser.
In smaller rooms, you may find it's easier to use your dresser as a dual-function piece to save space on employing a separate nightstand. In these cases, you may want to make room for additional items on your dresser top such as an alarm clock or TV remote.
You may also want to consider leaving some space for items that won't always be on the dresser in this case such as glass of water at night and a place for your phone to charge. Get more of our tips on how to decorate a nightstand and what nightstand essentials to include here.
Finally, once you have everything you need on the dresser top, if you have room, you may want to add something decorative. Common options for this are candles, art, plants, and more.
However, one of the goals of organizing your dresser top isn't just to tidy your practical items, though. This means you'll want to be careful not to go overboard and fill your dresser with so many decorative pieces that it looks cluttered again. Be selective in what fits and your style will shine through effectively without seeming disorganized!
Top Of Dresser Decluttering Tips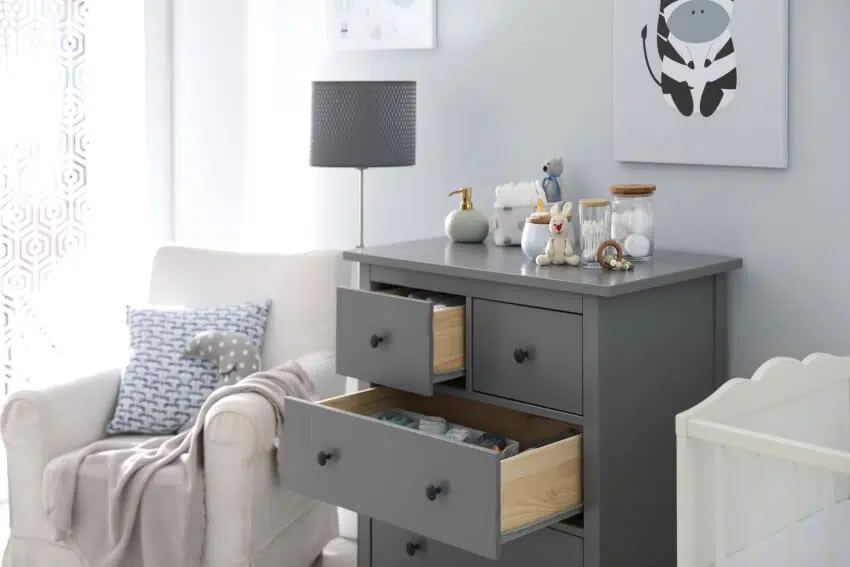 Take Some Time to Clean – To make decluttering easier, you can start by taking some time to clean as you take the first steps of cleaning off your dresser top.
This is a great time to do some cursory cleaning such as dusting the dresser and tackling any noticeable messes. Your organization system will look especially fresh and orderly if the dresser top itself is clean as well.
This also means taking the time to clean through what you do and don't need on your dresser. Earlier, we discussed that deciding which items could be stored elsewhere is helpful in creating an organizational system.
In addition, though, it's a good idea to consider which items you want to keep at all. For example, a perfume you've replaced with a new scent or a jacket that you've outgrown may not suit your space at all anymore.
It might seem small but taking the time to do this can help make the organizational job seem a lot less intimidating.
Take It One Step at a Time – Decluttering and organizing your home can be a stressful idea. So, it's best to break down your project into goals such as decluttering your dresser top.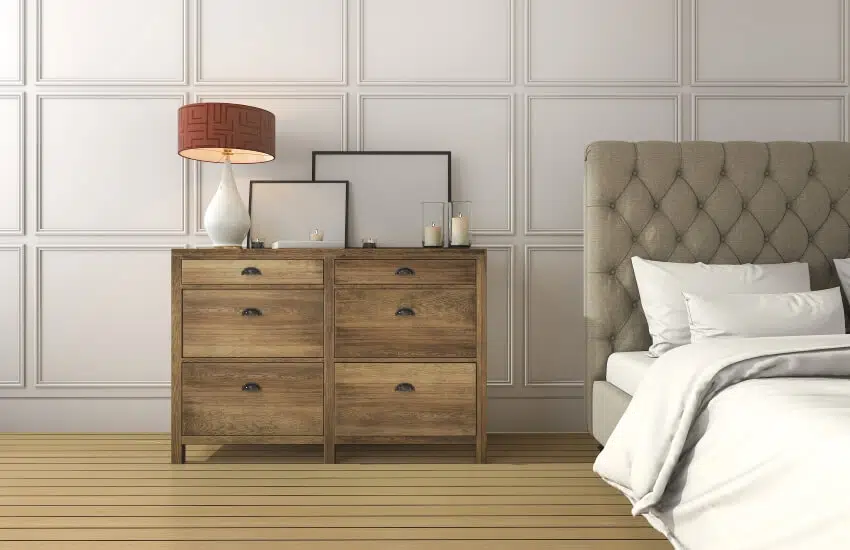 However, you may not want to just include organizing your dresser top as a larger one-day project of organizing the whole house or even the entire room. Take your time and don't rush to try and tackle everything in one night.
Take on decluttering your dresser top as a singular project to offer yourself the focus and stamina to get through it. In the same vein, if you find yourself getting overwhelmed while you declutter your dresser, take a few minutes to step away! You'll see much better results if you carefully decide where to keep things rather than rushing through just to get the job done.
Keep Up with the New Organization System – After you've set up your organizational system, you have to keep up with it! Setting it up is all well and good but if you don't use the system put in place, you'll find your dresser looking disorganized again in no time.
So, when you grab something from your dresser top, try to make a habit of putting it back in place when you're finished. Some find that having a temporary, designated spot for short-term clutter like mail is a handy tool for keeping up with their organization systems.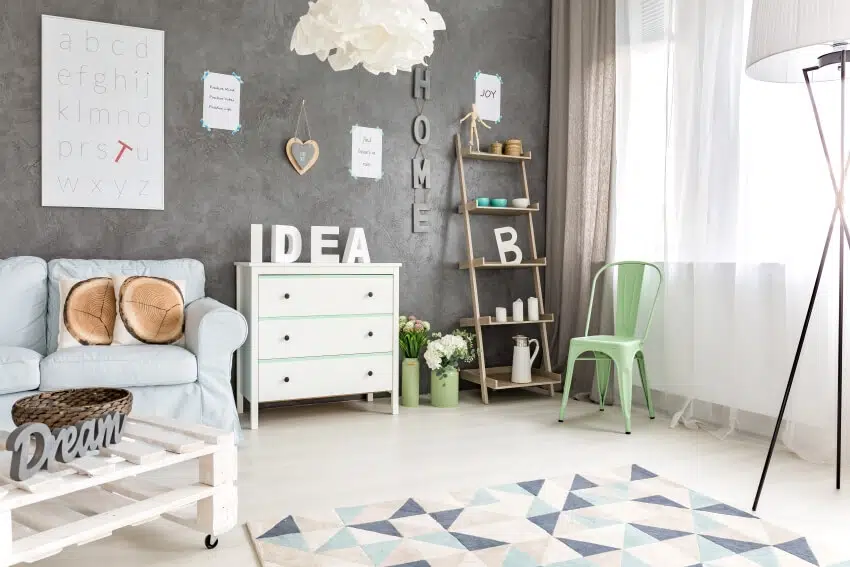 Update It as You Need to – As you go about your life, you'll find that you change and grow – that's to be expected. This means that an organizational system you set up today might not fit your needs or tastes five years down the line.
To help stay organized long-term, don't be afraid to revisit this process from time to time. Then, you can reassess what you still use, need, and what changes to your system will help you as life goes on.
Get a Second Opinion – If you find yourself attached to your current system that's less than organized, it can help to enlist a second pair of eyes.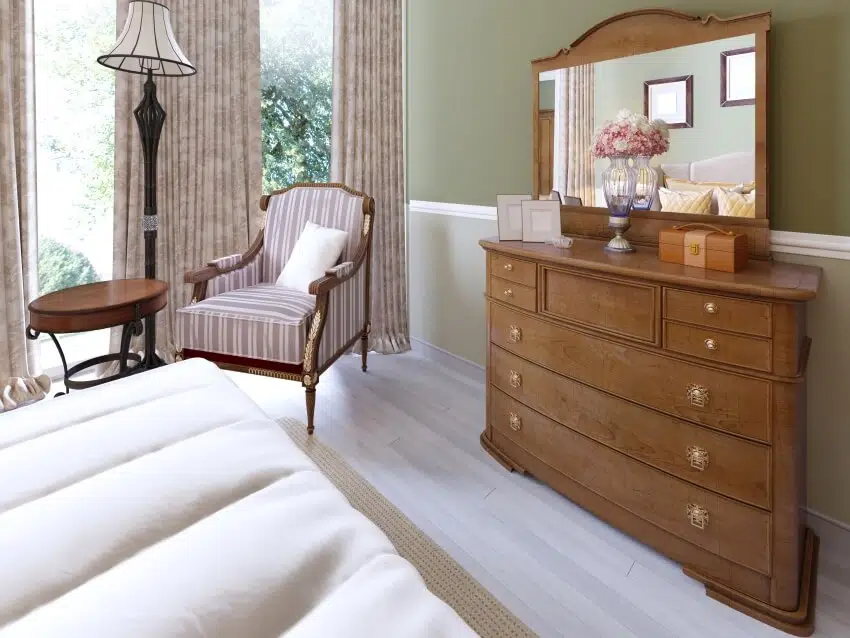 You're used to what you see on the dresser every day and you've likely tried to organize on your own. A second person who doesn't encounter the dresser as it's been every day and can look over the situation with fresh eyes and new ideas.
Dresser Top Organizers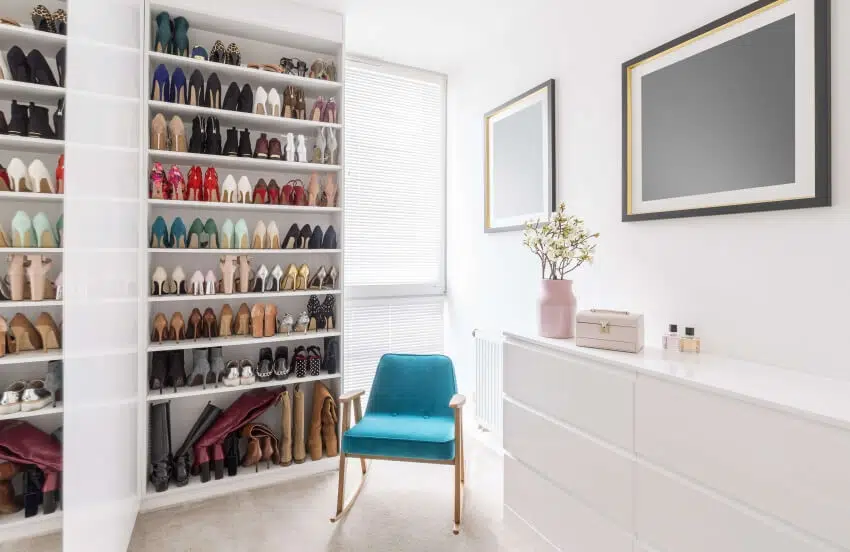 There are quite a few different dresser top organizers that can help you keep your things in order. One of the most popular options is a jewelry box like this one to keep jewelry like necklaces, rings, and even earrings organized and safe between wears.
You can also consider adding a larger unit with a drawer or bins that sits on top. There are many different designs like rotating racks or multiple drawer units that can add extra space.
There are also options that allow you to display your jewelry as well as organize it. Furthermore, consider different dresser alternatives, which could be shelving units, or movable storage that can help.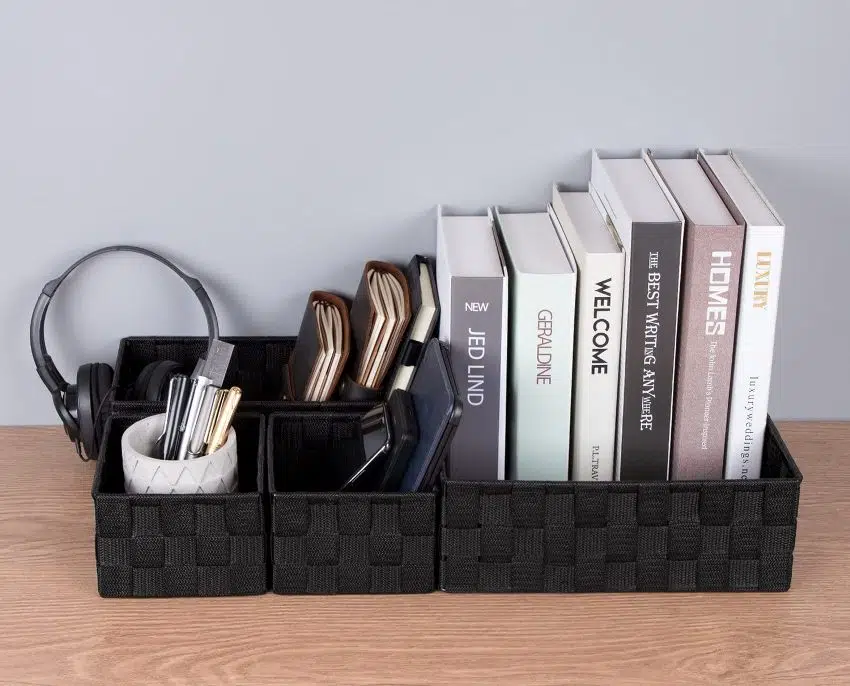 See these storage baskets for organizing at Amazon [Sponsored link]
Similarly, relying on a dresser top makeup organizer like this one will allow you to store bottled items like perfume, cologne, lotion, or any other cosmetic products you might have.
Finally, if you have some loose assorted items to store on top of your dresser, more general organization baskets like these can help you keep things sorted out. For a dresser top, you probably won't want baskets that are too wide or tall so they blend into the decor seamlessly.
Visit our guide on deep pantry organization for more organizing contents.