Here's our guide to what backsplash goes with cherry cabinets, including the best colors, kitchen ideas, and wood cabinet designs.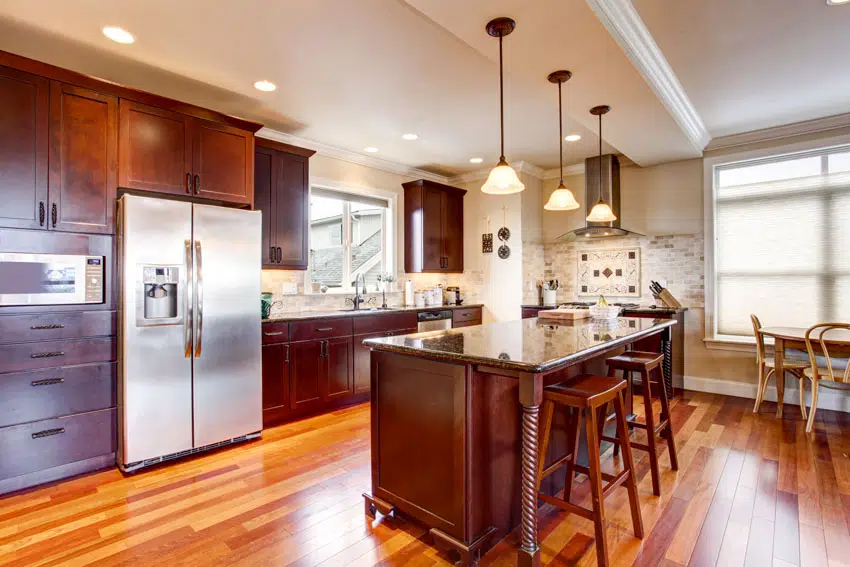 Rich, opulent cherry kitchen cabinets are a classic accent to any home renovation. For years, cherry cabinets have been a mainstay in designs for rustic, traditional, and contemporary kitchens.
This well-liked timber is renowned for its unique aging process and gorgeous warm color variations. However, matching a backsplash with cherry cabinetry might be challenging, so read on for helpful tips.
What Color Backsplash Looks Best With Cherry Cabinets?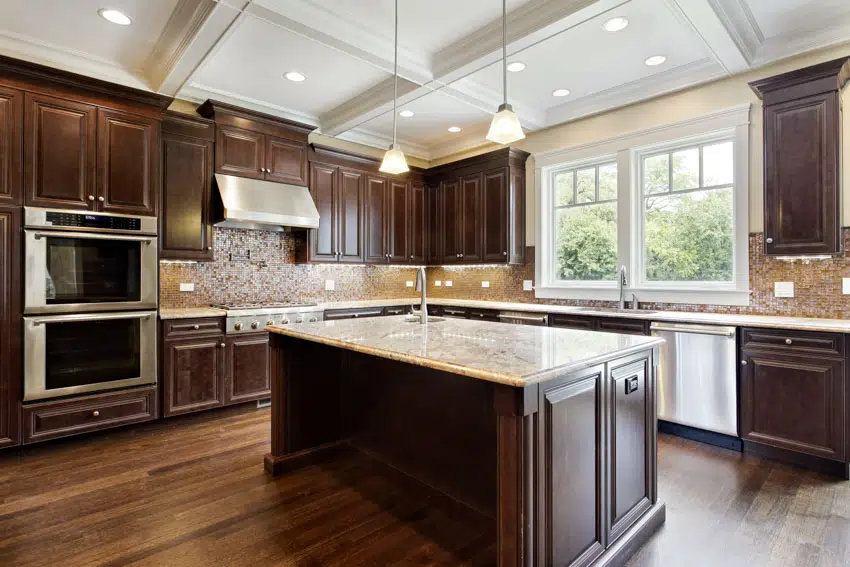 Here are some types of backsplash color recommendations to compliment your cherry cabinets:
White Backsplash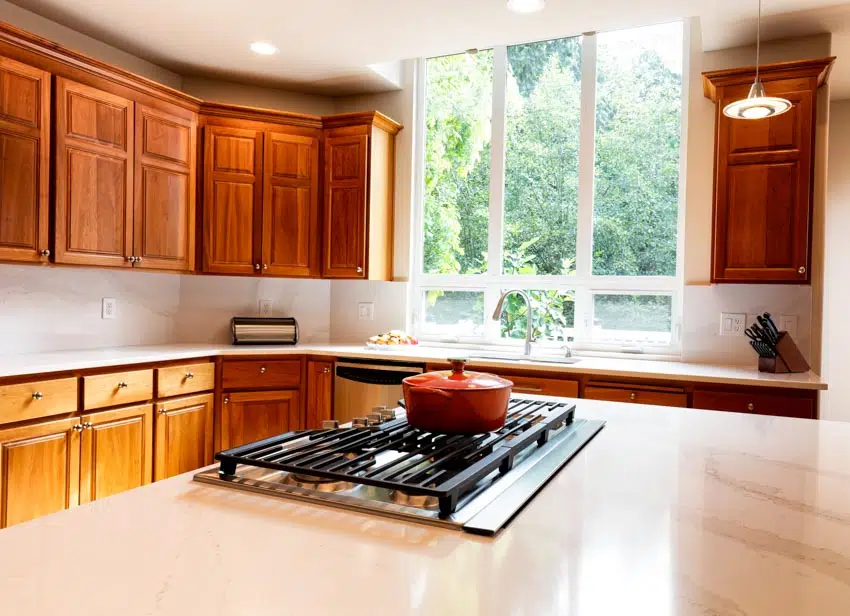 A white backsplash is a timeless and elegant option for practically any kind of dark wood stain . Cherry cabinets stand out more if you match them with a white or light neutral backsplashes.
You can try the combination of a darker cherry wood cabinet paired with a backsplash made of white wood panels and a light countertop for a spectacular finish.
Cherry cabinets have a lovely dark tone, and the white granite countertops and walls complement the cabinets' solid wood finish. A white backdrop is an excellent option for those wishing to give their house a Victorian feel. If your kitchen is tiny, go with a light cherry-stained cabinet.
Beige Backsplash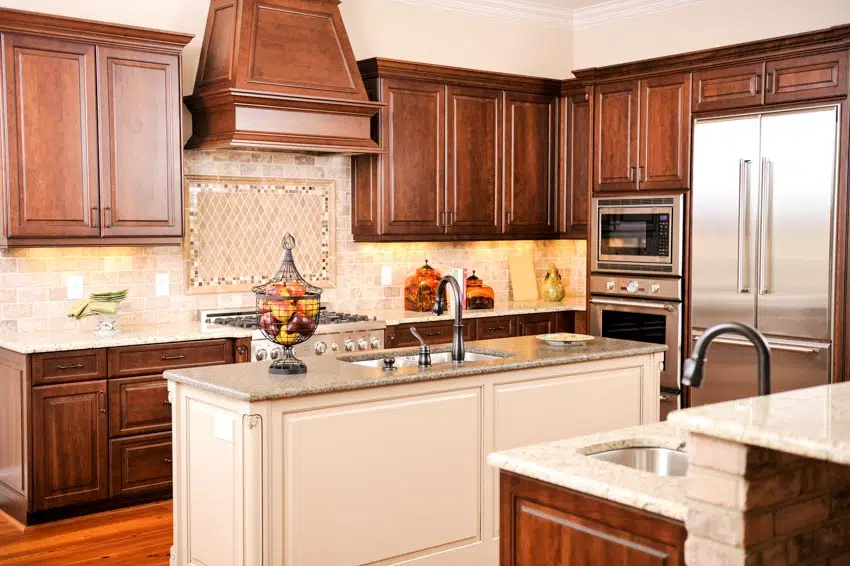 If you have a tiny kitchen, you may make the room more open using pastel or beige hues. For cherry cabinets, beige countertops and backsplash are excellent choices.
Cherry and beige backsplashes blend wonderfully together. Different beige colors complement the richness of the wood tones well and doesn't overpower the space. The design provides a vibrant and upbeat contrast.
Beige subway tile is a fantastic accent to reddish-wood cabinets. A beige subway tile kitchen backsplash is incredibly flexible because it is available in all sizes and arranged in any pattern. Beige subway tiles and these cabinets provide a just-right look—neither too contemporary nor conventional.
Gray Backsplash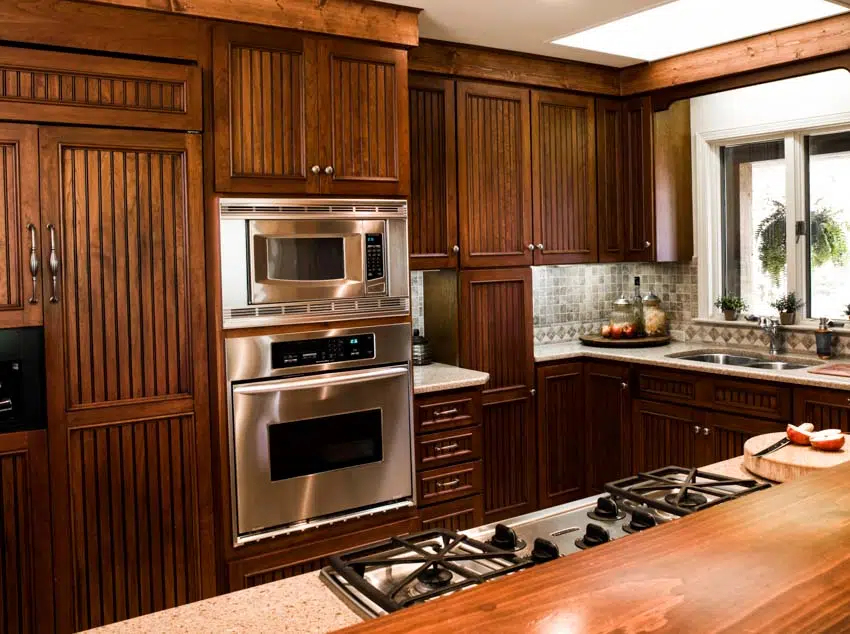 Choose neutral hues to contrast your dark cherry cabinets' reddish undertones and make them stand out. The gray backsplash mutes the brilliance of the wood hue. Painting the walls gray is also a fabulous addition. An additional appliance can also give the room a clean, unifying aesthetic that modernizes it.
Gray is a strikingly stunning contemporary neutral tone with practically every wood stain. Even in small kitchens, gray may help open up the space and make it look bigger. The kitchen won't be visually overpowering by using gray color to counteract all the red in the cherry cabinet stain.
Light Blue Backsplash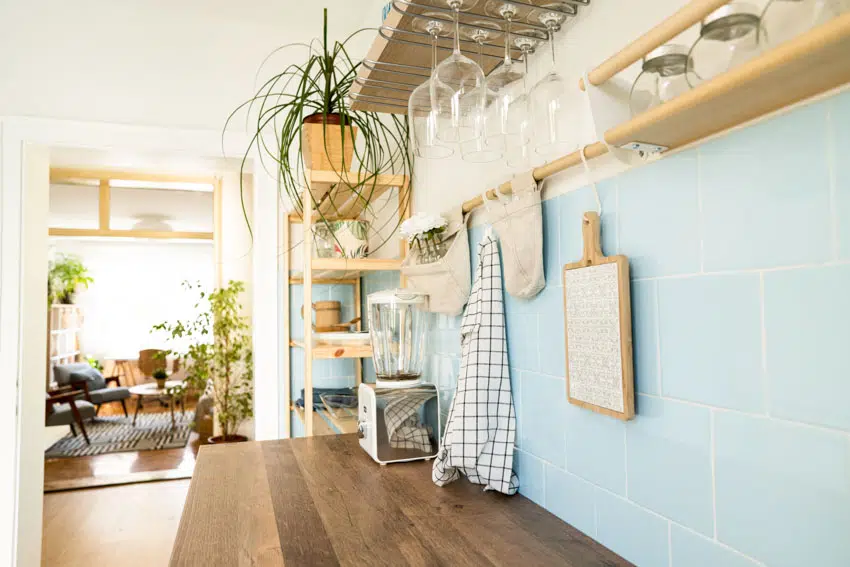 There are so many cool-hued options that you can never go wrong with your cherry cabinet. Blue connotes freedom and creativity.
A light blue backsplash is a terrific option if you adore cherry cabinets but want to provide a bold contrast to your kitchen design. The aqua appearance of blue makes the cabinets stand out more.
Many people believe cherry cabinets are unsuitable for seaside kitchen homes. That is untrue. With the light blue tile backdrop, the red tones give off a maritime, driftwood atmosphere.
Pink Backsplash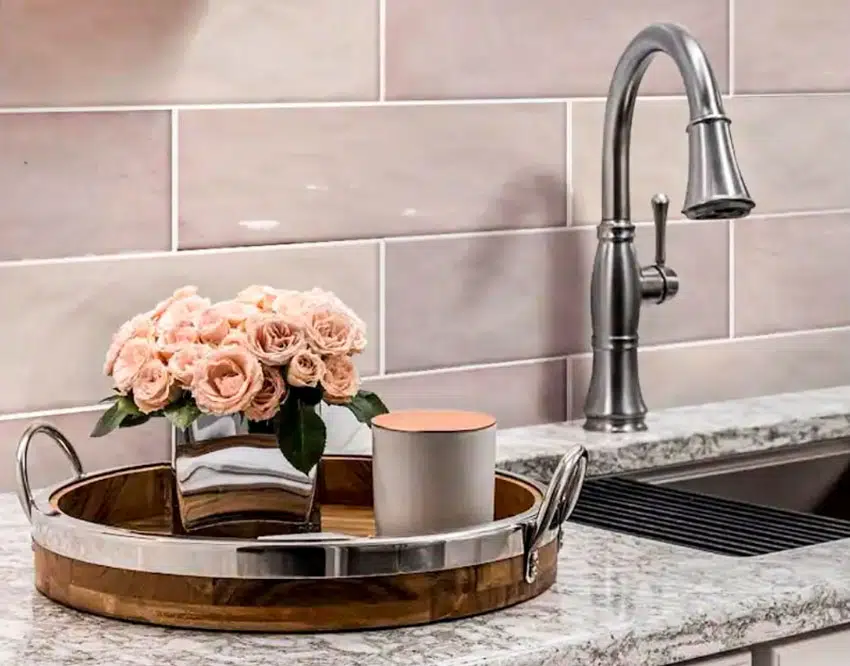 See this pink tile set at Home Depot [sponsored link]
Pink is undoubtedly one of the color spectrum's most vibrant hues. Even in nature, a flower's or a sunset's splash of pink stands out from the other earth tones. Pink is one of the most adaptable hues, appearing in anything from delicate sand-colored neutrals to vibrant bubblegum pink.
Many people dislike seeing a lot of red on red, but the cherry and pink color combinations can illustrate a cozy feel to a kitchen. The rich cabinetry will blend seamlessly with the rest of the design, especially in a Southwestern-style home.
Green Backsplash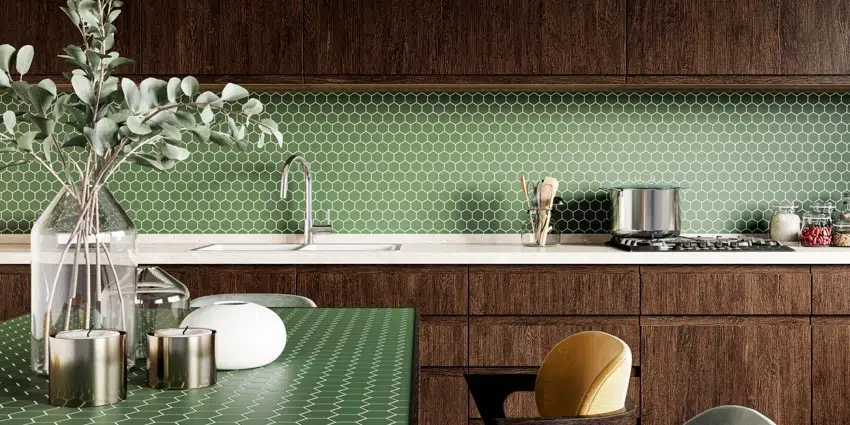 To completely match the reddish tones of the cherry kitchen cabinets, you can also look for hues opposite red, such as green. The bright green walls and green subway backsplash can perfectly complement the wood's shades.
If you love the concept of a stunning combination that throws up a contrasting punch of color, cherry and green colors are for you. The combination provides a fashionable contrast, and the green also balances off the red hues.
Green wall tile and rich wood are the way to go for anyone who wants a dose of mid-century contemporary flare in their kitchen.
Backsplash Ideas With Cherry Cabinets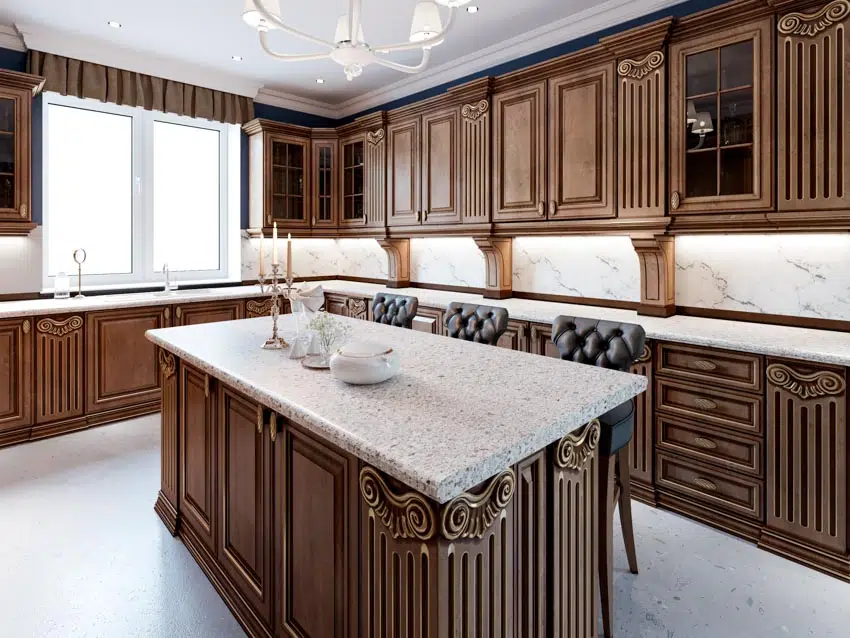 Selecting a backsplash may be challenging. Choosing the material for your kitchen is one method to make this simpler.
Strong Glass: Glasstiles are a fantastic way to give your kitchen some color and intrigue. You can pick a glass tile that complements your cherry cabinets since they come in various colors and shapes.
Additionally, glass backsplash is simple to clean, which is crucial in a busy kitchen. Glass complements your décor and adds a sense of refinement to your kitchen design.
Wallpaper: Wallpaper backsplashes are resurfacing with a vengeance. These fashionable wall coverings, often derided as antiquated and garish, can give your kitchen a lot of individuality. Furthermore, many types of wallpaper are inexpensive and straightforward to install.
You can utilize amazing wallpaper to make the space in your kitchen stand out. A rich-red tone complements a plain wallpaper to create an eclectic effect where each hue shines without competing.
Modern and Minimalist: When you stand back from the current trend of extravagant designs, it's evident that minimalism is where all the newest trends originate. When trying to come up with some of the best kitchen backsplash ideas, it's ideal for keeping everything in simplicity.
The modern aesthetic of granite, travertine, and other stone items may provide a lot of visual appeal and texture to your design. Modern backsplashes complement this red shade of cabinet in your kitchen well.
Mid-Century: Kitchen backsplashes in the mid-century modern design may be a terrific way to give your cooking space some character and energy. Tile, wood, and metal are a few of the most often used materials for mid-century backsplashes.
Additionally, you may discover a selection of hues and designs that go well with cherry cabinets. When combined, various tiles in different styles and colors will completely transform the appearance. This is ideal for a kitchen remodel without the installation of brand-new cabinetry.

Traditional: A wall tile pattern in a classic design can be just what you need to give your kitchen a touch of traditional beauty. You may get the ideal appearance for your house by selecting from various alternatives.
White subway tiles, crushed marble, or even hand-painted tiles with delicate patterns and colors represent a classic design that looks great with red-shaded cabinetry. There are also many alternatives available for traditional styles.
Backsplashes can be one of the most helpful elements when decorating a kitchen – adding flavor to an otherwise boring, bland tile job.
You can combine complementary colors with your red-hued cabinetry with great results. Some popular combinations are soft cream, off-white, light gray, greige, pale blue, green, and metallics such as gold or copper shades.

Leaning toward a lighter color palette can help offset the darker shaded cabinetry by brightening the space and creating the feeling of a larger floor plan. Darker shades should be used carefully, as they can darken the overall feel. However, they can bring sophistication and style when used properly, with plenty of natural light and adequate lighting fixtures.
See more related content in our article about paint colors with cherry cabinets on this page.