See cabinet over kitchen sink designs with their pros and cons, how high cabinets should be above, and different cabinet ideas to create visual interest and maximize storage space.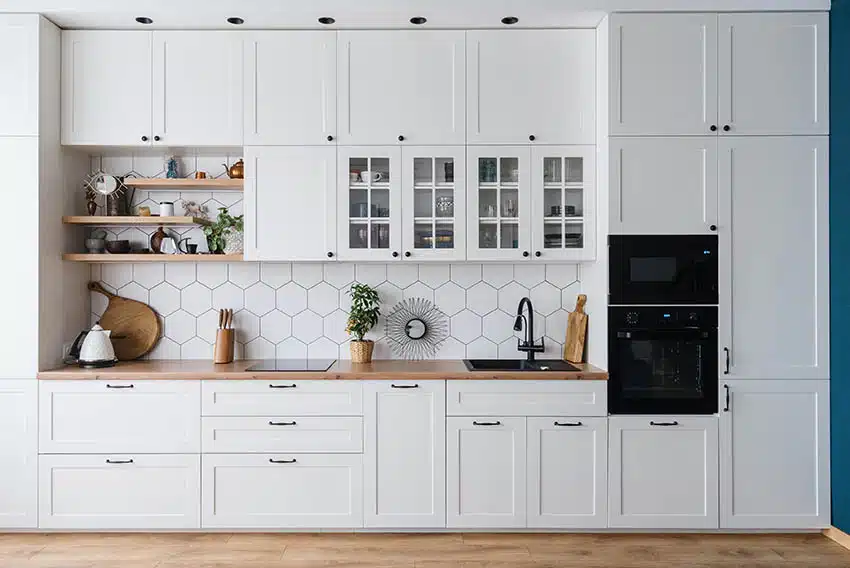 Sprucing up your kitchen can be both fun and exhausting but you need to design the area in a way that's both convenient and efficient for the space. And the cabinets will always play an important role in determining whether a kitchen is highly functional.
There will be various types of cabinets you will encounter based on materials, sizes, designs, and even how they are positioned in the kitchen. One of the most popular choices that homeowners have for kitchen cabinets is a cabinet over the kitchen sink.
Installing your kitchen cabinet above the sink can work for your home but make sure you know what you get from this option.
Cabinet Above Kitchen Sink Pros And Cons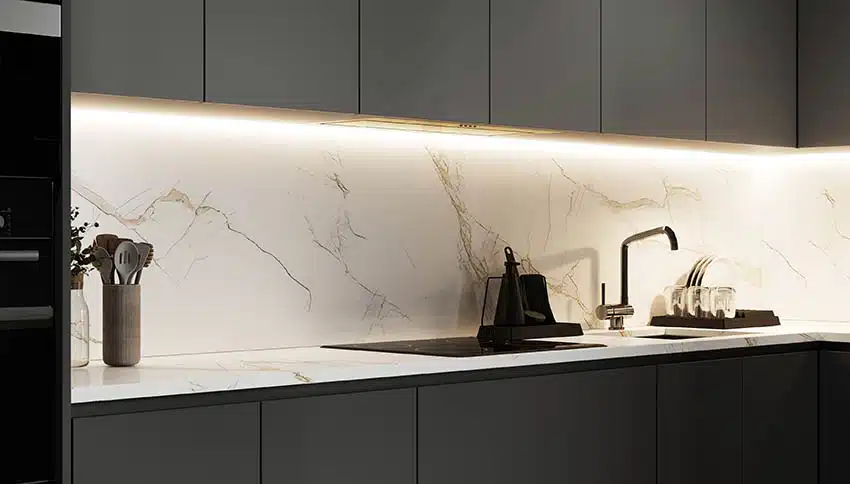 Deciding if a cabinet above the kitchen sink is ideal for your home can be a challenging task to undertake. But to settle with a more informed decision, you need to weigh the pros and cons that it will offer you and your home.
Pros of a cabinet over the kitchen sink
Cabinets above a kitchen sink can be an effective addition to your kitchen because of the following benefits they can provide:
●Offers more storage space – Having a cabinet directly above the sink is a great place to keep mugs, drinking cups or other frequently used essentials.
● Offers flexibility – Cabinets above the kitchen sink can also be known as overhead cabinets or floating cabinets. They are positioned above the sink, where you can reach over the cabinet and take out items from the storage space as needed as you prepare a meal.
● DIY-friendly and highly customizable – You have the option of installing the type of kitchen cabinets over the sink, based on the types of materials used and the designs they are in.
You can choose to go authentic on the wood or metallic, whichever you prefer. And since you can customize them based on the space you have in your kitchen, fitting them above the sink won't be difficult.
● Easily creates a focal point in the kitchen – Overhead kitchen cabinets can easily be a focal point in your kitchen, especially if the aesthetics are eye-catchy and immediately stand out.
● Can allow the kitchen backsplash to stand out – If you choose more subtle-looking kitchen cabinets and a bold backsplash, the latter can definitely stand out more. In this case, your cabinets can act as a canvas and a wonderful background to your backsplash.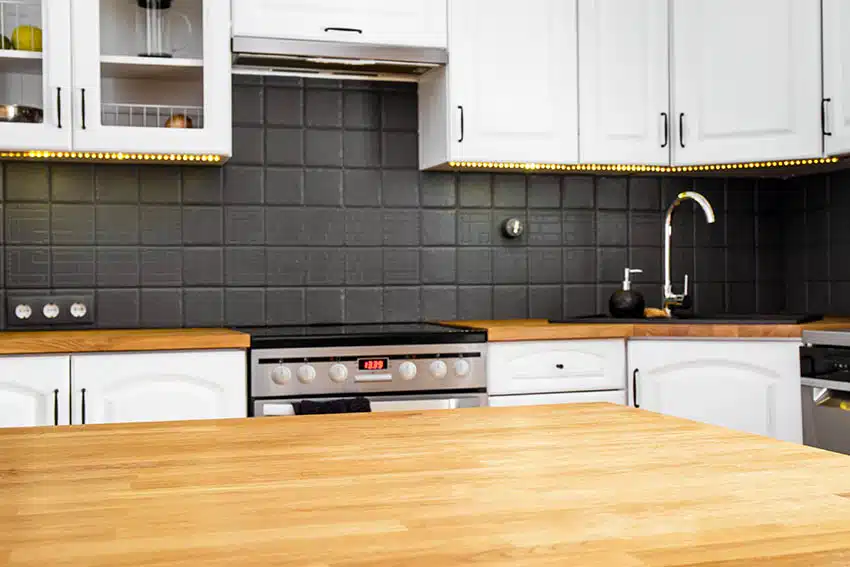 Cons of a cabinet over the kitchen sink
To make sure you will consider all factors that can be vital in your choice, you should also take note of the disadvantages you will face once you get a kitchen cabinet above the sink. Here are some cons you should know about.
● May limit the space to work at the sink – Having a cabinet close above the sink may limit the amount of space you have to bring in large pots or maneuver while cleaning.
● Cabinets may be in the sink splash zone – Having cabinets too close to the sink can cause problems with splashes from water of during the clean-up of pots and pans.
● May collapse when weight is miscalculated – Unlike traditional cabinets, overhead cabinets are connected to the kitchen ceiling or walls and do not have the support of the floors.
This means that the material's durability is even more important so as to handle the weight of all the items you plan to keep inside the furniture. And if the cabinet cannot handle the weight, it can be dangerous.
● Might not be for all – If your family is comprised of members of varying heights, this might not be a good option, especially if everyone likes having a go at cooking. Cabinets installed over the sink are not for everyone since some may not be able to reach every area of the furniture.
● DIY-friendly but requires skills – With precise kitchen cabinet measurements needed, building the cabinets on your own can be challenging and if you're not confident with your skills, you might as well rely on the help of the experts to do the job for you.
If you build it wrong, you might end up having a cabinet that won't be able to hold the weight you want it to handle. And your cabinet can land on top of your head.
With these pros and cons to consider, you will be able to decide if you can make do with all of these drawbacks and identify all the benefits to be worth the hassle that comes with it.
Cabinet Above Sink Designs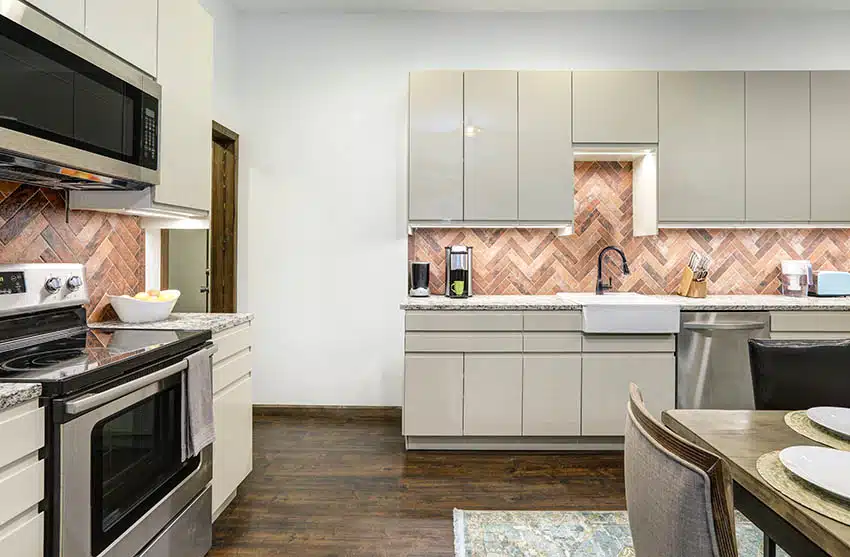 Cabinets above the kitchen sink can be both functional and stylish. Here are some design features to consider when choosing cabinets for this area:
Size: The size of the cabinet should be proportional to the size of your sink and the surrounding space. Pay careful attention to the clearance between the bottom of the cabinet and the sink to ensure you have enough room to adequately wash large items.
Style: You want to choose a style that complements your overall kitchen design.You can go with either matching cabinets or contrasting against the base cabinets with great results.
Material: Cabinets above the kitchen sink will depend on your desired style. Choose cabinets that match the same materials as the base cabinetry unless you have an interior designer to help you select the right materials.
Storage capacity: Consider what you will store in these cabinets and choose one with enough storage capacity for your needs. This is oftena harder to reach
Lighting: Adding lighting inside, below the cabinets can provide additional illumination for tasks such as washing dishes or preparing food. Light above can enhance the overall look and feel of the room.
Hardware: Cabinet hardware can add an extra touch of style to your kitchen design. Go with handles or knobs that match the other fixtures, such as faucets and appliances.
It's a good idea to completely avoid installing a full sized cabinet directly above your kitchen sink if you don't have the proper amount of clearance.
The extra space you may gain will often be hindered by the lack of room you have to move items in to the sink and reach the area for cleaning up.
Proper kitchen cabinet placement is a vital consideration to keep your kitchen functional and safe at the same time. If you've chosen to install them on top of the sink, you can be as creative as you want in terms of design as long as you keep the technical aspects of the cabinets in mind.
You can choose a traditional-styled wooden cabinet with curves and slopes and stain color to match your lower cabinets or use a different color for contrast.
Cherry and mahogany would be great options but make sure they are securely fastened and your walls can hold these authentic and natural wood to avoid disaster.
Kitchen Cabinet Height Above Sink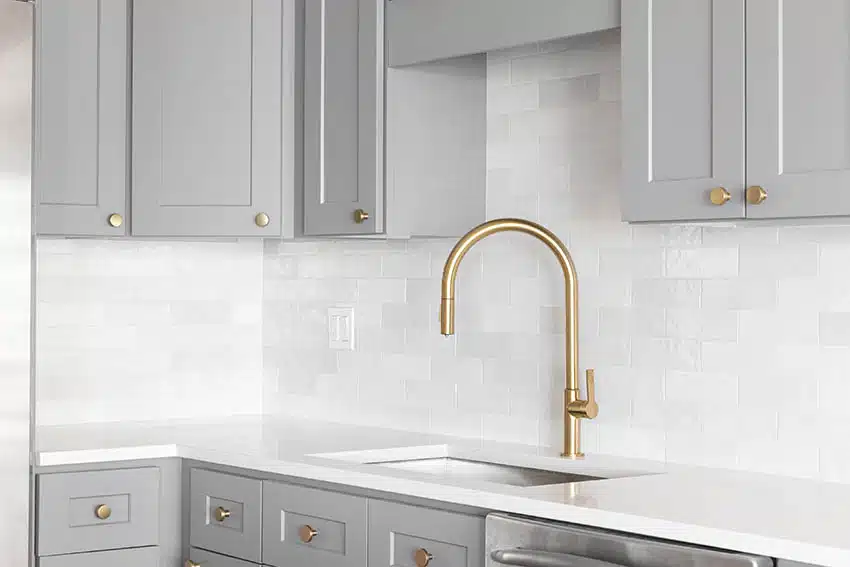 More than just the emphasis on the weight, another accurate measurement you need to be meticulous of is the height of the kitchen cabinet, especially when considering the general size and vertical space of your kitchen.
Most often, your cabinet's height will be dependent on the height of your countertop and sink. It will also be the deciding factor whether your cabinet will have enough space and headroom in the long run.
While it depends on your needs and preferences, the height of your kitchen cabinet will also depend on other factors, including where it's positioned and other elements that surround it. In this case, the kitchen sink will be the main factor affecting the height of the cabinet.
If you have a taller sink and more space in between the sink and the cabinets, chances are you will be having less headroom and so less space for your kitchen cabinet.
While there may not be a required measurement (since it would e up to your needs and preference for storage space), most cabinets installed over the sink hang around 24 to 35 inches above. These are the same measurements that cabinets over a stove have.
Normally, the minimum amount of space a cabinet can hang over the sink measures approximately 12 to 16 inches, which can accommodate 26 to 39 inches tall cabinets. This amount of space can be quite limiting and is not recommended.
This will be very important if you have a lot of stuff to keep in that storage space. And while most can reach over 7 feet, if you design your cabinets to hang at 96 inches, you will need a stool or stepladder to access the top shelf. So choose the height of your cabinets wisely.
The good thing about cabinets above the sink is that you can adjust their height accordingly. It is ideal to consider the top cabinets to match the surrounding cabinets so that they won't look out of place or imbalanced.
This means that if you increase or decrease the top height of the cabinets above the sink, make sure to do the same for the cabinets next to them so that they will have the same height. A staggered kitchen cabinet design can work in some instances, but it is not always advised.
Above Kitchen Sink Cabinet Ideas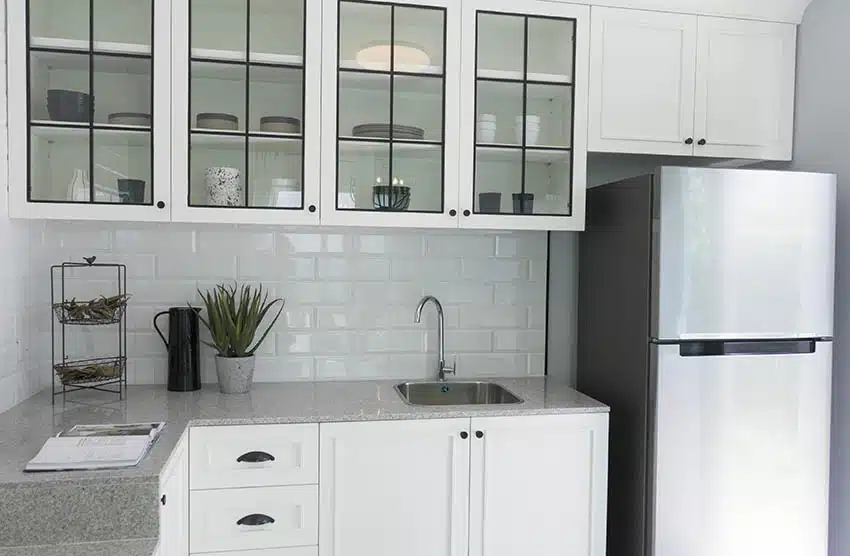 After deciding on a cabinet over the kitchen sink, the next thing to do is to really spruce it up. And to accomplish these, there are many ways you can introduce to your kitchen both for functional and aesthetic purposes.
While the arrangement of the kitchen can deliver the glam and elegance you desired, here are a few more options you can do for your kitchen cabinets.
● Consider open shelving – If you want to give your kitchen a lighter and airier vibe, going for open shelves instead of the usually boxed cabinets can help.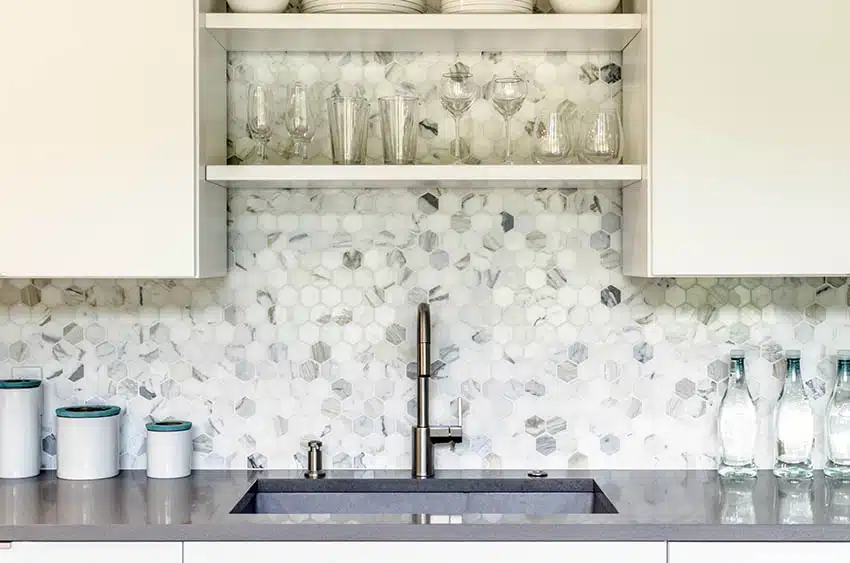 If you choose shelves, make sure you know that all items you keep on them will be exposed to humidity. And despite the elegance, you need to keep all items organized in an aesthetically pleasing way since you can't hide them on open shelves. Add a houseplant in the mix to give your shelves a refreshing feel to them.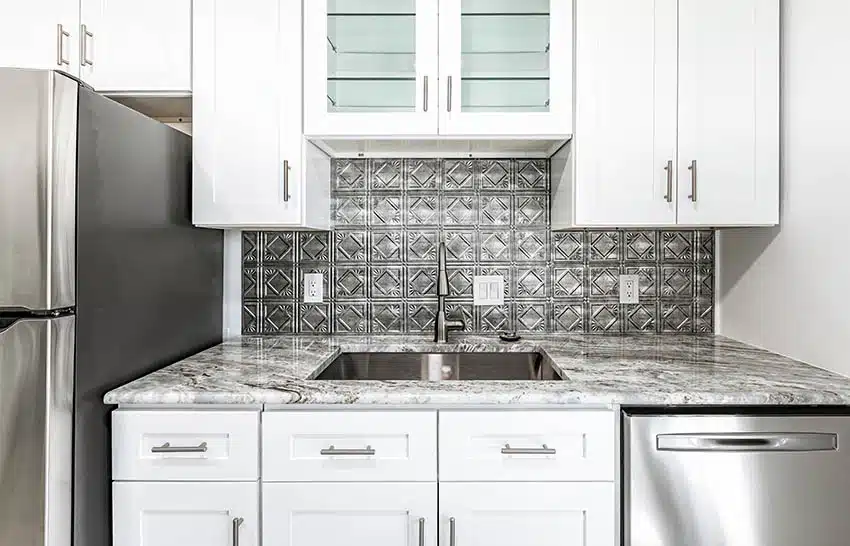 ● Replace traditional cabinet doors with glass fronts – If you value elegance and sophistication but still want to keep your items secured in a cabinet rather than exposing them to open air, you can just replace the cabinet doors with glass ones.
This offers many benefits besides the aesthetic side since you get to safely keep your things in a cabinet and at the same time be able to see what's inside so you won't have to dig in to look for items. Similar to open shelving though, make sure you keep everything organized since they can be seen from the outside.
● Totally remove the cabinet doors – Open shelves can be a bit too much but if you like the accessibility that the shelves offer but don't want to fully expose everything, you can choose to take off just the cabinet doors instead and keep the frame for added security.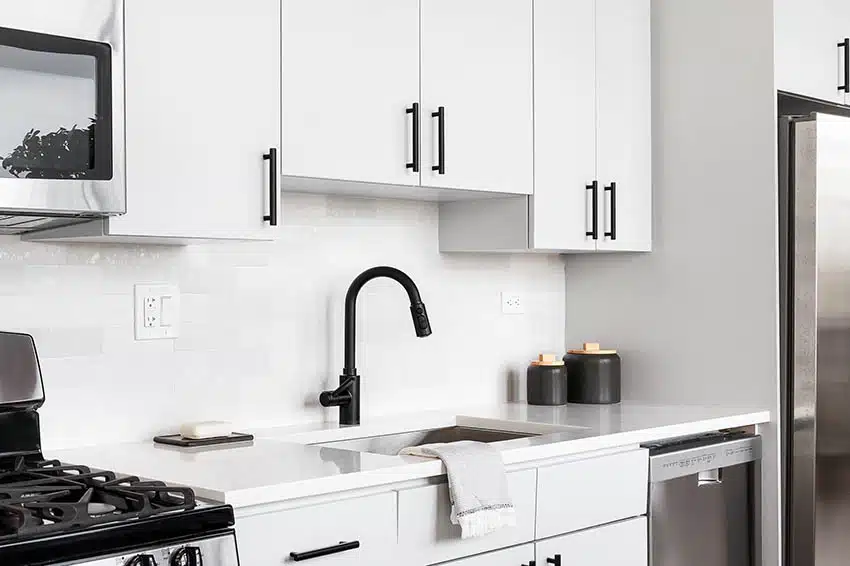 ● Match the cabinet paint color with the wall color – One way to add to the visual value of your kitchen is to match colors appropriately.
Painting your cabinets in colors that can match your walls will be an incredible way to elevate the look of your kitchen. It will add more layers and texture to the mix, whether you're going for a monochromatic color scheme or a contrasting one.
Sprucing up your kitchen to include a cabinet over the sink can be a big improvement, not just in terms of appearance but also in maximizing the storage space. It will help you make the most of your kitchen's headroom while at the same time adding a visual value to the mix.
For more content like this see our gallery of kitchen windows over the sink.