See the different types of drawers including designs like dressers, cabinets, rolling, stackable and more, with their benefits, opening designs, materials & slides.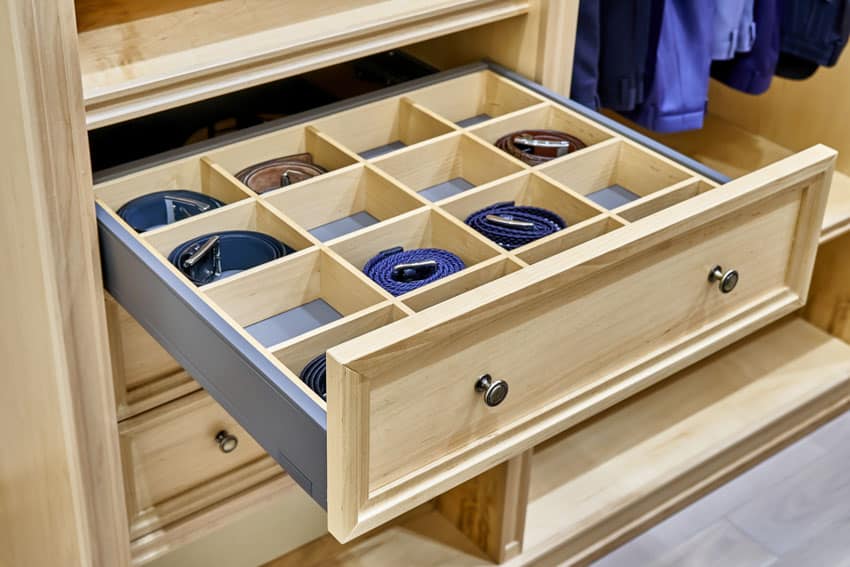 Drawers are very useful for storing different household items. You can use every available cubic space from back to front, side to side, or top to bottom thanks to the drawer's usual full-extension and three-dimensional abilities.
Moreover, drawers are a great place to keep little to medium-sized objects of odd shapes and sizes that cannot be stacked. Also, the interior of drawers protects the objects that are kept there from damage and hides many cluttered objects from sight.
However, the overall construction is everything when it relates to drawers. Drawers must be durable and long-lasting enough to store your belongings and endure everyday wear and tear. The underlying drawer box's construction and movement within a piece of furniture are essential in determining how long it will survive in your house.
In fact, there are various types of drawers from which to choose to ensure that you will get a drawer that meets your needs and preferences.
Different Types of Drawers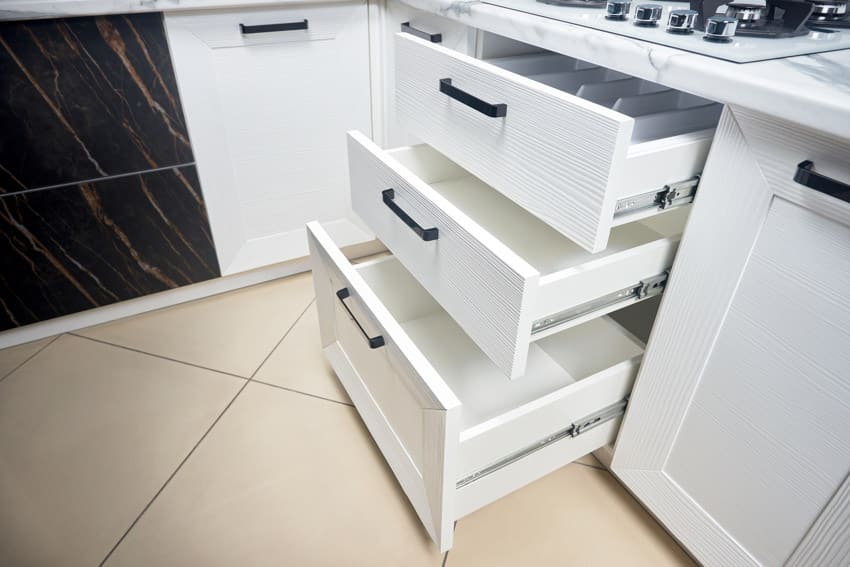 Here we share the different drawer types found in a variety of furniture design.

Dresser With Drawers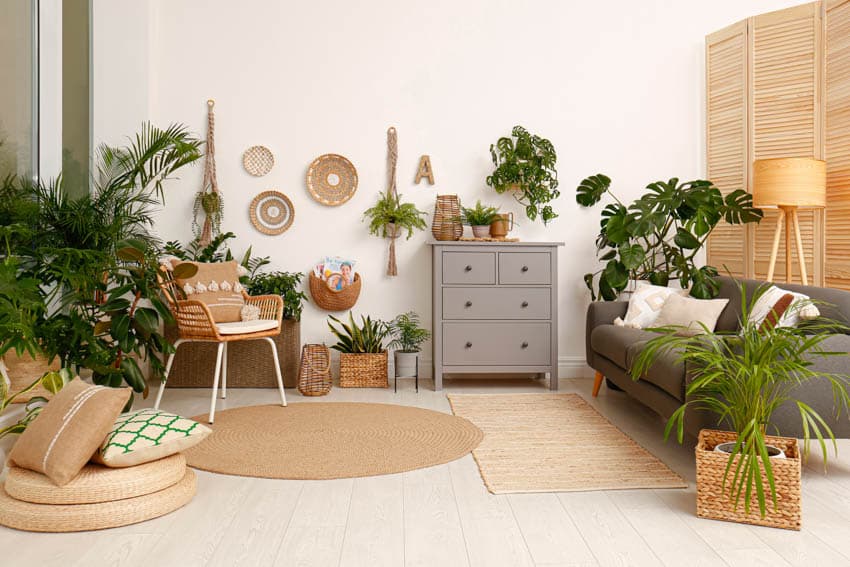 Dressers are among the most frequent types of drawer-equipped pieces of furniture. Dressers are commonly used for storing various products. Types of dressers with drawers can be used to keep clothing, documents, gadgets, and other items.
It should be possible to store the products effectively in the dresser with a drawer as long as you can use it securely. These storage dressers with drawers are incredibly appealing and are frequently found in people's bedrooms.
Moreover, a dresser with a drawer usually looks classy and has a great dark wood finish. You do have a few alternatives, though, since you may find dressers with drawers in colors dark brown or black. These various color choices work nicely, thus you would be happy regardless of which one you choose.
Normally, a dresser with six drawers will provide you with plenty of storage space. They can accommodate a lot of objects and are quite deep. This size of dresser with drawers is typically used to store garments although it can also be used for different purposes.
However, before making a purchase, you should take time to make sure that the size of the dresser with drawers you pick will meet your demands. Although there are dressers that are larger, the ones with six or seven drawers will certainly satisfy a lot of people.
Cabinet With Drawers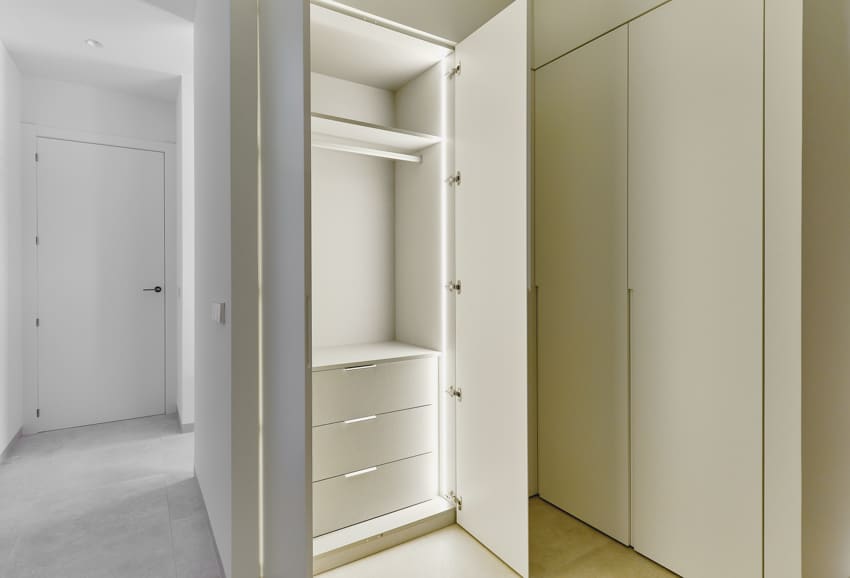 There are numerous cabinets in the marketplace that include various storage drawers. Nevertheless, drawers are not the initial element you consider when you are thinking about buying a cabinet. You would only anticipate that the cabinet will have conventional drawers and sufficient storage.
Cabinets with multiple drawers will allow you to keep everything you want – from electronic devices, books, keys, socks, and many more. It can also assist in preventing an overly cluttered atmosphere in your home. You may typically find a cabinet that perfectly complements your sense of style and boasts a delightful overall appearance.
Aside from that, you can locate a cabinet that has a few drawers if you want the benefit of having a functional drawer alongside your cabinet. There are a wide range of applications for storage cabinets with enough drawers.
Furthermore, a storage cabinet with drawers is also often appealing. It often has plenty of organizational space in addition to two to five storage drawers.
You will adore this drawer selection if you want a piece of furniture that will improve the visual quality of your house while giving you more storage solutions. It has a great aesthetic and fits nicely in most types of room in a house.
Rolling Drawers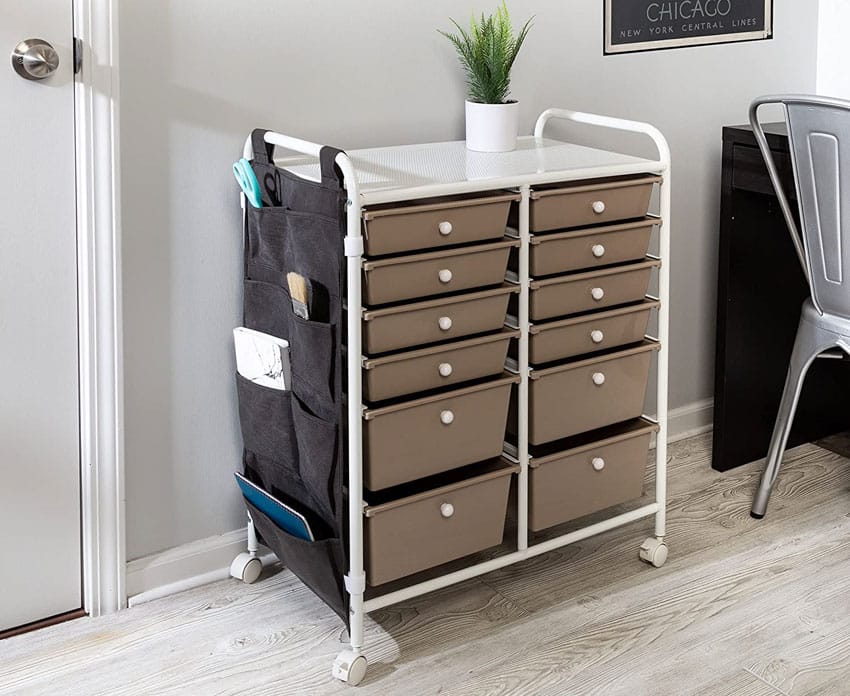 See this rolling drawer set at Amazon [sponsored link]
Rolling drawers are yet another popular drawer alternative that can be extremely useful. Drawers like these are useful if you need to store things as quickly as possible. You will be capable of placing everything in the drawer and subsequently roll it whenever you want to.
This enables you to simply reach the objects in the drawers and shift them from one location to another. There are different kinds of rolling drawers on the market today.
The most inexpensive form of rolling drawer is identical to plastic-made stackable drawers. A rolling drawer constructed in this form is not merely stackable, but every aspect of it will be comparable to the plastic drawers you see in the store. In fact, the vast majority of plastic-made rolling drawers are affordable, making them an ideal option for homeowners with limited budgets.
Whenever you examine the standard rolling drawers at the shop, you will notice that they have multiple compartments. Hence, you will be able to keep a lot of items in each of the drawers. These kinds of storage drawer systems are also very common in schools, particularly in classrooms.
Moreover, a rolling drawer is incredibly simple to roll from the cabinet whenever you need to access documents or specific pieces of equipment. This will be a great drawer choice for anybody who needs to maximize their storage space.
Stackable Drawers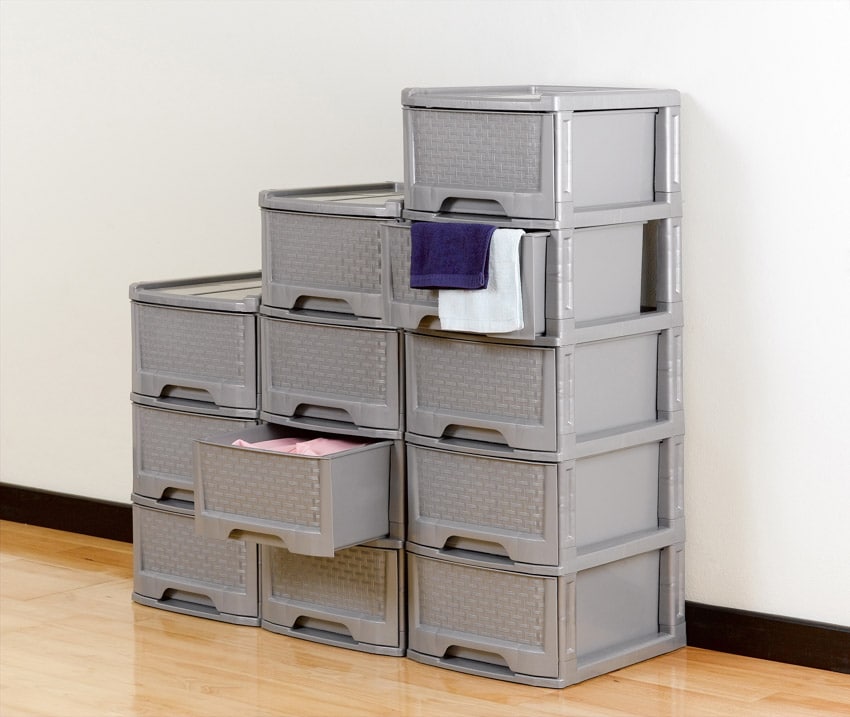 Among the most practical storage drawer alternatives available are stackable drawers. These drawers are often stackable and have a large capacity. These drawers are occasionally used in lieu of a traditional dresser. They have the ability to hold onto garments or other random items. Indeed, these stackable drawers are extremely simple to handle.
With stackable drawers, you can finely stack each drawer component on top of each other, forming storage towers that can be expanded as needed. Furthermore, you can fit them almost anywhere you want to. Homeowners frequently use stackable drawers in their tall closets. Some users stack them high and arrange them in a bedroom like a standard dresser.
Additionally, stackable drawers are not expensive. If you do not have enough money to spend but want a decent drawer, this is probably your best option.
Bed With Drawers
You will find purchasing storage solutions that can be put into your bedroom very beneficial since virtually all of the valuables homeowners have are located in a bedroom. If you are living in a compact place, you might want to maximize the usage of your floor space, and this is where a bed with drawers comes in handy.
Individuals who reside in condominiums and apartments should consider the size of the furniture pieces they use. If your bedroom is tiny, you may not have enough space for a standard dresser.
Fortunately, buying a bed with built-in hidden drawers would be the answer to this problem. There are different types of beds with multiple drawers incorporated into the frame that you can find in many home improvement stores. This would be a fantastic spot to store your other clothes as well as many of your daily necessities.
The design of beds with drawers looks very fashionable. You will surely appreciate having a wonderful bed that also features useful storage systems. The frame is also normally available in two bed sizes for your comfort – you can choose a queen or a king bed, and both will have abundant drawer space.
Bench With Drawers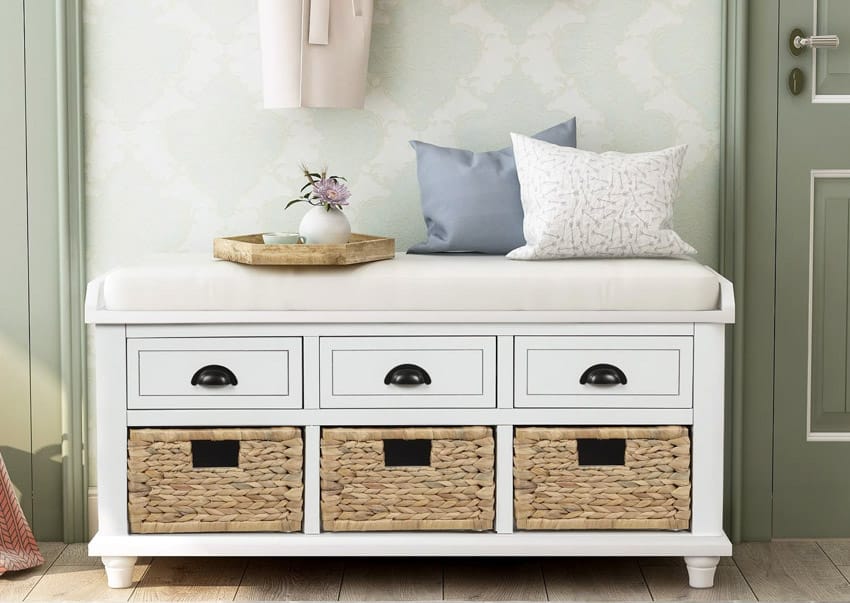 See this bench with drawer at Amazon [sponsored link]
There are types of benches on the marketplace that include drawers. On the patio, many individuals choose to put benches with drawers. This can end up becoming a terrific place to keep some of your outside stuff out of the environment. In addition to providing you with multiple drawers to place your belongings, this bench with drawers will appear stylish for your home exterior.
In addition, this bench with drawers is typically built of solid hardwood. Thus, it will be robust enough to be utilized outside without any potential durability issues. This type of bench may give pleasant seating in your outdoor space while also fitting in with your porch without looking awkward. If you like, you can use these benches with drawers indoors as well.
There are many benches with drawers commercially available that you can look at. If you are looking for a bench that would complement your indoor space, you can surely obtain one. Getting a bench with drawers will be handy as you can maximize its functionality.
Filing Cabinets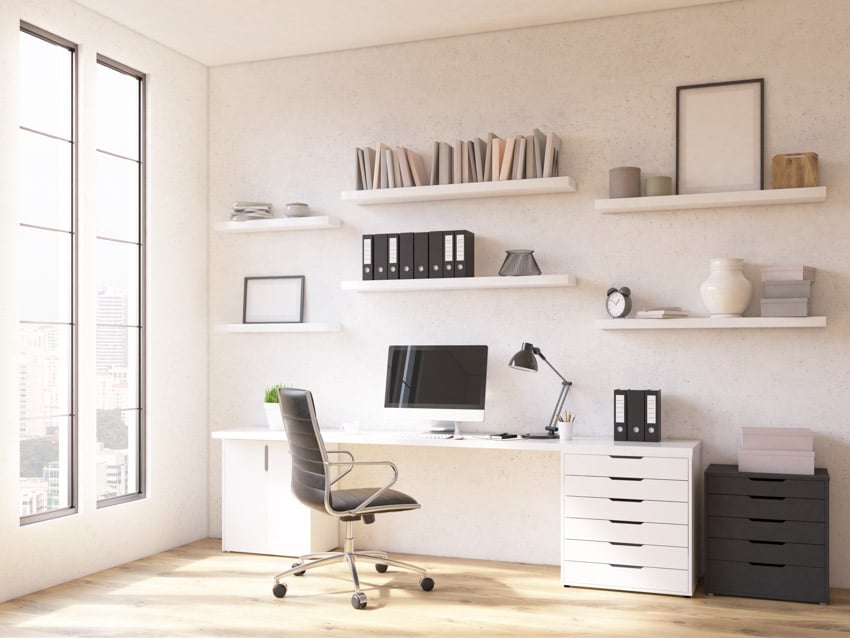 Although filing cabinets might not come to one's mind when talking about drawers, they are, in actuality, very similar to standard drawers. A filing cabinet, on the other hand, is primarily used to keep critical files and papers. Having a filing cabinet in your house will work great if you need to save a few items or if you need to keep a large number of documents.
Owning a filing cabinet is very important, especially if you need to store sensitive documents like tax certificates, medical data, as well as other paperwork safely. There are many various designs of filing cabinets to pick from, but almost any of them will surely satisfy your needs and preferences.
A filing cabinet is a simplistic and common storage solution, but plays a major role in storing valuable items. A gray or white vertical cabinet is the usual look of a filing cabinet. But if you want something that will look great in a minimalist home setting, its standard appearance is already a good choice.
However, you can find more modern-style filing cabinets that feature a classic black metallic style. They will also complement the majority of home decors. Furthermore, there are filing cabinets that would appear great not only in your private office but also in your bedroom.
If you need to store additional crucial paperwork, you might take into account acquiring this type of filing cabinet. Remember that there are numerous filing cabinet sizes and design selections you can pick from.
You can get something significantly larger if a three-drawer filing cabinet set is insufficient. Filing cabinets can be quite tall, and they will keep all of your records protected. Before you buy, you should determine your measurement requirements and the number of files you need to keep so you can be sure to choose the right type of filing cabinet.
Coffee Table With Drawers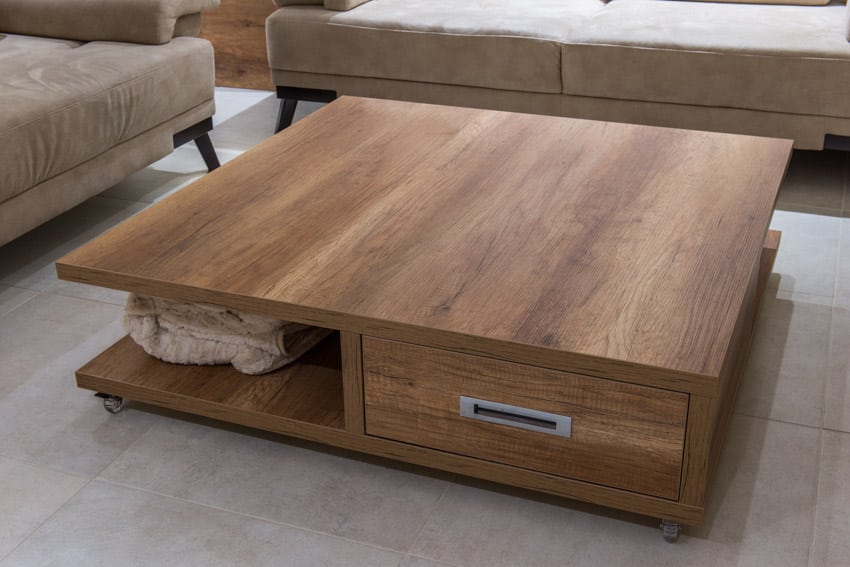 It is not difficult to find a good-looking coffee table with drawers online or in home improvement stores. Coffee tables are frequently found in the living rooms of those who enjoy drinking coffee. Such types of tables are also useful for displaying decorations, and several people put magazines on top of them.
However, if you get a coffee table with drawers, you can increase its usefulness even further. This will enable you to keep a variety of items within the drawers. Many individuals store various household things on coffee tables with drawers. It can even be used to store necessities like pens, newspapers, as well as charging cords.
You will appreciate having a coffee table with drawers in your home. It has an exceptionally nice appearance while remaining affordable enough to be functional. It will provide you with some extra storage space in the form of drawers, which will be beneficial if you want to optimize the purpose of your coffee table.
However, some individuals might think that the storage provided by these drawers is insufficient. This drawer might not be able to meet all of your demands, but it can be a decent complement to your storage solution when it comes to keeping your small valuables organized.
Kitchen Island With Drawers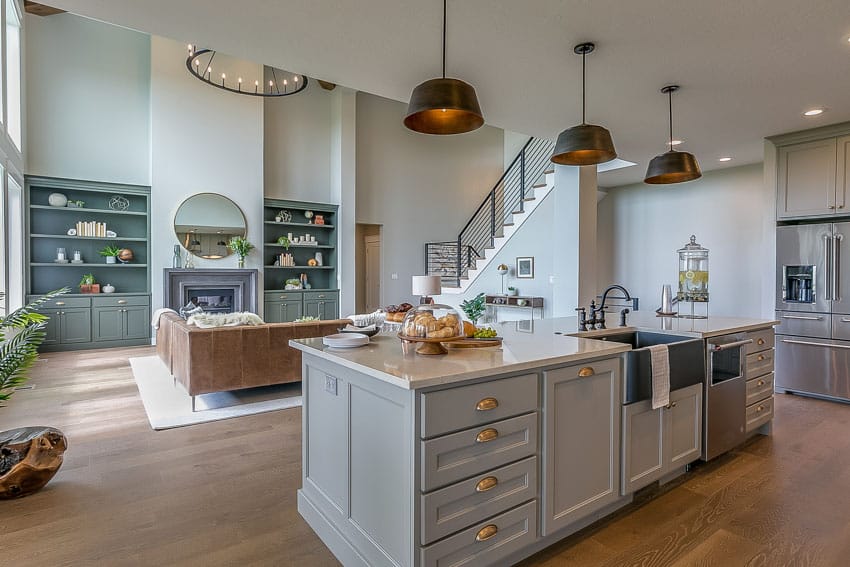 A kitchen island with drawers can completely transform your entire food preparation space, providing you with a useful additional surface in your busy kitchen as well as some discreet storage. Truly, a kitchen island with drawers will be very functional to keep your kitchen clutter-free.
Although the drawer can always have the same color as your kitchen cabinets, the finest results are usually obtained when you choose a unique drawer color that contrasts with them by being darker or lighter.
Kitchen Corner Drawers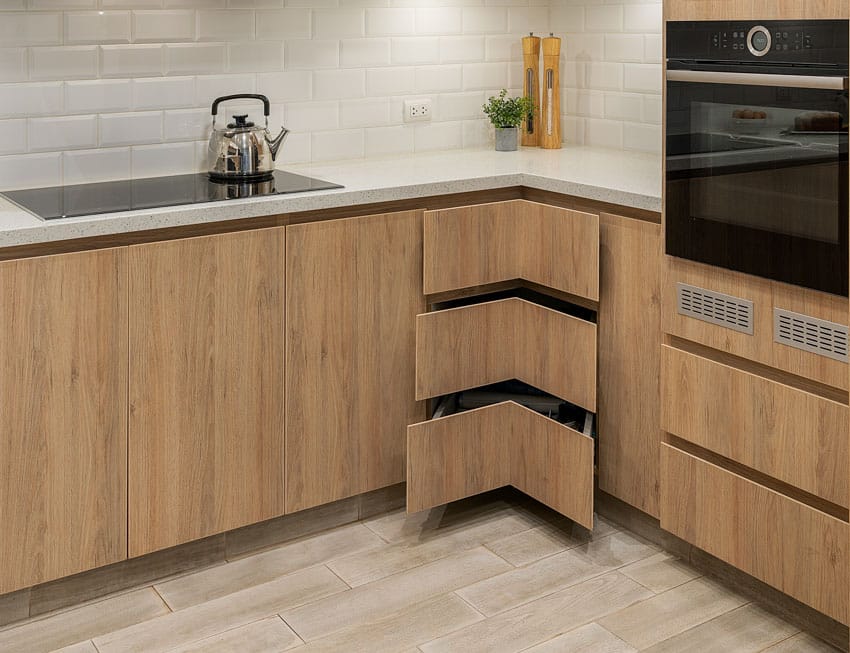 A kitchen corner cabinet is a type of cabinet with drawers that have been carefully constructed to maximize the functional space of a corner. In recent years, kitchen corner drawers have emerged as one of the most prominent corner cabinets for kitchen design.
It is one corner storage area that appears to be two cabinets, each with three drawers. Nevertheless, it is a single cabinet with drawers linked at a 90-degree angle. Because they are not the standard shape and size of kitchen cabinets, these kitchen corner drawers are usually separated into smaller sections.
These drawers can be used to store various kitchen utensils. Some pullout drawers are large enough to accommodate a spinning lazy susan design to make accessories easier to access.

Under Sink Drawers (U-Shaped)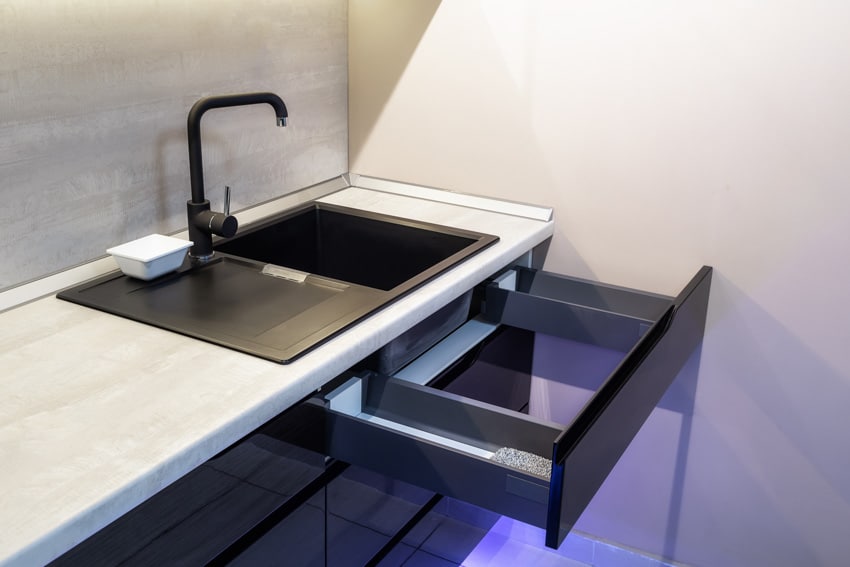 Under-sink drawers are an excellent method to maximize organization and storage in a small space by providing quicker access to objects. Drawers in this space, made to fit around heavily loaded pipes, can provide extra storage space.
This storage unit usually has two drawers, with a U-shaped upper drawer to integrate ergonomically around the sink basin. The upper drawer's tall edges are ideal for keeping cleaning products upright, while the bottom drawer can be utilized to store other cleaning supplies.
The drawers may be taken out to make it simpler to view objects in the rear of the cabinet and to make it quicker to recognize whenever the supplies you put inside the drawers are getting short.
Appliance Drawers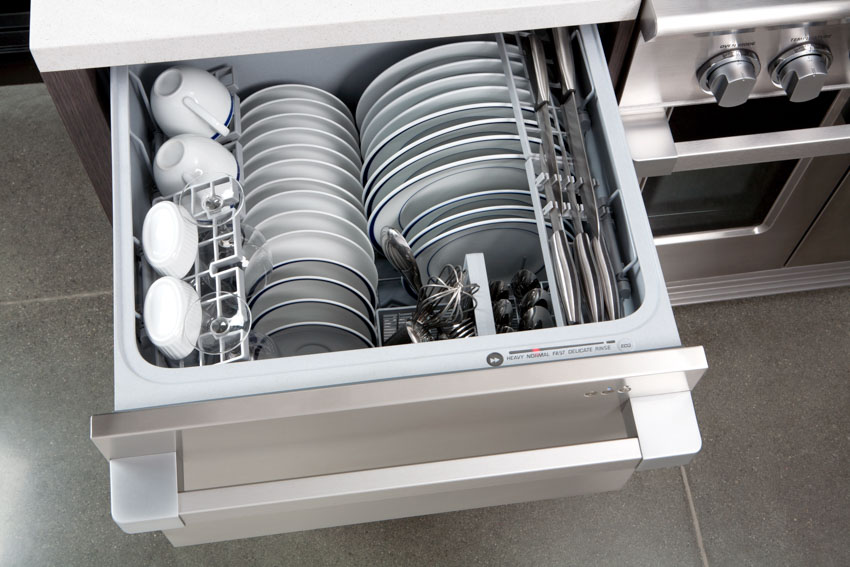 Appliance drawers may appear unnecessary to some, but they can be immensely helpful to others who value the security of their appliances. They contribute to the kitchen's adaptability to its residents and operations.
From refrigerator and microwave drawers to dishwasher selections, adding an appliance drawer or two can completely change your family's outlook toward the kitchen. Moreover, appliance storage drawers can be used to enhance the kitchen triangle by bringing the meals you prepare or the capacity to heat things closer to your meal preparation locations.
Appliance drawers are a plus if you want a more well-coordinated kitchen design, where appliances mix effortlessly with your kitchen cabinets. They are simple to alter according to the style you want as they are sleeker and more refined, and they are intended to blend with kitchen cabinets.
Built-In Cabinet Drawers
A built-in cabinet drawer is often recessed with the cabinet framing. Cabinets with built-in drawers provide a more upscale and elegant appearance. However, built-ins are usually expensive, whether you purchase them or have them customized, since they take more time and expertise to create.
Built-in cabinet drawers, regardless of how you construct them, offer the added benefit of increased durability as they are usually sunken on the wall. This feature is vital if you have active little children who enjoy climbing on top of your cabinets.
Ottoman With Drawers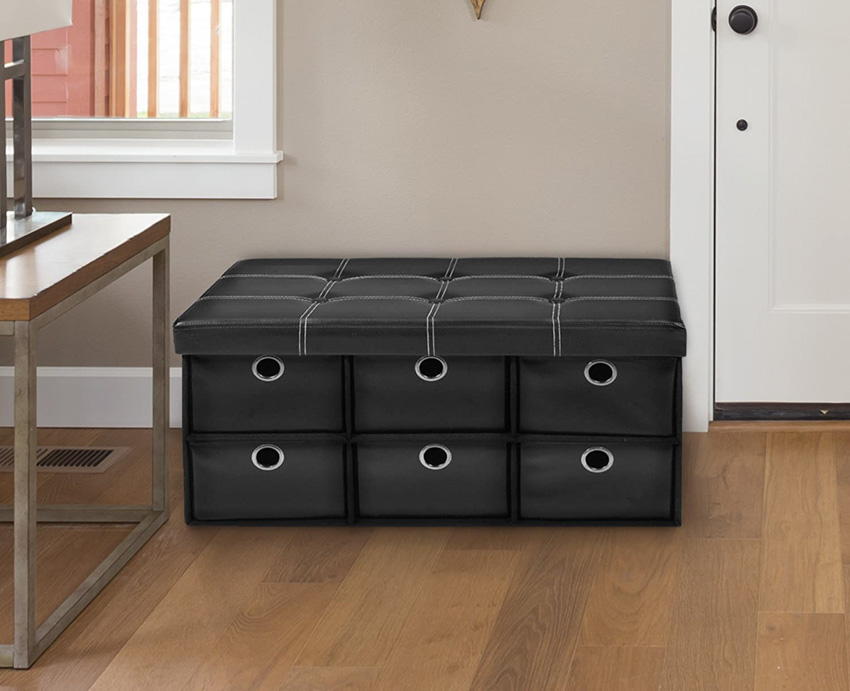 See this ottoman with drawers at Amazon [sponsored link]
You may also come across an ottoman with storage incorporated directly into it. These ottomans are oftentimes empty on the inside, enabling you to withdraw the cushion and store other items.
However, these types of ottomans differ from those with storage solutions in that they literally have drawers. Moreover, an ottoman with drawers will be extremely useful for individuals who need to keep books or other things in their lounge room.
It additionally helps to prevent your living area from appearing cluttered by providing a convenient place to store extra things. An ottoman with drawers must be simple to use and can serve as a footrest or an extra seat in addition to being a storage solution.
Divided Drawers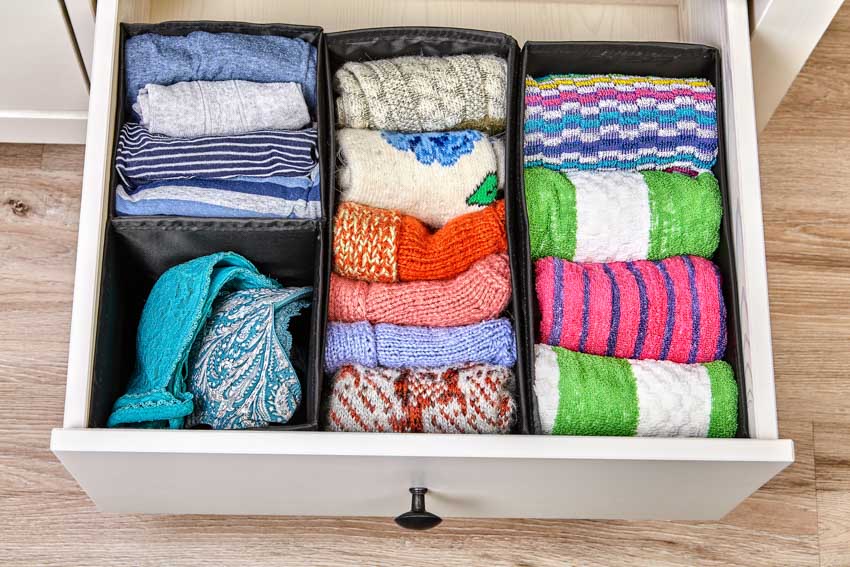 Divided drawers can be a drawer of any kind. It can be made out of wood, metal, or plastic, although wood is the most common material.
Divided drawers, as the name suggestions, have divisions. Inside these drawers, there are wooden, metal, or plastic dividers that separate your belongings, allowing you to categorize your things efficiently.
Pocket Drawers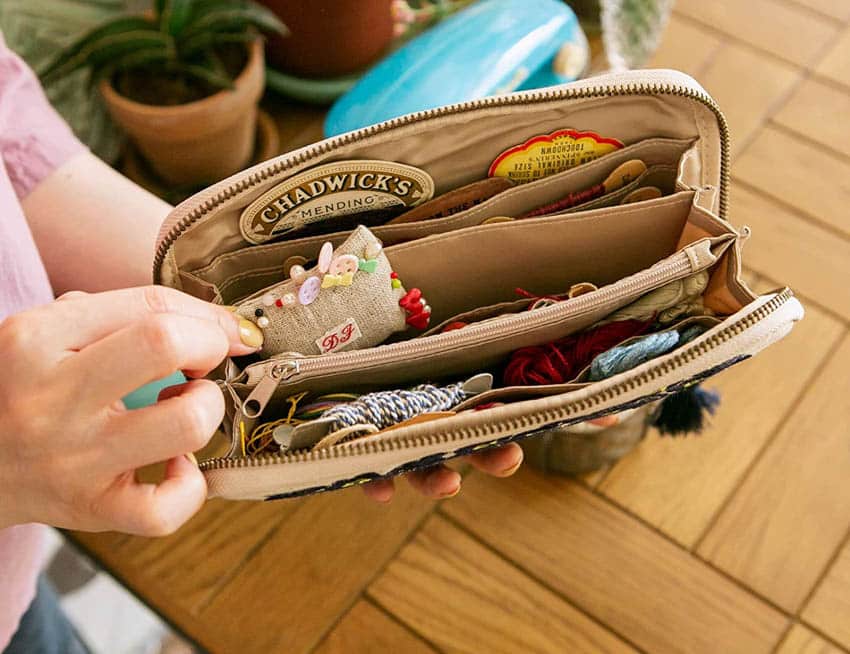 See this pocket drawer at Amazon [sponsored link]
A pocket drawer is similar to a smaller pouch that may accommodate all of your small belongings such as business cards, keys, earphones, and other small objects. This portable drawer unfolds accordion-style and is the ideal size for card storage.
To provide for thorough organizing, the interior is frequently divided into four sections. A pocket drawer, although small, offers sufficient space to contain things with extra thickness like your lipstick.
A pocket drawer can also be used to store tiny items such as keys and accessories inside your bag so they will not get lost amid the other contents. To make it easier to find your small essential belongings, you can keep them all in your pocket drawer.
Shoe Drawers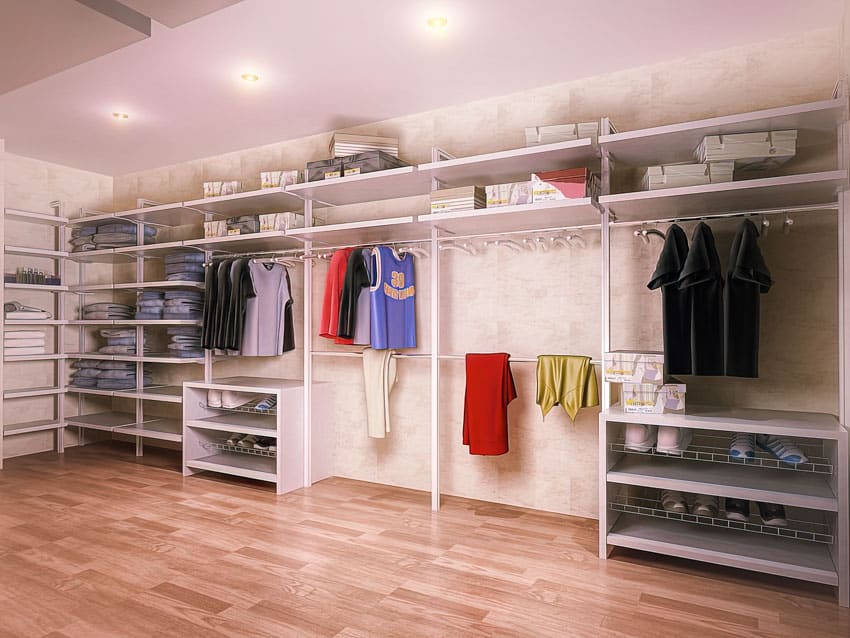 Shoe drawers are often larger in terms of depth and height when compared to standard drawers because multiple shoes are supposed to fit in these drawers.
These drawers are primarily used for storing your shoes. Using shoe storage drawers is a very convenient storage solution, especially for those homeowners who have a massive shoe collection.
USB/Power Charging Drawers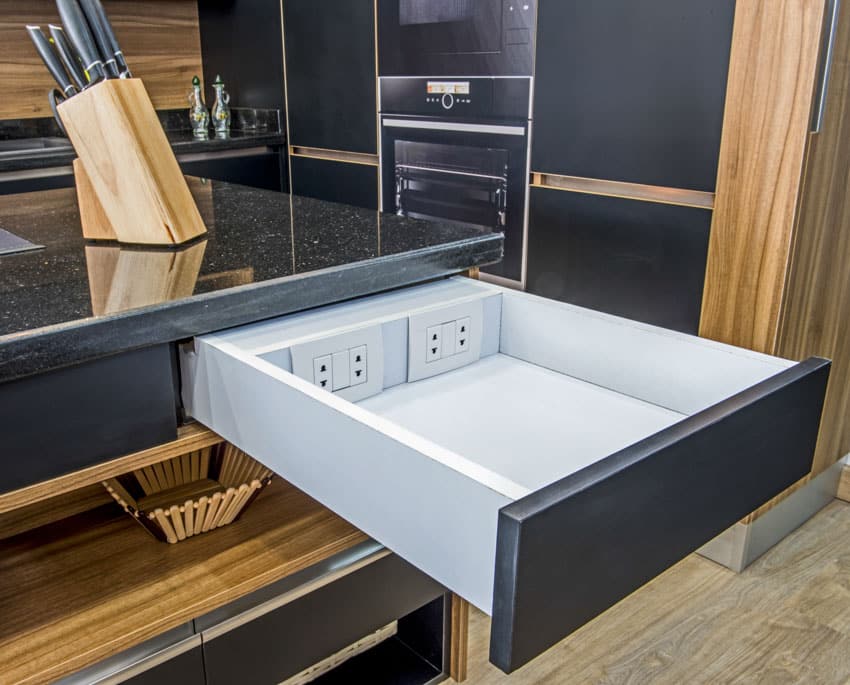 USB and power charging drawers are usually integrated under or beside your bedside table. These drawers are very useful whenever you are in bed and want to charge your devices without standing up.
Moreover, USB and power charging drawers are quite compact in size, usually enough to accommodate certain devices such as mobile phones and tablets.
Junk Drawer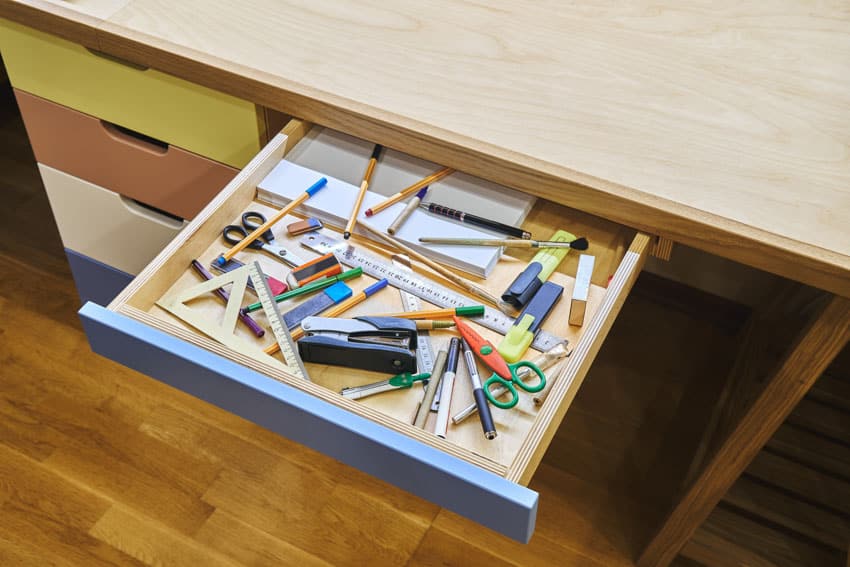 A junk drawer is a sort of drawer used to store little, random, rarely useful items with little to zero monetary worth but potentially have considerable sentimental value.
Junk drawers are commonly seen in household kitchens, attics, or basements, although they can be found everywhere there is a cabinet or storage solution such as home offices or workshops as well as commercial workspaces.
Drawer Opening Types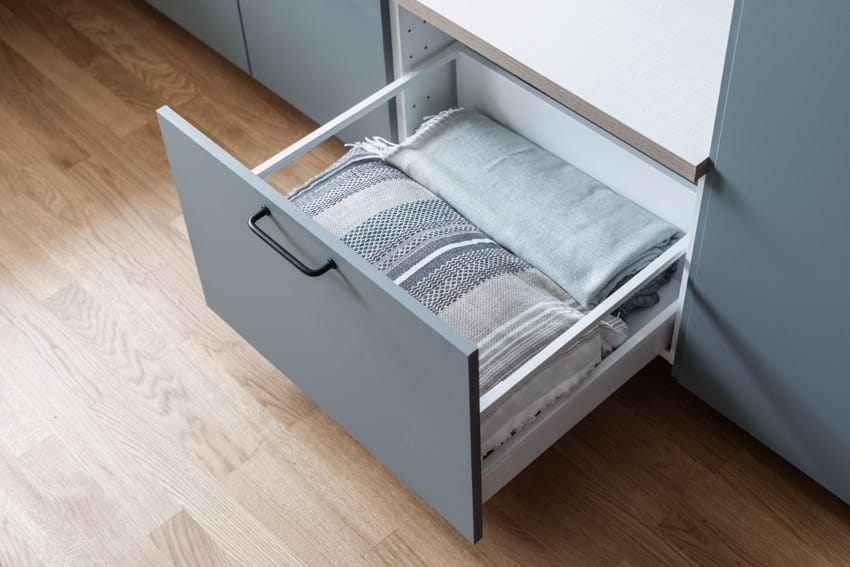 Pull Tab Drawers: Tab drawer pulls are contemporary and minimalist cabinetry hardware that can add a personal touch to your drawers, cabinets, and other pieces of furniture that offer storage space. Such drawer pulls are installed so that they are scarcely noticeable on the edge of a drawer.
Serrated Drawers: Drawers with a serrated edge feature an easy-to-open and easy-to-close opening. For kitchen cabinets, in which you might wish to store sharp utensils like knives, serrated drawers would be ideal.
Secret Drawers: A secret drawer is a hidden compartment that has the ability to obscure items. Its presence or access is not immediately apparent. This is often used to hide valuables like money or jewelry within a standard drawer.
Tray Drawers: Tray drawers have inserts that look exactly like a tray. With this tray feature, you can either maximize the space inside your drawer or protect the quality of the main surface of your drawer.
Segmented Drawers (Tray & Divided Combination): Segmented drawers use tray-like inserts, but they have divisions to partition your objects effectively. This feature will help you separate your objects and categorize them accordingly.
Drawer Materials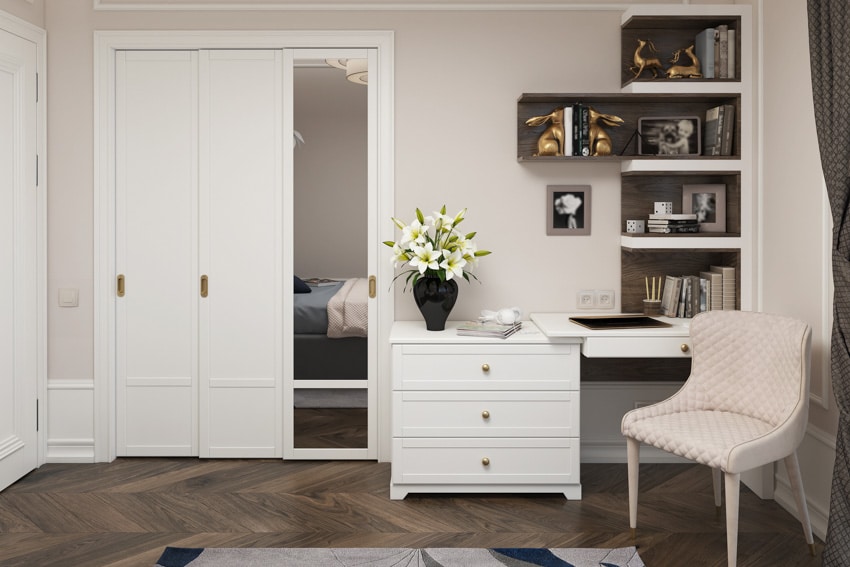 Fabric Drawers: Lots of people use fabric-based drawers since these compact storage drawers are simple to install in your cabinet and can assist in keeping you organized. Additionally, they can make lovely accent items for your bedroom.
Fabric drawers have the ability to appear more sophisticated than plastic drawers. Although they are not nearly as cheap as plastic drawers, they are still generally affordable. Purchasing fabric-made drawers will be less expensive than purchasing a dresser. It kind of sits in the middle of a standard dresser and a set of plastic drawers.
Using fabric materials turns out to be an extremely great choice if you need to solve storage issues but want a drawer that looks chic and is inexpensive. This set of drawers will stand out in your space as it is available in a wide range of vibrant fabric colors.
Wood Drawers: Substandard wood drawers basically use particle board due to its low cost. Particle board is a type of low-density fiberboard created by compressing wood fragments such as sawdust together into sheets with glue and high temperatures.
To achieve the finished drawer appearance, it is frequently covered with a laminate. However, although this material is a common material option for drawers, this may not be a long-term material choice for your drawer.
Softwood: The only softwood that can be used to make quality drawers is pine mainly because of its affordable price. It is particularly treasured for its many knots, which add a lot of character to a farmhouse kitchen. Pine drawers without blemishes are also available.
Indeed, drawers made out of softwood like pine are a lovely and timeless option. It complements both modern and classic settings due to its soft texture, seamless pattern, and soothing hue.
Hardwoods: Due to its inherent beauty, durability, toughness, life expectancy, and flexibility for diverse styles, hardwood has become the most common material for drawers.
Nevertheless, this distinguishes it as a luxury drawer material. Hardwood drawers can fit a variety of appearances and designs based on color, texture, structure, and grain.
Maple wood is preferred for drawers because of its consistent appearance and toughness. Cherry wood is also favored because of its magnificent mellow tones and fine-grained quality. Both are incredibly hard and resilient, with the ability to endure dents and scratches better than other hardwood species.
Wood Composites: A wood composite or wood veneer is a thin piece of solid hardwood that has been scraped or sliced from a log. To make wood-like boards, wood veneers then adhere to plywood, medium-density fiberboard (MDF), or particleboard.
Wood drawers made out of wood composites are usually thin, light, and provide a wood appearance without the high price of genuine wood. You can use wood composites to create a unique and lovely wood front for your drawers.
Plastic: Plastic-made drawers are common since they are inexpensive and easy to find. Numerous people prefer plastic drawers because they are impervious to mildew and termite infestation.
Additionally, plastic drawers are less expensive than wooden drawers. Lightweight plastic drawers also make it much easier to relocate them. However, plastic drawers might be flimsy and not secure.
Sheet Metal: Sheet metal storage drawers are designed to withstand large loads and the most difficult DIY jobs. It provides a secure and protected location to keep your equipment and tools.
Drawers made out of sheet metal help keep your outdoor spaces, such as your garage or workshop, uncluttered and organized while maintaining a sleek appearance and durable construction.
Types Of Drawer Boxes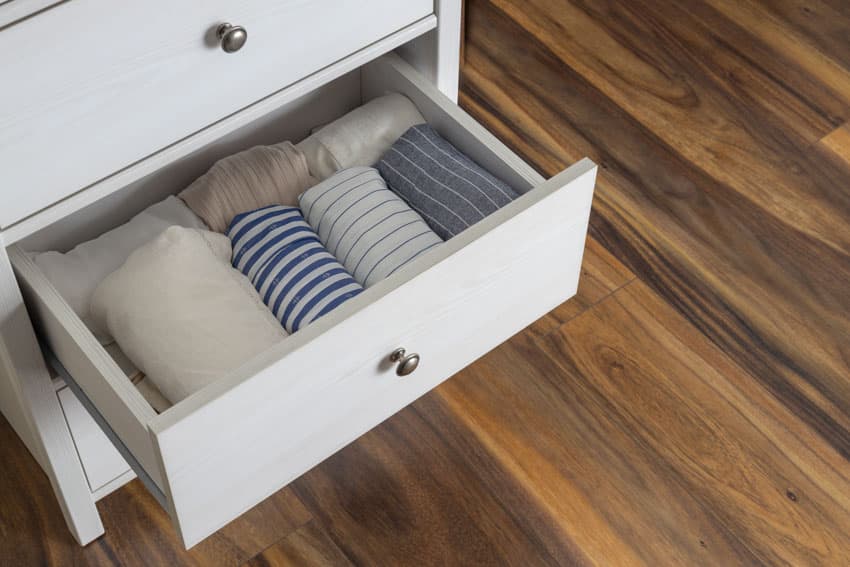 Shallow Drawer: Shallow drawers, as opposed to deep drawers, offer a lot of possibilities and can be a very good purchase for your home.
Shallow drawers are quite versatile due to their total size and may be installed in almost any place in the home. You can place different valuables such as your phone, jewelry, accessories, keys, and many more in a shallow drawer.
Shallow drawers may fit almost everywhere – from the kitchen to the pantry to the bathroom, your wardrobe and bedroom, and even your personal office. However, shallow drawers may not be able to accommodate bulky objects.
Deep Drawer: A deep drawer is usually seen in kitchens due to their ability to store different kitchen accessories including bulky ones. A deep kitchen drawer has the benefit of allowing you to store lengthy utensils, which implies you will not be restricted to spoons, knives, and other dinnerware.
Because you have increased space, you will be able to store additional large objects that are conveniently accessible as you will not need to reach them further. Deep drawers can also be found in shoe drawers since their considerable depth allows them to hold more shoes.
Tall Drawer: You may expand the amount of storage space in your home by employing tall drawers. This can be quite advantageous for any area, especially a small bathroom or kitchen. A tall drawer can help you save room in your house, and it can also help you store various tall objects like mops and the like.
Vertical Drawer: Vertical storage drawers, as opposed to horizontal storage drawers, can be particularly helpful for holding objects that should be positioned vertically such as brooms, vacuums, and many more.
Narrow Drawer: Narrow drawers are space-savers. They will not consume that much space in a room. Hence, narrow drawers are only ideal for small-sized bedrooms, workspaces, kitchens, or living rooms. The drawback, however, is that you can only store a limited number of objects in it.
Types Of Drawer Slides (Summary)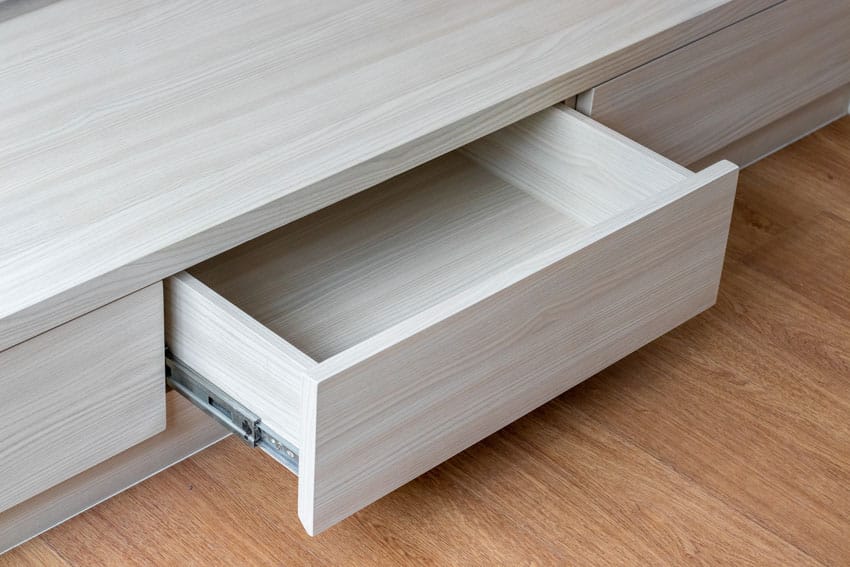 A drawer slide system allows a drawer to glide into and out of the piece of furniture where it is installed. It is a crucial part to making drawers slide smoothly. Without drawer slides, drawers will not be functional.
Side-mount, center-mount, under-mount, ball-bearing, soft-close, roller, Euro, and top-mount drawer slides are among the options that you can choose from. Each drawer is held in place by a series of sliders.
When you take out a drawer, these drawer slides will glide along their respective tracks. Although all drawer slides use the same operating mechanism, all the types of drawer slides have a different feel, cost, quality, longevity, and other attributes.

See more related content in our article about types of kitchen cabinet hardware on this page.