These are the types of ottomans including details about what it is, the different designs, materials, uses, storage options, and tips on how to decorate with an ottoman.

You may have come across the name Ottoman in a few different settings. To begin, concerning a historic empire covering a significant portion of Europe and the Middle East. Second, when individuals are talking about different types of furniture. How precisely do these two items connect, and, more significantly, from a creative standpoint, what exactly is an ottoman, and what functions does it serve?
Although it is most commonly used as a footrest in front of a sofa or chair, it can also serve as a stool or coffee table. This versatile piece of furniture is known as an ottoman. Ottomans are typically in more formal living rooms or parlors.
However, they are also a good choice for family rooms and other areas where people want to kick their feet up and relax. This guide seeks to answer these concerns and concentrate on how and why we can employ Ottomans in the home.
What Is An Ottoman?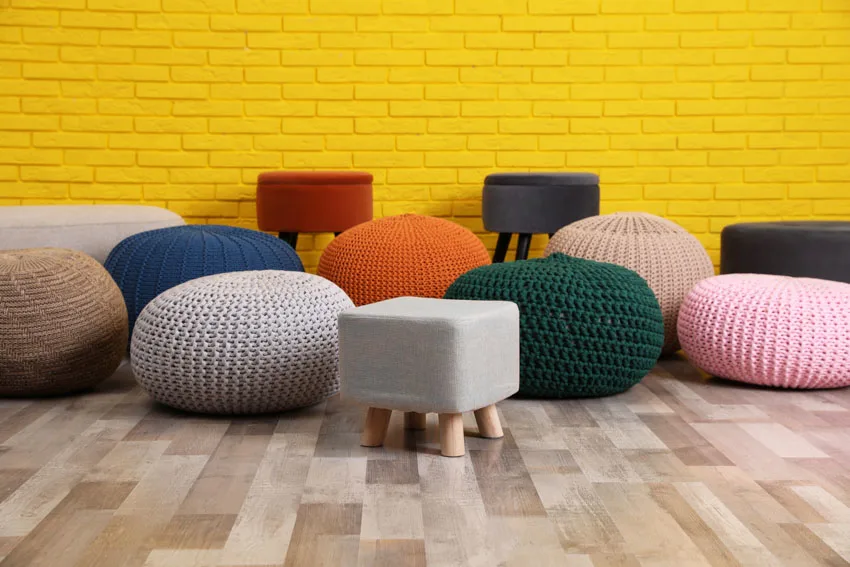 When searching for a new piece of furniture for your house, it is helpful to have a clear idea of what it is you want to find. So, what are we referring to when we say "ottoman"? It's probably an ottoman if it looks like a seat, but it doesn't have armrests or a backrest, and it has a padded cushion perched on top of a sturdy frame.
For the most part, you will want to position your new ottoman either in front of a couch or chair so you can put your feet up while sitting. On the other hand, Ottomans have a way that allows them to take in the weight of a person sitting on them.
You can also use them as additional seating in your home. In addition, an ottoman with a solid top can be used as a coffee table because it is stable enough to support items such as food, drinks, and remote controls. Some even open up, giving you instant storage space for your family or living room.
So, what exactly does any of this have to do with a historical empire? Between the 14th and 20th centuries, the Ottoman Empire maintained sovereignty over a significant portion of Northern Africa, Western Asia, and Eastern Europe. It helped to disseminate ideas all over the world.
Still, its roots are in Turkey, the middle of a vast region home to people who speak various languages. This piece of furniture acquired its name from the Ottoman Empire, which was in Turkey during the 1700s.
At the time, Turkey was also the Ottoman Empire. Ottomans were frequently utilized as seats during that era since they typically included many cushions stacked above them and frequently covered an entire wall where people were unwinding. Over time, the people of Turkey developed a more compact form that could easily fit into the corner of most rooms.
When the French invaded the Ottoman Empire, they found a piece of furniture that served as a footrest and found it pleasant. As a result, they brought the idea back to France with them. Since then, ottomans have gained popularity worldwide as footrests and seating and as tables and solutions for storage problems.
Their interpretation of an ottoman resembled a low sofa without arms stacked to the ceiling with cushions. These furniture pieces are usually against the walls of a room. They eventually became freestanding, added more seats and storage space, shrank in size while simultaneously gaining in use, and changed over time.
The Ottoman is among the versatile types of furniture styles you may use in various settings. You may store things in ottomans, use them as additional seating, or even use them in place of a coffee table.
There are many kinds of ottomans, many of which offer storage possibilities, making them perfect for use as coffee tables. Footrests can also come from more compact ottomans that do not have removable lids.
Ottoman Designs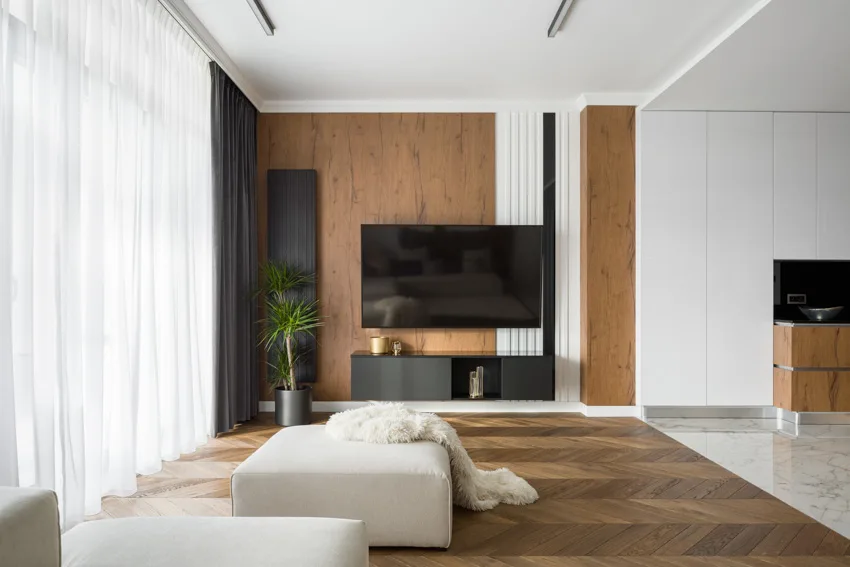 Regarding the shape of an Ottoman, there are no set guidelines. They are typically overstuffed to get that extra-padded look. However, they can have other geometric shapes, such as round, square, or rectangular shapes.
Some of them have legs, but others are primarily a huge cushioned base. Some come equipped with castors for enhanced mobility. Due to the adaptability of their design, they can perform various functions within your home.
Storage Ottoman
Consider getting a storage ottoman for the living room if you're looking for a space-saving solution to store your extra throw blankets and pillows. It is typically square or rectangular and has a lid that can lift off entirely or swing open on hinges to access the contents inside.
Some ottomans with storage even come with drawers perfect for storing smaller items like TV remotes. These are suitable for most living rooms and provide a lot of storage space for things like magazines and throws. Toy storage ottomans can be used as an extra spot to stow extra toys ina child's bedroom.

Ottoman Coffee Table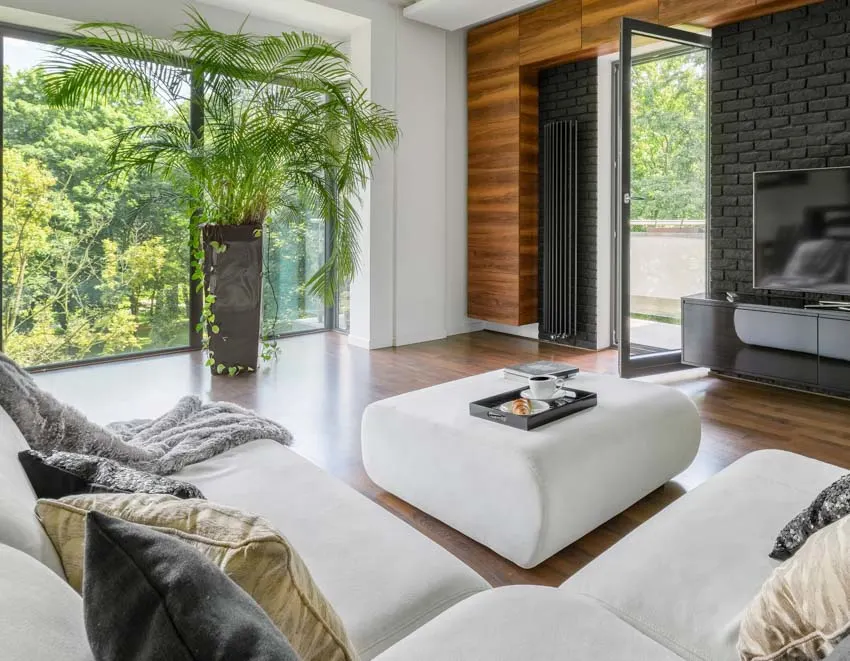 This style of Ottoman is built to be stable and does not have any buttons or tufting on its surface. Instead, it has a smooth, flat top. It can be in any shape imaginable, and its materials will likely be chenille, microfiber, and leather.
These ottomans have ample storage space and are sufficiently flat to use in any environment as certain types of coffee tables.
Glider Ottoman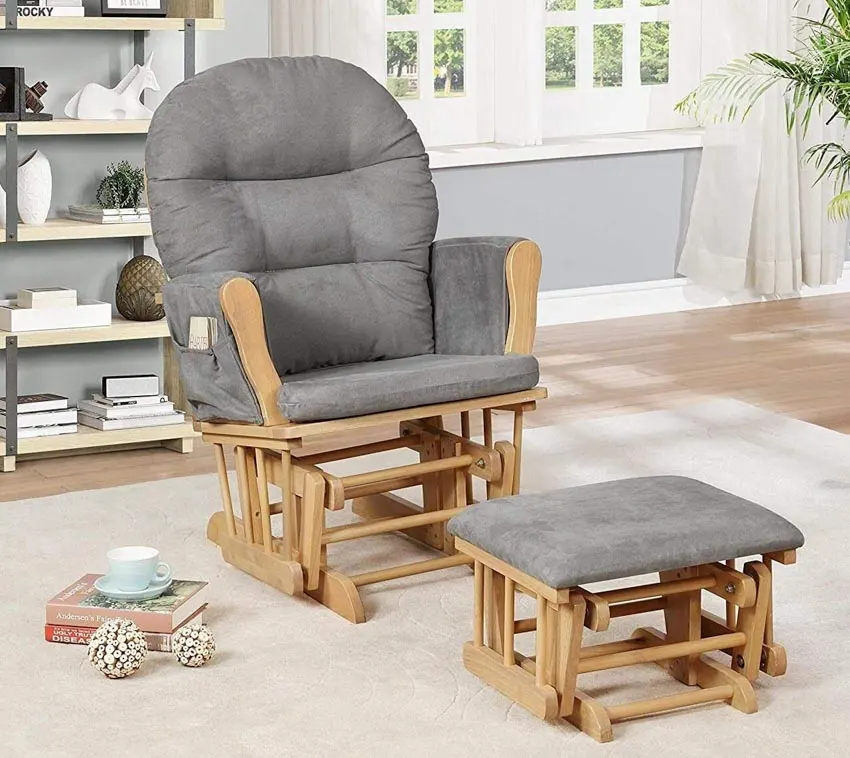 See this glider ottoman at Amazon [sponsored link]
If you have a rocking chair or a glider, you should get a glider ottoman to go with it to have a comfortable place to lay your feet as you glide.
You may install this anywhere in the house where you need a footrest that moves with you while you rock or glide, including a nursery, a family room, or any other room.
Most glider ottomans take a square shape and are in fabric or upholstery designed to complement almost any type of gliding seat. Choose a set if you want an excellent illustration of a gliding ottoman that would look nice in almost any space in your house to get a relaxing chair with ottoman.
Tufted Ottoman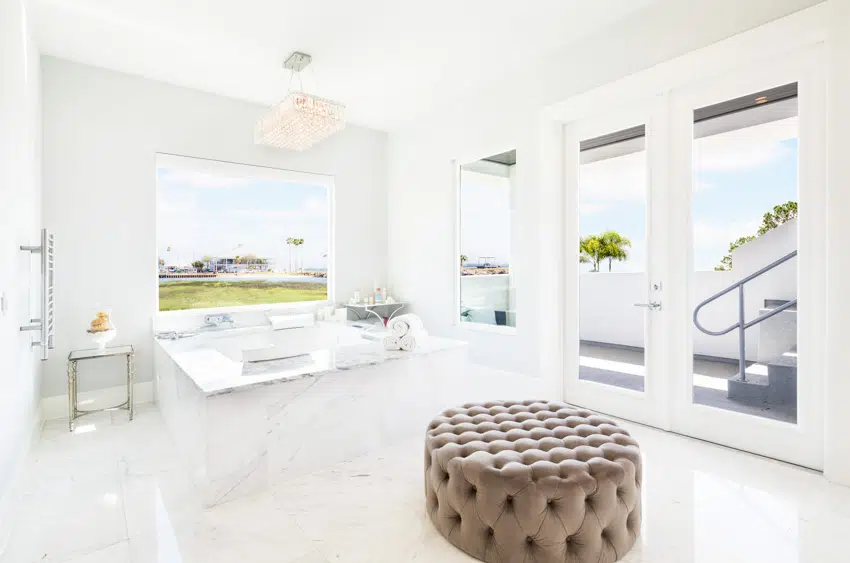 Look for a tufted ottoman if you want one that will complement an attractive decor and have a significant enough appearance to match it.
This design is gorgeous and comfortable, with lots of padding for your feet to rest on as this structure supports them.
Pouf Ottoman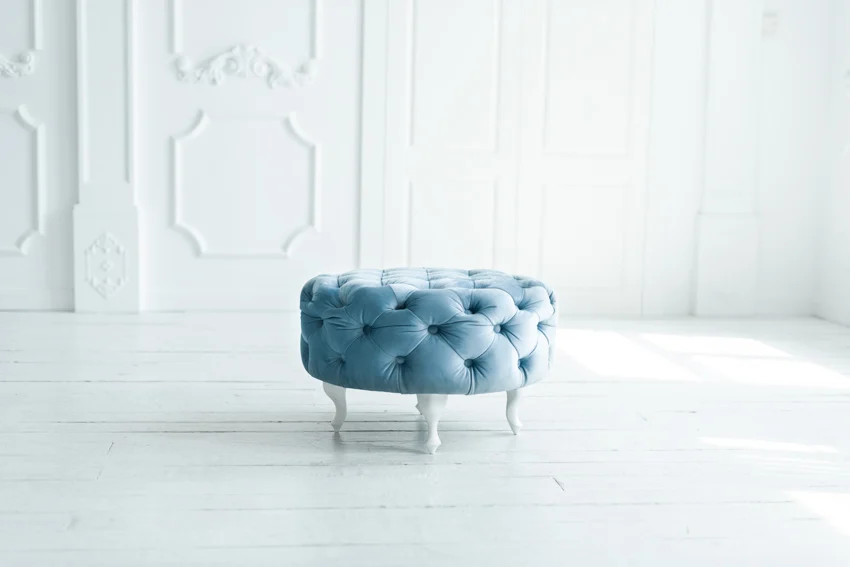 Pouf ottomans are just as fashionable and helpful as other kinds of ottomans; the only difference is that they do not have legs.
Pouf ottomans, often circular, are a lightweight seating choice that you can quickly move around the room. They are also an easy way to add visual interest to the space.
Cube Ottoman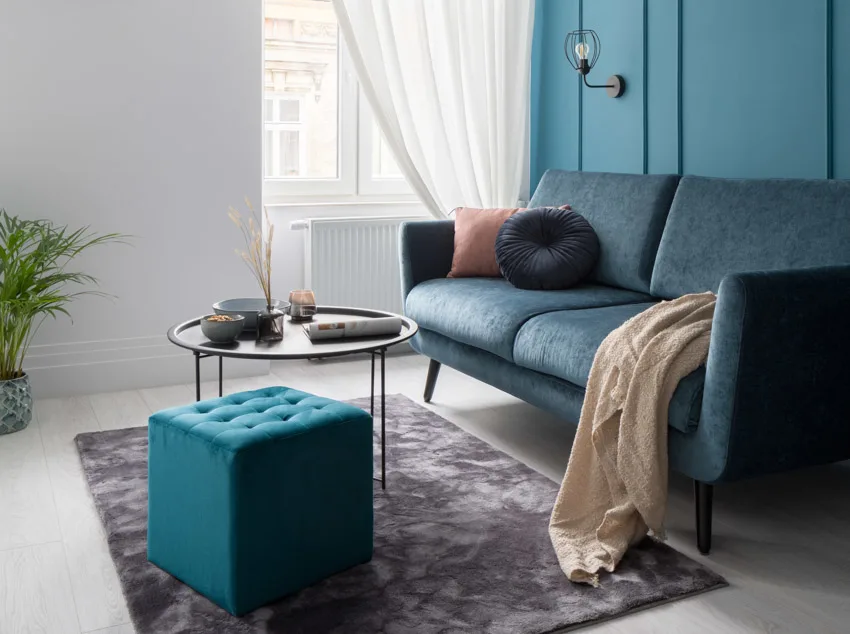 In recent years, the popularity of the cube ottoman has skyrocketed to unprecedented levels. Because of their modular design, several ottomans can be stacked, organized, and repurposed in any way the user sees fit.
These can be found in leather and fabric iterations and frequently have storage space concealed beneath the lid.
Nested Ottoman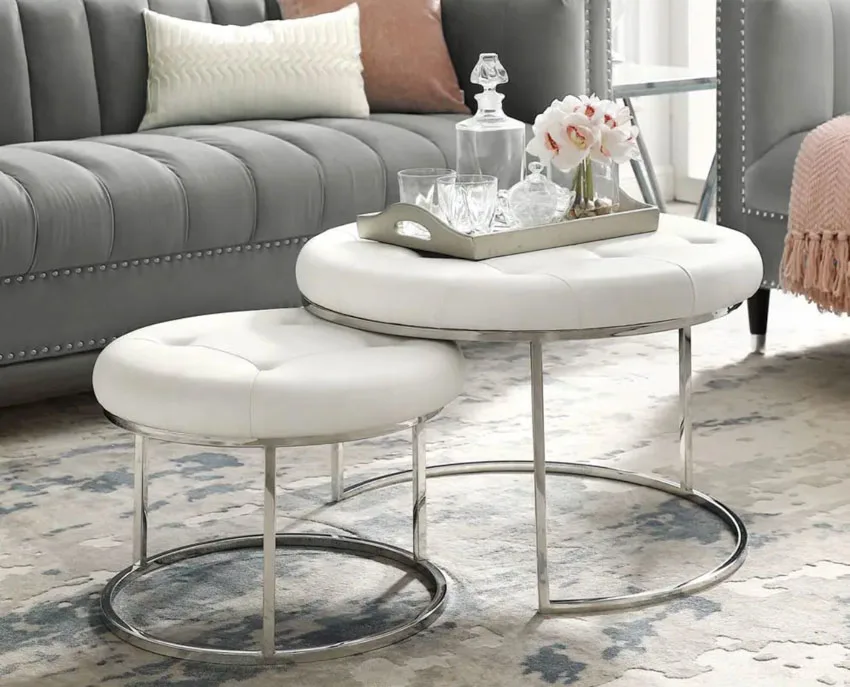 See this nesting ottoman at Home Depot [sponsored link]
Nesting ottomans combine many useful elements in various designs, such as the capacity for storage, the ability for reconfiguration, and the versatility of placement.
The models can have features that enable a large amount of storage, act as a dining table, and an assortment of pieces you can use for feet or seating. For your convenience, you can discreetly stash the smaller parts away during regular use.
Ottoman With Drawers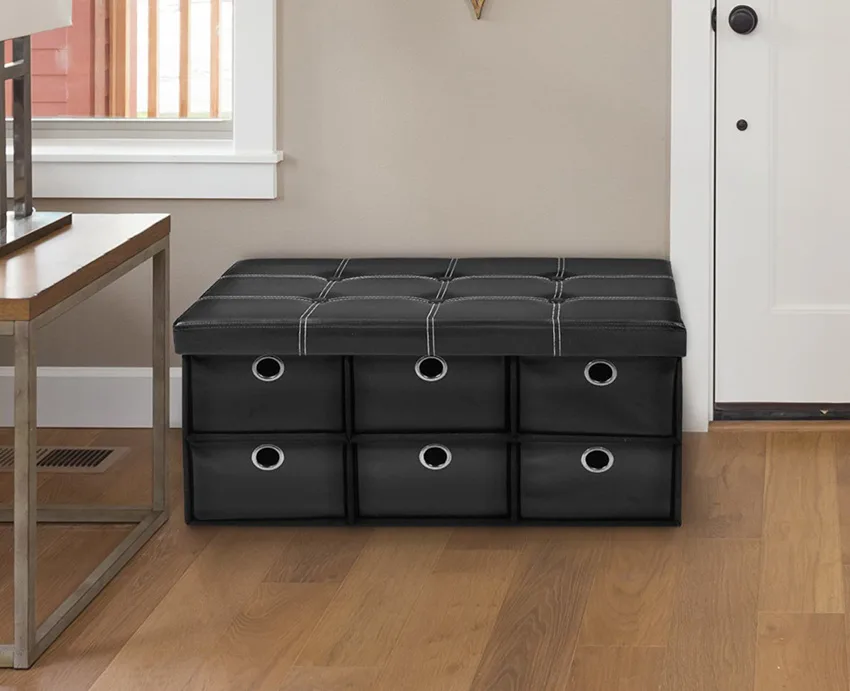 See this ottoman with drawers at Amazon [sponsored link]
Adding a drawer to an ottoman makes for an excellently understated piece of combination furniture since it provides concealed storage options within the context of the larger piece.
It is optional to have the bulky body that is typical of instances when you can put the drawer on top of an ottoman with high legs. These are excellent for holding remote controls and other valuable little items.
Ottoman Bench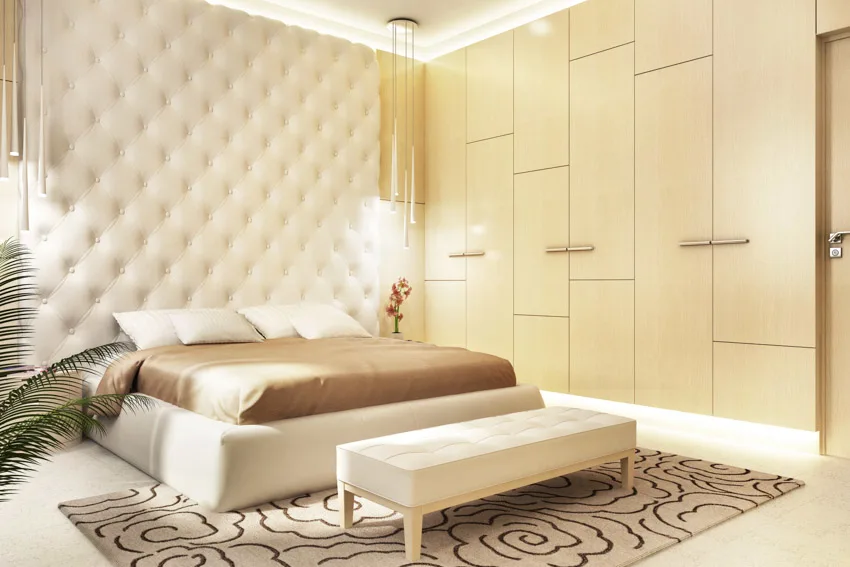 It wouldn't take much effort to convert it into additional seating. Benches can also be in front of fireplaces, in entryways, drawn up to vanities, or tucked under tables for additional seating options. They provide an additional layer and immediate seating for you in a bind.
Ottoman Bed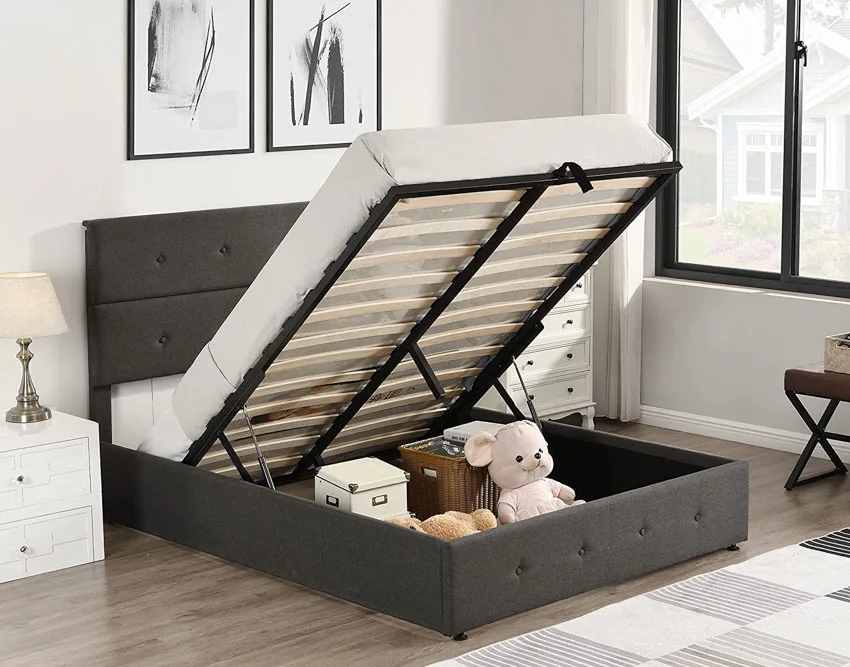 See this ottoman bed at Amazon [sponsored link]
A bed frame that allows the top frame (where the mattress sits) to pull away from the base. It is also called an "ottoman bed." Assisting you in lifting and securely lowering the base is typically a hydraulic system that provides this assistance.
You are free to store whatever you like in the easily accessible space at the base of the bed, whether it be bedding, clothing for the off-season, or anything else.
Ottoman beds, despite their name, only sometimes adhere to the aesthetic design of the Ottoman Empire. This era featured ornate wood carvings, tassels, and regal colors such as red and gold.
However, the furniture of the Ottoman Empire, which typically had concealed storage space, inspired the design of current ottoman beds. It is because modern ottoman beds take their name from this period.
Ottoman Table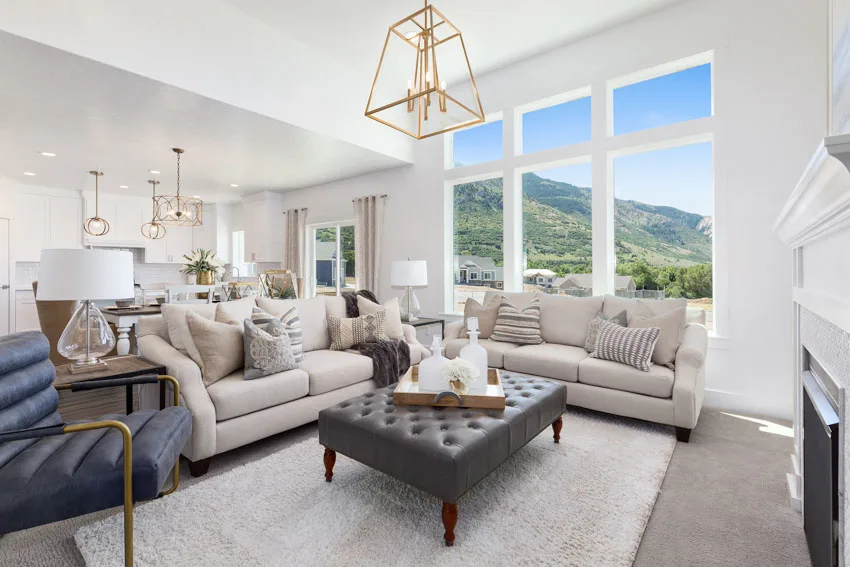 An ottoman table is an excellent choice if you want a coffee table with storage space. An ottoman with an open shelf is an excellent choice for anyone seeking a place to store a collection of books, periodicals, or ornaments. It allows you to show off your most prized possessions whenever you see fit.
Outdoor Ottoman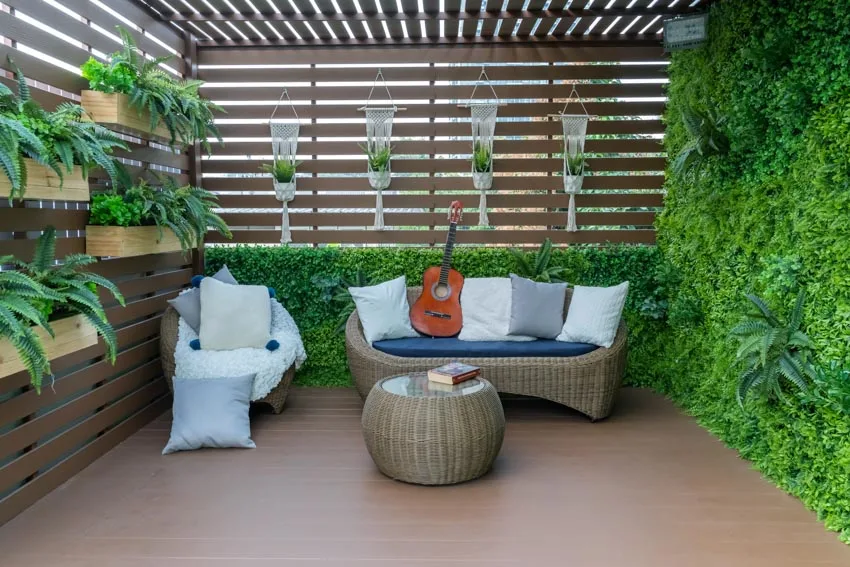 You could use many different things to prop your feet up while you're outside, but none of them are nearly as comfortable as an outdoor ottoman.
These are wonderful in that they are specifically designed for use outside, with a weatherproof exterior and a robust design. They are crafted from the highest quality materials for outdoor use and can serve as a chair or a footrest.
Ottoman Shapes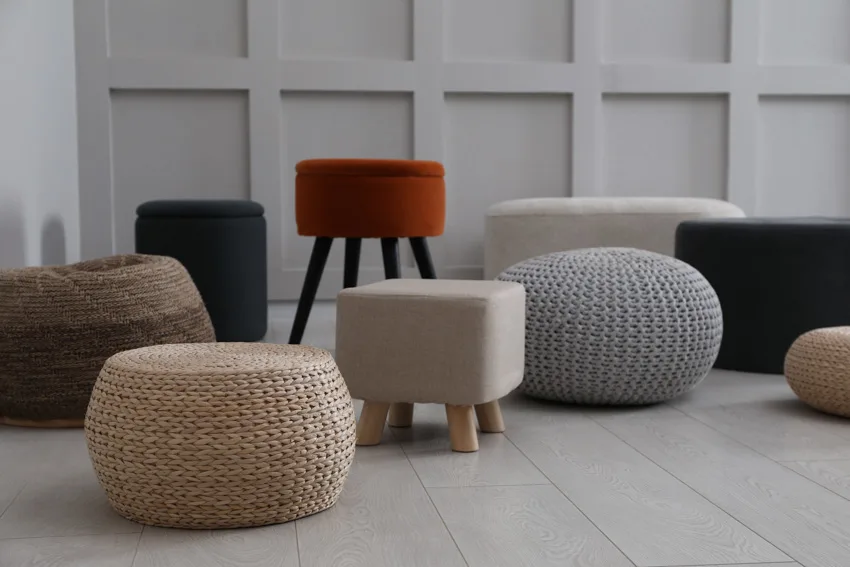 Here we share the different shapes of ottomans, their uses and design styles.

Round Ottoman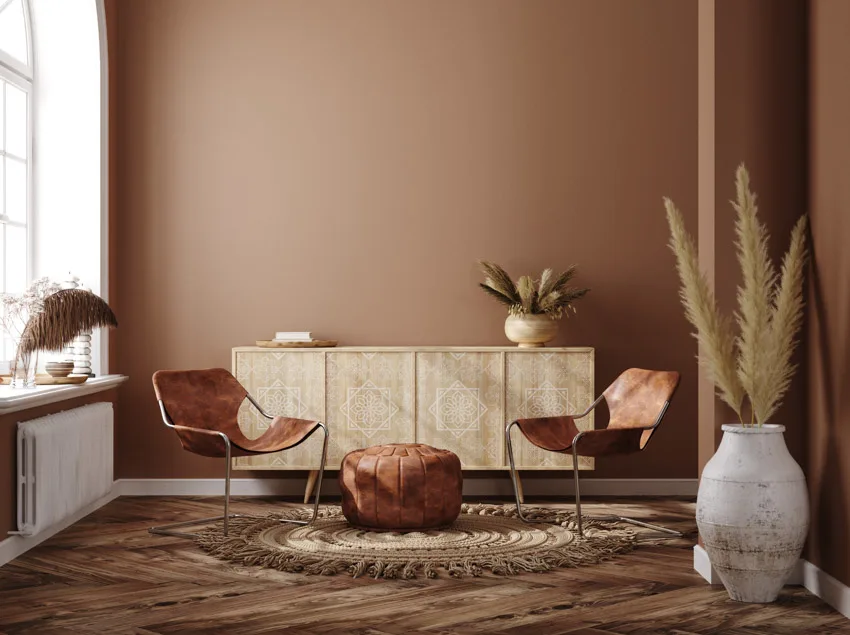 In addition to serving as a decorative seating option, round ottomans bring a one-of-a-kind form to their room. They provide all of the functionality typically associated with an ottoman while lending a contemporary air to the space due to the rounded corners.
Because of their rounded corners, round ottomans are an excellent choice for contemporary sectionals.
Square Ottoman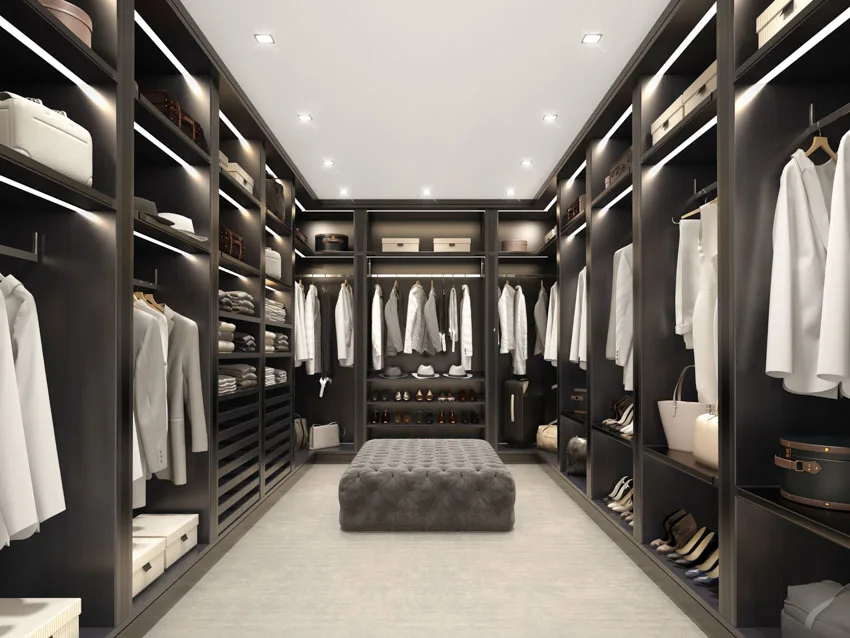 In general, square ottomans are more compact, and their primary use is as footrests or as little chairs. When you want to get cozy, some square ottomans have a lid that can be removed and used as storage space.
It allows you to store an extra throw blanket or pillow in the ottoman. It's easy to find sectionals that go well with square ottomans.
Rectangular Ottoman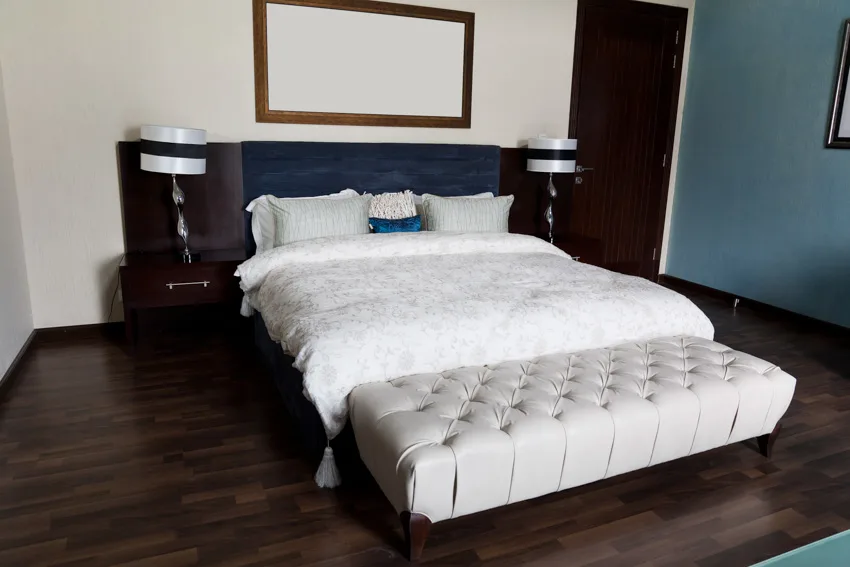 Because of their shape, rectangular ottomans are incredibly versatile, as they can fit into both large and small spaces.
Compared to a square ottoman, a rectangular ottoman provides more space for feet or sitting and is therefore preferable for use as a coffee table or for positioning to flush with a wall. You can pair L-shaped sectional sofas with rectangular ottomans.
Oval Ottoman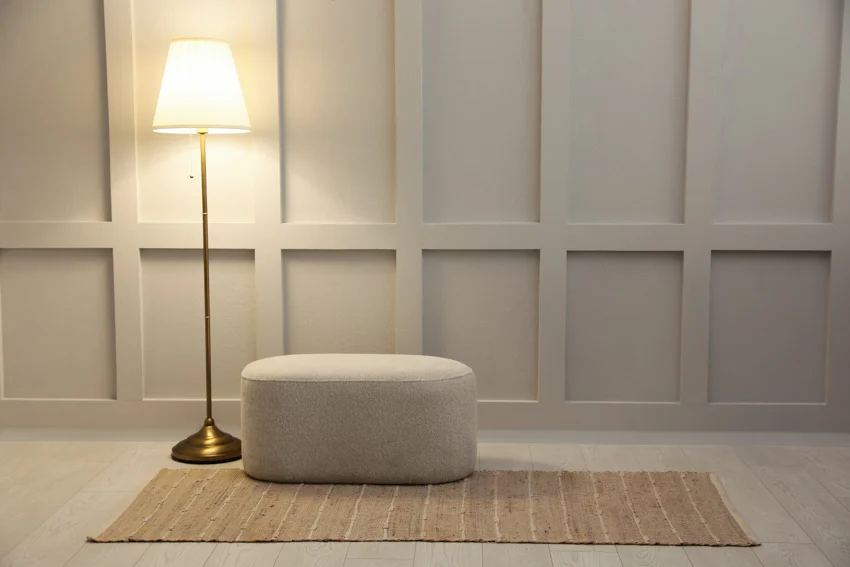 Try using an oval ottoman if you're not keen on the look of a rectangle ottoman. Oval ottomans have a more extended, more elongated appearance than other ottomans. They also have rounded corners, which give them a more contemporary appeal.
Additionally, the rounded corners can protect younger children from injuring themselves when they accidentally bump into sharp corners.
Specialty Ottoman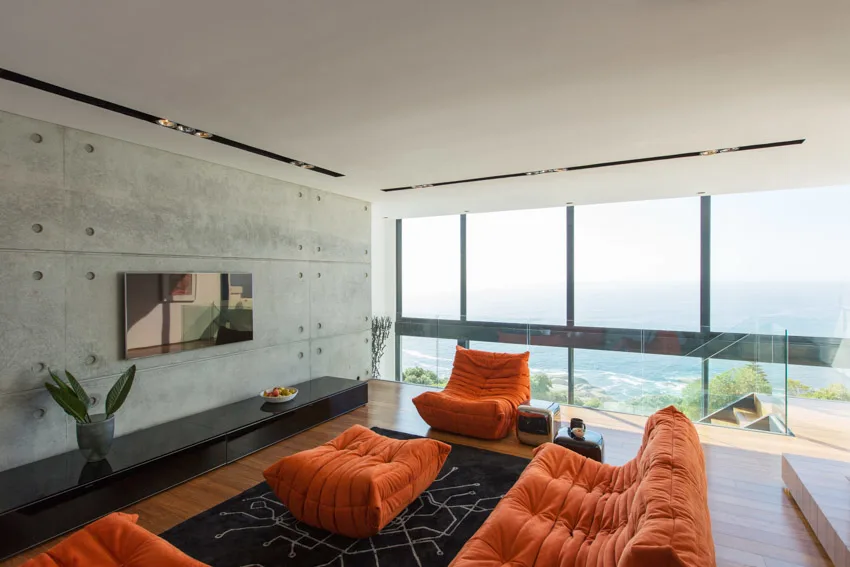 The shape of a specialty ottoman, also known as a novelty ottoman, differs significantly from that of a conventional ottoman, making it one of a kind.
An easy and entertaining way to give a unique spin to a classic piece of furniture is to look for one that comes in various shapes and sizes.
Examples are an octagon, a fun animal form for your child's room, or another unique design. Ottomans that are considered specialty items come in a variety of shapes. They might provide an additional embellishment needed in a room.
Wedge Ottoman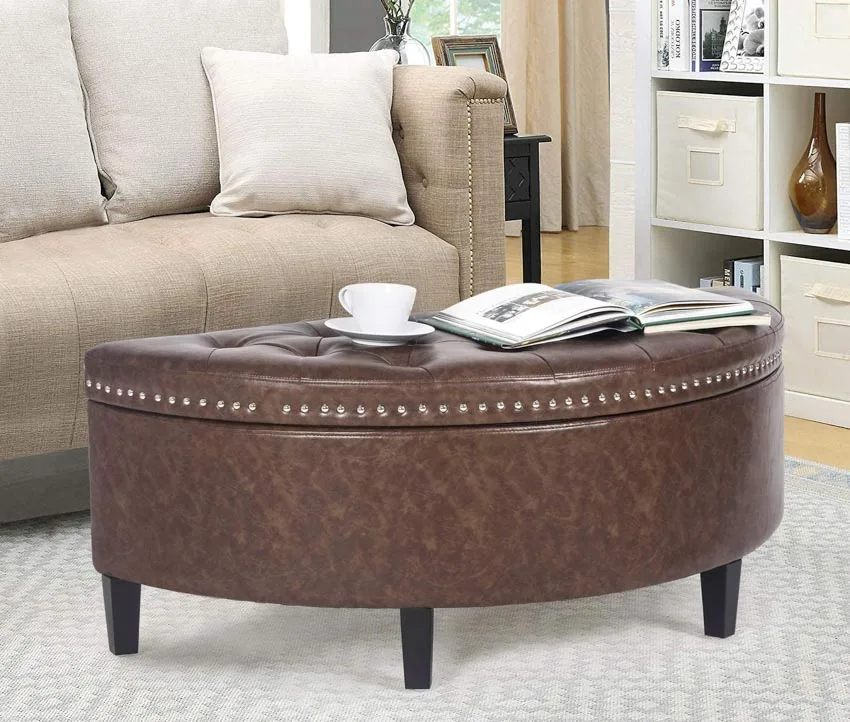 See this wedge ottoman at Amazon [sponsored link]
Wedge ottomans provide the appearance of an ottoman while taking up significantly less room than traditional ottomans. It can readily fit into constrained quarters using a wedge ottoman because one of its edges can sit flush against the wall.
They frequently take the form of a half-circle, giving you the same rounded appearance as you would get from a round ottoman.
Ottoman Materials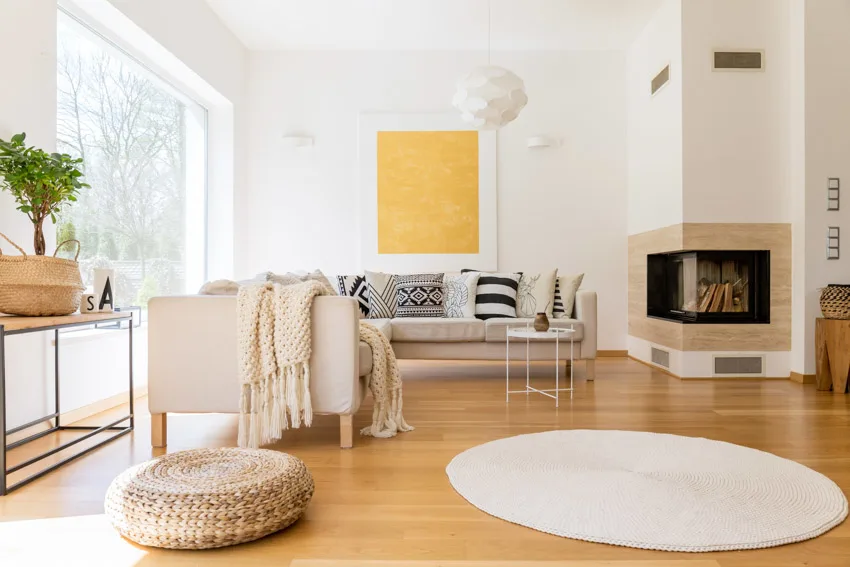 You will want your Ottoman, regardless of its form or design, to have an ideal appearance for the room in which you will place it. It is of the utmost importance to select the appropriate upholstery for your needs and preferences, given the area you have available. At first, its tone and texture will determine how your Ottoman seems and where it fits in.
Fabric: The fabric enables the most significant degree of versatility and the greatest number of possible alternatives in terms of color, texture, and overall aesthetic. Fabric ottomans are available in such a wide variety of colors, designs, and prints that it is possible to locate one suitable for almost any room in the house.
Leather: Leather upholstery is the epitome of luxury since it lends a strong feeling of texture and flair to any room. Ottomans made of leather can be in a wide variety of styles and shapes to complement a variety of settings. Brown is the most common color, but black is also a possibility.
Velvet: Velvet can add close-up textural complexity not offered by almost any other material. Depending on the setting, a velvet-upholstered ottoman can either liven up a space or make one feel completely at home. It is because velvet is typically for more decadent and more opulent versions.
Suede: The suede has a distinctive surface and feels unrivaled by any other material. The tone has a vibrant and ever-present sense of newness, thanks to how it appears to undulate when lightly brushed gently. This kind of fabric upholstery isn't on very many ottomans. Still, it's up there on the list of the most opulent.
Rattan: Rattan is a woven material that is typically seen on patio furniture but has made its way into more daring living rooms in recent years. It is a life-proof material that is both lightweight and robust despite its extreme durability.
Ottoman Uses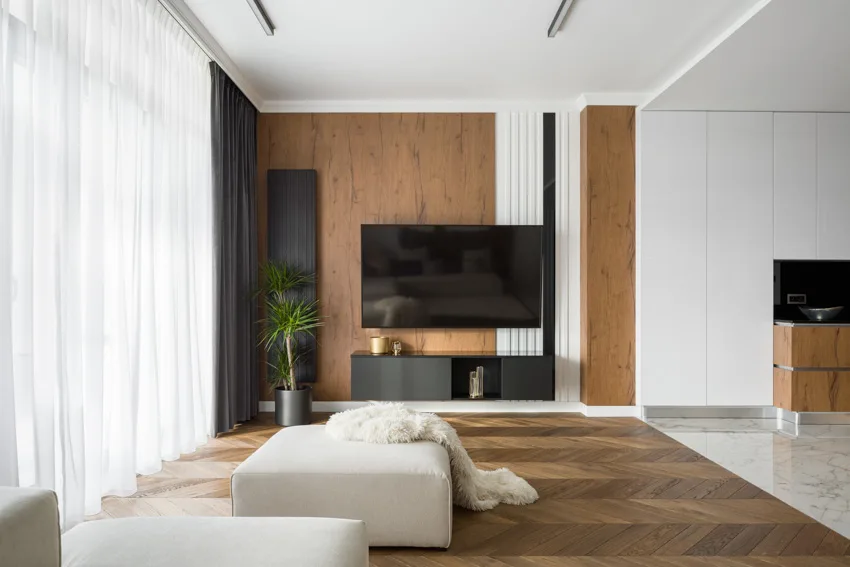 There is no limit to the variety of uses that can be found for ottomans, making them a genuinely flexible addition to any home.
An ottoman in a room can serve many purposes; it can be a footrest for extra seating. It can act as a coffee table. And it can even be used as a place to display things like books and magazines.
The Ottoman presents a problem in that although it had no particular function, it could be among the most functional pieces of furniture in any given space. Because of its mysterious nature, it has attracted many followers.
In this respect, it varies from a footstool, first used in ancient Egypt and meant solely to provide a place to rest one's feet. It is common practice to make ottomans out of the same fabric as the sofa or chair paired with them.
However, they can also make an impression by being distinguishable from the other pieces of furniture in the space.
You can put away things that aren't used very often in ottomans such as your favorite book, a throw blanket or a spare pillow for curling up on the couch.

Ottomans can serve multiple purposes. People use their ottomans as a softly furnished alternative to a coffee table; some even put vases and drinks on top of their ottomans when they do so.
Can You Sit On An Ottoman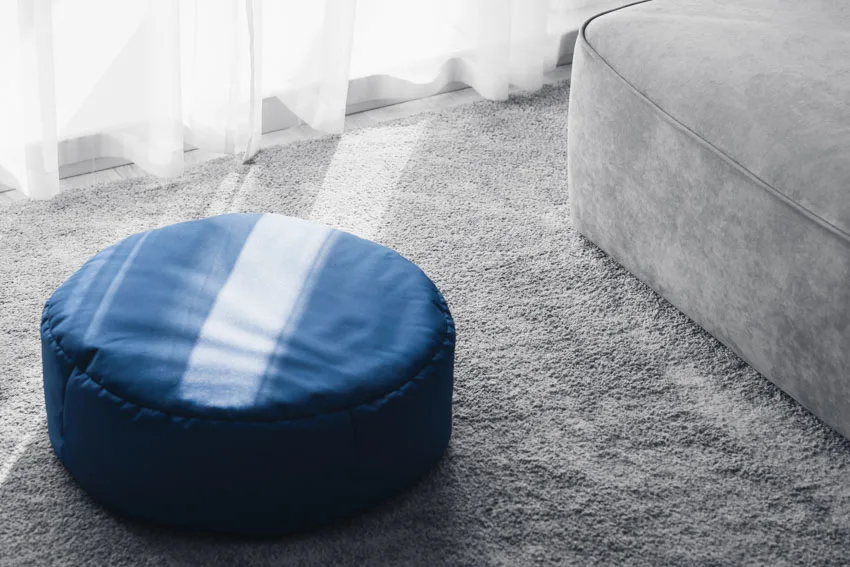 Even though this is not its primary purpose, fabric ottomans serve as excellent additional seating when you have company or just for a brief perch. Because it does not have arms or a back, it is not an exceptionally comfortable alternative for sitting in a reclined position for an extended period. Such examples are when you are reading or watching television.
It is somewhat dependent on the ottoman size, and if you have an oversized piece, you can create a seating area in the middle of the room that's perfect for one or more people. Especially if you combine it with the right cushions for back support.
The Ottoman can have a hollow center, and a hinged or removable lid is another significant benefit. It makes it the ideal covert storage box, where you can stow away additional pillows, blankets, magazines, or anything else you might want to keep out of sight.
How To Decorate An Ottoman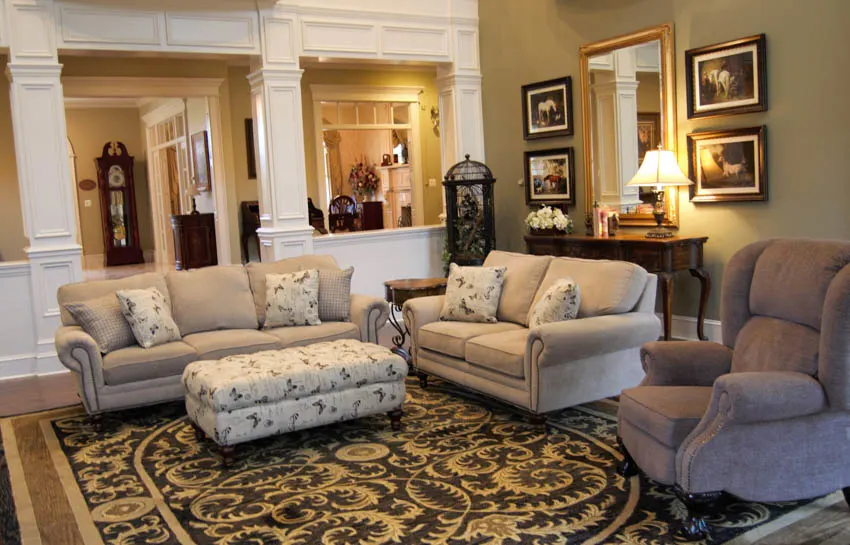 Ottomans are versatile pieces of furniture. You can use them not only in the living room but also in other house rooms, such as the bedroom, the bathroom, or the landing area. They add a functional surface area and an enticing touch of shape and texture.
There is a diverse selection of ottoman concepts to choose from to find the one that works best to harmonize with your area. You can choose a classic footed design to complement your sofa style or go for a daring patterned style to inject color into a bedroom.
We have gathered some of our favorite ottoman ideas to provide stylish inspiration for this versatile piece of furniture. These ideas range from different finishes and styling techniques to placement ideas for ottomans.
Create contrast: Using an ottoman is a fantastic method of daring design ideas and introducing a contrasting component into a space.
If you want to add some interest to your living space more subtly, choosing an ottoman in a contrasting color or pattern can create a feature out of this furniture piece. It can accomplish this without the design being too overpowering.
If you want to add some interest to your living space, choosing an ottoman in a neutral color or pattern can create a feature at the end of the day.
Choose a leather design: Because ottomans are frequently multi-functional objects that can be used for various purposes, selecting a long-lasting material, like leather, will ensure that the ottoman ideas you implement in your house will survive the test of time.
Leather ottoman designs give a luxurious sense of texture to a room and provide a smooth surface area that is perfect for doubling up as a coffee table in the space. It allows the ottoman to serve a dual purpose in the room.
Match it with your room's color scheme: Matching the piece with the paint ideas used in a space is a simple styling tip that you can use to create a consistent design scheme throughout the space.
Use it in the bedroom: Ottomans are traditionally in living rooms. They can either be in front of or right beside the primary bedroom seating area. However, they are also an excellent addition to a bedroom space, as they add a layer of comfort and texture to the area.
The foot of the bed is a go-to spot for positioning an ottoman, regardless of the size of the bedroom it is in, be it little or large. It is a tried and true design concept that produces a seating space that is both functional and inviting, and it neatly extends the form of the bed.
Remember that ottoman ideas are not simply restricted to the living room, regardless of whether you create a contrasting feature or make the ottoman coordinate with your bed linen.
Coordinate it with your curtains: Coordinating the pattern and color of your Ottoman with the pattern and color of your curtains may easily make the piece feel like it belongs in the room. It can be whether you have bold printed types of curtains or neutral block color designs.
You can achieve a deliberate design by making the most out of a stunning piece of cloth and utilizing the same print throughout a space.
Use it as a table: Ottomans are well-known for generating a warm and welcoming surface area, which you may personalize with various trays, ornaments, and other objects.
Your Ottoman can serve as a functional platform, like a coffee or side table. You can also adorn it with floral arrangements, books, and other decorative items. Personalizing and tying a piece of furniture to a specific location can be accomplished by accessorizing it with items like these.
Get an ottoman with metal frames: Choose an ottoman with a thin metal frame for a style that is lighter in appearance and can help create the impression that there is more room in a room.
Using see-through options using an elegant mix of contrasting materials while amplifying a feeling of space is excellent. It is if you want to use an ottoman in a small living room but want the area to feel manageable.
Use it as an integrated coffee table: It is possible to have both a coffee table and an ottoman exist cohesively in the same space; however, many new, integrated coffee table and ottoman designs out there elegantly combine the two designs.
Many designs combine a coffee table's stiff, stable surface with the plush, reassuring components of an ottoman installed underneath. It results in an improved design that you can use for various purposes. It is fantastic for minimizing the amount of space needed in a room and makes it an excellent choice for ideas for tiny living rooms.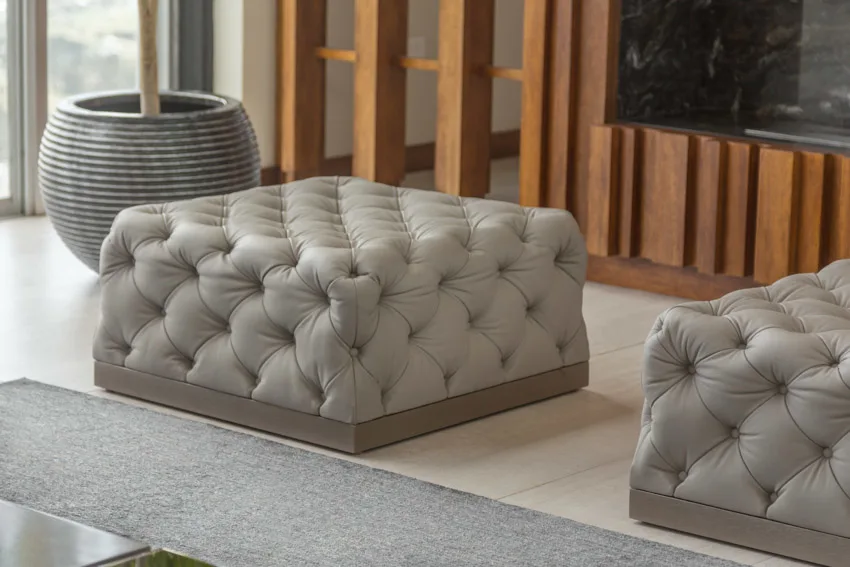 Go for a lower ottoman to create a relaxed vibe: A low ottoman that does not have feet can help to create an atmosphere that is more comfortable and inviting in a living space.
Adding a low ottoman to a space can give it a more modern and casual air. When people walk into a room, it's essential for them to feel grounded to the floor, embrace a more laid-back attitude, and feel comfortable and at ease.
Use them in pairs: Why use only one Ottoman in the room? Using various ottomans is a terrific way to add texture and color to a room and provide multiple surfaces that can work as seating, display places, and footrests. It will help you achieve a balanced and symmetrical aesthetic in your living space.
You can always create a stylish and functional area if you have more than one Ottoman in a room. Whether you choose designs that match or opt for contrasting styles scattered around the room is accurate.
Use it in a bathroom to create a spa-like aesthetic: When people think of ottoman ideas, they picture them in a living room or a bedroom. However, incorporating an ottoman into a bathroom design plan can produce an elevated atmosphere of luxury and relaxation while significantly altering how the space functions.
Putting an ottoman in the middle of the room is a great way to make a large bathroom feel more intimate because it creates an inviting seat space and adds warmth and texture.
Use it as an accent piece: If you want to avoid making a big statement with the paint or wallpaper ideas in a room, a simple and understated method to bring personality to the space is to include color through the upholstery and essential pieces of furniture such as an ottoman.
Adding a shade of accent color that is unexpected and lively through this piece of furniture is a speedy approach to increase the visual impact and intrigue of a space. See more types of bedroom furniture here.

Layer them on with patterns: If you want your space to have a bold design full of character and personality, choose an ottoman with a print that contrasts the rest of your scheme. It will give your space a rich and colorful look.
It is possible to achieve a one-of-a-kind, maximalist appearance that embraces layered patterning in a room by using a variety of various prints, color schemes, and design approaches.
How To Cover An Ottoman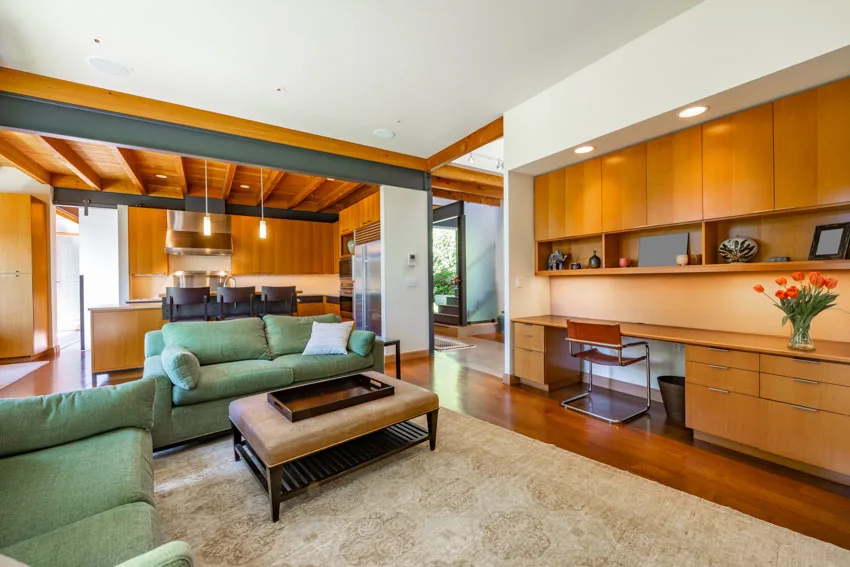 Even if your Ottoman shows signs of wear and tear, you don't have to rush out and get a new one just yet! If the cushioning and form of the old Ottoman are still in good shape, then all that the ottoman might require is a little cosmetic touch-up.
There are some scenarios where you might find it necessary to sew a new cover for your Ottoman. The present fabric may go poorly with the rest of the furniture or the overall aesthetic.
Or, it may have matched at one time. However, now it's old, worn out, and losing its color. Changing the cover of an ottoman that otherwise appears in good condition can provide it with a new lease on life.
There are a few different ways to cover an ottoman, some of which are as follows:
• Utilizing a cover that can be removed and washed in the machine
• Putting together a new cover using reupholstered fabric
Using a cloth attached to the Ottoman using either staples or glue in a technique that does not need sewing
What Color Ottoman With Grey Couch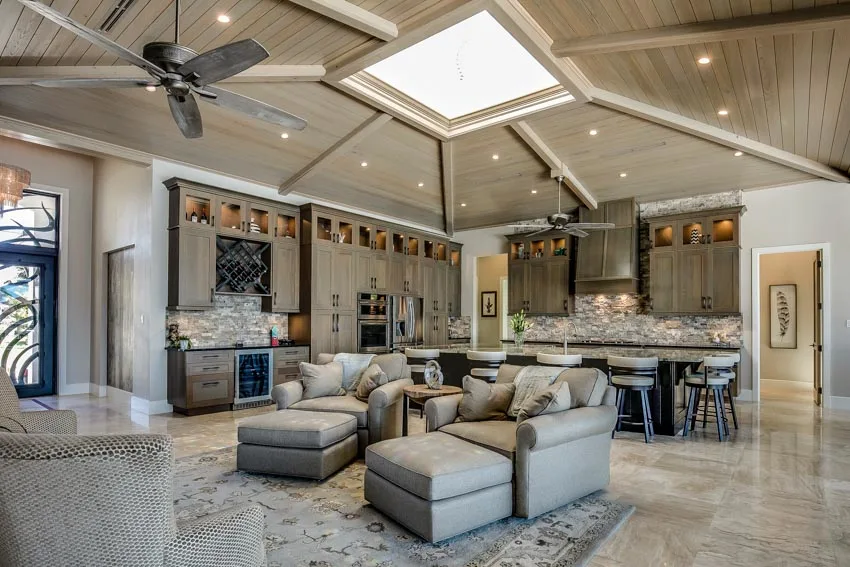 A gray sofa can look good when paired with an ottoman with white, beige, black, sepia, or wood tones, depending on the undertone. Change the intensity of the neutral colors in your palette to give it more depth and dimension.
What Color Ottoman With Brown Couch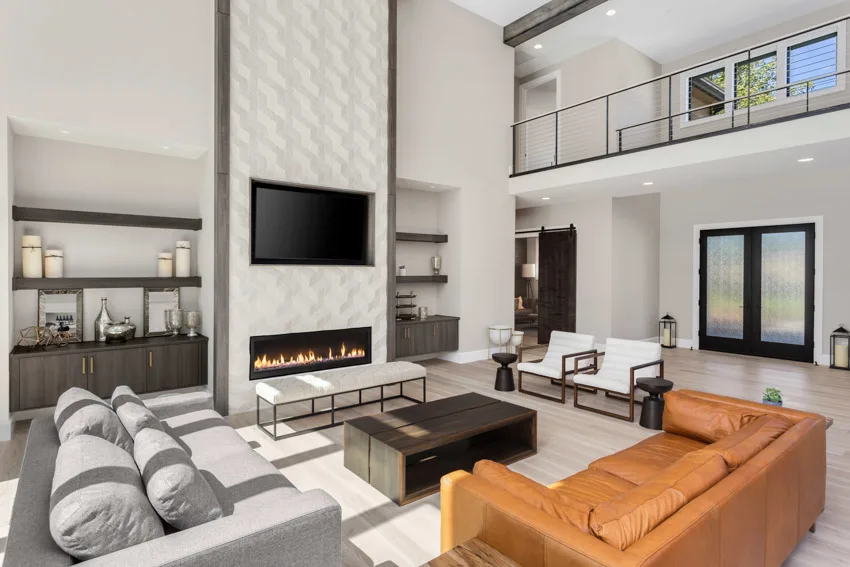 Olive green, ocean blue, terra cotta, and rusty red are hues that are frequently found together in nature. They all combine well with brown when used in the context of ottomans.
To create a cozy and welcoming atmosphere in the living room, select an ottoman in an earthy hue and accessorize your brown sofa with pillows and throws in neutral tones.
See more related content in our article about ottoman vs coffee table on this page.