This leather colors guide includes a list of the best shades, their variations, other dyed options, different grades, and the most popular choice for couches.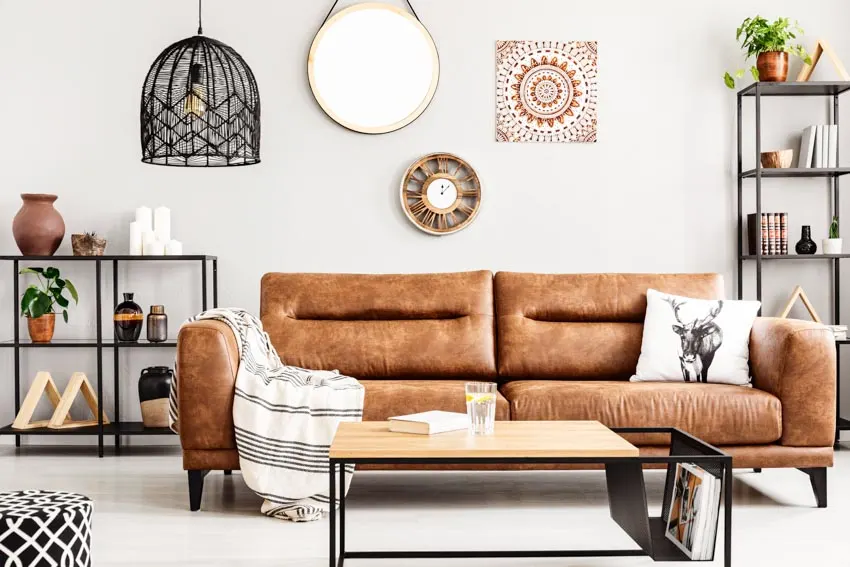 Did you know that the average consumer wears four products made of leather at any given time? People often buy leather shoes, belts, wallets, straps, or furniture.
With leather's durability, time-enduring uniqueness, and other desirable qualities, the material remains a popular choice in fashion and furniture. One important feature considered when choosing upholstery is color.
Before the dying process, the natural color of a hide was russet, which is a dark brown tone with a reddish-orange undertone. Today, you'll find many leather colors to choose from that you can mix and match to your ensemble. From the classic brown to the bold yellow, there's a leather color that will suit your taste.
Colors For Leather List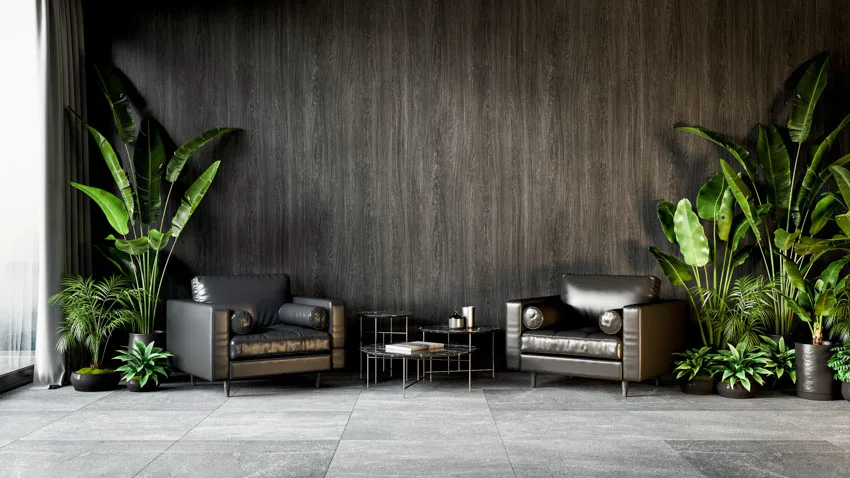 Here we share the different leather colors you can consider, including their popular shade variations:

Brown Leather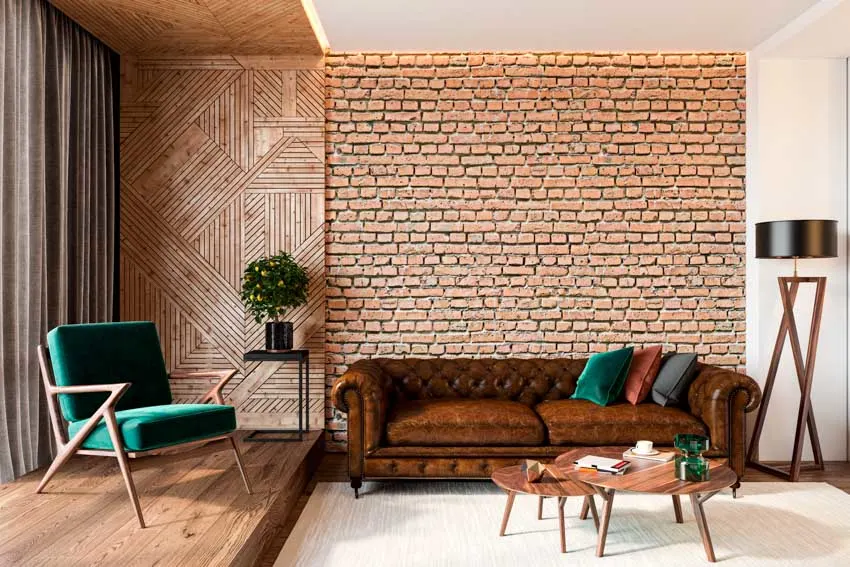 Mentioning leather, the first color that comes into your mind is the classic brown color. The familiar coloring of this upholstery conveys an elegant yet welcoming character.
Brown leather, compared to other colors, is more versatile and less formal while making it easier to incorporate into different themed interiors. In general, the darker shades of brown are easier to hide stains and damage.

Over time, brown hides age more forgivingly, creating a unique patina that adds character to your leather product, especially for bags and furniture.
Hex code is #964B00.
Though brown leather is typically associated with the masculine gender, you'll find the material coloring popular with women. Moreover, it's easier to find leather products in the classic hue.
Caramel: A warm version of brown with a golden or light yellow-brown to dark reddish-brown coloring. Caramel hues are a perfect choice if you love the rich color of brown and need a softer tone.

The color is darker than beige but lighter than cognac or mocha colors. Caramel upholstery looks good with white, off-white, gray, pink, and many more.
For furniture, caramel leather creates a homey feel that's great for Mid-century, Transitional, Boho-chic, and Eclectic designs. Hex code is #C68E17.
Cognac: Like the fine French liquor, cognac fabric showcases a reddish-brown color. The warm hue is associated with the autumn colors and has somewhat of the qualities of a neutral tone.

But unlike most browns, cognac is an earthy color that can convey a stateliness, maturity, and luxurious feel to a space thanks to its gray undertones.
This makes cognac shades the perfect option for reading rooms, offices, or study areas. The hex code is #9A463D.
Chestnut: Similar to the rare wood species or the French brandy, chestnut coloring is a rich dimensional shade of reddish-brown color. Chestnut-colored leather resembles cognac.


But on the other hand, chestnut looks more brownish in hue since cognac color has a little more red and blue colors than cognac.
It appears redder when light strikes the color. Other terms of chestnut are castaneous or badious. Hex code is #954535.
Dark Brown: With more red and less blue pigments, dark brown leather will reflect back most of its dominant color, subduing most cool hues. Thus, it can be a striking element in a room.
This also makes dark brown a good color dye to use in restoring old upholstery as it hides away scratches and other damages to the material.

Dark brown leather is a favored material for most types of bar stools and other furniture that are subjected to frequent use.
The dark hide shades look great with cool tones when you plan to make the dark brown upholstery a focal point in a room without overwhelming the space with the warm and rich color. Hex code is #654321.
Medium Brown: The middle shade between dark and light, medium brown colors are an excellent

choice when you plan to layer your brown colors.
The warm hue goes along well with other shades of brown when color layering while it can stand out among very light tones such as white or light gray; just make sure to add a contrasting tone such as black. Hex code is #7f5112.

Chocolate: You'll find a lot of leather products and suppliers offering chocolate brown. As a dark shade of brown, you can introduce different textures of the material.
The tone can also be used as a backdrop for interiors creating a cozy and solemn mood. Match it with white, and it can stand out among the rest of the colors. Hex code is #7B3F00

Walnut: The warm brown color is lighter than chocolate brown and browner than cognac and chestnut due to the less red coloring.
Like the tree species, walnut can range from a lighter to darker version depending on your leather supplier, but walnut lists its hex code as #6C3F19, which has a browner and lighter tone.
Espresso: A significant amount of red walnut varieties have a dark brown coloring with blue undertones. Espresso leather can appear black with its deep coloring and will often show its dark

brownish hues under direct lighting.
This is a perfect choice for creating a moody space where you can layer lighting to give color variations to the upholstery. It is also an excellent choice for hiding away stains or damage. Hex code is #3C2218.
Tobacco: A timeless brown color that is mostly used in the fashion industry. The color name is inspired by tobacco wrapping colors, particularly double claro or Clarisimo. Today you'll find tobacco shades more as bags or wallets.
Since it has that country or that old southern air, tobacco leather is an excellent choice for country or farmhouse-themed interiors. The new generation dubbed tobacco color as pinky-beige or "nude" shade. The color can flatter darker skin tones. Hex code is #9A7352.
Oakbark: Oakbark color has a grayish to medium brown hue with reddish undertones, a coloring similar to the bark of an oak tree. A variation of oak bark hues gives a prominent reddish

undertone using the ancient method of tanning.
This process gives the hides a reddish-brown coloring, and most furniture products listed as oak bark have this darker version. Hex code is #b09a83.

Saddle Brown: Inspired by the rugged-themed mountain cabins, saddle leather has a red-brown coloring.
The medium brown conveys a vintage or country vibe but can be applied to modern products with cleaner and sleeker profiles. Hex code is #8b4513.

Warm Brown: As the term implies, warm browns provide a welcoming atmosphere. The color has strong red and green tones, which create prominent soft brown hues.
The mid-tone leather warm brown matches with bright splashes of colors, such as bright red. It is also an excellent color layering with other darker or lighter browns. The hex code #964e02.
Black Leather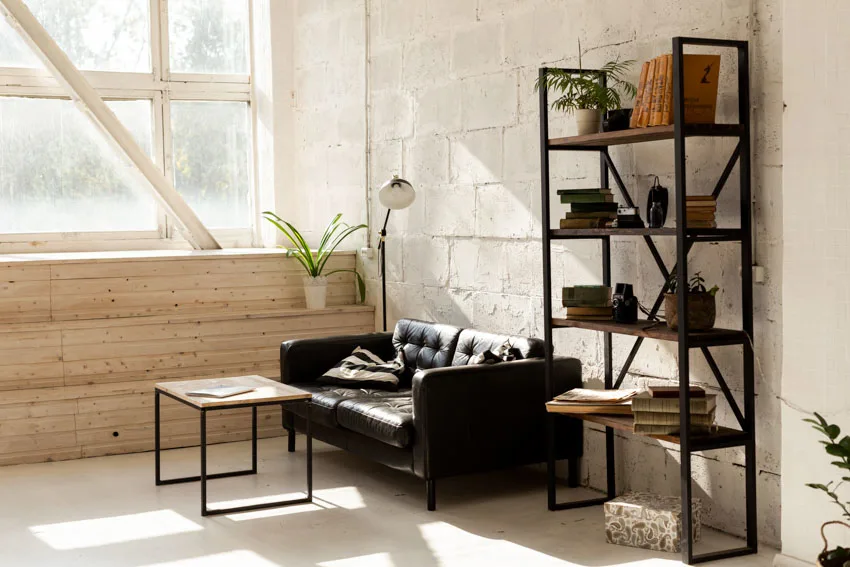 A classic color that's great as both an accent color or primary hue in interiors. Black leather hardware in cabinets or a black sectional sofa can provide a whole new difference in a room's aesthetics.
Pair black upholstery with other neutral elements or make a statement piece pop against a large black piece of furniture. Monochromatic black and white showcases a simple yet striking design.

Ebony: Inspired by the ebony wood, the ebony color almost looks like black but has a tinge of brown which means you'll still have light reflecting from the surface of your ebony leather.
The color is a deep cool tone making it a great base color for layering blues and greens. You'll also find it easy to match with neutral tones and brass-colored décor or accents. Hex code is #1c1c1e.

Havana: A color that is least known for coloring, Havana can resemble the color of dark chocolates. The lighter black version usually has purple, orange, or red undertones.
It is generally a warm color that's perfect for interiors where you need a warm and cozy vibe but steers away from the brownish hues. Hex code is #3b2b2c.
White Leather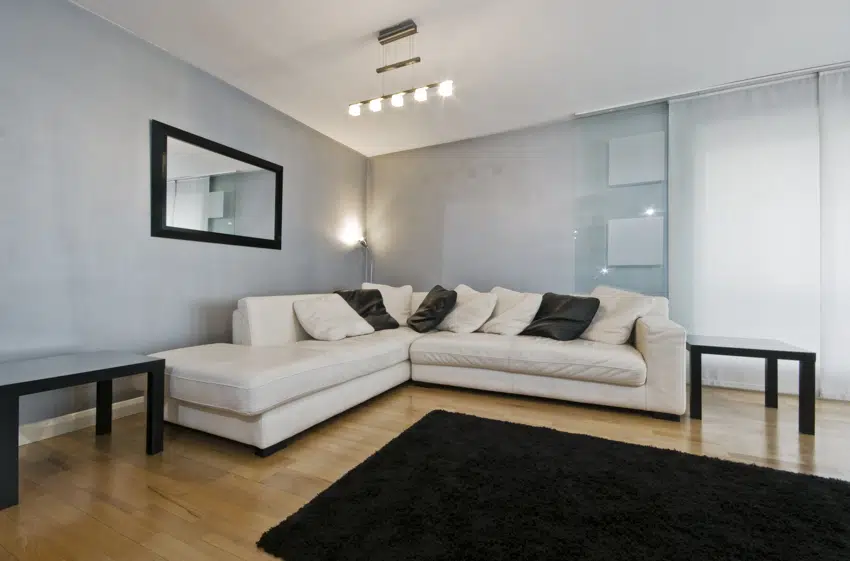 Producing white leather is challenging as pigmenting the hides can damage the surface texture. For this reason, high-quality hides are used in producing white upholstery to minimize staining or other color adjustments.
With advances in manufacturing, most white furniture or car upholstery uses protective coatings or technologies to protect white upholstery against staining.
Vanilla: The soft color is a lovely off-white medium hue with a tinge of yellow. Vanilla-colored leather is popular in fashion and fits with contemporary or formal wear. You'll find a variety of

products such as bags, jackets, wallets, and belts made in a soft, rich color.
It's also a perfect coloring for furniture because you can have the bright and clean color of white yet not stark. You can pair the vanilla shades with a black or white backdrop that creates a sophisticated yet welcoming interior. Hex code is #F3E5AB.
Cream: Similar to the dairy product, it has a soft yellowish hue and white as the main hue. Cream

leather is popular for both minimalist and traditional styles, which can be mixed and matched with light, dark, or teakwood tones.
The light-colored upholstery also works well with wicker, metal, and most materials, making it a versatile color option. Hex color is #fffdd0.
Off-white: Off-white leather is a great option when you want white with undertones and a little color for a monotonous ensemble. The color is easy to mix and match with other tones and has a wide range of shade tinges to choose from.

Beige: One of the most popular and time-enduring colors of leather is beige. Most vintage leather comes with this color, making it a versatile option, especially for popular Scandi-themed homes.
You know you have beige-colored upholstery as it has grayish to sandy coloring. Beige is a French word for natural wool, which has a pale sandy fawn hue. Hex code is #F5F5DC.

Tan: In the beige color spectrum, you'll find tan between white and caramel colors with a pale brown hue with undertones of orange or green.
Faux leather has a wide range of tan furniture in almost every style, and the tan shades are easy to use as a base or neutral tone for an ensemble. Hex code is #D2B48C.

Newmarket: Having a mixture of brown and orange with a significant amount of gray, you'll find this light color almost flesh-like, a refreshing option for most types of leather for furniture.
The pale color works well with contrasting tones such as black or dark gray and darker shades of wood. When matched with white, make sure to have accent colors to go with the newmarket hue. Hexcode is #EAE2DC.

Safran (Saffron): There are two variations of saffron leather: the rajah, which has a deep, bright tone, while the deep saffron, also known as Indian Saffron, has a more yellowish color and is thus brighter in hue compared to the rajah.
The colors are associated with the rising sun, which gives happy and positive energy. Hex code is #c7901b.

Desert: Considered one of the lightest of the beiges but darker than vanilla and cream and lighter compared to tan and caramel.
Desert leather is a fresh and light shade, which means you'll need to stain-guard your desert upholstery products. Hex code is #FAD5A5.
Camel: Named after the hair of the hardy animal desert, camel is a neutral tone that has garnered

some popularity on Instagram and Pinterest. It's a staple color for clothing that goes with many colors.
The soft and light tone is a good choice when you have leather furniture that takes most of your visual perspective, preventing an overwhelming or overbearing hue. Hex code is #c19a6b.
Red Leather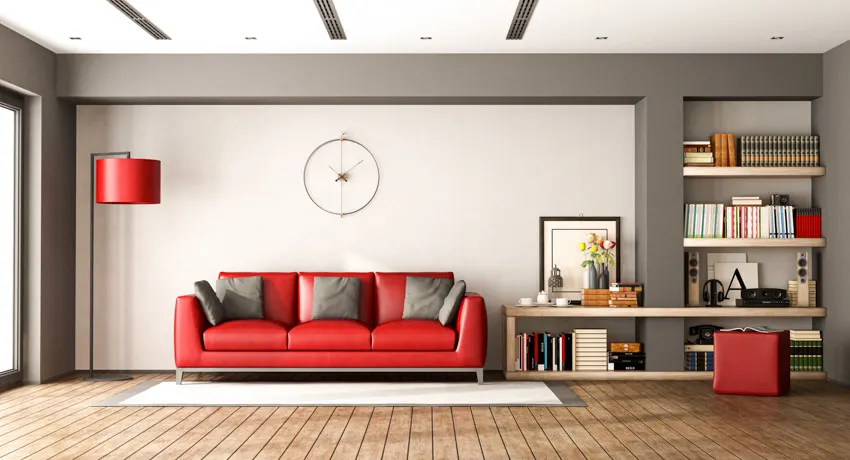 Probably the first that comes to mind when thinking about red leather is the Old Hollywood Glamor or artworks by Andy Warhol, where pop art was a thing. Bright-colored furniture is coming back, and

we see statement pieces amidst stark-colored minimalist and modern interiors.
These furniture pieces give any room character and personality. A solid red furniture piece will definitely make a difference in your interior design. Hex code is #a00105.
Burgundy: The darker version of true red burgundy is like the old version of red with a deeper purplish color. Burgundy upholstery is a great option if you're more reserved with getting a bright red
color and don't want it too brownish.
Pair it with white to balance the hues, or get old navy and turquoise if you want to have cool tones with your burgundy material. Hex code is #800020.

Rust: Rust-colored hues resemble the orange-brown coloring of iron oxide, making the hue a suitable match for interiors' subdued or mellow hue. Rust colors are great for gray, cream, and turquoise hues. Hex code is #b7410e.

Wine: Sometimes dubbed as "Bordeaux," maroon or claret, it's a solemn shade of red that's perfect for a masculine and sophisticated air. Wine-colored leather is a favorite color for autumn and Christmas. Hex code is #722F37.
Orange Leather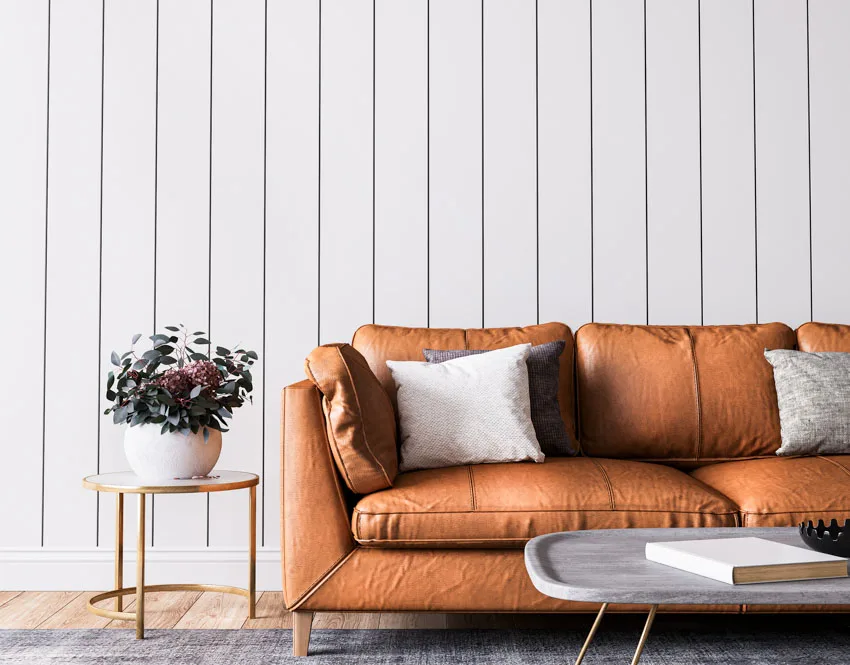 Orange is the perfect color for your furniture upholstery when conveying a fresh, creative, and youthful vibe. Orange leather is a positive color that is known to encourage conversation or socialization, making it the perfect choice for sofas or lounges.

The striking color energizes a room, making it a great statement piece. Make sure, though, not to use too many bold colors, as it can look overwhelming.
It matches best with white or other neutral tones but can also be layered with the right brown tone. Hex code is #FFA500.
Hazelnut Leather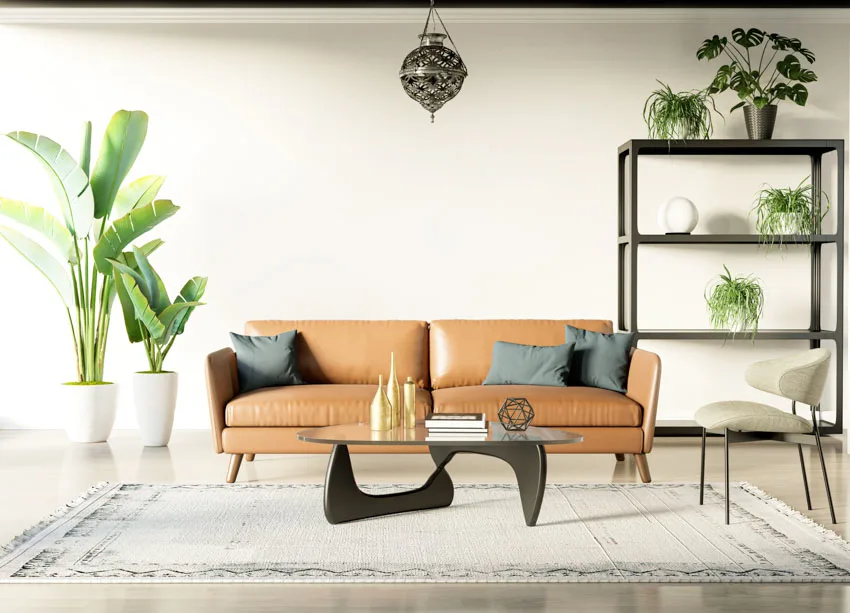 The lightest of brown leather colors, this is a light brown with yellow, orange, or red undertones.

Hazelnut leather can look luxurious, and you can match it with cooler tones such as blue and purple.
You'll find the color agreeable with white backdrops creating a livelier minimalist interior. Hex code is #a8715a.
Gray Leather

With the modern movement, gray has become a staple in many modern or contemporary homes and clothing. With so many shades of gray to choose from, you'll find the perfect match for your desired design.

The versatile color, when worked with the right lighting, shade, and other elements, can work with almost any theme.
Gray leather is not hard to come by, and you'll find a lot of products in the said neutral tone. Be sure, to match gray hues with contrasting or metal tones as it can look drab or stark. Hex code is #808080.

Light Gray: Considered the sandy color among the gray shades. The soft neutral tone has a tinge of black, or it is an achromatic hue with a significant amount of white and will work well with sun-filled rooms, and you can pair it with almost any color. Like the fog, it is cool and pale. Hex code is #D3D3D3.
Slate Gray: If you're looking for a gray with bluish undertones, slate gray is a great option. The medium gray takes its name from the stone itself with similar gray coloring.

Slate gray works well with pink or peach colors giving it a contrast that conveys a youthful and relaxed character. Slate gray leather is common, and you'll find it both in furniture and clothing lines. Hex code is #C0C2C9.
Storm Cloud: Like the deep gray colors when a storm approaches, this gray shade gives an almost ethereal or mysterious quality. Storm Cloud hues and

other similar deep medium gray tones are easily found at furniture upholstery suppliers.
There you'll find many leather furniture options such as ottomans or lounges that you can pair with brighter-toned coaches. Hex code is #7e8796.
Charcoal Gray: Considered a dark gray, it has been a popular color for both furniture and architectural finishes such as walls. The rich color can look elegant and works well as

an alternative to brown hues if you're looking for a base color for your interior.
Charcoal gray hues works well with white, wood hues, metal, and bright colors. You can pair charcoal gray with blues, reds, and soft greens for duo tones. Hex code is #36454F.
Other Dyed Leather Colors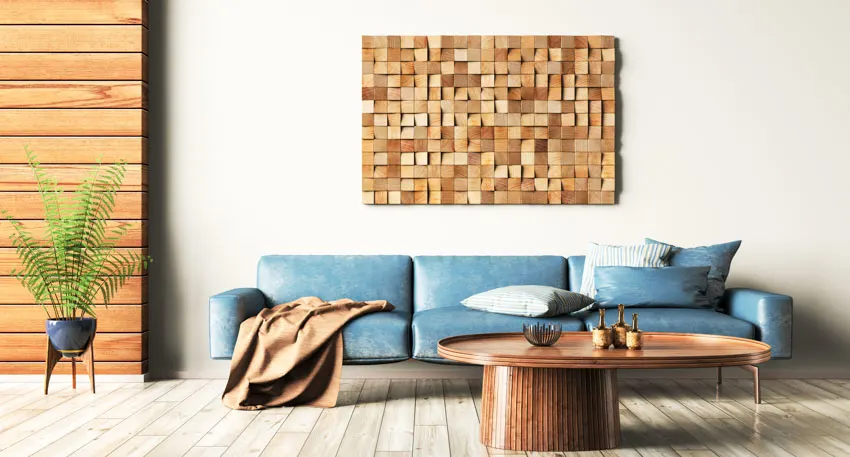 Green: Olive, sea green, jade, sage, and lime are only a few green-dyed leather colors you can choose from. Lime and other bright greens are making a statement in interior design.
Green leather gives the interior design a fresh and unique color palette to work on. Pair your green sofa with a rust-colored upholstery or color-layer with medium tones of wood types of coffee tables.
Blue: Thanks to the advanced dyeing process, we can now enjoy a blue-colored leather paired with any wardrobe or interior design theme. Blue colors have a wide range of variations, and the rise in popularity of blue furniture makes it a perfect option if you want to take a break from earthy tones.
Yellow: Yellow hues are a striking and energizing tone and are listed as one of the more popular statement pieces in recent years. If you're hesitant about integrating the bold color, you'll find a wide range of yellow versions to choose from.
One of the softer versions of yellow is a mustard color that can be paired with your grays, greens, and tan to create a unique interior design. Match with dark metal hardware or accents to give contrast to your bright color.
What Is The Most Popular Color For A Leather Couch?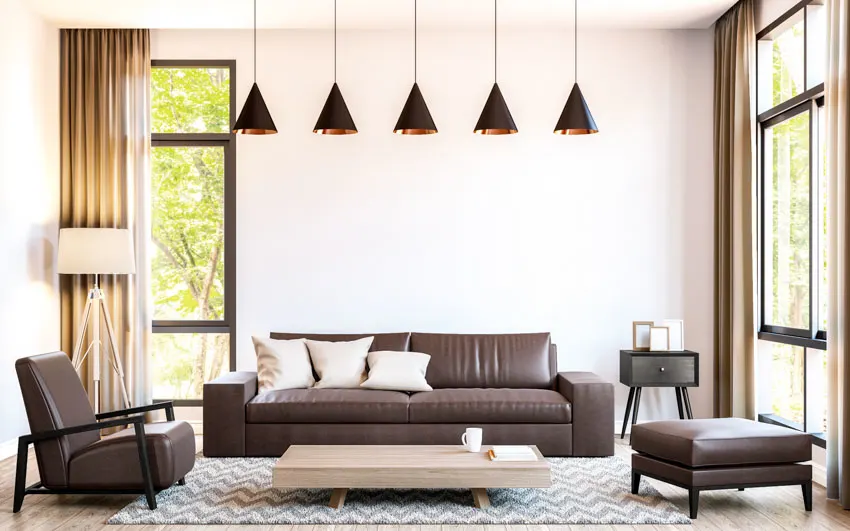 Brown and black remain the most popular choices for leather couches. While brighter and bolder colors such as golden yellow were listed earlier this year as a top favorite, most homeowners tend to go with the vintage color.
The great thing with brown and black is that you'll find myriad design options. From tufted coaches for your transitional-themed home to box-type or bulbous sofas, brown and black leather is still a favorite that matches the contemporary style today. These colors are also easy on the eyes, and the lighting, artificial or natural, further flatters the coloring of your furniture.
With the option of having sectional sofas or where there's a need for extensive visual coverage of your leather furniture, the neutral and earthy tones won't look too overbearing or bare. Read more about leather couch pros and cons here.

What Is The Natural Color Of Leather?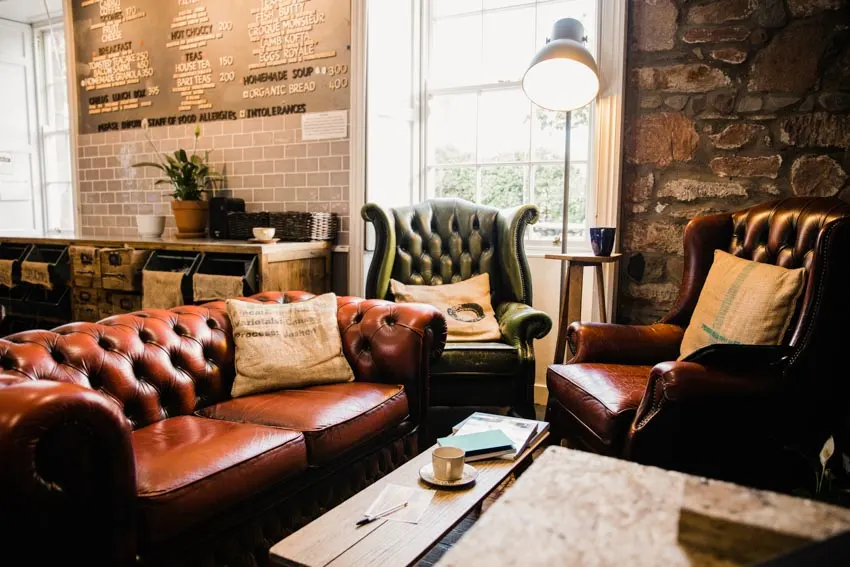 The natural color of the leather is russet. Before hides are subjected to dye coloring, the material has that slight tinge of beige tone.
For vegetable-tanned leather, it will tend to darken due to the skin oils, dirt, sun exposure, and other exterior elements that will adhere to it. The said natural patina, for most, can be a desirable trait and adds character to the leather product.
What Color of Leather Couch is Timeless?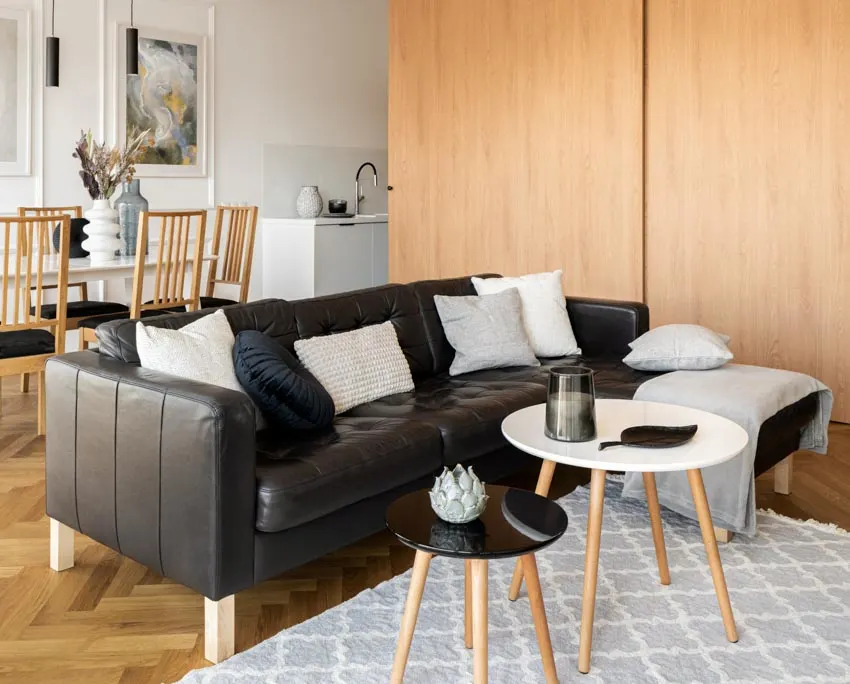 Brown and black leather are timeless. This vintage coloring continues to find its way into the fashion and interior design world, mixed and matched with fresher and newer elements. Black and brown are versatile and practical hues as they can hideaway wear or stains.
What Are The Four Grades Of Leather?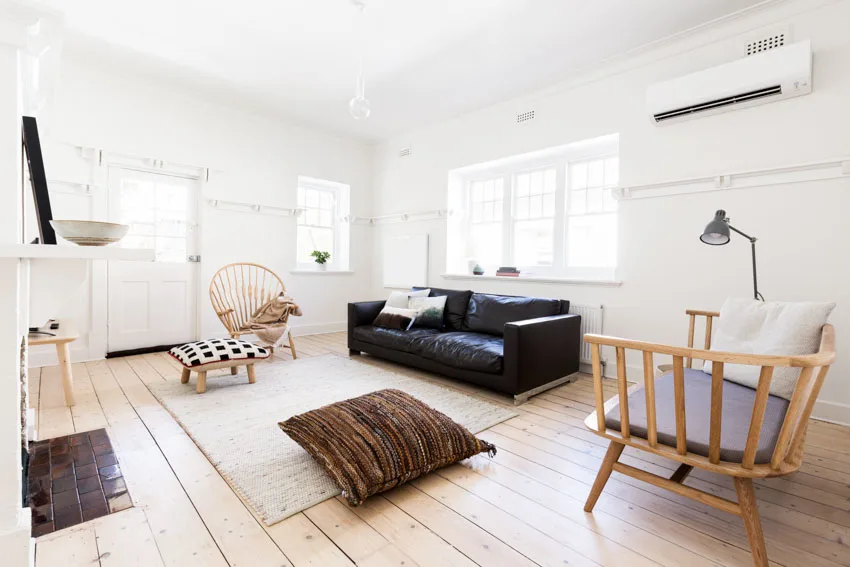 The four grades of leather. First is the full grain, which is considered the best grade; second is the top grain, then genuine, and the lowest quality is bonded leather.
Full Grain – Considered the high quality that comes from the top layer of the animal hide. It is not buffed or sanded, retaining its natural appearance and durability. The top grades are full and top grain.
Top Grain – Considered the second best choice, a top grain uses the top layer of the hide but is sanded or buffed to remove imperfections in the material. This provides a uniform and more workable finish at the expense of natural patina and durability.
Split Grain – Made from inner layers of the hide after the top has been removed, a split grain is beautiful and soft but lacks durability. Its composition lacks the tight fibers of the outer layers, which works well for products that don't require extra strength.
Genuine or Bonded – Bonded is a term that means the material has been reconstituted or blended together. The bonded process involves using shreds and scraps of upholstery, mixing them with bonding chemicals, and pressing them together to form a sheet with a polyurethane coating. These materials generally contain 10 to 20% real leather products.
Here's a leather grades infographic showing the different qualities available for furniture.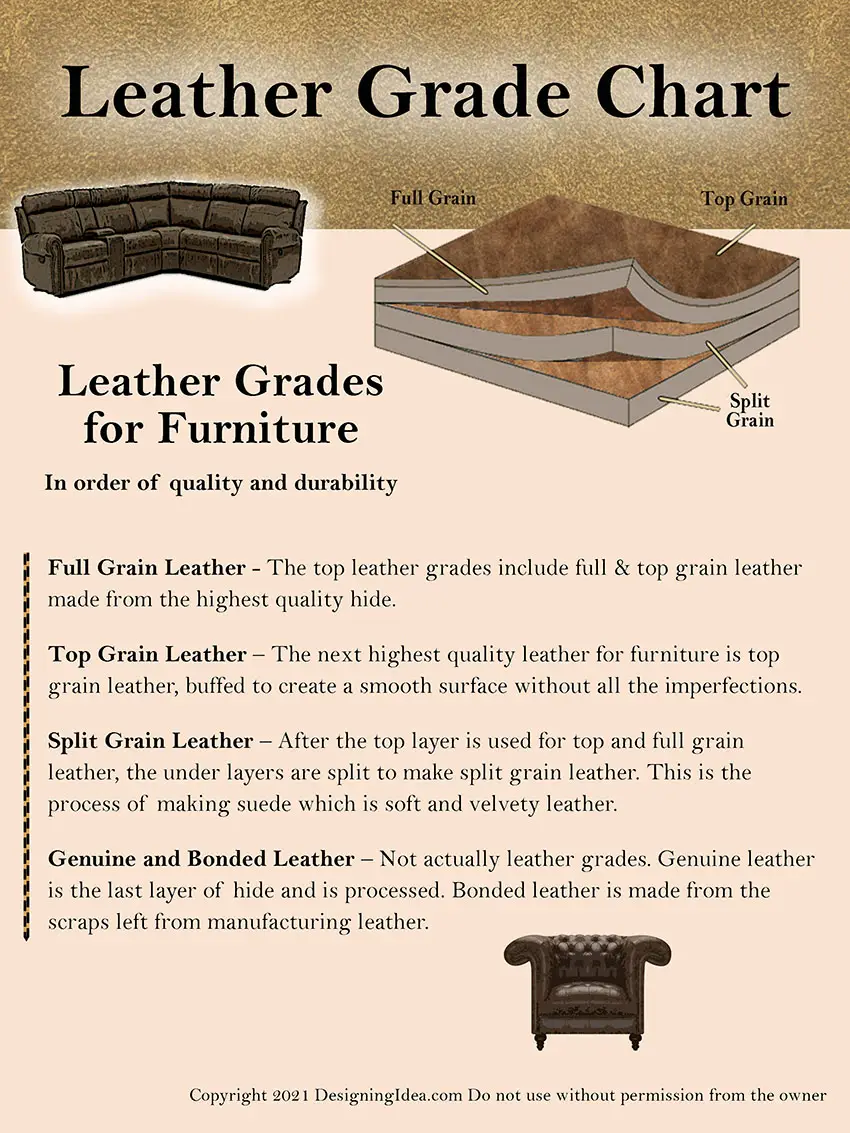 What Is The Highest Quality Leather?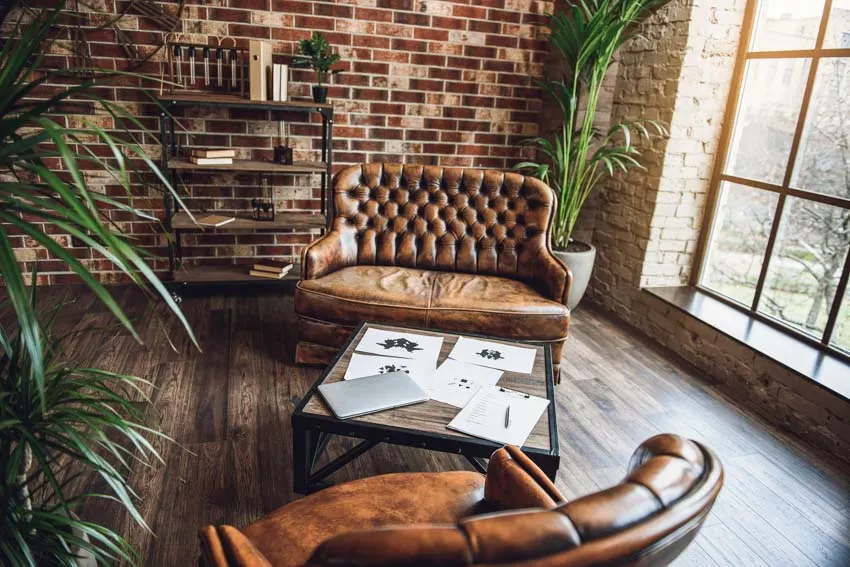 Since it is separated from the top grain, full grain, or was not subjected to sanding or buffing it has reserved its natural characteristics. This secondary layer from the exterior layer of the animal's hide is also more durable than the rest of the four grades of leather.
did we answer all the questions you had regarding hide grades and upholstery hues? Share your favorite furnishing tints and combinations in the comments. See more related content in our article about Aniline leather on this page.