Here we discuss what is a cantilever umbrella including the benefits of choosing this type of umbrella, how it works, how to operate, and its differences vs offset and market umbrellas.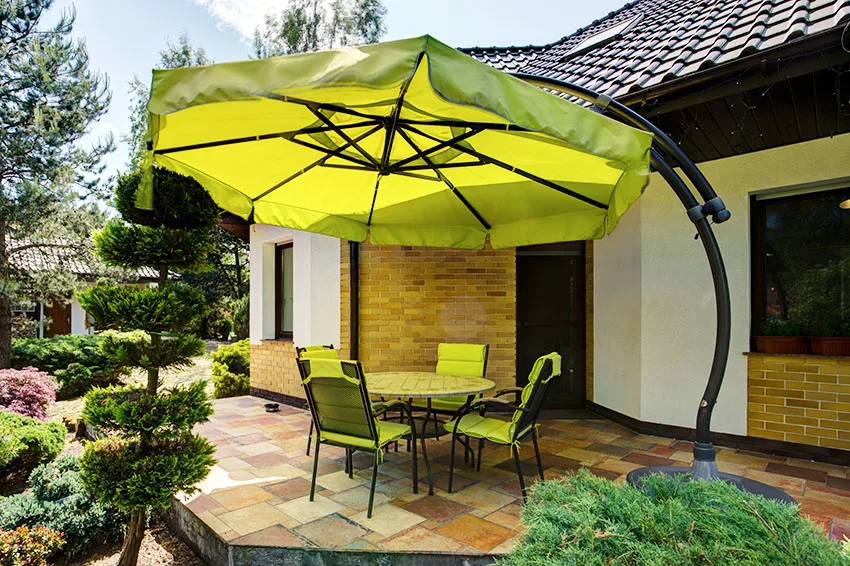 Getting some respite from the heat of the sun is as easy as holding an umbrella. If you're in a group though and you're planning to stay outdoors, a standard umbrella will not be enough. You will need a bigger and more innovative one to consider like a cantilever umbrella.
A cantilever umbrella, popular as a side pool or simply pool umbrella, is an incredible outdoor element you can add to your patio and yard. This large umbrella is incredibly versatile and stylish but what makes it preferred by many homeowners is its offset post.
Instead of being in the center of the umbrella just like most have, the post is attached to a jointed, arched, and swiveling arm you can move around as necessary. It is supported from the side and above the canopy to provide more freedom below.
This means that you can position it in a way that your living space will not be blocked and disturbed and you can choose from a variety of table and seating configurations with ease.
Benefits Of Choosing A Cantilever Umbrella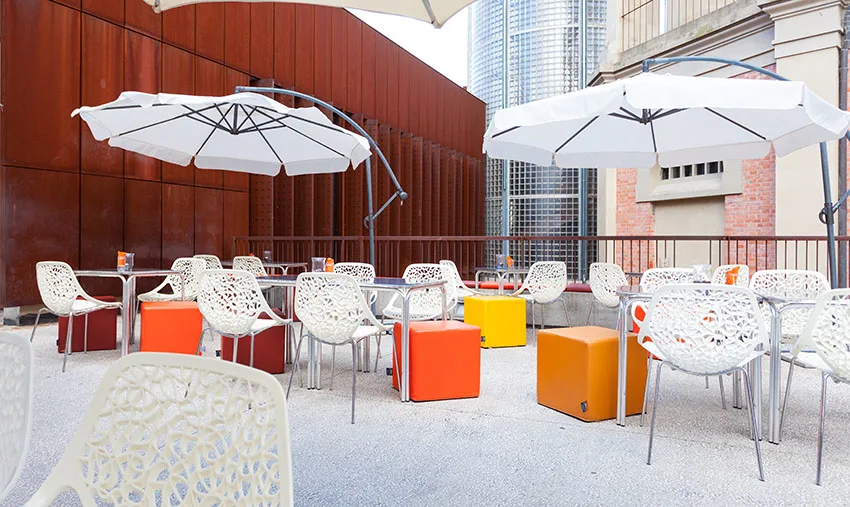 If you're deciding on settling with a cantilever umbrella, exploring the different benefits you can get from it is an excellent move to make.
Here are the advantages of choosing a cantilever umbrella for your patio:.
• Versatility: Offers an unobstructed and open living space from the sun since you can follow the sun's position with the shade (Many types of cantilever umbrellas offer 360-degree coverage and rotation).
• Stability: Considered more stable when compared to traditional designs of an outdoor umbrella.
• Wide Selection: A cantilever umbrella comes in a variety of shapes (square, octagon, and others) and sizes (2.5, 3.0, 3.5, and even 4.2 meters) that you won't have to settle on one size and try to fit whatever you're planning on using it for. See the most popular patio umbrella sizes here.

• Multiple Mast Option: With a side post, cantilever umbrellas have the option of being combined with at most four (square) masts or two (octagon) masts, which means that you have the option of increasing its coverage.
• Flexible: Since the mast is attached to a side swiveling post, you have the option of moving it around into a better position whenever it's necessary. While the mast is moveable though, in-ground cantilever umbrellas have its post fixed into position.
• Stunning Visual Appeal: Cantilever umbrellas have beautiful aesthetics with an attractive and elegant appeal, making them a great option for cafes and restaurants, and other commercial businesses that consider aesthetics one of their priorities. It can also improve the visual look of your patio and yard.
• Investment: Cantilever umbrellas can be an excellent addition to your home or an incredible investment. But like most, they have their drawbacks. They can be very expensive, depending on the fabric used and the size of the umbrella.
You can take it as a cost-effective investment though. And they are also very heavy so the notion of portability is not an option.
How Does A Cantilever Umbrella Work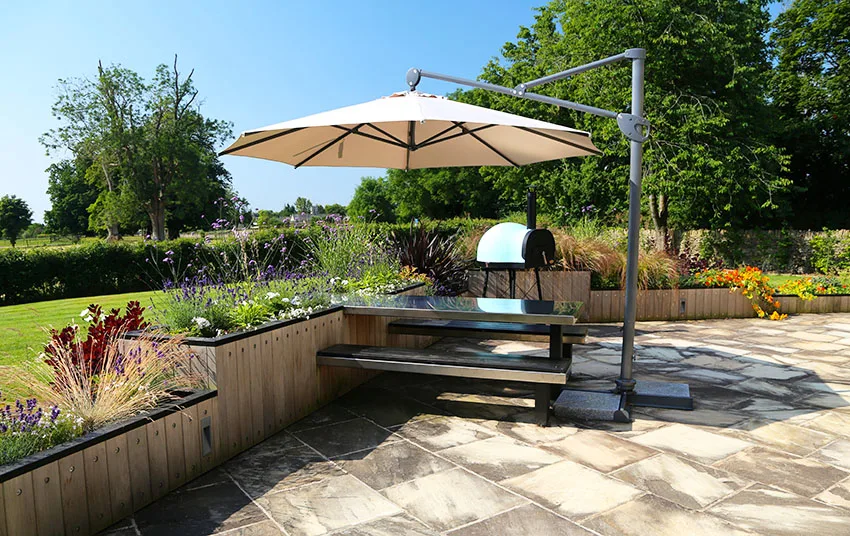 A cantilever umbrella works in a way that allows maximum freedom and mobility below. Considering the umbrella has a side swiveling arm, you can make the most out of it by following the sun's position and providing the optimum shade below. You simply need to follow the position of the sun and place the mast and canopy against it for more shade coverage.
Designed like most patio umbrellas, this type has a stable offset base that provides both stability and flexibility. Stability is accomplished by installing the cantilever umbrella in-ground while its flexibility is provided by its attachment to a swiveling arm post.
It can even be tilted, lowered, or raised and moved from left to right. And most offer a full 360-degree rotation to accommodate all angles you need.
How To Operate Cantilever Umbrella
Operating a cantilever umbrella means installing it in the right position. If you want to choose the best location, consider the place in your yard where you stay most of your time.
If you are operating a cantilever umbrella then you can consider several mounting options, including the following:
• Freestanding: This mounting option is a good option if you're not thinking about permanently installing it in your yard and would want to have the choice of moving the umbrella around and even taking it some other place without incurring possible damages to the umbrella.
• Wall-mount: Ideal to be installed off the side of your home's wall, you can easily position the umbrella in the lounging areas of your patio. See more types of patio covers here.

• Bolt down: For this mounting option, positioning the cantilever umbrella at a bit distance from your home will give it more flexibility. It is actually the ideal pool placement, where you can bolt it down on the cement floor.
• In-ground: If you're looking for a more secured and stable placement, this is the ideal mounting option and works perfectly for your yard and garden space.
Difference Between Offset And Cantilever Umbrella
Offset and cantilever umbrellas are two different types even if they are sometimes used interchangeably. Offset is a general type of outdoor umbrella while the cantilever umbrella is a much more limited type under offset. The major difference lies in the post.
An offset umbrella has a post attached to the side while a cantilever umbrella may or may not have one. It is a constant and fixed element in an offset umbrella but an optional element in a cantilever umbrella.
Cantilever Vs Market Umbrella
Cantilever and market umbrellas are two types of outdoor umbrellas you can get. There are other types to consider like beach umbrellas and even this with valances but these two general types are great starting points if you're thinking of choosing one.
| | | |
| --- | --- | --- |
| Elements | Market Umbrella | Cantilever Umbrella |
| Position | Upright center | Offset from the base |
| Poles | Straight pole | Curved pole (Optional) |
| Mounting Type | Usually Standalone or with a dining table | Several mounting options: Wall-mount, freestanding, in-ground, and bolt-in |
Market umbrellas have the standard and common aesthetics with symmetrical and straight shape. Cantilever umbrellas, on the other hand, have a more modern aesthetic with a swiveling arm and more flexible positions and installations.
Visit our guide to patio table umbrella size for more related content.