Here's our outdoor shower floor ideas including pebble, concrete, tile, wood and DIY outdoor shower designs.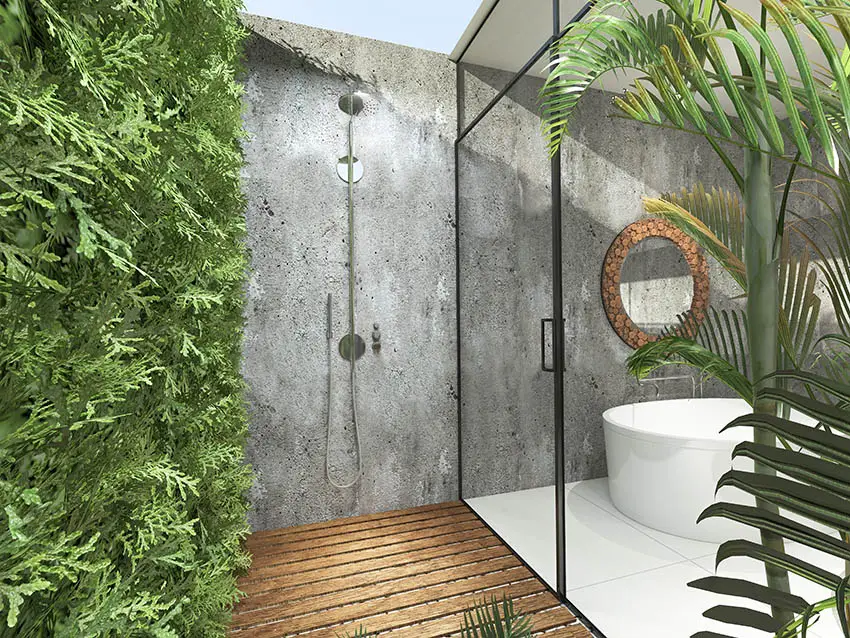 There's a certain luxury and beauty just thinking about that perfect outdoor shower. Is it those perfectly cobbled paths that led you to a lush forest-like shower?
Are you imagining some opulent shower over those polished wood decking? We are fairly certain you have an idea in mind. If you're struggling to get the idea together, don't worry.
Plan seamlessly that soaking place with an outdoor ensuite. Here's how to hook up and blueprint one of your own.
Types of Outdoor Shower Floors
The perfect outdoor shower floor will complement your outdoor shower design. It's an attractive addition to a landscape or building exterior. With that said, you can always find something that's equal parts practical and opulent. It needs careful attention so that you get to settle with the kind of flooring you really want. Let's go through each of its types.
Outdoor Shower with Pebble Floor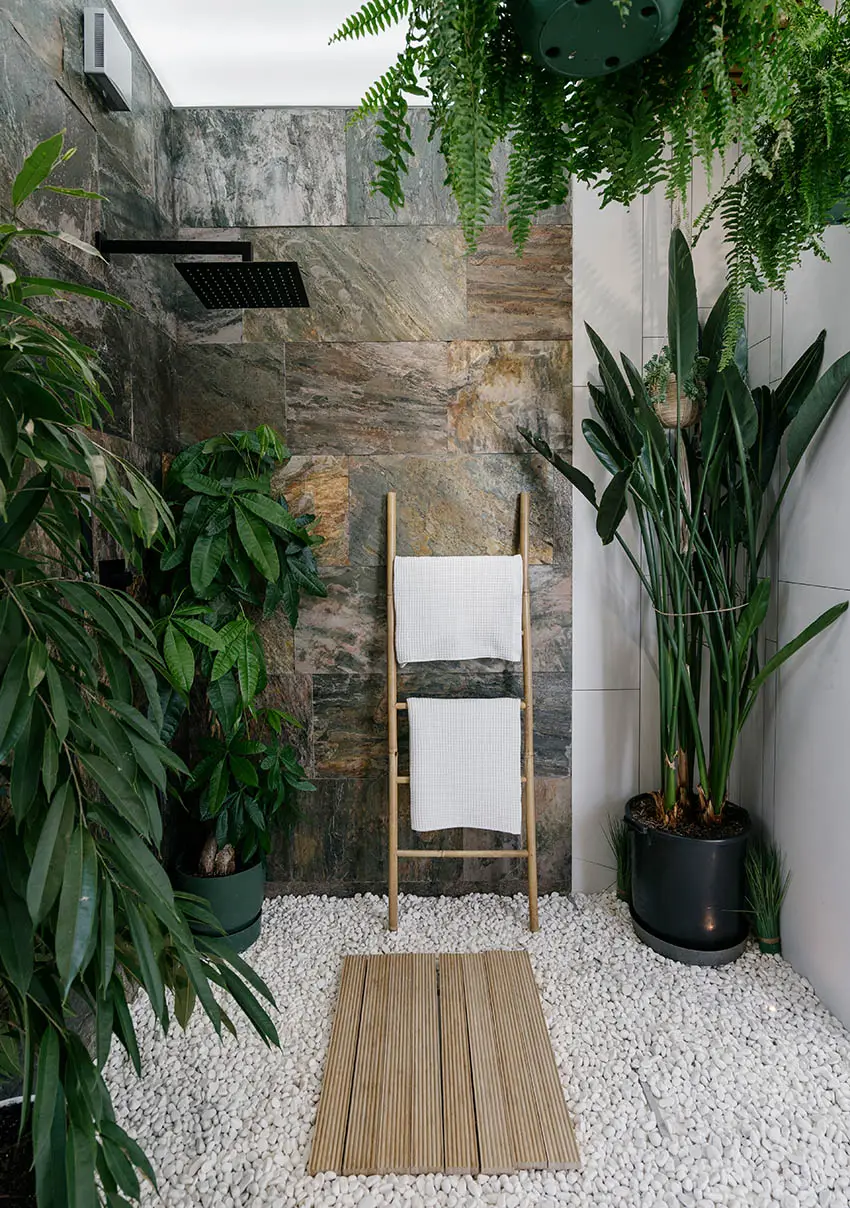 Many are in love with pebble flooring designs for an outdoor shower simply because they blend the exterior. They are also easy to install. Don't be overwhelmed with the process. All you really need are a few basic tools. Plus, patience, of course.
Another advantage of this shower flooring design is how they feel on your feet. Be honest, you completely agree with this, too.
Pebbles as flooring are actually nice on your feet and not bumpy or even painful. For starters, the pebbles intended for the outdoor shower floor are sanded down. Moreover, this flooring design is very resistant to slipping, despite the pebbles being smooth to touch.
This is particularly favorable for the elderly. A perfectly installed pebble shower floor gives a very natural look. It gives that vibe of showering under a waterfall in the great outdoors.
Outdoor Shower with Concrete Floor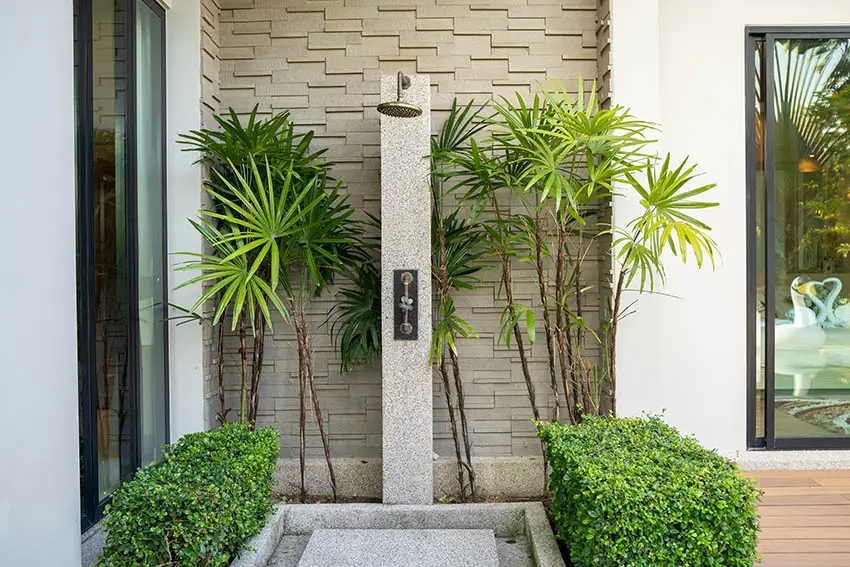 Another type we have is the outdoor shower concrete floor.This type of outdoor shower flooring is great because there's no grout lines to keep clean and concrete is very durable. Concrete shower floors can have different textures to prevent slipping or stains to provide color matching and create visual interest.
To install this type of flooring, you will have to dig out in the earth the shape of your floor plan and frame that with a wood border to hold the concrete while it sets.
Basically, the idea here is the same when you are dealing with concrete pouring. First, you will pour and lay out a bed of gravel.
Once gravel is levelled, pour concrete over it until the top of your wood border. Now, to avoid standing water, make sure to tilt the border wood frame towards the direction where you want the water to run off.
Outdoor Shower Tile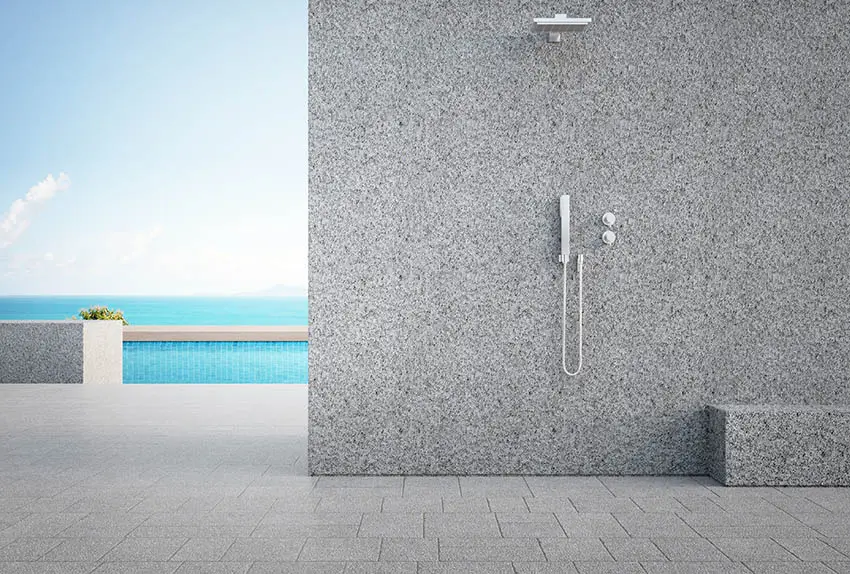 Outdoor shower tiles offer many design choices; it would be hard not to get creative. Tiles can seriously give you that chic design statement. This flooring involves some form of porcelain or ceramic tile and laying tiles can be a good choice if you need to spruce up an existing concrete slab.
Furthermore, you can improve the look of your design by making use of an additional tile pathway leading to that grand outdoor shower.
The designs are limitless if you use these materials. The flooring industry actually offers a bewildering array of tile products for outdoor applications.
For more careful consideration when choosing your tile flooring, evaluate its strength, your budget, and the weather condition without compromising style.
Outdoor Shower with Wood Base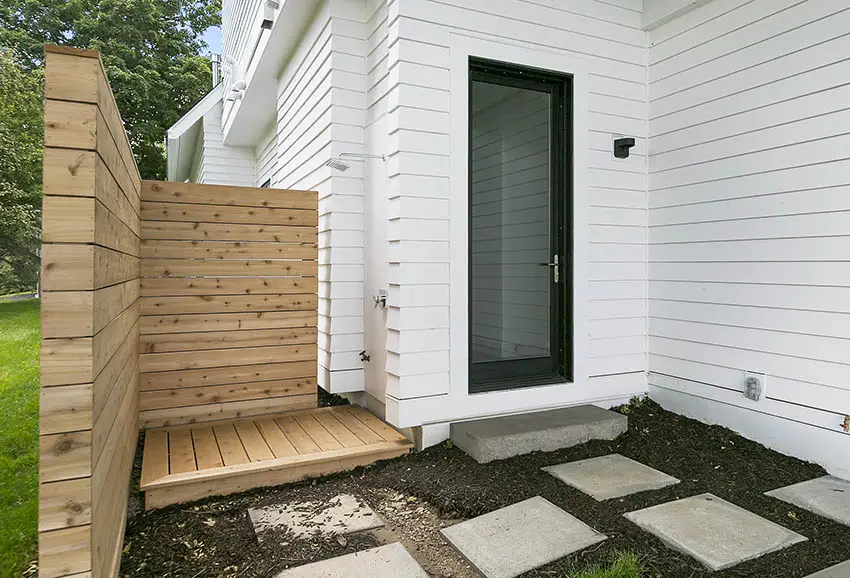 Outdoor showers with a wood base are beautiful and environmentally friendly. The best type of wood to use is teak, cedar, ironwood or cypress.
Considering an outdoor shower wood base can be a good choice if you want to do it yourself. There are ready to be installed wood bases for your shower. You just need to find the design that suits your taste.
You have the option to build a small deck-type floor made of weather-resistant wood. Mahogany and cedar are good options to consider. On the other hand, fir and pressure-treated decking will splinter easily. Additionally, consider leaving a space below the wood deck.
This allows air to circulate thereby preventing the formation of mildew and mold. Installing the deck over a frame is the best solution for this. Like most decking materials, the wood will require an occasional treatment to prevent mildew and fading.
Outdoor Shower Floor Pan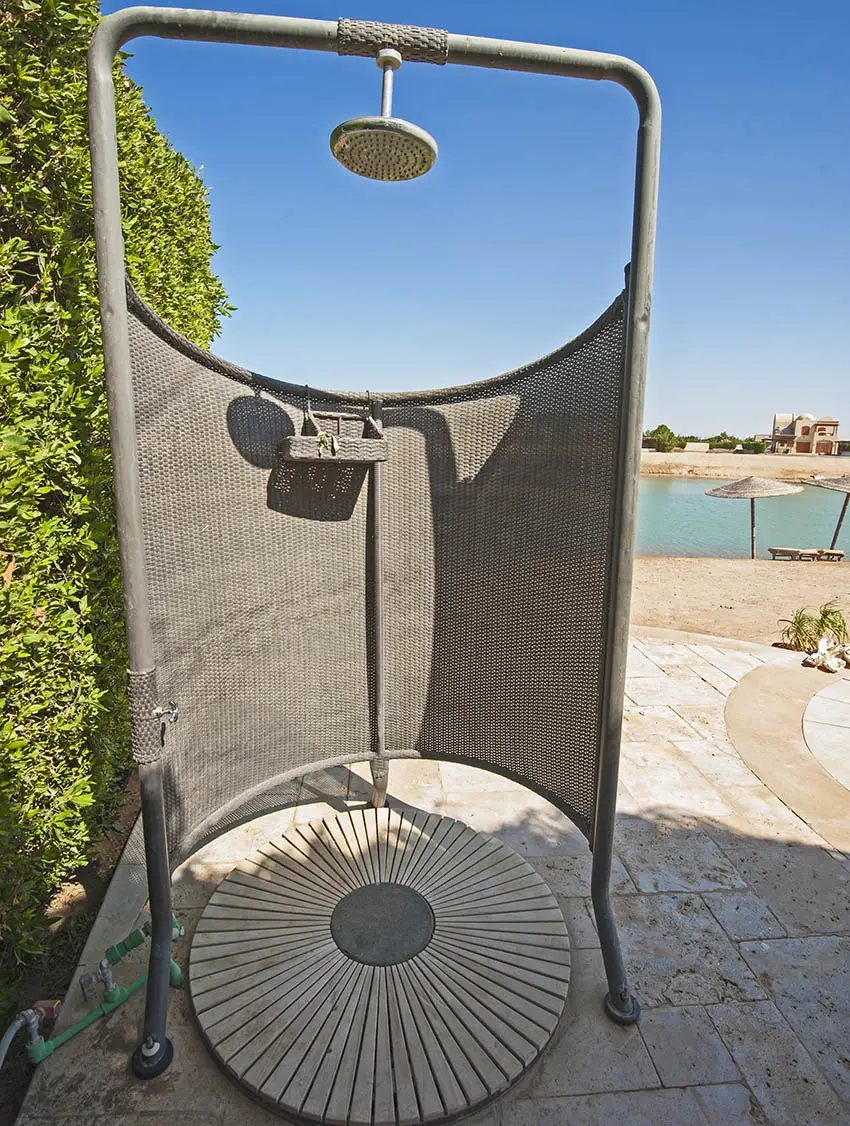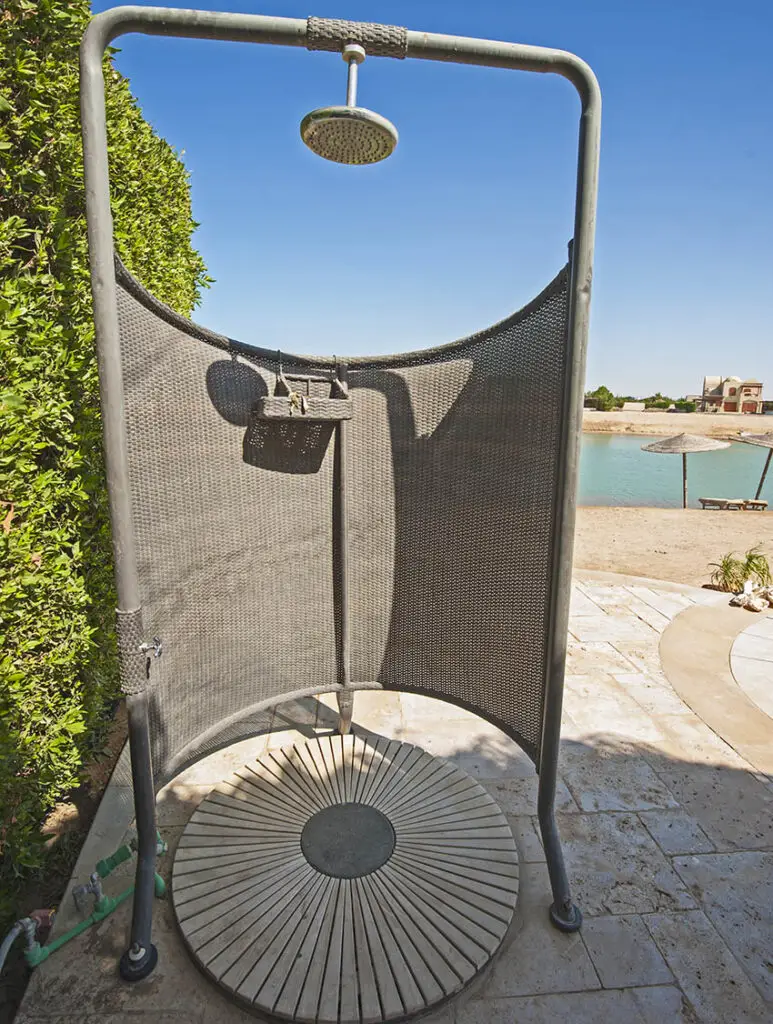 A shower floor pan is a single-piece unit you can use for flooring solutions intended for outdoor showers. It makes for an easier installation. Plus, it offers a range of customization for both safety and aesthetics .
Moreover, it falls under a medium-priced solution. Hence, you can afford a design that does not limit your customization for the look and feel of your outdoor shower floor.
Although it comes in different shower sizes and colors, the most common options chosen by designers for shower floor pans are white, grey, and black.
Some advantages of using shower floor pan include easy cleaning and low maintenance. The material is waterproof. The durability of the solid surface bases having no seams makes it a waterproof solution. Lastly, they are also not likely to crack compared to tiles being that they come in one piece.
DIY Outdoor Shower Floor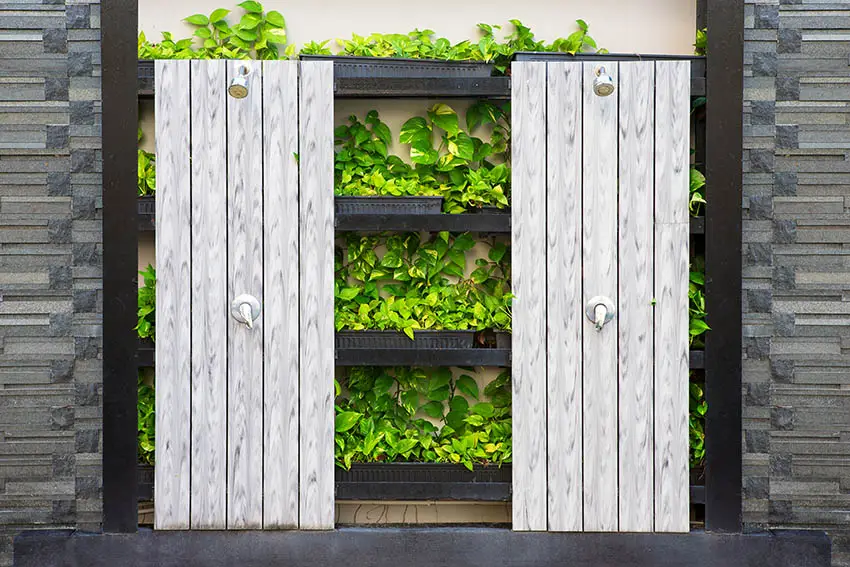 Installing your own DIY Outdoor shower floor can get overwhelming, even for the most experienced designer or DIY remodeler.
Finding out that you'll need to redirect plumbing before installing your shower floor can be a great ordeal.
However, there are easier alternatives. And with a few considerations taken into account, your job will get uncomplicated. Clearly, we all want that. Consider the notes we have taken for you for a hassle-free DIY outdoor shower floor installation.
Location — If you are starting from scratch, choose a location with easy access to the water source. With planning, plumbing won't be a problem in the long run. The general rule of thumb is that the closer the shower is to the house, the easier it is to set up for proper plumbing.
Drainage — Lastly, another important matter, every shower needs a drain. When constructing your shower floor, you also need to consider how much drainage you will also need. Otherwise, a flooding problem might be an issue later on.
In addition to this, you might want to consider placing a plastic cap directly over the drain. Considering that this is outdoor, you might want to keep the larger debris and not let that clog up your water lines.
Best Floor for Outdoor Shower
The considerations mentioned above are only a few that will determine the type of shower floor for you. Frankly, installing an outdoor shower flooring is no easy feat. But only if not carefully thought of.
Most of the outdoor flooring designs we have mentioned above are adequate and unique in their important ways. Therefore, with the external and environmental factors carefully taken into consideration, you can never go far from choosing the best, efficient floor for your outdoor shower.
Choose wisely with the material, the style will deliberately follow and give you that opulent, lush shower.you dream of.
If you are designing your own outdoor shower you can use one of the popular 3d landscape design software programs to plan your layout. With these programs you can design your space based on your areas square footage and then visualize the results in 3D view.