Here's our pergola vs gazebo comparison guide including what they are, pros and cons and which is best for your backyard design.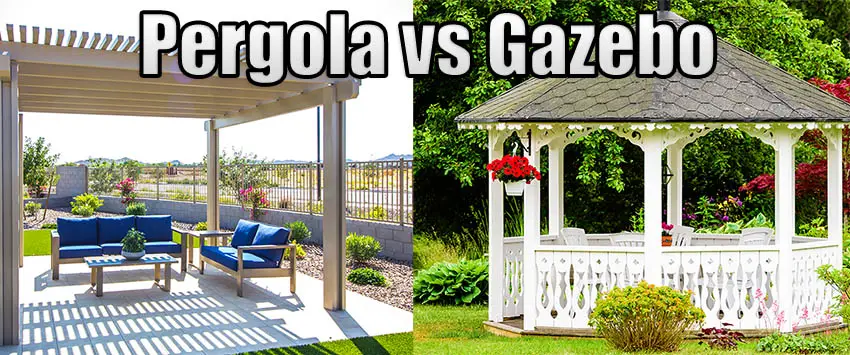 Our backyards are an intimate space, especially if shared with our loved ones. Such a place creates memories and allows outdoor activities. Some people even plan out their backyard down to every single detail.
If you are here because you want to learn more and build that little shade and protection for your backyard where people can take shelter, you came on the right page.
You have two options: pergola or gazebo. But wait, you have no idea what exactly they are. Are they even the same? Below we compare these two to set some clarity. By the end of this read, you will be equipped with knowledge to help decide which is best for your home.
Pergola vs Gazebo
Pergolas and Gazebo are both outdoor structures . Both can offer shade and shelter from sunshine and rain in your backyard.
However, it is important to emphasize that these two are different, thus not interchangeable. But that's a good thing. Knowing their difference will give you, not one, but two options for your backyard.
Familiarize their function, their pros and cons, and their practicality. Doing so will lead you to sound buying decisions. Now, let's get started.
What is Pergola?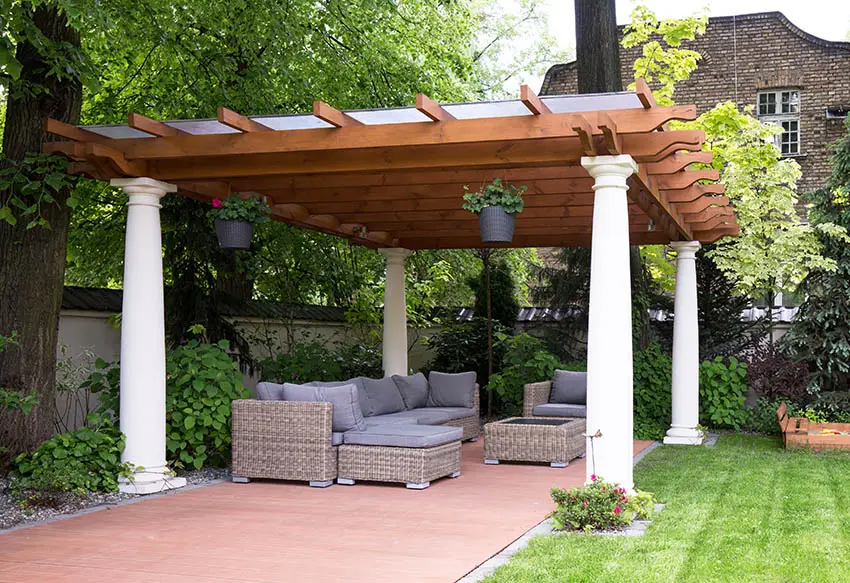 More people are familiar with Pergolas. The main reason is that they're commonly built above houses as partial covering over decks. And, they're less expensive compared to gazebos. But let's delve further and know each side.
Pergola comes from the Latin word "pergula ", meaning "projecting eave." This implies that all pergolas are freestanding structures. They can be built either as a full or retractable roof that offers a partial shade. They are usually intermittent beams laid out spaciously in your roofing.
There are also roofless pergolas. For this type, plants or vines may be grown hanging from the beams to offer cover and enhance the target ambiance such as natural aesthetics.
With the contemporary design nowadays, pergolas offer that sleek and sensible look befitting that of our modern architecture. This style is attractive to minimalists and for those who appreciate simplicity. It can be the perfect backyard oasis placed poolside or along flowerbeds. See more pergola ideas here.
What is Gazebo?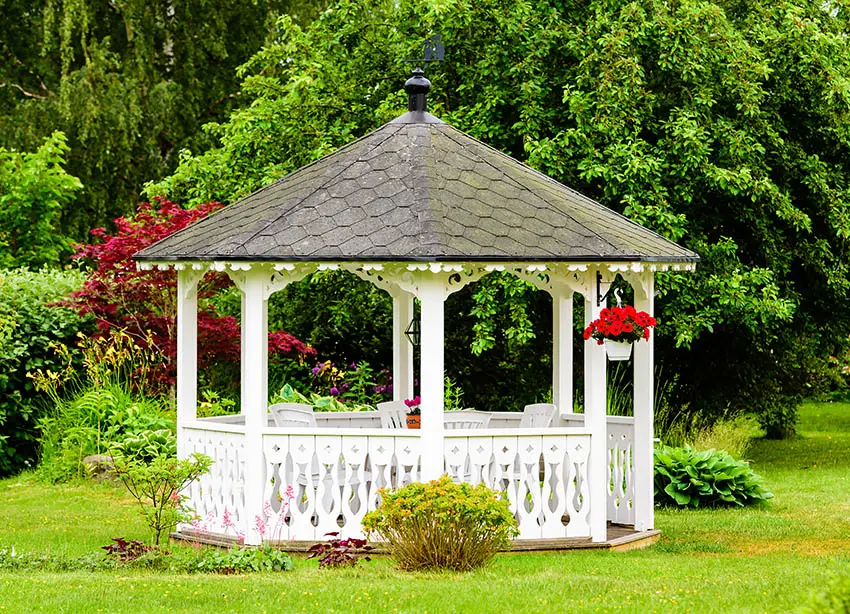 Gazebos are these outdoor structures that are elaborate in style, often drawing inspiration from polygonal shapes. Dated way back to the 19th century, a traditional gazebo is characterized by a dome-style roof and often associated as a luxurious place to lounge while looking out at a picturesque view.
The structural design of the gazebo is simple yet elegant. The points of a polygon are where the pillars, posts or columns are erected. And, the sides are completely open to the air. They occasionally have full walls around but with large window designs integrated into them.
Generally, most gazebo designs give you a vibe aligned with a Victorian garden setting — elaborated with layers.
Difference Between Pergola and Gazebo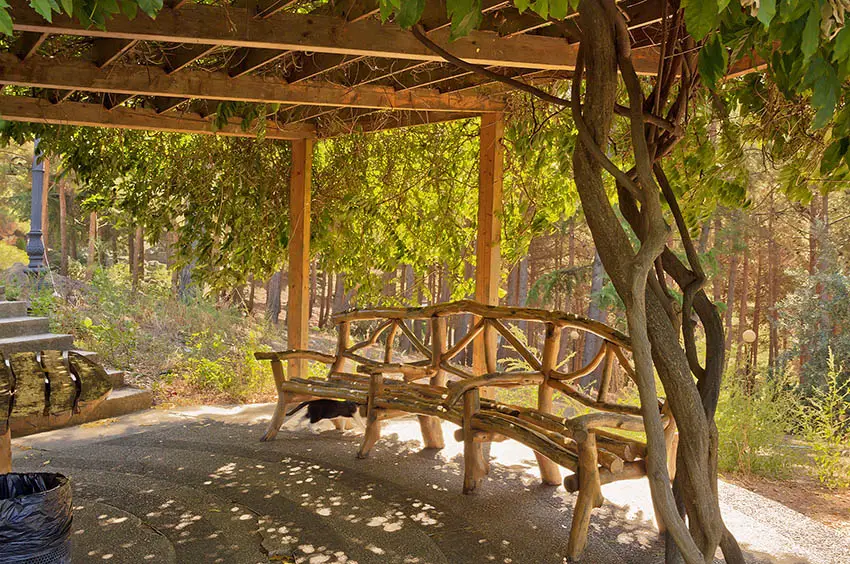 Classifying the difference between these outdoor living shelters is not that abstruse. We will keep it simple for you.
The main difference between a pergola and a gazebo lies in its function and the shape of the structure. With these two factors, materials and costing vary significantly.
For its function, a gazebo provides full coverage from the sun. On the other hand, a gazebo, with its intermittent beam spacing, can allow sunlight to permeate through its slatted roof. With this, it only provides a partial shelter.
Also, more importantly, a pergola is primarily designed for vines to climb and trail along with the posts and beams. It is what makes it unique and disparate from that of a gazebo.
Furthermore, one main difference between these two is the shape of the structure. A gazebo almost always has an octagonal-shaped, defined roof. Its architectural design all the way down is where the details are altered.
As for the Pergola, the traditional shape is rectangular. It pertains more to a liking of modern architectural designs. They are, therefore, less cluttered structurally. The difference in actuality is staggering, it wouldn't be that hard to tell one from the other. See our article on pergola dimensions here for more on this topic.
Pros and Cons of Pergola vs Gazebo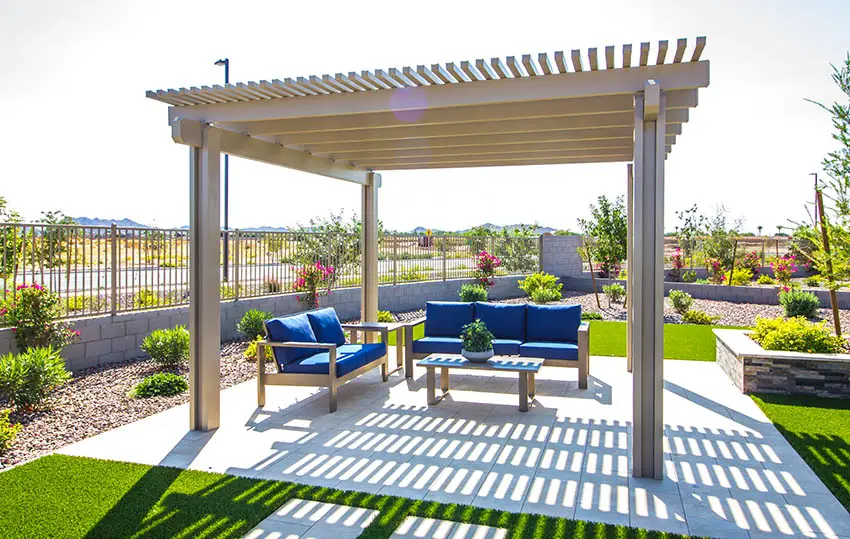 Pergola Pros
Quick and easy to construct – For a pergola, these structures are relatively easy to build. Once you have set your posts, the final construction gets quickly done before you even realize it.
Extend the outdoor living space – Since many pergolas are built on to a patio area they can extend the amount of time you enjoy this space.
More modern or contemporary design – For those looking for a more modern design aesthetic a pergola may be what you want. A modern pergola tends to offer a more stylish appearance than the traditional style of a gazebo.
DIY project potential – A pergola is much less complicated to create and asselble compared to a gazebo. It is for this reason that homeowners alone can get the job done by themselves having some handy power tools. You can use pergola design software to plan your layouts.
A versatile canopy sunshade can be used – A sunshade can be used on a pergola to shade the area when you need it or removed to allow in filtered sunlight. A pergola canopy provides a more versatile structure than a gazebo.
Inexpensive – Considering the financial aspect, you will have the flexibility to find the right materials with your budget blending in. If you've chosen your material, pergolas are still relatively inexpensive compared to a gazebo.
Gazebo Pros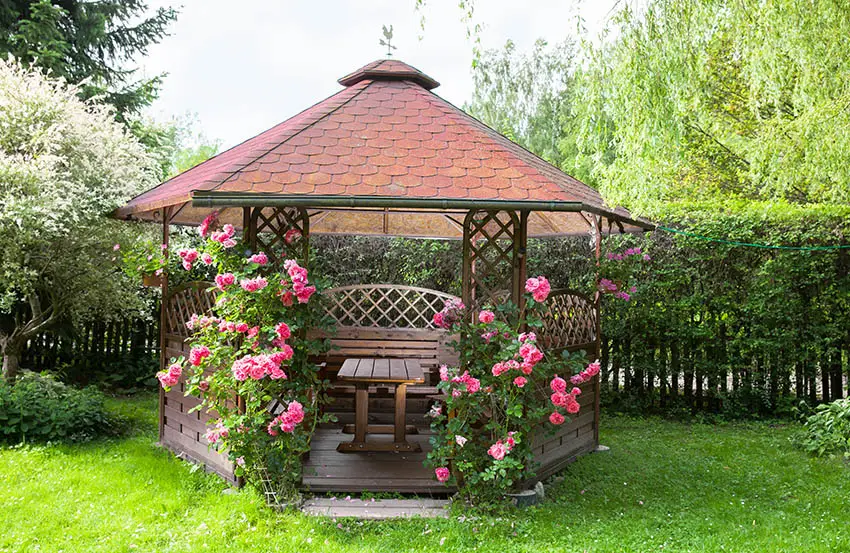 Durability – On that note, gazebos are considered sturdy. There's a little risk for gazebos to be damaged during bad weather. Because they are an outdoor space where you can lounge, they become an oasis of comfort and style.
Traditional look – For those who want a traditional style design in their yard a gazebo fits the bill.
Rain & weather protection – Since they have full roofing, it isn't likely for your gazebo to get muddy during rain. It will also be safe to run electricity. You will not have to worry about damaging your electrical appliances and outlets.
Provides shade – Unlike a pergola which requires a canopy for shade a gazebo always offers a shady spot.
Adds resale value to the home – Certainly, a high-quality gazebo adds value to a home and will therefore be appealing to potential buyers.
Pergola Cons
Doesn't provide much shade – One of the main disadvantages of Pergolas is that they don't offer much shade. Until climbing vines have fully trailed your outdoor structure, you will not want to lounge under it especially during summers.
Also, until vines have fully grown, your structure seems to look unfinished. This can rather be frustrating for homeowners who finished the project in the fall as the plants will begin to grow until spring.
May fade over time – Many pergola designs with wood can fade in the sun over time if not properly treated. They can also tend to lean or even potentially fall over in adverse weather conditions.
May not increase resale value – While a gazebo is known to increase a homes resale value a pergola may not.
Requires regular maintenance – Additionally, while wood pergolas are classic to look at once done, they require regular maintenance if you want your wood looking its best and to last longer.
Gazebo Cons
They take up more yard space – Typically a gazebo has a large footprint and take a lot of backyard real estate.
Metal may get too hot – Steel or other types of metal gazebos can blister during hot summer days.
More expensive – Gazebos they tend to be more expensive and you may have to hire an expert to do the work for you. They are certainly not recommended to DIY homebuilders.
Roof may leak over time – Moreover, just like any other home, the roof will eventually leak for your gazebo. This would mean expensive repairs to address such concerns using a sealant around the corners of the canopy.
What Do You Call a Pergola with a Roof?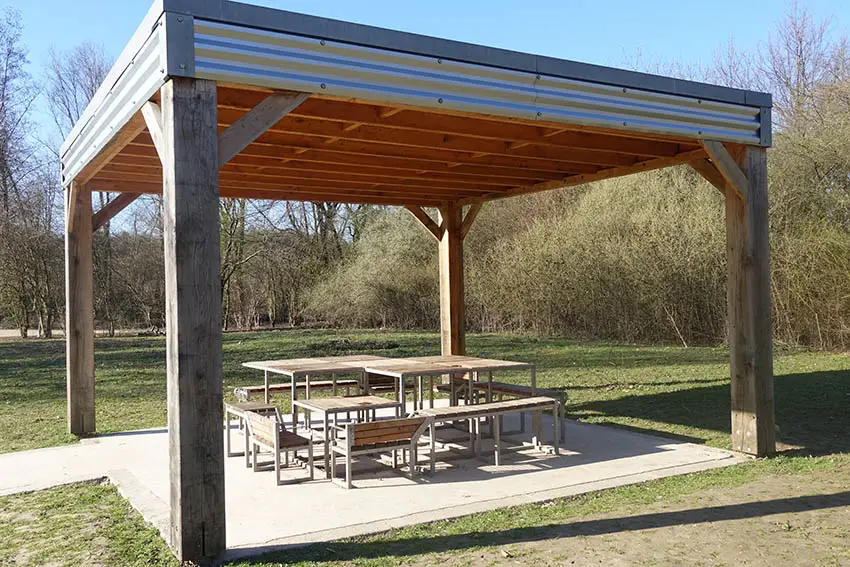 Some pergola owners have an issue with a lack of coverage. If they want to resolve this, they might want to consider installing their pergola with a solid roof. Such is often referred to as Pavilions.
A pavilion is a freestanding pergola with a fixed roof. Now, to make things further interesting, you can install roofs either fixed or retractable. If you prefer a pergola's aesthetics but also want some roof, you now have another option.
Which is Best: Pergola or Gazebo?
The thing is, it truly is a matter of personal choice. Both pergola and gazebo are unique but equally offer shade and aesthetics for you in your backyard.
It might help to carefully examine the environment your outdoor structure will be built in. Because once done, it will somehow affect the general feel of your backyard.
This is why planning beforehand is very important and all decisions are carefully thought of. Take your sweet time and imagine how you will want your backyard to be done.
Observe where the sun heats and if you need full shade. Are there practical priorities that need to be considered? For instance, a select area is predetermined for your pool or garden then you will have to build your structure someplace else.
These simple details, they all up to your desired outdoor experience, especially one built in your backyard. Finally, whichever you choose, make it to a point that practicality and aesthetics both meet halfway.
For more related pictures see our gallery of gazebo ideas here.