These are the most popular Adirondack chair paint colors, with the types of paint to use, best paint & color ideas, and tips on how to waterproof your Adirondack chairs.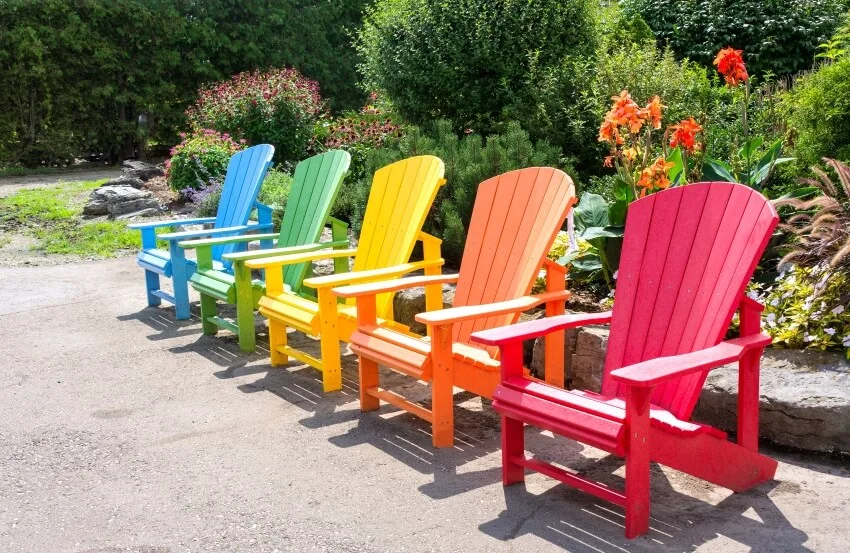 Adirondack chairs are iconic. They are best known for their wide arms and their low and reclined backs. These chairs are the first things that come to mind when you think of the word relaxation.
The reason why these chairs are so relaxing is because once you've settled down into its natural slope, it can be the ultimate temptation to just close your eyes and eventually doze off.
Despite being laid back and being associated with leisure and relaxation, Adirondack chairs are also surprisingly stable and sturdy. This makes them ideal for virtually any type of outdoor setting be it in your backyard, by the beach, by a lake, and so much more.
These chairs can also come in different materials, from wood to plastic or even hybrid composite materials. This is a major investment for as far as outdoor seating is concerned so when you're considering your picks, make sure that you keep the best materials and the best colors in mind.
What Type Of Paint To Use With Adirondack Chairs?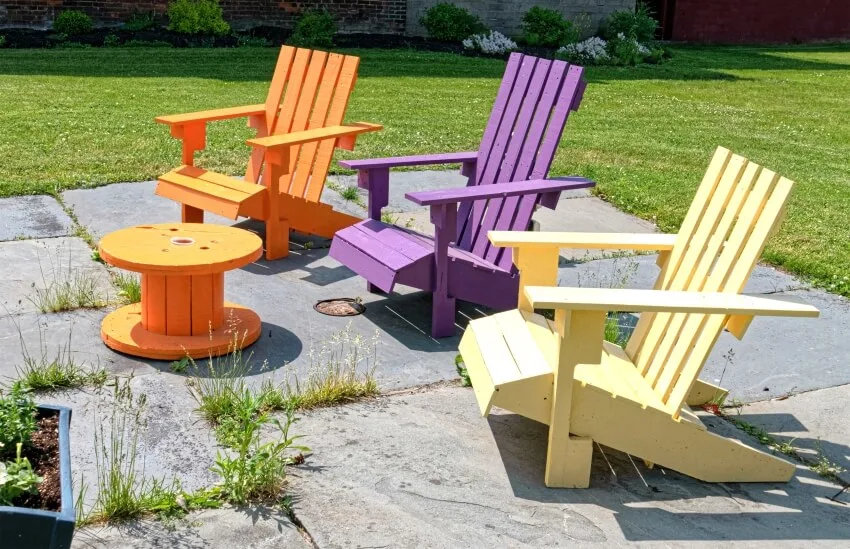 If you already have an existing pair or more of Adirondack chairs, it is almost guaranteed that you will have years and years to enjoy them. This also means that eventually, the chairs could show some wear and tear and there might be a need for you to get them repainted.
Paint to Use For Adirondack Chairs

• When upcycling old Adirondack chairs, you can go down two routes: oil-based or water-based paints. Oil based paints are known to dry much quicker and to be fairly resistant to staining.
Water based paints have been known to absorb into the wooden chairs very well and will usually require a longer timeframe to dry out.
• Exterior latex enamel paint – This is the best type of paint to use. You need to know though that before you can apply it on your Adirondack chairs, you need to properly prime it with a high quality primer.
This is one of the most durable types of paints around. It can stand up pretty well against moisture and against extreme exposures to UV light.
What Color Should I Paint My Adirondack Chairs?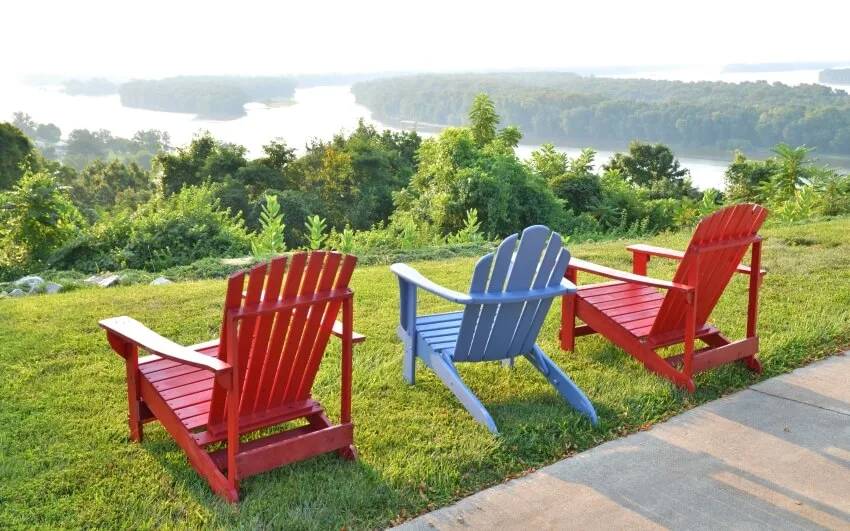 Adirondack chairs can come in a variety of material types and colors. The reality is that it's all pretty subjective what the best colors are. They may vary greatly depending on your design theme as well as preferred colors.
But then again, there's a reason why some chair colors are more popular than the others and we'll attempt to break them down so you can eventually make an informed decision on what Adirondack chair colors will suit you best.
Blue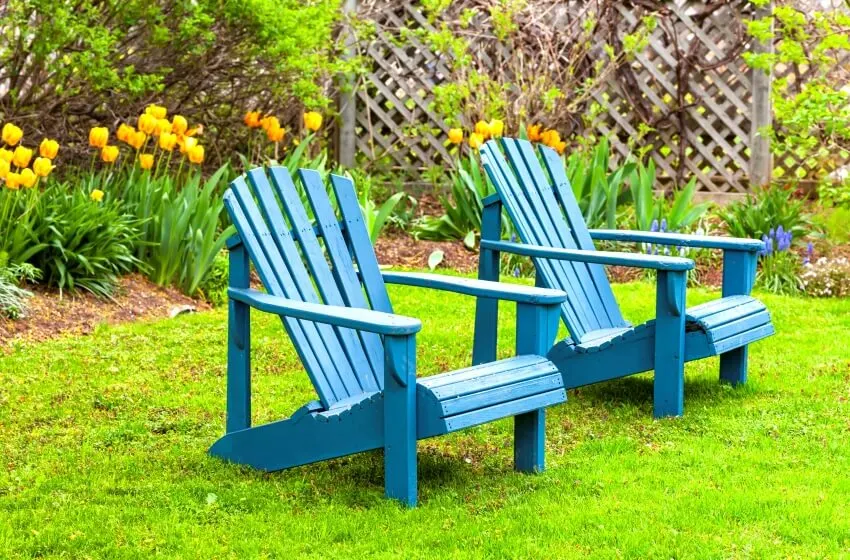 This color is a top favorite for Adirondack chairs. It may be because blue by default brings in coastal vibes. The right kind of blue not only stands out on the outdoors, it also blends in well with whatever other outdoor furniture pieces or elements you may have from along with it. Blue Adirondack chairs look perfect in a garden view as well as by the beach.
Navy
This color is related to blue but it's much darker. What this color delivers is something that is more modern and elegant. It has a rich and bold feel to it and it pairs well with bright-colored cushions. If you want to liven up or brighten up the space, navy Adirondack chairs are a good color to go for.
Red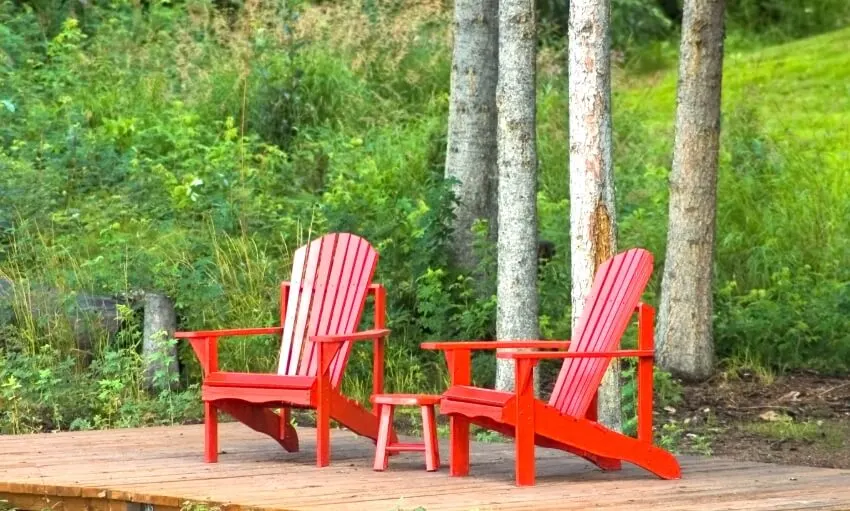 Red is a strong color. It represents strength and power. It's also vibrant and bright and happens to be a perfect color for Adirondack chairs.
This is great if the design scheme you have for your outdoors is something a bit avant garde and you plan to mix and match prints and bold colors together. Red is something that can make your Adirondack chairs the focal point of the entire setting. It's a true show-stopper for sure.
Yellow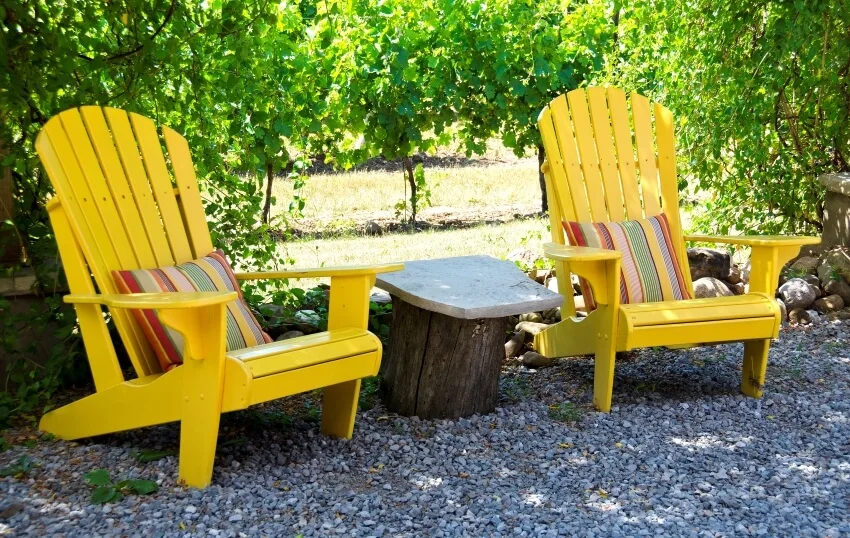 If you want the outdoor space to have a more resort-like feel or vibe to it, adding in yellow colored Adirondack chairs can really help pull the look together. This is perfect for brightening up the space especially if it's facing somewhere sunny like a bright space in the garden or a beach of sorts.
Orange
Orange isn't really that much of a favorite. As a matter of fact, some would say that this color is least preferred on Adirondack chairs. However, what a lot of people overlook is that although orange may seem like an understated and underrated color, it's actually a magical one for Adirondack chairs.
Pair it with bright cushions in primary colors and you have a party. It can energize and bring enthusiasm in your outdoor setting area.
Green
Green is an organic color and it's the color that's best associated with nature. Bringing this color to your Adirondack chairs can give the space a natural and environmentally friendly vibe and something that's classy and easy on the eyes as well.
Black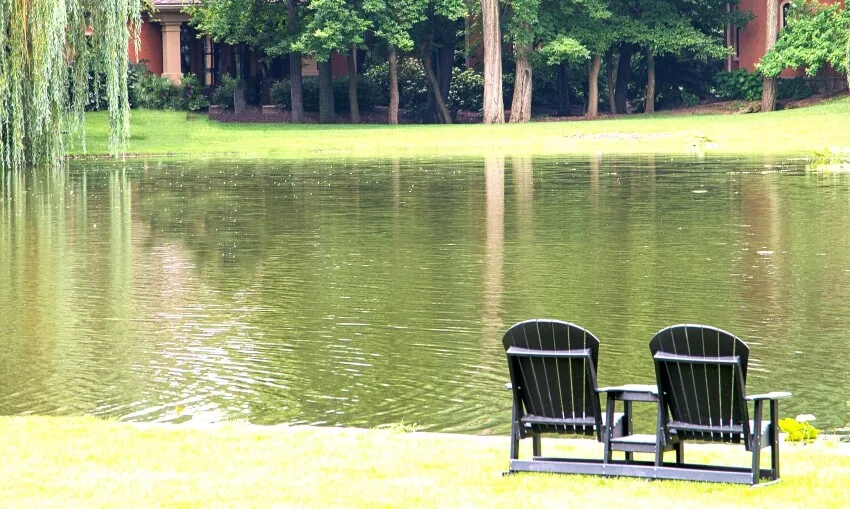 A black Adirondack chair looks and feels sophisticated. It's perfect for virtually any type of setting as black is a color that can fit in well with virtually anything. Pair it with colorful blankets and cushions to add a bit of personality to it or you can use it as is. It's elegant and powerful enough to stand on its own.
White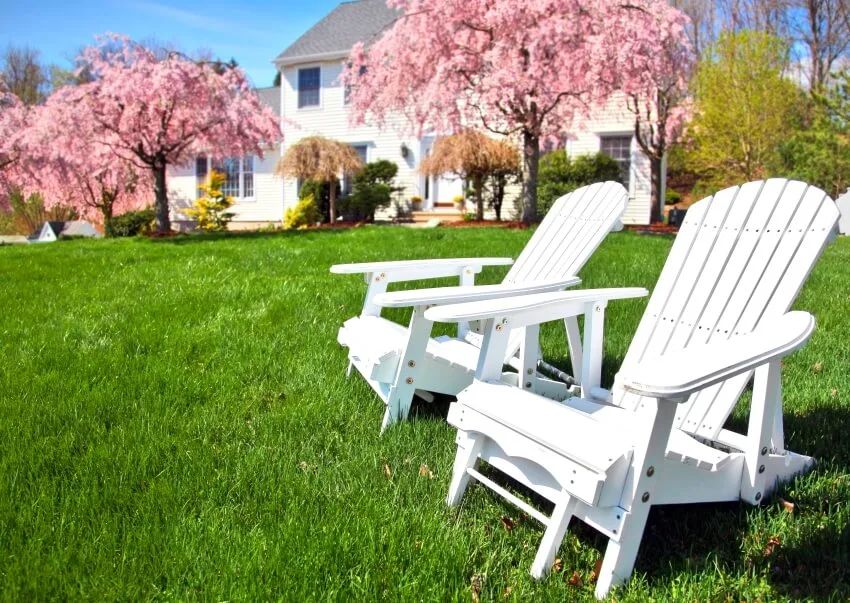 And of course, who can resist white Adirondack chairs? White looks fresh and clean, especially when it's new. What this means is that although it's a great color, you would have to maintain it and clean it often as the paint can get dirty as it weathers over time. Check out our guide to maintenance free outdoor furniture for a related article.
What Are The Most Popular Chair Colors?
Wood tones are typically considered the most popular Adirondack chair colors to use. The next best choice for a subtle décor piece would be neutral colors such as white, light gray and beige.
If you want to make an impression, or create a focal point for a designated sitting area then choosing a color such as blue or red are solid picks.
Best Paint For Adirondack Style Chairs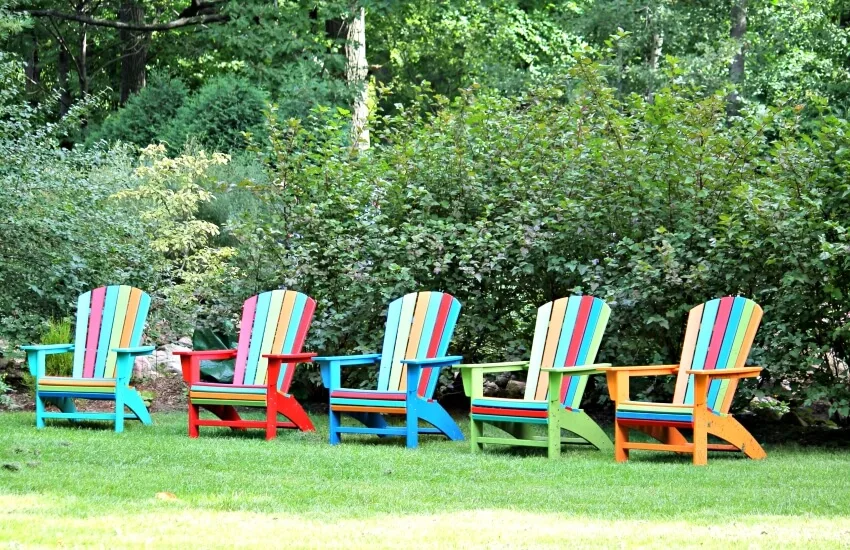 Adirondack chairs can pull the look together for your outdoors. What once probably didn't make that much sense will start having a look and feel of cohesiveness with the right Adirondack chairs in place. When choosing paints for your Adirondack chairs, it's important that you consider the best ones suited for them.
These chairs will be outdoors and will be at the mercy of the elements for the most part of their lives. It's important that you pick paints that will make your chairs rain and UV proof, among many other things.
In addition to the color scheme you use, you may also consider fabric cushions in a variety of colors. Cushions may make your chair more comfortable and allow you to try out different color combinations to further enhance their look.
Here are some of the top paint brands and finishes to keep in mind:
RustOleum Paint for Outdoor Chairs – Multiple Surface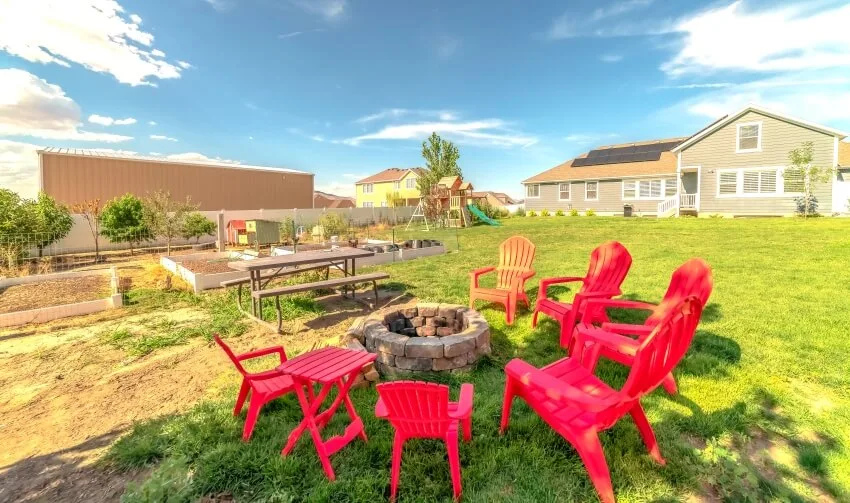 It's smooth, durable, and provides great coverage. It comes in a convenient spray can so the application is a breeze and is absolutely mess-free.
Another amazing feature for this paint is that it dries up completely in a matter of 20 minutes. It can simplify your painting project by a mile. It's also suitable for multiple surfaces so it can work for Adirondack chairs of varying material types.
RustOleum Paint for Exterior Chairs – Metallic Black
There's a pretty good reason why there are a lot of Rust Oleum paints in this list. It's one of the best brands there are when it comes to outdoor furniture paint. This material provides full coverage as well as UV protection after only one coating.
It's oil based so it sprays on pretty easily and evenly and doesn't take a lot of time to dry up. The color is also a standout as not a lot of paint brands with the same color and sheen can over such durability in their paint variants.
Majic Paint for Patio Chairs – Smooth Finish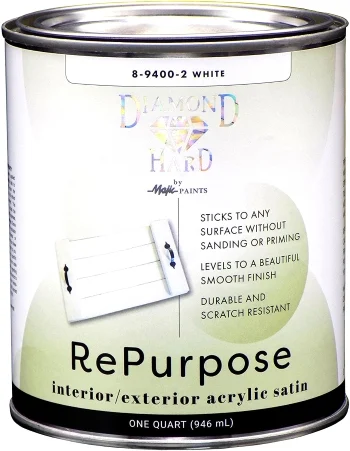 See this Majic Paint at Amazon [sponsored link]
If you prefer painting on your Adirondack chairs with brushes, this may be the paint brand for you. It's also mess free and ensures that you aren't wasting too much of the material during the paint process. They can also come in a lot of color options for you.
It's key feature is its one-step technique. With this paint type, there's no need to sand nor prime the surfaces before the application. This makes it perfect for DIYers who aren't really all that technical in the first place. It can provide protection from mildew, rust, mold, extreme temperature, and other damaging variables that the elements might throw in.
Spruce Paint for Backyard Chairs – Vintage Look
This paint brand comes in a lot of calming color options that can be perfect for your Adirondack chairs. Aside from that, it's easy to apply with brushes and the colors are exactly as advertised. It provides a very smooth surface and has no bubbles appearing on the surface, unlike most paint brands.
How Do You Waterproof An Adirondack Design Chair?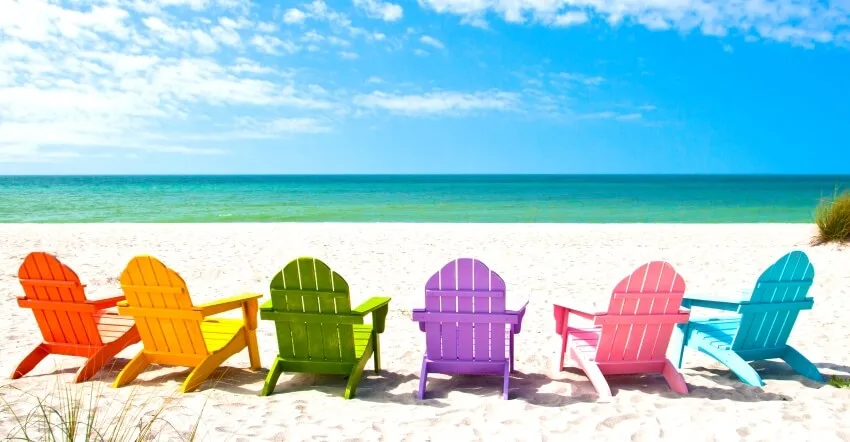 You'll definitely be able to save a lot of money if you go through the trouble of weatherproofing your Adirondack chairs at home.
Here are a few simple things you can do to protect your investment or bring new life to old Adirondack chairs.
Outdoor Deck Stain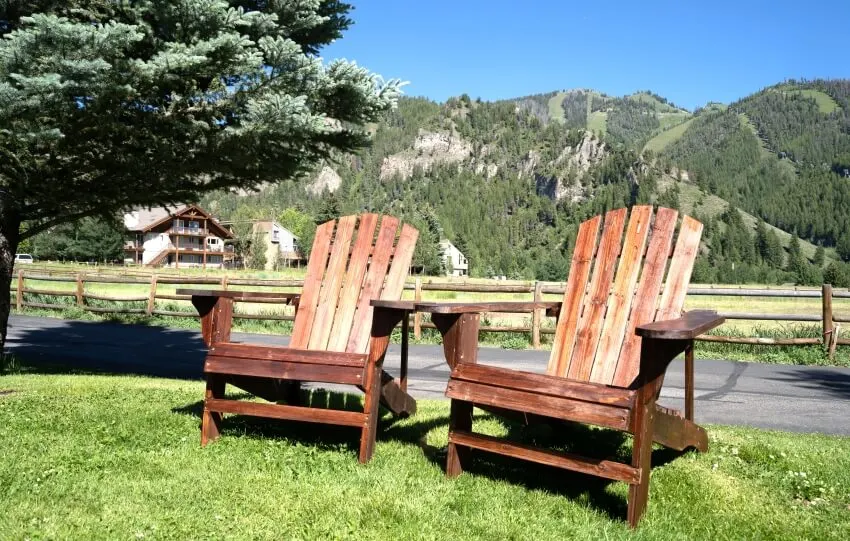 Make sure that you sand the Adirondack chairs down until you get to the bare wood. Wear a protective mask to keep yourself from inhaling the dust particles. Seal any exposed wood grain surfaces with an outdoor seal such as Thompson's WaterSeal.
Make sure that you pay extra attention to the legs and feet of the chairs as they can take up the most amount of water when left outside. Once done sealing, you can then apply some outdoor deckstain on. If you prefer to paint on your chairs, make sure that you use a high quality primer and use paints recommended for outdoor furniture such as Rust Oleum Restore.
For Metal Chairs
Sand off as much paint and rust as you possibly can. Using an oil based primer such as Rust Oleum's Rusty Metal Spray Primer, treat the entire metal Adirondack chair. This will bind to the rust, prevent corrosion, and overall create a smooth and paintable surface.
Visit our guide to the best type of paint for outdoor furniture for more related content.