Here's our granite countertops and paint colors design guide including tips on how to match paint colors and paint color ideas that go best with granite countertops.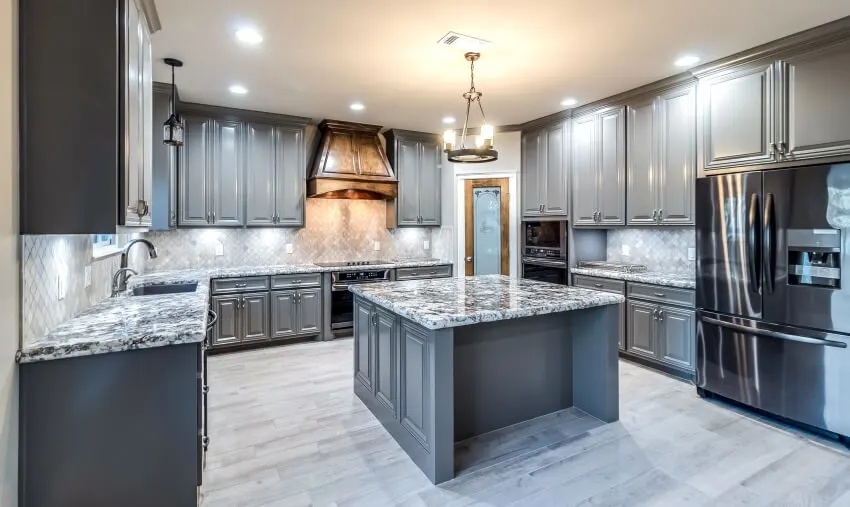 Taking inspiration from the colors of your granite slab is much easier than searching for a granite color scheme to match your existing interior paint finish. This is because there is a broader selection of paint shades compared to the available granite colors.
However, if you can find that perfect match, you are sure to have a harmonious and breathtaking look that will last for years.

If you're in a dilemma on finding the right color match for a cohesive look with your granite countertops, here are useful tips on how to match your interior paint with your granite countertop.
How Do I Match Paint To Granite?
1. Remember the 60-30-10 Rule
This is a timeless and widely used rule when it comes to décor and general design, and it comes in handy when working around your granite slab.
For your kitchen and other functional rooms with a large coverage area by your granite counter, your slab, cabinets, and walls are under your 60% fraction. The 30% should include your secondary colors and textures, and the 10% will include your accent colors.
2. Choose Whether to Contrast or to go Monotonous
Giving contrast is visually pleasing as it allows objects to be easily distinguishable. To find contrasting hues for your granite countertops, you'll need to choose its complementary colors. Look for the dominant color in your stone slab.
Some free websites or applications provide these complementary colors where you simply click the closest tone or take an image of your granite color, and it will automatically provide its HEX code. Choose two lighter or darker shades of your complementary color to match your granite color.
Going monotonous leans toward a minimalistic color scheme. Such as gray on gray or black on black. Neutral hues work best with a monotonous theme as it provides a clean and relaxing vibe, especially if you're planning for a kitchen area.
Look for analogous colors for your monotonous color scheme, and these hues are adjacent to your granite color.
3. Go for the Triadic Color Scheme
Three colors are used in a triadic color scheme, and they are evenly spaced on the color wheel. This color scheme creates a harmonious, logical, and balanced room through your granite countertop and paints colors.
4. Consider Your Granite's Accent Color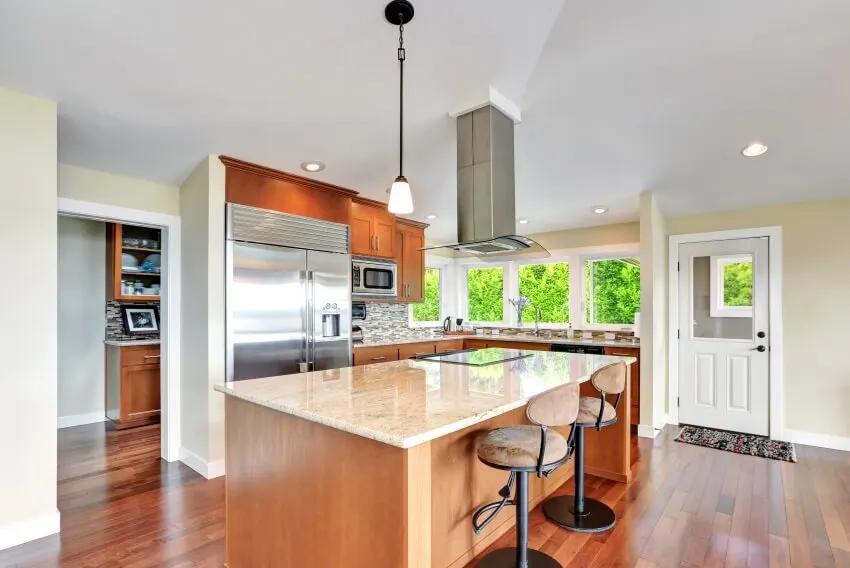 Match your wall paint or cabinet color with the granite accent colors. A similar hue between your accent colors and your larger areas will create a continuous and cohesive look that is much more favorable if you have white, cream, beige or any lighter tones.
5. Set the Mood with Color – Consider Your Desired Cabinet Color Temperature

As granite countertops are typically mounted or back dropped by cabinets or shelving, your cabinets, vanity, baseboard, and shelving have the most obvious direct effect on your granite countertop color. Are you going for the cool tones? Or are you more inclined to the warmer color spectrum?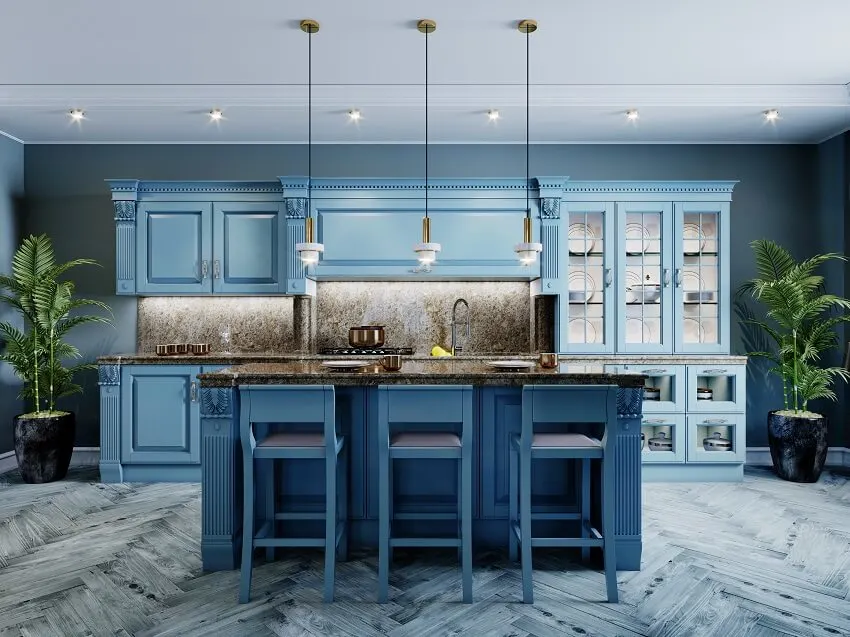 If you have predominantly warmer colors for your granite countertop and want to balance it with a cooler shade, white is the best option to use. Meanwhile, having a granite slab with cool tones such as blue or green goes well with both white or wooden shades as well as black.
If your granite and cabinets are dark, you should paint your walls lighter to create contrast between the two focal points. If your granite is light and your cabinets are light, you'll need a darker paint color to keep the room from looking stark and washed out.
6. Consider Lighting when Selecting Paint Color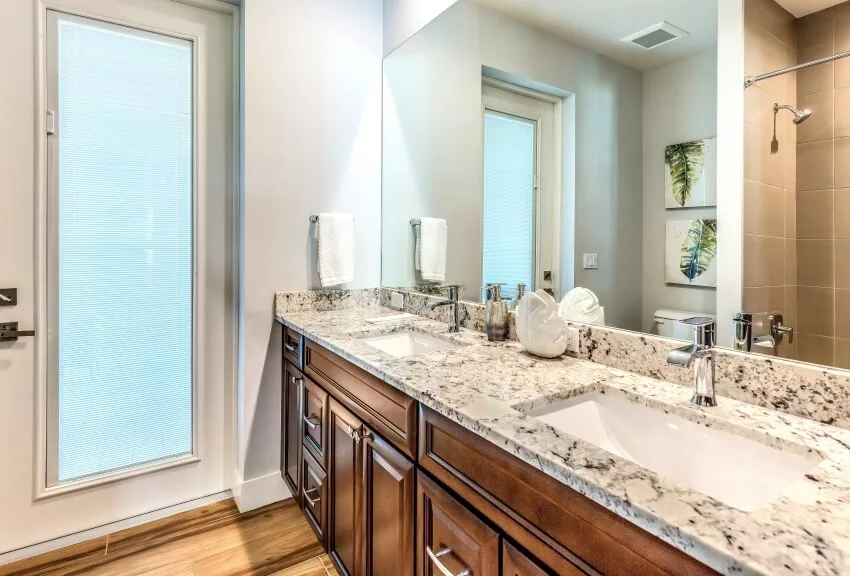 A small bathroom, for instance, without any natural light, will work well with lighter colors. But a spacious kitchen that receives natural sunlight can work well with a more saturated color tone.
What Paint Colors Go Best With Granite Countertops?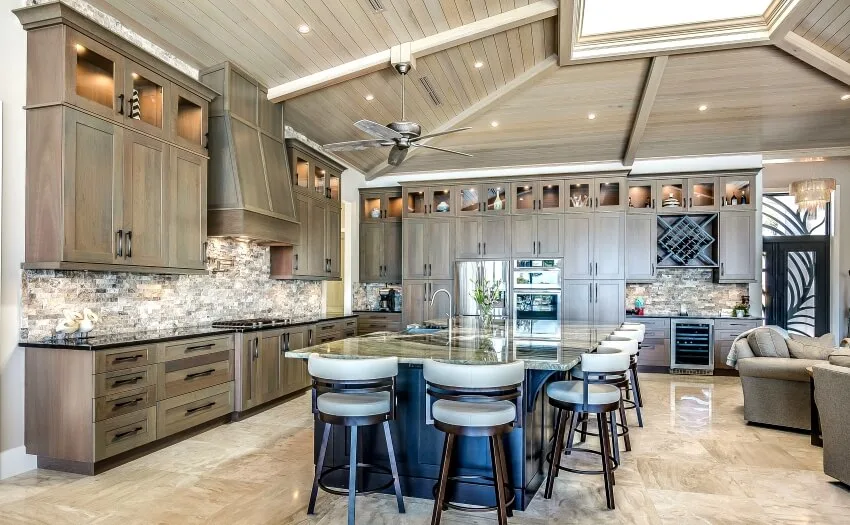 As most granite colors have neutral or earthy tones thus, they are generally safe to pair with other neutrals. Painting with neutral colors, such as whites, creams, grays, and beiges, work well with most granite stones. Lighter tones create a more balanced look, while mid-tone shades create a bolder and more striking look.
Paint Colors

• Beige – Benjamin Moore Stone House (CC-120). This is a warm beige with a subtle yellow/orange undertone. It's a great warm neutral with just enough chrome to make it look like you've painted the walls, but not so much that it makes the room feel dark.

• White – Sherwin Williams Pure White SW 7005. Pure white is a go-to white by many interior designers, as it is not stark, clean white. Instead, it actually has a warm softness to it. Though not enough to make it creamy or yellow, but has the right amount to remove the crisp edge of many whites. • Denim Drift, Dulux. The color has bold blue tones without the coolness that the paint can sometimes bring to a room. The color is fresh against white or offsets more vibrant tones, making it ideal for adding some coastal hues to a space.
Tips For Pairing Paint Colors With Granite Countertops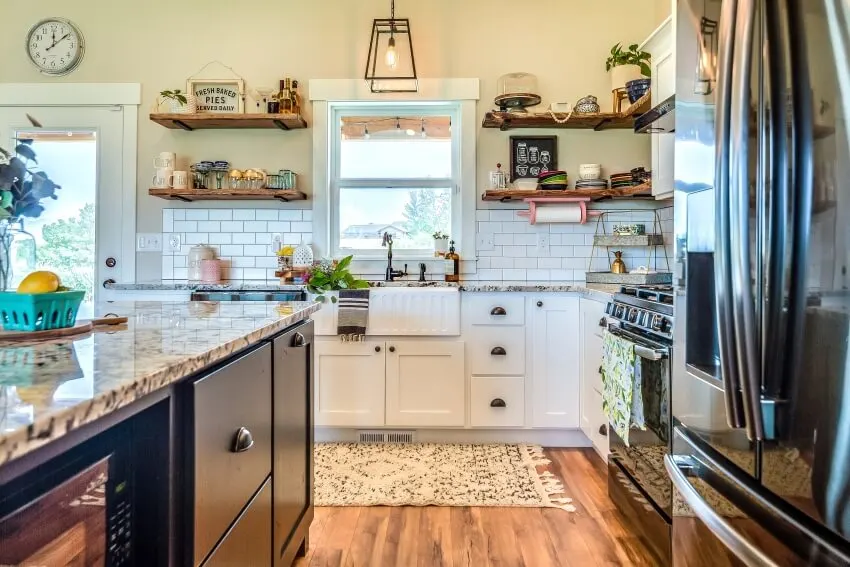 1. Keep it Simple
The process of choosing your wall colors to go with granite counters can be an exciting experience. And because we desire to have a personalized space, we attempt to go with a unique and eclectic look.
However, keeping it simple makes your room look well put together where focal points and important pieces are brought forward and not to be buried by an overwhelming color scheme.
2. Choose What You Like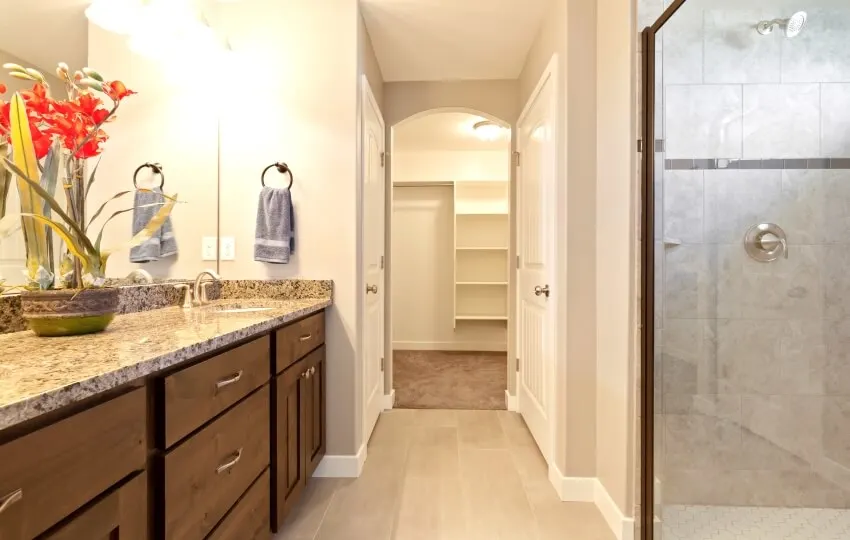 Choose a granite stone that appeals to you, regardless of whether it complements or contrasts with the color paint of your cabinets or walls.
Choosing a stone that you simply adore, rather than a color or style that you think will match, will leave you far more satisfied in the end.
3. Color Can Affect the Visual Scale of a Room
Darker tones make a space visually smaller, while lighter colors make it appear larger. A room's shape can also be altered by variations in color value in different parts of the room.
The ceiling will appear higher in a kitchen with dark tiles on the floor but lighter walls and a white ceiling. Dark walls with light colors on the floor, on the other hand, will reduce the perceived height of the ceiling design, making the room feel shorter and smaller.
4. Remember Paint Colors Highlights Your Granite Stone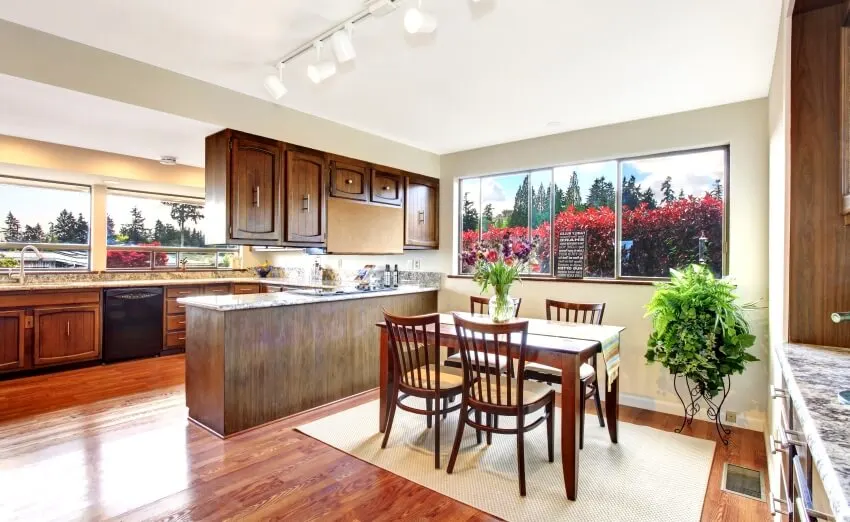 Think paint colors as a backdrop on stage to your granite stone. As the natural stone will be your focal point in the room, it is best to choose colors that complement and won't overshadow your granite countertop.
5. Be Cautious on Color Shades and Consider Undertones

Blue granite is becoming a popular choice for modern interiors, but be cautious when taking inspiration from your natural stone.
As it is recommended to take two shades lighter or darker, be sure to choose a tone that is not too light or dark to resemble a nursery. Undertones such as gray will significantly change the look of your room.
If you have dark granite countertops, then light color cabinets and walls may be a good idea. Read more about choosing colors for cabinets and black granite here.
6. Use a Virtual or Online Tester to Match Colors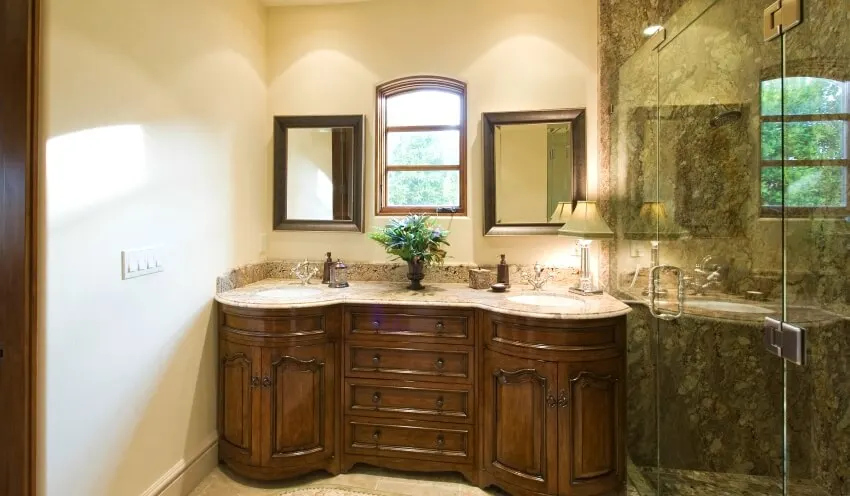 You can use the virtual color tester at your local hardware store when choosing a paint color. Many virtual design software systems in hardware stores have tools that can help you find the inspiration you need while also allowing you to visualize the finished product.
Visit our guide on how to mix and match granite countertops for more related content.