Find out all about rubberwood butcher block countertops including what it is, if it's a good material to use, and the best sealing, and maintenance tips to consider.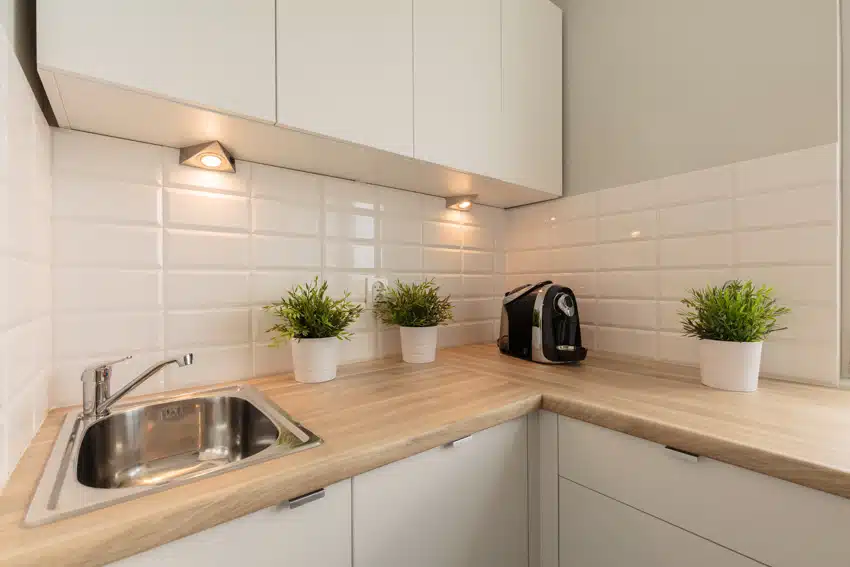 The rubberwood butcher block countertop is an incredible material that provides several unique advantages over other wooden countertops. This type of material is a perfect option for any homeowner or designer seeking an affordable yet high-quality material for their kitchen.
The rubberwood butcher countertop features warm earth tones and offers character to your kitchen's design scheme. It provides a stylish appeal that is durable, easy to maintain, and incredibly affordable compared to other natural countertops materials such as granite or marble.
This blog post will help you discover what makes a rubberwood butcher block countertop unique from its appearance to cleaning and maintenance and how it compares to other materials. By choosing the rubberwood butcher block countertop, you can be assured that this excellent material is the perfect fit for your next project.
What Is A Rubberwood Countertop?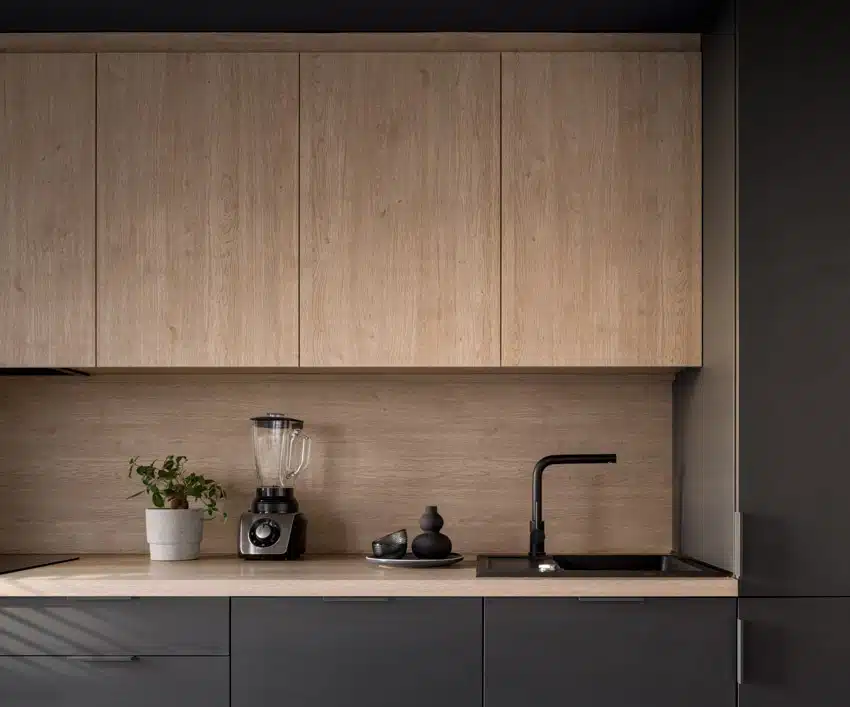 Rubberwood countertops are becoming popular and an excellent choice for any kitchen or bathroom due to their durability and eye-catching appearance. Rubberwood is an affordable environmentally friendly alternative to hardwoods like maple, oak, and cherry.
Rubberwood grows in tropical regions worldwide and is also known as parawood, Asian hardwood, plantation wood, or tropical hardwood. It is also referred to by its scientific name, Hevea brasiliensis.
The natural properties of rubberwood offer numerous benefits over other natural countertop materials such as having high resistance to water damage and being less prone to staining. Its soft features make it easier to cut and shape into any desired countertop design scheme and can be customized with unique edge profiles, carving, and inlay patterns.
Additionally, rubberwood countertops are more affordable since it comes from trees grown for their latex, which is sustainably harvested and used to produce rubber tires and medical gloves.
Overall, rubberwood countertops are an excellent choice for any kitchen or bathroom countertops having a variety of design options to choose from which can be the perfect finishing touch for any space. Rubberwood countertops can also be great for outdoor kitchen counters and surfaces.
However, it is essential to remember that the wood will require some maintenance to maintain its original look. A rubberwood butcher block countertop should be sealed periodically with an oil-based sealer such as mineral oil or a beeswax product.
Sealing the wood will help protect it from staining, and water damage as well as protect it from the sun and weather. Rubberwood countertops can also be sealed with a tinted sealer or varnish to give them a vibrant color.
Rubberwood Butcher Block Countertops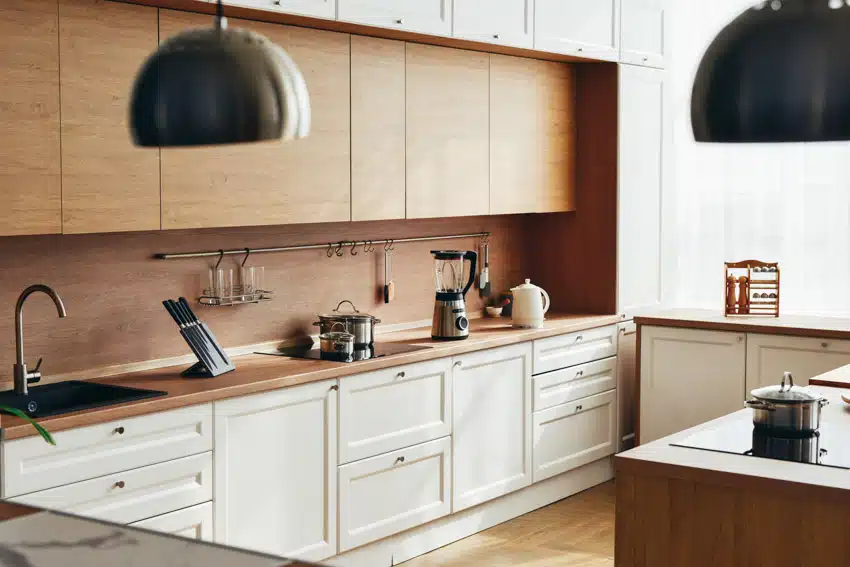 Rubberwood butcher block countertops are an excellent choice for anyone looking to add an attractive and incredibly strong work surface that will hold up in busy kitchens. Combined with the warm colors of rubberwood, this feature adds warmth and charm to any kitchen aesthetic.
Rubberwood is easy to work with and can be finished in many different ways. The wood can be stained dark or painted for a more modern look or can be left natural or lightly oiled to accentuate its warm, rustic tones for a more traditional style.
The natural colors of the wood blend well with both light and dark cabinets. So, if you're looking for a great kitchen surface that provides an assurance that will last for years to come, is easy to maintain, and is naturally resistant to water and moisture, consider installing a rubberwood butcher block countertop.
Moreso, using a rubberwood butcher block for countertops gives the advantage that any scratches or dents can be sanded out and refinished as needed so that the countertop will look new again in no time.
Is Rubberwood Good For Countertops?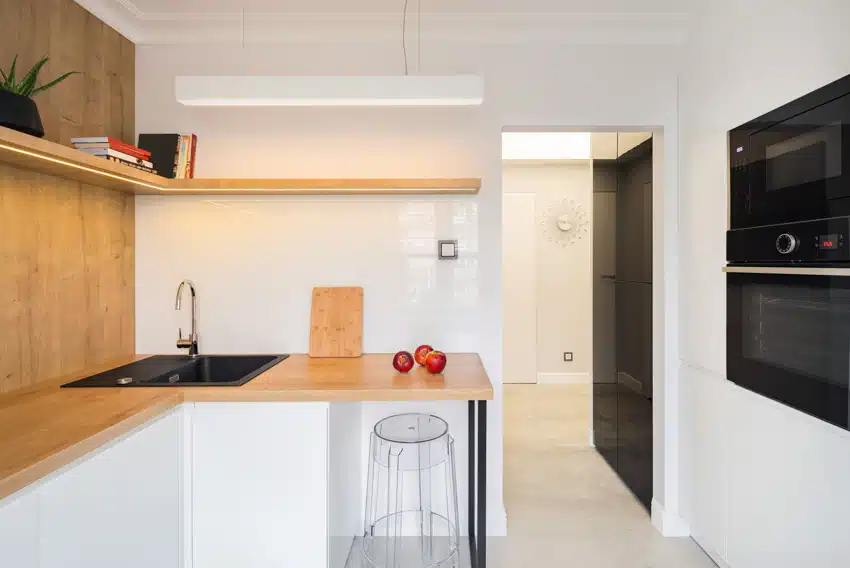 Rubberwood is made from the latex-producing Para rubber tree, which is grown in tropical regions worldwide. The trees are usually tapped for latex until they no longer produce, at which point they are cut down, and the wood is used to make different types of furniture styles, flooring, and countertops.
The sustainability of rubberwood proves to be its primary benefit coming from a renewable resource, it can help reduce deforestation and preserve natural habitats. Rubberwood is also an inexpensive material, which makes it affordable and cost-effective. Maintenance is also simple as they can be wiped clean with a damp cloth or mild soap solution.
However, since rubberwood is a soft wood, it may be prone to scratches, and dents, and rubberwood countertops can be challenging to repair if they become damaged. Over time, the color of the countertop can also fade, and it is not as easy to stain or finish as other materials.
Unlike other countertop materials, rubberwood countertops may not stand up to everyday wear and tear if not properly maintained. It is always wise to know the rubberwood's limitations if you decide to go with this type of material for your countertop.
How To Seal Rubberwood Countertops?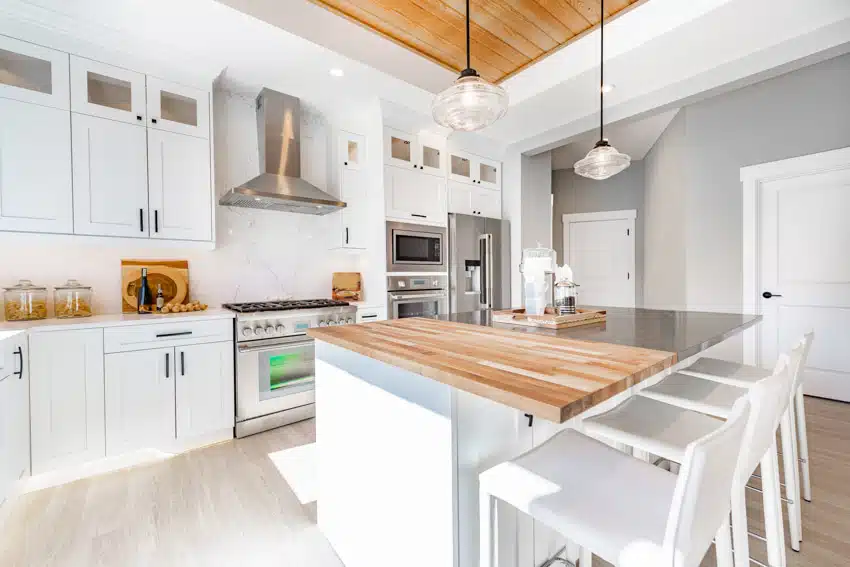 While rubberwood is resistant to stains and scratches, it's important to properly seal your rubberwood countertop to preserve its beauty and longevity. Here's a step-by-step guide to help you seal your rubberwood countertop correctly.
When sealing rubberwood countertops, start cleaning the countertop's surface thoroughly with mild detergent and warm water. Make sure to rinse off all soap residue and dry the surface completely with a clean, soft cloth.
Once the countertop is dry, apply a coat of sealer using a high-quality brush. Make sure to apply the sealer evenly in thin coats, allowing each layer to dry before applying the next one.
Polyurethane-based sealer is the most common type used and it would usually take up to four layers of sealer before your rubberwood countertop is completely sealed.
To ensure that the top layer of sealant bonds with the wood properly, when the final sealant layer has dried, use a soft cloth to buff the surface and eliminate any excess residue.
For the final step, apply a protective wax or mineral oil to finish off once the countertop is completely sealed and buffed. This will help repel water and other liquids and protect against stains and scratches.
It's important to remember that proper maintenance is key to extending the life of your countertop. Re-sealing every two years and with proper care, rubberwood countertops should last for years with no issues.
How To Care For A Rubberwood Countertop?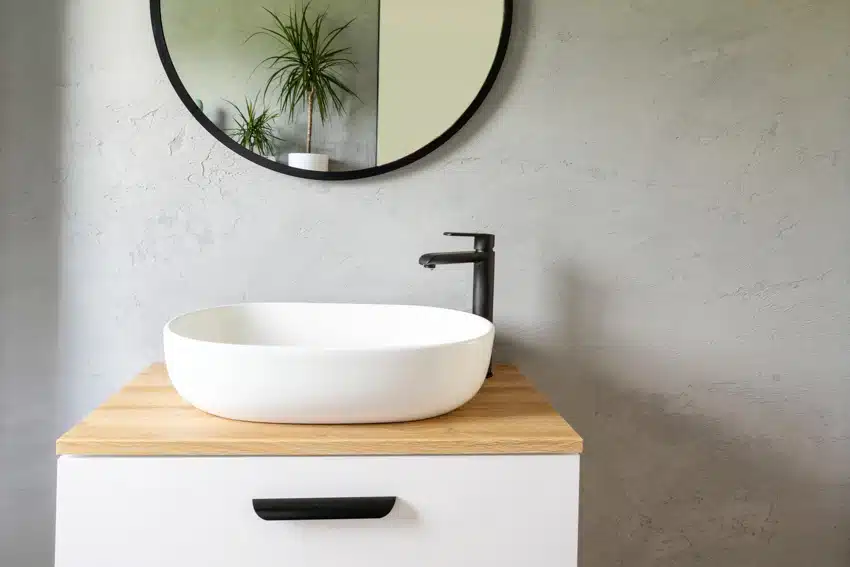 It has been said that rubberwood countertops are durable and aesthetically pleasing but need proper care to last for years. Here are some tips on how to take care of your rubberwood countertop:
Tip #1: It is important to regularly wipe the surface gently with a soft, clean cloth and warm water. Avoid abrasive or harsh chemicals and cleaners or scrubbing too hard as they can damage the rubberwood finish.
Tip #2: To keep your countertop looking like new, applying a light coating of mineral oil to the surface every few weeks will help maintain its luster and prevent the rubberwood from drying out.
Tip #3: Only use warm water and mild detergent to eliminate any stains. If you need to sand down the surface, use fine-grit sandpaper and sand with the grain.
Tip #4: Avoid placing hot items directly on the countertop's surface to prevent permanent staining. Use a trivet or hot pad instead. Always place cutting boards on the surface of your rubberwood countertop before cutting or slicing to prevent chipping or scratching.
Following these tips on properly caring for and maintaining your rubberwood countertop should ensure that it brings a unique, beautiful, and natural look for years.
Rubberwood Vs Acacia countertop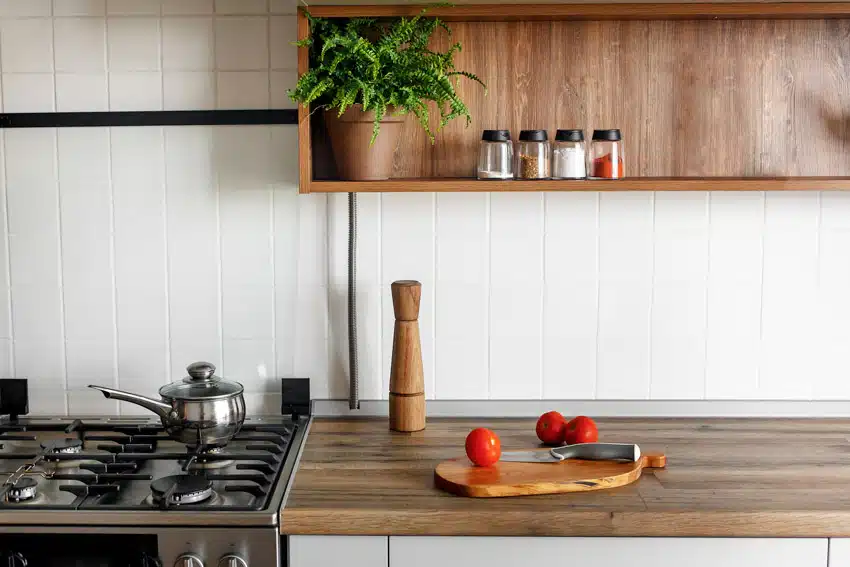 Rubberwood and acacia are popular countertop materials that offer beauty, and durability, and add value to any home. When comparing rubberwood vs. acacia for countertops, both kinds of wood have unique benefits and drawbacks making each a suitable option for countertop material.
Rubberwood is light-colored with a pale brownish color and has a beautiful grain pattern and sometimes has a pink or gray shade that can be stained in any color. Rubberwood's appearance doesn't darken with age.
It is inexpensive, making it an excellent option for budget-conscious homeowners. However, though it may have a lower upfront cost, one downside to rubberwood is its lack of durability and longevity since it is a softwood with a density of 0.43 grams per cubic centimeter and a hardness of 1.640 rating on the Janka scale. It is more likely to scratch and dent easily and is prone to chipping and splintering.
It is also prone to moisture damage and warping making it inappropriate to use in wet environments. Rubberwood may be the better option if you're looking for a beautiful, and affordable material for dry environments with less humidity. Rubberwood is also environmentally friendly since they are harvested from latex rubber trees after they have stopped producing latex.
Acacia, on the other hand, is a tough and durable hardwood with a density of 0.75 grams per cubic centimeter and a hardness rating of 2.350 on the Janka scale It is very dense with high oil content making it suitable for outdoor use. Its color can vary from dark to pale yellow and brown with dark brown streaks from its sapwood to heartwood.
Acacia wood darkens as it ages even without refinishing it. It's more expensive than rubberwood, due to its rarity and they are less abundant than rubberwood since it takes 20 to 30 years for the acacia to grow.
Natural acacia wood can withstand much wear and tear over time. Acacia also has beautiful types of wood grain patterns but can make it more difficult to cut and polish, yet it adds character and beauty to the countertop.
Acacia may be the better option if you want a more durable material that is insect-proof, resistant to moisture and warping as well as withstands heavy use.
Rubberwood Vs Birch countertop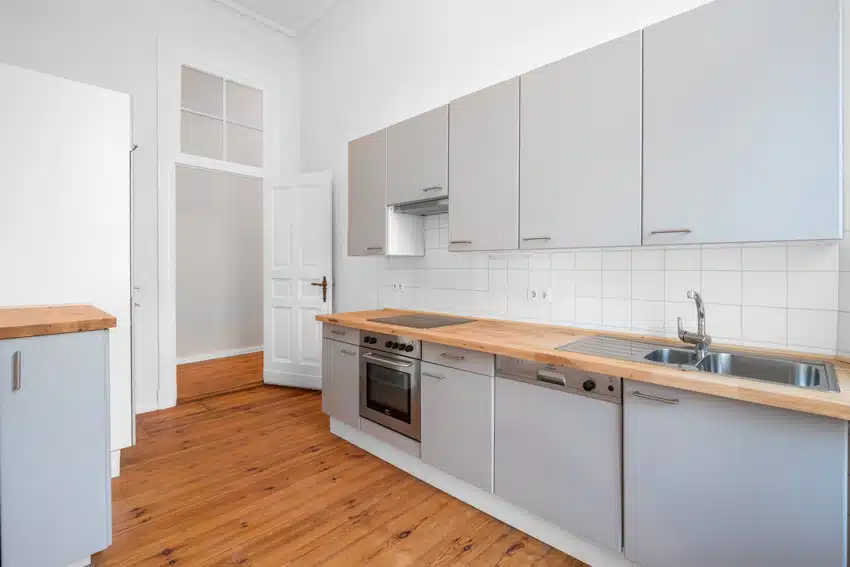 Birch is another popular choice for a countertop material due to its affordability and availability. It is more durable due to its dense grain and tight pores compared to rubberwood. This light reddish-brown wood with sapwood is almost white and becomes more yellowish-red in color with age.
The most commonly used are the yellow and white species. Because of the birchwood's uniform grain and bright color, it is a favorite choice among homeowners since it offers a light, airy and modern feel to any kitchen space.
It has a Janka hardness rating of 1.260 with a low density. Birch is also more resistant to warping, cracking, and denting. However, birch countertops require regular maintenance as they can be susceptible to staining if not sealed properly.
Additionally, birch is much more expensive than rubberwood and may not fit into some budgets. Nevertheless, birch is an excellent choice for those who need more durability and are willing to put in the extra effort to maintain it.
On the other hand, rubberwood is an affordable material that is easy to cut, shape and install. It can come in various natural and stained finishes to match any kitchen style. Although rubberwood tends to warp and crack over time due to changes in humidity if not maintained; it is an excellent choice for those who don't want to worry about staining.
Rubberwood has low natural rot resistance than birch making both kinds of wood prone to fungal staining and insect attacks when exposed to high moisture environments.
The decision of which material to use for your countertop will depend on the style of your kitchen. Regardless of your choice, rubberwood and birch provide an excellent look for any kitchen countertop.
In conclusion, rubberwood butcher block countertops may not be as popular as other hardwood countertops but it is a great choice since they are highly sustainable and very cost-effective than other natural wood countertop materials.
Rubberwood is easy to work with in terms of sawing, cutting, and finishing. It is highly resistant to heat and burning and stays cool even in hot conditions. Due to its strength, aesthetic appeal, and durability, rubberwood continues to be one of the best choice materials for butcher block countertops.
Whether you're looking to brighten up an ordinary kitchen space, there is something special about owning a rubberwood butcher block countertop. This fantastic material can provide numerous benefits that no other type of wood could match.
See more related content in our article about reclaimed wood countertops on this page.