This picture gallery shares Spanish tile kitchen backsplash ideas including what it is, common features, different types, materials, their benefits, and kitchen designs.

Vibrant as its history, Spanish tiles, especially those of ceramic tile, can invigorate a kitchen interior, even with the gloomiest of spaces. The explosion of color, paired with patterned geometry in every tile, can match your sleek, plain finishes, floor and accessories. These lively elements seem to breathe life and personality into your decor, making your curtains draw back in awe.

From its traditional colorful hues to the present subdued soft palettes, a Spanish tile kitchen backsplash is a versatile finishing material that can last for decades.
Whether installed indoors or in a patio kitchen, Spanish tiles are sturdy material made to withstand harsh climates and temperature changes. Know more about why these eye-catching pieces are the perfect backsplash for your kitchen.
What Is A Spanish Style Tile?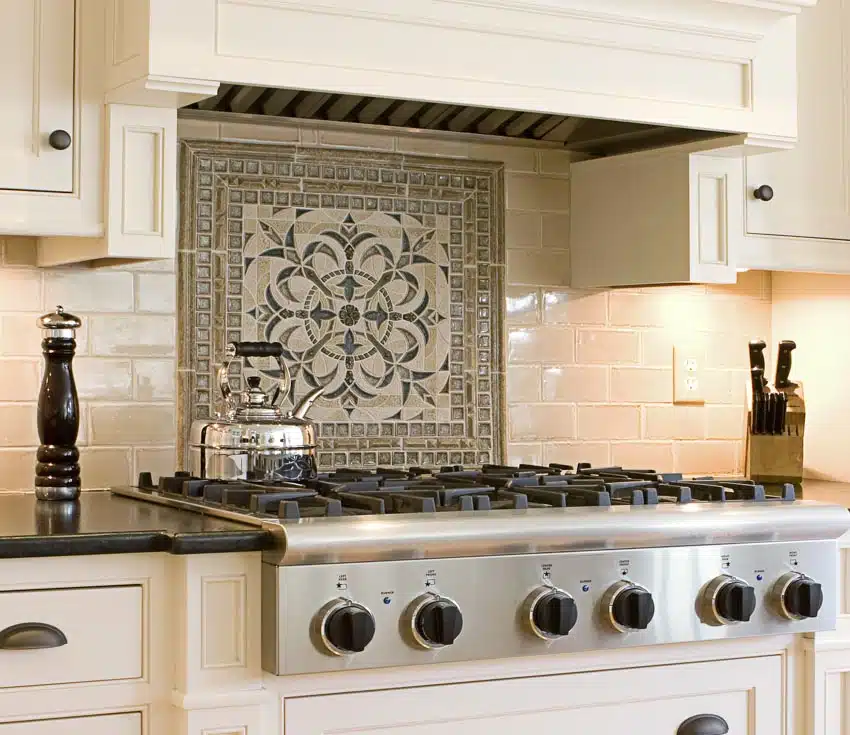 A Spanish-style tile backsplash is a wall finish made from the conventional or modern types of Spanish tiles, distinct from their striking geometric patterns and vibrant colors. "Spanish tile" generally refers to Spanish and Mexican designs.
Composition and Production: Centuries ago, Spanish tiles were made with high-quality ceramic materials or using the traditional terra cotta clay, fired at high temperatures making the material strong and durable. It is this element of fired clay that gives Spanish tiles their ceramic tile durability.
The finishing material and its glazed ceramic surface make it an excellent kitchen backsplash as it prevents water or moisture from seeping through the wall.
A Spanish tile kitchen backsplash is fireproof with a Class A rating and won't easily break when subjected to high temperatures but has the potential to break in extreme cold. Porcelain tiles with Spanish tile design have a better structure to withstand freezing temperatures.
Patterns: Patterns of the traditional tile are inspired by flower petals and plants with profiles similar to that of the baroque design's sumptuous and rich character.
This makes the tile perfect for a backsplash kitchen tile pattern, as it draws the eyes to the wall when aiming for the backsplash as the focal point or feature wall. The patterns look excellent for both wall tile and floor tile.

Colors: The common colors used in the hand-painted tiles are various hues of yellow, red, and blue. Spanish tile kitchen backsplash comes in a wide range of colors, from subtle tones to more vibrant palettes, as the traditional tiles adapt to more contemporary aesthetics and go well with modern finishes and accessories.
Sizes. Traditional Spanish tiles have a square profile with a typical 3″ x 3″ size. Today, a Spanish tile kitchen backsplash can come in a variety of sizes, such as 3″ x 6″, 4″ x 4″, and 6″ x 6″. Smaller sizes, such as 1″ x 1″ or 2″ x 2″, are mostly used as insets for larger tiles as large as 320 x 160 cm.
Traditionally made Spanish tiles usually come in 8mm thickness, but modern techniques have slimmed down the colorful tiles between 3.5 to 5mm. Large format tiles usually have a minimum of 3.5mm thickness.
Design: Spanish tile types of kitchen backsplash showcases geometric patterns, a feature distinct to the traditional tile as other cultures focused on creating designs with pictorial stories. We take a look at the common features of Spanish tiles for kitchen backsplashes.
• Floral and leaf patterns: Spanish tiles often feature intricate floral patterns that are inspired by the lush gardens and courtyards found in traditional Spanish homes. These patterns can include anything from delicate, scrolling vines to bold, stylized flowers.
• Geometric shapes: Spanish tiles often feature geometric shapes such as diamonds, circles, and stars, which are used to create intricate, repeating patterns inspired by Moorish styles.
• Rich and vibrant colors: Spanish tiles are known for their bright and bold colors, which usually combine deep reds and oranges, vibrant yellows to cool blues and greens. they can be paired with other colorful decor pieces for a cohesive design.

Sustainability: Aside from not emitting VOCs or harmful vapors, given that the grout used also has low VOC content, Spanish tiles are sustainable, which makes them a great choice for a kitchen backsplash.
The finishing material is inherently sustainable, made from natural and abundant materials, including sand, quartz, feldspar, and clay. The traditional tiles also discourage the growth of mold and mildew and do not absorb odors.
Service Life: Traditional tiles are known to have a minimum service life of 50 years, and a broken backsplash tile can be easily replaced.
When purchasing Spanish tiles for your kitchen backsplash, make sure to get an extra number of tiles to be stored in case there will be a need to replace damaged tiles in the future.
Types Of Spanish Kitchen Backsplash Tile

Here we share the different Spanish tile types for kitchen backsplashes.
Traditional Tiles
The traditionally made Spanish tile is a much-sought finishing material due mainly to its artistic quality. Authentic Spanish tiles are hand-painted using natural pigments. The traditional tiles are encaustic tiles which meaning are produced by using heat during their production, melting beeswax and varnish for the layers of wax to fuse with the tile.
To create the pattern, artisans use a stencil with a graphite backing that lightly transfers the decorative design to the blank tile. The pattern is then outlined with a black color.
Artisans apply one color at a time, allowing the glaze to dry before switching to another color. Using a fired tile, the colors assigned are then used as a guide for the artisans when choosing the color.
Traditional Spanish tiles are categorized into several styles, usually named after their place of origin. These include Catalan, Valencian, Mallorca, and Andalucia. Each has a distinct design feature, such as floral patterns for Valencia Spanish tiles.
Catalan, which is known as the oldest variety of Spanish tiles, is called socarrat, with mainly black and red colors.
The traditional Spanish tiles are perfect for vintage or traditional kitchens but can also serve as a surprise for modern homes contrasting sleek and edgy profiles.
Spanish Decorative Tiles
Spanish tiles were originally used as decorative finishes in churches and palaces, adorning floors, patios, and staircases. Since its local production, the Spanish decorative tiles since then become a popular option to the rest of the globe.
They can be used as insets, edgings, moldings, and feature walls such as backsplashes serving as an artistic form and having functional qualities. Larger formats have also emerged, such as Spanish tiles that emulate wallpaper.
Handmade Tile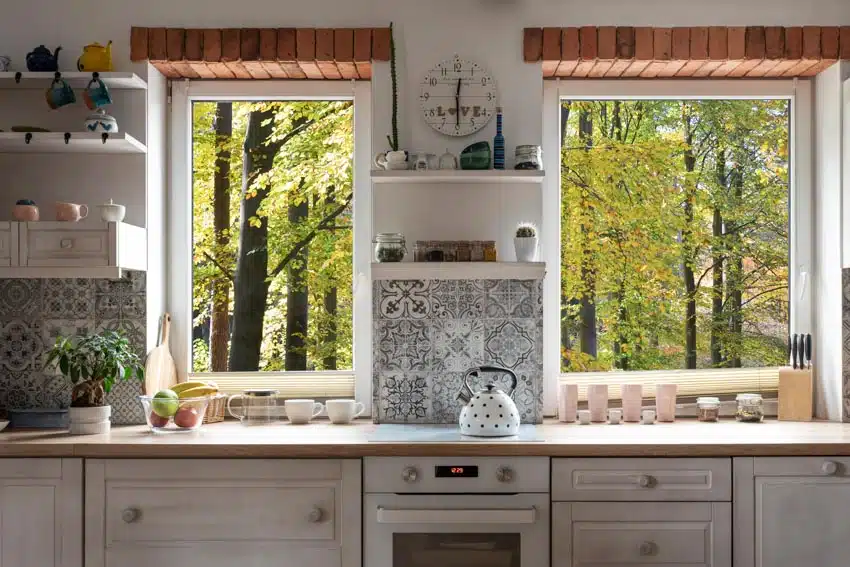 Handmade Spanish kitchen tiles cost more than your modern variations as they are made by skilled artisans and are usually sourced from Spain. There are Spanish tile suppliers who provide customized options to have a unique design that's perfect for a more personalized kitchen backsplash.
Artists use a stencil with graphite backing to lightly transfer the decorative design to the plain tile in order to create the pattern. After that, a black color is used to outline the motif.
Before moving on to the next color, artisans apply one color at a time, letting the glaze dry in between. The artists then use the assigned colors as a reference when selecting the color using a fired tile.
Peel And Stick Tile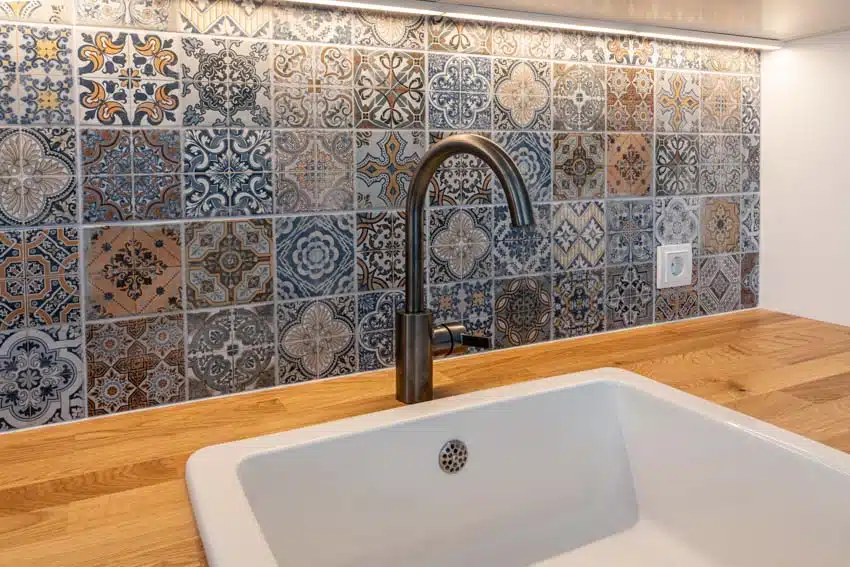 Peel and stick Spanish-style backsplash tiles come in various styles and designs that simulate the designs of the traditional Spanish tile and are usually made with vinyl material precoated and an adhesive backing.
One feature of using peel and stick tiles is that they are simple to remove and replace if necessary and don't require any specific tools or installation abilities. They are also a practical option for renters or people who wish to modernize the appearance of their rooms without spending on a major renovation.
It's important to keep in mind that a peel and stick backsplash might not be as resilient or durable as traditional tile, and they might not last as long in bathrooms or other high-moisture locations. Their low price makes them an accessible option for those who don't want to hire contractors for an expensive project.

While there are peel and stick versions that are waterproof, it is recommended to install them indoors as the constant weathering conditions outdoors can weaken the adhesive and can eventually peel off.
Spanish Pattern Tile Kitchen Designs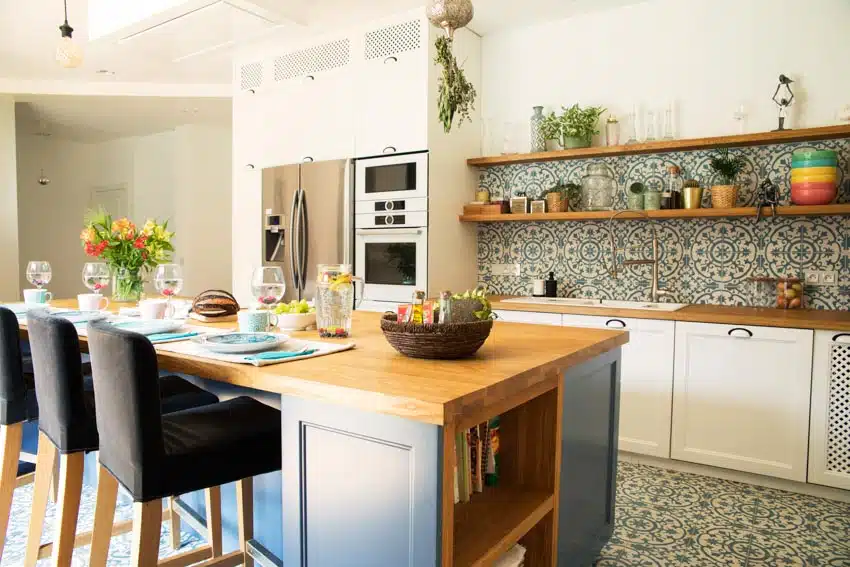 Spanish tiles are versatile and can be integrated into most design styles, and the most common are the following.
Rustic Kitchen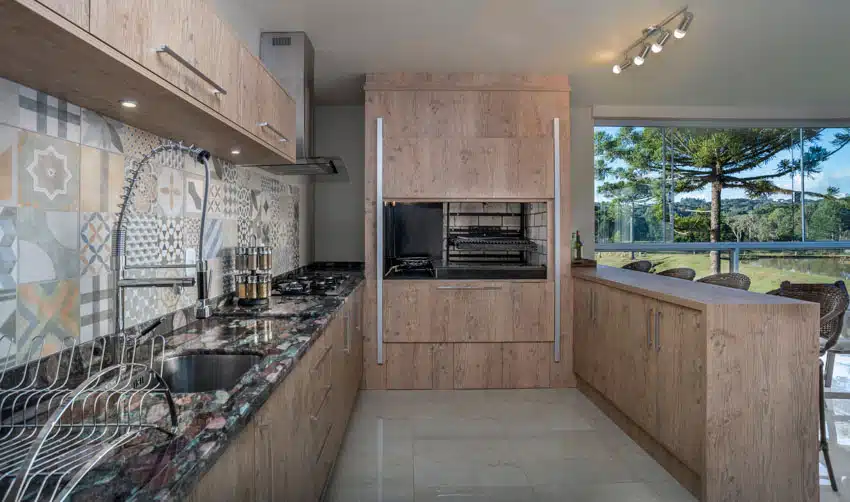 A fitting feature in a rustic-themed kitchen, such as cottage or farmhouse styles, as the colors and pattern, complement the space with a warm and inviting aesthetic. Think natural wood cabinetry, exposed brick or stone walls, and terra cotta flooring paired with a Spanish style cement tile backsplash.
The cement tiled backsplash could serve as the focal point in the kitchen with eye-catching intricate patterns and designs, such as those commonly found in traditionally themed kitchen interiors.
As seen in today's hip commercial restaurants, industrial-themed kitchens integrate the colorful tiles juxtaposing while complementing the brutalist styles. Imagine concrete walls with vibrant tile backsplash insets.
Modern Kitchen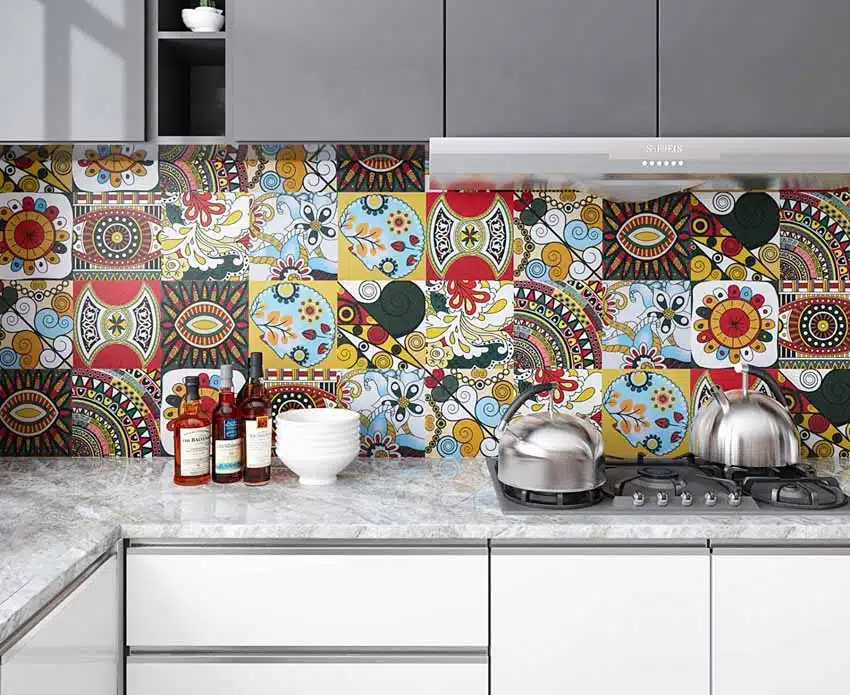 See this removable Spanish tile backsplash at Amazon [sponsored link]
Clean lines, a minimalistic design, and a muted color scheme are likely to be present in contemporary kitchen designs with a Spanish tile backsplash. The Spanish tile backsplash could serve as a focal point and give the room a dash of color or pattern.
The tiles could have a striking geometric pattern or be placed in a graphic style. The Spanish tile backsplash would give a hint of ethnic or traditional flair to the overall sleek and modern design of a kitchen space.
Minimalist kitchens also benefit from the contrast as the colorful tiles pop up against the clean lines and unfussy design with just the right decorative touch.
Aside from hand-painted Spanish tiles, a great option for modern kitchens is rectified Spanish tiles. These are porcelain tiles that achieve their designs through mathematically calculated cuts manufactured with precision. The precise cutting minimizes the visible joints or grout lines.
Transitional Spanish Design Kitchen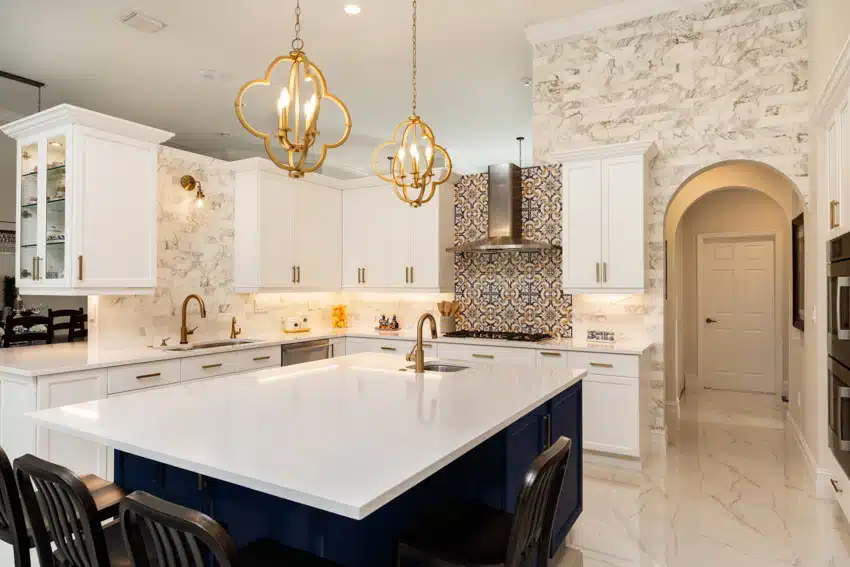 The cozy and inviting Spanish or Mediterranean-style revival atmosphere is the perfect ensemble for colorful or pastel-colored Spanish tiles.
A toned-down version of the traditional style, transitional Spanish or Spanish revival kitchens will have simple forms and massing, neutral tones, heavy timbers, traditional window elements, iron accents, and distinct arches.
Do you have experience installing beautiful Spanish tiles in your home? Share your design tips or questions below to help other readers. See more related content in our article about backsplash tile behind the stove on this page.