See recessed kitchen cabinet designs including information about what it is, characteristics, different recessed cabinet door types, and comparison to inset cabinets.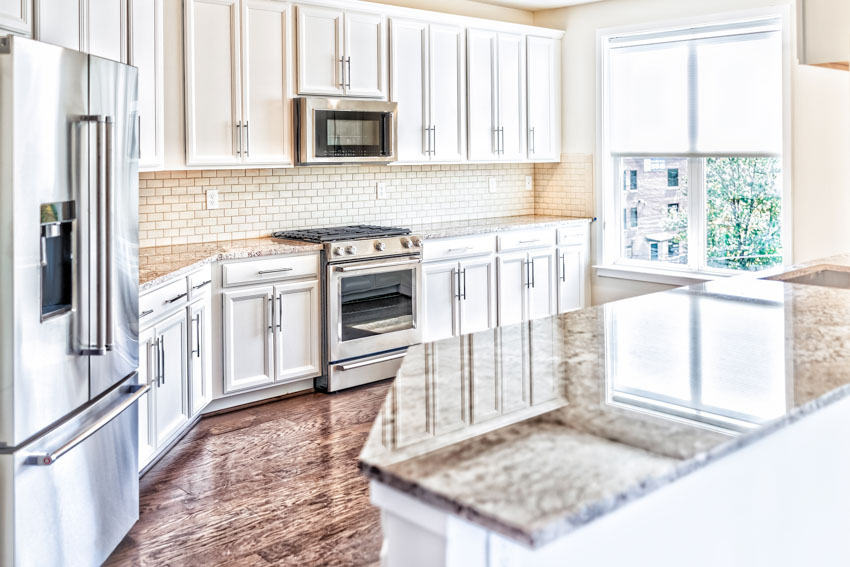 Recessed kitchen cabinets are popular for their strength and practicality as well as their visual appeal. The panel protects the door from dents and scratches and makes cleaning easier because there are fewer surface spots for dust and filth to accumulate.
Moreover, recessed kitchen cabinets come in a variety of designs and finishes. They might be arched or feature square angles, and glass or steel are occasionally installed in place of wood panels. Numerous recessed panels have beveled trim, which gives an elegant touch to the cabinet door.
What Are Recessed Kitchen Cabinets?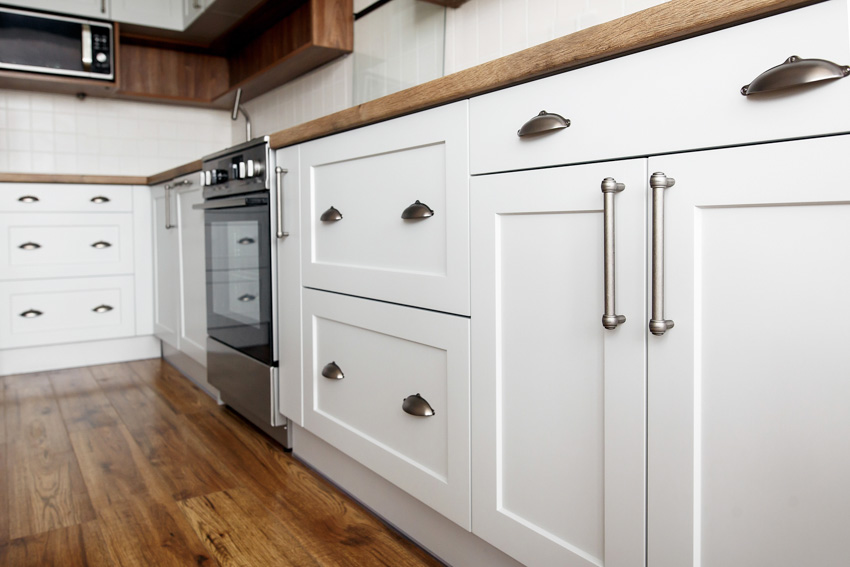 Recessed panel cabinets, as the name suggests, feature a panel that is pushed back or recessed into the framing. This kitchen cabinet door style can provide your kitchen with a more contemporary aesthetic, and it can also be rather eye-catching when applied in a complementary color or accentuating material.
Recessed kitchen cabinets have a slightly elevated center panel as well as a flattened center panel. Kitchen renovation professionals often suggest getting these kitchen cabinet styles installed for modern kitchens since their design is sleeker than raised panel kitchen cabinets.
In addition, this type of kitchen cabinet offers a more modern aesthetic for the kitchen and is appropriate for houses with a minimalist design. Plus, a recessed kitchen cabinet will look great with marble or quartz types of kitchen countertops. To make the panels of a recessed kitchen cabinet slimmer than the rest of the cabinet door, different materials are frequently used for these parts.
Flat Center Panel Door Design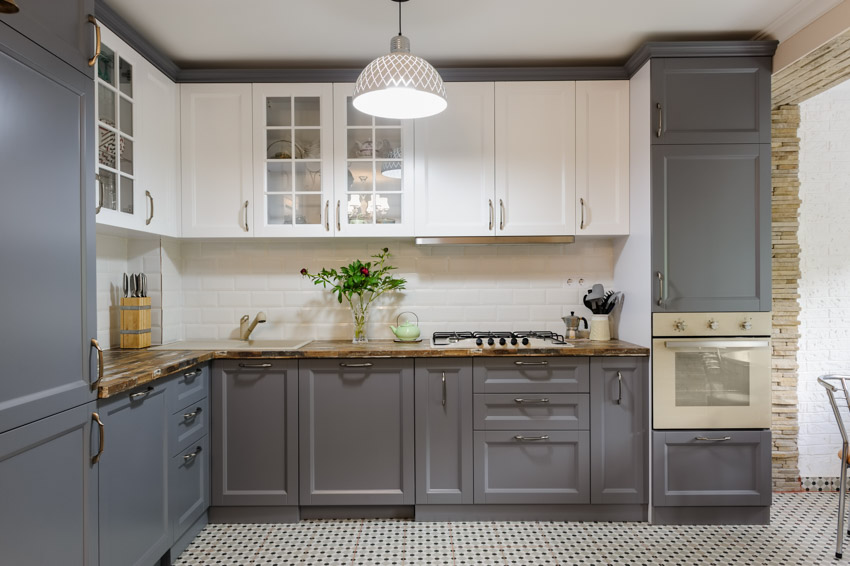 A flat center panel cabinet door is also known as a veneer panel or recessed door. The central panel of the cabinet door in most designs is often made of a veneer core flat panel that is normally around 0.25 inches thick.
This center panel layout is frequently used to create a Shaker or contemporary door appearance. Flat-paneled door components are typically less expensive than kitchen cabinets with raised center panels.
Because of the increasing appeal of both modern and rustic design ideas, flat panel cabinet doors are becoming a major option in the kitchen design market. Flat-panel cabinet doors, on the other hand, frequently have a minimalist style with a panel enclosed by a frame.
Due to their clean and streamlined style, they are widely known and currently in trend. These cabinet doors, which are more commonly utilized in contemporary and modern appearances, can help improve your home whatever the style of your kitchen.
Furthermore, flat-panel cabinets are well-known for their finely constructed and stylish woodwork with a practical and formal design. Additionally, the cabinetry in this layout is usually made from the highest-quality hardwoods, including ash, walnut, chestnut, cherry, oak, and pine.
With their uncomplicated form and simplistic appearance, flat center panel cabinet doors may be included in any kitchen setup. Due to the minimal effort involved in maintaining them, you can effortlessly clean and repair them. They are adaptable and classic and can help increase the market value of your house.
Recessed Kitchen Cabinet Doors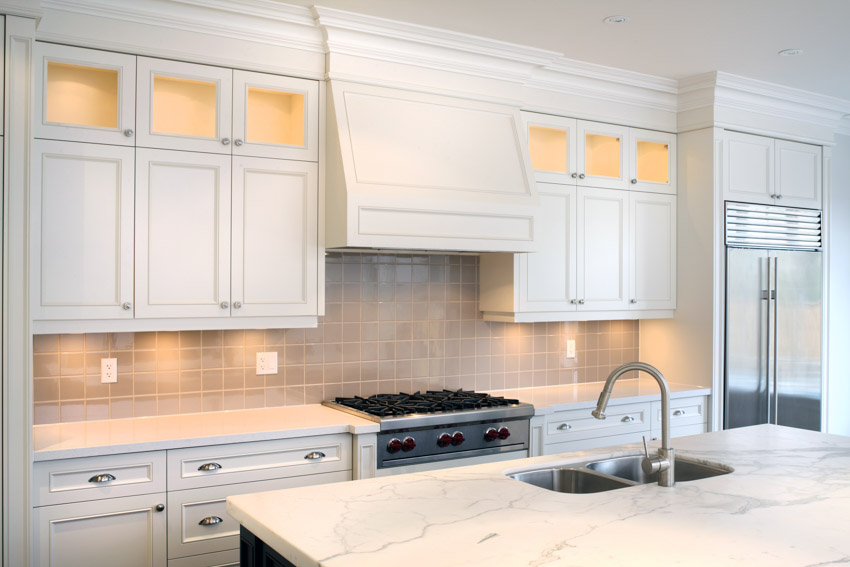 The center panel of recessed kitchen cabinet doors has a subtle recess in it. Compared to other types of cabinet doors, they frequently have thinner wood.
The central panel of a door with recessed panels is marginally lower than the door frame on all sides. Oftentimes, the materials used to make the panels must be thinner than those used to construct the remainder of the door.
Aside from that, recessed kitchen cabinet doors are frequently made of solid wood, although the panels are normally veneer types. This enables the material to be thin enough to fit into the recessed area while maintaining the wood's polished appearance.
There are numerous types and finishes for recessed kitchen cabinet doors. Arches or square edges might be incorporated, and glass or metal might occasionally be used instead of wooden panels.
Many recessed panel doors have beveled trim, which gives the door a sense of refinement. It is sometimes possible to get coordinating drawer fronts so that every cabinet unit has the same style.
Full Overlay Recessed Panel Cabinets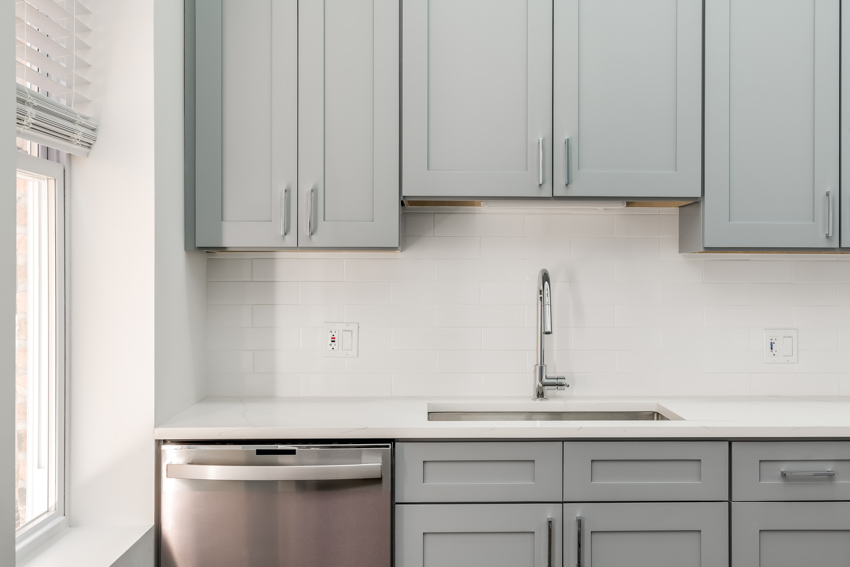 A full-overlay recessed panel cabinet features extremely little frame visible around each door and drawer panel for a cohesive appearance. Doors and drawers on full-overlay recessed cabinets feature large fronts. These are intended to completely conceal the face framing.
On a full overlay cabinet, the face frame is fully hidden. This means that there are zero to minimal gaps and just a small amount of the cabinet's storage space is visible. Hinges are also obscured from view. Because this is a modern form of cabinetmaking, the general appearance is also simplified but appears to be more sophisticated.
When closed, a full-overlay recessed panel cabinet sits on the cabinet opening. The door does not obstruct the cabinet's inner area, which is not the scenario with a half overlay or inset cabinet door.
Full overlays can be applied to both frameless but also face-framed cabinets. Full-overlay recessed kitchen cabinets with five-piece doors are typical, but flat wood or paneled covers are available as well.
Partial Overlay Framed Recessed Panel Cabinets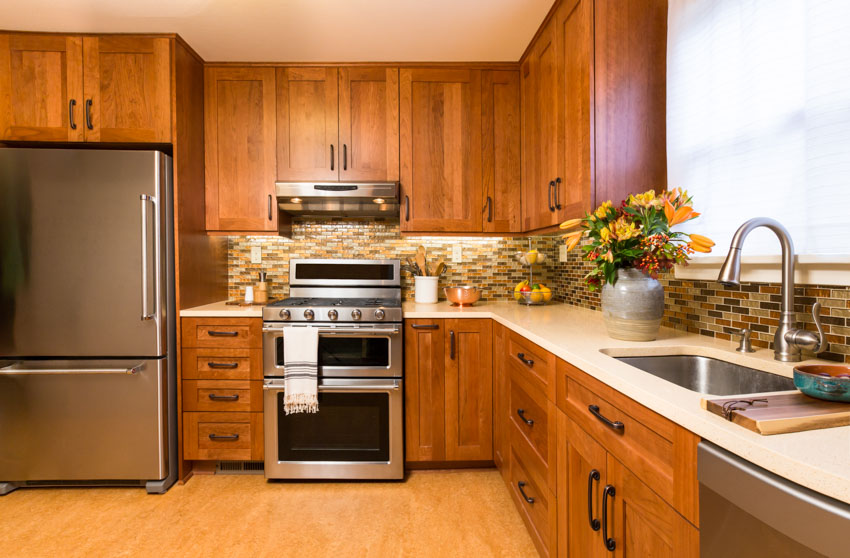 A recessed panel cabinet with a partial overlay displays some cabinet framing surrounding each door front. Partial-overlay framed kitchen cabinets come with 0.5-inch overlay doors as well as drawer fronts that show approximately 2 inches of the cabinet face framing between the doors, producing a more old-school kitchen appearance.
Traditional, standard, and half-overlay kitchen cabinets are other terms for partial-overlay recessed cabinet doors. In fact, partial overlay framed kitchen cabinets are among the most popular and least-priced kitchen cabinet alternatives.
These cabinet doors do not necessitate any hardware to open because they have finger clearance on the edges. Cabinets with partial overlay doors remain a common pick and a suitable alternative for many kitchens, particularly when the cost is a concern.
Frameless Recessed Panel Cabinets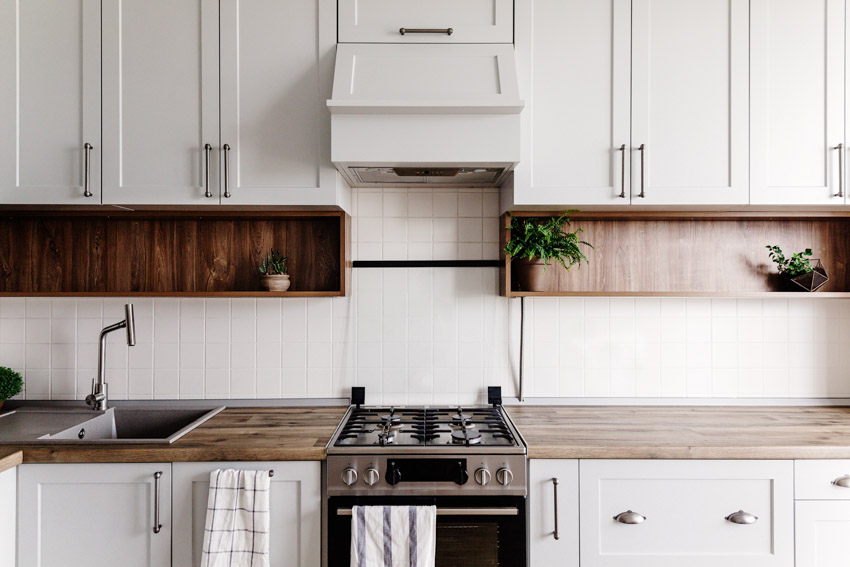 Frameless recessed panel cabinet design is a European technique for creating cabinets that have gained popularity among American householders looking for streamlined, minimalist, and more modern cabinet designs.
Frameless cabinetry provides more accessibility by removing the face framing. For sturdiness, it, nevertheless, relies on a thicker box structure. In this type of recessed kitchen cabinet, you can only use full overlay doors with hinges directly affixed to the cabinet box.
You can have the perfect combination if you pick frameless cabinets, also referred to as full-access cabinets. The cabinet drawers and doors will entirely cover the face frame, producing a compact box appearance. The door facing will completely hide the framing, which is why they are sometimes called 'frameless'.
The front of the cabinet box is not covered by a face frame with frameless recessed panel cabinet designs. After they are fitted, all that is visible are the flat door and drawer fronts, which provide a sleek, minimalist appearance that can blend well with a variety of design elements throughout the house, particularly the kitchen.
Furthermore, frameless recessed kitchen cabinets are not equipped with a center stile running along the center of the two cabinet doors, allowing for quicker access to the objects inside as well as additional storage space. Normally, the shelves are adjustable too.
Drawers in frameless recessed kitchen cabinets are also typically larger due to the space saved because of the absence of the face frame that is affixed on the front.
Recessed Panel Kitchen Cabinet Designs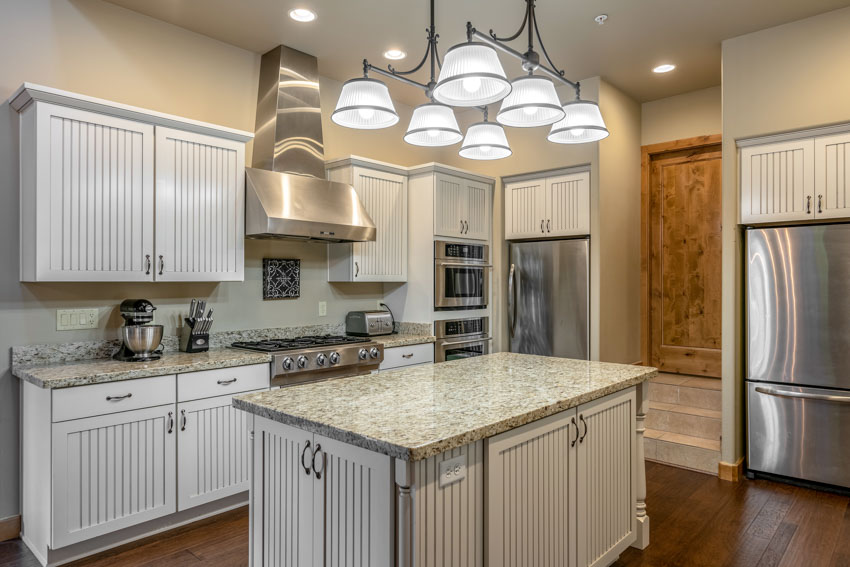 Recessed cabinet doors are also popular owing to the wide variety of designs available on the market. Here are some of them:
· Mission Style: Mission-style kitchen cabinets are nearly identical to Shaker cabinets in appearance, except each door may feature two, three, or four recessed cabinet panels rather than just one.
Moreover, straight lines and panel-faced doors with minimal or no embellishment characterize mission-style cabinet design. Oak, specifically American white oak, is the most popular material employed in mission-style recessed kitchen cabinets. Cherry can also be utilized on occasion because it is perceived as a more attractive and long-lasting wood.
• Beaded: Beaded recessed kitchen cabinets are a spin on the Shaker style, with the central panel made of beadboard rather than flat wood. The little lines or grooves carved into the wood are referred to as beading.
A beadboard panel can be placed in the middle of a single line of beading that can be used to encircle the frame. Beaded styles are popular with recessed cabinet doors because they provide a more rustic or country-style appearance.
• Victorian Style: Victorian kitchens typically have painted cabinets with recessed panels that provide a board-and-batten appearance. Kitchen cabinets were frequently coated with cream-colored paint to make cleaning easier.
It can also be completed with deep oil-based finishes to highlight the natural features of the wood. Oak, pine, cedar, fir, and cherry wood are all commonly used in a Victorian-style recessed kitchen cabinet.
Recessed Shaker Panel Cabinets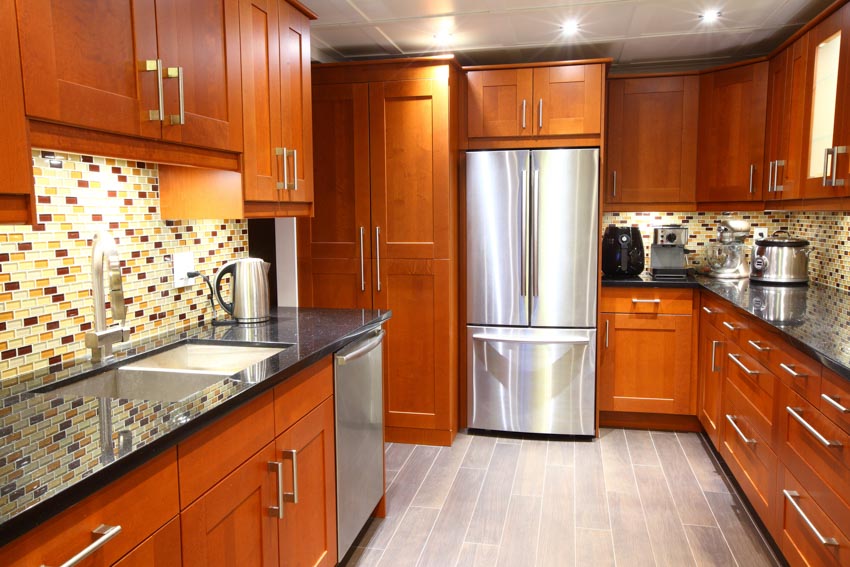 Recessed Shaker panel cabinets have uncomplicated recessed doors with a flat center panel and a minimalist frame. The shaker style is straightforward, with no embellishment on the corners where the frames intersect the flat central panels. It is indeed modern, crisp, and among the most widely known designs of recessed kitchen cabinet panels.
Aside from that, recessed Shaker panel cabinets have a frame around their border, but the panel it is wrapped around is usually plain. Nonetheless, the center panel may occasionally feature grooves to interact with the lighting that hits the cabinet front. Shaker kitchen cabinets are stylish and adaptable, making them ideal for any kitchen.
Additionally, Shaker style cabinet doors have an extremely timeless design. Since the 1700s, people have been using them, and this trend will not be going away. They look good in both traditional and minimalistic modern kitchens.
Because of the way these recessed kitchen cabinets interact with lighting, they are extraordinarily beautiful and may even make a space appear larger than it is. Shaker-style cabinets are a great option for your kitchens regardless of the type of kitchen you want to construct.
Recessed Cabinets Vs Inset Cabinets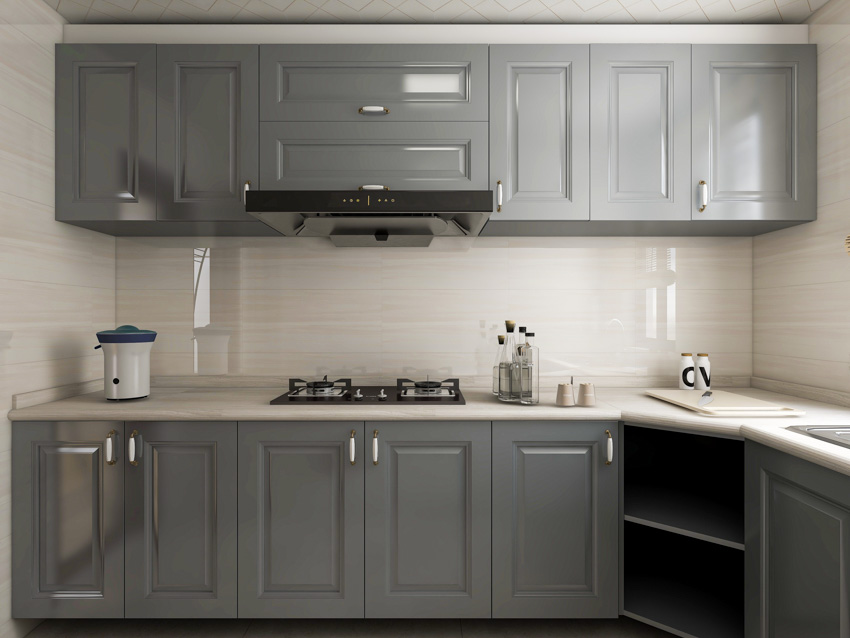 Recessed cabinets are integrated into the wall or the panel is flush with the framing. A routed border around the exterior edge of the door and a flat center panel identify the recessed door style. The outcome is a clean and timeless design that can fit any kitchen style.
Inset cabinets, on the other hand, refer to a cabinet door that is inset between the cabinet frame. The cabinet frame can be seen when the door is inset.
Inset kitchen cabinets have doors and drawers that nestle inside the cabinet frame or are "inset" to make them level. The cabinet framing is visible, with a very small gap between the cabinet frame as well as the door, providing sleek lines.
When closed, inset cabinet doors are fitted into the cabinet framing and fit flush with the front of the cabinet. The recessed kitchen cabinet door, on the other hand, does not feature a raised middle panel.
The center panel is sculpted inward and can have a range of forms and styles, including curving lines, clean lines, or multiple lines. Let us discuss some of their differences and similarities.
Recessed panel cabinets are often built of real hardwood, giving them a premium-quality feel and ensuring their longevity. These cabinets, meanwhile, can also be constructed of less expensive materials, such as medium-density fiberboard or particleboard, which can assist to reduce costs. Recessed panel cabinets, irrespective of the material used, lend a touch of refinement to any kitchen.
Inset cabinet doors, notwithstanding the decade in which your house was constructed, offer a sense of unique craftsmanship and identity to your kitchen. Since the fittings are so flawless, they feel tailored and exclusive to your setting. A door pull or knob is required to open the cabinet because the door is flush with the remainder of the cabinet.
The cabinet hinges on this style of door can be covered or exposed. Many people like inset cabinets because of their smooth, clean appearance, but the style and craftsmanship of inset doors are accompanied by more expensive costs.
See more related content in our article about melamine kitchen cabinets on this page.