In this hardware for oak cabinets guide you'll find the best color finish to use, tips on how to choose cabinet handles & knobs, matching shades and updating oak kitchen cabinets.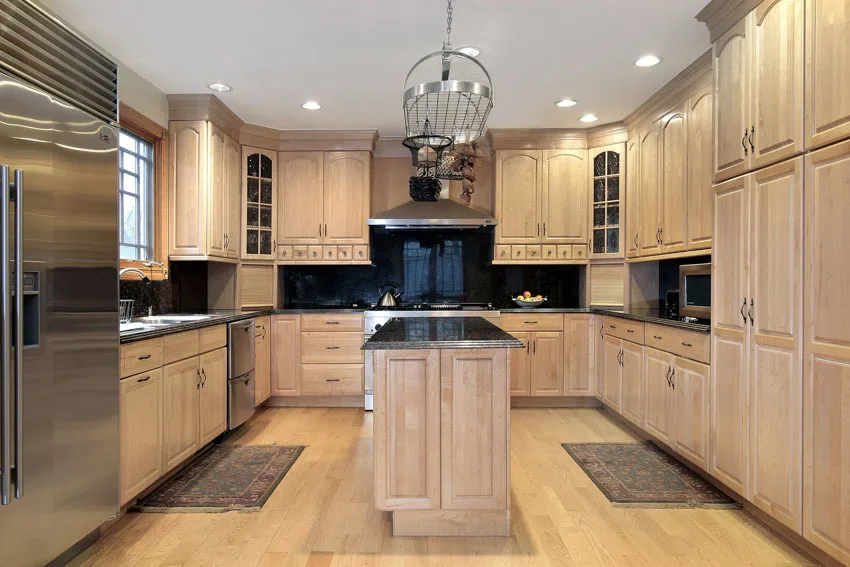 Oak cabinets are great additions to the kitchen space. If you happen to already have them installed or are planning to revamp your old ones by opting for oak, you're not wrong. It's a great wood material for a kitchen cabinet. It has depth and warmth in its wood grain. It also happens to be one of the most durable woods out there.
It can be a bit pricey though so that's a small downside. Trying to update your oak cabinets can cause a dent in your wallet. A smart way to work on its design aspect is to make sure that you pair it up with great hardware. It's great for a quick style off.
Oak cabinets are very neutral. What this means is that they can serve as great backdrops and will pair up well enough with just about any color you can think of. The broadness of your options can make the task a bit daunting but that's OK. We're breaking everything down for you below.
Best Color Hardware For Oak Cabinets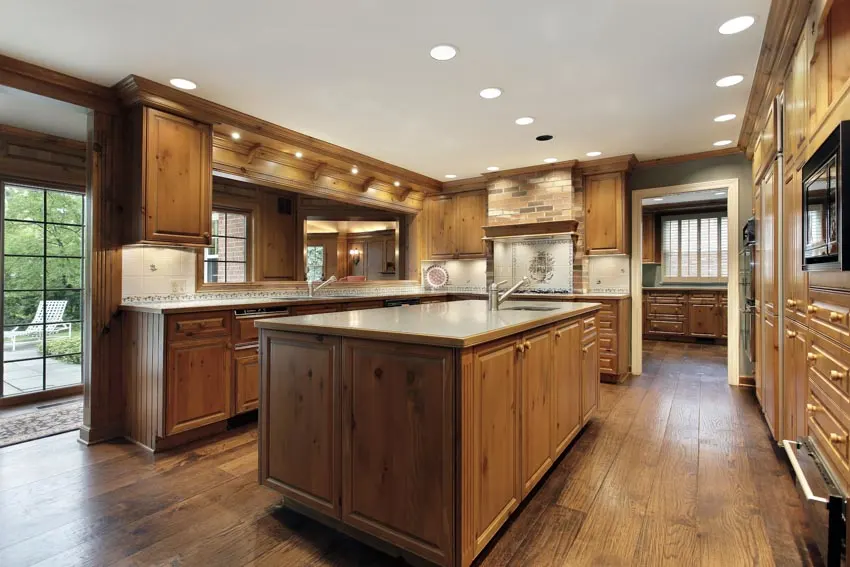 Silver: Silver hardware on oak cabinets can look clean and chic. If you want oak cabinets that look and feel trendy and modern, you can bank on silver handles to pull the look off at the end of the day.
Another thing that's so great about silver hardware is that it isn't overpowering. It kind of serves as a backdrop and it can accentuate the oak cabinets without overpowering them.
How it works is that it highlights the handle part of the cabinet doors. It doesn't matter if you are working with dark oak or light ones, silver hardware will work with either shade.
When shopping around for silver cabinet handles, make it a point to look for long and slender ones. This shape is great when it comes to pulling the balance on the tone of the wood grain. On the other hand, veer away from rounded silver hardware. It can look mundane and unimpressive on the oak cabinets.
Golden: Gold is a timeless color. It's an old one too, but that doesn't matter at all because you can be rest assured that it's a hardware fixture that will work well with your oak cabinets in the kitchen.
If you want to make your kitchen cabinets look luxurious and bright, gold cabinet hardware is the best choice. The thing about gold is that it's great for softly accenting the grains and stains in your oak wood.
You need to tread carefully with gold types of cabinet hardware, though. If not used properly, it tends to look overwhelming and outdated.
This usually happens with hold hardware that has chrome-like or shiny finishes. A way to mitigate this would be to opt for either brushed or matte finishes so that you get to keep the look current and modern.
Another idea that you can play around with is pairing your kitchen cabinet hardware with similarly gold-colored hardware as well for the rest of your kitchen elements such as stovetops, faucets, and so on. It can pull the look together and make the entire thing come off as cohesive.
Tan: Tan cabinet hardware isn't the easiest thing to come by. Bigger home stores offer them though. You also have the option to paint it yourself with a mixture of black and brown paint. When blended right and gorgeously, this creates an effect of warmth and coziness.
The thing about tan hardware is that it can be pretty fluid. It changes the way that it looks depending on the lighting and design. It means that your oak cabinets will adjust and look interesting under different lighting and at different times of the day.
Tan hardware is great if you want to accomplish a traditional kitchen design. It also works better with golden oak wood but it might not work so well with red oak wood. Also, it's a smart color for more intricately designed hardware.
Black: One of the boldest colors known to man would have to be black. It's a great color option to consider especially when you want it to pop out against honey-colored oak wood. It can easily be the accent and steal the limelight.
It's something well worth considering at the end of the day as it can complement the dark brown tones of the oak. This type of combination produces a look of modern sophistication and is quite frankly a little difficult to pass up if that's the kind of look you are trying to shoot for.
There are different options you can consider. You can go with a matte black finish for a flush and modern look. Glossy finishes, on the other hand, can look more traditional.
This type of hardware color can pair with any type and shape of oak wood you may have. It does, however, produce a different type of aesthetic for each.
For golden or white oak cabinets, it can strike a really powerful contrast. It can have a transitional aesthetic when paired with red oak. And it can look eclectic and edgy when paired with soft honey oak.
Gray: Gray is a neutral color. If you want to keep your oak cabinets clean without too many embellishments, gray hardware is the way to go. When paired with red oak kitchen cabinets, gray hardware creates a traditional look.
When paired with honey oak, it creates a more rustic and laid back farmhouse kitchen aesthetic. There's also the matter of the undertones the grays come with. Gray hardware with a reddish undertone creates sophistication whereas bluish gray creates eclecticism.
Best Color Hardware For Honey Oak Cabinets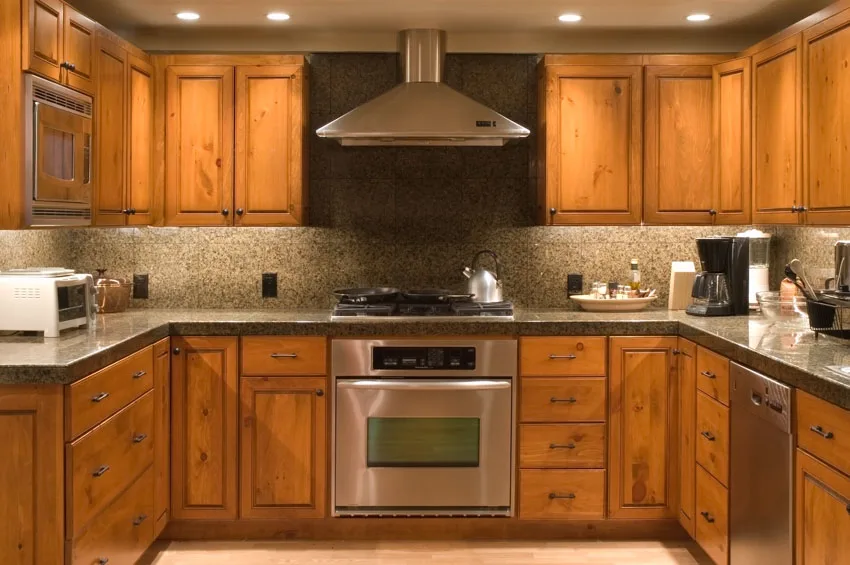 Honey oak cabinets are light colored to almost white at times, especially as they age. The best hardware color to go with is something strong and contrasting, so as not to make your kitchen cabinets come off as too underwhelming.
So the answer is black. Black is a color that naturally stands out. It's striking, and dramatic, and provides much-needed visual breaks from the monotony of the extremely light-colored honey oak material.
You can't go wrong with black. It's a color that will always find a way to work with whatever colors you may have in your kitchen space design.
Gold or brass handles or fixtures can also work well with oak wood cabinets. It connotes something luxurious and bright. It can blend well with various types of oak wood stains.
Choosing a brushed or matte finish can create a chic and modern aesthetic. Shinier finishes can create a more modern and new-age look.
Choosing Hardware For Oak Kitchen Cabinets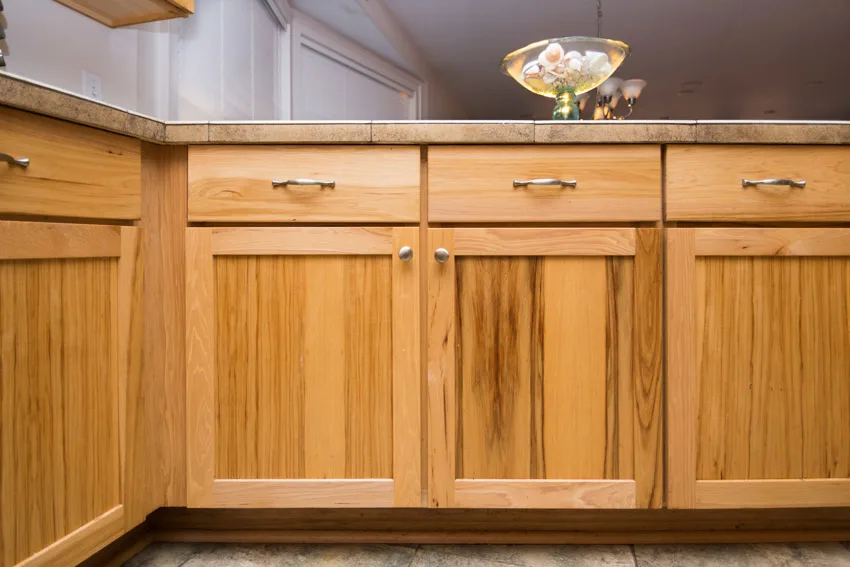 Swapping or switching out your cabinetry hardware is one of the quickest and easiest upgrades you can ever do. It can also surprisingly turn out a whole world of difference and change not just the look but the vibe of your kitchen space too.
Right off the bat, online is usually the cheapest place to go for cabinetry hardware. Not only are the prices low, but the choices are also in wide abundance. Here are some of the best tips to keep in mind when looking for hardware that you can pair up with your oak kitchen cabinets.
Go for contrast: If you are looking for a certain type of pop and you want your oak cabinets to stand out, opting for contrasting colors is one of the smartest ways to go.
Think more about the planes of oil-rubbed bronzes or straight-up blacks. You can be a step ahead of the game by updating the rest of your kitchen fixtures such as your light fixtures, your faucets, and so on.
Take your time: There's no real need for you to rush through the purchasing of your hardware. If you feel like you haven't found the perfect fit yet, don't go through with it.
It may take some time before you find the perfect shape, material, color, and finish; but you will get there. Have enough patience to go over multiple stores. Most of them have online catalogs now and most of them you can order online and ship straight to your doorstep, even.
Go light: You don't want your hardware to overshadow or take the attention away from your oak cabinets. Oak wood is so gorgeous that you would always want it to take front and center. You would want to go for handles or hardware that occupy as little space as possible.
Stick to your budget: The whole point of trying to retain your pre-existing oak cabinets is so that you get to minimize your costs for your kitchen upgrade. There certainly isn't any need for you to splurge on overpriced hardware if it isn't something that you can afford.
More than that, not overspending on your cabinet hardware would mean that you get to change them out whenever you feel like getting an upgrade from time to time.
Oak Cabinets With Handles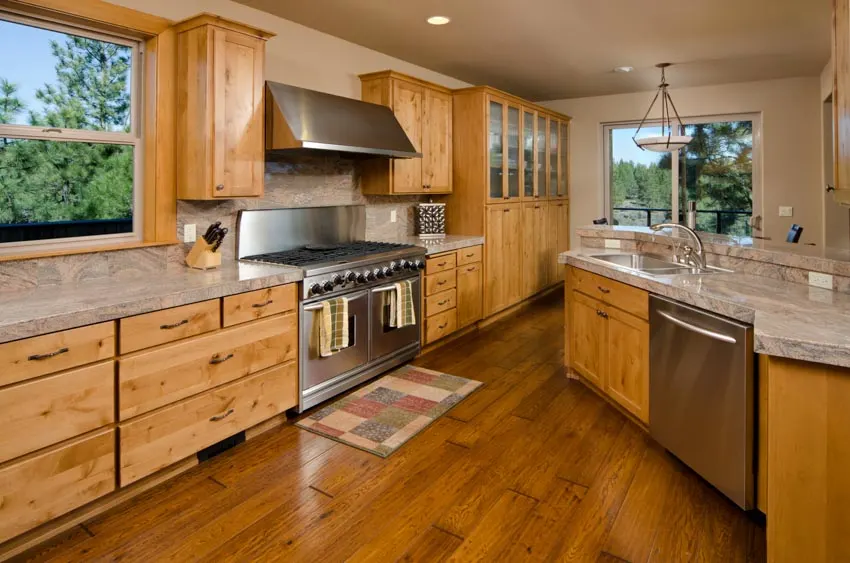 We feel like we've gone through the colors for your handles for your oak cabinets at homes so really, the next step in the right direction is to make sure that you pick out the right types in terms of design and form.
Your cabinet handles are vital elements in completing that dream kitchen look. For you to choose the right options, you first need to know what they are in the first place. Here are the most common types so far:
Handleless: These are push-to-open functions that allow you to access your oak cabinet doors with the utmost comfort. If you want to go for an ultra-modern, sleek look, handleless handles (sounds a bit ironic but it works) just might work for you.
Edge profile: These handles are hollow channeled bars that have been fixed to the door edge. You put your fingers in the hollow space to pull the cabinet doors open.
They slightly protrude from the edge and can make your oak cabinets look like they don't have any handles. They are ideal for modern and contemporary kitchen cabinet styles.
Cabinet knobs: If you fancy the vintage aesthetic, cabinet knobs might be the cabinet hardware for you. They are fixed and circular. They can also come in various shapes and designs such as animal shapes, flowers, and so on.
They can make your aesthetic a little more traditional. Take note though that they only offer a limited area to hold and they tend to get loose over time. You need to make sure that they are correctly fitted regularly.
Cup handles: These handles are very heavy-duty. They are very reliable and can come with either an antique brass finish or a unique brushed gold look. They're great for when you want to create a look that's a little more vintage or traditional.
Bar handles: These can be very simple yet quite functional at the same time. A bar handle or pull is a long rectangular bar that makes for very easy gripping and pulling. Bar handles are great if you want to create modern-looking kitchen storage aesthetics. They also work well for drawers.

T-bar handles: They look very similar to bar handles. They only differ slightly because of the tube shape that they come in with. If you have a flat rendering or monochromatic design for the kitchen, your T-bar handles will work well alongside that décor theme.
Bow handles: These products come in wave-like shapes and are ideal for traditionally designed kitchens.
Modern Hardware For Oak Cabinets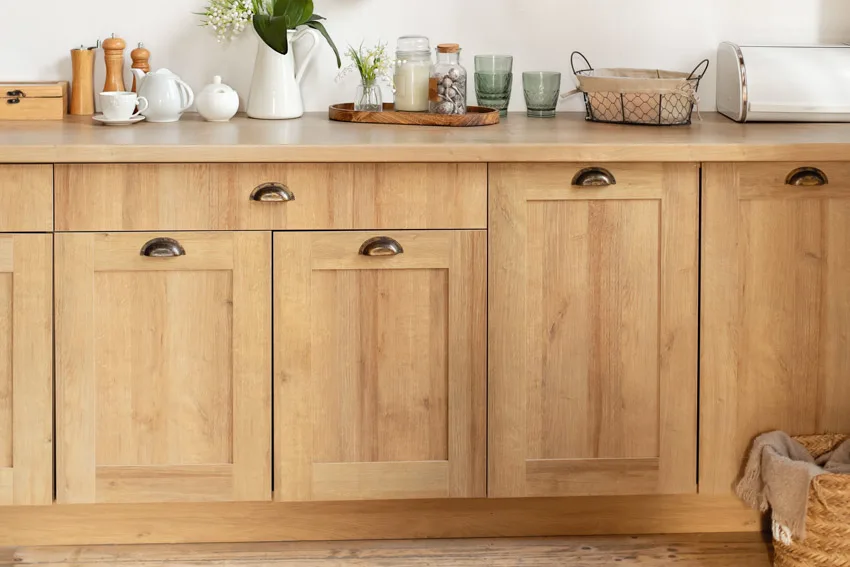 When it comes to modern hardware for oak cabinets, it can also boil down to the materials that they are made out of.
Your hardware's materials will dictate how often you should get them cleaned or maintained. It will also dictate how long they will last. The finish tends to matter as well as it has a lot of say on the kitchen's overall ambiance.
Copper: These handles are stylish and timeless. They offer soft and somewhat subdued metallic accents in your kitchen. They can gel well with dark and plain-looking oak cabinet doors. Copper is great if you want to create an industrial feel in your kitchen space.
Chrome: This hardware material is glossy and highly reflective. It provides a more classic and conventional look in the kitchen. Most of the chrome these days has metal cores that have been coated with chromium veneers.
If you aren't that fond of shiny exteriors, you can opt for the matte ones that are in either stained or brushed variants. Take note that chrome requires a lot of maintenance. They can be susceptible to fingerprints and etching which means that they require regular cleaning.
Nickel: Nickel handles can look very charming and come with various finishes from antique, to high polish, to satin. A brushed nickel finish ca be used if you want to tone down the appearance.

They are rust-resistant and although they can dull with use, this is something you can easily bring back with some cleaning and polishing. Nickel handles are great if you are trying to create a rustic farmhouse look.
Black: Black is great if you want to capitalize on contrasts or if you're after a more monochromatic design aesthetic. It can be glossy or matte. Black hardware can be very sleek and modern but it can also seamlessly work with traditional or farmhouse kitchen cabinets.
Stainless steel: If you're after durability, you can always opt for stainless steel. It requires little to no maintenance and is one of the most durable out of the rest of the other hardware materials.
Using stainless steel pulls can be matched with other items like shelf brackets, hinges, bar stools, accessories and appliances for a cohesive look.
Stainless steel handles are also quite resistant to scratches, rust, or stains. They can suit so many kitchen designs from modern to traditional.
Black Handles On Oak Cabinets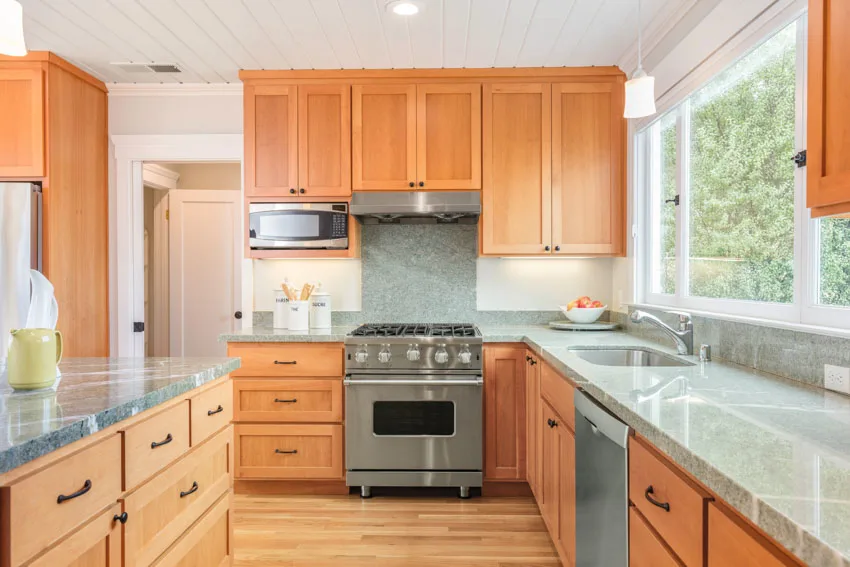 Black handles work well on oak cabinets. They provide that much-needed contrast and can break up the monotony that's usually common in oak wood. Because they are dark colored, they also tend to draw attention away from otherwise outdated-looking cabinetry.
It is always a good choice to opt for black handles. If you don't want to think too much about it and just want to give your old oak cupboards a quick facelift, you can't go wrong with black handles at any time of the day.
How To Update Oak Kitchen Cabinets?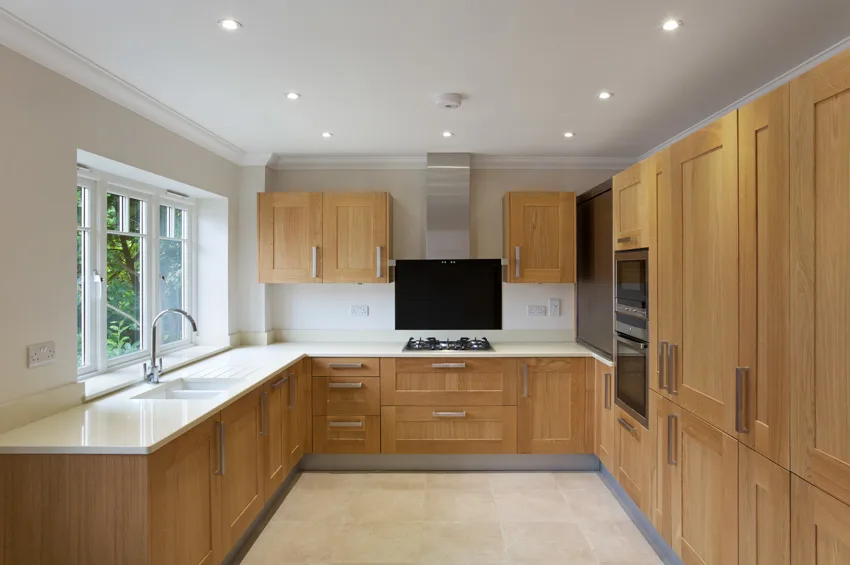 Oak cabinets can still be made to look and feel modern without you putting too much time and effort into it. Here are some easy ways for you to update ad modernize them.
Clean them: How much dirt and grime can accumulate in your kitchen cabinets over the years will surprise you. The simple aspect of getting a grime cleaner or degreaser on your cabinet surfaces could make all of the difference in the world.
Add a modern backsplash or change your grout color: Older style backsplashes can feel outdated but the good thing is that they can be quite easily replaced. Besides pairing a modern backsplash with oak cabinets, also play around with your grout lines a bit.
All of these elements can contribute to how your oak cabinets in the kitchen end up looking and feeling at the end of the day.
Change out your hardware: Some new hardware on your cabinets can instantly make them look new.
If you can't change them out, spray over them: Can you spray over your cabinet hardware? Yes, you can! Take note though that this will have a limited lifespan. But still, it's a pretty cool DIY project you can take on over the weekend.
Paint your kitchen walls a light color: Dated oak cabinetry can make a space feel heavy and old but this is something you can easily offset by updating your walls into something a little more light-colored. You will see that it will immediately open your space up.
Change your lighting fixtures: The kitchen is all about lighting. Sometimes, if your lighting is outdated, it can make your space feel heavy and look like it's from a bygone era.
Change out your lighting fixtures. Modernize it. Don't be afraid to experiment a little with it. The differences can be tremendous and just well worth the effort at the end of the day.
Are you considering changing out the hardware on your oak cabinetry or planning a kitchen remodel? Let us know in the comments what you like to pair with oak. See more related content in our article about kitchen paint colors with oak cabinets on this page.