This gallery of teak countertops shares what they are, their pros and cons, durability, different types, price, cleaning tips, and teak countertop kitchen designs.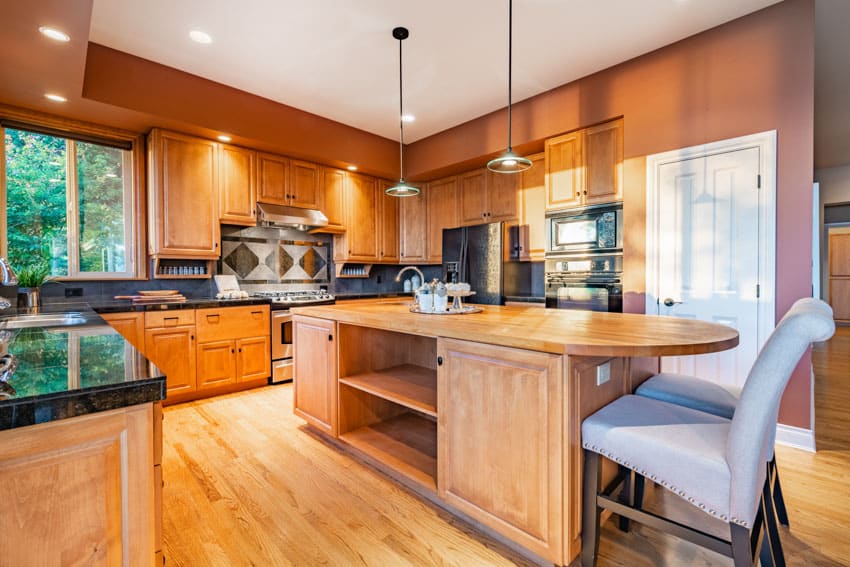 When selecting what type of countertop to install in your kitchen, the question of which material to use might arise. Although stone materials are commonly used in kitchen countertops, several wood types make them an attractive natural material for countertop production. Teak wood is one of them.
Teak is a medium-density hardwood that is both durable and long-lasting. It has all of the attributes you are looking for in a countertop. Moreover, teak is a popular choice for many sorts of furniture since it is both versatile and waterproof.
With its rich, warm tones, it is also largely regarded as one of the most exquisite woods in the world. Read this article to find out if teak is a suitable wood to use when building a countertop.
What Are Teak Wood Countertops?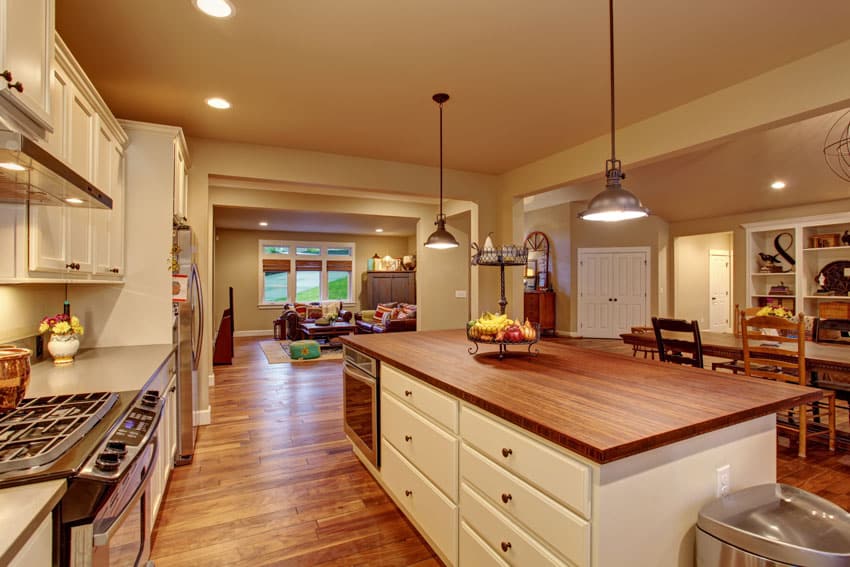 Teak wood countertops are highly dependable when it comes to adorning your kitchen and adding a distinct sense of ruggedness and charm. Even before the advent of antiquity, wood has always been the ideal material for furniture construction. Teak wood countertops make an impression with their visual beauty, warm touch, and distinctive natural hue.
Typical wooden countertops have the inclination to weaken knife blades. Teak countertops, on the other hand, are gentle on knife blades. Thus, you will not have to change the knife that frequently. You can cut, chop, mince, and dice for so many years without bothering about knife blades becoming blunt.
Moreover, teak wood supplied from agricultural farmlands, which is legally permitted for use in countertops and other furniture manufacturing as well as other industries, is an excellent way to protect the natural environment.
Teak wood is also recyclable, which reduces its environmental impact. It is therefore an excellent choice for kitchen countertops that must survive for a long time.
Teak counters are a hygienic option because the natural oils in teak wood keep the exterior layer germ-free. Even if microorganisms get into the pores, the oil in the teak wood absorbs and destroys them. Hence, teak wood is arguably the most ideal wood material for kitchen countertops.
Teak Countertops Pros And Cons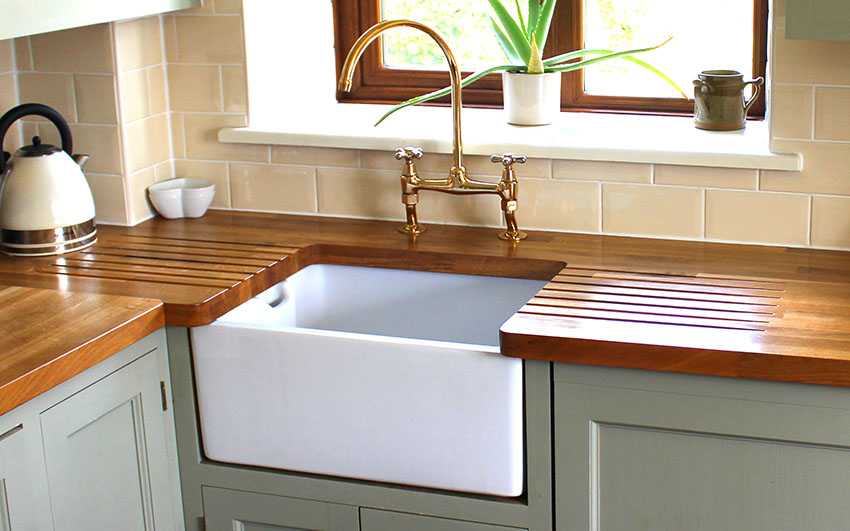 All types of wood for countertops will have advantages and disadvantages for you to take into account. Let us go over the pros and cons of using teak wood for your countertop project.
Pros Of Teak Countertops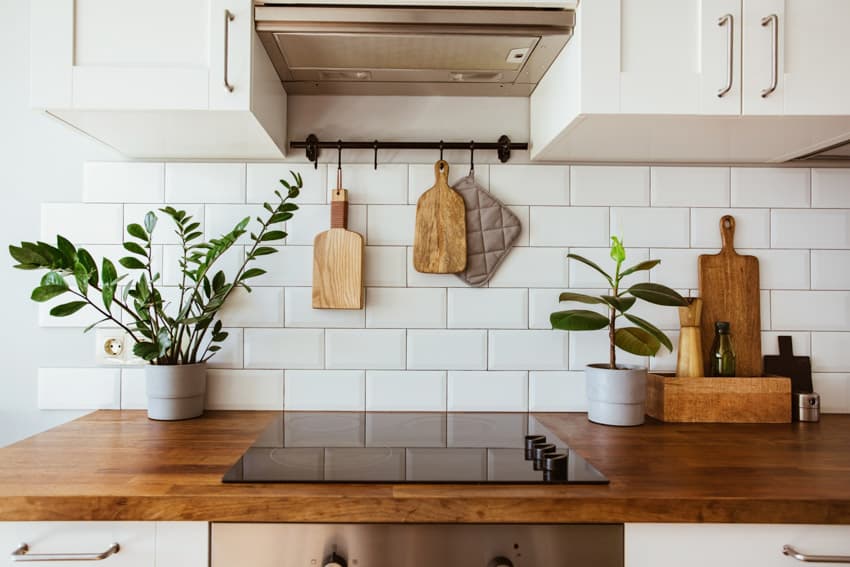 Exceptional Durability, Resistance, and Longevity: Teak is an extremely strong and long-lasting wood species with a usually straight and tight wood grain. Teak is a popular material among yacht builders for building boat platforms, making it one of the options for the most durable kitchen countertops.
This heavy-duty hardwood is unaffected by exposure to the ocean's water, as well as the sun and wind. Therefore, teak wood countertops can last for generations if properly cared for. Teak wood will not get splintered, warped, bent, or cracked under pressure, and it is not affected by continuous water contact.
Furthermore, one of its outstanding characteristics is its longevity. Teak wood is among the hardest wood products and can survive for decades even if left untreated. As a result, if you choose teak as a countertop, you will be investing in a masterpiece that will endure the entirety of your life and can afterward be handed down to your kids one day. It really is that tough and enduring even if you do not use sealants or waxes on it.
Untreated teak countertops do not affect their lifespan or strength. Nonetheless, this does not prohibit you from treating your teak wood. You can certainly apply sheens and sealants to the wood; the option is yours.
Woodworking- and Carving-Friendly: Teak wood is ideal for carving because of its medium-density structure (650 kg/m3). It is a fairly adequate and easy-to-handle density average. High-density hardwoods are more likely to be decorated.
Because of its clean and straight grain, woodworkers who create countertops love working with it. Teak wood does not chip or fracture, which adds to its longevity and makes delicate patterns easier to carve out. The wood accepts screws and nails smoothly, making it perfect for construction purposes. When sanding, milling, or planing the wood, no difficulties or complications will develop.
You might choose to keep your teak wood countertop in its natural condition. You can paint, stain, polish, wax, or varnish the wood if you choose. In terms of treating teak wood, sticking to your preferred treatment method is not an issue. This versatile wood comes with customization possibilities and can generate a variety of appearances using different techniques.
Has Very High Resistance Against Bacteria, Fungi, Woodworms, and Termites: Teak trees are safeguarded by silicon as well as tannins that are naturally present in their composition. Because trees, unlike other living things, cannot move, they were required to establish a natural defense against infections such as fungi, viruses, and bacteria. Tannins are these protecting elements.
In addition, teak wood is fully saturated in a variety of protective wood oils. These oils work as natural disinfectants, making teak wood a healthy countertop option. These disinfecting oils and their distinct chemical structure hinder the growth of germs and mold, effectively preventing woodworms from devouring them.
Teak wood is particularly resistant to mildew and decay due to the natural oils it contains. Termites learn that attacking a teak tree is not worth the trouble. The oils work as a repellent to termites, reducing the likelihood of these pests ruining your teak countertop.
Extremely Water-Resistant: Teak wood countertops will not enable moisture to permeate or cause harm even when exposed to prolonged water exposure. It can endure water or fluid spills and is simple to maintain as a countertop. When continually subjected to water, your teak wood countertop will never deform, break, or expand.
If you are using teak wood, you must not anticipate a wet, rotten black circle around your water basin in your teak counter. Furthermore, teak has a significant oil content as aforementioned, which makes it waterproof and defends it from water deterioration as well as the sun's damaging UV rays.
Fire-Resistant and Has Good Insulating Properties: Although wood varnish is renowned to burn rapidly, teak wood will not, owing to its oil composition, henceforth it is extremely fire-retardant. Teak wood is a leader when it pertains to heat absorption.
Briefly expressed, teak wood will not feel extremely hot when touched during the summertime but will keep the warmth throughout the harsh winter months. This is among the motivating factors why it is popular for outdoor countertops.
Pleasing-to-the-Eye Appearance: Teak countertops are very eye-pleasing. The heartwood of teak typically features a golden brown yellow, honey tint, or a deep brown with rich brown patterns. Teak wood is also known for its golden luster. Teak sapwood, on the other hand, varies in hue from gray to white and light yellowish-brown. When subjected to the weather, it takes on a warm golden-brown hue.
These teak wood countertops often turn dark brown when untreated and subjected to the environment. When left in the sun for extended durations, it will develop a silver-gray hue or undertones, which is still visually appealing.
Cons of Teak Countertops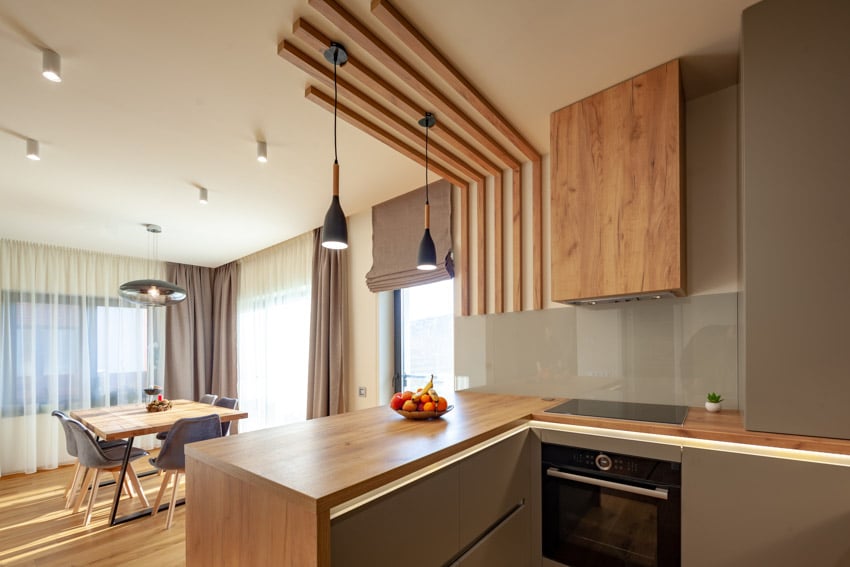 High Price Tag: There are various types of wood to pick from when deciding which wood to utilize for your kitchen countertop; teak will undoubtedly come up for conversation owing to its numerous amazing characteristics.
In comparison to the cost of teak, you might notice that other woods will be significantly less expensive. Teak is a superior wood, and it will cost you higher than other inferior wood varieties.
Not Widely Available: The primary reason for the teak's premium price is that its availability is lower than its demand, which increases the cost due to rarity. This well-known wood has been listed as an endangered species, and certain authorities have imposed limits on how much teak can be taken and sold. This issue will make it difficult to find genuine teak wood, and it will be expensive.
Teak Wood Hardness (Janka Rating)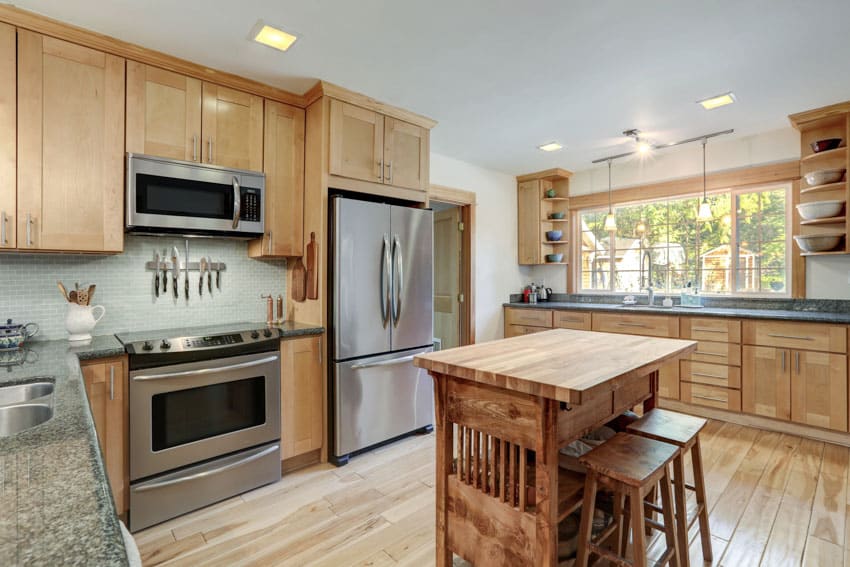 Teak, which comes in a number of subspecies, possesses an average Janka hardness rating of 1,155, making it marginally harder than oak. Since teak shares the same structural strength and density as heartwood, it is easier to employ without incurring durability issues.
Types Of Teak Kitchen Countertops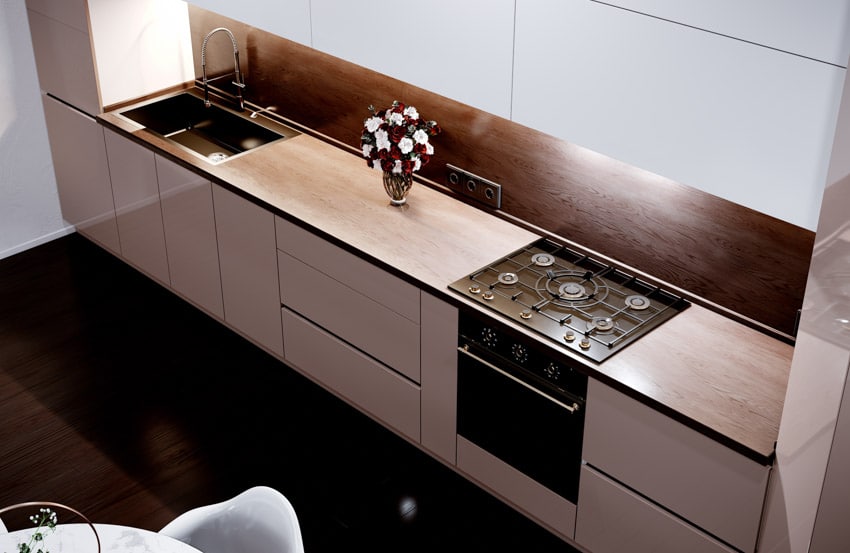 Here we share the different teak kitchen countertop types.
Teak Butcher Block Countertops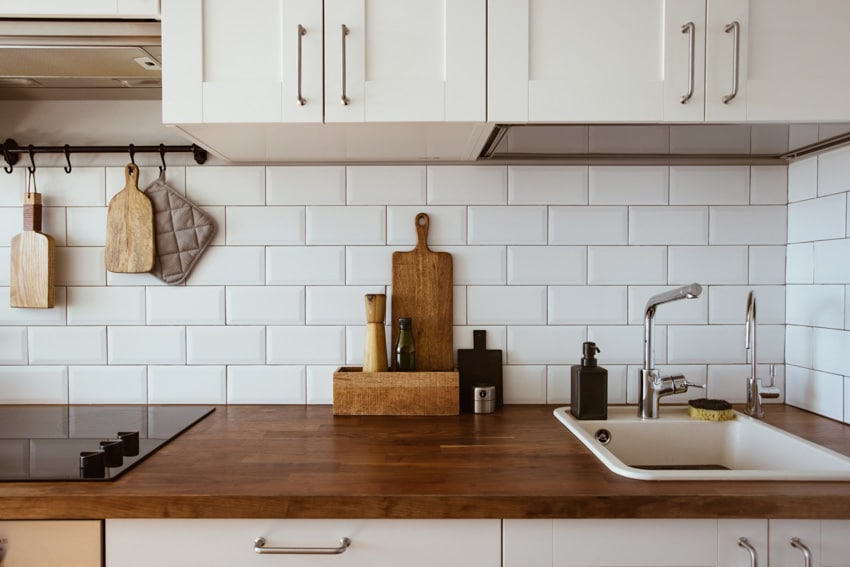 Teak butcher block countertops are exotic and attractive, with widely diverse light and dark brown grain features. They create a strong statement in the kitchen and bathroom décor. Installing a strong teak butcher block countertop may radically transform the look and feel of your kitchen.
Butcher block countertops made of teak have been popular for generations. The teak hardwood renders the block robust enough to withstand cutting impacts.
Even the teak wood's long-lasting quality makes it excellent for breaking multiple items or cutting food while remaining durable for years.
Burmese Teak Countertops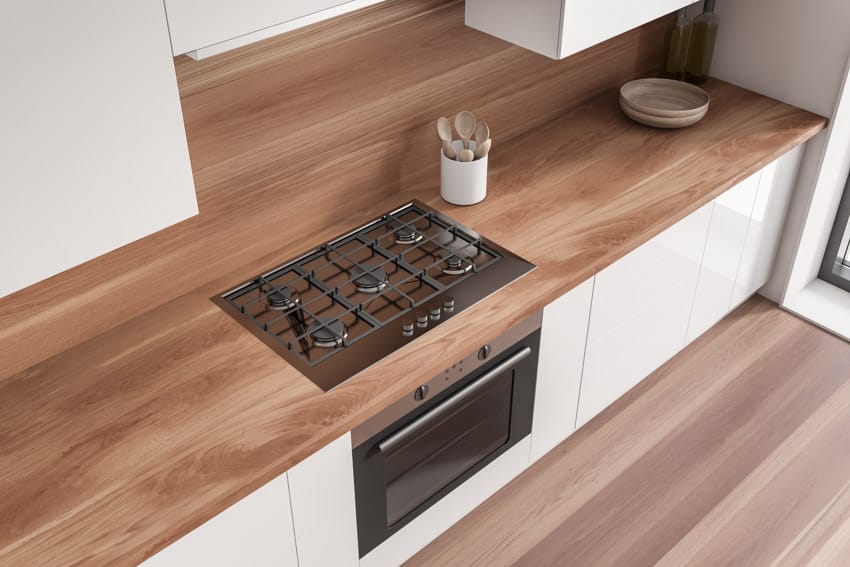 An old-growth tree found only in the woods of Burma and Myanmar is known as the Burmese teak. Their development spans more than 50 years.
It is the highest-quality teak wood currently available. It features a golden tint, finely scattered grains, as well as a high concentration of natural teak oils. It is the most long-lasting variety of teak wood.
The heartwood is typically golden to light brown, becoming richer as the wood matures. It will either have plain or wavy types of wood grain patterns. It has a gritty texture and a natural shine. Burmese teak wood is typically utilized for countertops that see a lot of activity.
Brazilian Teak Countertops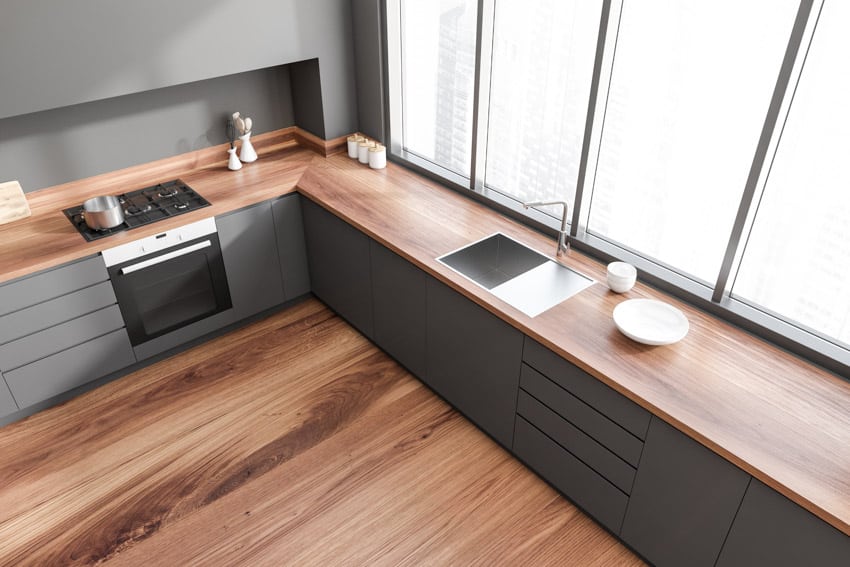 Brazilian teak wood is officially known as 'Cumaru', although it is also known as ipe wood. It is not genuine teak wood. It is a South American hardwood deeply entrenched in Brazil.
It is extremely hard, sturdy, waterproof, and long-lasting. It contains a high concentration of natural oils, which render it moisture-resistant and impervious to parasites and insects.
The grain distribution is considerably different from that of genuine Burmese teak wood. Brazilian teak wood is reddish-brown rather than golden brown.
African Plantation Teak Countertop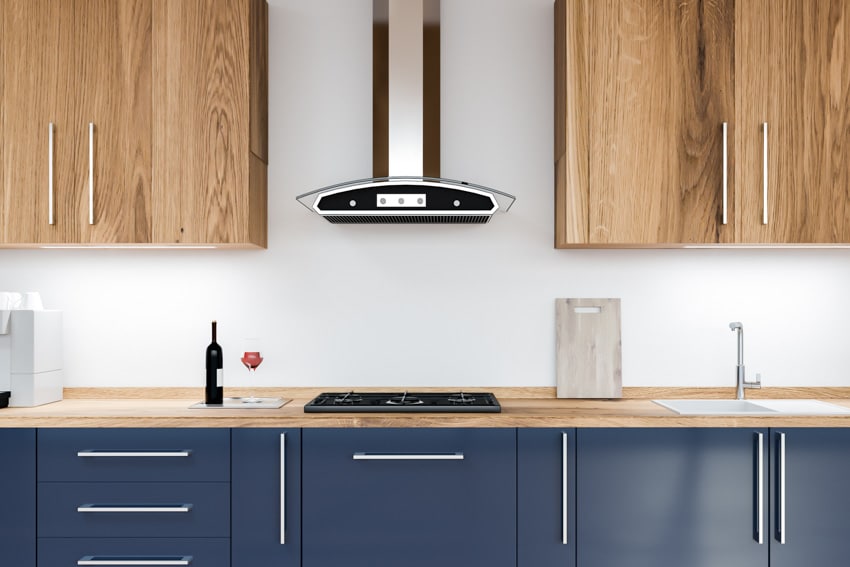 African plantation teak wood is teak grown in Africa. Its development duration ranges from 15 to 25 years, resulting in a low concentration of teak natural oils.
As a result, African plantation teak wood is not quite as strong as Burmese teak wood. It is a pretty light brown color. The wood grains are significantly apart. There are several sound knots in it as well.
Indian Teak Countertop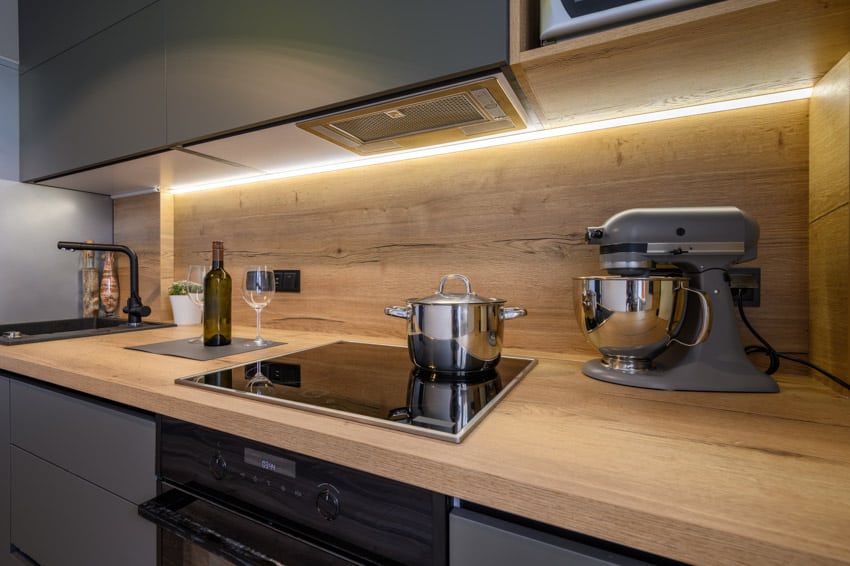 One of the most common types of teak wood is Indian teak wood. It is indigenous to India's old-growth woods. The quality of Indian teak wood is comparable to that of Burmese teak wood, although due to increasing demand in India, there is virtually no production of Indian teak wood in the worldwide marketplace.
This wood is precious since the trees have the potential to mature into old-growth teak. This implies that the wood will have a lovely color, rich and full of valuable oils, and will make top-quality countertops.
Edge Grain Teak Countertop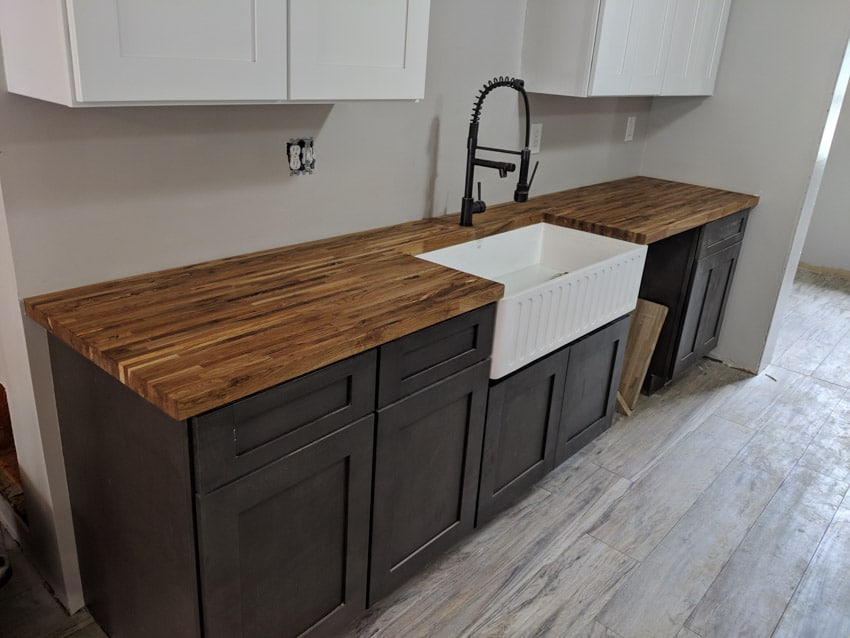 Plantation-grown, responsibly sourced teak is normally used for edge-grain teak countertops. Edge grain composition implies that the grain of the wood is parallel to the top layer of the countertop, highlighting the natural wood's exquisite colors and patterns.
Teak countertops with edge grain are easy on blades and resist scratches and warping, preserving their aesthetic even after years of heavy usage.
End Grain Teak Countertop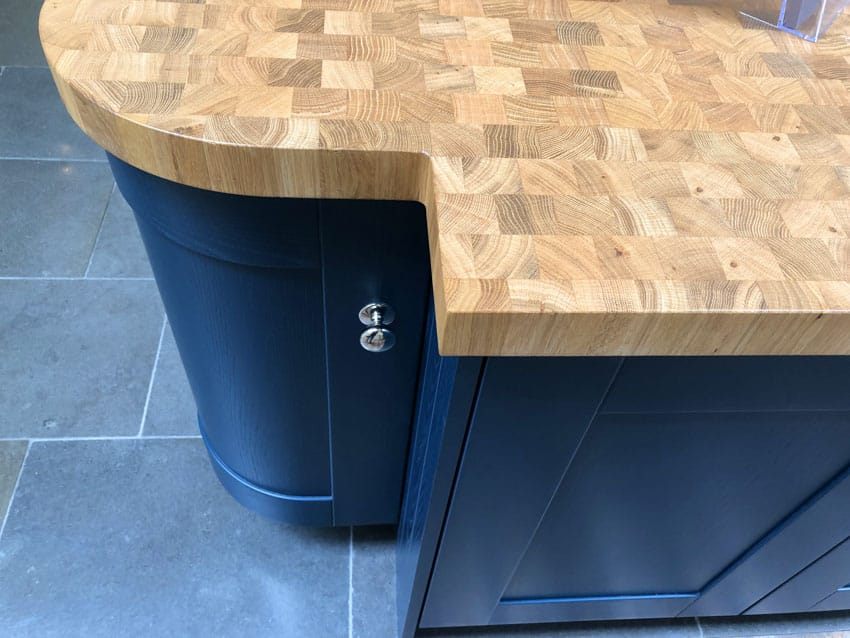 Teak wood blends a beautiful exotic texture with inherent moisture and pest immunity and excellent durability. Because of the unique colors of young teak, manufacturers who use end-grain wood build countertops with unexpected yet gorgeous patterns.
End grain teak countertops have a noticeable golden brown heartwood that darkens with weathering, whereas the sapwood is cream-toned.
Teak Countertops Price
See this teak countertop at Home Depot [sponsored link]
Teak is one of the most expensive types of wood. A teak countertop costs approximately around $100 to $300. Most often, it is custom work.
This material has grown in popularity as a luxury wood for anything, from teak kitchen cabinets, countertops to flooring and cladding.
However, as previously stated, due to their scarcity, their cost is normally higher than other typical types of wood used for countertops.
Cleaning Teak Countertops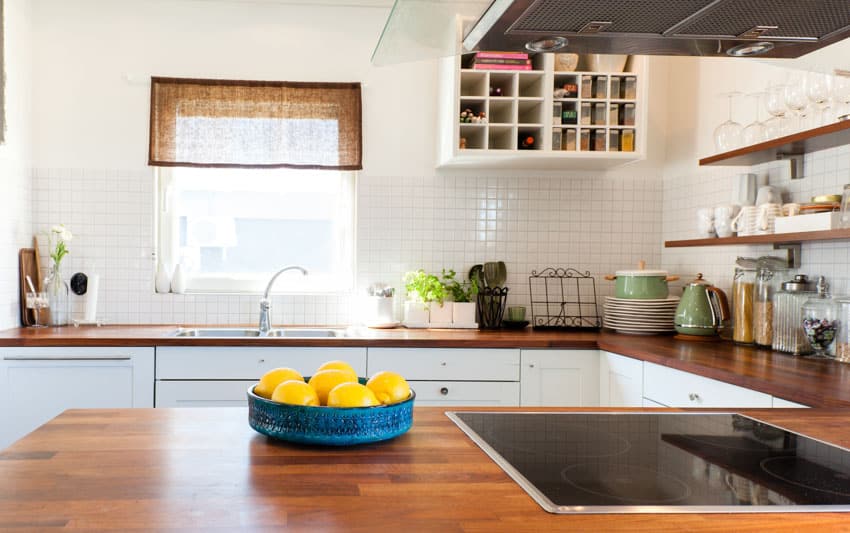 Teak wood is naturally resistant to damaging elements such as mold and decay. Although not fully impermeable, its significant oil content makes it inherently durable. Nonetheless, if not properly maintained, unpleasant mildew can develop on the surface of the teak wood, staining both treated surfaces and naturally aged wood.
Once mildew is visible, scrubbing the teak with a soft nylon scrubbing brush as well as a combination of mild detergent, water, and a little bleach or vinegar will generally solve the problem. Numerous teak makers highly advise avoiding using metal brushes since they can harm the wood.
Specialized teak cleaners can also be purchased to remove tougher stains or deposits. All you have to do to clean the teak countertop successfully is read and follow the directions included with the cleaner before using it.
The regularity of your teak countertop cleaning will be determined by the conditions to which it is exposed. The teak that is used in high-traffic countertops, for instance, will most likely necessitate more extensive cleaning.
However, you have to take note that whatever your cleaning requirements are, using slightly high-pressure water, metal brushes, or steel wool is not advisable since they will harm the hardwood surface so badly.
Pro Tip: A frequent quick clean with just water and a light scrubbing brush will help prevent stains and fading.
More Tips and Instructions When Cleaning Teak Countertops:
Teak types of kitchen countertops may be cleaned with commercial or homemade cleaning solutions. Aggressive chemical cleansers can practically melt teak, thus you must start with something gentle.
If you feel you need something a little more powerful, be sure that the chemicals are suitable to be used on teak. If the teak has already been covered with a sealer or varnish, you can use a wood stripper to dissolve it before cleaning.
Three popular and simple DIY cleaning solutions are:
• 1-cup ammonia, 1 cup laundry soap (without bleach) in 1 gallon of warm water
• 1 gallon warm water, 1-cup chlorine bleach, and 1-cup laundry soap
• 1 cup vinegar to 1 gallon of slightly hot water
Whatever solution you pick, you must never mix them, and never, ever combine ammonia and chlorine since this mixture will produce exceedingly poisonous gas.
Distribute the solution to the wood by lightly scrubbing it in with a soft nylon scrubbing brush. Let the cleaning solution sit on the teak for around 15 minutes before carefully rinsing. Cleaning teak countertops is frequently messy, therefore performing it when there is no food nearby.
Make sure the cleaning space is sufficiently ventilated to protect oneself from possibly toxic fumes. You must ensure that you will open the doors and windows, and consider using a fan. Put on rubber gloves and eye protection when handling chemicals.
Take note: The cleaning combinations listed above are effective on most household teak products such as countertops, especially those that only require minor cleaning.
If your teak has been exposed to elements for an extended duration, or if you reside in a region where the atmosphere is more toxic, you may want a more severe cleaning technique.
Be cautious: most wood cleaners are quite toxic and must only be applied when all other options have been tried. Many of these cleaners can harm the surfaces around them.
See more related content in our article about teak wood flooring on this page.