Find out what color cabinets go with brown countertops, including tips on matching them and paint ideas that go with brown granite countertops.
Brown countertops can be matched with cabinets of almost any color, but it's a tricky exercise requiring some knowledge to get right. Luckily, we're here to provide that knowledge to you.
This article delves into color theory and teaches you how to find the undertones of your brown countertops so you can coordinate with them. Here we'll answer all your questions about brown countertops, including what colors go best, how to match them, and special tips for coordinating with brown granite.
No two brown countertops are precisely the same, so the answer isn't one-size-fits-all. But when you're done reading, you can evaluate different cabinet options and choose one that goes great with your brown countertops.
How Do You Match Brown Countertops?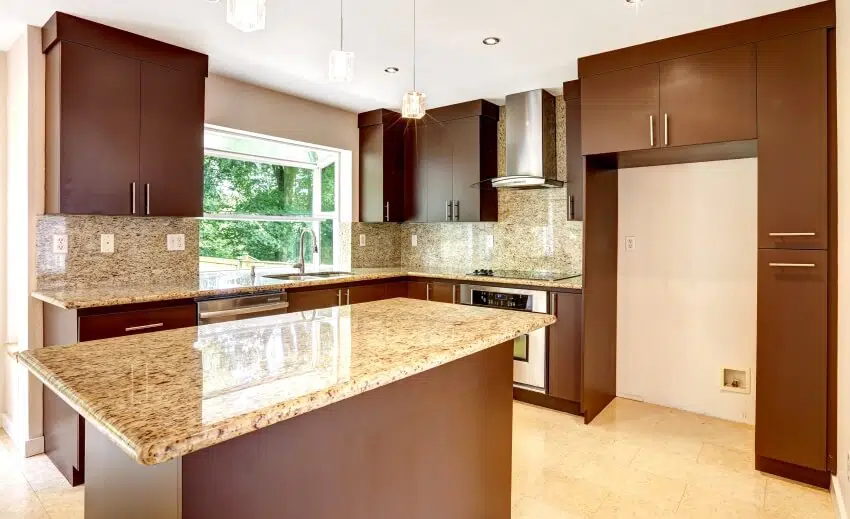 If your brown countertops are patterned, the easiest way to match them is to pick up the color in the pattern and use it elsewhere in the room. For example, brown granite countertops with black flecks could be paired with matte black acrylic cabinets.
Brown marble is often streaked with swirls of gold and yellow, which presents an opportunity to experiment with painted sunshine-colored cabinets.
If your countertops are solid brown, you will need to understand more about colors and color theory to come up with a good match.
Brown is a non-primary color. Like every non-primary color, brown is created when two or more colors are mixed together. One of those colors, the one that is present in a higher concentration, is the overtone. In the case of brown countertops, brown is the overtone.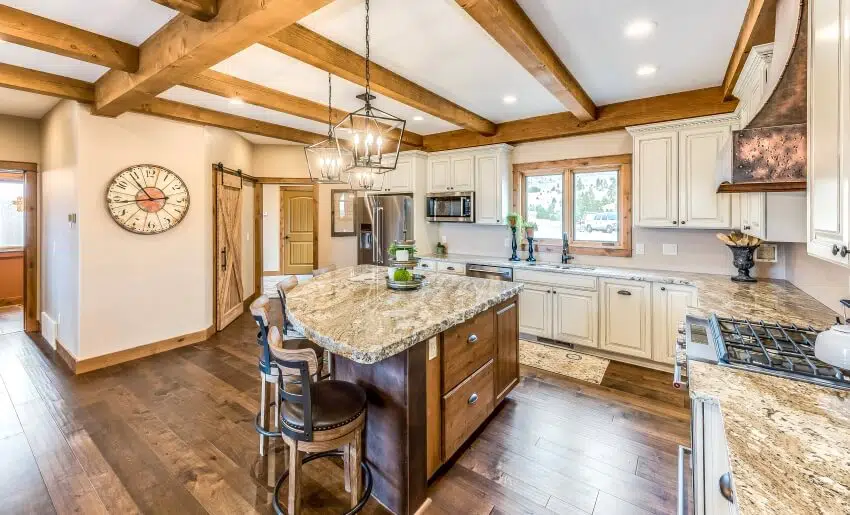 The overtone is the most obvious color influence, while the undertone modifies the way the overtone appears. Undertones help us describe the color of countertops more accurately and precisely, which makes it easier to identify colors that will match well.
A blend of many different colors can create brown. There are lots of options for the undertones that could be present in your brown countertops.
Some of the most common undertones present in brown countertops are; red, yellow, pink, purple, gray, and black. Determining the undertone gives you more information about what design elements might match your brown countertops.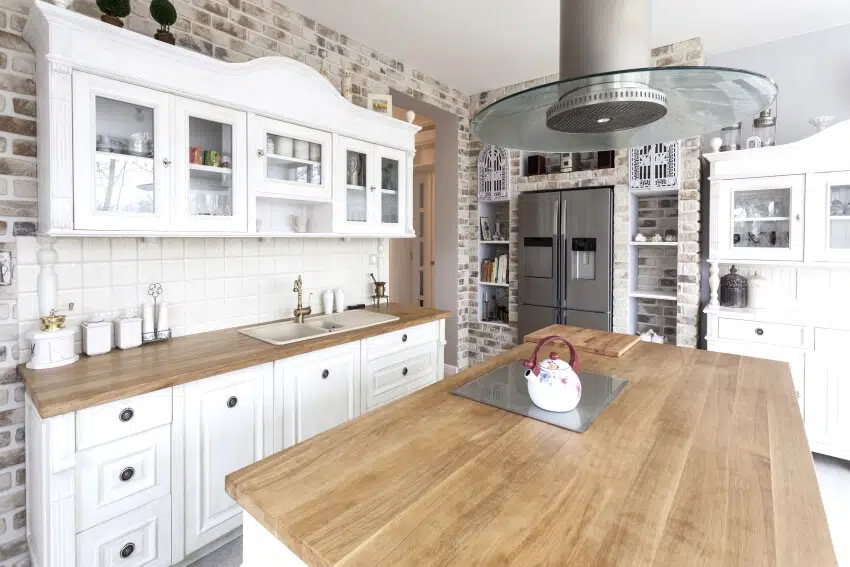 To determine the undertone, head to the paint store and grab a sample color strip that includes pure white. When you place the pure white chip on your brown countertop, it becomes much easier for your eye to pick up the secondary color.
Identifying undertones can take some practice, but it's a worthy investment. Once you can pick out an undertone, matching disparate elements in your design scheme becomes much more manageable.
If your brown countertops contain warm undertones such as red, yellow, or orange, consider featuring these colors in your cabinets to tie the two elements together. Brown countertops containing cooler undertones (blue, purple) will match accessories and materials in similar shades.
What Colors Go With Brown Countertops?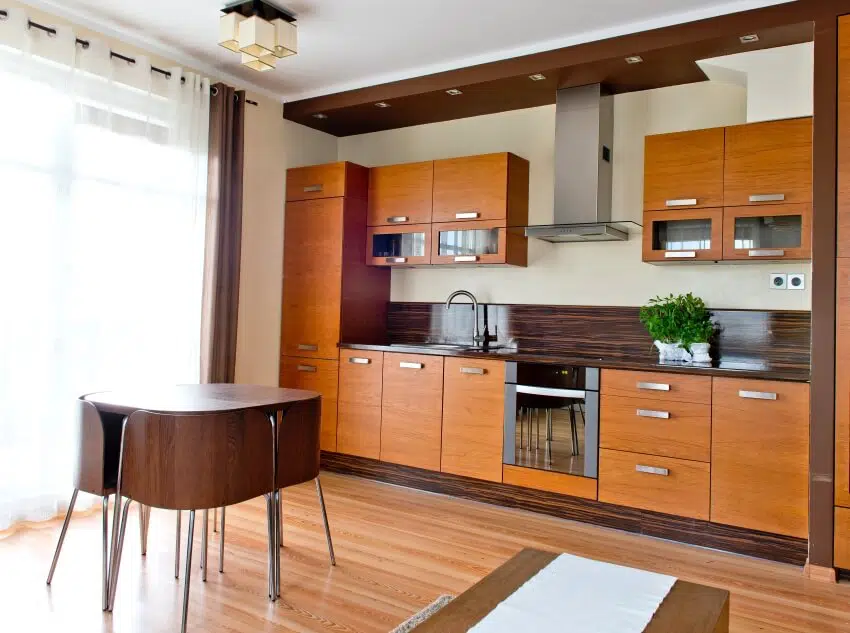 Brown is an incredibly versatile color, meaning many colors might go well with brown countertops. Try to describe the brown as clearly as you can. Rusty reds and oranges go well with reddish-brown countertops.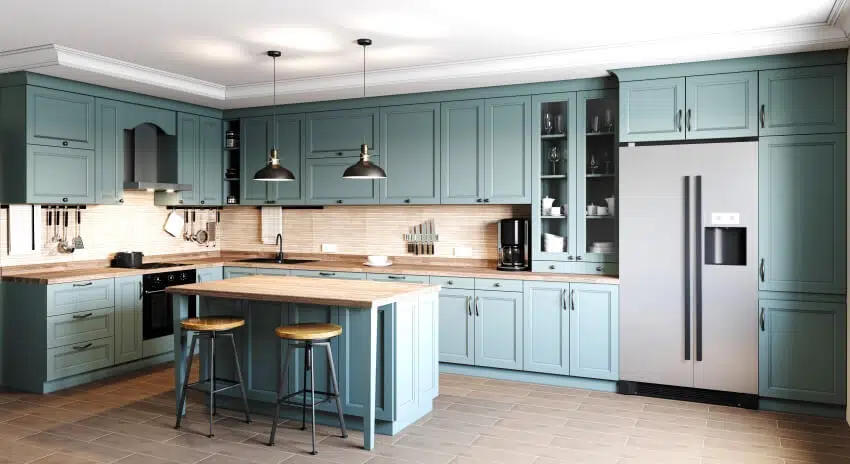 Yellows, golds, and some light greens can go with golden brown countertops. Black is usually a safe choice to pair with brown countertops, although it produces quite a formal and traditional feel that might not be appropriate for every kitchen.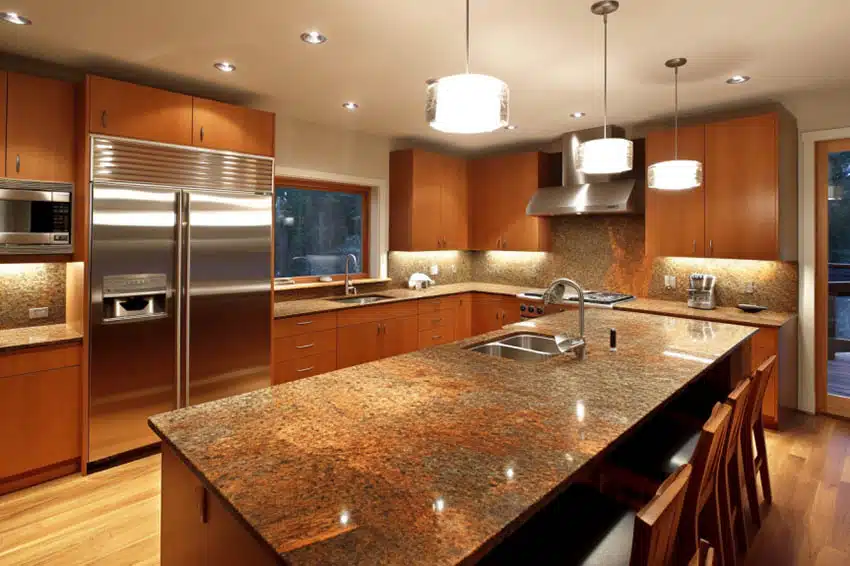 Consider neutral colors to lighten up a kitchen overwhelmed by brown countertops. Tan and brown work beautifully together.
Cream is another shade that goes well with brown countertops, bringing warmth into the room. for more related article, check out our guide on what colors go good with brown for interior design.
What Color Cabinets Go With Brown Granite Countertops?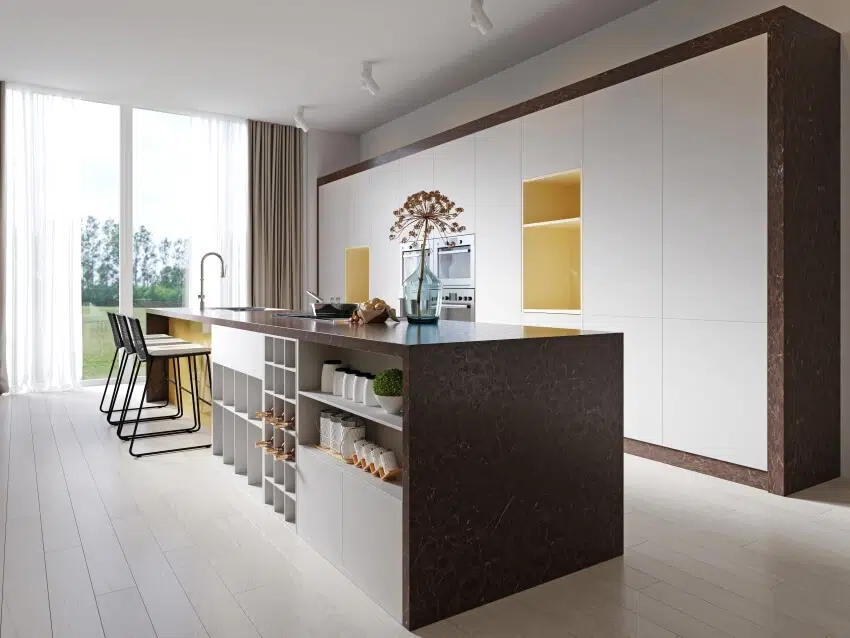 Brown granite is a versatile material that comes in a number of distinctive colors and patterns. Choosing cabinets that will go with your brown granite countertops is an exciting adventure with many options.
Mocha-colored cabinets are a stunning combination if your granite cabinet has dark brown tones, significantly when crisp white walls offset the combination to keep the space feeling open and light.
Lighter brown or beige granite flecked with gold will look stunning on top of honey-oak cabinets. The yellowy golden glow of the wood helps turn your kitchen into a welcoming hearth.
If you can't decide, white cabinets are almost always a safe choice. Choose warm white cabinets to pair with warm-colored brown granite, such as varieties streaked with red, pink, yellow, or orange. Cool white cabinets can match brown granite with cool undertones like blue or purple.
What Paint Goes With Brown Granite?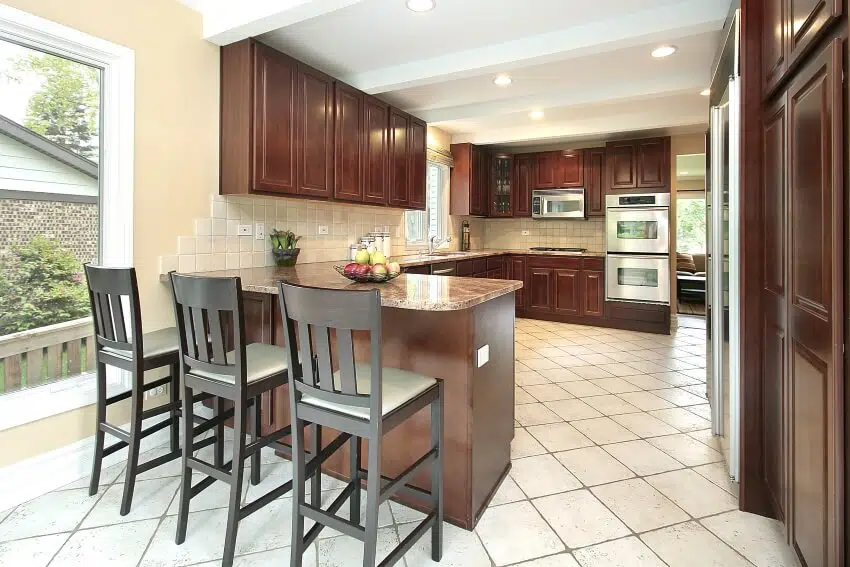 Depending on their color and finish, many different paints can go with brown granite. A paint that ties into the undertones or pattern present in your brown granite is guaranteed to be visually appealing and match well.
To go beyond this surface level of compatibility, consider the finish of the granite, meaning how it was prepared before installation. Polished granite is highly reflective, while a honed finish is hardly reflective at all.
Leathered or brushed granite is a newer finished option that has tiny divots in the surface, creating shadows and textures. When the raised areas of leathered granite are polished to a reflective sheen, this finish is sometimes referred to as 'caressed' granite. Read more about granite colors for countertops for more related ideas.
The same categories of reflectiveness apply to paint, although they are given different names.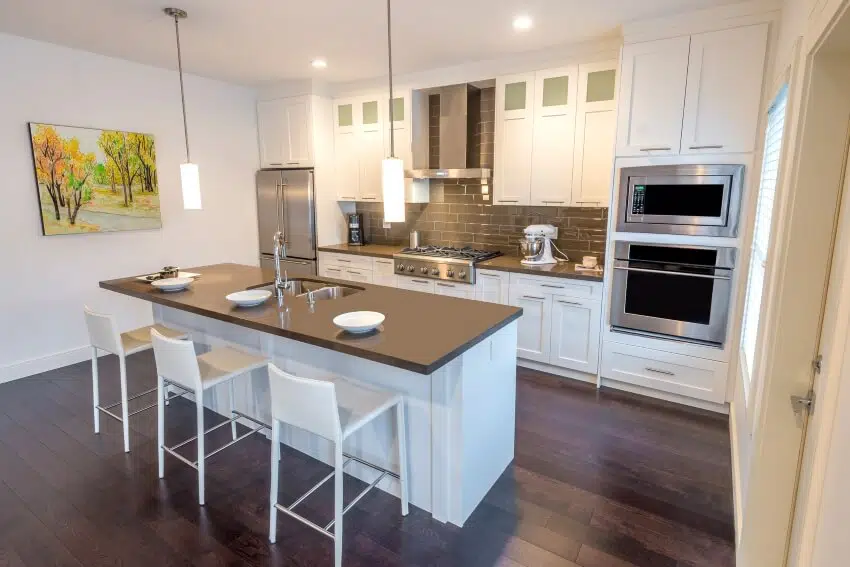 Paint that dries to matte finish will reflect very little light, while a high-sheen finish paint has a shiny appearance and bounce light around the room.
Semi-satin and satin finishes are on the less-reflective side of the spectrum, while semi-gloss and gloss finishes are more reflective (and easier to clean).
It is generally a good idea to mix up the textures, or finishes, present in your design scheme. Choosing high-gloss paint to go with a polished brown granite countertop could produce a glaring kitchen that shows every fingerprint and smudge.
While you might not want to choose matte-finish paint for the kitchen, because it is difficult to clean, a semi satin or semi-gloss paint pairs well with polished brown granite. Leathered and honed brown granite can support a shinier high-gloss paint.
Visit our gallery of white kitchen cabinets with dark countertops for more related content.