See our comparison guide for carpet vs hardwood flooring including their pros and cons, cost and their differences to help you decide which one is best for your interior designs.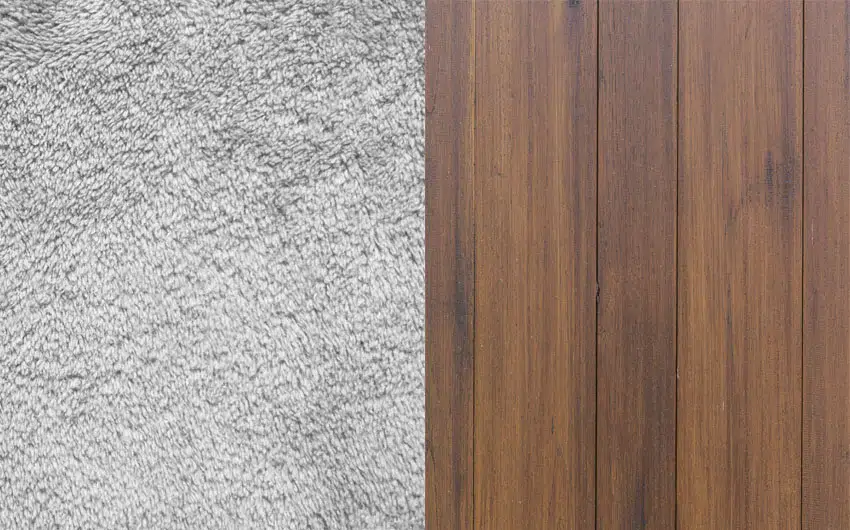 Carpet or hardwood? If you have ever needed to choose between the two, you know how challenging it can be. There are many options for flooring, but which is the best option for your home?
Carpet and hardwood are two of the most prevalent flooring materials, but they are also the two that are the most unlike. One is an entirely synthetic, soft, silent, low-cost flooring option, while the other is a natural, hard, and costly flooring option that will likely outlast.
These flooring materials, however, have functions to perform, and you may find yourself utilizing both in various parts of your house. Each has a unique set of qualities suitable for various situations and requirements.
Pros and Cons of Carpet vs. Hardwood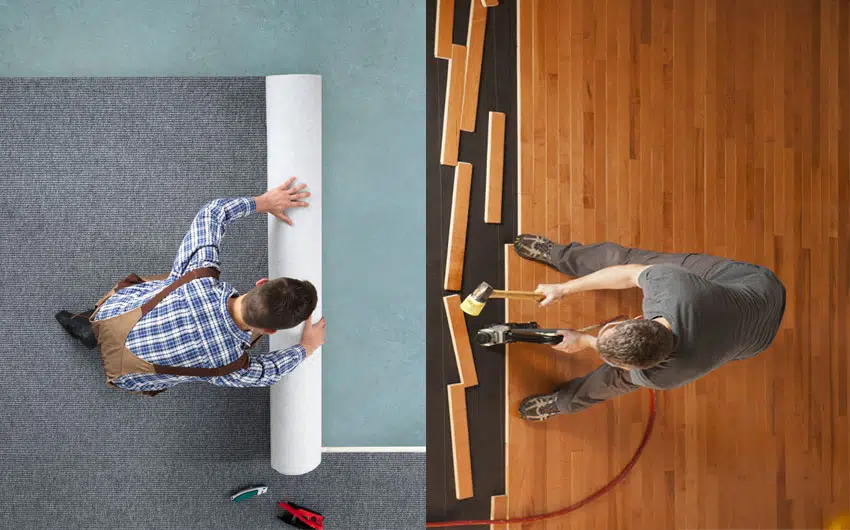 The majority of current carpets are made by weaving closely spaced synthetic fiber loops through enormous sheets of backing material. Although natural fibers such as cotton or wool make some carpets, most are from synthetic materials, such as nylon or polyester. Customers purchase carpets on large rolls and by foot in whatever amounts they need.
On the other hand, there are two types of modern hardwood flooring available. Solid hardwood flooring is solid wood boards manufactured from raw timber harvested from fallen hardwood trees. The top surface of these boards is smoothed by sanding, while the bottom surface is left somewhat rough.
In this guide, we will break down the basics for choosing between carpet and hardwood and give an overview of the pros and cons of each.
Carpet
• Cost: The average price per square foot is $3
• Durability: Up to 10 years
• Value of real estate: No benefit in terms of real estate
• Cleaning: Vacuuming is simple, but stains are difficult to remove
• Comfort: Soft and warm underfoot, muffled sound
• Appropriate rooms: Bedrooms, leisure areas, and dens
• Health considerations: Pollen and dust may be trapped
• Appearance: Gentle, soft appearance within the room design
• Water resistance: Never recommended for wet areas such as bathrooms or where spills are likely
Hardwood
• Cost: The average cost per square foot is $8
• Durability: Endure a century or more
• Value of real estate: Increases the value of a home
• Cleaning: Sweeping and moist mopping make cleaning a breeze
• Comfort: Hard to walk on, noisy and cold
• Appropriate rooms: Any room except bathrooms and basements
• Health considerations: Ideal for allergy patients
• Appearance: Bold statement, appealing to the eye and a variety of hardwood floor patterns available.
• Heat resistance: Can be scarred by intense heat
Hardwood vs Carpet Cost
When comparing the costs of installing hardwood flooring against the carpet, keep the following in mind:
• The cost of raw materials
• Costs of installation
• Room Dimensions
• Style Requirements
You can determine the cost of your flooring project by the brand of flooring you choose! You should expect to pay anywhere from $2 and $11 per square foot for carpet and $6 to $14 per square foot for hardwood flooring.
As these vast price ranges demonstrate, there are many excellent brands to pick from for carpet and hardwood floors, depending on whether you want high-end or budget-friendly flooring.
Some homeowners like a mix of hardwood and carpet flooring for specific areas in their homes. Each circumstance is distinct, depending on the project, the size of the property, and the owner's preferences.
However, longevity is essential in getting the most out of such an investment. A well-kept, high-quality carpet may last 10 to 15 years, but you will need to replace it if it gets worn or discolored.
On the other hand, hardwood flooring can endure substantially more wear, tear, and spills before having to be replaced. When properly cared for, high-quality hardwood flooring may last a lifetime.
As a result, the long-term cost of hardwood versus carpet flooring may be more advantageous. It may also save you the trouble of pulling up old carpet and paying for new carpet installation expenses later.
Cost of Installing Carpet Compared with Hardwood
If you compare the cost of installing hardwood floors with carpet, high-quality hardwood flooring will generally be more expensive. Hardwood flooring may cost anywhere from $12 to $20 per square foot to install, while carpet can cost from $6 to $12 per square foot.
While the price of engineered hardwood flooring varies greatly depending on the design and kind, a decent product should cost between $7 and $15 per square foot installed.
Hardwood floor installation costs between $2,500 and $6,000, depending on the size of the space and other criteria. Carpets cost between $700 and $2,500. Though this may seem to be a lot, DIY projects may be a lot of work once you start, so it is typically better to leave this vital task to the pros!
Another thing to keep in mind with hardwood flooring is that it lasts a lifetime (nearly) and has a high resale value. As a result, the initial investment is higher.
Carpet Flooring vs. Hardwood Floors in Bedrooms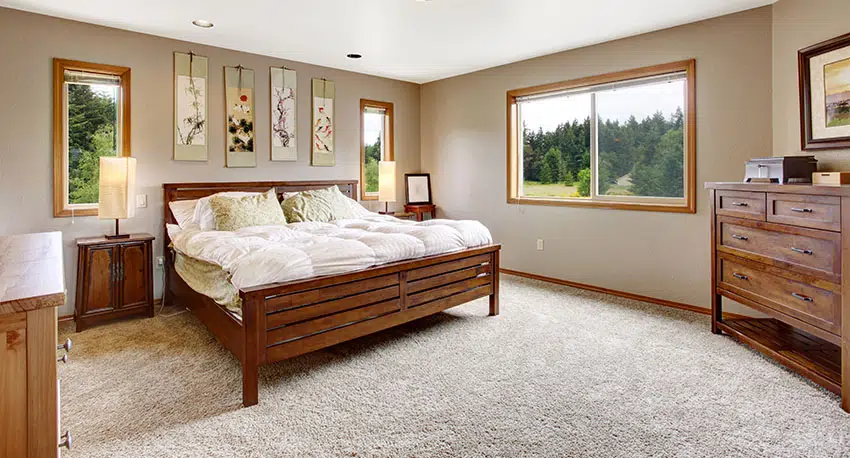 Everyone has trouble deciding between carpet and hardwood floors for their bedroom since both forms of flooring have something warm (and lovely) to offer.
But how do they compare, which flooring materials has the most resale value and which one will last the longest? And, most importantly, which one is most suited to your lifestyle and preferences?
Unless you live in a newer house or refurbish, you will likely encounter a carpeted bedroom. The carpet was the most popular bedroom flooring choice for many years because it is soft and warm underfoot.
And, oh, does carpet make for a warm and inviting bedroom? When you get out of bed in the middle of the night or early in the morning, your feet won't freeze.
Of course, if you are the sort that performs yoga or wrestles with their dog on their bedroom floor, it is a lot more comfortable. For more on this, visit our best types of carpet for bedrooms gallery.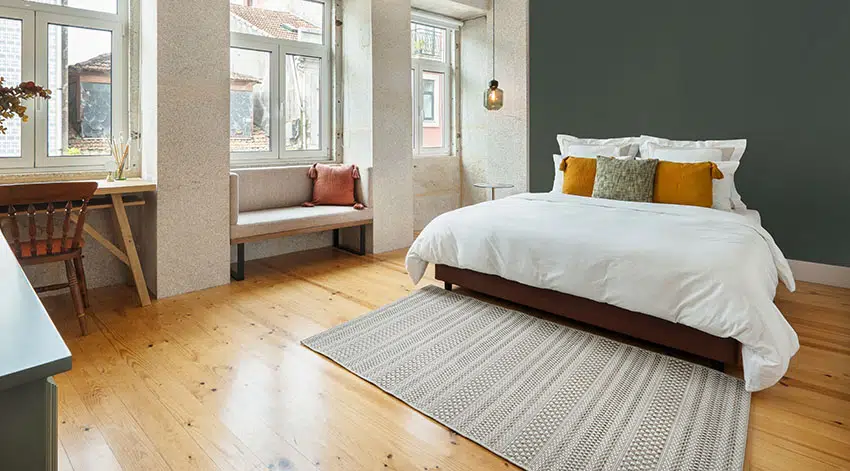 When it comes to hardwood floors, there are hundreds of alternatives to select from (not to mention numerous forms of faux wood flooring like laminate or concrete flooring that appears like wood), but carpet is generally less costly.
True, the cost of wood flooring varies depending on the kind of wood you pick, but for materials alone, carpet is often the less expensive alternative. And when it comes to choosing between carpet and hardwood for more oversized bedrooms, the price difference might be enormous.
Due to its softness, carpet might help decrease noise in your bedroom. You could wind up with a room so silent that you can't hear a pin drop, depending on what you choose as your subflooring.
Overall, carpet is generally sought after in bedrooms as it offers a warm feeling. Another alternative is to add an area rug to get the carpet feeling for when you first step out of bed while still enjoying the look and feel of wood floors.
Hardwood floors are generally sought after for those with pets due to it being easier to clean and not collect pet dander.
Difference Between Harwood Flooring and Carpets for the Living Room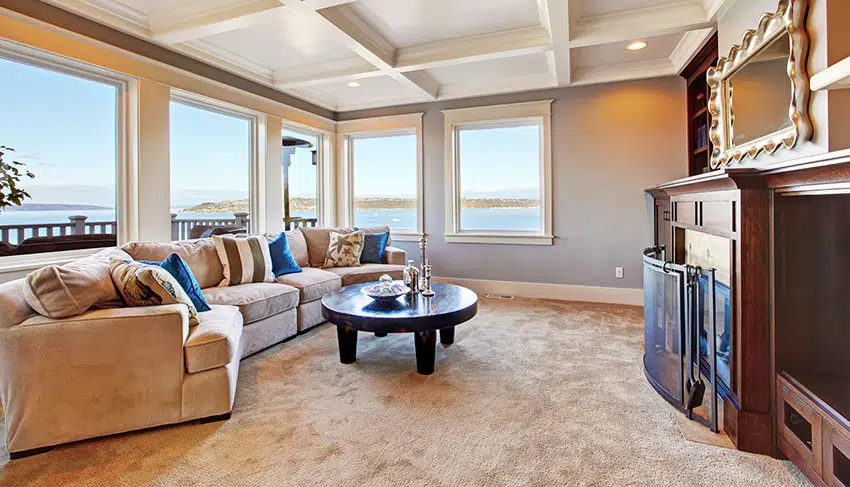 Whether you are designing your first house or your current residence needs some TLC, the flooring you choose will significantly impact how your home appears and feels.
Choosing between carpet and hardwood flooring for your living room, on the other hand, might be challenging, mainly if this is your first home.
Hardwood flooring is a contemporary and popular option for many houses, providing a simple but stylish appearance. Wood flooring wood grain looks beautiful and stylish in living rooms.

Despite its susceptibility to wear and tear, hardwood flooring may be very long-lasting and resilient. Whereas carpet may lose its pile over time, hardwood flooring can sustain high foot traffic in residential or business settings.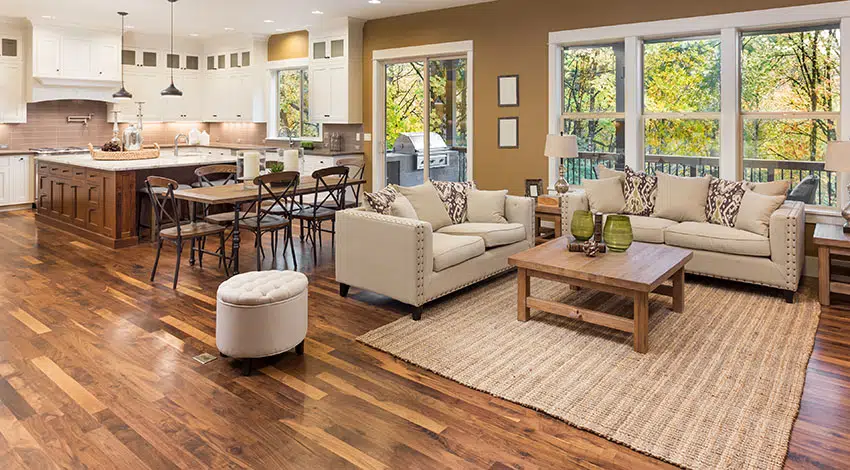 Hardwood flooring takes minimal upkeep to keep it looking nice. By sanding and polishing, you may refurbish it to appear like new. Hardwood flooring is simpler to maintain: a steam mop will destroy all bacteria and eliminate odors.
On the other hand, carpets may contain germs if not properly cleaned. Professional carpet cleaning equipment is required to remove dirt and bacteria from under the carpet's surface. Carpet is generally a poor choice for any room that deals with excessive moisture, dirt and food debris.
Furthermore, hardwood flooring is a long-term investment that will not go out of style, which is beneficial since you can change your design without worrying about your flooring clashing. This flooring will save you from having to replace it after just a few years.
Hardwood flooring may be the most acceptable option if you want to attain a modern or contemporary style for your living room. Visit our beautiful living rooms with hard wood floors page for more designs.
Is Carpet Better Than Hardwood Flooring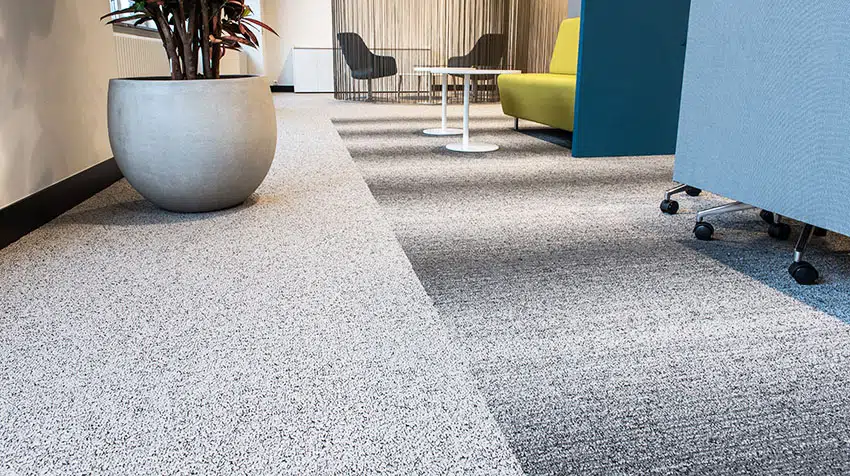 Hardwood and carpet floors are both fantastic flooring options. Carpets, however, are more challenging to clean properly, making them less suitable for persons with allergies or asthma. Although they are less costly, provide better heat insulation, effectively block sound, and are generally more pleasant for most people.
Carpeting is an excellent option when applied in the appropriate location. Is it ideal to have wall-to-wall carpeting in a busy living room? Perhaps not. However, it may be a fantastic option for your bedroom.
Carpets might be an excellent option if comfort is your priority or if money is tight. Just keep in mind that you will have to replace the carpet every ten years or so.
On the other hand, you may use hardwood flooring in almost every home area. They are ideal for locations with many foot activities, such as corridors and living rooms. When you are out shopping, inquire about the many finishes and wear layers available so you can discover the perfect fit for your lifestyle.
The majority of hardwood alternatives are water-resistant and can withstand much wear and tear. In most comparisons, hardwood flooring is superior to a carpet, with longer life, a more elegant look, and higher real estate worth.
In the end, the carpet vs. hardwood argument is pointless since each is fantastic in its own right. It all boils down to your preferences and the room you want to re-floor.
For more flooring ideas visit our guide on types of flooring materials for interior design here.