In this guide to wood floor patterns we share the most popular types of wood floor layouts & designs for your home projects.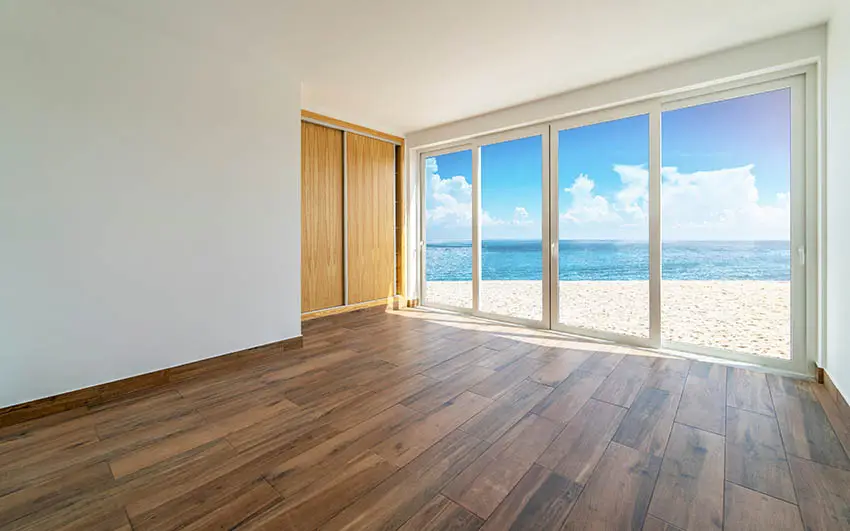 Wood floors are classic and popular for good reasons. They are durable, attractive, and highly customizable. Professional design and installation help will make your renovation or new construction a breeze, but there is a cost involved.
If you're confident in your DIY skills and have some basic tools, it is absolutely possible to install your own wood pattern floor.
Whichever route you choose to take, you will benefit from knowing more about the materials, installation, maintenance, and pattern options available to you.
Floor Layout Patterns
When the material for your floor has been determined, it's time to turn your attention to the pattern of the floor. The pattern of a floor simply refers to the way that the pieces of wood are laid out.
From simple straight planks to intricate inlays, to patterns inspired by French kings, there is something to suit every taste, budget, and style of home. Some of the most common floor patterns are outlined below.
Straight Pattern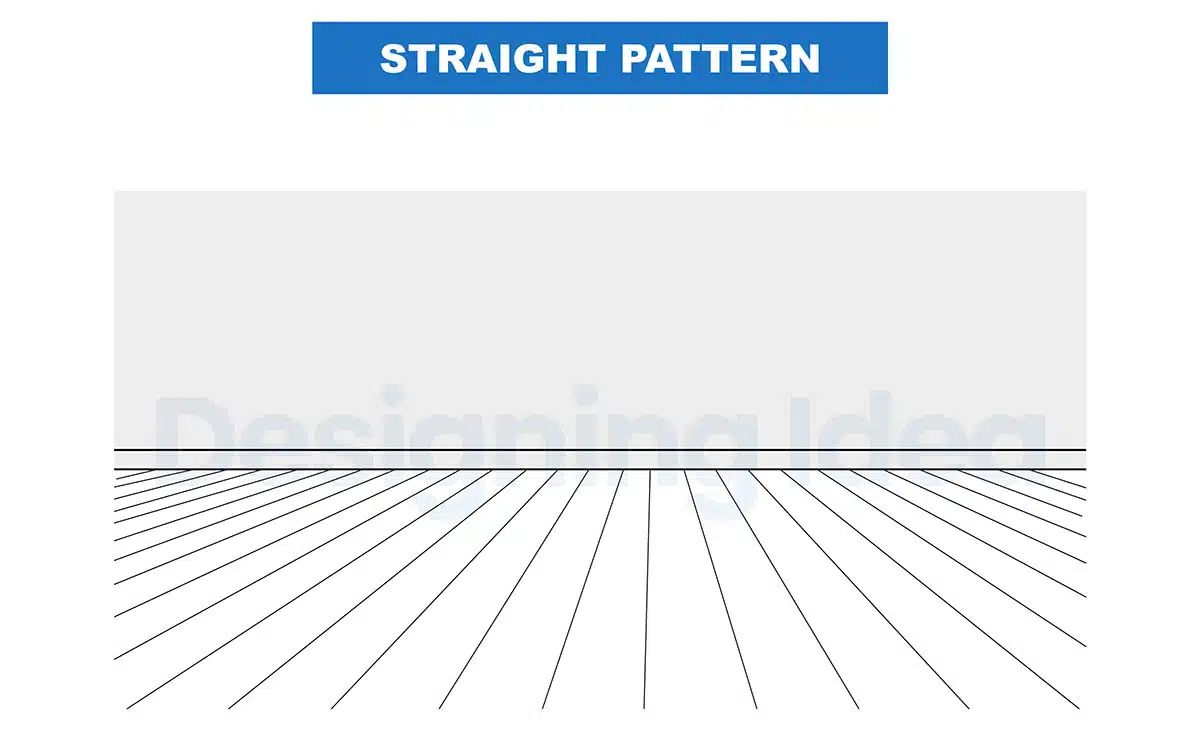 One of the easiest patterns to achieve, a straight patterned wood floor is a popular and easy to install DIY option. In this pattern, long horizontal planks are laid next to each other.
If you're using solid wood floors, these are either nailed or glued to the subfloor. If you're using an engineered solution, like click-together flooring, there is no need to secure it to the subfloor.
Straight patterned wood floors are a popular choice for first-time installers. Many types of tongue and grove flooring use a straight lay pattern as they fit together quickly for an easier install process.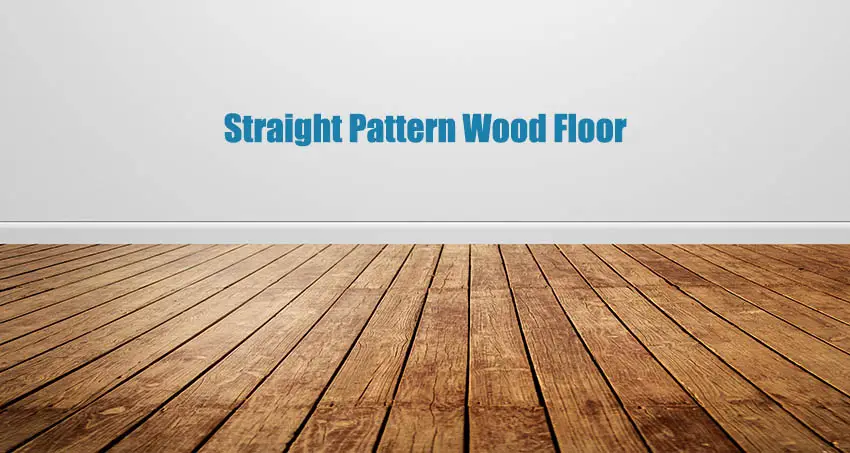 Interior design styles that can use straight pattern floors include traditional,Scandinavian, rustic, farmhouse, transitional and contemporary.
Diagonal Pattern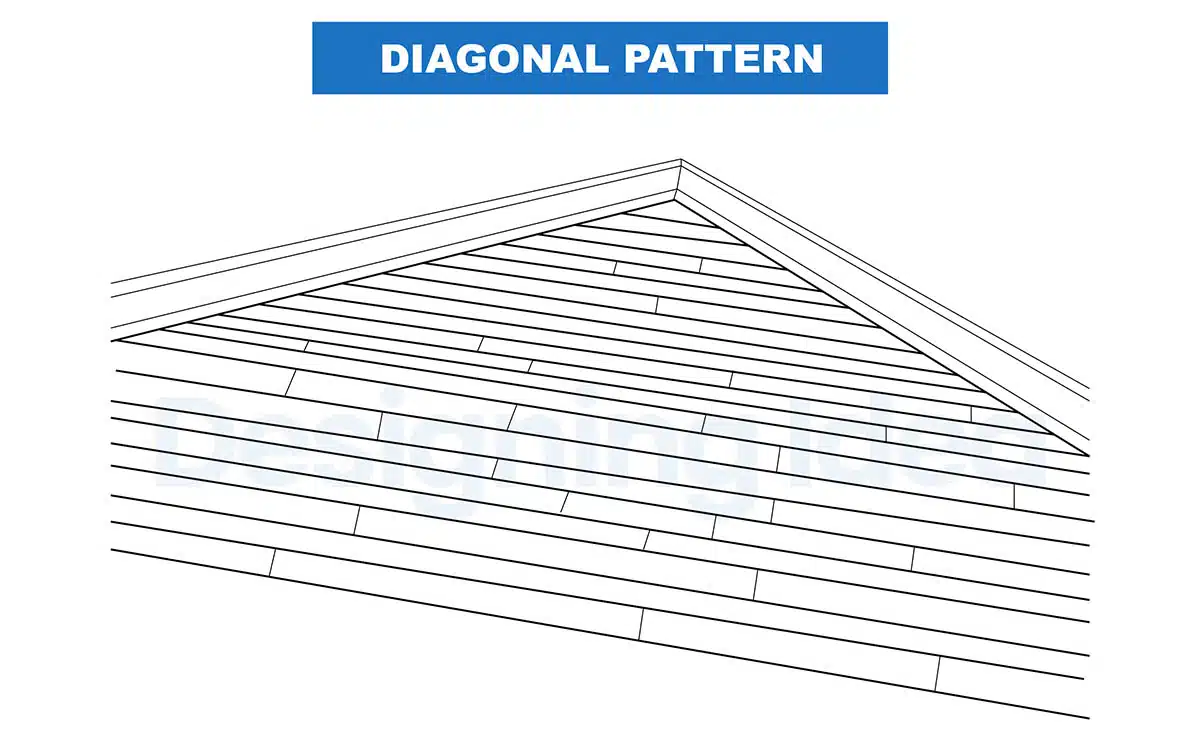 In a diagonal pattern wood floor, the floorboards all go in the same direction but are laid at an angle to the walls.
The longest boards will stretch diagonally across the room, from corner to corner. Planks are cut into smaller and smaller lengths to fill the remaining two corners.
Suitable for the confident DIYer, diagonal patterned wood floors require more cuts than straight patterned floors. You will also need to make diagonal cuts where the floorboards meet the walls.
Diagonal patterned wood floors require careful planning to avoid wasted material. Consider having your cut plan reviewed by an experienced installer, if you know one, or better yet, hire this job out.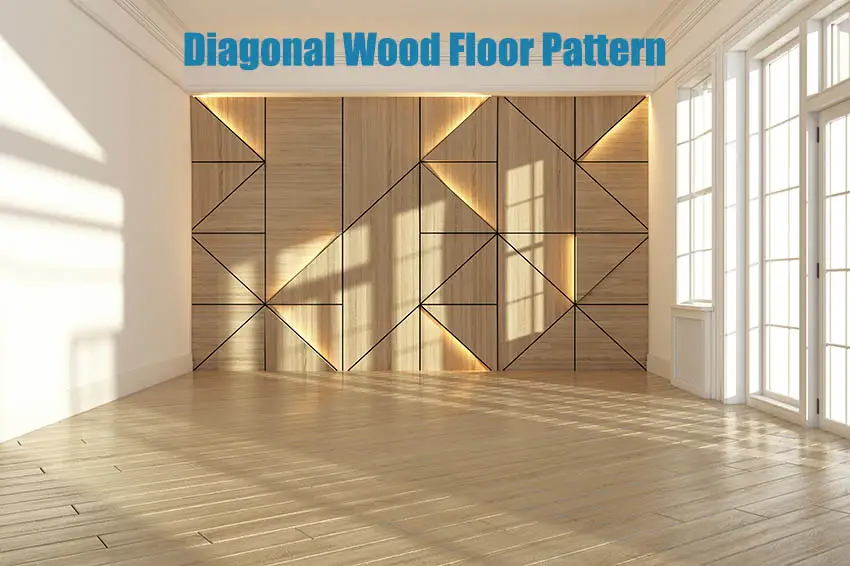 Interior design styles that can use diagonal pattern floors include contemporary, eclectic, mid-century modern, art deco and transitional.
Herringbone Pattern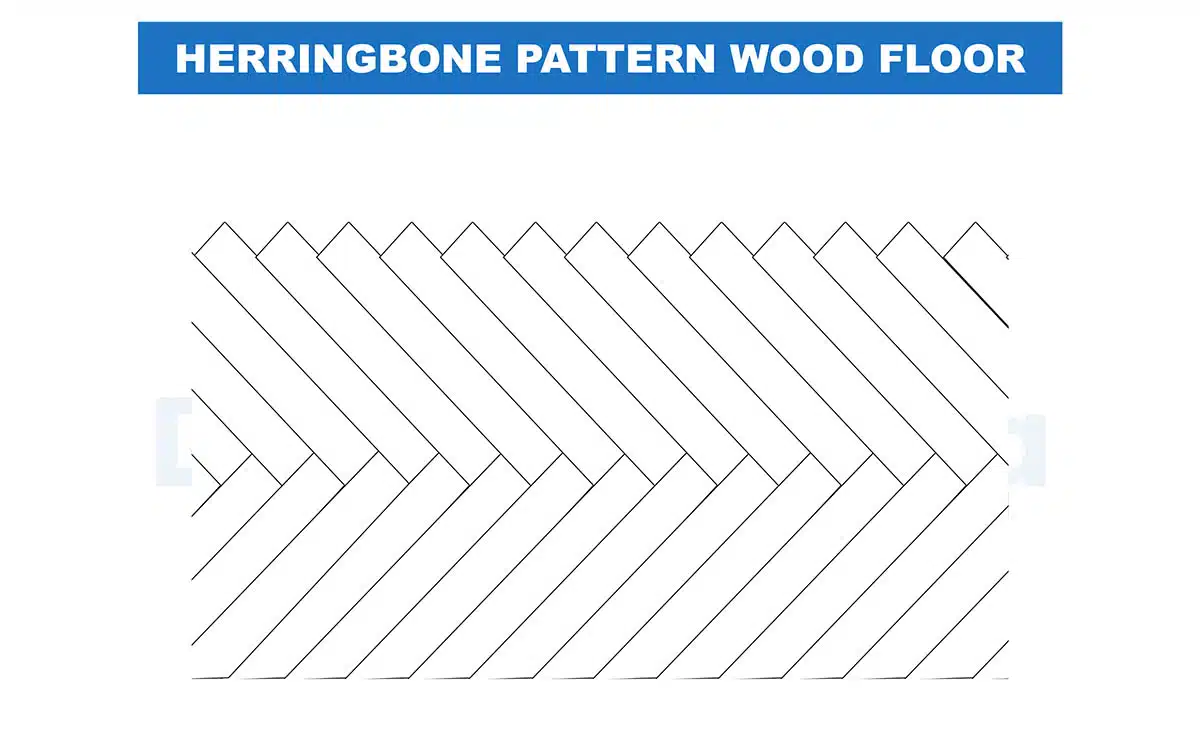 Herringbone is a popular pattern for everything from twill skirts to duvet covers to painted walls, and yes, it all started with wooden floors.
Named for its similar appearance to the skeleton of a herring, a herringbone-patterned wood floor is a repeating pattern made up of boards set at ninety-degree angles.
Each strip of wood is cut to the same size, usually about eighteen inches. The strips of wood are rectangles.
To start the pattern, the short side of the first piece of wood is placed touching the end of another piece of wood, along the second piece of wood's longer side. This creates a V. The short end of the next piece of wood is laid parallel to the first, and so on.
The end result is that of long planks made up of shorter, diagonal pieces. There is a staggered zigzag shape across the floor.
This style is one of the oldest patterns for wooden floors, and as such, it is a great choice for homes with traditional, European, French country, transitional or historic construction elements.
Double Herringbone Pattern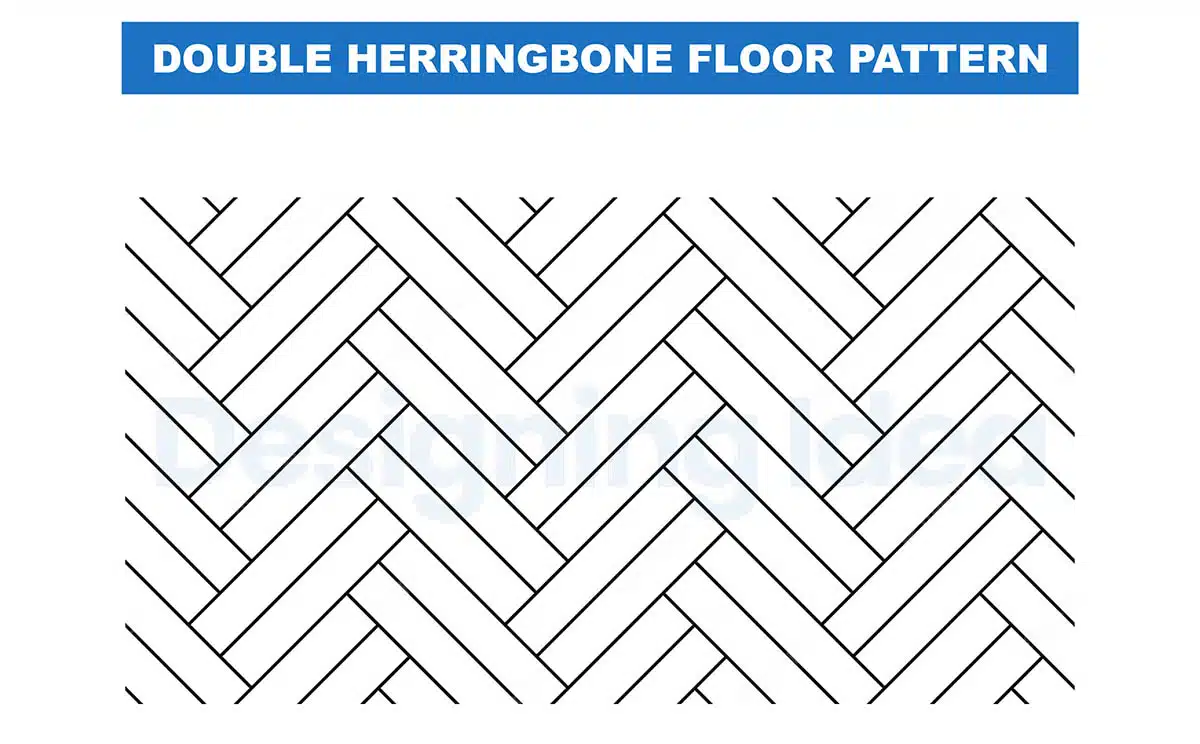 The double herringbone floor pattern uses two planks stacked side by side to create the design layout rather than one.
This pattern creates the illusion of more space by drawing the eye to the V within the layout. This pattern is often used in a smaller room design to help increase its size.
Chevron Pattern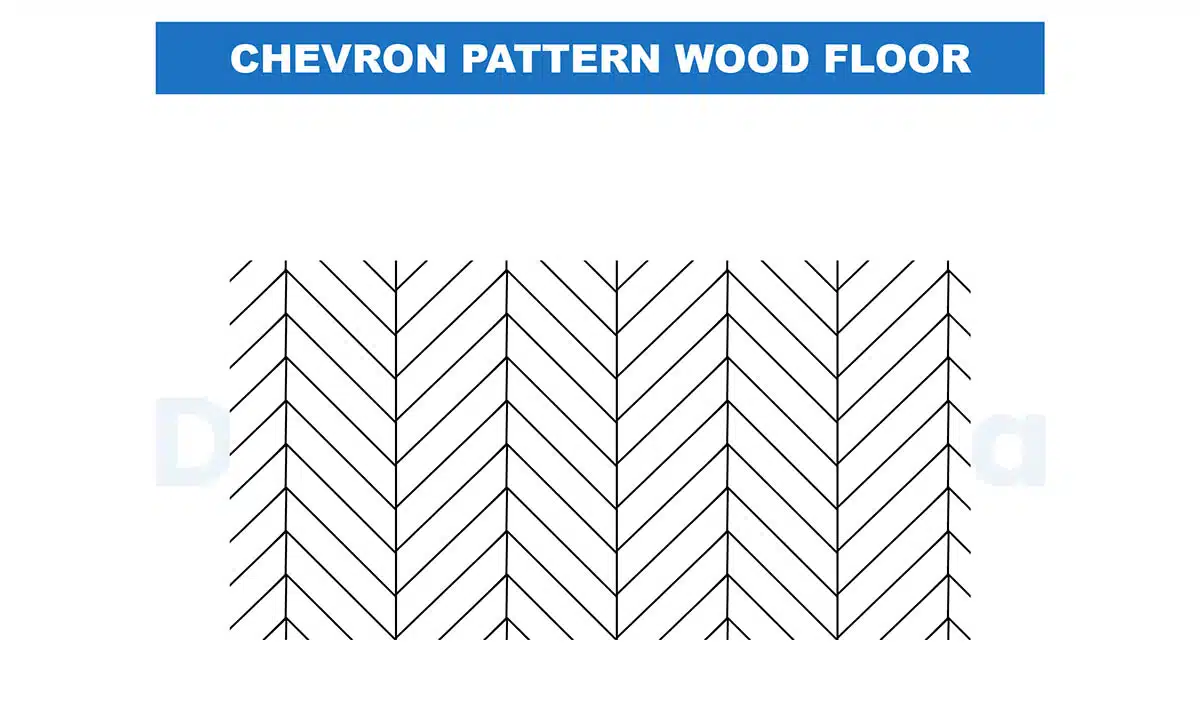 A chevron-patterned wood floor can be thought of as the updated, contemporary cousin of the herringbone pattern. It uses a very similar technique, except instead of cutting the wood pieces that make up the larger planks into rectangles, they are cut into parallelograms.
This eliminates the staggered zigzag characteristic of herringbones and provides the clean look of boards coming together at perfect 45-degree angles.
It will require more expertise in cutting, so again, caution is needed to avoid wasting materials. This pattern is best suited for experienced DIYers or professional installers.
Versailles Pattern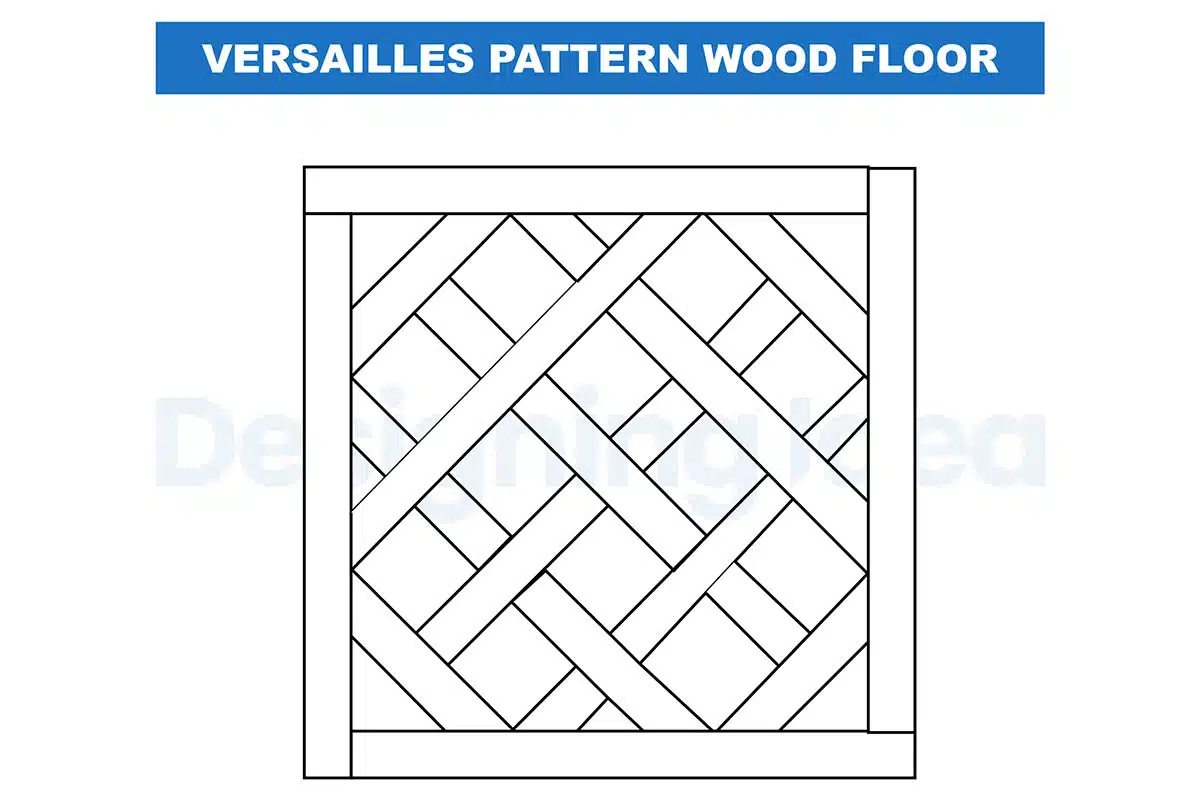 The Palace of Versailles is known for its architecture and design. One of the most sumptuous royal residences ever created, every detail was intended to glorify the reign of design-obsessed Louis XIV. Intricately beautiful, this design is best left to professional installers.
The design consists of a series of squares, much like a patchwork quilt. Each square measures about three feet by three feet and has an outer border composed of 4 rectangular pieces of wood.
Inside the border, a criss-cross, lattice, or woven pattern is achieved with rectangular strips of wood, laid at a diagonal to the borders. The empty spaces are filled in with square pieces of wood.
Staggered Pattern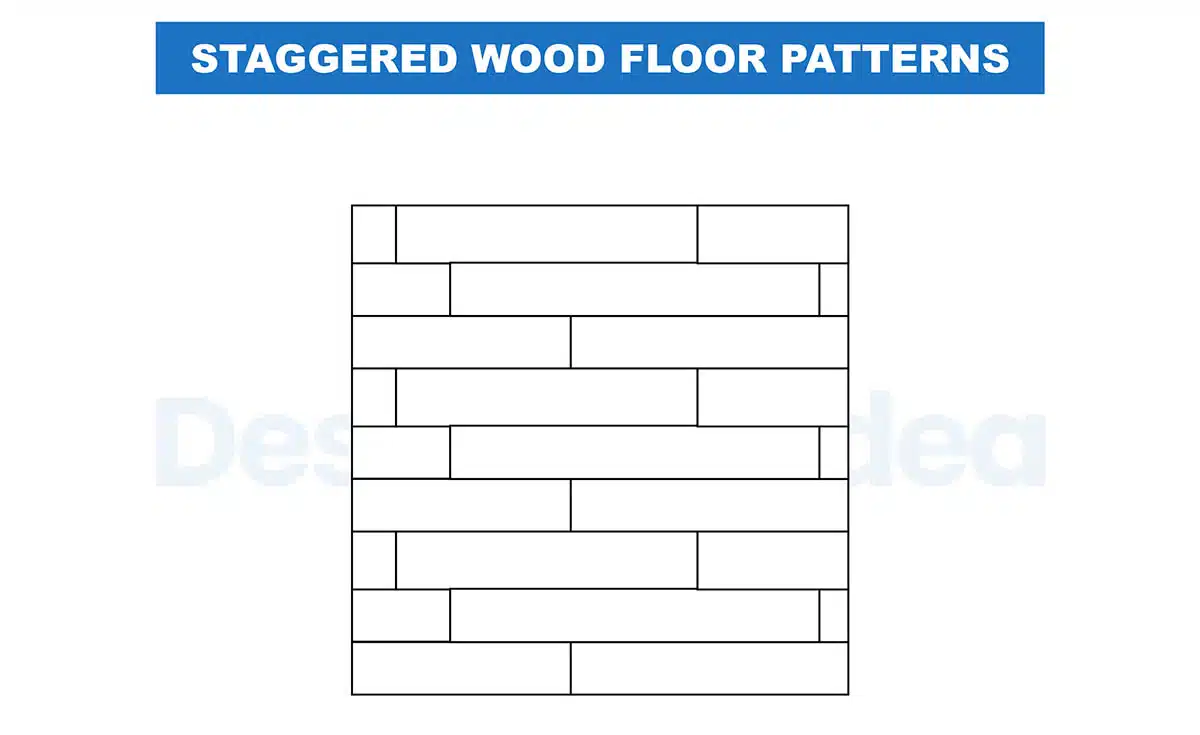 In this pattern, all the planks are the same width, but they are cut to a few different standard lengths. One row of flooring uses longer planks, and the next uses shorter planks.
The result is a staggered wood floor that looks intentional, rather than haphazard.
Basketweave Pattern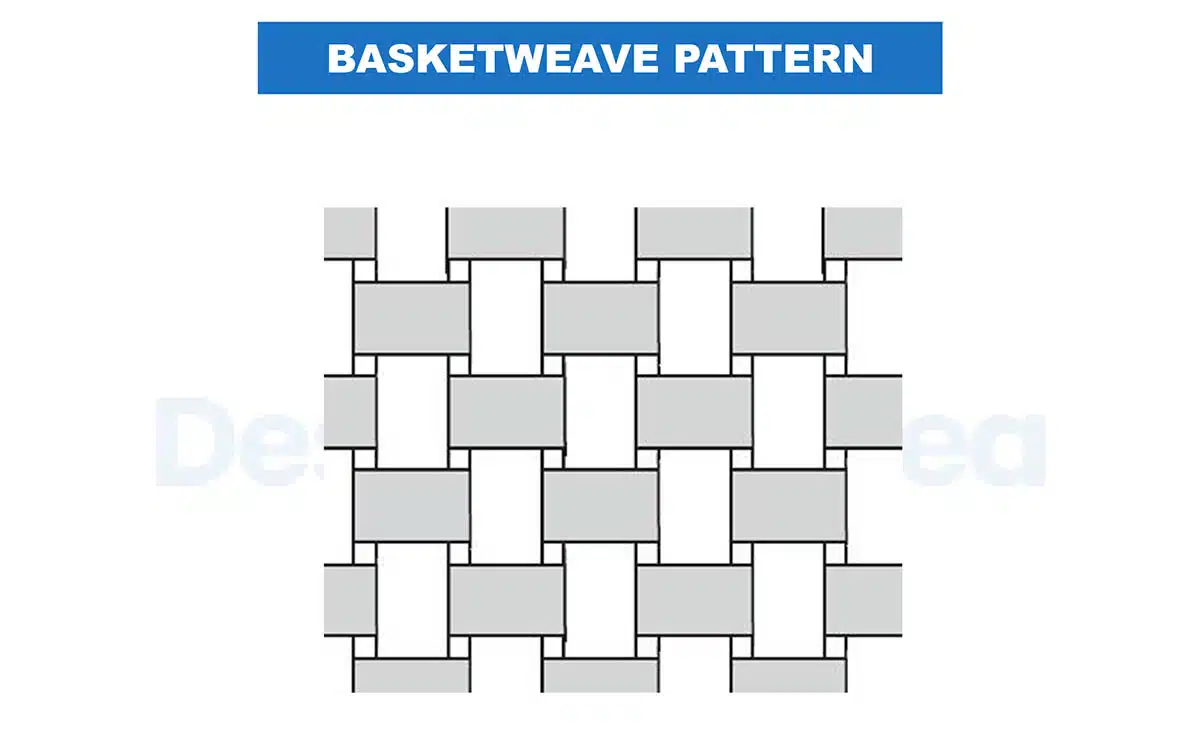 Basketweave patterned wooden floors are created by carefully cutting and laying down rectangular pieces of wood in a diagonal pattern.
The way they are laid makes it look as if one piece of wood is going under another, similar to the way fibers are used to weave baskets.
Where spaces between the basket fibers would be, the gap is instead filled in with square pieces of wood.
Basketweave patterns take one of the most attractive elements of the Versailles patterns, the lattice or woven pattern, but rather than breaking it up into squares with borders, the pattern simply repeats, covering the entire floor.
While the visual effect is simpler than a Versailles pattern wood floor, the installation can be more technically demanding. For this reason, a professional installer is recommended for basketweave pattern wood floors.
Double Basket Weave Pattern
Adding to the regular basket weave floor pattern the double provides an extra plank to the weave design of the pattern.
This type of pattern hearkens back to the 1920's time period where basket weave layout were widely used for interior design projects. Therefore it may be best used for those looking for a more traditional interior design style
Brick Pattern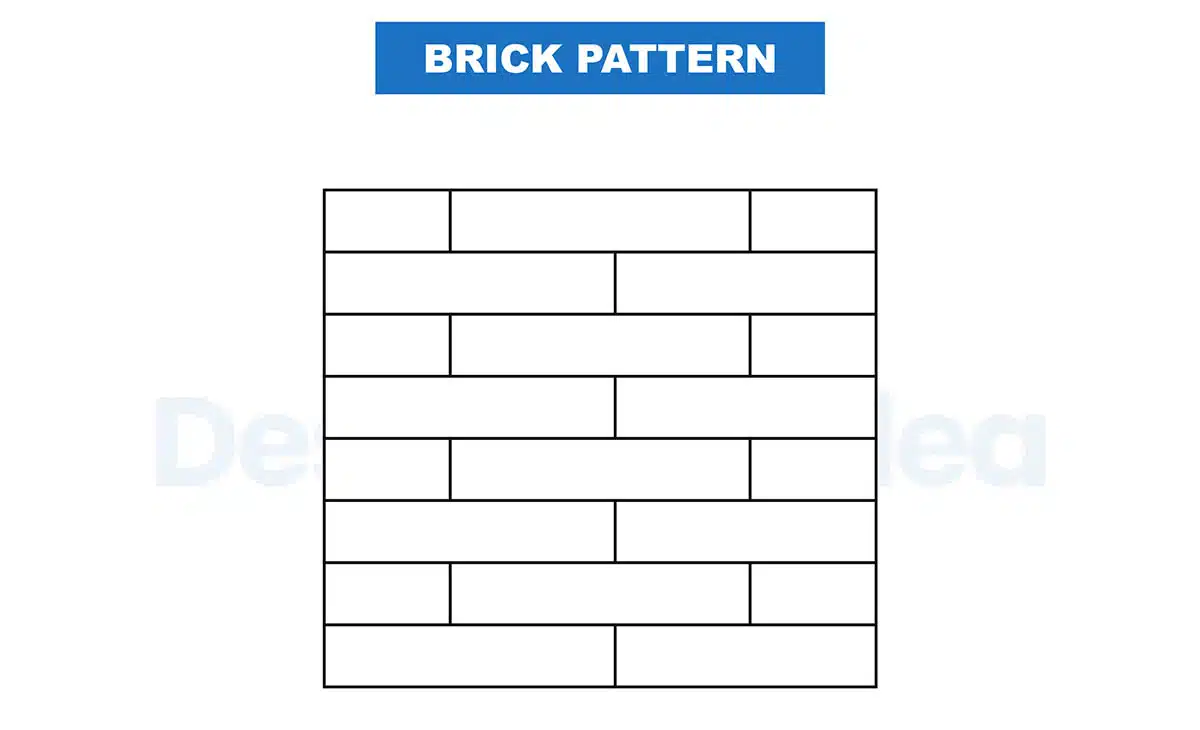 The name says it all — wood is cut into rectangles the size of bricks, which are then arranged on the floor in the same way a brick wall would be constructed.
First, a row of bricks is laid down. The second row is staggered so that the middle of each brick is above the seam created by the bricks below it. This is a great pattern for bamboo floors, or for anyone who has lots of small pieces of wood to work with.
Stack Bond Pattern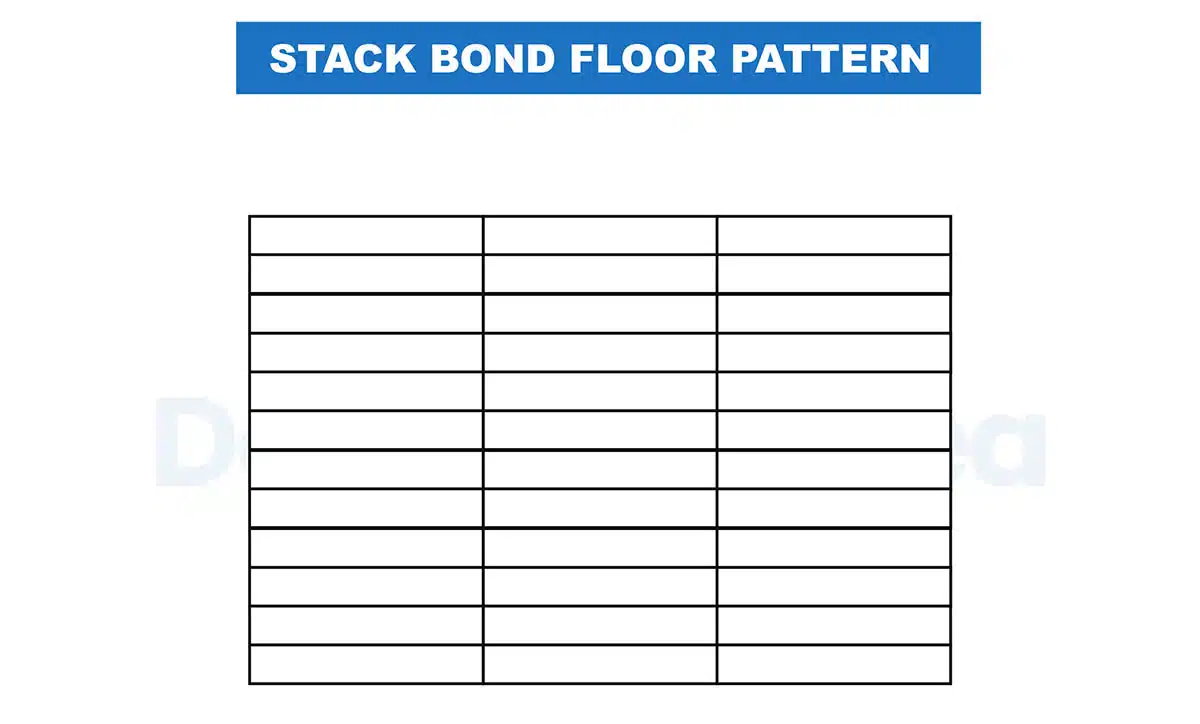 A stack bond floor pattern can be used to get a contemporary look for interior designs. It's layout features planks laid in a straight line that are stacked horizontally one above the other in a grid pattern.
The stack bond pattern is often used in kitchen backsplashes bathroom tile and in commercial areas. It is one of the easiest types of tile patterns and as such is widely popular.
Checker Board Pattern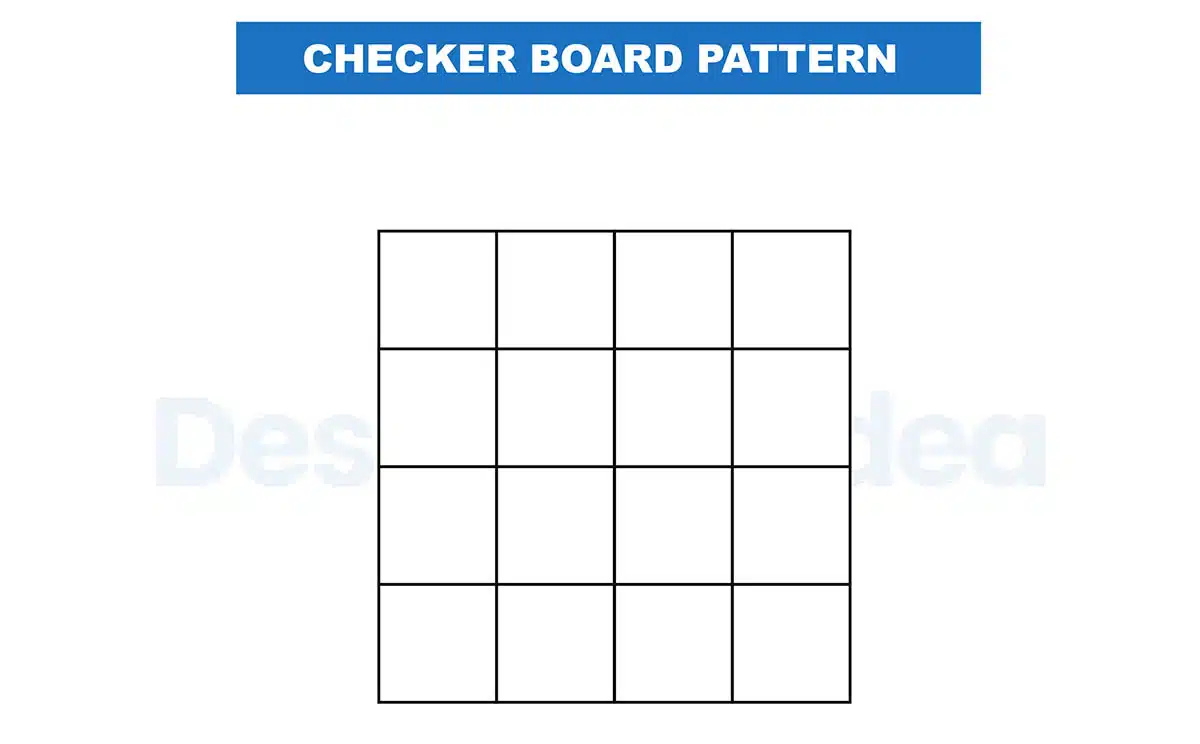 The checkerboard also called the 'square basket,' is a pattern that was very popular in the 1970s, and so it can look a little dated. Small square tiles are created by combining rectangles of wood.
These tiles are placed in an alternating pattern — first horizontal, then vertical — to create a square basket or checkerboard pattern on your floor.
Mosaic Pattern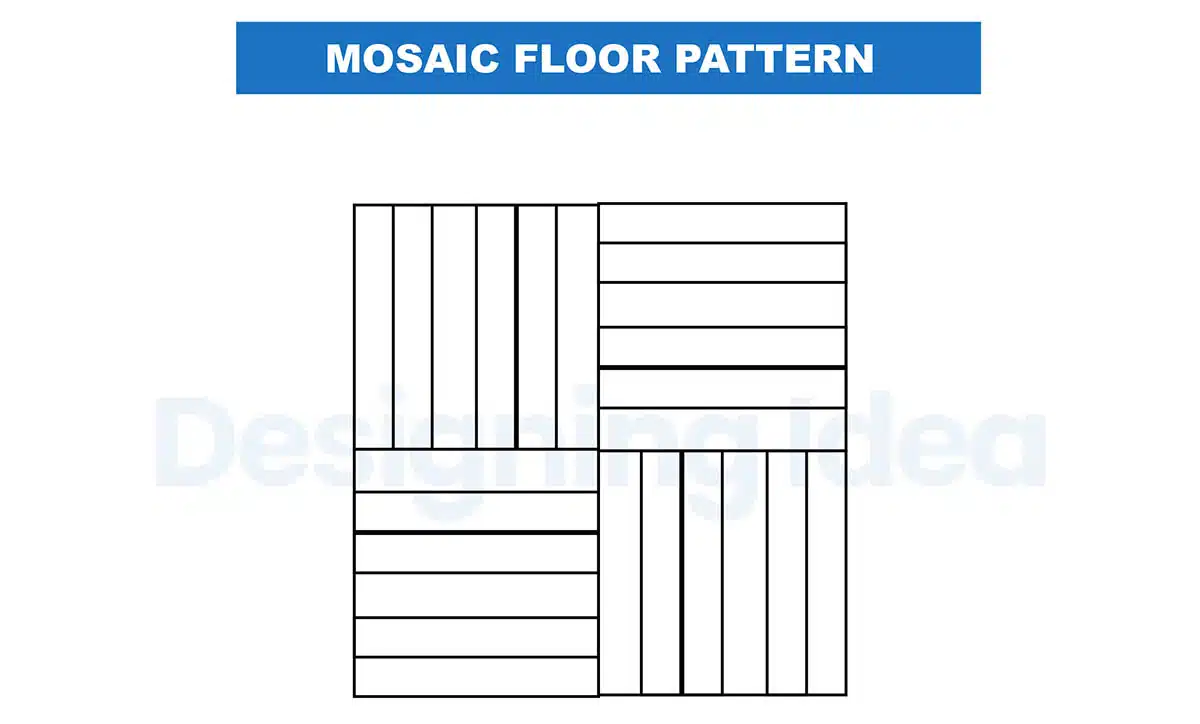 The mosaic floor pattern can have many different styles. Traditionally mosaic referred to different size glass or pottery tiles that were arranged together to form pictures or patterns.
For flooring many patterns typically fall under the term mosaic. These are frequently used as wood floor inlays that create interesting design elements inside a regular flooring layout.
Chantilly Pattern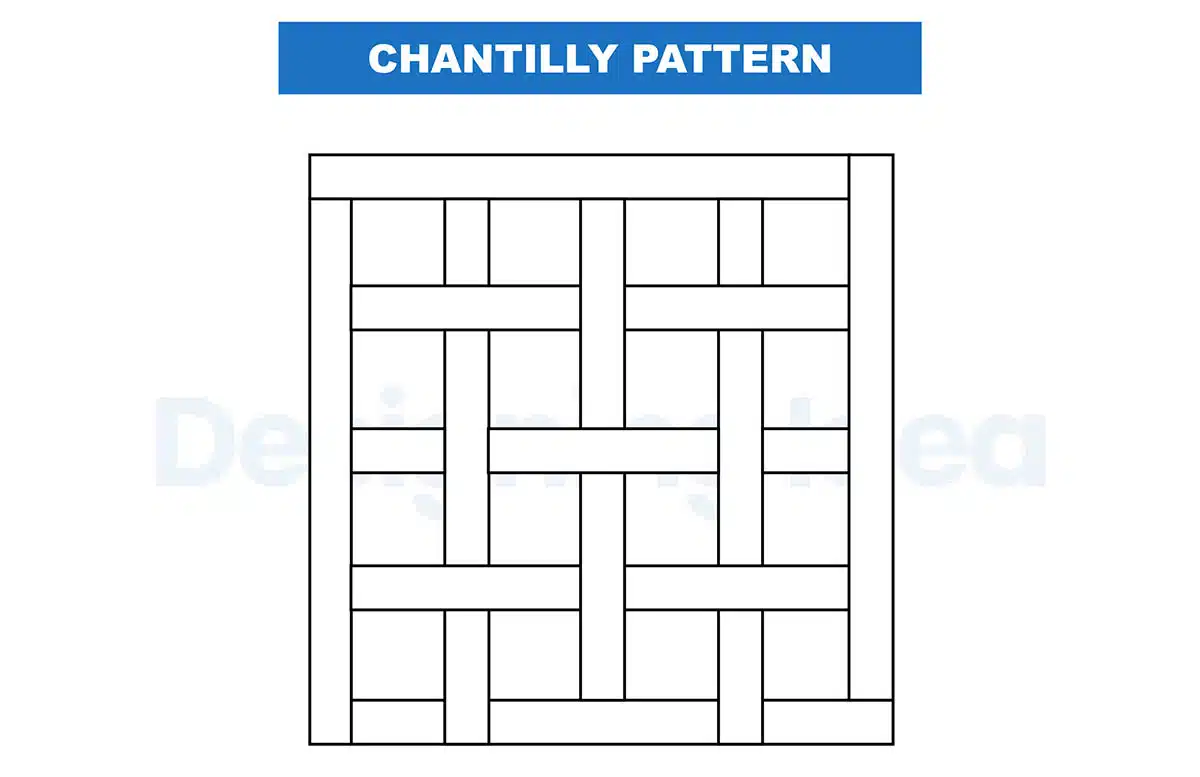 The Chantilly pattern looks like a magnified view of cloth with its interwoven pattern that creates small rows of squares.
The decorative and ornamental pattern has a delicate and intricate quality, and when varying wood grains are used, it creates an even more artistic appearance.
The pattern was named after the city of France, famous for its lace-making in the 17th to 18 centuries.
The pattern can be laid in many ways to fit your style. The most common is to have a similar wood material with a strip of wood crisscrossing and to frame the small squares.
Another option is to have a different color or material for these strips to emphasize a stone inset to the flooring.
Horizontal Strip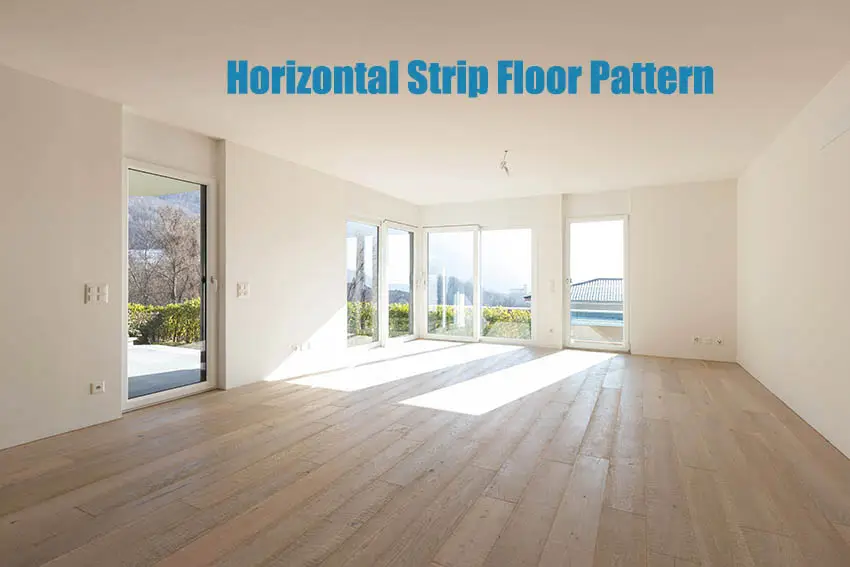 This pattern is a variation on the straight pattern wood floor. When laid horizontally, meaning parallel to the room's longest wall, evenly sized planks will provide the illusion of a larger, longer space.
Mixed-Width Pattern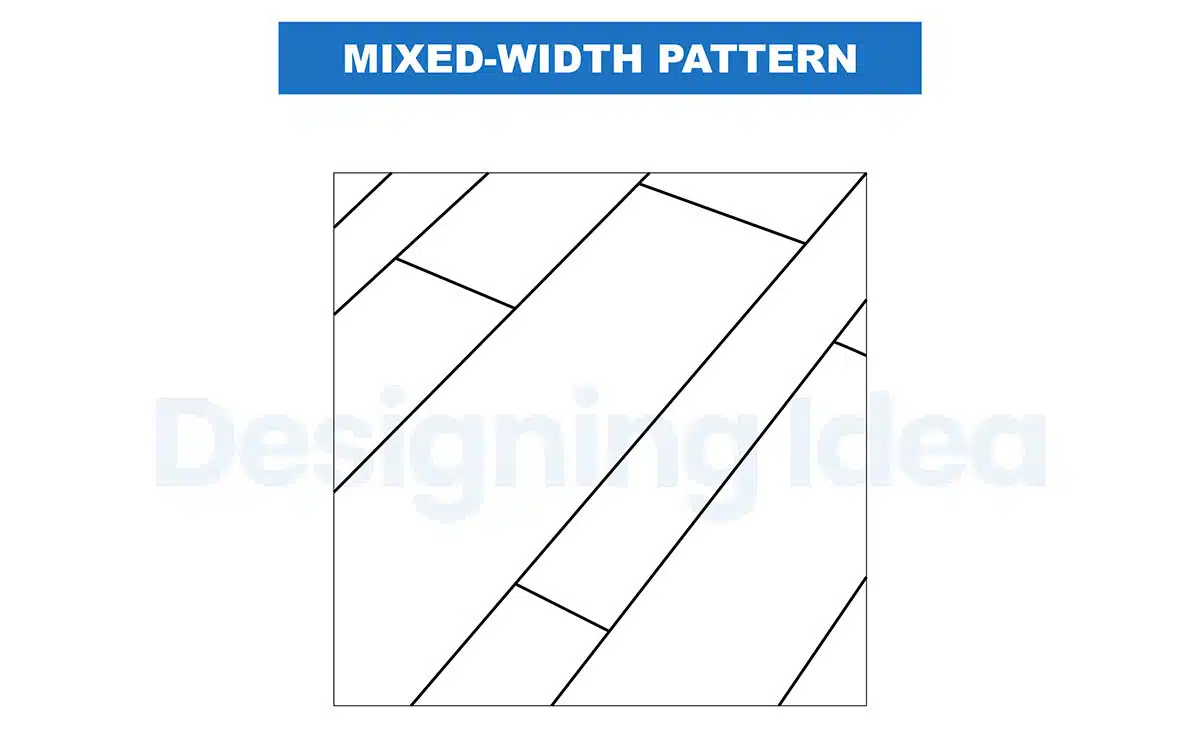 The patterns discussed so far have been notable in that they all use planks of wood that are cut to a uniform width. A mixed-width pattern is suitable for a straight or diagonally patterned floor.
This design uses plans that are different widths — some wider and some narrower, to achieve a variegated look.
Best suited for spaces with a touch of rustic decor, this pattern looks fantastic in farmhouses or when created from repurposed or reclaimed barn wood.
3D Parquet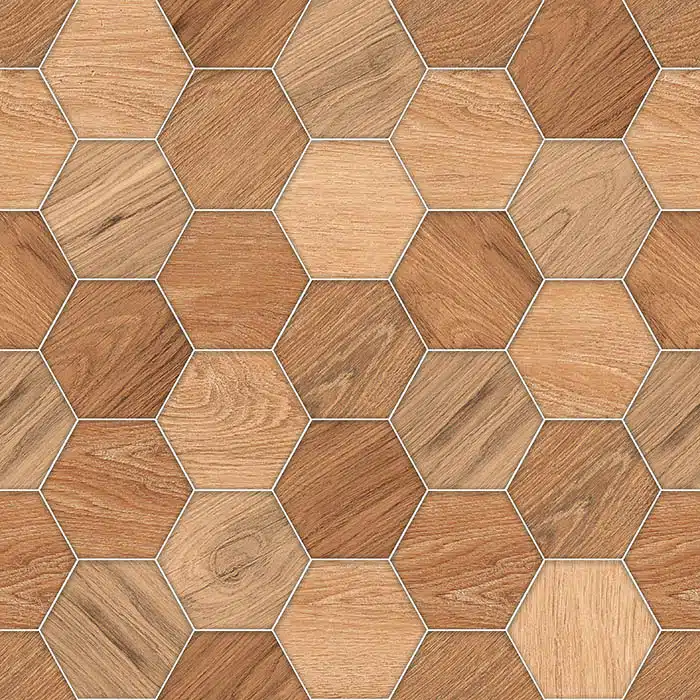 This type of wood floor pattern employs the use of small individual pieces arranged to create a geometric pattern that gives an illusion of a 3D parquet pattern. The repeated pattern creates a striking feature for the floor and a unique visual effect.
These pieces are typically made of high-quality hardwoods, such as oak or maple, and can come in a variety of colors and finishes to suit any design aesthetic. Once the pieces are cut and shaped, they are glued to a subfloor using a specialized adhesive.
With the intricate design, it takes longer to install, and you will need an expert installer to have a seamless layout which can cost more than your typical wood plank installation.
End Grain Wood Blocks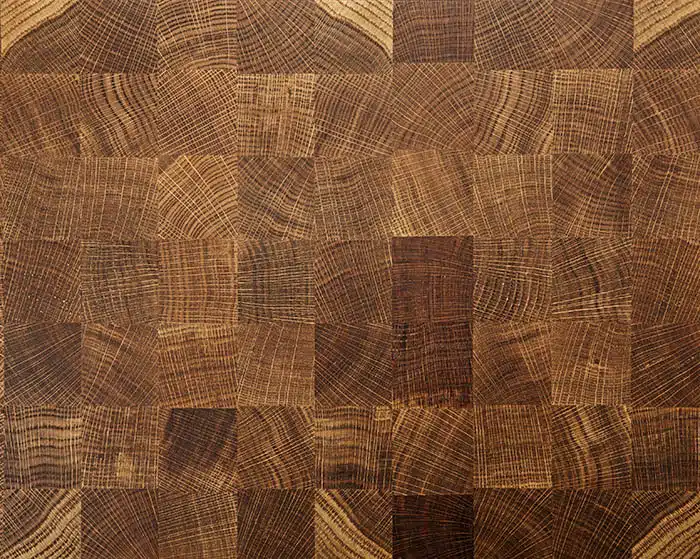 A variation of the checkered pattern. The end grain wood blocks are small squares arranged uniformly on the floor. These blocks will showcase the unique sectional profile of the wood, with the usual graining radiating from one corner of the wooden block.
Different species or wood block colors can be used to create a unique mosaic-like feature. The variations are eye-catching since the blocks are cut from different areas within the tree.
Wood Inlay Patterns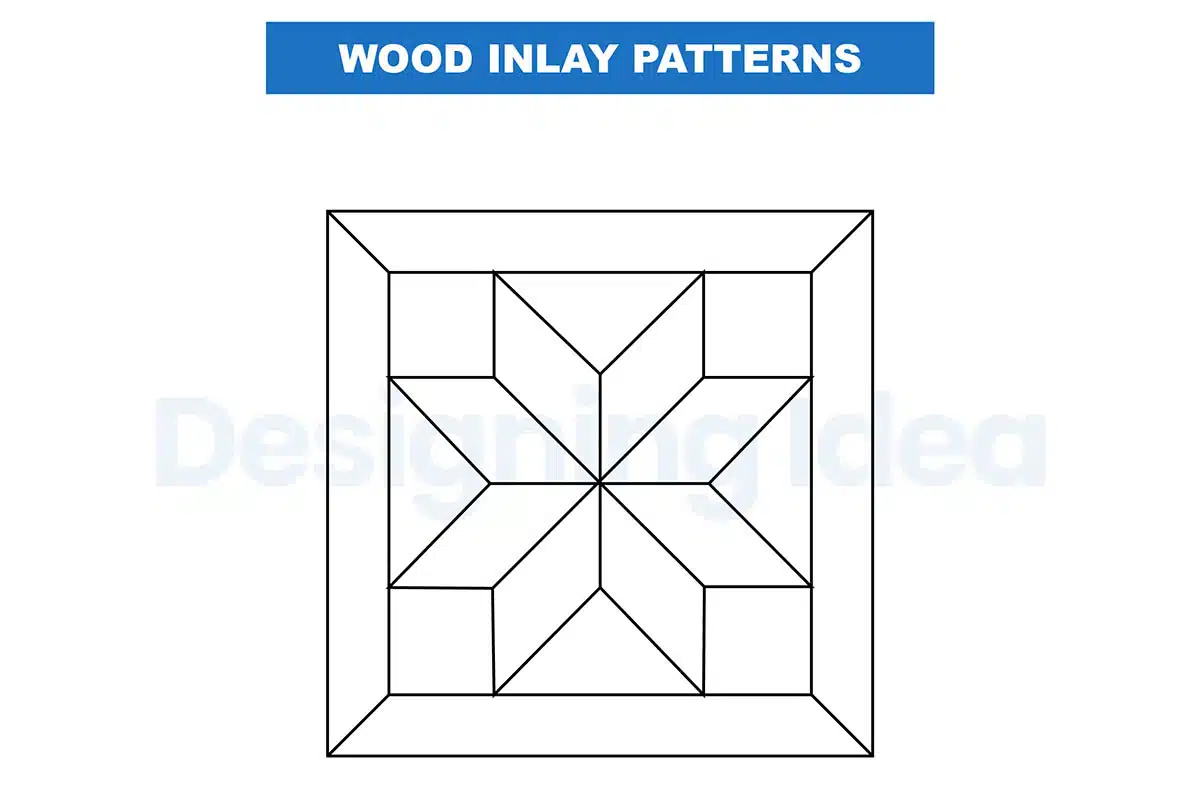 Probably the most expensive, technically difficult, and visually stunning of any floor pattern, wood inlay is highly customizable. Different colors of wood are custom cut and carefully laid to create intricate patterns.
Wood inlay is similar to mosaic in that it uses many small pieces to create a larger design, but instead of tile, wood is used.
A master carpenter can design a wood inlay especially for your space. There are also common patterns to choose from. The more intricate a pattern is, the more you should expect to pay for design and installation.
Wood inlay floors often use specialty woods to achieve contrast, which can add to the cost of your wooden floor. Also, expect to pay more for materials, since there will be more scraps of wasted wood left over when your floor is finished.
However, if your budget allows for a wood inlay pattern floor, it may quickly become your favorite element of the room.
Curved Inlay Pattern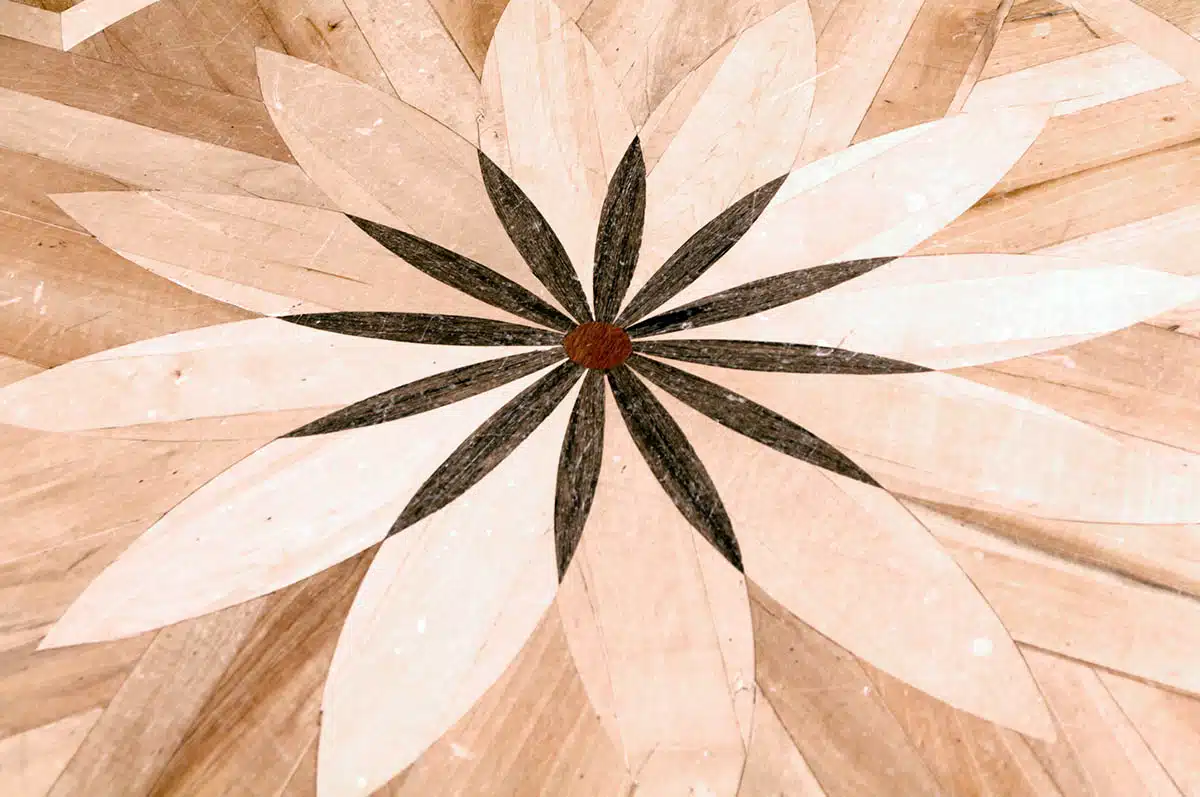 A curved inlay or swirl pattern is created by arranging small rectangular wood tiles in a circular or spiral pattern where each tile follows a curved path and then intersects with the neighboring wood tile. The pattern creates a swirling rhythm on the floor, making it a dynamic flooring design.
Contrasting materials or wood graining and color creates a richer look, as well as adding medallions or inlays at the center or at the corners.
The installation can be tedious and will need an expert installer to ensure a uniform and seamless layout. The intricate design is usually installed in high-end residential and commercial spaces to create a dramatic and visually stunning effect.
Elongated Hexagon or Picket Wood Tiles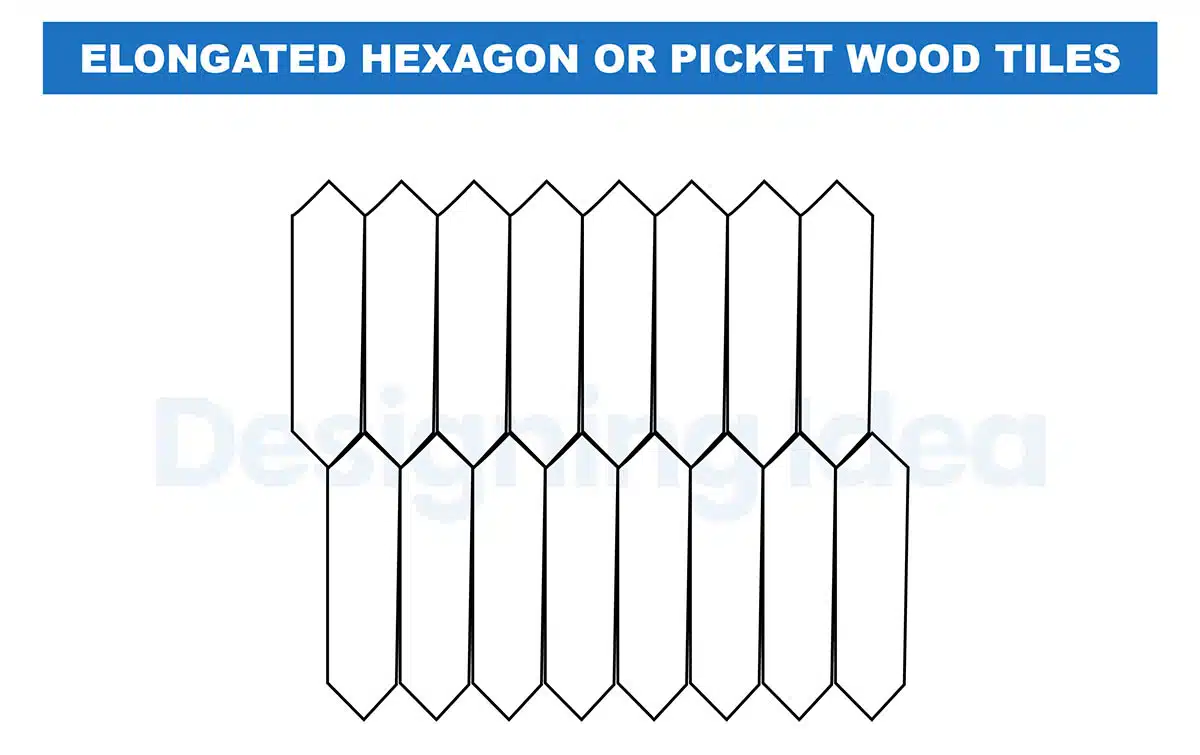 A variation of your honeycomb or hexagon pattern, the elongated hexagon wood floor pattern showcases a stretched, slender version of the six-sided shape.
These elongated hexagon wood tiles are laid out with the longer sides facing each other and are repeated all throughout the flooring area, with the ends of the rows staggered to create a continuous pattern.
The elongated hexagon wood floor pattern is a unique and modern wood flooring pattern that features elongated hexagonal shapes arranged in a repeating pattern.
This pattern creates a sense of movement and can add depth and visual interest to a room. This type of wood flooring pattern is great for dark or black wood flooring showcasing a modern oriental element fit for contemporary or modern spaces.
Wood Pattern Design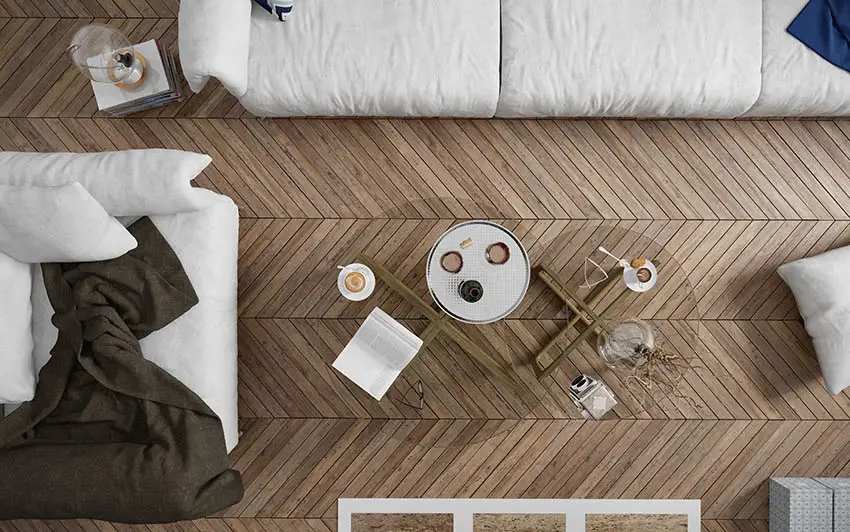 For wood pattern design materials, there are two choices — solid or engineered wood.
Solid wood floors, like the name suggests, are constructed of planks of real wood. Engineered wood can also use real wood, but it is a much thinner layer that is glued onto a base layer of plywood or HDF (high-density fiberboard.)
When it comes to installation methods, there are some terms you need to know. The first is 'subfloor'. When your home was constructed, the joists went in first. These are the long strips of wood that will support the surface your family walks on.
A subfloor covers those joists and the gaps between them, providing a flat surface to walk on as the rest of the house is constructed. Usually, the subfloor is made of plywood.
When it comes time to finish the construction, choices must be made about what kind of floor to install. A glue-down or nail-down floor is attached directly to the subfloor.
The glue or nails hold the floor tightly to the subfloor, which eliminates any gap or air space. This type of installation is common with solid wood floors.
A floating floor is another option. Floating floors are not attached to the subfloor at all. There is a cushion of air between the floor and the subfloor, which can make it more comfortable to walk on.
However, this same feature can also change the acoustics of the floor and the room, as sound reverberates through the empty space. Footsteps may sound louder, and sound may bounce around more in a room with a floating floor.
Any wood will respond to humidity, expanding during periods of high humidity and contracting when there is less water in the air. In temperate climates, this does not pose a problem for either floating or solid wood floors.
Where there is exceptionally high humidity, a floating floor is not ideal, because moisture can get trapped between the floor and the subfloor, putting you at risk for mold and mildew.
Since floating floors depend on pressure to keep them in place rather than hardware or adhesive, they are at a higher risk for warping than solid wood floors.
Floating floors are generally constructed from click-together flooring, also called click-lock or snap-together flooring. Hardwood click-lock flooring is available, but it is less common than engineered versions of the product.
Snap-together flooring has a tongue-and-groove system cut into the sides of each plank, allowing them to interlock and eliminating any space between floorboards. The pressure and strength of this joint are what holds your floor together.
It is possible to mix and match different lengths, widths, and even styles of click-together flooring to custom-build the floor of your choice.
However, compatibility can be an issue. Different manufacturers may use slightly different shaped connections, so it is generally recommended to stick with one supplier for all your flooring project needs.
Even different products from the same line can have different installation requirements, so you may want to check with your local flooring installation professional, or talk to the salesperson at your local flooring showroom before making your final purchase.
Of course, you can get the look of wood without using wood at all. Vinyl flooring and laminate flooring have come a long way since being introduced to the market, and can reliably approximate the look of real wood.
It won't feel exactly the same underfoot, and design hounds will be able to tell that it isn't real wood, but it is attractive and very common.
The cost savings and ease of installation make vinyl or laminate an attractive choice for achieving a wood, or at least wood-like, pattern floor.
Vinyl or laminate floors are not possible to refinish. Engineered wood has a thin layer of hardwood on the top, called a 'veneer'. It may be possible to refinish this veneer on some products, while others cannot be sanded down and refinished.
A solid hardwood floor is likely to last longer without requiring a replacement since it can be sanded down and refinished several times.
Tell us what are your favorite wood floor patterns in the comments below. For more related content visit our gallery of tile patterns.