See different laminate backsplash designs including what it is, the pros and cons, the different materials available, installation tips, and the best adhesive to use.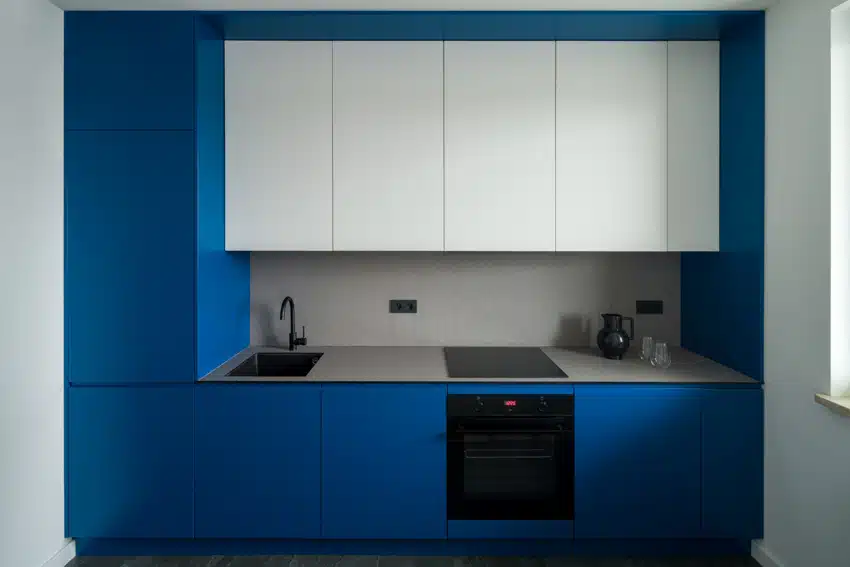 Food, oil, and water splash onto kitchen walls behind sinks and stoves; therefore, a small backsplash is often insufficient. You can solve this problem through an affordable and even better laminate backsplash.
The full-wall laminate backsplash is one of the best kitchen and bathroom design aesthetics. It is the natural solution in backsplash evolution. It is a need for any kitchen that strives for an ultra-modern, streamlined look and is increasingly common in designer kitchens.
What Is A Laminate Backsplash?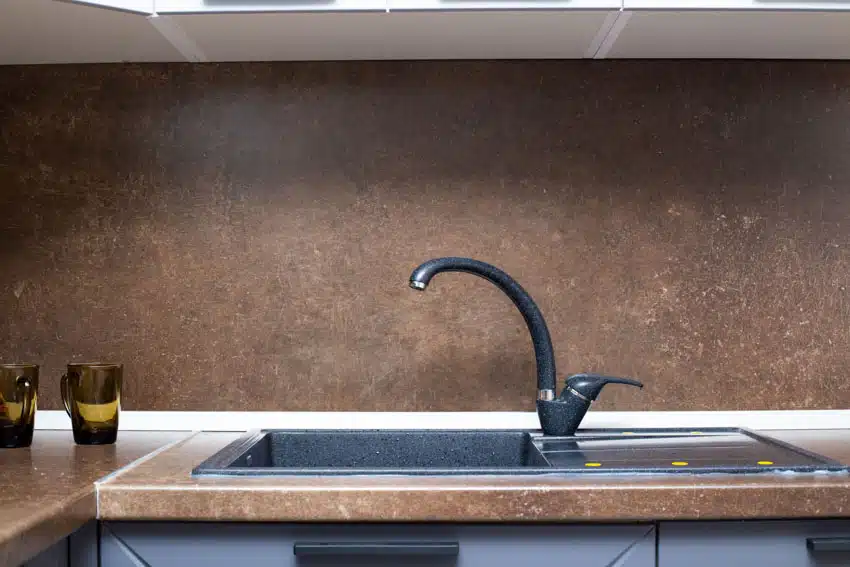 A big, continuous sheet of material, often behind a kitchen counter, is called a "sheet backsplash." A backsplash is a common element in kitchen designs because it offers an aesthetic element and protection for the wall from spills of food, oil, and water. The typical kind, a slab or panel backsplash, extends vertically from the countertop to the bottom of the wall cabinets and horizontally along the whole countertop length.
Although you may use any material for a sheet backsplash, the laminate backsplash is the most typical choice. Laminate, mostly made of paper and resin, is non-porous, water-resistant, and relatively simple to cut and shape.
Large sizes and affordable prices make laminate the perfect material for sheet backsplashes. Laminate is low-cost to moderately priced and less expensive than a backsplash made of acrylic, metal, and natural stone.
Laminate has significantly evolved from its early days. You may get patterns nowadays that are a perfect replica of the actual stone. You might discover a laminate product nearly resembling a lovely marble design to get the marble effect. For sheet backsplashes, some designers like laminate with a linen-look finish.
Pros And Cons Of Laminate Backsplash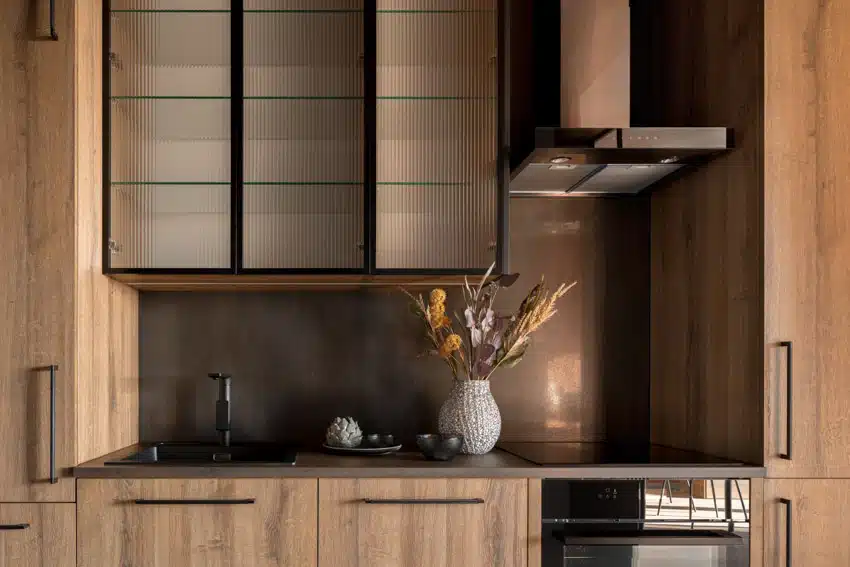 Consider laminate for your backsplash for the following reasons.
Pros of Laminate Backsplash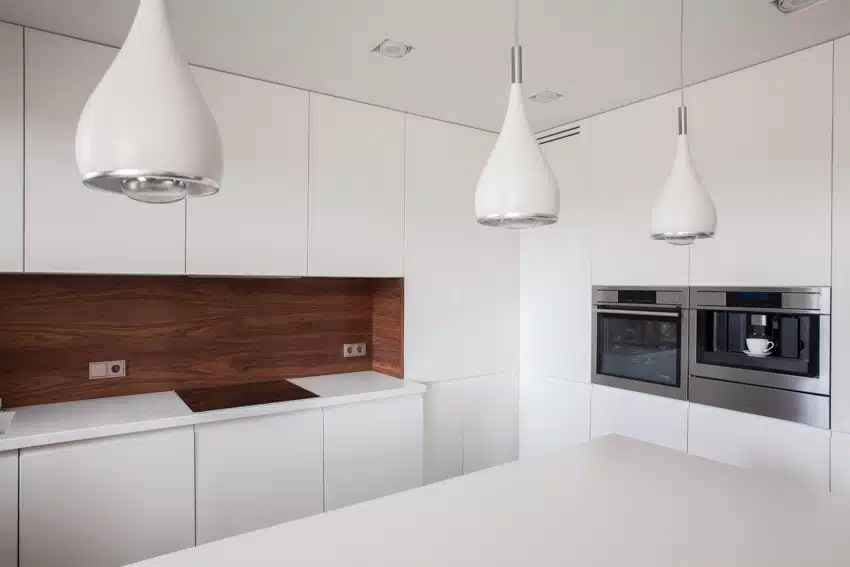 Seamless Design: Laminate, a continuous material, has either no or very few gaps. This material enhances the appearance of your backsplash without obstructing the design.
Variety Of Options: Since many years ago, companies have offered everything from primary, flat hues to faux-wood textures. Anti-microbial protection is often a feature that is included straight into high-pressure laminates.
Nowadays, you can come across more recent products like fake natural stones with veining and wacky geometric designs. Over time, laminate prints' quality has improved significantly, making them a good choice for the kitchen area.
Easy Maintenance: If food or cooking splatter gets on a laminate backsplash, it cleans up quickly and doesn't need ongoing care to keep it looking beautiful. Most stains are easily removable with a sponge and some dish soap, and they will be spotless in minutes.
Less Cost: Laminate is another inexpensive, attractive, and helpful alternative, making it the ideal option for kitchens that must stay under a strict budget.
Cons of Laminate Backsplash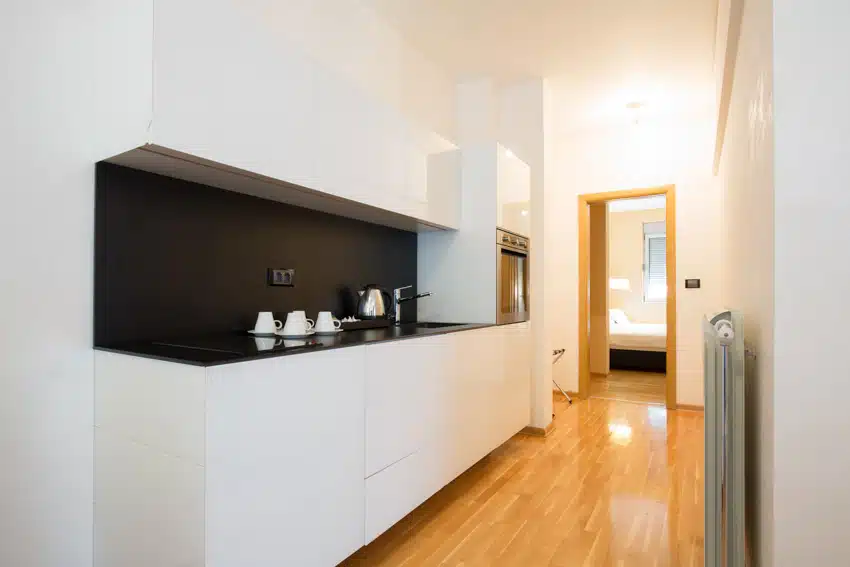 For a fair assessment, the following are some laminate drawbacks.
Susceptible To Cracks: Despite being very simple to work with, you cannot restore laminates if it sustains any damage, including burns, scratches, chips, or nicked edges.
Once attached to the wall, a backsplash is usually impervious to scratches. Because of its poor heat resistance, you'll need to use a more heat-resistant material, such as tile, stainless steel, or certain varieties of natural stone.
Requires Expert Installation: While installing one, a careless move with the equipment might result in unattractive permanent damage. Throughout the building process, take extra care when using a router and file to smooth off the laminate edges.
Not So Eco-friendly: While many laminate goods and adhesives include VOCs that are harmful to the environment compared to more natural materials, certain laminate products are manufactured from recycled and sustainably sourced resources to reduce their carbon impact.
Laminate Sheet Backsplash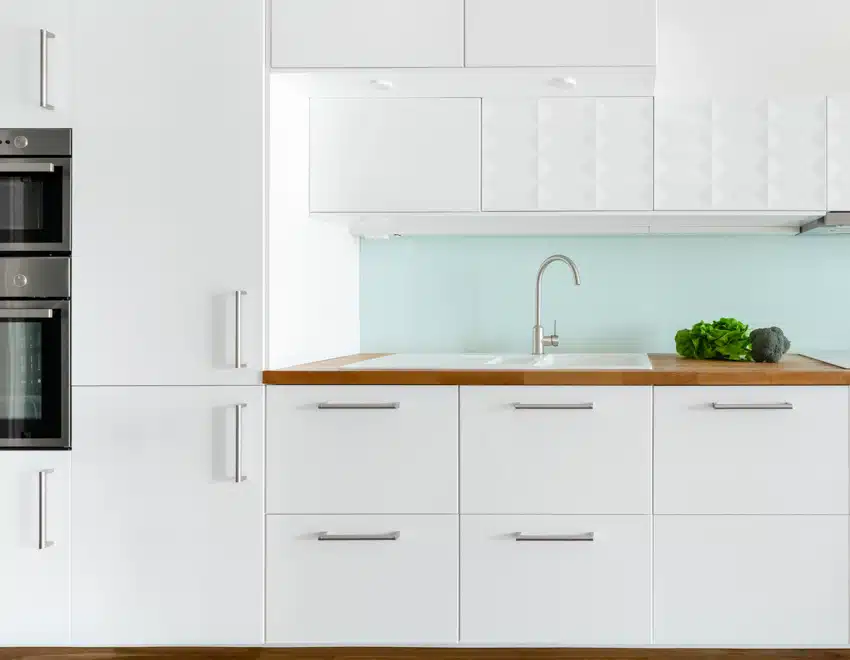 The chameleon of the construction industry, laminate sheets, may give even the most ordinary surface the appearance of polished marble, exotic hardwood, colorful enamel paint, or patterned wallpaper.
Laminate sheets, thin sheets of heat-fused paper covered in melamine plastic, have become very popular and are now found everywhere, including in high-end types of furniture styles, bathrooms, kitchens, and, most significantly, backsplashes. Laminate sheets have improved with time with new textures, stronger scratch resistance, crisper, more lifelike pictures, and more color options.
A laminate sheet is a popular option for those on a budget who are confident to do the job themselves. You may purchase laminate for as little as $2 per square foot. Most home improvement shops sell it in sheets 8 feet or 10 feet long.
In a laminate sheet, there are few to no seams to seal since it can be bought in huge sheets and trimmed to size. This design has the drawback of making installation a bit trickier due to the size of the material.
Laminate Counter With Backsplash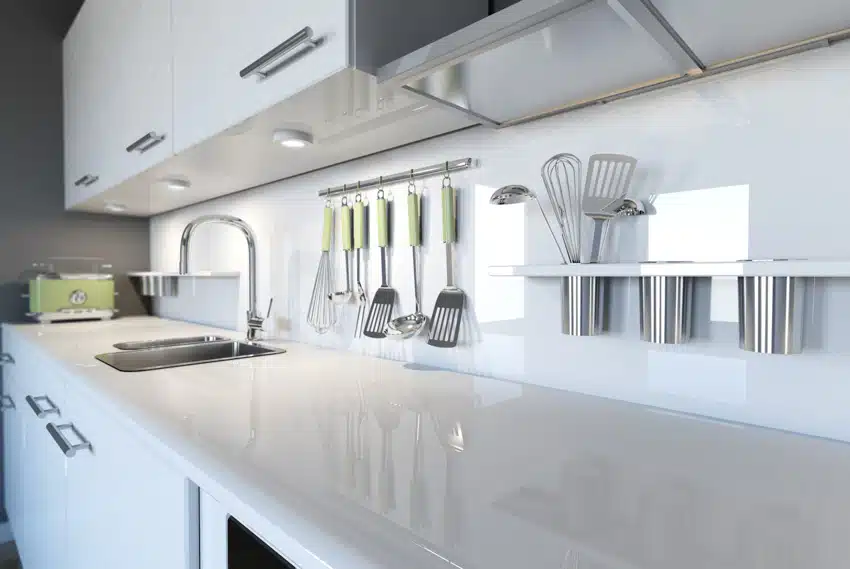 Recently, homeowners have started to use laminate kitchen countertops more frequently. They come in various colors and prints, are reasonably priced, and don't stain easily. They also need little upkeep, and you can install them yourself. It is a fantastic alternative for your kitchen counters because of these factors.
Therefore, which backsplash is ideal for a laminate countertop? A full-height backsplash is one option if your kitchen has open shelves or many higher cabinets. It may make your area seem bigger, making it perfect for smaller kitchens.
Adding a laminate backsplash will give your kitchen a contemporary feel and come in exciting designs such as marble. The alternative is to use textured tiles.
Laminate Backsplash Materials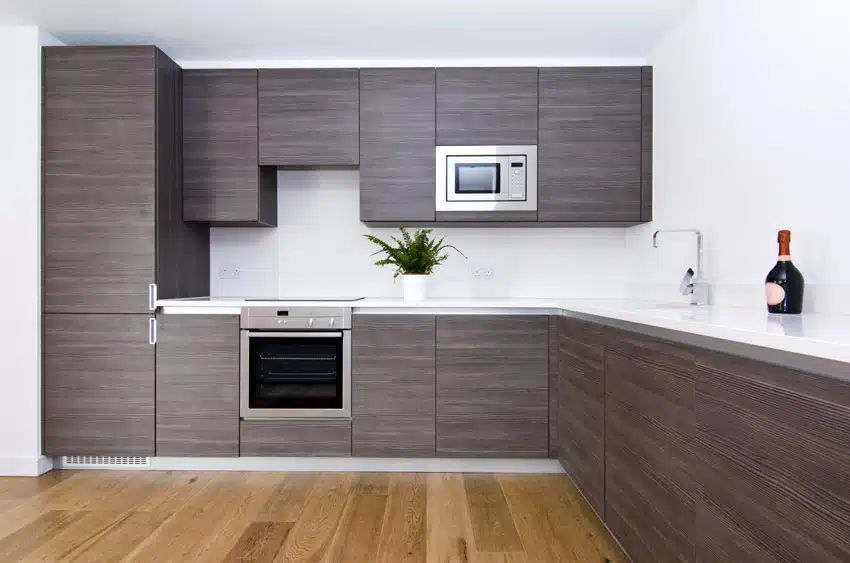 Given that it can be produced in virtually any manner to imitate other materials, laminate is one of the most flexible backsplash materials. You may use laminate backsplash materials in two ways:
1. Pure laminate is put and fastened to the wall behind the countertop. If the wall is sound and entirely flat, this works nicely.
2. Laminate is attached to a 6mm or 9mm thick backing panel material. After that, adhesives secure the whole panel to the wall behind the countertop.
Backsplash made of laminate may be ordered to suit your kitchen, placed as a single continuous sheet, or provided as pre-cut tiles. To prevent water from getting in and causing damage, the joints between these tiles need sealing with silicone sealant. On the other hand, to assist you in making an educated decision, the most common backsplash materials are:
• Granite: Natural materials like granite are solid and long-lasting materials with various textures and hues. The fact that no two granite slabs are ever precisely alike adds to its appeal as a backsplash material. Keep in mind that granite is porous by nature and will need sealing.
• Quartz: This material, often referred to as engineered stone, is composed of quartz pieces bonded together using polymer glue and color pigments. A quartz backsplash can help you achieve the balance you want in the interior design of your kitchen if you favor symmetry. Backsplashes made of quartz are incredibly robust and scratch- and heat-resistant.
• Marble: Marble comes in bright colors that look excellent with dark cabinetry and is simple to clean. However, marble is more likely to chip and break than other materials because it is soft and porous. Additionally, it needs frequent maintenance, including routine sealing of its edges.
• Porcelain tiles: The most common material for most types of kitchen backsplash is ceramic or porcelain tiles, chosen for their durability, affordability, and wide range of colors and forms. The ease of cleaning ceramic tiles is a benefit valued by many urban homeowners.
• Glass: The most elegant-looking backsplash material you can choose because of its glossy appearance and variety of colors. Glass is effortless to clean; you only need a wet cloth or tile cleaner to remove dirt and oil spills.
• Peel and Stick: This material is an inexpensive solution that can be applied as a DIY project. A peel and stick laminate is applied by using its self adhesive backing and attaching it to the wall. The material has evolved quite a bit and there are now a variety of styles to replicate the look of many types of stone or wood grain.
• Laminates: As mentioned above, laminates are very water, stain, and moisture-resistant. Compared to tiles and stones, laminates are a more affordable material option. They are a fantastic alternative to meet any style, taste, and budget since they come in a broad selection of colors, patterns, textures, and price ranges.
Laminate Sheet Backsplash Sizes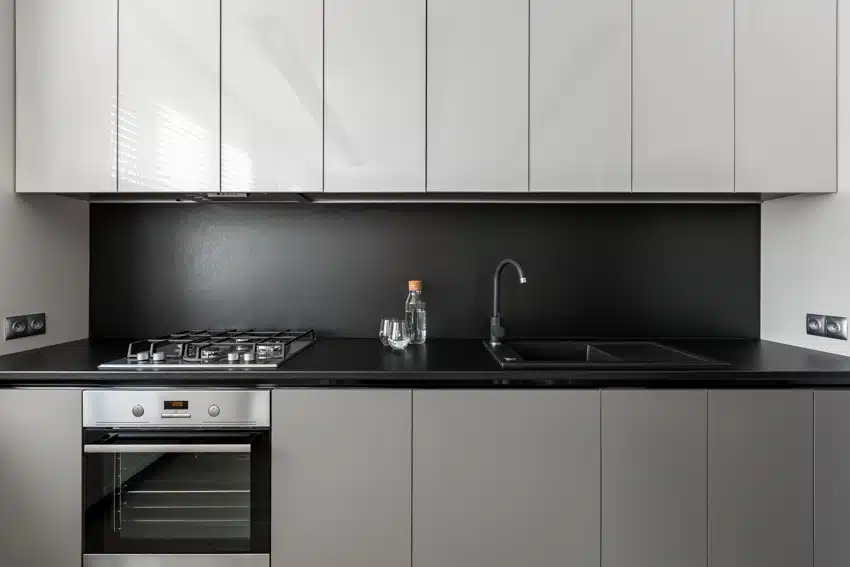 A typical backsplash extends from the kitchen counters to the wall for a distance of three to six inches, with four inches being the most frequent height. Standard laminates are 4′ x 8′ (1220 x 2440mm) in size, which limits their use in applications with wide widths.
The 6 feet range laminates provide great possibilities and maximize the use of the sheet by having a wide variety of broader sheet sizes. Granite slabs typically have a maximum length of 105 inches, and retail-level sheet laminates have a maximum length of 144 inches.
How Much Does Laminate Sheet Backsplash Cost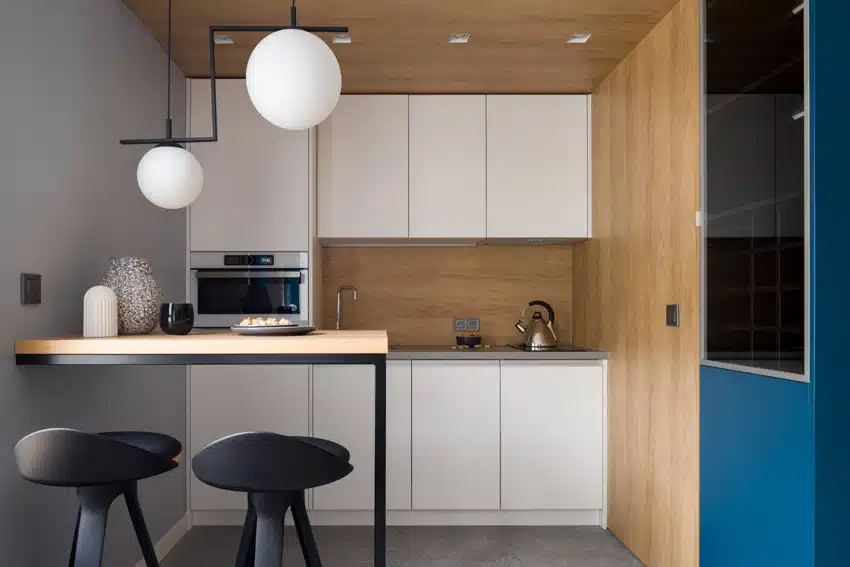 Regarding backsplashes, you have a blank board to work with that you may decorate with laminate sheets. Alternatively, you can think outside the box and create your design.
The average cost of installing a backsplash is about $1,000, with most people spending between $600 and $1,500. However, you must determine the square footage the backsplash will cover before making any estimates.
The price per square foot to install laminate sheets was about $45 to $80. However, you can install these as a do-it-yourself project for about $5 per square foot. Countertop wholesalers have 10-foot sheets available if necessary; however, neighborhood home retailers could only have sheets 8 feet long.
Laminate Backsplash Installation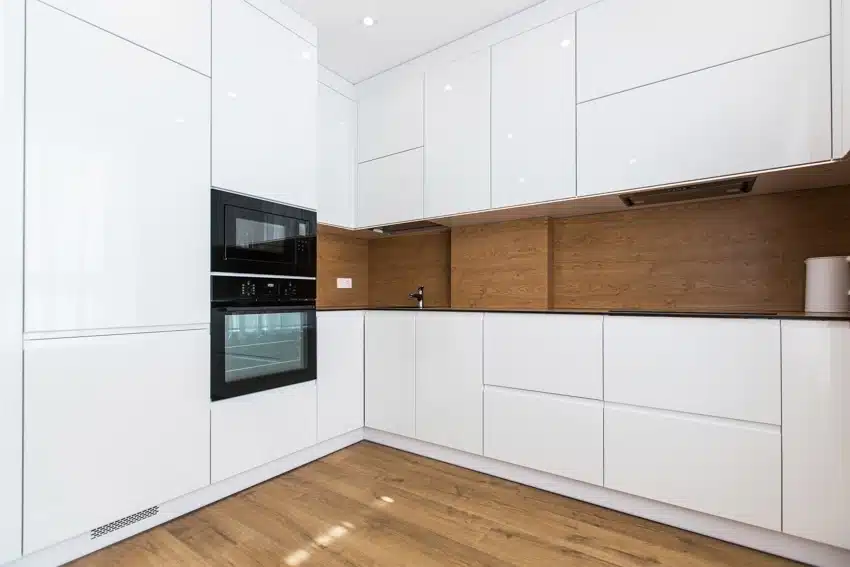 When constructing a large-format backsplash, laminate is an accessible sheet material for DIYers.
Step 1 – Remove the outlets and switches: Remove all the cover plates with a screwdriver and put them away. Pull the outlets and switches out of the box area after removing the last few screws. In this manner, you can glue the laminate template to the wall above them.
Step 2 – Prepare the wall and template: Create a template out of paper or cardboard. For a complete backsplash, measure the space from the counter up to the base of the cabinets.
Remember that the laminate will eventually need to be cut down to the very borders of the electrical boxes to ensure that the cover plate fits perfectly over the material. Clean the area thoroughly and fix it if necessary. Ensure that the backsplash is dry.
Step 3 – Trim the backsplash: Use a hand router to cut the template to size after tracing it onto the back of a piece of particleboard, plywood, or 3/8-inch medium-density fiberboard (MDF). This layer will serve as the laminate's backing material. The border of the laminate piece should then be rough cut, leaving a 1/2-inch overhang trimmed after being glued together.
Step 4 – Bond the laminate to the backing material: Apply contact cement with a roller to the rear of the MDF, plywood, or particle board before doing the same to the back of the laminate material. Set both of them aside for around 30 to 40 minutes to dry. When ready, start creating the final contact while removing a few dowels at a time.
Step 5 – Sand and trim the backsplash: Use a router and a flush trim bit to remove the laminate's 1/2-inch overhang and bring it flat with the backing material. Drill a hole in the middle, then use the router to carve out the form for electrical boxes.
The laminate's outside edges will be very sharp. To gradually dull it down, use a fine-tooth abrasive, careful not to see forcefully or pull up the laminate. To ensure there are no tight areas and inspect everything, dry fit the backsplash.
Step 6 – Mount, brace and caulk the backsplash: Apply glue to the backsplash's wall-facing side before carefully positioning it. It takes the glue around 24 hours to dry. Brace the backsplash, so it remains entirely in place as it sets, particularly at the ends.
Beveled pieces of wood may be utilized as inclined support from the countertop to the backsplash area and held in place with heavy-duty, double-sided tape. After removing them, seal the backsplash material by running a bead of caulk over the top, bottom, and corners.
Step 7 – Install the extension rings: Although it is an excellent idea to re-verify with your voltage meter, the power should still be off. Insert the extenders into the box, covering your outlets and switches. Remount both components by utilizing the screws to keep them in place. Reconnect the electricity and then attach the cover plates.
Adhesive For Laminate Backsplash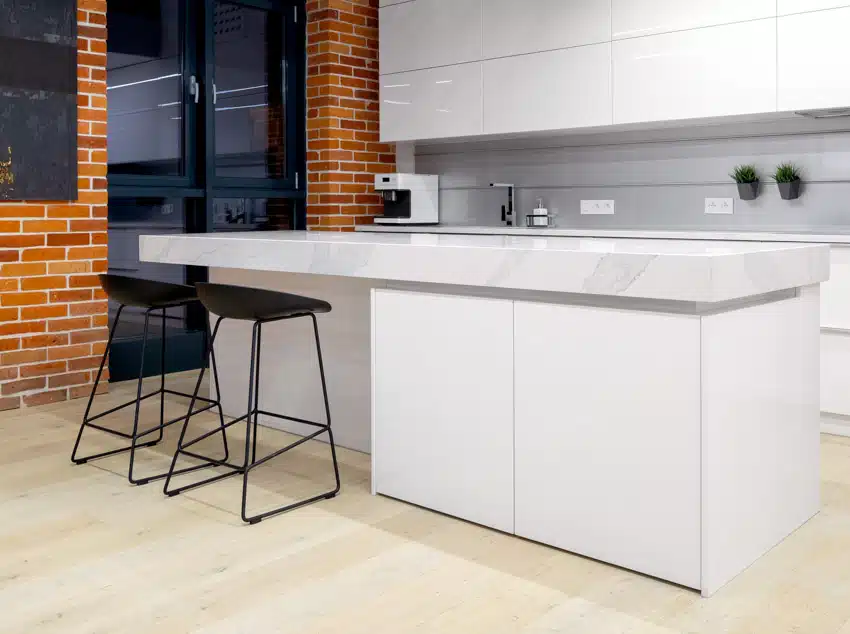 Although plastic laminate makes an excellent backsplash, manufacturers advise against gluing it to drywall. Use a substrate, such as plywood or particleboard, with at least one A-grade veneer face. Adhesives function best on a smooth, dry surface free from debris.
Contact cement, commonly known as a contact adhesive, is a non-porous glue that offers a robust, quick, and flexible binding. This glue is also the ideal backsplash for laminates. Plastic, rubber, glass, metal, and veneers also respond well to contact cement.
This cement differs from glue because it requires almost 15 to 20 minutes of drying time before assembly. Reglue both components if you believe the glue is not adhering sufficiently to ensure a solid connection.
Contact cement is in water- and solvent-based varieties. Water-based contact cement is usually preferable since it is already fluid, and solvent-based contact cement seems too thick. Water-based contact cement is non-toxic and ecologically benign. Contrarily, contact cement with a solvent base costs much less per square inch.
Can You Paint Laminate Backsplash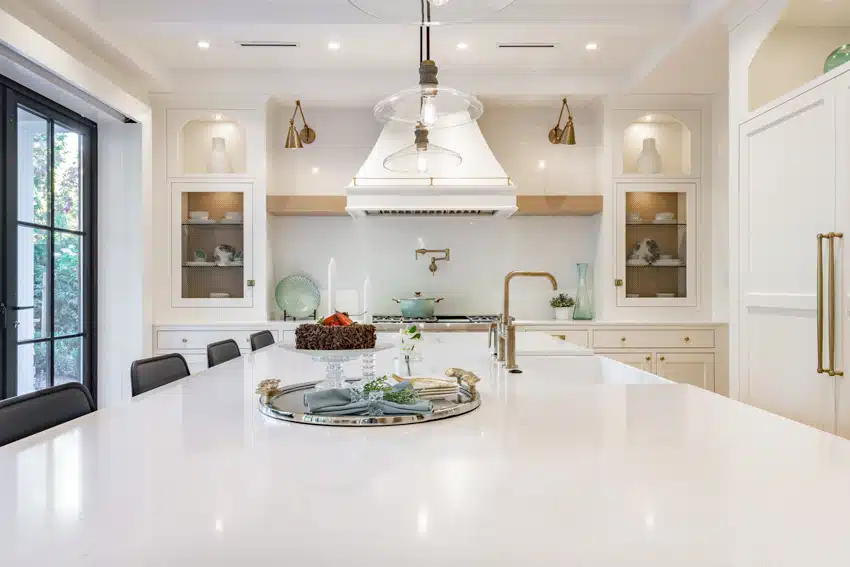 There are various methods to cover the backsplash and refresh the look of your kitchen if replacing it is not an option. You may cover the whole laminate backsplash with paint, giving your kitchen a different appearance.
As strange as it may seem, painting is a cheap alternative that is robust enough to maintain its aesthetic appeal with regular maintenance. In painting a laminate backsplash, you must sand before painting, just as with most other laminate covering alternatives.
To avoid severe scratches that can show through the paint, thoroughly clean the laminate with a powerful degreasing agent before sanding it with fine sandpaper. Apply two or three coats of oil-based paint after rolling on a primer layer. A top layer of oil-based urethane sealer can help a painted backsplash last longer in busy kitchens.
You can rapidly bring your kitchen back into the modern day with a few easy steps and a new coat of paint. With the correct tools and know-how, you can give your kitchen the necessary fast refresh without hiring contractors to replace your laminate backsplash.
Acrylic enamel paint is recommended for heavy-use areas. – interior designer, Ellen Siloy
Can You Tile Over Laminate Backsplash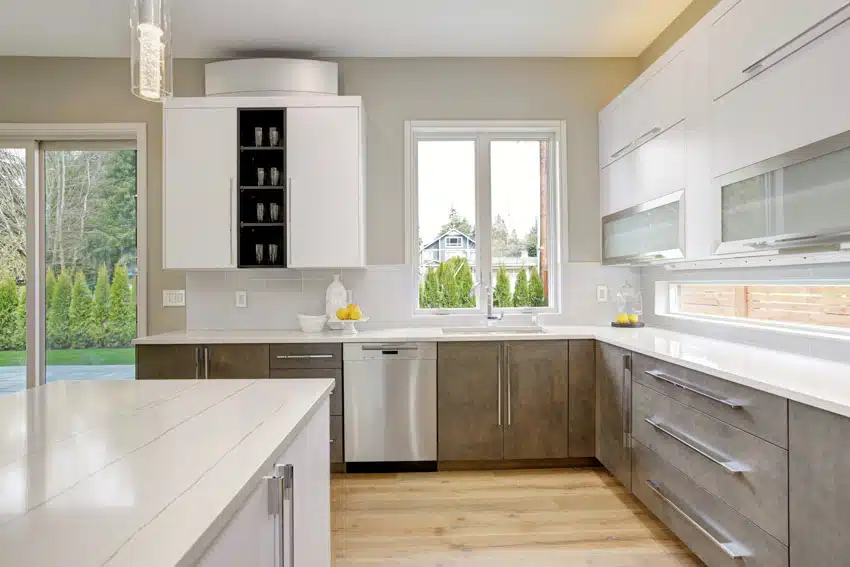 You can easily tile over a laminate backsplash with square edges compared to rounded or molded ones. If you sand the laminate and apply a layer of cement-based tile backer board beforehand, you can tile over most laminate backsplashes.
With a utility knife, trim the backer board to match the backsplash front and top, then sand the laminate to make it rough. Spread thin-set over the laminate and use coarse-thread drywall screws to attach the backer board to the backsplash.
You may put porcelain, ceramic, various artistic mosaic tiles, or even tiny mirror tiles on the backsplash after the backer board substrate is in place. Use non-sanded grout to fill the grout lines between tiles and thin-set tile adhesive to mount the tiles or mirrors.
For the kitchen, a laminate backsplash is a beautiful alternative. It has many designs and colors and requires very little upkeep. It is a beautiful substitute for tile backsplash since there are no grout lines to worry about, and it is also lighter and less challenging to work with than other alternatives.
See more related content in our article about laminate kitchen cabinets on this page.