Below we discuss fitted kitchen designs including cabinet options, appliances, cost, lifespan, reasons to get one, and a comparison to unfitted kitchen designs.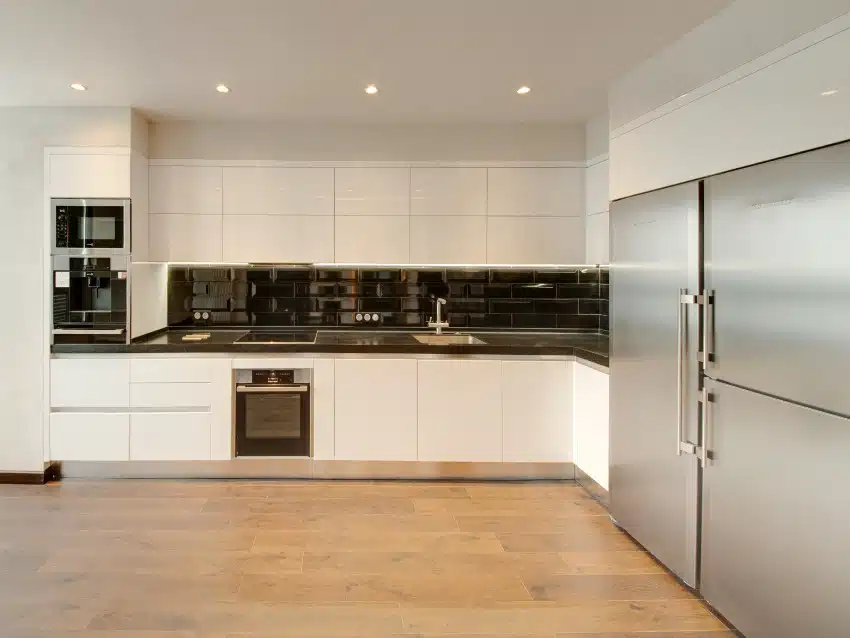 A fitted kitchen is a layout explicitly built to your needs and requirements. Similar to fitted wardrobes, they're usually based on someone's personal decisions and preferences.
They have the option to be highly customized. This ultimately provides a much higher degree of flexibility throughout the design process and even long after that.
Traditional kitchens are typically known for including freestanding appliances in the layout. This is the first main feature a fitted kitchen is free of. Instead, a fitted kitchen features integrated appliances instead of obsolete freestanding ones.
These days, everything can be built in, from ovens to refrigerators to dishwashers and so much more. It delivers a clean and contemporary look to your kitchen space and makes it appear more seamless.
Quicklook – Fitted Kitchen Design
• Cabinets are customized to specific dimensions
• Appliances are integrated in to the design of the kitchen
• Efficient layout, storage space and work triangle
• Lighting that illuminates each countertop area
• Promotes ease of use and efficiency with latest functionality
• Kitchen design that matches the home's aesthetic
What Is A Fitted Kitchen?
Fitted kitchens came into vogue way back in the 1950s. They became really "in" when matching streamlined cabinets that extended from one wall to the other came to be.
Even to this day, fitted kitchens are still quite trendy and is useful as they maximize cabinet and workspaces. Built-in cabinets and appliances are also known to be more cost-effective compared to freestanding ones.
With a bit of imagination and originality, these cabinets can have warmth and individuality, avoiding the appearance of being boring or institutional. Put glass fronts on some kitchen cabinets and light up the interiors. Use an exciting and functional countertop material.
Paint the cabinets a bright color, or hire a carpenter to customize one section—perhaps to build an open shelving or a dresser to display a collection of favorite dishes. These are just some ways to spruce up your kitchen without wasting money.
On the other hand, the unfitted kitchen is characterized by cabinetry that is freestanding and resembles furniture. This cabinetry is frequently combined with handcrafted pieces, or reused flea market finds to create a more individualized appearance. These eclectic looking spaces often have appliances that are not built-in and a mix and match design style.

Unfitted kitchens feature a variety of colors and shapes, and they often include workplaces that vary in height and the materials they are made of, according to the roles they perform. A marble slab for preparing pastries, heat-resistant granite beside the oven, and a butcher block are all possible features in a kitchen.
Why Get An Fitted Kitchen?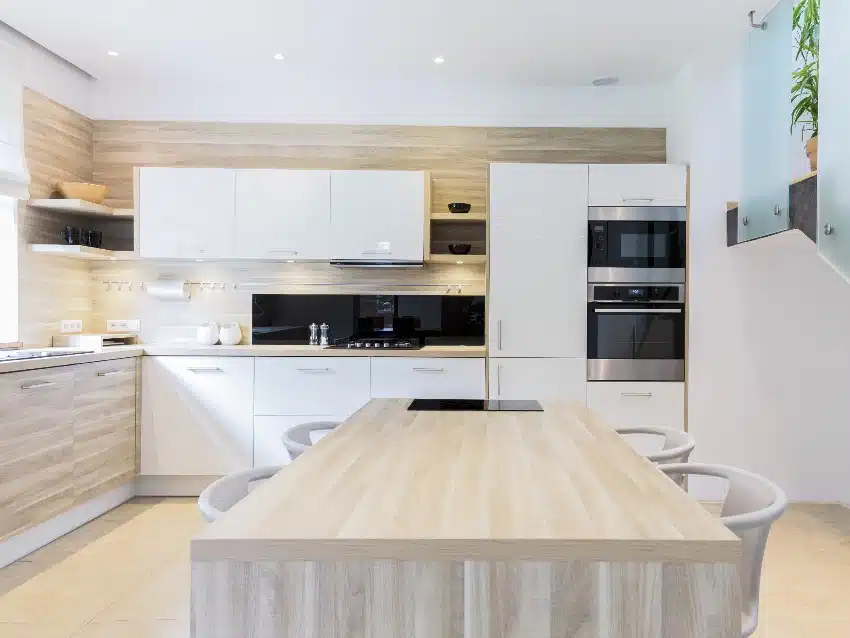 If you go with a fitted kitchen, you will have a complete say over the design of each and every aspect of the space. By installing one, you can give your space an upscale appearance and feel totally tailored to your preferences and financial constraints. In addition, you can design the kitchen according to how you intend to use it, ensuring that it will perform as well as it appears.
Custom kitchens, also known as fitted kitchens, are designed to efficiently use the available space by incorporating practical layouts, innovative storage solutions, and cutting-edge technological advancements. You can decide what aspects are most important to you and whether having an integrated wine cooler is an issue. You can also access an integrated coffee machine if you want.
Your home's real estate value can be increased due to a well-designed kitchen, and it's a great selling feature to highlight if you're considering renting or selling your home. Your home will appreciate in value if you invest in a fully fitted kitchen.
Fitted Vs. Unfitted Kitchen Design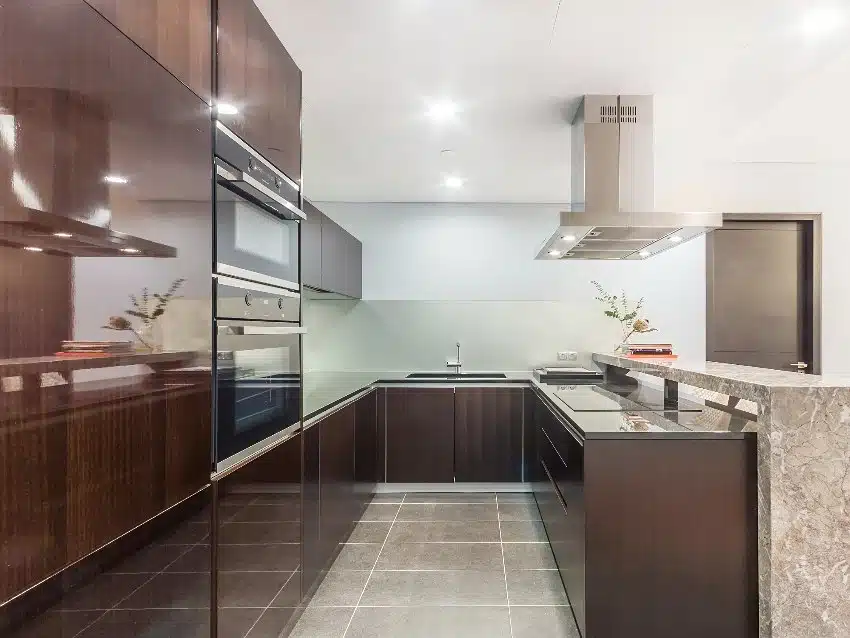 When it comes to designing the kitchen of your dreams, there are numerous factors to take into consideration. Style, space, function, budget, and even colors are just some elements that affect decisions.
Make it a point to consider these design elements as much as possible before diving head-on into whether you would like to go for a fitted or unfitted kitchen design at the end of the day.
You need to understand the distinction between the two types of kitchen design before choosing which form of a kitchen is better for you or which one you like more.
Kitchens with units, counters, and cupboards that are "fitted" to the walls from floor to ceiling and that are not removable. They also typically match and coordinate with one another and are known as fitted kitchens.
In contrast, "unfitted" kitchens comprise equipment and furniture that are not fixed. They do not always match one another and can more easily rearrange.
Fitted Kitchen Pros and Cons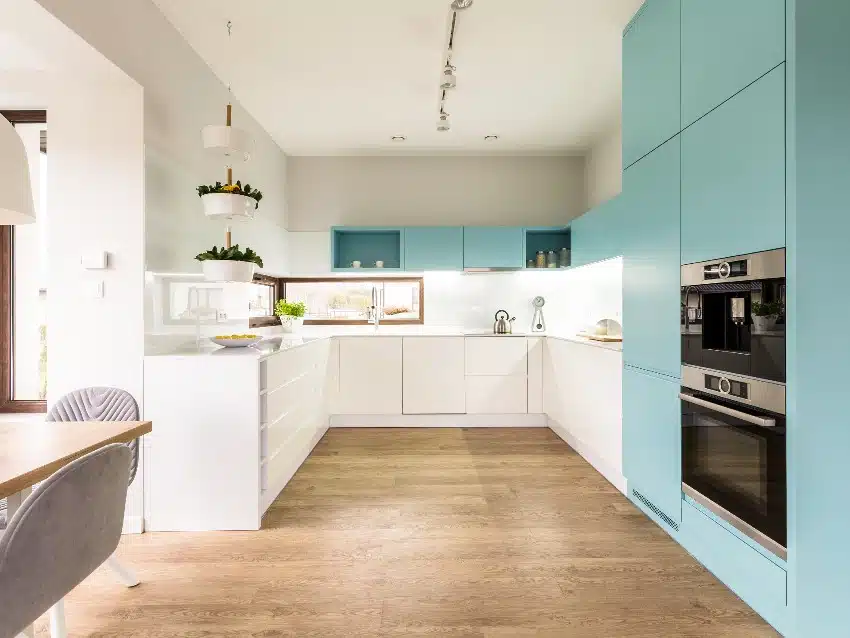 Pros of a Fitted Kitchen

They are well-known for their more coordinated appearance. They are made expressly for the room in which they will be placed, the proprietor's preferences, and the roles they will perform.
Fitted kitchens are known for maximizing available space and giving the impression that a room is more significant than it actually is. This makes them an excellent choice for kitchens on the more compact side.
Choose a fitted kitchen with integrated appliances if you're looking for a highly streamlined style. This is because the appliances can be easily disguised within the cabinets, which creates a more streamlined appearance.
Cons of a Fitted Kitchen

Because the cabinets and layout of a fitted kitchen cannot be easily modified once installed. One of the disadvantages of having a fitted kitchen is that it may have less versatility than an unfitted one.
Fitted kitchens are typically more expensive than their unfitted counterparts, which makes budgeting for one of these rooms another challenge.
Because a fitted kitchen is a long-term investment, prospective buyers must be confident in the design. As a result, fitted kitchens are not a good choice for homeowners who frequently alter their houses' style or are considering moving frequently.
Unfitted Kitchen Pros and Cons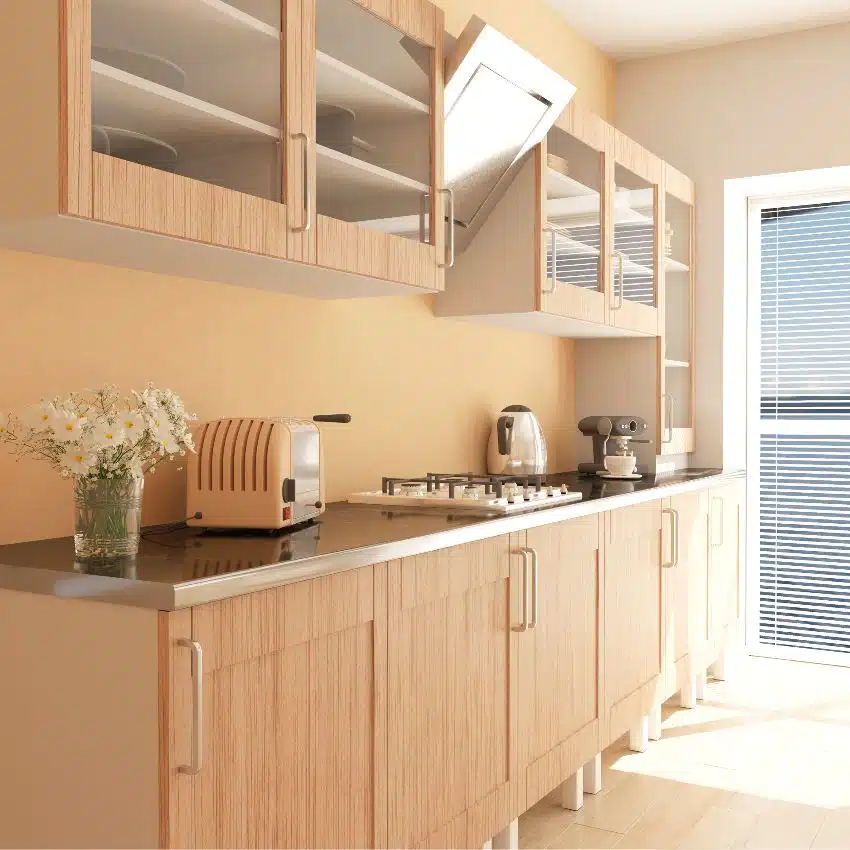 Pros on an Unfitted Kitchen

Compared to fitted kitchens, their color palettes and shape profiles are typically more diverse. You have many more creative liberties playing around with the kitchen layout's design. This is something that some homeowners are looking for, and if you are one of them, then unfitted kitchens may be more of your preference.
Customers who like a more changeable and versatile design that can be modified, customized, and redecorated with greater ease will benefit significantly from purchasing unfitted kitchens.
It may be possible to minimize your costs by purchasing a kitchen that is still unfit. It can be furnished in stages with new or previously used furniture and fixtures, including tables, shelving units, and other items.
Unfitted kitchens are more convenient for people who rent their houses or plan to frequently move because they may be relocated to a new location with relative ease.
Cons of an Unfitted Kitchen

Because items like sinks and appliances like washing machines, dishwashers, and other similar devices need to be plumbed in, there is no such thing as an entirely "unfitted" kitchen.
Compared to the more streamlined and coordinated appearance of a fitted kitchen, the aesthetic of an unfitted kitchen may appear too mismatched, loose, and "random" for some people.
The decision between a fitted and unfitted kitchen comes from personal preference and taste alone. This is because the benefits one type of kitchen provides may be seen as drawbacks by some homeowners, and vice versa.
Fitted Kitchen Designs
A well planned fitted kitchen is setup with efficiency in mind to maximize functionality while looking beautiful at the same time. Here's a few fitted kitchens that offer different layouts.
One Wall Kitchen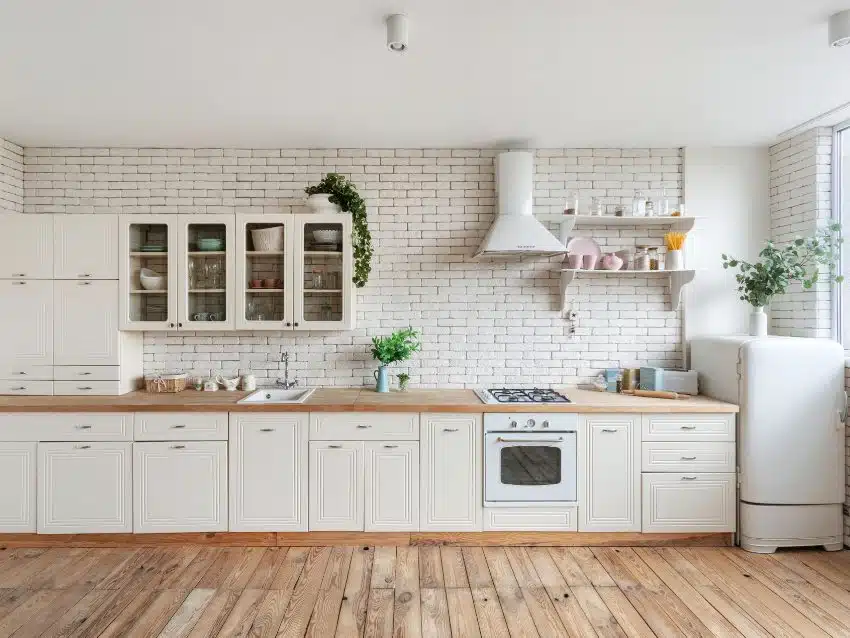 This straightforward design, typically found in kitchens with limited square footage, optimizes available space without compromising functionality. The One Wall Kitchen is distinguished by its minimalistic appearance.
It is characterized by its upper and lower cabinets or shelving positioned above base cabinets. It is composed of cabinets that are mounted against a single wall.
Consider the vertical space. You only have so much width to work with, so taking your cabinets as far as possible will help create extra storage space. While the traditional work triangle is impossible in a one-wall kitchen, try to put your fridge on one end, the oven and hob in the middle, and the sink on the other.
If your cabinets do not extend to the ceiling, you can take advantage of the space above them by keeping goods used less frequently. You also can transform this room into a display area to further develop the overall concept of your kitchen.
Galley Kitchen Design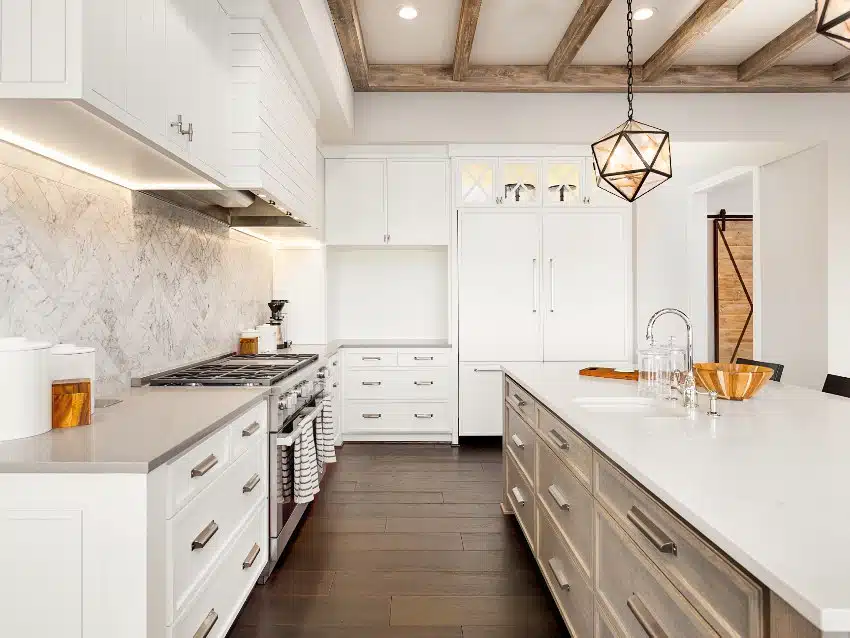 The galley kitchen uses the cabinets very efficiently, consisting of two rows facing one other and creating a passageway or galley in the center of the room between the two rows.
This arrangement makes efficient use of the available space by omitting the requirement for corner cupboards, which results in a lot of unutilized space. Due to the simple nature of the design, fewer specialized devices are required, making this alternative practical and economical.
The galley kitchen already provides extra options for storage space thanks to the additional row of cabinetry that has been added to the layout.
It is crucial to have the workspaces along only one of the walls, not both of them, particularly in kitchens used by larger families or by more than one person who cooks. Doing so can eliminate the possibility of injury and avoid traffic through the work triangle of the leading kitchen space.
L-Shaped Kitchen Design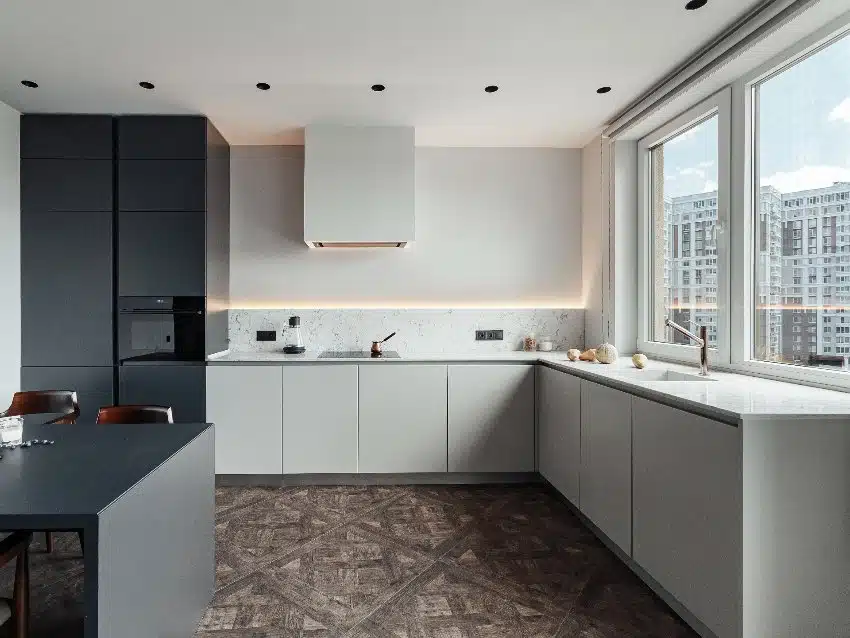 Cabinets are aligned along two walls perpendicular to one another in an L-shaped kitchen layout, which is a suitable layout option for both small and big kitchens. The open layout of the L-shaped kitchen provides excellent versatility in positioning appliances and work zone.
Even though the corner requires some ingenious cabinetry solutions to make it practical. It is recommended that you keep the length of the L legs to less than 4.5 meters for convenience. However, you can make them as long as the available space allows.
If there is room, a walk-in pantry cabinet should be installed in any corner with available square footage. In this way, you will retain the valuable space typically lost in a corner and simultaneously add a massive asset to your kitchen.
Suppose you have a kitchen that is in the shape of an L. In that case, you can create a tiny breakfast nook in the opposite corner, which will further increase the enjoyment that your family gets out of the area.
U-Shaped Kitchen Design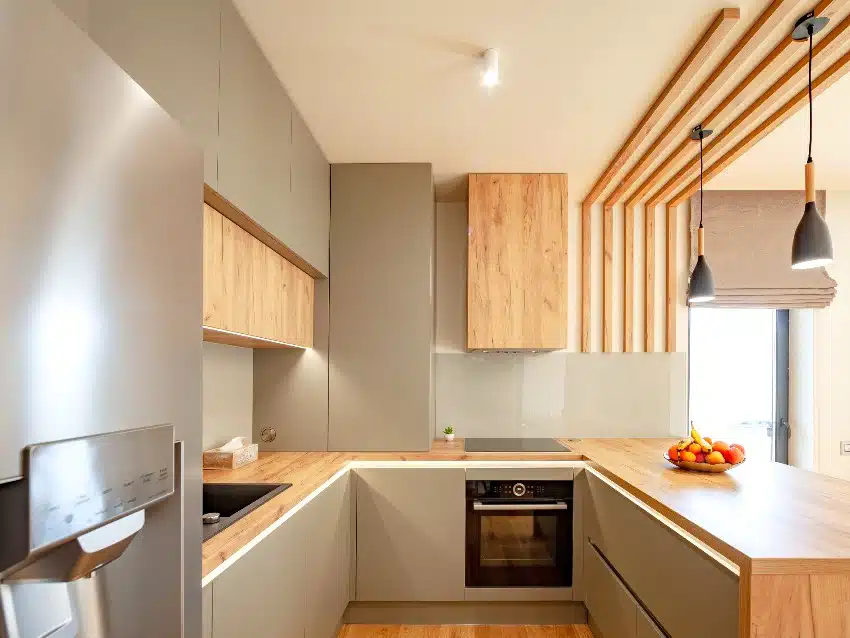 The U-shaped kitchen layout, which features cabinetry along three adjacent walls, is an excellent choice for exceptionally spacious kitchens. Even if there is a lot of storage space available with this type of arrangement, it could make you feel you are being hemmed in if there are upper cabinets on all three walls.
Choose top cabinets for only one or two walls to prevent this problem. Instead, install open shelving, focal tiles, or a hob hood on the remaining walls. The U-shaped layout of the kitchen is conducive to efficient operation and accommodates several people at once.
In a U-shaped kitchen, make sure that the regions around the windows are open and free of clutter. Suppose your kitchen is laid out so that an uninterrupted work triangle is possible.
In that case, you should make the most of the available space by positioning your work locations on the other end of the room from where the rear and front doors are located.
Island Kitchen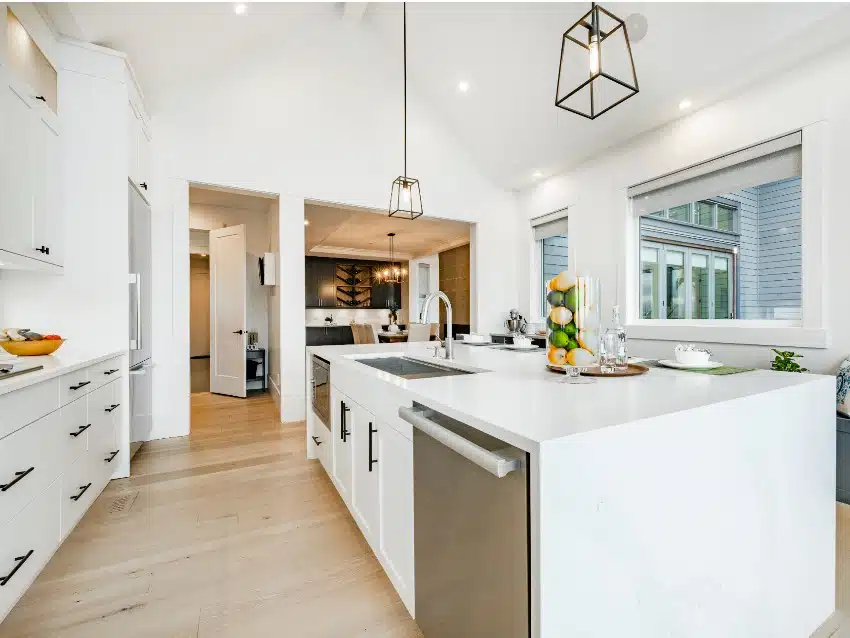 The island kitchen, which provides a vast working table or storage area in the center of the kitchen, is popular in homes with open floor plans. Cooking space, a prep bowl, and a bar or wine fridge are options you can include on the island.
It can also be utilized as a specific preparation area or for meals with the family. Although the kitchen needs to be of a specific size to accommodate an island. Positioning it in such a way as to encourage a natural flow of foot traffic is an excellent method to organize the space.
Make use of the island not only as a place of work but also as a social area. Family and friends here may talk to one another while the meals are being prepared. It is because it is smack right in the center of the kitchen.
It also is an excellent spot for installing noticeable decorative lighting that can serve as task lighting. This dual use makes it an ideal site for multiple functions in the kitchen space.
The Peninsula Kitchen Design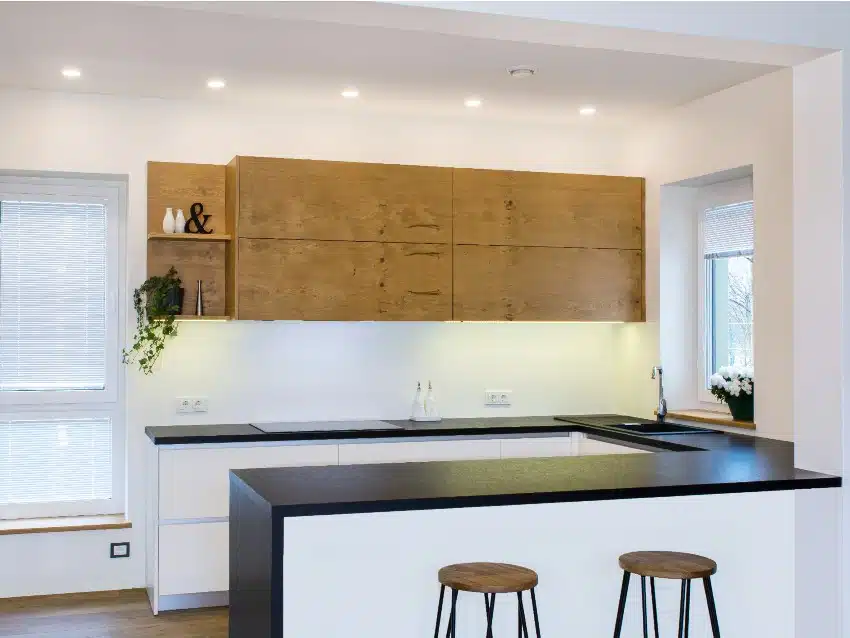 The kitchen peninsula is a variant of the island kitchen with a counter protruding from a wall or cabinetry. It is connected to the island kitchen.
This excellent option provides the benefits of a kitchen island even in locations where space does not permit the installation of an independent island. While the cook prepares the meal, the peninsula can be utilized for other things, such as dining or preparing food, while they wait for the cook.
In the same way as the kitchen with the island, the one with the peninsula provides an excellent opportunity for interaction while food is prepared.
It is an excellent option for a tiny kitchen blocked off from the rest of the house. It allows the removal of a wall to open up the space to an adjacent room without sacrificing any available storage space.
Fitted Kitchen Cabinets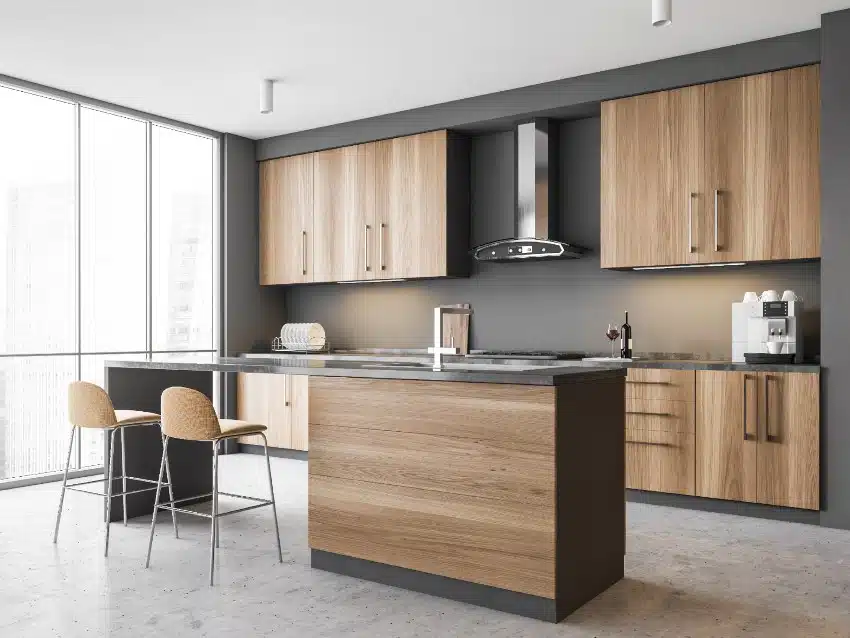 They have a striking appearance: Both the appearance and the texture of cabinets that have been manufactured to order are unmistakable. Compared to standard cabinets, they have a more "finished" appearance. In addition, you can make something that is in line with keeping the particular aesthetic you have in mind all of the time.
Bespoke cabinets look fantastic, but they can also be made to function in a manner tailored particularly to match your requirements. This makes them an excellent choice. You can install a wine rack in your home if you are passionate about the beverage.
It is possible to have a handy spice rack installed within the cabinetry of your kitchen if you are a gourmet cook. You can give your cupboards a deeper depth, a taller height, or a larger width than typical cabinets. That is one of the many advantages of having custom cabinets created.
You will receive exceptional quality: Compared to regular cabinets, your cabinets will be crafted using superior materials. It is expected that the doors and drawers of the cabinets and hardware will be of higher quality and that they will have much longer lifespans.
Fitted Kitchen Appliances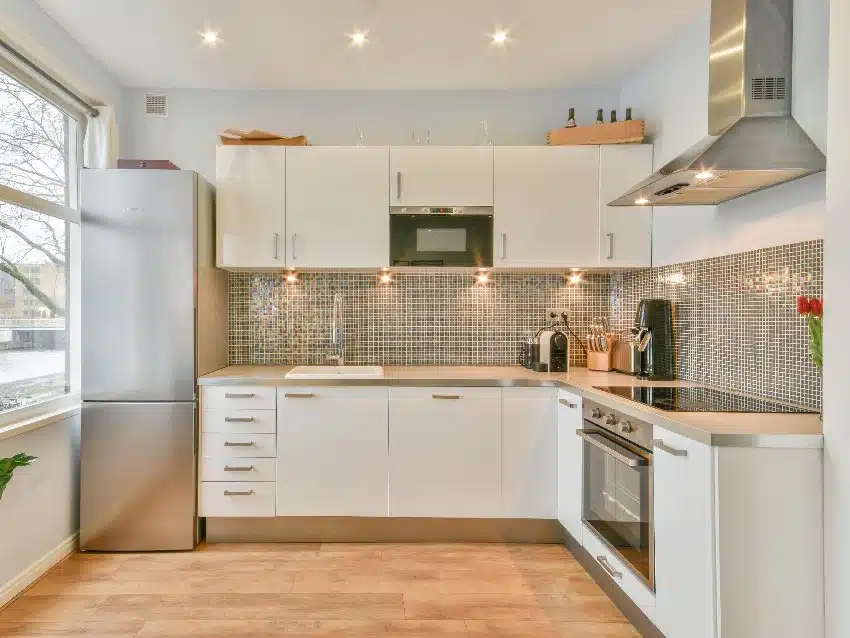 The freestanding appliances common in traditional kitchens are typically removed from a fitted kitchen design, and integrated appliances are installed in their stead.
Built-in appliances, such as ovens, dishwashers, and refrigerators, give a kitchen a clean, contemporary appearance and give it the appearance of being seamless.
There is a wide selection of freestanding versions that are both attractive and functional. Nevertheless, there are a few reasons you should go with built-ins rather than freestanding options.
Appearance
Built-in appliances are a distinctive feature of high-end kitchens because of the seamless integration they provide with the surrounding cabinets and the increased design flexibility they afford.
The end effect is a clean and polished appearance without any unsightly gaps or holes. Also, unlike freestanding units, you won't have to worry about the appliances protruding over the counter since this won't be an issue with built-in units.
Space
Built-in appliances, as opposed to freestanding ones, are pushed up against the wall on all sides, freeing up additional room in front of them. Although it might not seem like a lot of difference, even an inch or two difference in a kitchen can make all the difference in the world. Built-in appliances are an excellent choice for individuals looking for methods to save home space.
Safety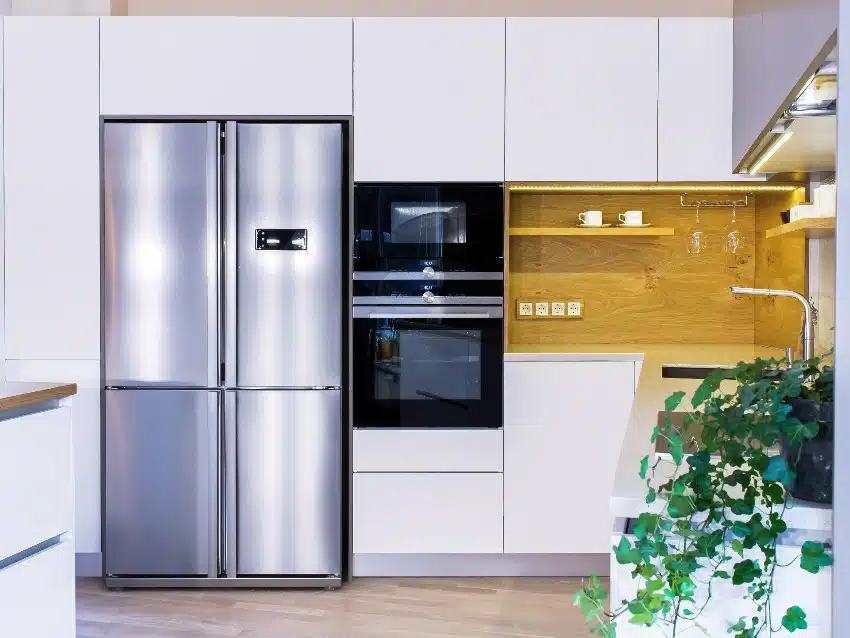 Built-in appliances in the kitchen are a safer option for households with young children, which is one of the main grounds for this consideration. It is possible to put built-in wall ovens at eye level, making them more convenient for adults who are cooking and cleaning and lessening the likelihood that young children will be able to open the door and sustain unintentional burns.
Flexibility
Built-ins have several benefits, one of which is that they enable the user to cook using either electric or gas sources. You could install a gas range top while installing an electric wall oven. This is made more difficult by the use of single cookers.
Regarding return on investment (ROI), purchasing attractive and good-quality appliances is rarely wrong. However, be aware that if and when you choose to sell your property, the buyers will anticipate that any built-in appliances will still be there in the home.
When it comes to raising the value of your house, investing in high-quality built-in appliances is a safer idea than purchasing freestanding models. You can always take them with you when you move with freestanding models.
How Much Does A Fitted Kitchen Cost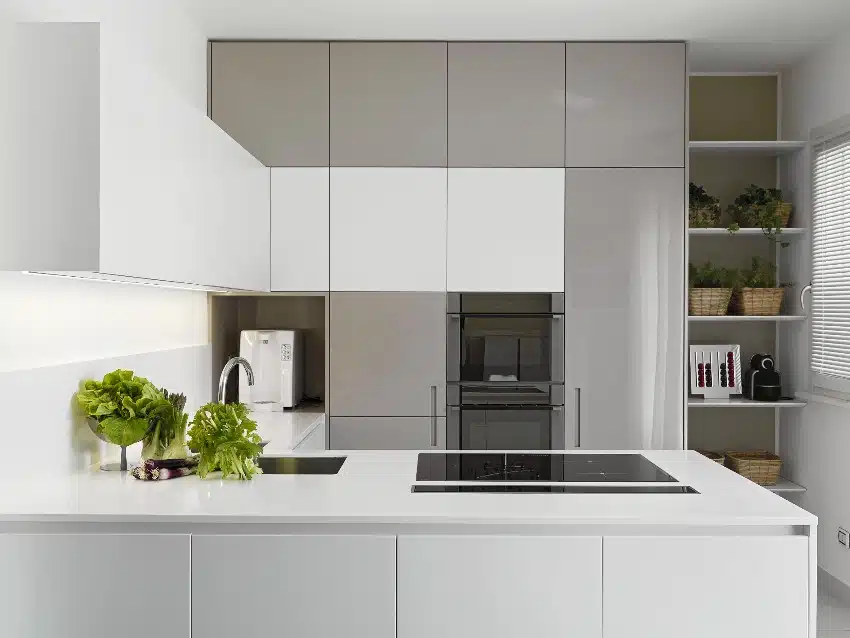 The term "fitted kitchen" can refer to various things depending on the location. For example, the cost of remodeling a kitchen is significantly lower than building a room from scratch without any existing plumbing or electrical.
A kitchen refurbishment can run between $75 and $250 per square foot, while installing a brand-new kitchen can range from $100 to $300 per square foot.
A small fitted kitchen typically runs about 70 to 100 square feet in size. While a large fitted kitchen can be more than 150 square feet. The costs will vary widely depending on the types of finishes, appliances and materials you use in the space.
Average Cost Of Fitted Kitchen With Appliances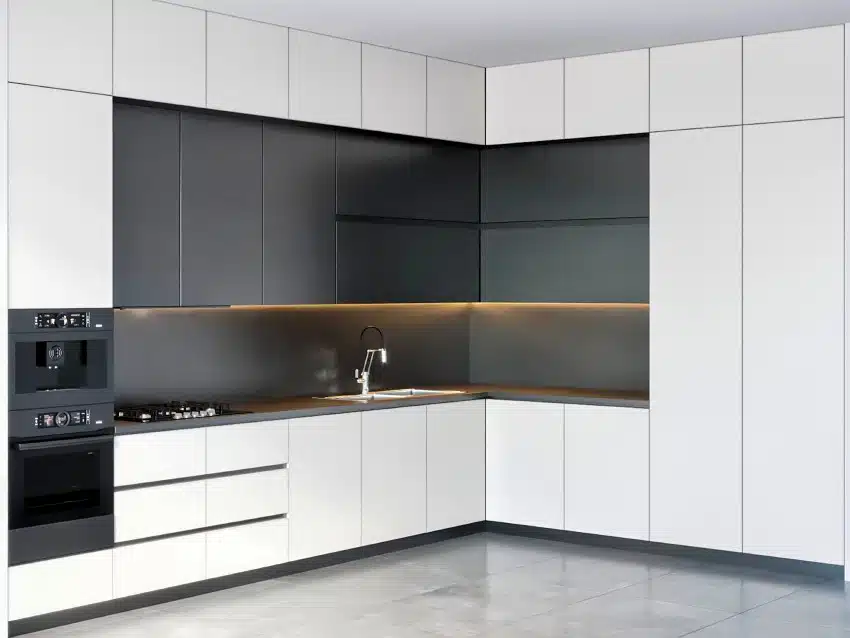 The cost of constructing a newly fitted kitchen can range from $7,000 to $125,000, including all the appliances. The price will vary based on several factors, including the size and location of your project.
Homeowners should expect to pay at least $100,000 or more for complete high-end work on their basement wet bars, with prices starting at approximately $1,000. Alterations to the building's framework and plumbing and electrical work can affect the final price.
What Is The Lifespan Of A Fitted Kitchen?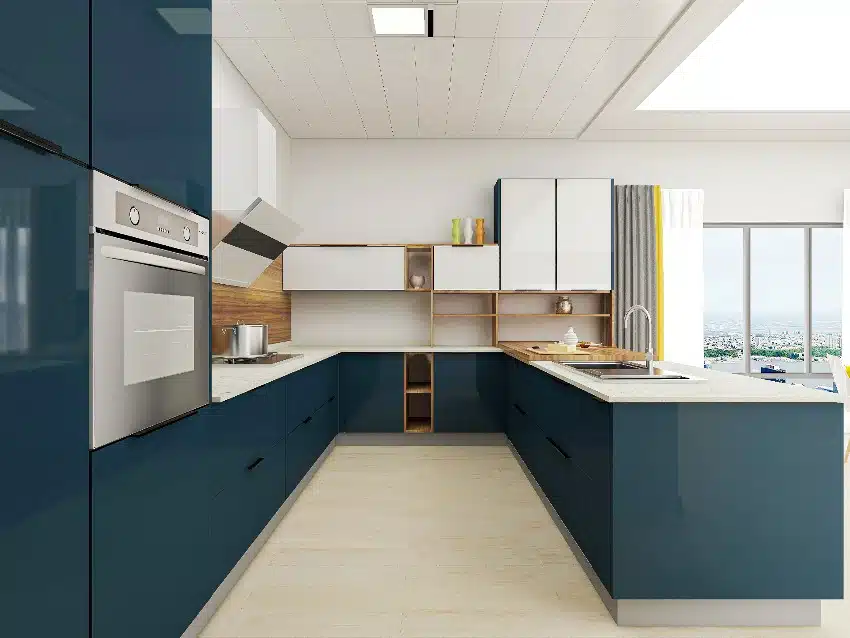 In general, high-quality fitted kitchen units should have a lifespan of up to 50 years; this makes them one of the components in your kitchen with the most extended lifespan.
Because they are so long-lasting, replacing the entire thing is only sometimes necessary. The frequency with which you update your kitchen is frequently a matter of individual preference.
See more related content in our article about modular kitchen design on this page.