See slab backsplash designs with what it is, different types of slab backsplash materials, cost, and how it compares to a tile backsplash.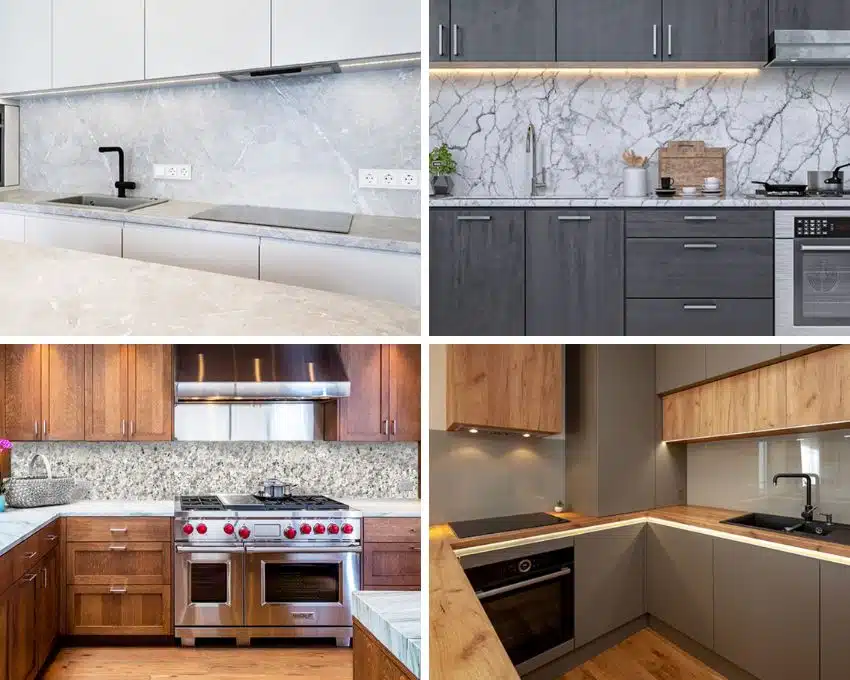 A slab backsplash is a backsplash constructed of a single material with the aesthetic effect of a solid surface that differs from that of tile. When paired with a countertop, it provides a very large, bold design.
Many homeowners want to have a fantastic backsplash design that exudes elegance in any size of the kitchen. Hence, instead of installing traditional backsplash tile, numerous homeowners are going for a new trend – a solid slab backsplash.
Rather than installing a tile-by-tile backsplash, you can extend your granite, concrete, marble, or quartz countertops up the wall to develop a smooth transition. This luxurious trend not only looks great but also provides significant benefits to homeowners.
What Is A Solid Slab Backsplash?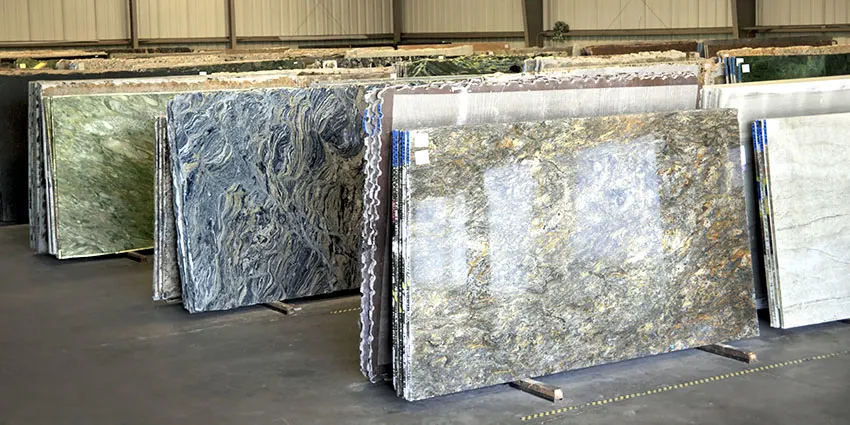 As aforementioned, a solid slab backsplash is constructed from a single, solid material. These backsplashes have several functional advantages over other materials such as tile. The solid surface offers a distinct appearance and feel that other materials simply cannot duplicate.
Moreover, this type of backsplash, as opposed to a standard tile and grout backsplash, is built with an uninterrupted slab of natural stone that effortlessly flows from the worktops up to the wall of your kitchen. This results in an upgraded appearance that is completely unique to your place — regardless of the style or vibe you are aiming for.
Although these backsplashes are most typically found in modern kitchens, they have grown extremely prevalent in kitchens ranging from rustic to contemporary.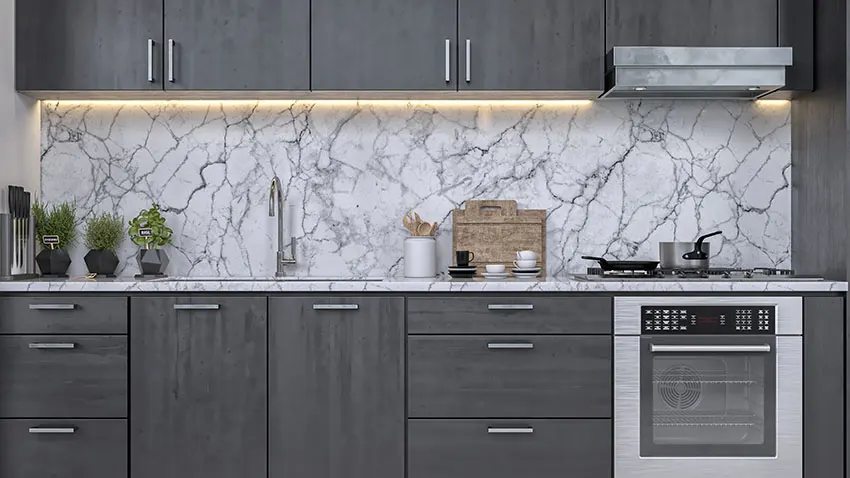 Solid slab backsplash is a premium trend that is quickly spreading due to not only its outstanding appearance but also its practical benefits. They are also not too pricey. Most individuals who encounter them think that they are expensive, but as opposed to the cost of a tile backsplash, they are roughly the same, if not cheaper.
Each stone backsplash usually qualifies as a solid slab backsplash if it is one solid block of material. In fact, you have a variety of materials to choose from when installing these backsplashes. Hopefully, you will find something you will appreciate.
Quartz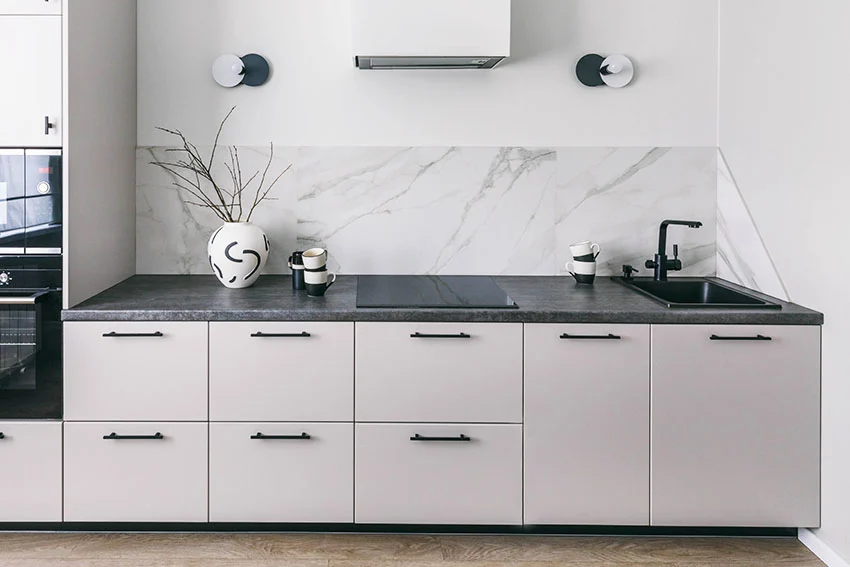 Quartz is a stunning stone that is also highly durable. Although it is commonly used for countertops, it is also a very suitable option as a kitchen backsplash. A slab backsplash, rather than tile, has a huge, uninterrupted solid surface of quartz for a sleek and modern effect.
Furthermore, quartz has a variety of advantages that make it perfect for a kitchen slab backsplash. A quartz solid slab kitchen backsplash is not just simpler to keep clean, but it is also resistant to stains and does not necessitate regular sealing. It is also resistant to scratches and can be cut to fit almost any size or shape, such as surrounding windows and cabinets.
Quartz backsplash is available in a range of colors and styles. Some even contain veining, giving them a marble-like appearance. If you appreciate the appearance of marble but prefer something more lasting, you can consider quartz slab backsplashes.
In addition, quartz makes an excellent backsplash material. It has a lovely finish and is available in a variety of designs. Several designs even feature streaks that resemble other exquisite stones. It is extremely durable, chemical-resistant, and easy to maintain.
Quartz' usual thickness is 1.25 inches, although it can be purchased as thin as 0.75 inches. Thinner variants are commonly used for prefabricated bathroom vanity surfaces, but they also work well as a backsplash for kitchens.
However, you must consider how a thick backsplash will appear from the side as well as how the increased thickness will correspond to the cabinetry, trimmings, windows, and wall panels. This is the reason thinner is often more desirable as it is simpler to integrate into the design.
Because most people use backsplash tiles that are 0.25 inches thick, a 0.75-inch quartz slab backsplash is considered thick. See our quartz slab sizes guide here.
Thicker options are undoubtedly stronger, but because quartz is such an incredibly durable stone, even a thinner type must be sufficient. Additionally, unlike a countertop, nothing sits on or really strikes the backsplash, thus there is nothing to be worried about.
Lastly, a massive quartz slab on the kitchen wall eliminates the need for grout, which is a major source of stains in a kitchen. Quartz has no pores. There are zero microscopic pores that accumulate dirt and water.
As a result, stains do not penetrate below the surface to become permanent, as they do with grouting in some more porous stones. And because quartz does not need sealing, the only long-term maintenance is to keep it clean.
Marble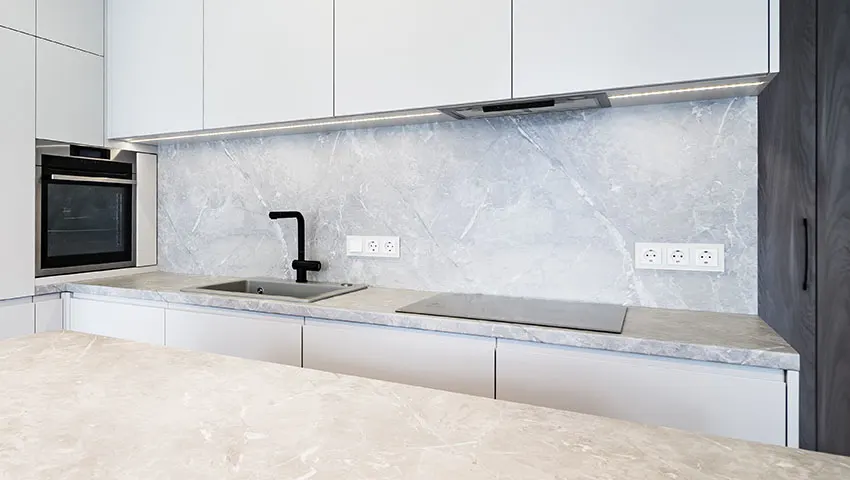 A solid marble slab backsplash is arguably the most stunning option. When combined with marble countertops and the proper cabinets, it creates a rich, refined effect.
Although most people choose subway tile for their kitchen backsplash, which is quite trendy right now, you might want to think about what a solid marble backsplash could accomplish for your kitchen. Indeed, it offers a striking appearance that tile simply cannot duplicate. If you dislike grout lines or tile this trend might be the best option for you.
When planning on designing a kitchen, designers strive to create a timeless style that is both beautiful when finished and durable enough to withstand the physical demands of daily life. Fortunately, a strong marble backsplash can handle the task.
Although marble is a beautiful solid surface, it does need upkeep to provide maximum usage over time. This is especially crucial for marble countertops, but it also applies to backsplashes. Hence, you have to make sure you start with a high-quality sealant.
You also have to ensure that the marble is dry and clean before wiping away the sealer and allowing it to dry. The sealant must be reapplied at least once a year.
Furthermore, these backsplashes are noted for their remarkable characteristic veining details, which can be found in a variety of colors such as white, cream, gray, as well as gold. Marble is among the few genuine stones that are lighter in color, and the white marble slab is highly sought-after because of its remarkable properties.
They backsplashes are normally available in two finishes – honed and polished. Honed marble offers a matte surface, whereas a polished marble slab does have a glossy and smooth finish. See our guide to honed vs polished marble here.
Although not the most durable backsplash material, marble is durable enough to withstand the wear and tear that occurs in kitchens. You can pick thicker marble types if you really want your backsplash to become more durable. Unfortunately, this material is not as robust as granite and quartz.
Granite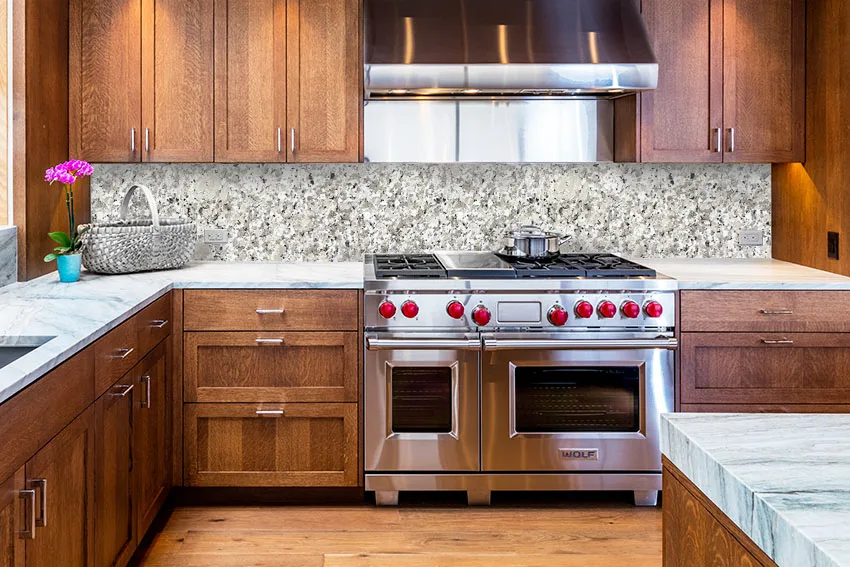 The high-quality appearance and practical advantages of granite countertops can be further enhanced by installing a granite slab backsplash. One of the handiest features of a granite backsplash is that it may be created using the same slab as your granite countertop. Selecting this option can result in a continuous and visually pleasing look.
There are numerous convincing reasons why it is wise to go with solid granite. Granite is among the most beautiful and long-lasting natural stone materials you can use in your kitchen.
Utilizing this material instead of other common backsplash materials like herringbone tiles can help accentuate the natural stone's appearance on your countertop.
Even if the countertop does have a curved border, a granite slab backsplash is usually 1.25 inches thick and features a square edge at the upper end. The backsplash then adheres to the wall with a silicone bonding agent, and any gaps are sealed with caulking.
In addition, because granite is both heat- and stain-resistant, spilled drinks and spewing frying pan grease will wipe up easily, unlike tile backsplashes where filth gets lodged in the grout lines. Granite is indeed a great option for a gorgeous and easy-to-deal-with backsplash.
In general, a kitchen backsplash is a terrific way to create a statement in your kitchen. Installing a granite backsplash would be a wonderful option because of the natural durability and beauty it will provide to your room.
Another benefit of granite is that they are free of grout lines, which makes daily cleaning and maintenance considerably easier. However, as expected, bigger granite slabs mean higher costs. However, considering the elegance and outstanding durability of a granite, it will still be considered a wise buy.
Porcelain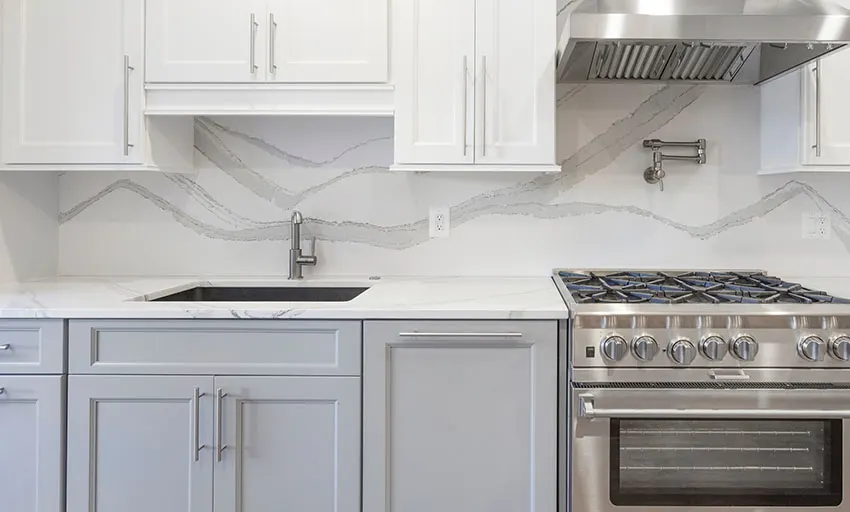 Porcelain slab backsplashes are becoming increasingly prominent due to their capacity to enhance any room by replicating the appearance of actual stone. Hence, if you want your kitchen to look eye-catching, you can consider installing a single solid porcelain slab as your backsplash that effortlessly transitions from your kitchen countertops up to the wall.
This unique backsplash improves any kitchen while integrating beautifully with any design style.You presumably do not want to spend your spare time doing laborious maintenance on your backsplash to ensure that it stays beautiful.
The fact that a porcelain slab backsplash is a fully solid surface is a significant advantage over standard wall tile. This implies that you can easily wipe it off with a basic cleanser and a moist towel without worrying about staining or grout chipping.
Although classic or modern tile backsplashes can still transform a kitchen, it is all about a porcelain slab backsplash that will impress you as well as your visitors. This backsplash is built in such a way that it appears to be a smooth transition from your kitchen counters up to the walls.
Rather than choosing tile backsplash with grout lines that interfere with its beauty, you can go for porcelain for a more refined look. Furthermore, it can draw the interest of your guests without being excessively showy.
It can also be the central focus of a range of kitchen themes such as minimalist, classic, modernist, and more, whether you choose a vivid or varied pattern or a more understated color palette.
Porcelain, indeed, is a low-cost alternative that allows you to create a premium-looking kitchen without a significant cost.
Glass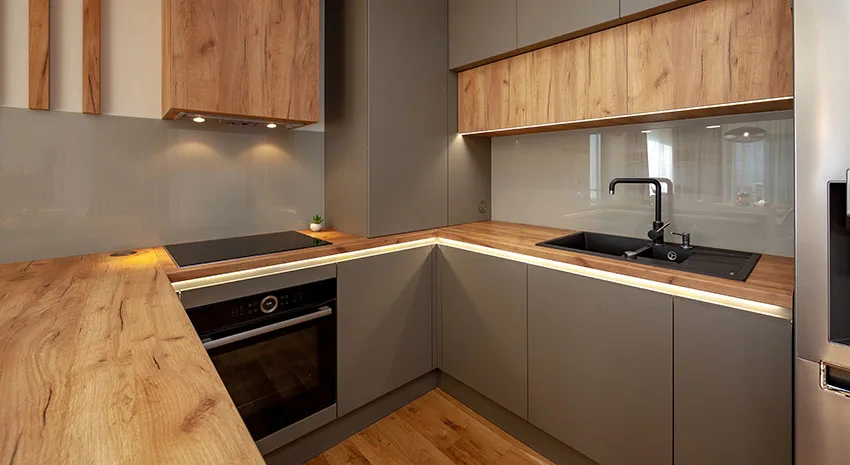 Glass slab backsplash has been popular in the US and European marketplaces for so many years, particularly in modern-style kitchens. It is basically a piece of huge glass that can be painted in any color and then put on your kitchen wall. This method provides a completely adjustable aesthetic while remaining useful due to its ease of maintenance and cleaning.
This material is an attractive substitute for stone and come in a wide range of hues. It is also appropriate for a minimalist kitchen design. Glass is as aesthetically clean as you can get as it does not have any unsightly grout joints. You can run the glass at full height for a seamless transition.
However, hiring a glass professional to set up this type of backsplash in your kitchen is recommended. They possess specialized tools to lift and insert the glass without breaking or scratching it as it comes in. Usually, it is attached to the drywall and then silicone-caulked at the edges where it touches a wall or other material.
Furthermore, this material is simple to clean, making it a fantastic choice for areas where food can quickly splatter up on the backsplash during cooking. Additionally, because light bounces off the glass, it serves as an ideal buy for a kitchen with limited natural light.
Behind Range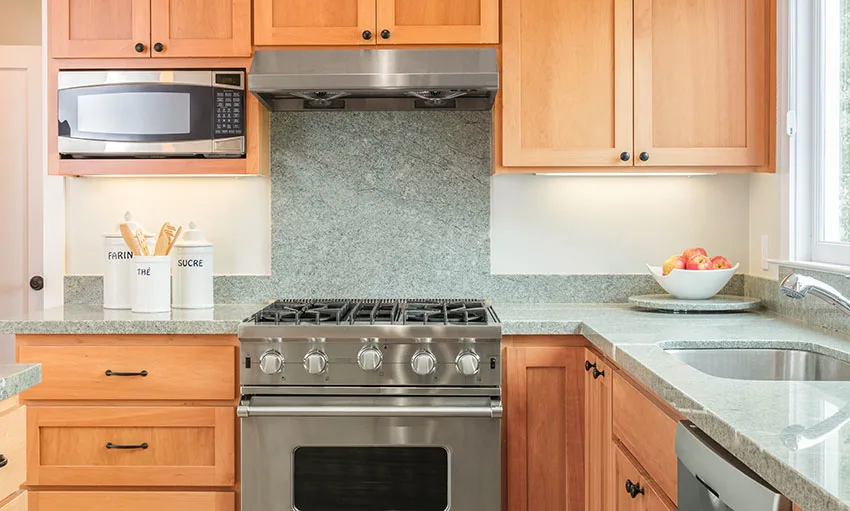 A stunning slab backsplash behind the range provides more than just attraction. It creates a consistent surface backsplash behind your stovetop, which is useful in a variety of ways.
Indeed, a slab backsplash behind the range is far easier to clean than tile. There is zero grout to wipe and no grout lines to bother with. A full-slab surface backsplash behind your range will make the entire space look cleaner and more modern.
A backsplash behind the range is required to prevent splatters and grease from leaving marks, staining, or discoloring the wall. It will also keep moisture out. A backsplash also guarantees that there are zero gaps between the wall as well as the cabinets beneath when a stovetop is set into a countertop, which might allow water to fall downward.
Moreover, there will be a little space between the range as well as the backsplash if you are using a standalone range instead of a cooktop. In this scenario, it might be recommended to place a backsplash slightly further down the wall to protect any exposed wall surface.
Slab Cost
A slab backsplash's cost will vary depending on its size, material, and placement. Quartz and marble typically cost $45 to $90 per square foot.
You should budget roughly $50 to $100 per square foot when acquiring a slab backsplash. However, below are the cost of each material in detail.
Quartz Slab Cost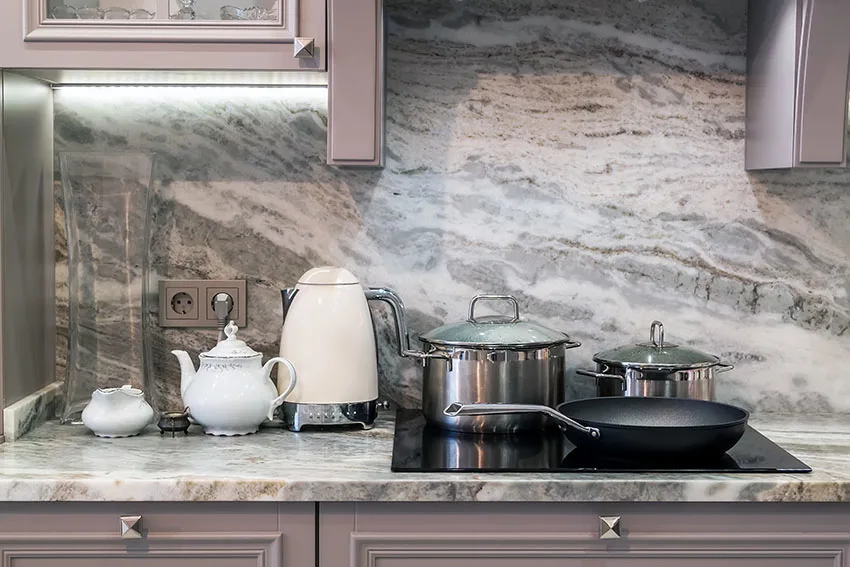 Quartz scosts roughly $70 per square foot, but the usual selling price is around $100. This pricing is common in some countries, and it varies slightly depending on the amount of quartz ordered as well as the grade of quartz. If you purchase the entire slab for your backsplash, you may be able to get a little discount.
When selecting quartz for a backsplash project, the leftover fragments from the slab are referred to as remnants. These remnants are less expensive than the primary slab. If you only need a little amount of backsplash, a remnant can be purchased for as little as $45 per square foot. When choosing quartz for your backsplash, though, you may always negotiate with your stone provider.
Marble Slab Cost
The cost of putting a marble in your kitchen is widely varied. Marble comes in a variety of hues, designs, and finishes from all over the world. Calacatta marble, for instance, is only found in one location in Italy.
This is only a few of the reasons why marble is among the most popular and attractive backsplash materials, with prices ranging from $70 to $200 per square foot.
In addition, your contractor may include a standard rate for labor or charge by the hour, but you will frequently pay by the square foot to cover everything.
The typical cost of materials and labor per square foot is around $20 to $130. Very precious marble, on the other hand, is an exception, with per-foot pricing as high as $200 per square foot and greater labor costs of roughly $30 per square foot.
Here is the average cost of every type of marble you will encounter:
White Marble – around $15 per square foot

Pink Marble – around $30 per square foot
Carrara Marble – around $45 per square foot
Statuario Marble – around $55 per square foot
Cultured Marble – around $70 per square foot
Travertine Marble – around $80 per square foot
Danby Marble – around $85 per square foot
Calacatta Marble – around $200 per square foot
Granite Slab Cost
A granite slab backsplash usually costs around $50 per square foot on average but might cost up to $90 per square foot. Lower-grade granite, however, is only about $35. Granite remnants are often less expensive than full stone slabs, averaging roughly $30 per square foot.
The cost will vary depending on the type of granite used, the difficulty of the installation, and other considerations. Labor costs vary depending on the region, product availability, and living costs, all of which go into the installer's estimate.
Slab vs Tile Backsplash Cost
A slab backsplash will most likely cost more than a traditional tiled backsplash. These slabs, on the other hand, usually offer lower installation costs as they can be set up in just one to two hours and do not necessitate grouting. They backsplashes also have lower maintenance expenses.
Although solid slab is pricier than tile, the ultimate result is considerably more premium. This aesthetic also has a traditional refinement to it that will certainly stay in style for a long time, making sure that you get the most out of your purchase. Furthermore, the material is significantly more challenging to install, indicating that this is not the time for a do-it-yourself project.
Slab vs Tile Backsplash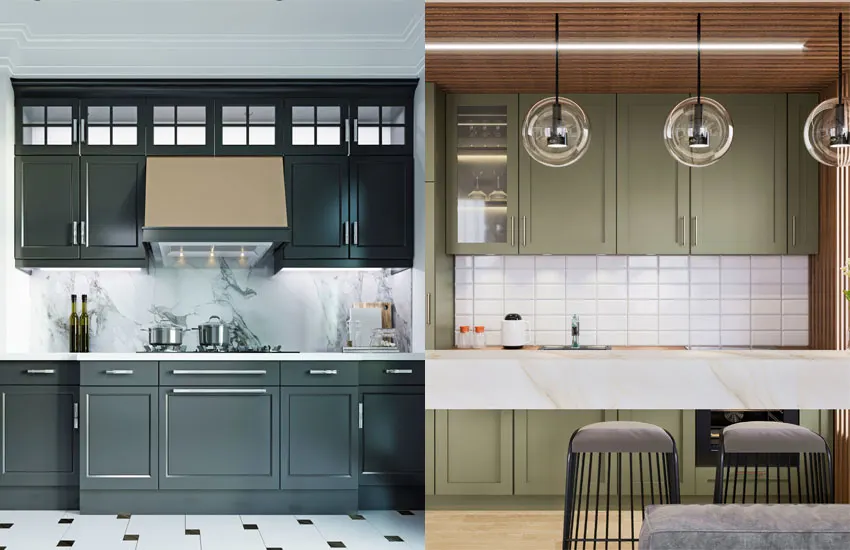 When it comes to style, shape, and color, a tile backsplash is a very versatile alternative. You can use identical color tiles, alternating colors, or even produce a beautiful pattern with artistic tiles. If you have any expertise laying tiles, tile is quite straightforward to install yourself and less expensive than solid slab backsplashes.
Tile countertops can be trimmed with wood or metal, allowing the use of only flat tiles throughout. – Kitchen and Bath Idea Book, Joanne Kellar Bouknight, Andrew Wormer
The tile itself is excellent and easy to clean if you choose a tile backsplash, but then again, the grout lines between each tile can be a hassle. Grease and grime can develop in these gaps, making thorough cleaning more complex when wiping off the surface.
Nevertheless, tiles offer advantages in terms of maintenance because you can easily change a damaged tile instead of changing the whole backsplash.
As previously stated, a solid slab backsplash is formed of one solid piece of material, generally glass, a genuine stone like granite or marble, or a manufactured stone like quartz. It is significantly easier to maintain than tile because it is one uninterrupted piece, and the materials utilized are easier to maintain and keep clean.
Numerous individuals appreciate the sleeker, consistent aesthetic of a solid backsplash regarding style, but it is less flexible when it comes to mixing and matching colors, patterns, and designs. They are more minimalistic, using a single color or stone shade just to produce a simplistic yet striking style.
However, these backsplashes might be more difficult to set up and necessitate expert cutting to the correct size, which contributes to their higher cost, as does the fact that somewhat more materials are required because of the absence of grout lines.
There is no doubt that a natural solid stone backsplash such as a marble yields a luxury look and elegance to the design. For those looking to impress a quartz, granite or marble bookmatched backsplash looks seamless, stunning and can really impress.
Visit our outdoor kitchen backsplash ideas for more related content.