This gallery of outdoor kitchen backsplash ideas shares the different types, popular materials, designs, benefits, and the best backsplash for an outdoor kitchen.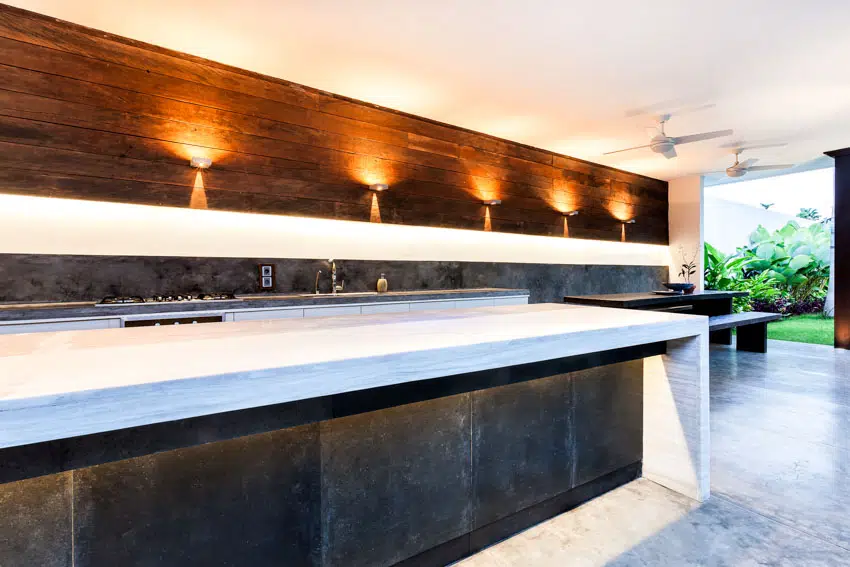 An outdoor kitchen is a valuable addition to your living space that gives you the opportunity to enjoy the outdoors, where you may even cut down energy bills during the hot months. Put in an outdoor dining area to go together with your patio kitchen, and you've got the perfect excuse for enjoying alfresco dining events with family, friends, and guests.
The outdoor kitchen will need a stunning and functional backsplash like your regular kitchen. However, unlike your indoor kitchen, outdoor kitchen backsplash requires materials that can withstand the outdoor elements.
Tile, stainless steel, brick, veneer, and wood are popular material options that you can explore and stamp to your own design preference. Get inspired with these outdoor kitchen backsplash ideas for your next outdoor kitchen project.
Stone Backsplash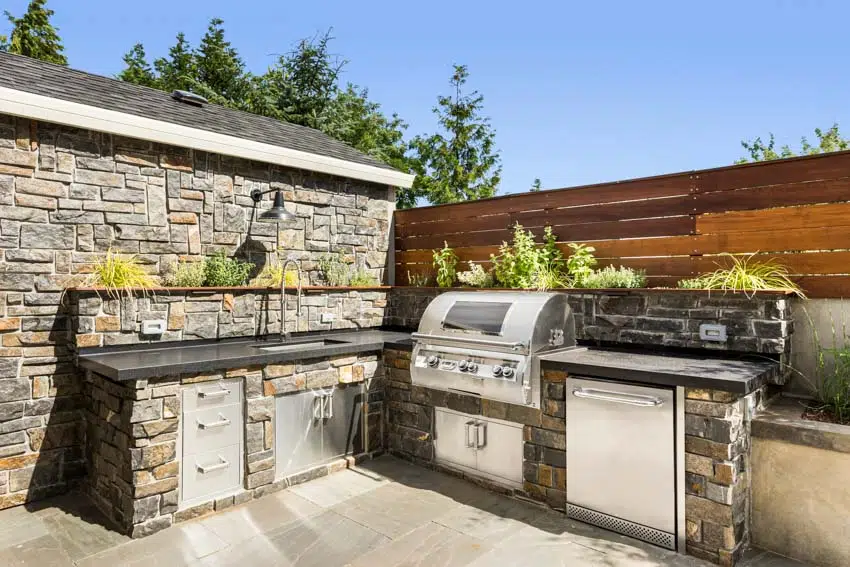 Natural stones like granite and quartz are considered among the most durable and aesthetically cohesive outdoor kitchen backsplash ideas.
It is weather and heat-resistant, and when its porous surface is sealed, upkeep becomes as easy as maintaining your porcelain or glass tiles.
• Granite and Quartz – Solid Slab Backsplash: A full-height solid stone backsplash will benefit outdoor kitchens when the cooking area is attached to your home, providing protection and a stunning textural backdrop.
A solid stone backsplash can also be installed with the standard 4-inch backsplash or customized heights to accommodate stand-alone outdoor kitchens.
For a sleek and cohesive look, certain types of kitchen countertops and backsplash are installed with the same solid stone material. The lack of grout lines makes it easy to maintain and prevent water seepage between the stone cladding and material substrate.
• Ashlar and Slate – Irregular Course: Cut stones provide design options where interlocking stones can have regular, irregular, polygonal, or broken patterns.
Rectangular stone cuts in different sizes fit together on your backsplash, where the irregular course pattern brings a unique visual interest.
• Riverstone – Resin and Stone Combination: Riverstones suspended in transparent resin offer one of the most stunning outdoor kitchen backsplash ideas by rendering a translucent effect.
This pebble backsplash design usually comes in tiles, but customized sizes for a continuous slab effect can also be installed.
• Slate – Glass Inserts in Regular Course: One of the best features of slate is that it is non-porous, which means water and grime cannot seep through the material, giving it longer service life. A slate backsplash showcases a slight shifting of colors.
The varying subtle colors look stunning when laid out as a backdrop with colors such as blue, green, black, pewter, brown, and gray. Add a tinge of contrast against the textural material, and add glass inserts such as mosaic glass tiles in blue or red.
In addition to its nonporous and aesthetic quality, slate is more affordable than popular stone backsplash materials and readily available from most local suppliers.
• Soapstone – Large Panels: Soapstone can outperform most expensive natural stones, such as marble, due to its nonporous and smooth surface. The natural material is also resistant to acid and alkaline damage and can withstand extreme temperatures such as heat and freezing, making it an excellent outdoor kitchen backsplash.
With its features, soapstone backsplash is a sensible alternative to porcelain when you want a textured backsplash near your pool area. Natural soapstone coloring ranges from bluish-gray, black, gray, and green tones and usually will have dramatic veining similar to your granite and marble.
• Travertine – Tumbled Tile Diamond Layout: The tumbled travertine tile is a perfect choice if you're looking for an outdoor kitchen backsplash for a traditional theme. Layout a 4 x 4 tumbled travertine in a diamond pattern with 5/8 x 5/8 travertine mosaics to create the stunning backdrop.
Travertine stone colors range from neutral and warm colors such as cream, brown, orange, gold, tan, and yellow. You'll also find several cool tones in ivory and blue. An ivory tone is a popular option that gives your outdoor backsplash a sleek and elegant look.
The pitted surface of the natural stone does gather dirt over time and is a porous surface. A natural stone sealer applied to the surface of your travertine backsplash will protect it from absorbing liquid and stains. Other than tumbled surfaces, travertine tiles can come in polished and honed finishes.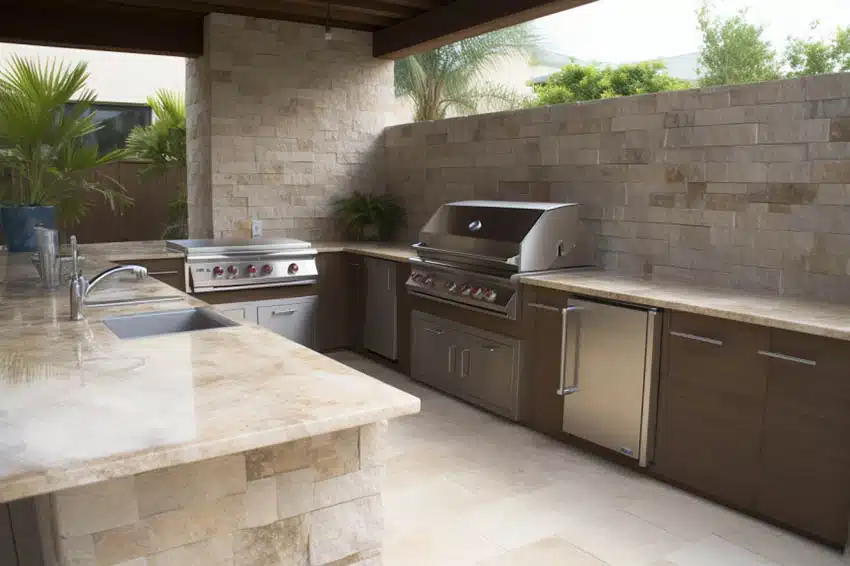 • Limestone Wall Panels – Limestone is another similar option to travertine that is more durable and less porous. This natural stone makes an excellent backsplash and resists fading from the sun, and holds up well to intense heat and cold making it ideal for the outdoors.
The colors of limestone typically range from beige to gray with subtle veining in some variations. You can purchase different finishes depending on your wants including honed, polished or tumbled.
A honed finish will have a matte surface for a casual look. Polished offers a reflective sheen for a more formal look. While a tumbled finish offers a more rustic feel with round edges and a more natural looking surface.
• Sandstone panels – Another option similar to limestone with many of the same characteristics is sandstone. Sandstone tends to be less porous than limestone with a rougher texture. Sandstone is often chosen for more rustic outdoor applications such as a Mediterranean style design.
Tile Backsplash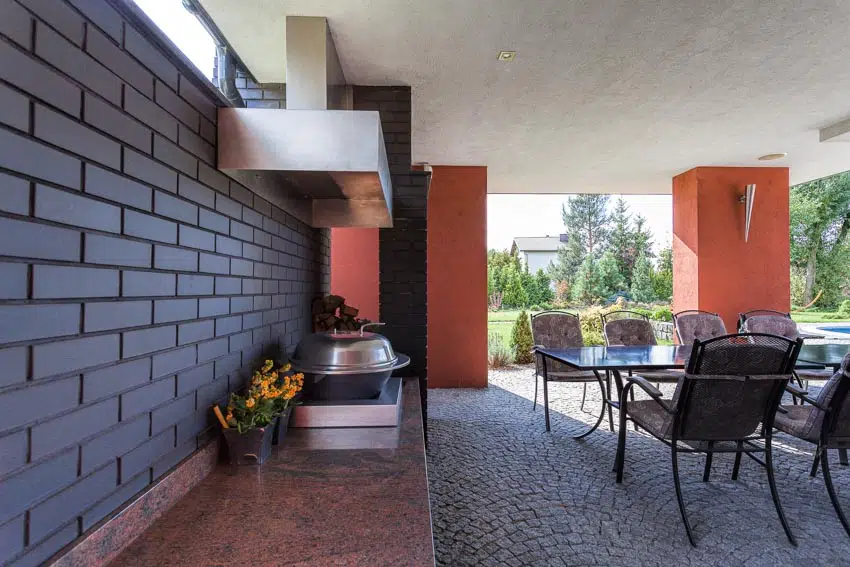 When it comes to an outdoor kitchen backsplash, tiling materials are the most practical due to their easy installation and versatility. Outdoor cooking can get messy and most non-porous tiles are easy to clean with soap and water.

A damaged section can be easily replaced without the need to remove the whole backsplash. It is advised, though, to keep several extra tiles with the same batch of tiles purchased, as most manufacturers stop producing a particular design after a few years.
Tiles come in different materials, sizes, and shapes, giving you a wide range of options for your outdoor kitchen backsplash. The most popular tile backsplash is made from porcelain, ceramic, and glass, with common cuts in squares, rectangles, hexagons, and the newest trend penny tile backsplash.
Wavy glass backsplash tiles and contemporary options such as subway and chevron layouts are also great for an outdoor kitchen backsplash. Concrete tiles that simulate the look and texture of the natural stone are an affordable option that can be customized to accommodate your design choice.
• Porcelain – Patterned Tiles: A swim-up bar and kitchen are a valued addition to your pool area, and a patterned porcelain tile can add personality and dimension to your outdoor kitchen.
You can use a mosaic tile backsplash to tie in a color scheme or add a new look to a renovation. Patterned blue and white or monochromatic colors are classic options, but there are tile suppliers that do customized designs to match your existing pool theme.
Aside from its nonporous surface, porcelain is a great option for hot locations as porcelain is a good heat conductor absorbing heat and keeping a space cooler. There are two general types of porcelain tiles, glazed and through-bodied porcelain.
The through-bodied porcelain has a color and texture that goes through the entire section of tile that's very strong and durable. Glazed tiles, meantime, have a hard-colored finish that offers a wide range of designs.
• Glass – Penny Tile Backsplash: A daring outdoor kitchen backsplash, the penny tile backsplash made of glass is a striking statement piece that's modern and works well with neutral and white-washed kitchens.
This can add an amount of sheen for the outdoors, so be sure to be mindful of the glare it might cause for unroofed outdoor kitchens. Another variation of the glass penny tile is the fish scale mosaics or scalloped backsplash.
• Concrete Tiles – Stackbond Layout: Suitable for an industrial look, concrete tiles are the perfect option. It is affordable and versatile, as concrete can be formed in any design preference. The simple stackbond layout conveys a modern and minimalistic look and is usually left with natural grayish color.
You'll need to add waterproofing and a structurally sound substrate to keep water from seeping through the artificial stone. However, you can still paint the concrete tile as well with masonry paint for external application.
• Ceramic Tiles- Arabesque Tiles: Ceramic tiles come in a variety of shapes. One of the unique ceramic tiles is the arabesque tile, which features an exotic and traditional look. The unique shape is a great way to break angled and straight lines in your outdoor backsplash.
Choose either varying colors or a simple gray or ivory color. Since it is less dense than porcelain tiles with a level of porosity, ceramic tile backsplash should be sealed. There are glazed ceramic tiles available that are nonporous as well.
• Ceramic Tiles – Black Picket Tiles: The black picket tiles are stylish and modern ways to introduce patterned tiles in your outdoor kitchen remodel or new build.
The modern look is an update to your hexagonal tiles but has a more sleek and clean appearance. Layout the tiles in a vertical pattern to create a contrasting geometry against your slab countertop.
Stainless Steel Backsplash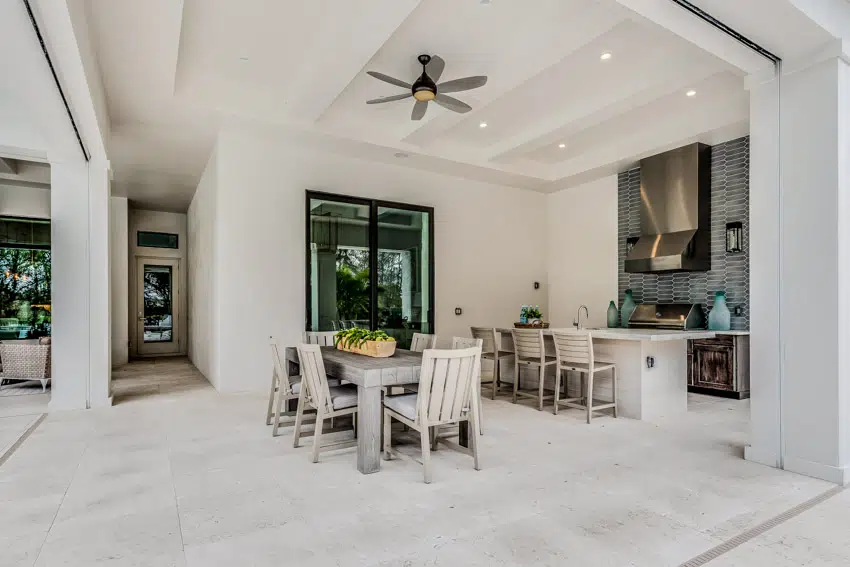 Hygienic and modern-looking, stainless-steel backsplash is an ideal material for your outdoor kitchen. Since the metal material won't corrode and is a nonporous surface, it's easy to maintain with no need for re-polishing.
The stainless steel can easily match up with other metal appliances. Though your stainless-steel outdoor backsplash need not be as industrial looking as a restaurant kitchen, there are textured versions of the stainless-steel backsplash that comes in panels. These metal kitchen backsplash panels come in a wide range of designs to choose from.
• Subway Tile: The subway tiles are a classic tile layout for the kitchen backsplash, and the urban look can be easily incorporated into your outdoor space.
These stainless-steel subway tiles usually come in panels for an easy installation with rectangular tiles laid out with common 3 x 6 inches sizes. Subway tiles are laid 50% offset horizontally.
• Engraved Patterns: With The use of computer-aided engraving and polishing techniques, a stainless-steel sheet can be engraved with customized designs. This can be a unique feature of your outdoor kitchen backsplash, either as a pattern or a design intended as a focal point.
Another two options to stainless steel is copper or aluminum. While copper is low maintenance it will develop a unique patina outdoors that gives a rustic style.
Aluminum on the other hand is also low maintenance and comes at a much lower cost. It is also excellent for weather resistance and larger gauge aluminum with textured edges or patterns can help hide nicks and scratches from showing on the smooth surface.

Brick Backsplash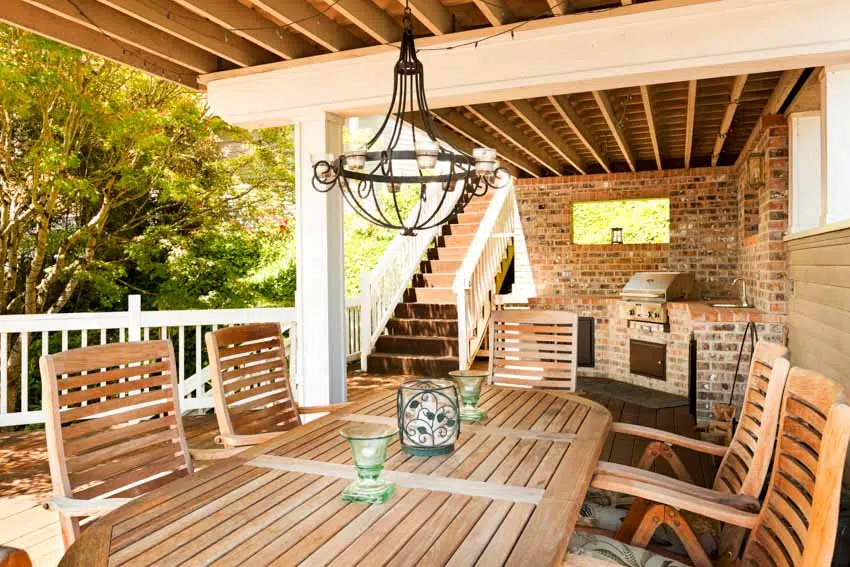 The aged-old brick remains one of the most popular outdoor kitchen backsplash ideas. A brick backsplash is arguably the safest material for a kitchen as it is noncombustible and projects that cozy and familiar vibe of a home.
The timeless material is widely used for rustic and southern-inspired themes but can also be mixed with contemporary elements.
A brick backsplash is very suitable for an outdoor kitchen with its ability to withstand extreme climates and keeps in heat during the cold months while keeping away unwanted heat during the hot season.
Applying a sealant on a brick backsplash is recommended to protect the surface from moisture and air. This also protects the brick surface from oil, food, and beverage stains. The brick sealant comes in clear polyurethane with a satin or matte finish.
Many faux bricks are available, which come as panels or tiles with an adhesive backing that can be easily applied to the backing of a backsplash. It is cheaper than true brick but less durable and is not as weather-resistant.
• White-washed Brick – Farmhouse Style: A white-washed brick is when a brick installation uses a solution of paint and water on the surface to create a white-wash effect. The result is an updated look for your brick backsplash.
This look is great for a modern farmhouse theme and other rustic-inspired outdoor kitchens. The limewash method is another way to create the white-wash effect, which uses lime, minerals, and water solutions where the solution will seep through the entire brick.
• Earth-toned Bricks – Faux Fireplace (Niche): Create a focal point in your outdoor backsplash by creating a false fireplace at the center of your backsplash or just above your cooking area.
The firebox is created with a niched or recessed wall with earth-toned bricks as cladding that can be laid out in a herringbone or diagonal pattern, then frame the niche with bricks.
Veneer Backsplash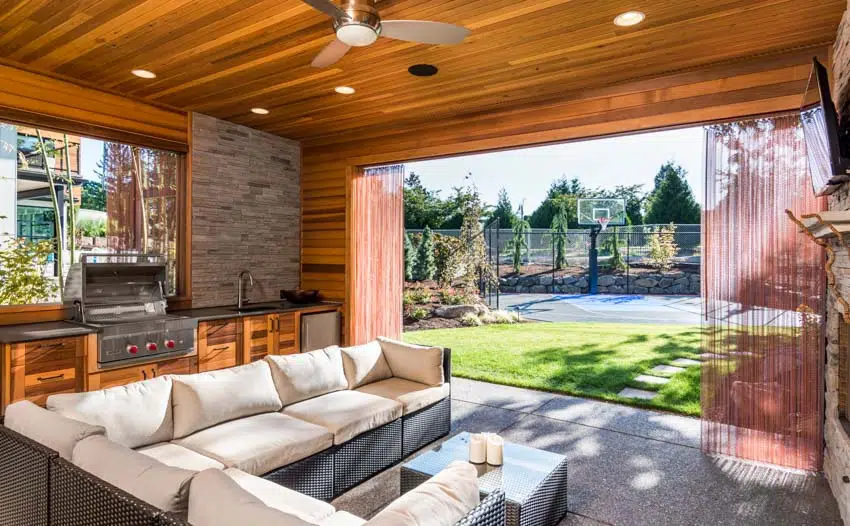 Either inspired by natural wood or stone texture, veneer is among the most practical outdoor kitchen backsplash ideas. Veneer cladding is fast and easy to install compared to true wood or stone and way more affordable.
For wood veneer cladding you can find wood species such as Ipe, Douglas Fir and (SYP) or Southern Yellow Pine that do well in outdoor conditions.
Veneer decorative stones are popular as you can get any type of stone, even the rarest and the most expensive ones, as an outdoor kitchen backsplash. A stone veneer is commonly made from a concrete mix that is molded with pigments to mimic the look of real stone.
There are a lot of manufacturers who use intricate molds to capture the real texture of stone. There are veneers that do mimic the look of natural wood as well.
• Stone Veneer – Full Coverage: Veneer cladding is versatile and easily cut and fit due to its thinner profile which makes it possible to fit the entire outdoor kitchen's façade.
The result is a rustic look with the entire kitchen backsplash, side walls, and base except for the countertop covered in stone. The effect is having more volume and makes a striking element in your outdoor kitchen.
Wood Backsplash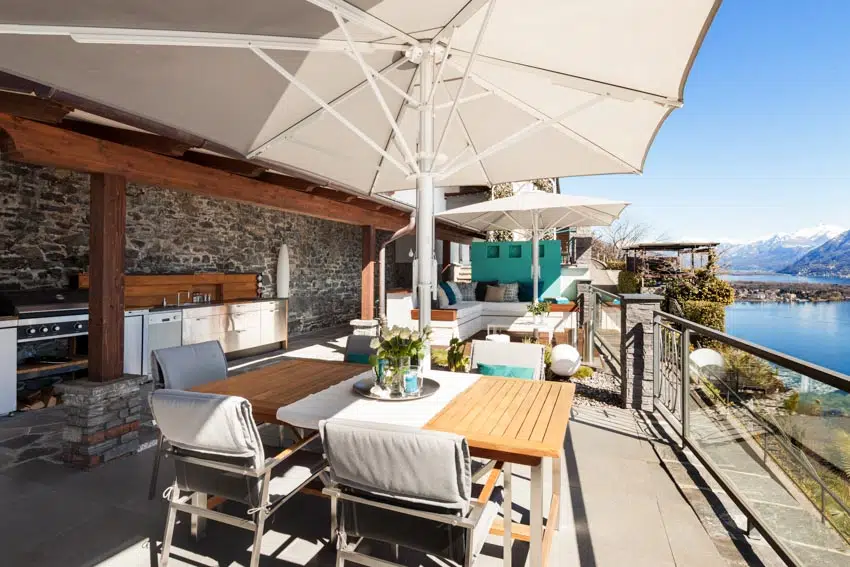 The aesthetic quality of wood is undeniable as its natural texture is visually pleasing, and said that seeing natural textures such as wood can lower stress levels. This is among the outdoor kitchen backsplash ideas worth investing in.
As wood is not as durable as stone and other common types of kitchen backsplash materials, proper sealing using a glossy paint or polyurethane will extend the material's lifespan.
Wood is one of the easiest materials to work with, and with its workability, the wood backsplash is a potential DIY project for any homeowner.
Remember: when installing wood backsplash behind a stove, make sure to have a clearance between your backsplash and your gas burner of 18 inches.
• Wood Planks – Vertical Orientation: When looking for a modern twist to your wood backsplash, position your wood planks vertically when installing your outdoor kitchen.
Paneled wood planks are suitable for making a break from the horizontal lines, especially if you have a small outdoor kitchen backsplash. Read more about outdoor kitchen sizes here.

• Burnt Wood – Charcoaled Effect: The traditional charring of the wood surface is a unique architectural technique inspired by Shou Sugi Ban or the Yakisugi technique.
The process starts with the Japanese Cedar being burnt or charred on the surface and then cooling it. The extra debris is removed from the surface and then finishing it with a type of oil.
• Reclaimed Wood – Shiplap Layout: Similar to the effect of rectangular tiles laid out in horizontal patterns with varying sizes, the shiplap layout using reclaimed wood with varying textures creates a unique backdrop for your outdoor kitchen.
• Wood Look Tiles – A more durable option to using natural wood is to go with a wood tile backsplash that mimics the style of real wood. These are made from ceramic or porcelain tiles and can hold up to adverse weather conditions.
Adding a wood backsplash is a great way to introduce texture and dimensionality to the outdoor kitchen design. The surface does not need to be leveled, as slightly protruding panels can be laid out to create a 3D effect. Since wood is not waterproof, there's a need to seal off the surface.
Applying tung oil is the most inexpensive and can be hand-rubbed to finish. Other protective coatings are polyurethane, lacquer, or varnish. An extra layer of stain sealant can also be applied on top of your coatings.
Outdoor Kitchen Backsplash Benefits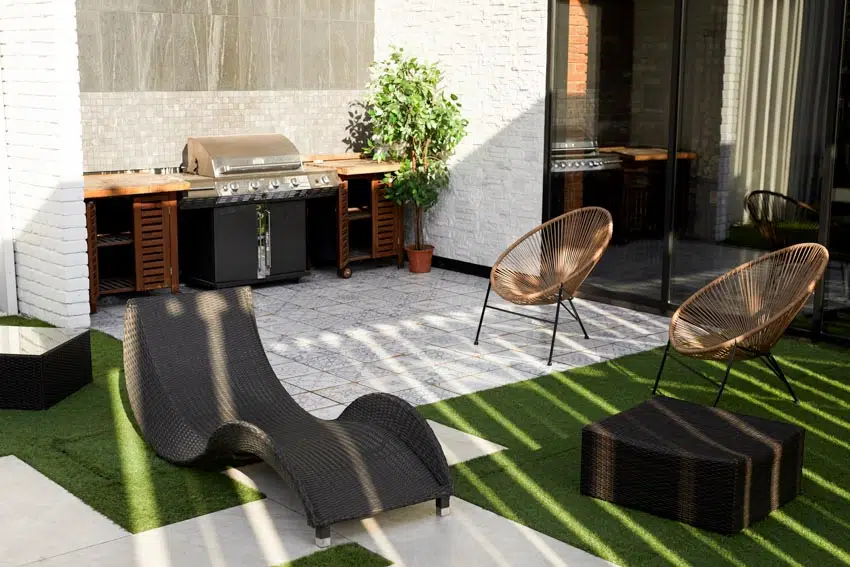 A backsplash is a very important element in your outdoor kitchen, primarily as a safety measure, especially when installed behind a cooking area.
• Keeps grease, food, and other items from throwing over your patio or when your outdoor kitchen is near or shares a common wall with your main building.
• Prevents water or moisture from seeping through the walls.
• Acts as an added privacy barrier and keeps away animals and insects from getting into the food.
• A stunning outdoor kitchen backsplash will increase your property value and can be an attractive feature when selling to potential buyers.
• Aesthetically pleasing as it gives the needed backdrop and defines the outdoor kitchen space.
Best Backsplash For Outdoor Kitchen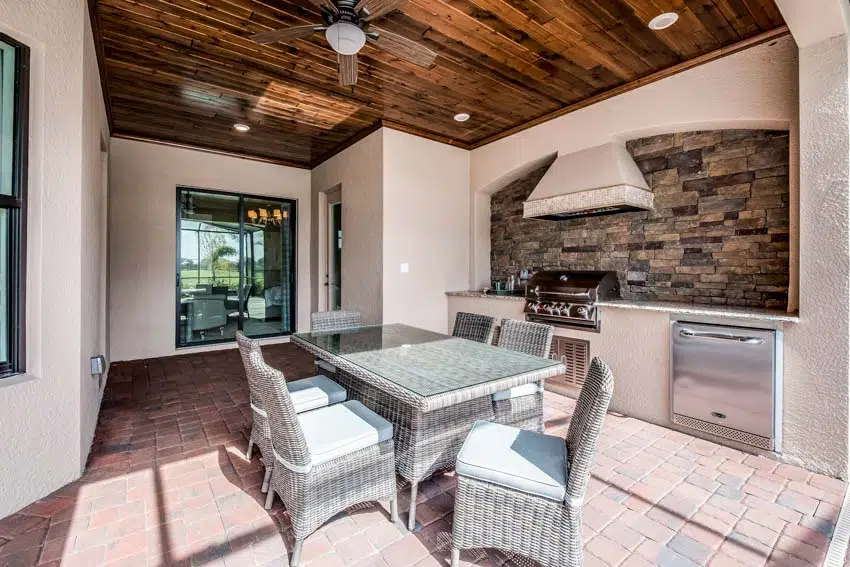 While there is no single backsplash material that satisfies all the desirable features for an outdoor kitchen backsplash, granite and quartz are highly recommended for outdoor use if you have the budget.
Natural stones are the most durable stone that can withstand temperature changes and serve as sturdy materials. The downside is that it is heavy and will require professional installation. Natural stone materials are also recommended for outdoor kitchen countertops due to their beauty and durability.

If you're looking for outdoor kitchen ideas that can withstand constant exposure to water, a porcelain backsplash is the most practical as it is a nonporous surface.
Porcelain tile is great when you need colorful and patterned tiles, as numerous designs are available in different sizes, colors, and shapes. Though generally, porcelain tiles have a glossy finish and do not have a textured surface.
Soapstone is an excellent alternative to porcelain if you want texture and subtle color variation on your outdoor kitchen backsplash. Soapstone is nonporous and can withstand extreme temperatures.
Concrete in slab or tiles is another recommended backsplash material, as it offers flexibility and affordability. Concrete can be shaped to any design where it can accommodate more unusual shapes, such as a curved countertop.
What do you think about these backyard kitchen ideas? Let us know if we missed any materials for kitchen backsplashes in the comments. See more related content in our article about stone outdoor kitchen on this page.