These Carrara marble bathroom designs showcase the different uses for a bathroom & shower, pros and cons, accessories, and best paint colors to go with Carrara marble.

You might assume that using Carrara marble for every feature in a bathroom would be too much. However, even if your interior designer employs Carrara marble flooring, walls, backsplashes, bathroom vanity tops, and a Carrara marble bathtub surround, your bathroom will still maintain a modest yet eye-pleasing appearance.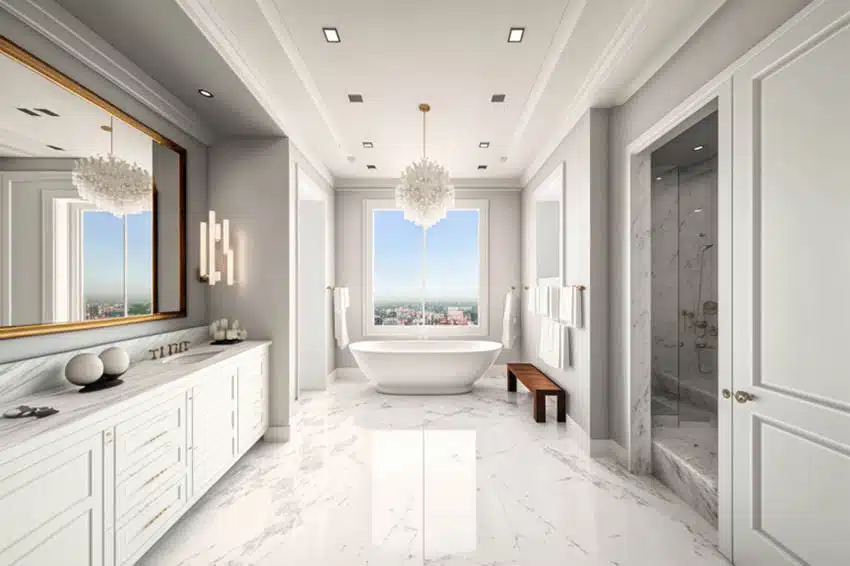 Carrara marble bathrooms are going through a comeback; considering their prominence dating to ancient Italy, you could say that they have never gone out of fashion.
When it pertains to bathroom remodeling and new bathroom construction trends, clean and comfortable interiors continue to take the limelight, and Carrara marble continues to be a must-have for creating a sense of elegance.
It makes sense to want to cover every surface in your bathroom with Carrara marble tiles, including the walls, vanity, corner, and floors. They are, admittedly, naturally gorgeous and enable you to establish a relaxing experience at home.
In this article, we will go over everything you need to know about Carrara marble to help you decide if it is the right option for your bathroom.

Carrara Tile Bathroom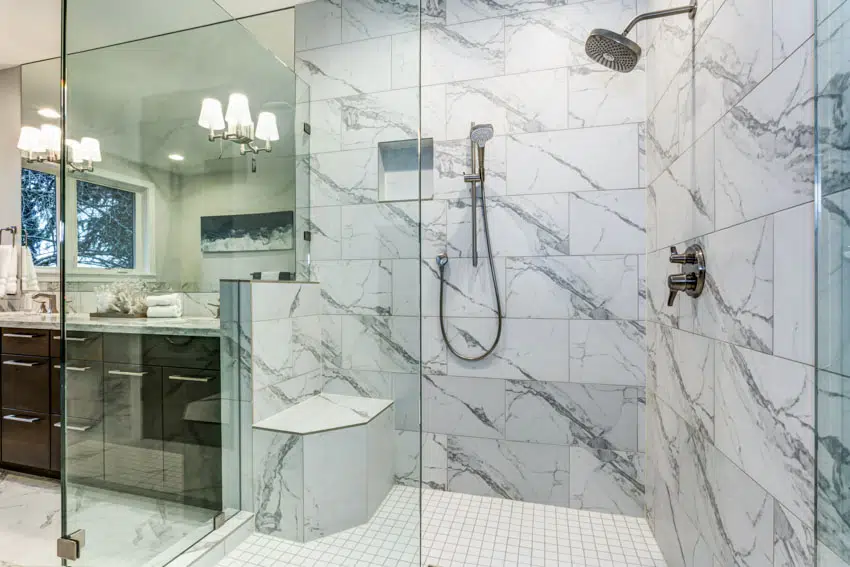 The most prevalent form of light-colored marble is Carrara marble. It is also one of the most cost-effective Carrara marble bathroom designs. It comes in many shades of white and gray.
This marble has a pale gray background with a straight, narrow, and delicate veining pattern. Carrara marble is easily identified by its remarkable color contrast and subtle veining.
When it pertains to interior design, bathrooms must not be overlooked. Carrara marble tiles can succeed in making any private space appear more inviting, whether it is the powder room, shower room, master bathroom, or three-quarter bathroom.
You may create a luxurious bathroom with Carrara marble that has the very same aesthetic and feel of five-star hotel bathrooms, whether its surface is polished or honed.
White Carrara Type Marble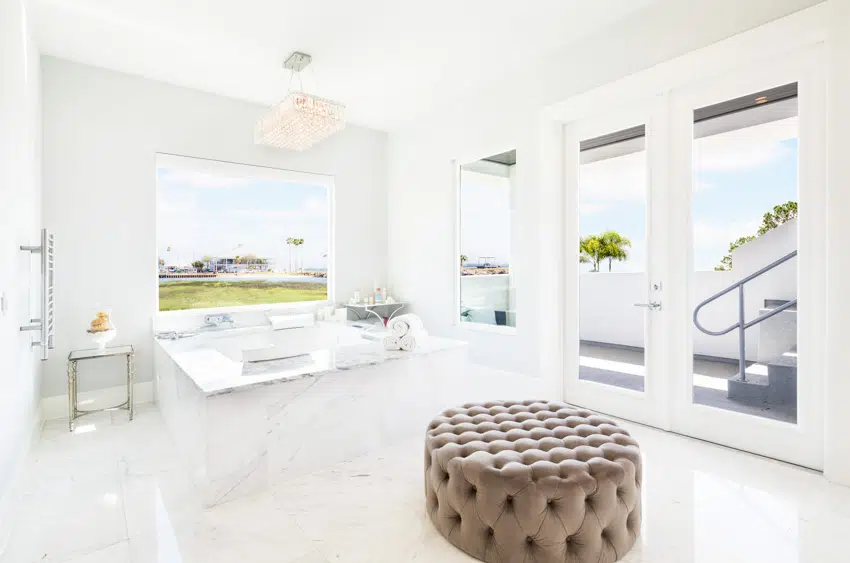 White Carrara marble bathroom designs originate from the Carrara quarries of northern Tuscany. These are famous for their usage in the development of various notable Italian buildings and monuments such as the Basilica of Massa and other numerous notable figures.
White Carrara marble has beautiful gray subtle shading on top of a gray and white background. White Carrara marble is frequently used in bathrooms since its delicate tone produces a bright and spacious atmosphere.
It also combats stains and degradation well, making it an excellent choice for locations that are constantly exposed to moisture. Furthermore, white Carrara marble is simple to clean and maintain.
Carrara Bathroom Vanity Top
This long-lasting Italian marble bathroom vanity top is seamless and often gently polished for an even more timeless appearance. Carrara, a classic marble, adds grace and durability to a wide range of bathroom vanity tops.
A large number of bathroom vanity types contain genuine Carrara marble sourced from Tuscany, and countless homeowners appreciate the range of patterning that each piece comes with. Because Carrara marble is a natural material, each slab is unique.
Although Carrara marble bathroom designs and their vanity tops demand a little more maintenance than man-made stones, homeowners frequently find the perfection and refinement to be completely worth the extra expense.
Carrara Vanity Backsplash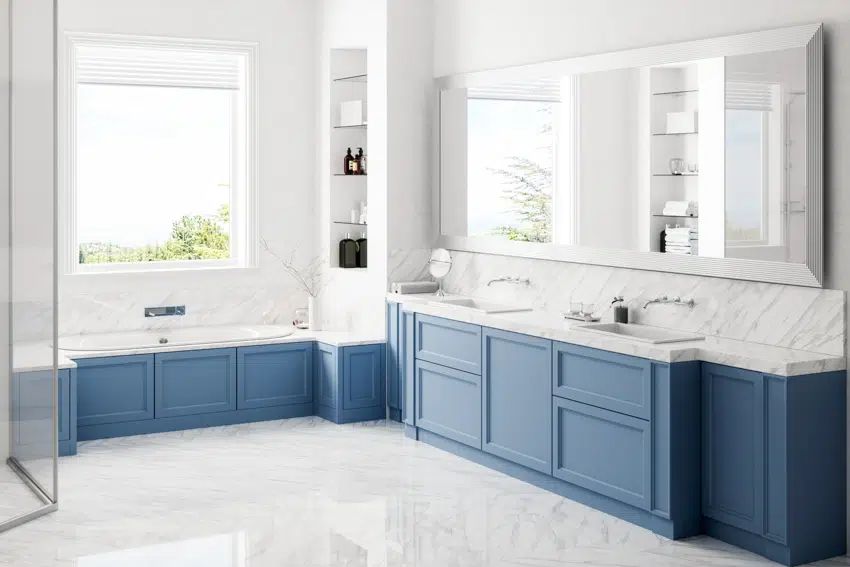 A backsplash protects your bathroom wall from water or chemical splashes that might harm the wall behind the bathroom vanity. Carrara marble, fortunately, is a solid surface that performs well in this situation.
Once you have installed a Carrara bathroom marble vanity top, you can finalize the design with a slab backsplash made of the same material! The flat and contemporary Carrara marble bathroom vanity top will undoubtedly look great with a Carrara marble backsplash that is straightforward and minimalist.
Truly, a backsplash made from this material will essentially be a focal point of the best Carrara marble bathroom designs while also harmonizing with the majority of your bathroom's décor, particularly the bathroom vanity.
Carrara marble tile backsplash looks extremely stunning in a white bathroom, especially when matched with marble floors and vanity tops. But, keep in mind that this material is quite susceptible to stains.
If you have a stain on your Carrara marble backsplash, you must clean it right away. Furthermore, as previously said, this material is porous, so some substances can discolor and degrade the pattern.
Carrara Bathroom Floors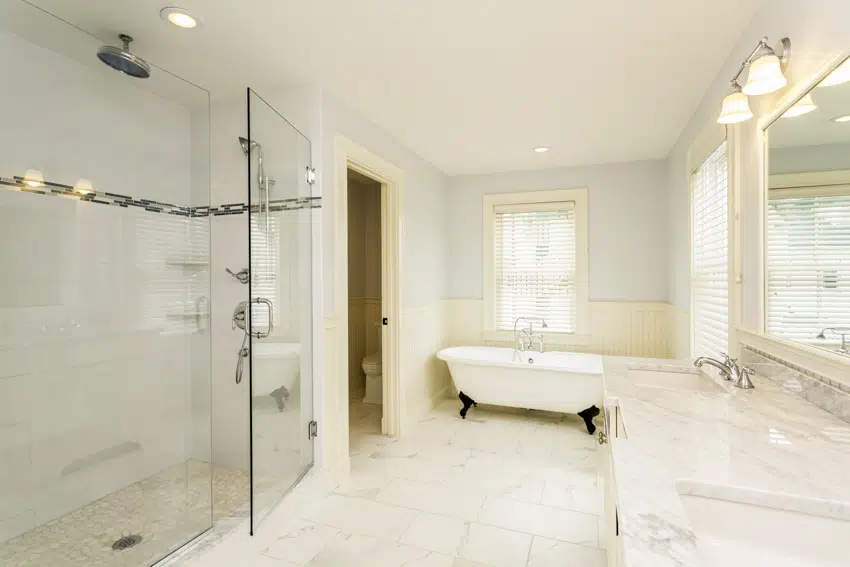 Carrara marble types of floor tiles in bathrooms are available in a limited palette of colors, spanning from mild to warm white, with medium to light gray veining on the surface. Some tiles also feature gold veining, but they are not that common.
Because it is relatively affordable, Carrara marble is by far the most prevalent type of natural flooring material that is utilized in bathroom flooring applications. Adding another dimension, Carrara marble flooring tiles can be treated in either a high gloss or a matte texture, contingent on the setting.
• Polished: The most widely known Carrara marble flooring option features a high-gloss finish, which is obtained by grinding the topmost surface using a stone-polishing piece of equipment.
Polishing Carrara marble draws out the veining and provides the bathroom floors with a dazzling and expensive appearance. Polished Carrara marble will retain its brilliant finish for several decades if properly maintained.
• Honed: This finish is merely lightly polished, only sufficient to give a flat, smooth texture but not enough to generate a shine. Honed Carrara marble bathroom floor tiles provide a long-lasting surface with a gentle matte feel that some people prefer over flashier polished marble. Honed Carrara marble bathroom floor tiles are also more slip-resistant than polished ones.
Carrara Accessories in the Bathroom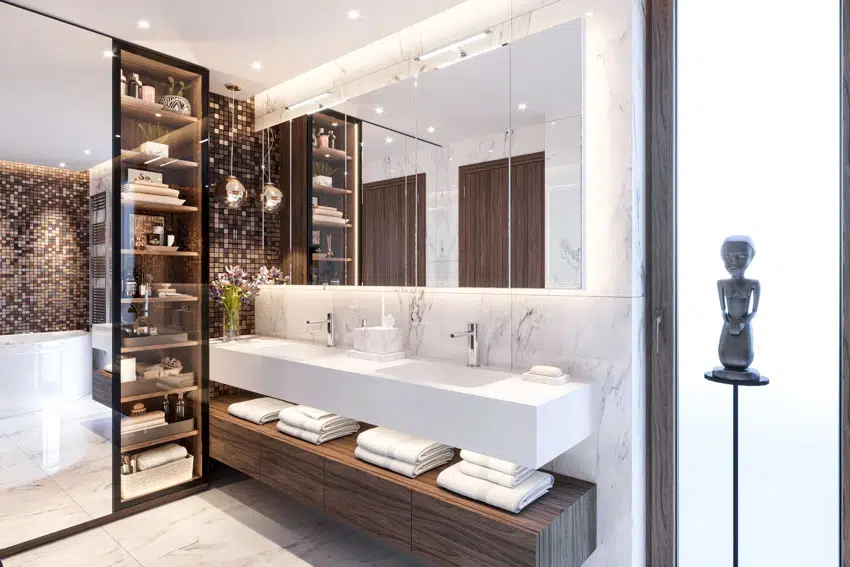 There is a plethora of marble bathroom accessories on the market. However, here are the most common accessories you can incorporate in your Carrara marble bathroom.
Marble Toothbrush Holder: A marble toothbrush holder adds a sophisticated touch to your bathroom and typically accommodates 3 to 5 toothbrushes. These marble holders are useful for organizing and cleaning your toothbrushes.
Marble Soap Dispenser: A marble soap dispenser with a honed texture exudes a luxury vibe. It is often soft white with naturally developed streaks of gray, although black marble soap pumps with gold veins are also available. White marble soap pumps with gray veins, on the other hand, look a lot more excellent in a Carrara marble bathroom.
Marble Vanity Tray: A marble vanity tray is a perfect complement to any Carrara marble bathroom. You can accentuate this tray by placing candles or flower pots on it. This tray is commonly found in bathrooms, specifically on top of the bathroom vanity. It is also an ideal spot to place perfume bottles.
Marble Wastebasket: Yes, the wastebasket in your bathroom can also be luxurious! Marble-made wastebaskets are available on the market, and they are a perfect complement to Carrara marble bathrooms too.
You can find a lot of black marble wastebaskets on the market, but it is recommended to look out for white ones with gray veins as they complement Carrara marble bathrooms even more.
Marble Tissue Box Cover: There are polished marble tissue box covers made of Carrara marble on the market. They are notable for their durability and feathery gray veining. This would be a lovely addition to your Carrara marble bathroom.
Ideal Colors to Match with Bathroom with Carrara Material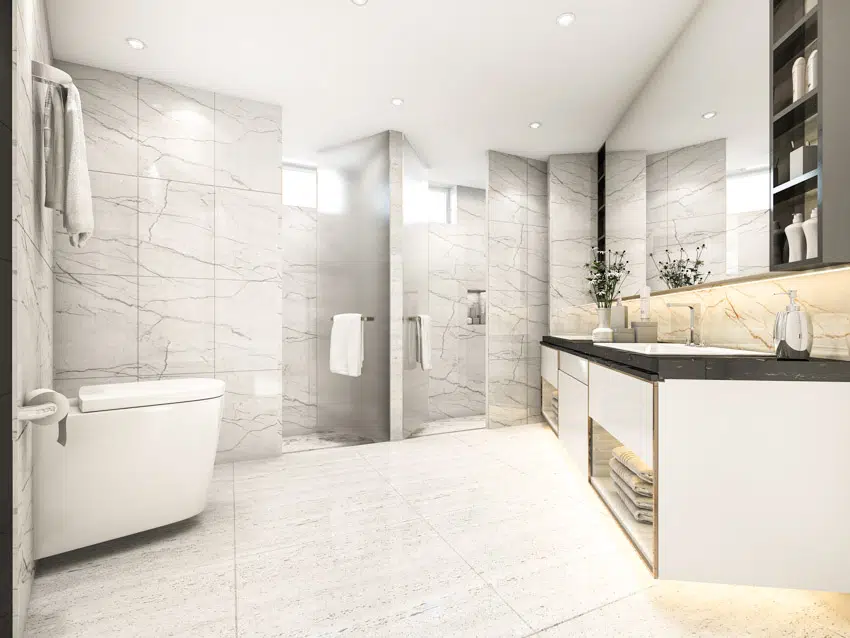 Here are the paint colors you can try to make your Carrara marble bathroom look even more stylish and elegant:
• Gray: Carrara marble bathrooms might be the ideal setting for a light or medium gray. It can act as a magnificent backdrop for some selected works of art. It will not make your Carrara marble floors appear less white.
In spite of how dusty it becomes, it hardly ever appears to be dirty. Recognizing the color impact of your bathroom types of lighting fixtures, as well as the shade of your Carrara marble is the main factor in selecting the perfect shade of gray.
• Pale Green and Blue: Colors that are right between green and blue remind us all of the freshwaters, therefore they are incredibly suitable for a gorgeous Carrara marble bathroom. Pale shades of green and blue can be used to highlight the exquisite veins of Carrara marble.
• White: Although all-white bathrooms may never become out of fashion, keep in mind that even the lightest Carrara marbles are not at all exactly white. As a result, painting your walls white will provide a subtle contrast to the Carrara marble's bluish and golden casts. However, it does not mean that it will not look good!
• Black: A marble bathroom can be the ideal place if you would like to go dramatic and bold but are not that daring enough to do it in a huge living space. With far less wall surface than other rooms, you may go as bold as midnight black and still have the Carrara marble bathroom look vibrant.
The trick here is to ensure that your bathroom has plenty of natural lighting as well as excellent artificial illumination. Black walls and dim lighting are never welcoming.
Pros And Cons of Using Carrara for the Bathroom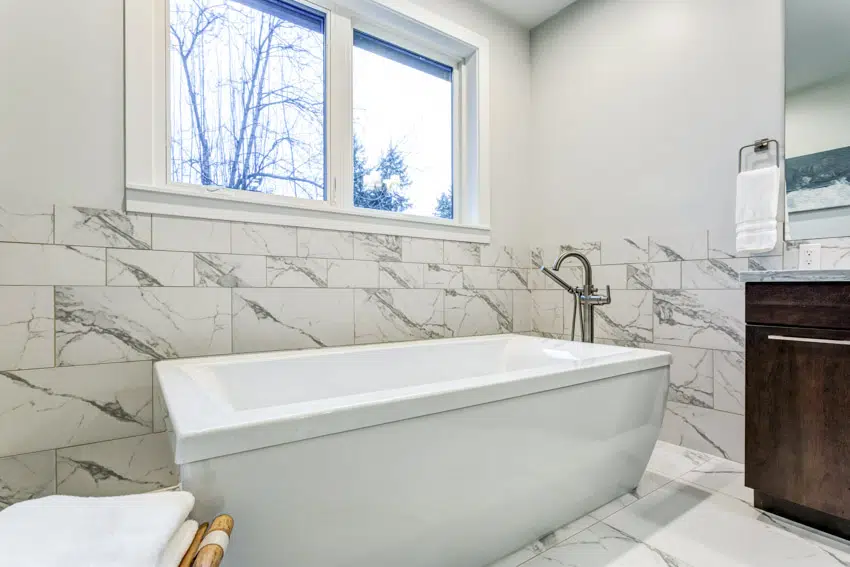 Here we share the advantage and disadvantages of Carrara marble bathroom designs
Advantages of Carrara Marble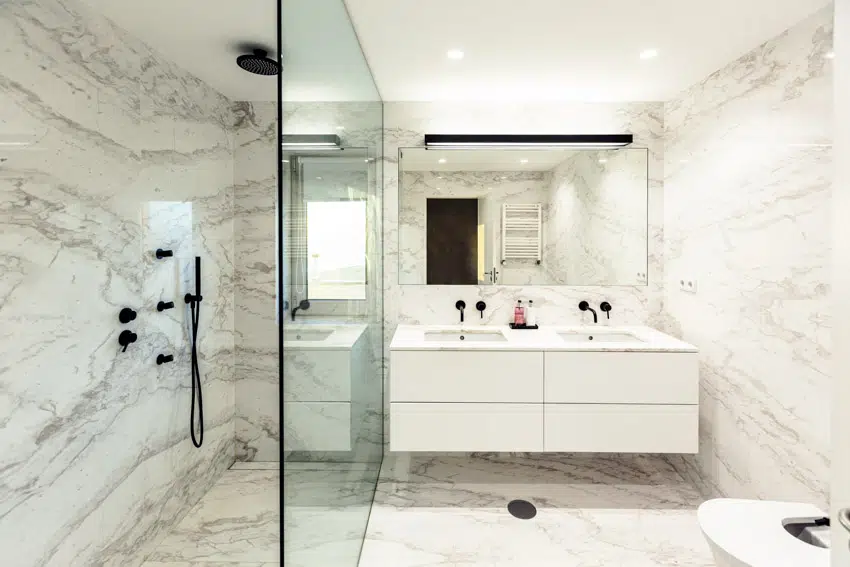 Gorgeous Looking: The most noticeable advantage of Carrara marble is that it expediently transforms the aesthetic of a bathroom, imparting a magnificent impact that is difficult to replicate. This sophisticated and glamorous appearance exudes the highest level of refinement.
Carrara marble is, without a doubt, a stunning addition to practically any bathroom decor. You are guaranteed to add complexity and appeal to your bathroom because each Carrara marble slab has its distinctive veining arrangement.
Each slab of Carrara marble is made from one block, and when laid by an expert builder, the specks and veins run around each other and create a magnificent design sequence, ensuring no two Carrara marble surfaces have precisely the same pattern.
The different Carrara marble bathroom designs are robust and can withstand a lot of polishing, unlike other stone tiles. You can polish it all you want, and the flooring will still shine with brilliance. This dazzling quality will draw attention to these Carrara marble bathroom tiles. There is hardly any comparable material that comes close to its brilliance.
Timeless Bathroom Material: Carrara marble, which has been utilized in construction projects for generations, adds a timeless and exquisite appeal to any bathroom décor.
Because of the widespread usage of this type of marble in homes, your bathroom will remain fashionable for many decades to come. The veins make each Carrara tile a unique work of art with a classic charm.
Healthy Bathroom Material Option: Carrara marble does not necessitate chemical treatment because it is a natural stone. In comparison to manufactured floor materials, which might emit dangerous chemicals, it is more ecologically friendly.
Carrara marble also brings the artistry of nature into your home. It reflects the energy of our beloved nature and has a relaxing impact on our mood.
Hard and Long-Lasting: Carrara marble is a hard stone with a significant density. This renders it an excellent solution for high-traffic or continuous-use locations, especially the bathroom.
Carrara marble surfaces can survive for decades if properly maintained and cared for. This prevents the homeowner from having to spend funds on new flooring, walls, or vanity surfaces.
Raises the Value of Your Home: The addition of Carrara marble tile to your bathroom will boost the value of your home. This is due to its luxurious sophistication and sturdiness. Homeowners believe that this type of marble will last a lifetime and will never lose its popularity.
Disadvantages of Marbled Bathrooms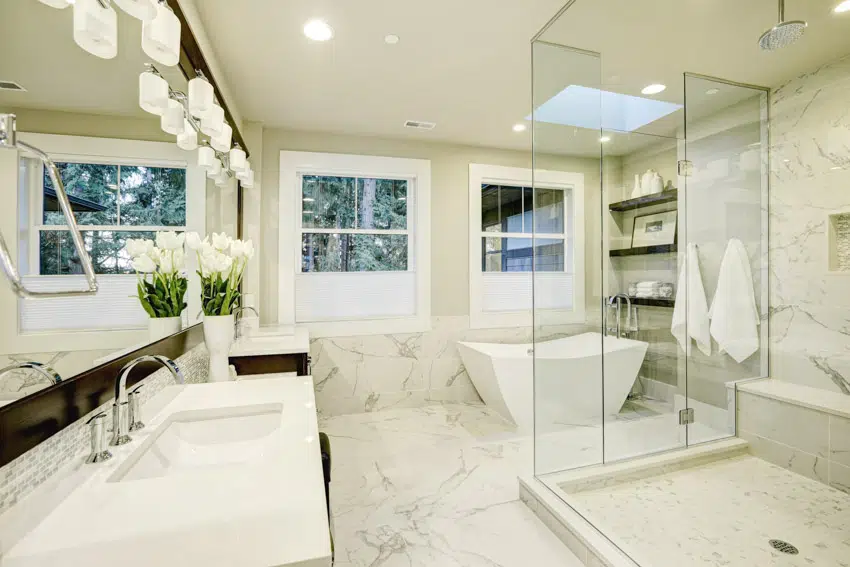 Carrara Marble is Porous: Although Carrara marble is a durable stone in nature, it is still porous. Because of its permeable nature, this type of marble is very vulnerable to stains.
Hair dyes, makeup-removing solutions, and even some detergents have the potential to stain your Carrara marble bathroom countertops or flooring. When subjected to acidic materials, it might also react and discolor, therefore only use marble-safe cleaning solutions.
Necessitates Regular Sealing: Because of the porous nature of marble, it must be sealed on a regular basis. Resealing will be required every several years, which increases the cost of maintaining this stone.
Even with a high-quality sealer applied, harsh chemicals should still be avoided because they can damage and stain the Carrara marble surface.
Carrara Marble Is Still Susceptible to Dents: Carrara marble tile, despite having a robust crystallized structure, can be dented or shattered. Thus, it must be sealed promptly after installation.
Having the Carrara marble sealed helps to reduce the impacts of human traffic. It also retains the marble's warmth and luster.
Can be Very Slippery When Wet: Carrara marble is a waterproof material. However, due to its shiny surface, Carrara marble can be slippery, particularly on polished marble surfaces.
Although Carrara marble tiles can mean making your bathroom appear high-end, slip-resistant carpets should be installed to prevent accidents.
Is Carrara Good for a Bathroom?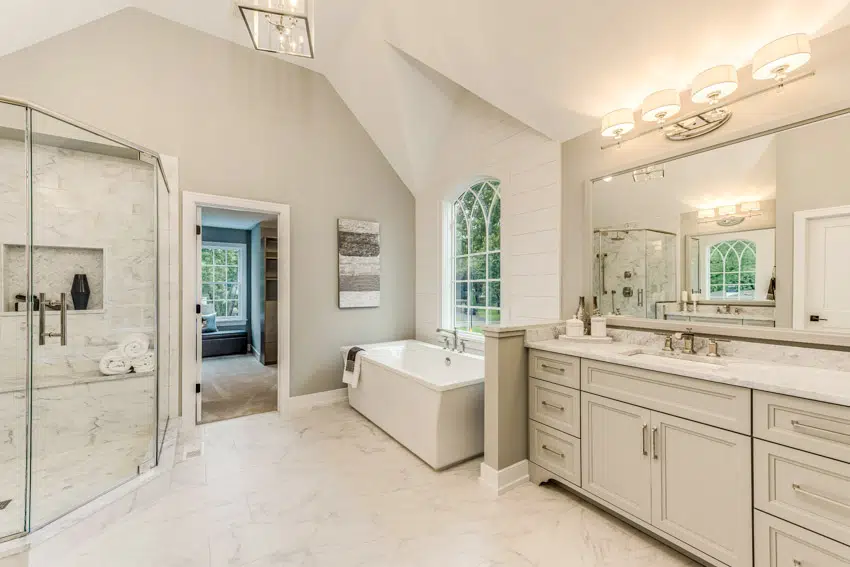 Yes! Bathrooms benefit significantly from the aesthetic and durability of Carrara marble. Because of its longevity, Carrara Marble can be used in a variety of bathroom settings, including the master bathroom, powder room, and children's bathroom. The stone's versatility and inherent patterning make it very attractive.
The fact that Carrara Marble can be customized or decorated for a more sophisticated look or subdued for a more relaxed aesthetic makes it popular among designers.
When utilizing Carrara Marble, whether polished or honed, you can get the luxurious appearance and feel of bathrooms that are found in five-star hotels. Another thing that makes Carrara marble a good option is that it is not that expensive compared to other types of marble.
Are Marble Tiles Good for the Shower?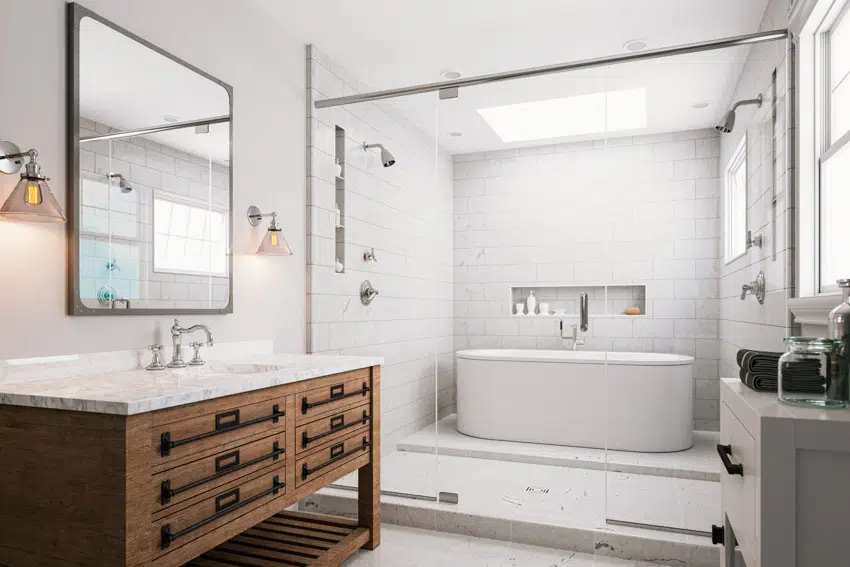 Generally speaking, yes. Marble is a superb material for showers since it has a lovely appearance and is fundamentally water-resistant. In actuality, marble tile is among the most favored and useful natural building materials for the majority of shower rooms.
They may make the place appear gleaming and luxurious. Additionally, marble tiles are perfect for showers since they can withstand both extremely hot and cold temperatures. However, limestone was the humble precursor of marble, so it could be etched by water stains and particular chemicals.
Hence, you should never clean your Carrara marble shower using glass cleaners, vinegar, bleach, or cleaning agents that contain acids. Thus, marble must be sealed annually to protect its porous surfaces from chemicals, acids, filth, and dyes in order to preserve its quality and prolong its longevity. You may get it done successfully by hiring qualified tile sealers.
Furthermore, because marble is a softer and more delicate stone, it is not the best option in bathrooms that experience a significant amount of children's activity. It can also get really slippery when wet.
Hence, it is recommended to provide non-slip mats on marble bathrooms or give the marble surface a honed finish. Or, as much as possible, only install marble tiles in master bathrooms that are off-limits to youngsters.
Although marble is a great option to be applied to shower areas, you must remember that it also has its downsides. Plus, its daily and annual maintenance can be quite challenging. But overall, marble can qualify as an excellent candidate for your shower area due to its superior advantages and incredible features that it can provide to your household.
See more related content in our article about marble shower designs on this page.