Here's our types of wood veneer design guide including what is, different styles, materials, cuts, where it is used, and tips on how to stain wood veneer.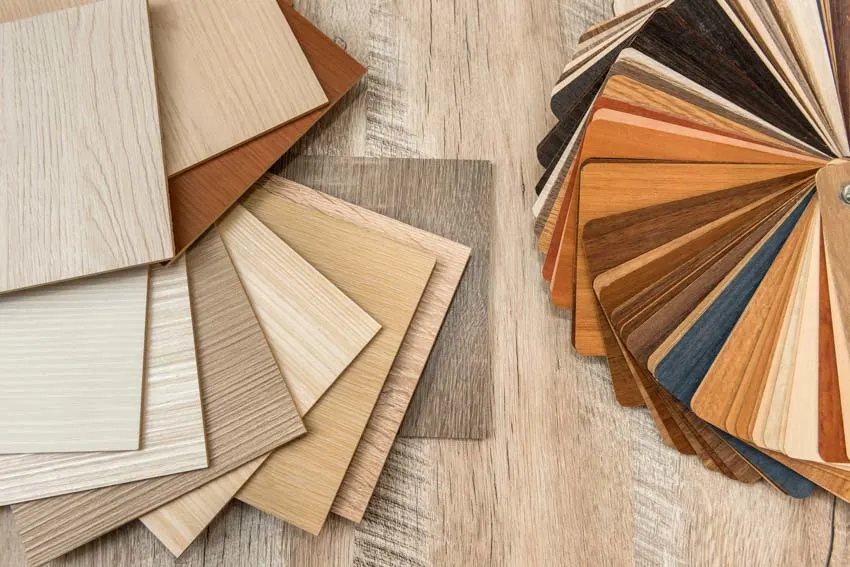 Wood veneer is used in a variety of applications throughout the home. It's most often found used for wall paneling, cabinetry, flooring, and doors. In addition, you can find wood veneer furniture and décor items.
They can be made from various trees, such as hardwood and softwood trees, resulting in a wide variety of options for people to choose from.
What Is Veneer Wood?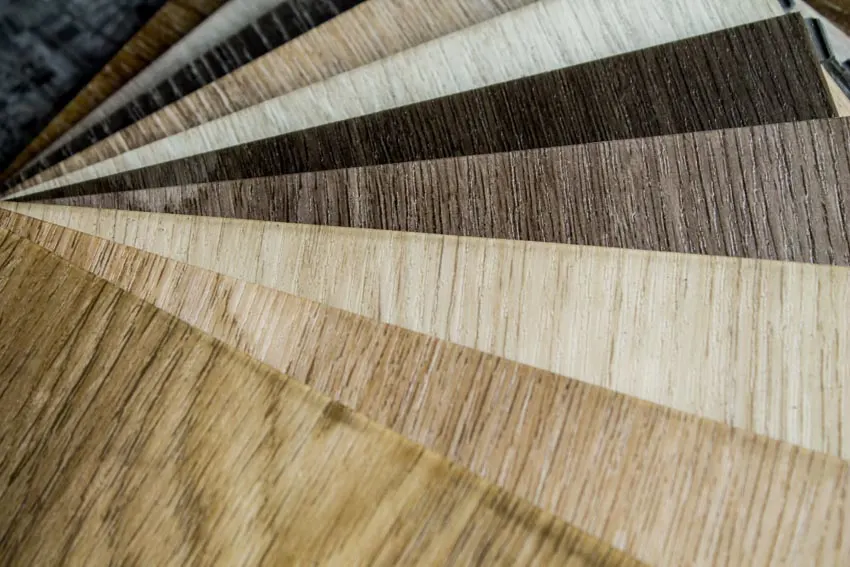 Veneer wood is a type of manufactured wood product that's thinly sliced. The whole purpose of its manufacturing is in order to create trim work that provides an overall sleek and finished wood look as a result of its precise cutting. Its width is about 1/8 inch.

Veneer wood is bonded by a substrate that can be made out of plastic, veneer, or paper. The whole purpose of veneer wood is to provide an interior trim that has a high end solid wood look and feel without breaking the bank.
The manufacturing time is much shorter while at the same time, the cost is much lower.
A classic example would be comparing the difference between manufacturing a table out of solid and expensive mahogany wood against getting one made out of a cheap type of wood such as plywood and then getting a mahogany wood veneer layer applied to it on top.
It is then sanded down, stained accordingly; and the end product looks like real solid mahogany table minus the cost and the manufacturing time.
Veneer woods manufacturing process is quite comparable to how cheese is sliced in paper-thin widths off of a solid block.
A log of wood is set up, suspended between two blocks, while a rotary lathe shaves off long and thin strips of wood to be made into veneer. This will then be added to a substrate and adhered to as a top layer to whatever furniture is being embellished.
Different Veneer Types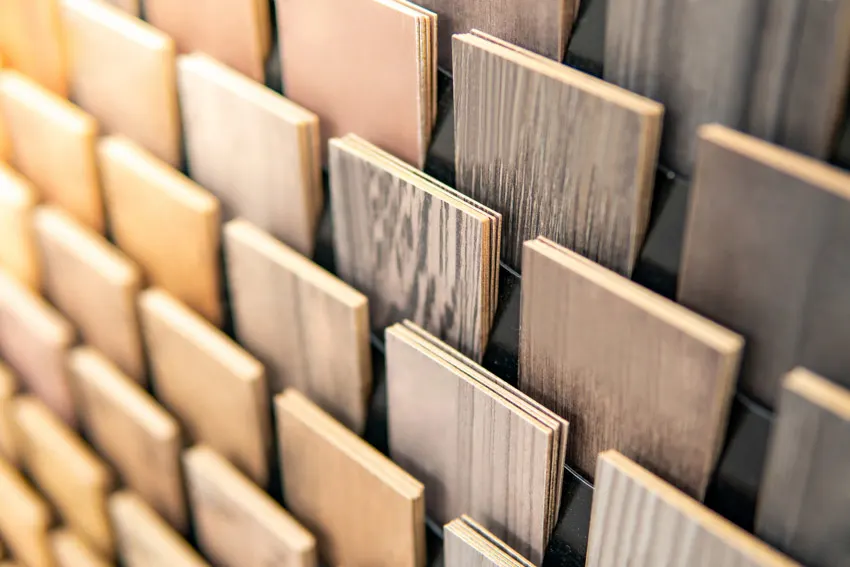 The quality and types of wood veneers out in the market right now vary mostly on the production method that's been used, how it's being subsequently handled, and what the finished color of the veneer will be at the end of the entire process.
Each type of wood veneer has its own unique traits. This makes veneer essential in different areas of the home from the shelves, to the bathroom, to kitchens, windows, and so on and so forth.
Here are the different types of wood veneer and their specific traits below.
Natural Veneer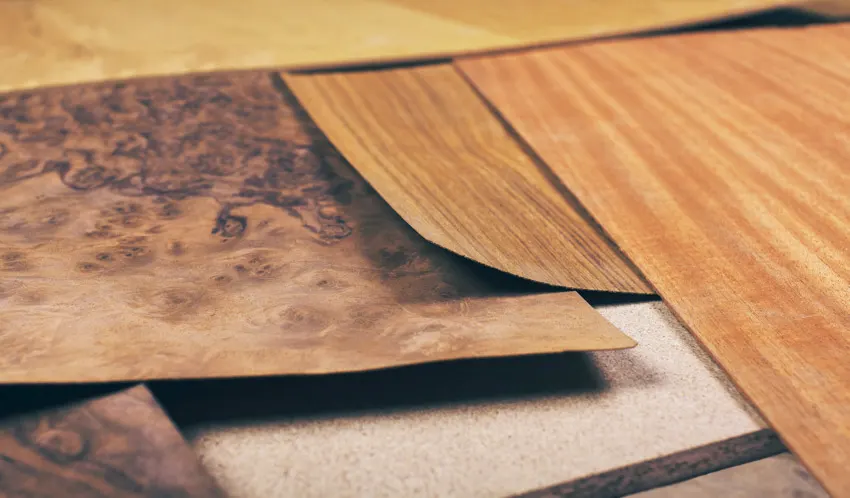 Natural wood veneer is the most common and popular type of wood veneer available in the market right now. It can come from both hardwoods and softwood trees.

It is basically a thin sheet of wood processed by peeling, sawing, planning, or chipping the wood sheets. It gets its name from the unique and interesting texture that's been preserved completely during the production process of the veneer.
This type of wood veneer sits comfortably at the midpoint compared to the other wood veneer types in the market.
It's far more expensive than basic chipboard but far more cost-friendly compared to actual solid wood. It's environmentally friendly as it maximizes the use and resource of oftentimes rare aged woods and also offers sophistication in pattern designs. This approach is commonly used in the manufacture of cabinets, trunks, and other furniture pieces.

It perfectly boasts and showcases the structural designs of the natural wood pattern. When it's glued onto a basic chipboard or any type of cheap wood, it ends up with a finished product that is almost indistinguishable from real solid wood. With attention to detail and a quality finish, this method enhances the final project significantly.
Rotary Cut Veneer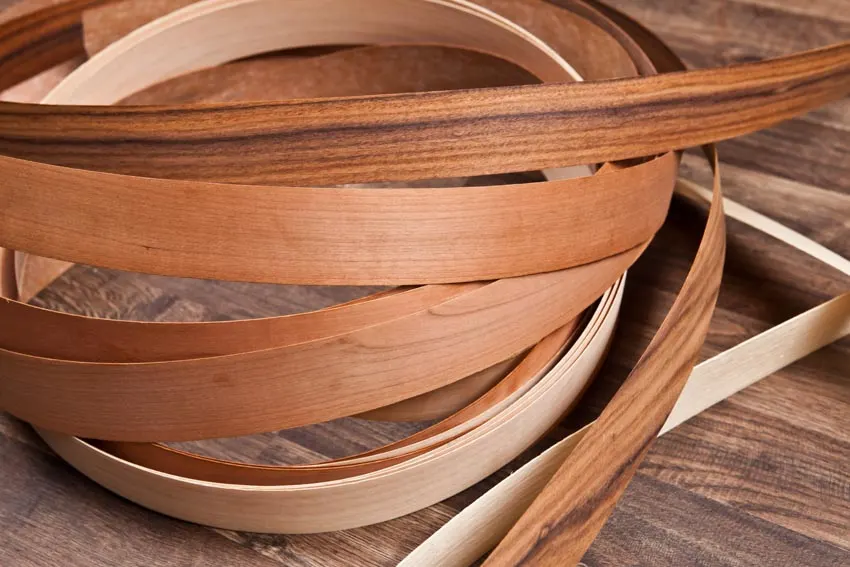 This type of veneer is also one of the most common types of veneers out there. Rotary cut veneers are usually made out of pine, oak, alder, or birch.
They're very low cost and make use of a technology called "thin lust". This technology makes use of wood layers that have been removed and cut into thin slices from the log.
This works by getting a thin layer of wood cut directly from a solid log that's been but on a rotary cutter, hence, the name. Once the cutting is done, the veneer layers are then cut into a certain size and are then glued together in multiple layers.
The grain and the pattern and structure created out of this process isn't exactly the most aesthetic one and as a general rule of thumb, this type of veneer is only sued for cladding doors, and not for other more high-end or visual wooden elements in the home.
Fine-Line Veneer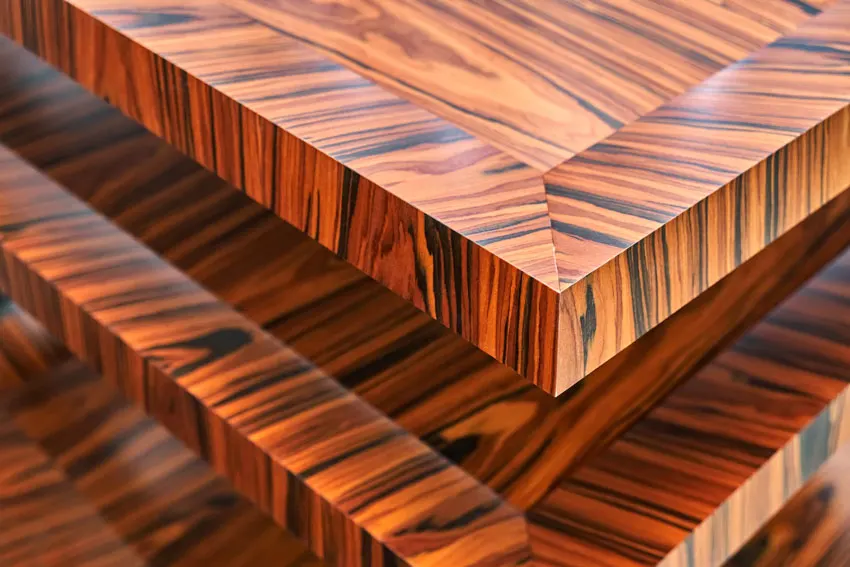 A fine-line veneer is initiated by getting veneer sheets glued together so that they are formed into blocks; and are usually bought in different shapes, colors, sizes, and so on.
It's been cut with a softwood rotary cut before they were made into sheets that have been glued together.
The main strength of fine-line veneer is that it is often reconstructed out of softwood sheets. These sheets have been rotary cut and are glued together so that they are formed into blocks.
This type of veneer can come in a lot of different sizes, textures, and even colors.
A major strength of this veneer type is that it can imitate the structure of any type of wood species with a very uniform and stable shade. Its surface area does not show signs of defects or irregularities of any type such as having cavities or knots and so on.
Fine-line veneer is recommended as an environmentally friendly veneer option compared to the rest of the others in the market as the main material used are fast-growing tree species that are oftentimes farm-grown for the specific purpose of lumber.
They're clean with structures that are clearly defined, and they utilize modern technology well in creating a type of veneer that's aesthetic and efficiently manufactured.
Plywood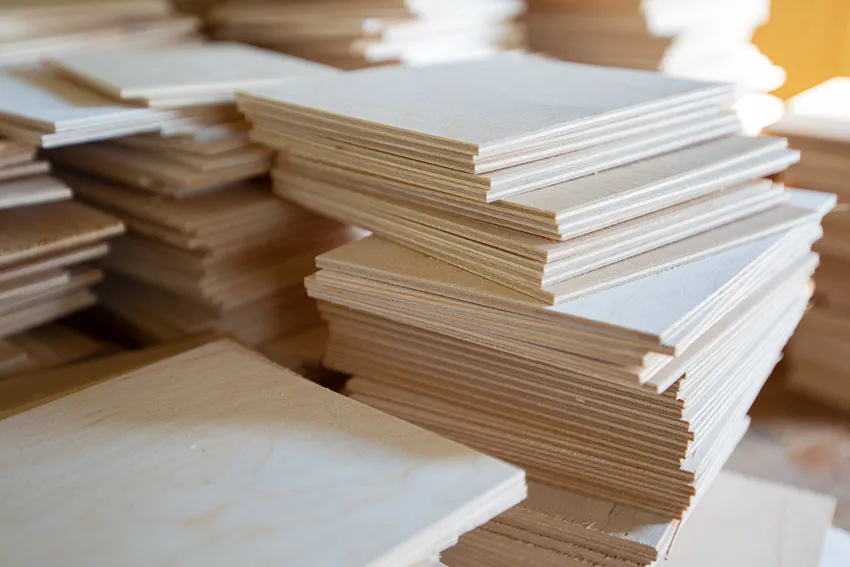 Plywood is a common construction material and it's a type of veneer that's made out of thin sheets of wood that's been glued together.
The grains have been cut in perpendicular directions and come in layers that are alternating. This results in an improved strength in the board.
Plywood can come in a variety of quality ratings and durability and the differing factor is usually based on the species of the wood that's being cut as well as the adhesive that has been used to bond the wood sheets or layers together.
Sliced Veneer
Sliced wood veneer is made out of wood species that are generally tagged as valuable such as ash, elm, mahogany, oak, or beech. This material is often used in various construction projects, particularly when concrete walls need an elegant, natural finish.

It offers a unique texture and is oftentimes achieved by changing the angles on how the logs are cut. Expert manufacturers and contractors provide their services in handling wood veneers, drawing on their experience in woodworking and maintenance.
Wood strips are usually machine cut according to the width of the work-piece needed, resulting in a solid wood grain pattern that is much beloved if you happen to be a fan of natural wood. As part of their job, skilled woodworkers ensure proper installation on walls and other surfaces.

Laminate Veneer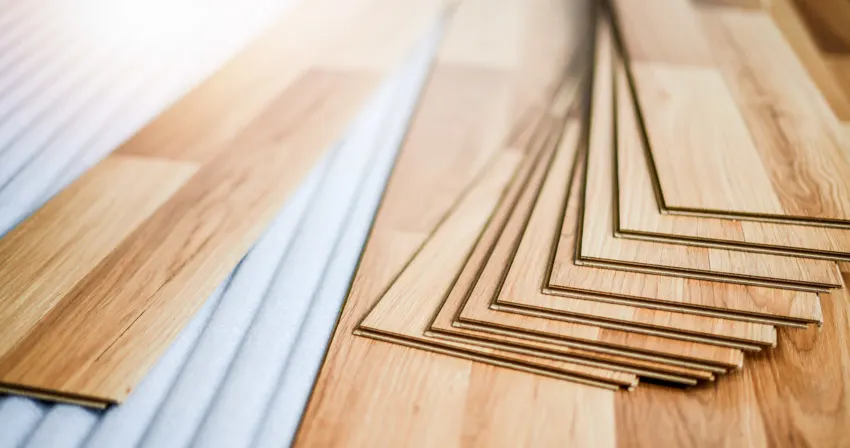 Laminate veneer isn't made out of wood at all but it is categorized as a wood veneer substitute. The concept is pretty much the same, although the main materials used aren't.
Wood veneer is made out of multiple sheets of wood that have been layered together. It is then layered onto bigger wood pieces that may be in the form of laminated wood furniture and other items in the home.
Laminate veneer, on the other hand, is manufactured or processed by pressing layers of special papers and resin sheets together under very high pressures. Many contractors incorporate laminate veneers into their services due to their versatility and cost savings.

Laminate is an artificial material that is available in a variety of different shades, textures, and patterns and is generally known for being high gloss, soft gloss, matte, or textured. Interestingly, textured laminate veneers can cunningly mimic the look and feel of stone, wood, and other earthy materials.
They're easy to maintain, are scratch and water-resistant, and can definitely maintain the look for years and years to come. They're also cheaper than veneers as they don't actually use wood in the materials.
They are, however, mass-produced so they lack that feeling of uniqueness in the overall look that they create. Read more about engineered wood vs laminate flooring here.

Backed Veneer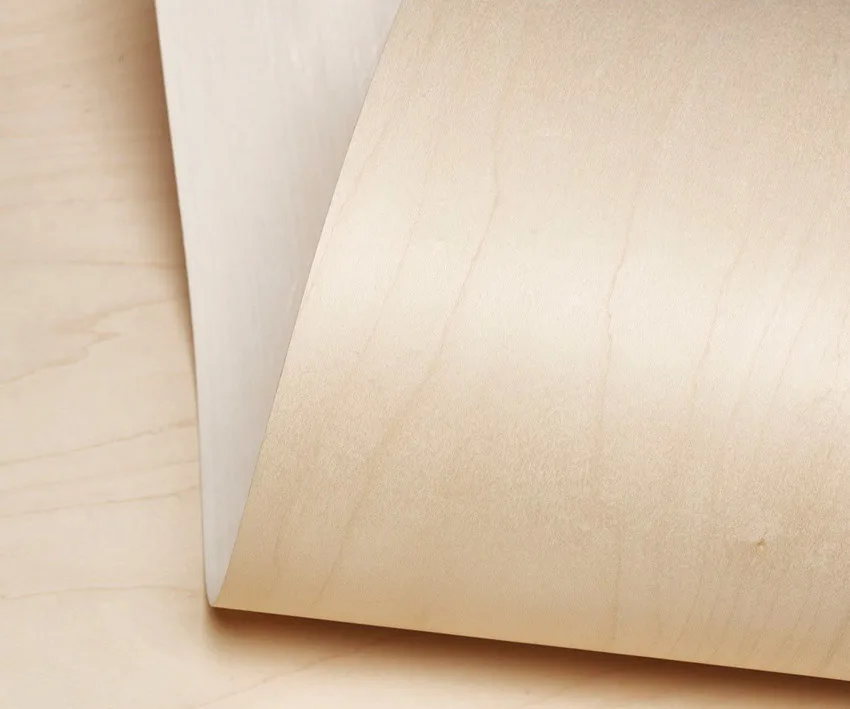 See this Edge Supply Maple Wood Veneer at Amazon [sponsored link]
Backed veneer is a real thin wood sheet that's been adhered to a paper backing. This is done in the event that the surface area that the veneer needs to cover goes beyond the actual area of how it's been manufactured.
The purpose of the paper backing is to basically keep multiple sheets of wood veneer together or intact so that they can complete the full width of a specific sheet requirement.
The sheets are glued side by side and are kept together by their paper backing so that they appear to be one sheet instead of the reality that they're actually composed of several sheets.
This makes the look of the veneer cohesive without the costs. It's great for when you have large areas to cover with the veneer.
Shop-Sawn Veneer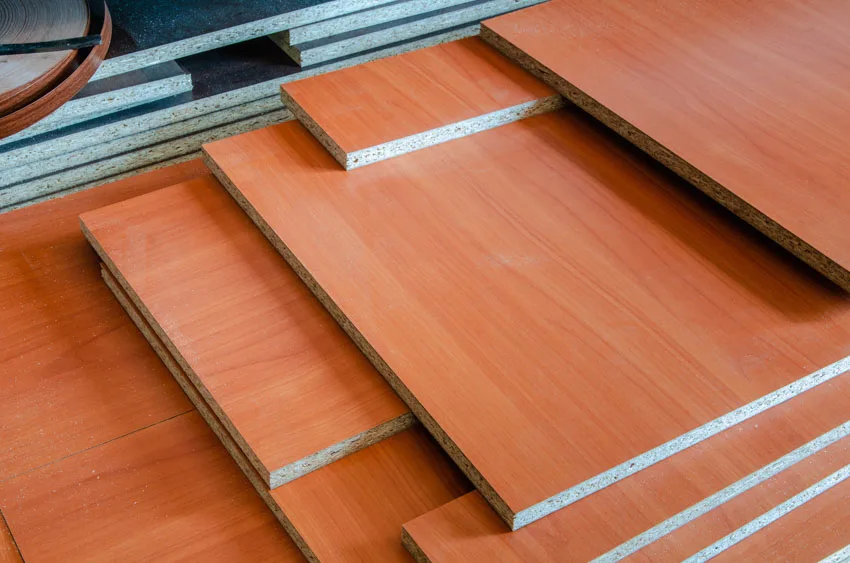 Shop-sawn veneer is known as the most expensive type of veneer out in the market right now.
The reason why it's a bit on the pricier end of the price spectrum is that it involves sawing the wood into planks according to the thickness that's required by the specific work-piece that it's meant to get attached to.
This type of veneer is used for all types of inlays and it has an upheld reputation of being able to give certain products the look and feel of actual wood art.
Its thickness can vary anywhere from 1 to 10 mm and is often produced from woods such as fit, cedar, or spruce; usually the conifer types.

Shop-sawn veneers are made on horizontal sawmills are which are otherwise known as veneer saws.
They have very unique and highly regarded properties and this is why they are oftentimes seen in musical instruments and other luxury decorative finishes not just in homes but in commercial establishments as well.
To be more specific, instruments such as violin decks, cellos, and other similar instruments make heavy use of shop-sawn veneer.
The reason why this is so expensive is that apart from the extensive detail, labor, and time required for its production; a lot of the material also ends up as sawdust as the finished material is being refined.
Roll Veneer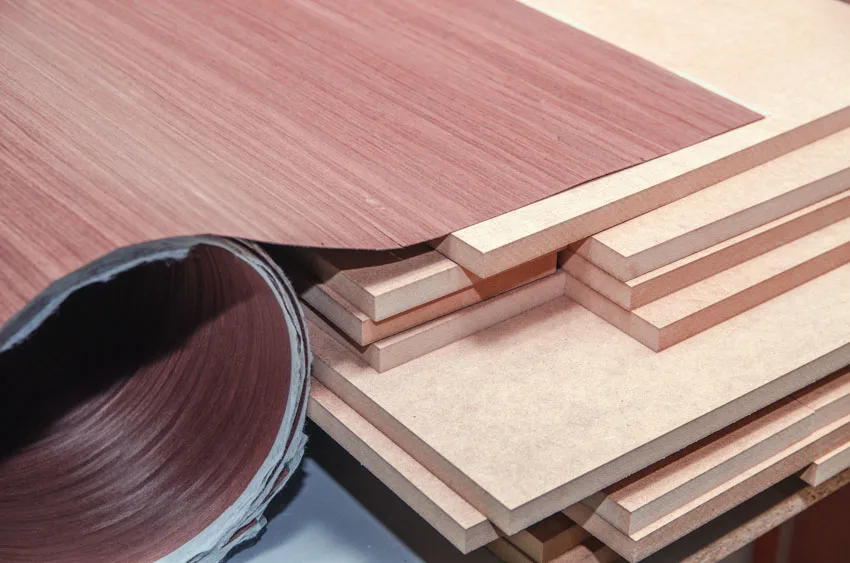 Roll veneer is a basic type of veneer that's comprised of thinly planed sheets made out of high-quality wood that has been spliced according to the size requirements of a specific piece.
It utilizes a special type of technology that makes all the wood joints completely invisible once the finished product has been processed.
Roll veneer is highly durable yet flexible and it's perfect for when you have decorative coating needs for products or pieces that have complex surfaces such as furniture edges, and other pieces that don't necessarily work with flat veneer sheets alone.
Multi-Layer Veneer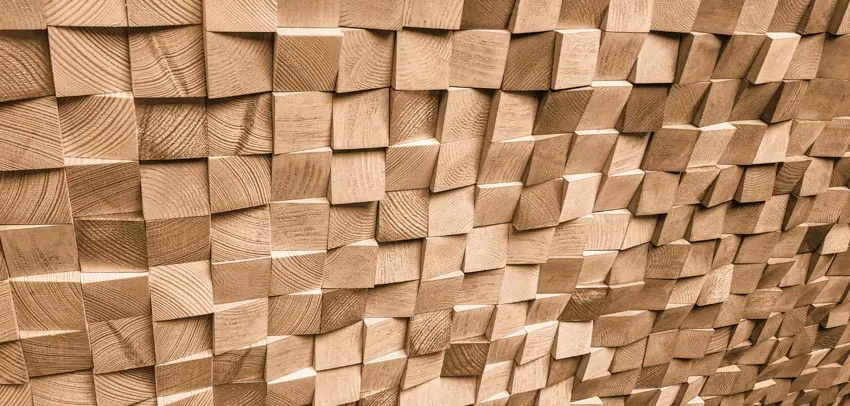 Multi-layer veneer makes a play on having unique patterns on the veneer surface. This is made possible by certain innovations in technology and manufacturing processes.
This type of veneer came from wood chips. These wood chips are then laid on top of each other layered by durable wood glue while anchored on a strong yet elastic base.
Multi-layer veneer holds a unique advantage over the other types of veneer because of the abstract and geometric designs that it can produce that just isn't possible with the other types.
Its dimensions are uniform and exact, making it all the more attractive for woodworkers all over the country, or even all over the world.
The finished product of the multi-layer veneer looks very artsy and avant-garde and not at all like the natural and laid-back look of wood.
If you're looking for a modern and more contemporary look but still fancy the wood tones, multi-layer veneer just might work perfectly for you and for the design theme that you're trying to bring together in your home.
Spliced ​​Veneer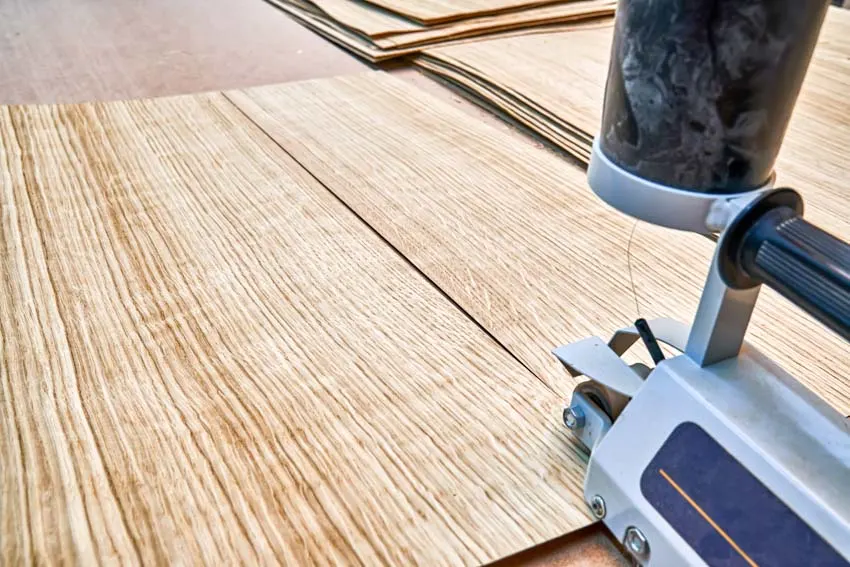 Spliced veneer is a product of the splicing technology which ultimately produces sheets that are facing large areas.
They form symmetrical patterns and make for interesting and efficient coverage material especially if you have to do it in volume.
This type of veneer is basically made out of a burl of valuable wood types or species.
This allows freedom in creating and obtaining interesting patterns out of the burl but at the same time, also saves up on process waste by working with separate sheets and getting suitable fragments that would've normally gone to waste, crop together in suitable fragments.
Decorative Veneer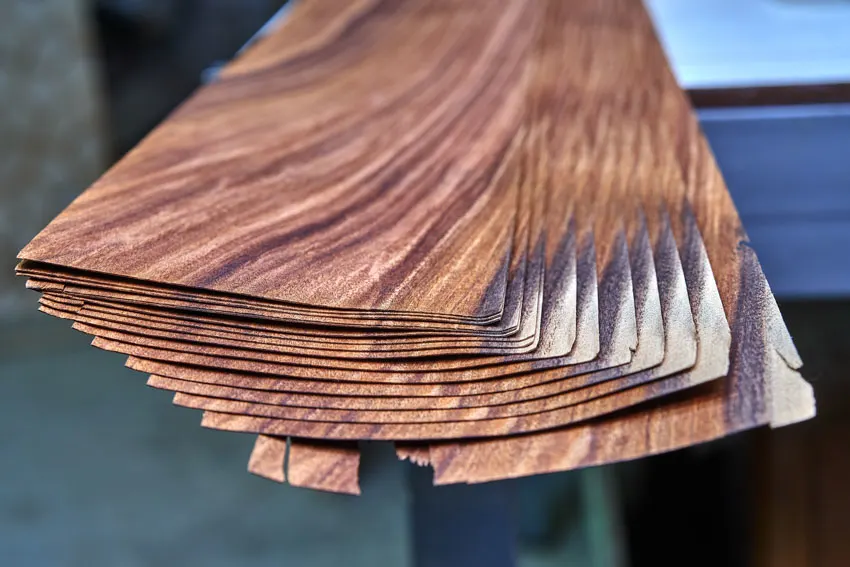 The decorative possibilities of wood are a little diverse when it all comes down to it and this is the limitation that decorative veneers can address.
They allow you to expand and explore a lot of different colors, textures, and wood grains, even.
Decorative veneer is unique from a design standpoint because it's made out of natural wood, similar to all the other veneer types, but it can be painted with different shades all over the entire veneer surface.
It gives out all the benefits of new and varied stains while at the same time maintaining the important characteristics of wood.
You can create wood pieces and other types of furniture in literally any color that you can possibly think of and with either a uniform texture or a varied one, depending on what your preferences are. Decorative veneer is every designer's dream on a budget come true.
Peel And Stick Veneer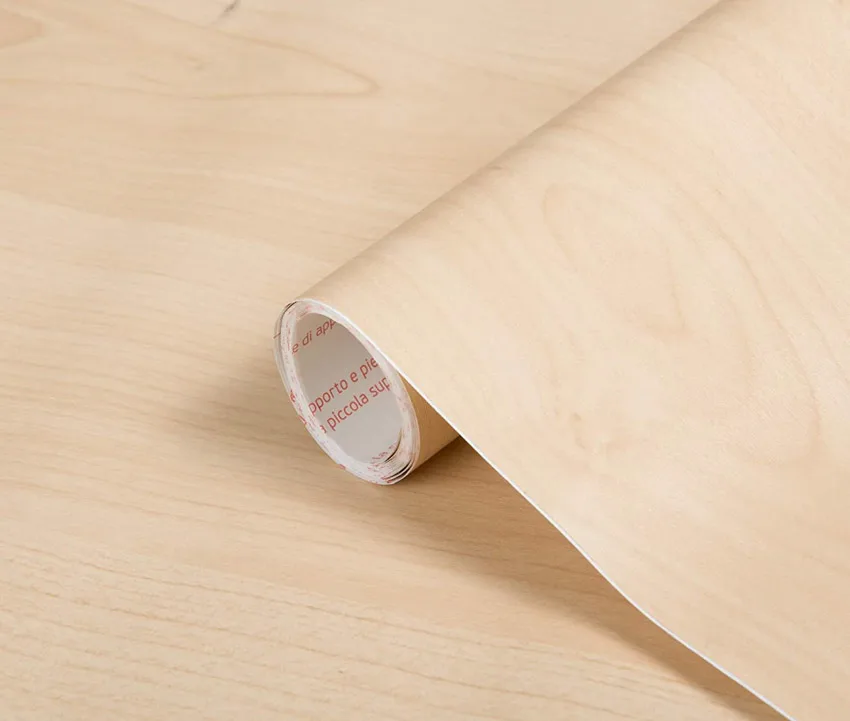 See this Self Adhesive Wood Veneer at Amazon [sponsored link]

Peel and stick wood veneers are also popularly known as self-adhesive wood veneers. This type of veneer has been manufactured and designed specifically with the concept of ease of use in mind.
This is comprised of flexible wood veneer sheets that have been bound to a double-sided paper backing that has provisions of having a feature of getting a layer pulled off, revealing some strong adhesive that can make the veneer stick securely to any flat surface.
If you aren't that fond of the traditional way of bonding veneer sheets manually to the pieces that you're working with and you want an easier approach, peel and stick wood veneer may just be the option worth considering.
3D Veneer
3D veneer is one of the newer popular updates in the veneer industry and it stands out particularly because of its three-dimensional decorative coating.
It ultimately creates a somewhat 3D effect that combines the appeal of natural wood perfectly with a very modern and chic pattern or design to it.
This amazing innovation is accomplished by putting two thin layers of veneer sheets together through a pressing process or technique.
The artistic possibilities in 3D veneer are limitless and there are tons of exclusive designs that can be made depending on what you specifically request.
Veneer Styles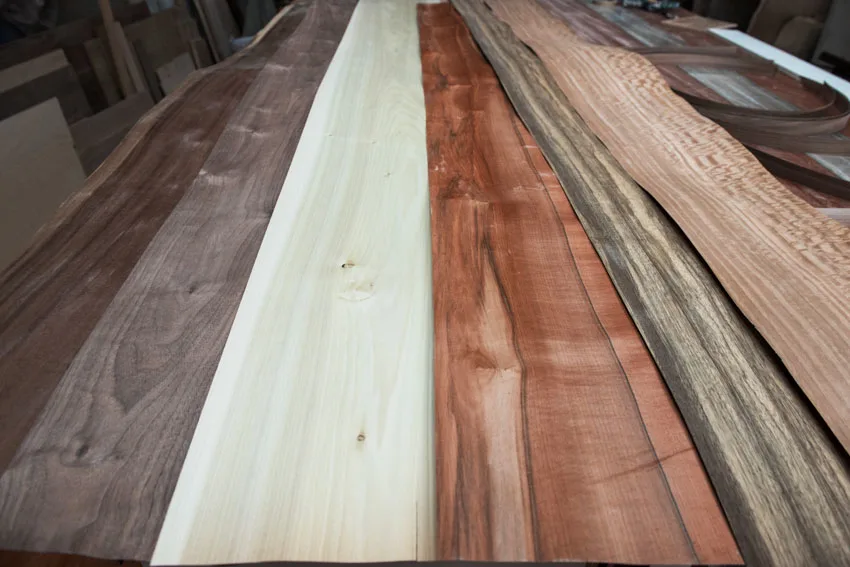 The wood veneer styles depend on the cutting method used to process them. They can be unrolled out of one main log using a rotary cut, or half or quarter in order to produce more uniform cuts.
They can be rotary peeled or cut, half round-cut, plain sliced, rift sliced, or quarter sliced. Each cutting method has its own strengths and merits. The veneer sheets produced have specific functions in mind as well.
Read on below in the different types of wood veneer cuts to get some more detail on how they're processed and what the veneer sheets are ultimately used for.
Veneer Sheets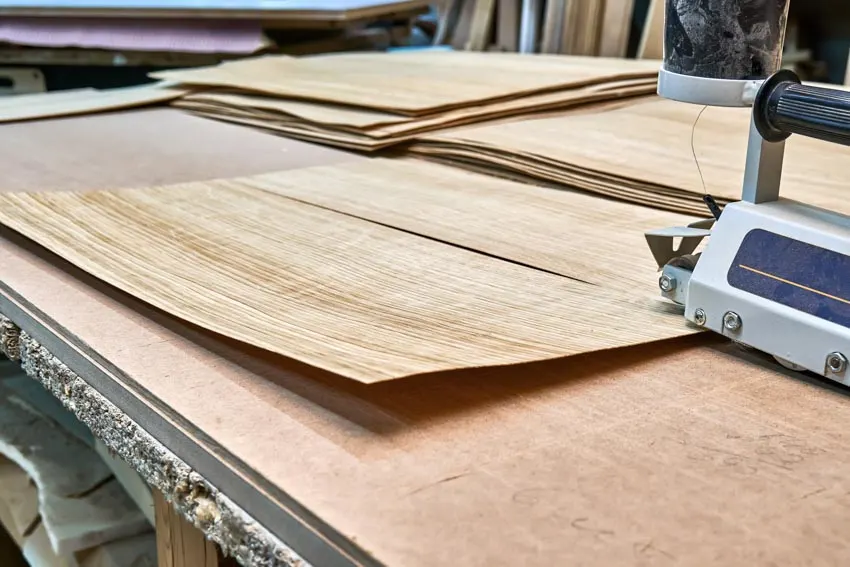 Wood veneer sheets are fairly commonplace but before you head out to pick one to use in your home, office, or whatever space you plan to decorate with wood pieces; it's important to pick the right wood veneer sheets accordingly.
There are a lot of things to consider from the color to the wood species to the dimensions to the texture, and so on. However, there are other basic things to keep in mind when choosing among the various types of wood veneer:
Application visibility: Consider the visibility exposure of the pieces that you are planning to use the veneer on.
If you plan to use it as a reception counter, for your drawing room table, an alternative to painting inside of front door, and other high visibility areas; it would be best to stick to premium or high-end veneer sheets.
Other applications with less visibility such as the underside of tables and shelves should be okay with basic and ordinary veneers.
This allows you to maximize the aesthetic appeals of veneer usage without breaking the bank while you're at it.
Backing materials: Quality backers are absolutely important in the installation of veneer sheets. If you happen to be working with seasoned interior designers and professional artisans, listen to what they have to say.
The backing materials are an important component of veneer installation. Whether a substrate is used for bonding purposes or it's some type of adhesive, the right backing material for you and your projects will ensure durability and stability for long-term use.
Grain variations: Keep in mind that veneer is a natural wood product which means that even veneer sheets coming from the same wood variety will tend to have variations in the grain patterns.
Some tree species are more consistent with their grain textures and colors whereas others aren't as consistent.
If consistency in the grain patterns is what you're looking for, make sure to order the veneers coming out of the same log as much as possible. A typical log usually produces up to 24 veneer sheets, give or take.
The thickness may also vary so pay attention to the specifications you give out prior to the cutting process.
Requirement details: When you're in the process of ordering different types of wood veneer, it's critical to ensure that you provide as many details as you possibly can to the manufacturers.
This is the only way to guarantee that you will be getting exactly what you need. Make it a point to share the nitty-gritty specifications such as exact measurements, what type of cut you want, what type of quality you want, color, thickness of the sheets, sequence matching, and so much more.
Details that are either incorrect or incomplete could cause delays in the processing and could ultimately lead to the delivery of the wrong material altogether.
Veneer Panels
Wood veneer panels are aimed for flat-surface use.
The veneer sheets are typically thinner than 3mm or 1/8 inch and are glued onto core panels that can be made out of particle board, wood, or at times even some sort of high-density fiberboard, even.
This produces flat panel items or pieces such as doors, table and cabinet tops, parquet floors, and so on. However, there are also options like MDF (medium-density fiberboard) available for those who have specific requirements for furnishings or questions about using alternative materials.

Veneer Strips
Wood veneer strips are ingenious and resourceful and they are the solution to the problem of having to "cloak" a furniture piece or any type of surface with a veneer material.
They take care of the gaps and the nooks and crannies in between that might give away the fact that the piece isn't actually a solid piece of wood and is instead just covered by a veneer sheet.
Wood veneer strips are basically "wood tape". They are pre-sanded and are ultra-thin layers of wood tape that are attached to the edge of plywood or other types of veneer used to make it look like a solid piece of wood. This is commonly seen in cabinetry and other furniture pieces.
Another innovative version of the wood veneer strips is the veneer edge banding tape.
A heat-sensitive glue backing is used and the application is quick and easy with the use of a heated iron. So basically, the tape is "ironed on", and is known to be superior in terms of its adhering strength on wood surfaces.
Types Of Wood Used For Veneer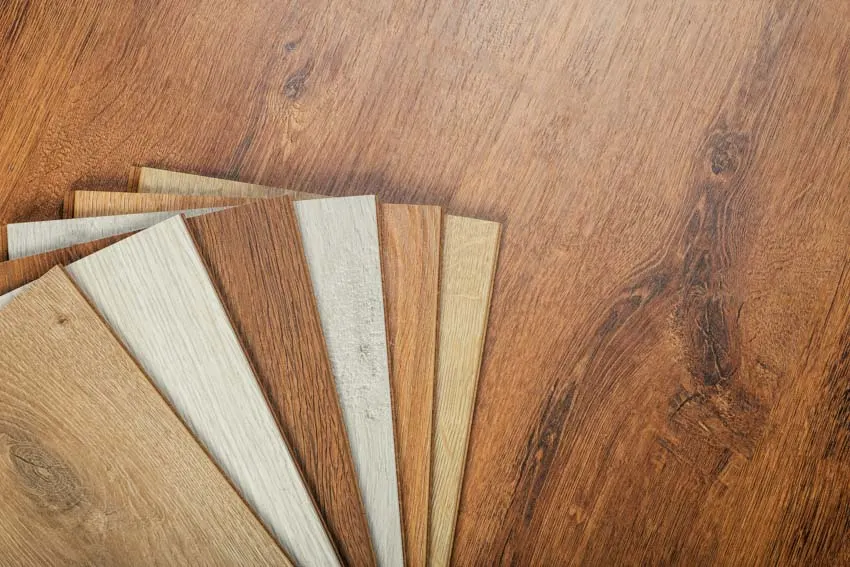 There are actually over 300 wood species used in the production of wood veneer but there are top favorites out of this huge list.
Different types and colors of wood veneer on the floor, walls and furniture such as European white oak hardwood veneer, or United States redwood softwood veneer, can add warmth to a space.
Here are some of the most popular species available worldwide and what their top properties are once they are manufactured into veneer sheets.
American Maple
• Light to dark brown in color
• Has a high level of resistance to wear and tear
• Usually applied as a floor decoration
Birch
• Light yellow to light brown in color
• Usually processed as perfectly stained or painted
• Porous and has weak resistance to moisture
• Usually applied on indoor furniture pieces and doors
Cherry
• Reddish brown in color
• Is perfect for any processing type and can adapt accordingly, even to polishing
• Usually applied in the furniture industry as well as on the manufacturing of custom exclusive products
Nut
• Light to dark brown in color
• Is amenable or is pliant to any type of processing
• Usually used in the furniture industry
Bubinga
• Purple red to brown in color
• Is known for its high strength and durability
• Usually known in the application of manufacturing luxury furniture pieces
White Oak
• Light brown to sandy in color
• Is known for good handling in any manufacturing process and also for its high level of strength
• Usually applied in the furniture industry and in stair tiling and parquet tiling
Makore
• Red in color
• Known for its very high strength
• Usually applied in furniture production and indoor cladding
Pine
• Very light in color and has a homogenous (uniform with very clean lines and patterns, if any)
• Has very low resistance to wear and tear but has high resistance to fungi
• Usually applied in furniture finishing especially for low-end furniture
Wenge
• Dark brown in color with a light base
• Known for its resistance to stress or high loads of pressure
• Used in high-end applications for home and furniture decoration in the home
Types Of Veneer Cuts
There are plenty of ways to cut veneer sheets and each process or method can produce a unique pattern in the grain and overall, a unique look for its finished product.
The production techniques and machines used have been innovated and developed for decades now and have been perfected to produce the highest rate of yields per wood log used.
Here are some of the most basic cutting styles used in the production of wood veneer:
Lathe Peeling (also called Full Round Rotary Slicing)
This process starts with getting a whole log mounted on a lathe. It is then turned against the blade affixed to it.
The log is continuously turned and "peeled", producing a long and continuous veneer sheet. It is as if the tree is being "unrolled". This type of cutting can produce full sheet faces that are wide.
However, this cutting method does not produce uniform grain patterns because of the way that it's cut. This is used for more exotic wood species such as burls and other species that are uniquely grained and figured.
Burls are usually roll cut one burl at a time in order to achieve veneer sheet sequences. The sheets that are produced usually start off wide and then it gets narrower as the blade cuts into the "heart".
Half-Round Slicing
With this particular veneer cutting method, a half or third or even a quarter of the wood log is attached to a lathe and then turned to begin the process.
By doing this method, it creates width to what is otherwise a narrow log as the radius of the cuts are increasing.
This cutting method is perfect for variegated grains in certain wood species. This cut is also used in order to achieve a plain-sliced or flat veneer appearance in the finished product.
Plain Slicing
This veneer cutting process is commonly used for the manufacturing of fancier or higher-end veneers.
A half, quarter, or third of the wood log is mounted on a vacuum flitch table with its heart positioned to face away from the blade. The cut is then made parallel to the log, hence the name, flat slicing or plain slicing.
This method produces conservative "leaves" of wood veneer in standard appearances such as flame-shaped arch or cathedral arch.
This boosts the appearance of high-end woods such as ash, cherry, oak, and many others. This cut is more ideal for the processing of doors, wall panels, and bigger furniture pieces because it delivers grain consistency and matched sequences with its leaves.
Quarter Slicing
This cutting method is oftentimes specifically asked with the intent of achieving a very straight grain in the final wood veneer product.
It's mounted on a vacuum flitch table once it has been cut into a quarter with the growth rings of the log being perpendicular to the blade. They are typically narrower than the plain sliced cuts and they can be matched far more easily.
In order for this cut to work, it requires logs with large diameters except for the white oak wood species, which is specifically quarter sliced in order to show off its iconic "flake" marking created by the veneer knife when it bisects the medullary rays or the prominent radial patterns in the white oak log.
Rift Slicing
This cutting method achieves a straight grain pattern and usually uses a stay log lathe that cuts the same way as a rotary cutter.
A quarter of the log is affixed to a plate on a turning stay log. As the mechanism rotates, the angle and blade positioning can be varied or switched up so that the cut wood produced ends up with very straight rift grains.
This method is commonly used in oak and wood species with similar traits such as walnut, cherry, and maple.
This produces the straightest patterns and is commonly used to enhance its vertical pattern. This cut is easily matched or sequenced.
Where Is Veneer Wood Used?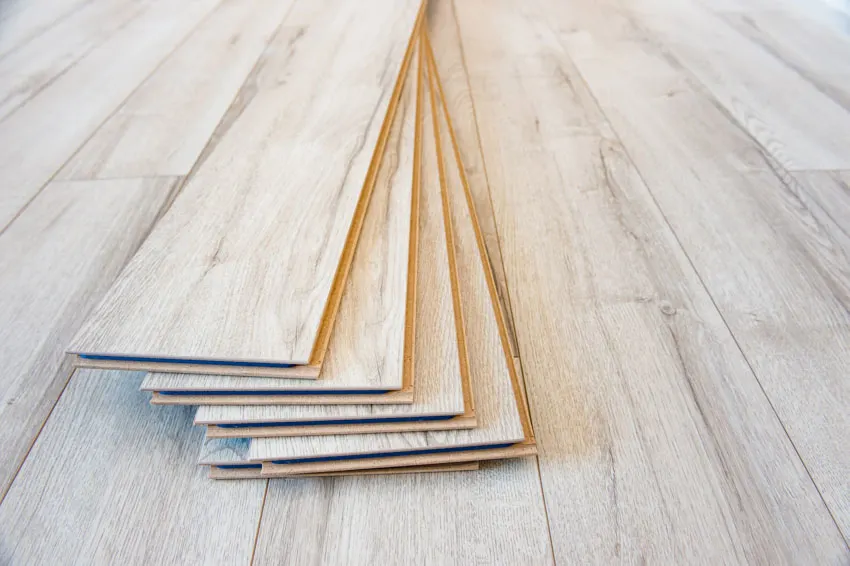 Veneer wood is popularly used because it gives different types of furniture styles and other elements in the home or in a commercial space the decorative surface appearance of real wood.
At times, they can be so aesthetically attractive that they can resemble works of art.
Patterns and color nuances in veneer are highly prized by wood aficionados because they don't recur as opposed to how natural wood is processed.
Here are the specific uses of wood veneer:
They can be made into luxury bespoke products such as chocolate boxes, wine boxes, luxury soap boxes, tags, spice jars, and so much more.
They are used heavily for interior decoration.
They are processed to create products such as wood veneer wallpapers, parquet tiles, wood veneer panels, and flexible veneer sheets, among many others.
They can be used to decorate furniture pieces in the home, office, hotel, and other locations that can benefit from decorated furniture.
To make the best choice, be sure to ask questions of your contractor about different veneer options and how they can impact your desired aesthetics and furnishings.

Can You Stain Veneer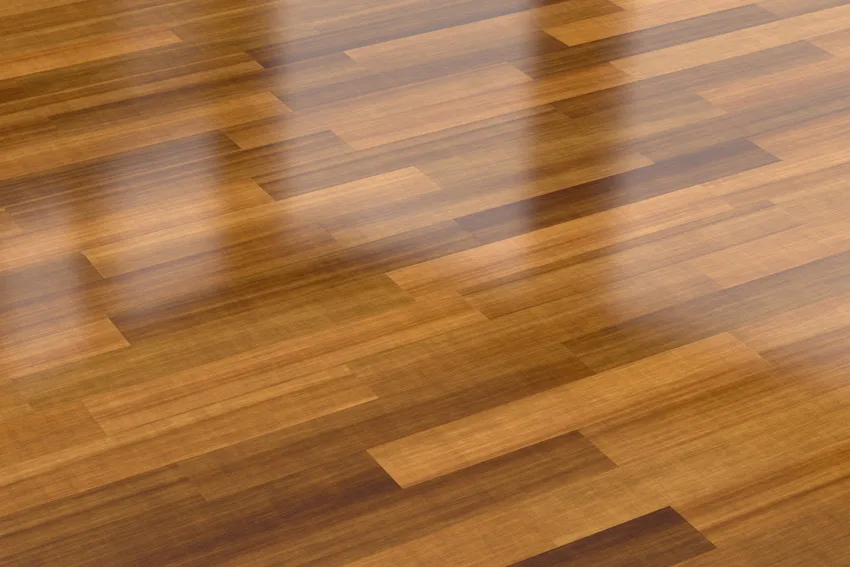 Yes, you absolutely can. Regardless of its appearance, wood veneer is, in its core, still wood.
As a matter of fact, it's a great way to restore and give life to wood veneers and showcase their natural and inherent beauty without changing it too much.
It's also highly recommended against painting it, which would hide the grains and beauty of the wood.
How To Rejuvenate Veneer
The best way to "rejuvenate" or restore wood veneer is to keep it simple and to steer clear of harsh cleaners that may have abrasives and other chemicals that might be damaging for the wood. Instead, it would be best to just rely on simple soap and water.
If there are small scratches that you would like to address, you can simply apply some sort of oil polish and rub it on the area with a microfiber cloth. Keep rubbing in circles until the scratches are eventually no longer visible.
In the event of water damage and your wood veneer happens to have a "blister" brought on by the wood layer expanding because of the moisture, you can still attempt to save it.
Carefully slit the "blister open with a cutter or a razor knife. Use a toothpick or some type of glue syringe to apply carpenter's glue beneath the veneer sheet. Press down on the blister so the carpenter's glue spreads all over the raised area under the veneer sheet.
Cover it with some wax paper and weigh it down with a fat wood block or any weights you can get your hands on. Clamp it down if possible until it dries out and is again ready to be used.
See more related content in our article about masonry veneer on this page.