Here we share the types of frosted glass front door designs including the benefits, different frosted glass, best door materials, and comparison to clear glass doors.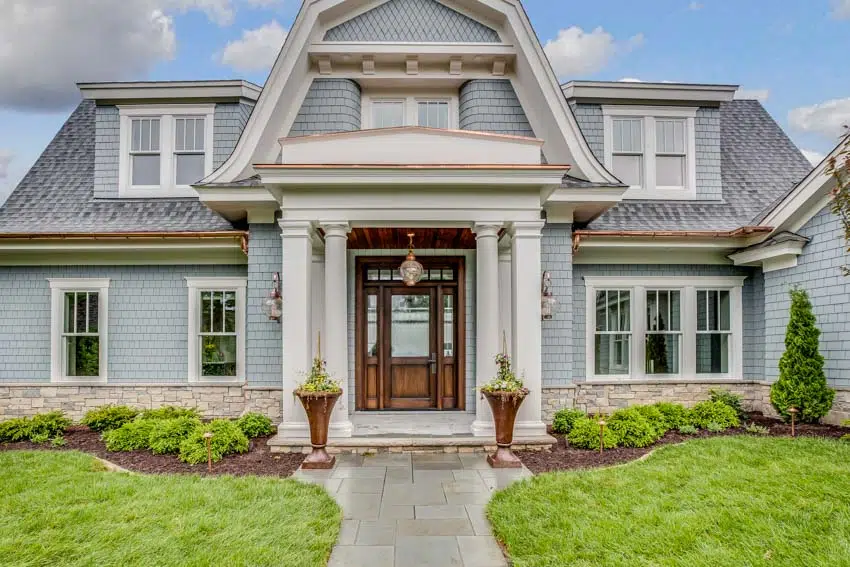 Your front door is an important element of your home for many reasons. One, it is an entryway to your home and so needs to be convenient and practical. Two, for aesthetic purposes and to provide a great first impression of your home.
And lastly, for an additional protective measure to reinforce your home. So in choosing the ideal type and design of door to use, these aspects need to be considered.
One type of front door you can consider is a frosted glass front door. Using frosted glass in your front door has become a trend due to several reasons but learning about frosted glass is the best starting place for you.
Frosted glass, ideal for both commercial and residential applications, is a processed glass created by getting a clear sheet of glass and acid etching or sandblasting the material, leading to a pitted appearance on one side of the glass pane.
The glass becomes translucent when the light passes through the surface, getting scattered away. But to make sure that this is a good option for your home, you need to explore the advantages you're about to get.
Benefits Of Choosing Frosted Glass Front Door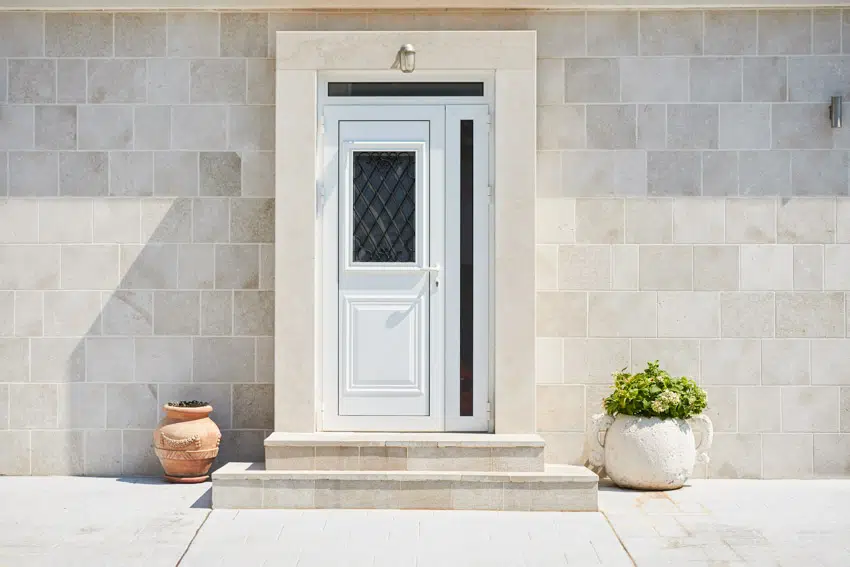 Getting a frosted glass front door for your home will provide you with the following advantages:
• Promotes privacy: Frosted glass, unlike clear glass, won't provide a translucent view of the inside of your home, making sure that unwanted people won't see your home.
• Adds a touch of drama: The frosted look offers a flair of drama that interior designs pay special attention to. Since your front door provides guests with the first impression of your home, a bit of drama to draw attention to your door's unique look can be a good thing.
• Highly customizable: Frosted glass can easily be used together with other structural elements like metal and wood to create the decor style you want to achieve.
• Showcases a sleek and modern style: A frosted glass front door features a sleek and stylish look that offers a contemporary vibe that can stand out.
• Offers an airy and more "open" feel: More than just installing as a front door, frosted glass doors also work wonderfully for indoor entrances, improving the lighting and ventilation inside the home, giving the airy and more open feel.
• Enhances energy efficiency: Since the addition of frosted types of glass front doors enhanced the lighting condition in the home, this will also result in a reduction in energy consumption. These doors are the greener option that has less reliance on artificial lighting.
• Low maintenance: Since frosted glass doors do not rust or corroded, they are easier to maintain. You also won't have to worry about scratches and stains since they are resistant and so you get a free pass from the expensive and time-consuming process of their upkeep.
Frosted glass front doors can be an excellent part of your home because of these reasons. These doors add flair and personality to the aesthetics of your home before you can even enter it. Putting in a good impression this way can attract positive attention to you and your home.
Types Of Front Doors With Frosted Glass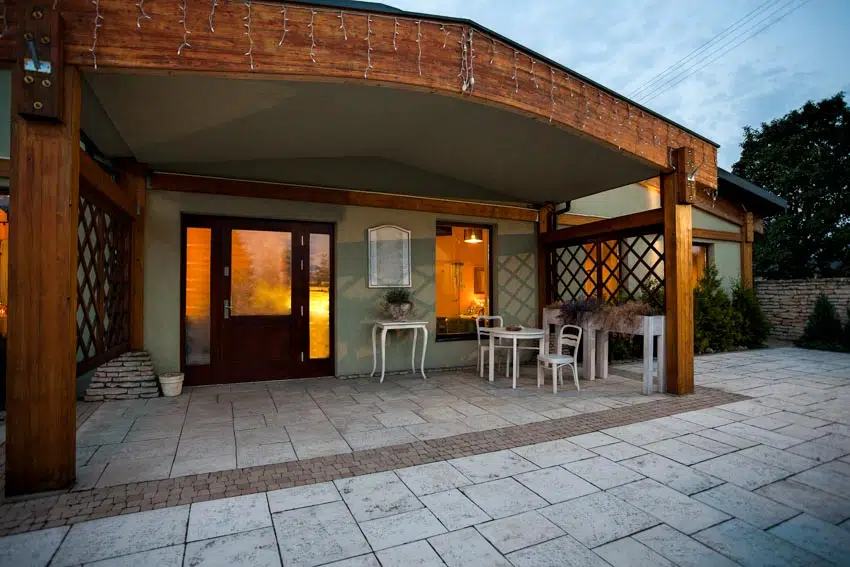 In choosing to install a front door with frosted glass in your home, there are many types to consider. And there are also different ways in which the frosted glass can be integrated into the door. To decide how to choose the ideal frosted glass front door for your home, you need to consider the following factors:
• Size of the home: Whether you choose a frosted glass single or double door, the dimensions needs to be proportional to the size of the home. See our guide to front door sizes for more details.

• Decor style you want to have: Frosted types of glass doors add flair to a home and if you're going for a minimalist style home, this might not be the best option to consider.
• Budget for the project: There are particular types of frosted glass front doors that cost more because they have better features to offer so you also need to take this into account.
To help you decide, here are some of the frosted glass front door options you can explore.
Front Door With Frosted Glass Panels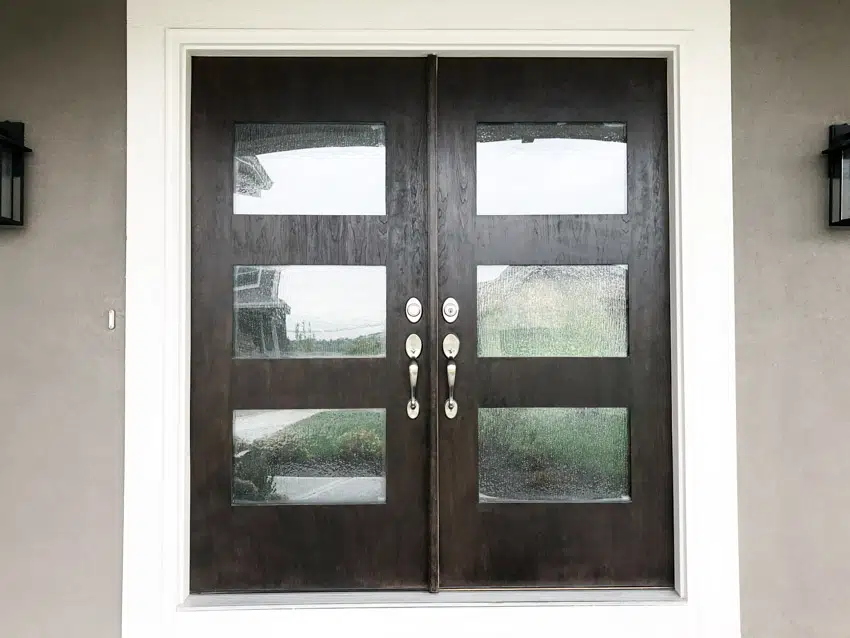 A front door with frosted glass panels can serve as a decorative entryway in your home. The glass panels can come in single, double, and triple units so you have the option to choose the number of glass panels you want to use for your front door.
The more frosted glass panels you integrate into your front door, the more natural light you allow to enter your home, resulting in a brighter and airier welcoming space. And since the glass is frosted, you can be guaranteed that your privacy is preserved, whatever number of panels you use.
Front Door With Single Panel Frosted Glass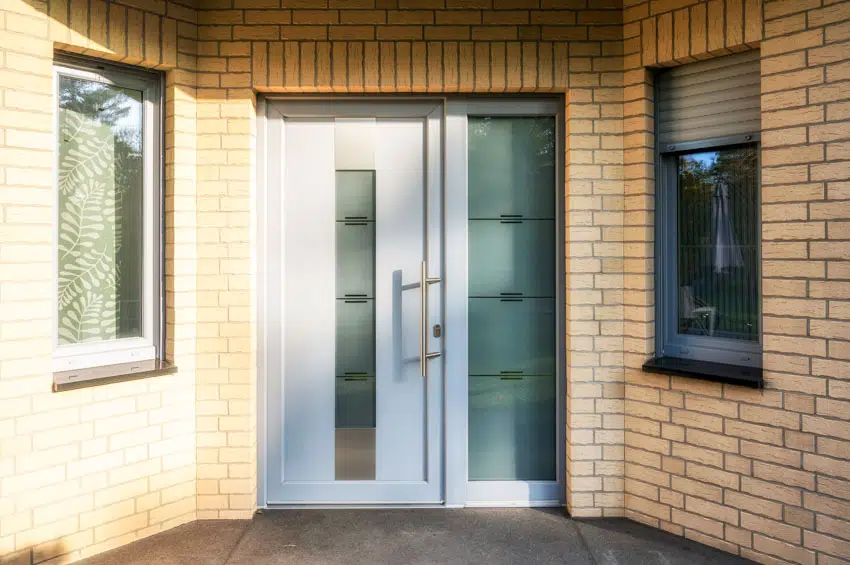 When you choose a front door with a single-panel frosted glass, you either get a full-size panel or a small panel to install with a wooden door.
A full-size frosted glass to be used as a door can guarantee maximum natural to come in. A small frosted glass panel is typically placed in the upper part of the door for the natural light to hit the floor.
You can also get frosted front doors with sidelights which are extra panes of glass next to the door. These can provide more light and enhance the look of the entryway design.
Traditional Front Door With Frosted Glass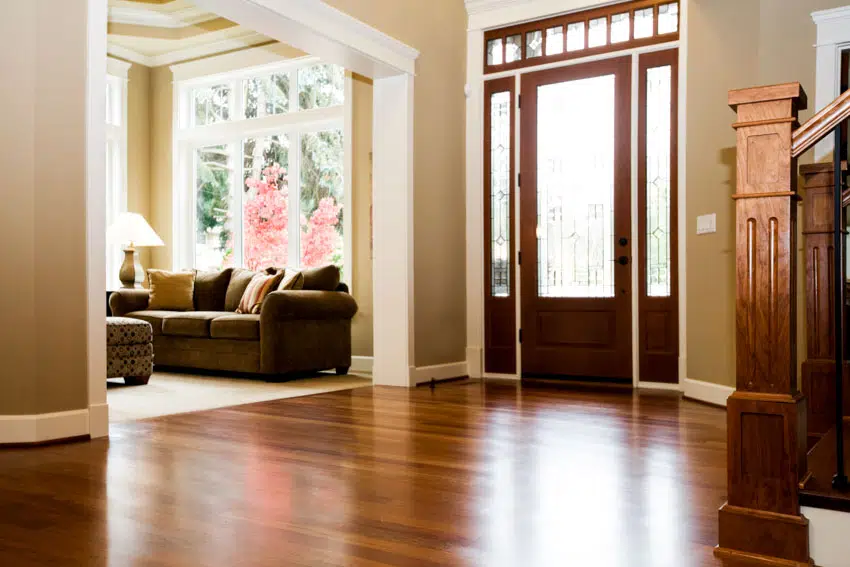 A traditional front door will most commonly use wood for its frame. You can go for a simple farmhouse-style door with a clear or natural finish to showcase the wood's knots and grain patterns. A solid wood door frame can be a great support for frosted glass.
The frosted glass can add character to this traditional look and give it a bit of flair rather than just settling with the traditional wooden door.
Modern Frosted Glass Front Door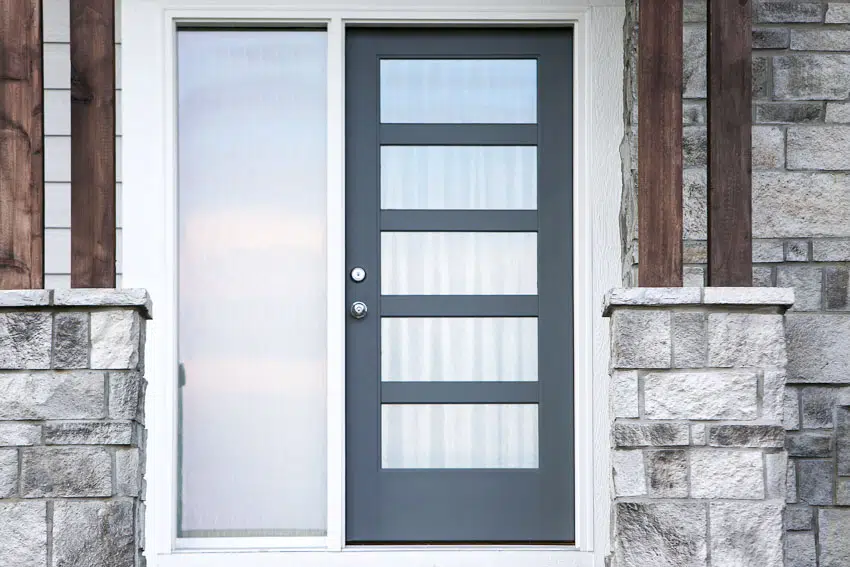 When it comes to modern and contemporary styles, the color white is a prominent color, along with geometric shapes. If you want a modern frosted glass front door, you get a solid wooden door frame you can paint with bold modern colors like black, royal blue, yellow, and pink.
You can then integrate the frosted glass in a unique geometric shape to add charm to the entire ensemble and soften the edgy and modern style. If you don't want an eye-catchy door, you can go for neutral colors tan and brown. And finally, the cherry on top is a non-traditional door handle.
Double Front Doors With Frosted Glass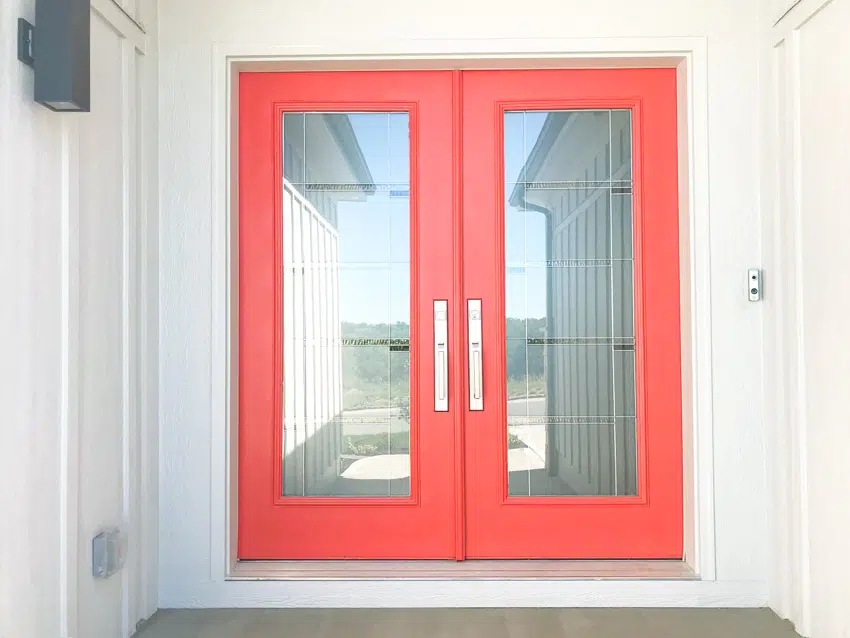 If you have enough budget and space to accommodate it, you can choose double front doors with frosted glass. This option means that you will need to use more materials to build the two front doors. You also have the option of going for a swinging door or a sliding door, depending on your preference.
Many types of sliding doors are made from glass to add elegance to this entrance. You can even build the double doors to be fully made of frosted glass except for the borders. Or you can choose to install a small panel at the top part of both doors.
DIY Frosted Glass Front Door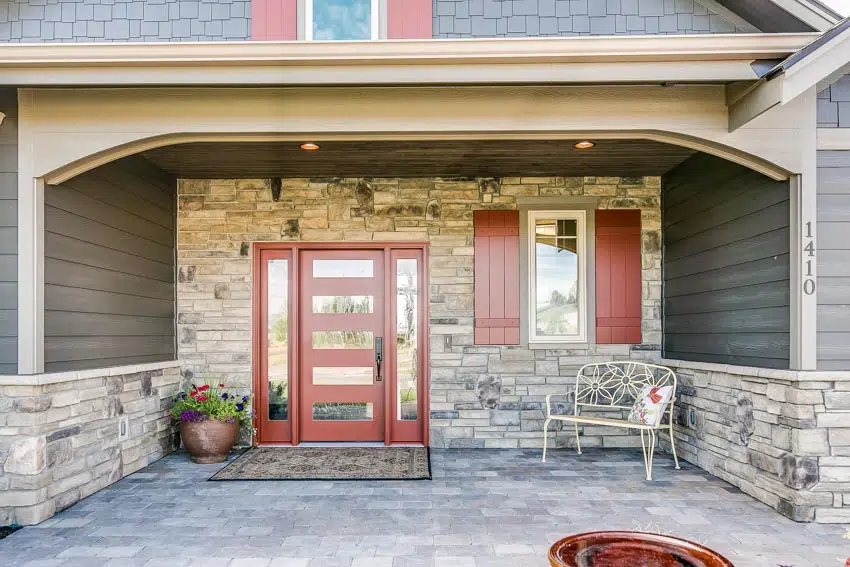 When you choose a DIY frosted glass front door, you need to at least know what you will do or how you will choose to frost the glass. You can just purchase ready-made stained glass inserts, where you just need to pair them with clear glass and install them with a wooden frame.
You can also choose to sandblast the glass or use spray paint to accomplish this effect. The advantage of this is you get to control how you want your front door to look but the downside is that you need to be knowledgeable in building one and you need enough time to build it.
When it comes to frosting glass you can also choose to use window glass film, or glass etching cream. See the process on how to frost glass doors below in this article.
Front Door With Frosted Glass Film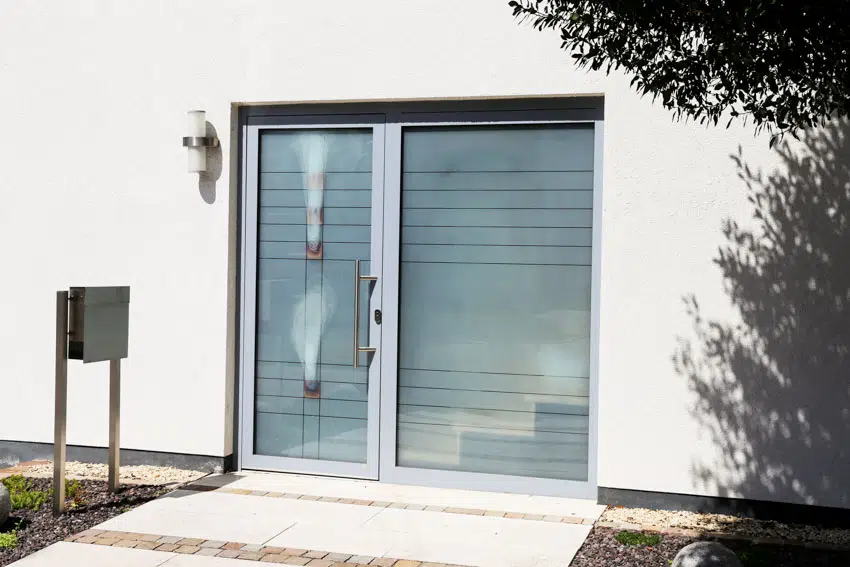 Sandblasting the glass or using spray paint is not just way you can get frosted glass. You can also use a frosted glass film to help you achieve this specific look.
Ideal for renters and homeowners alike, an adhesive window film can turn a clear glass into a frosted glass by trimming a piece of this film and gluing it over the surface of the glass to extract the bubbles that can mimic the frosted look. Make sure that the adhesive backing is properly installed by using a flat tool similar to a credit card.
Front Door With Glass That Changes From Clear To Frosted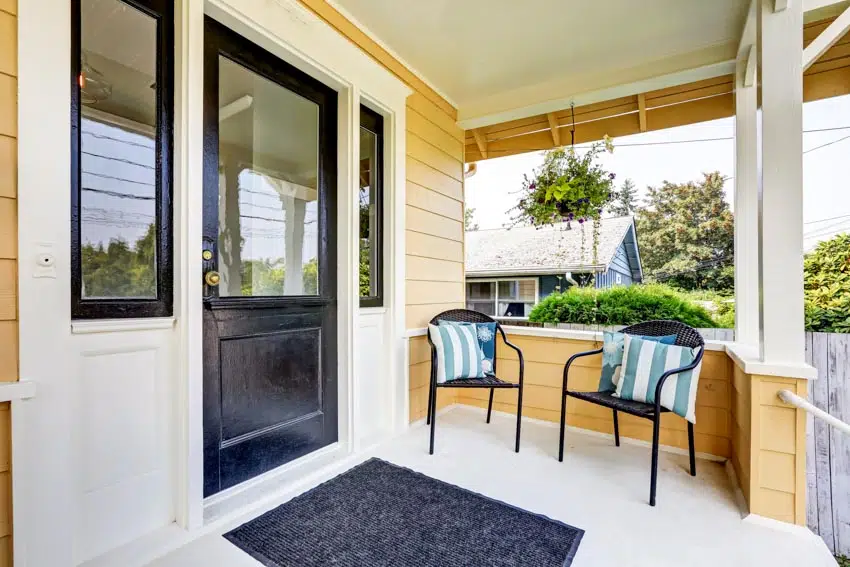 With the improvement of technology throughout the years, homeowners are provided with more options in a lot of aspects at home. One technology you can take advantage of is switchable technology or PDLC technology, which is responsible for turning clear glass into a frosted one just with a click of a button.
This particular technology is used to promote privacy whenever needed and is accessible just in seconds. To make this possible, a switchable film or self-adhesive retrofit film can also be used. It is a convenient option you can choose if you're quite unsure if you will settle with a clear glass or a frosted glass for your front door.
Frosted Glass Impact Resistant Front Door
A frosted glass impact-resistant front door is a durable and sturdy element of your home capable of catering to both aesthetics and safety or security. Even when using glass, you can be guaranteed high wind and other extreme weather conditions and elements that can harm and damage your front door.
Most impact-resistant frosted glass is made with special laminated glass. Make sure though that the installation is done properly to make the most of this frosted glass impact-resistant front door.
Frosted Glass Front Door Materials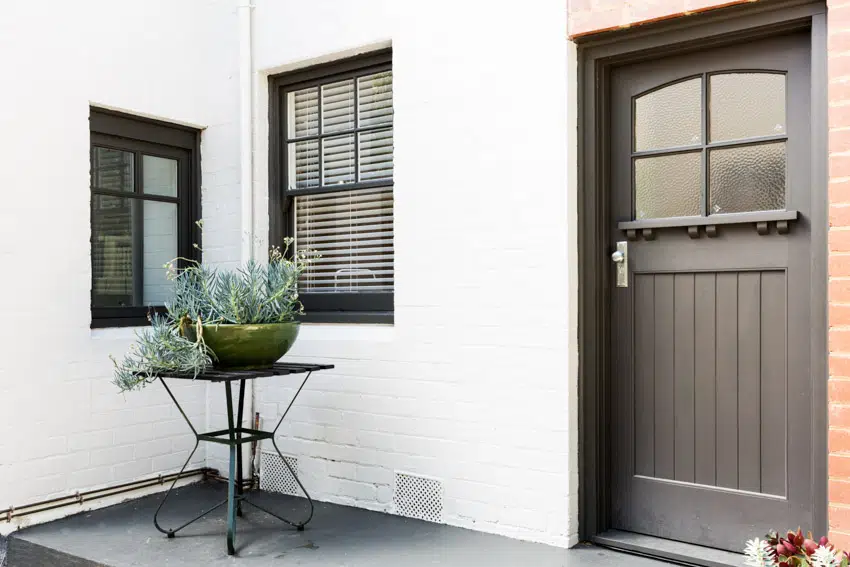 If you're choosing to DIY your frosted glass front door, there are many materials you can match the glass with, not just to reinforce durability but also to contribute to its aesthetics. To start though, exploring your frosted glass options will be the best place to begin.
Common Types Of Frosted Glass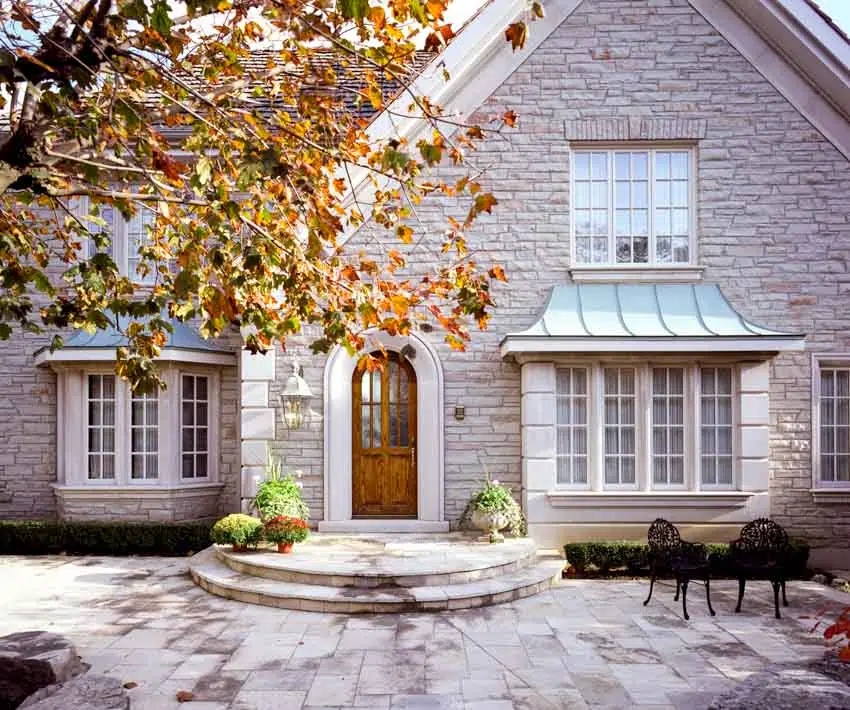 Here are some of the common types of frosted glass you can use for your front door when you decide that this is what you want to have:
• Sandblasted glass: The frosted effect on the glass is accomplished by spraying sand over the surface to create light damage on the transparent surface. The frosted effect on this glass looks less uniform and rougher compared to acid-etched glass.
• Acid-etched glass: With this type of frosted glass, acid is used to etch the surface with a heavily blurred effect. The aesthetics look more uniform and smooth compared to the sandblasted glass.
• Satin glass: This type of frosted glass offers a more transparent look compared to the first two, with the glass only looking slightly blurry and can still look through.
Types of Door Materials to Use with Frosted Glass
There are other types of frosted glass but these are only a few of the most commonly offered in the market. If you're building your own frosted glass front door, you can easily match them with the following materials:
• Wood: This is the most common material used for doors and is compatible with different variety of home styles. Energy-efficient types of wood doors can come as solid, paneled, and engineered and even come from different types of wood like beech, elm, oak, and mahogany.
• Steel: Strong and durable, this material is usually used as an inner frame of the door similar to foam and wood. More affordable and easy to paint, it is guaranteed not to crack or warp.
• Wrought Iron: If you're going for a highly decorative front door, wrought iron can be used to incorporate with glass. It is ornate in aesthetics and easily delivers traditional and contemporary styles. While it can be pricey, this option is sturdy and highly customizable.
• Aluminum: Custom-ordered, this material can cost high but it also doesn't rust and doesn't need painting. You can use this material in a sheet and install it over a foam or inner wooden core.
• Composite: Weatherproof and moderately priced, this is made from a variety of materials like wood, foam, UPVC, and glass-reinforced plastic.
• Fiberglass: Maintenance-free and tough, this material can easily mimic wood, withstand humidity, and is offered at affordable prices.
Front Door Clear Glass Vs Frosted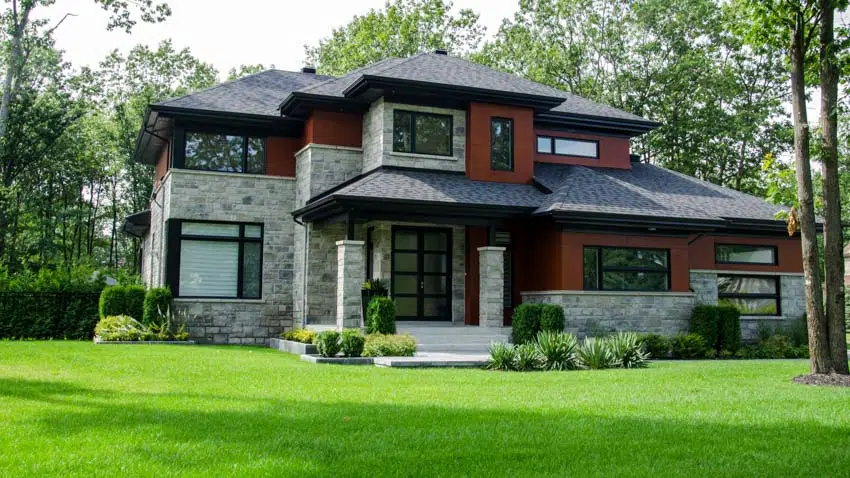 Besides frosted glass, clear glass is also an option for many homeowners to install in their front doors. Before you decide on a frosted glass front door, here is a summary of its difference from a clear glass front door to give you a better grasp of your decision.
| | | |
| --- | --- | --- |
| Factors/Aspects to Consider | Clear Glass | Frosted Glass |
| Privacy | Lacks privacy | Added privacy |
| Light | Maximizes light | Less natural light |
| Aesthetics | Modern aesthetic | Elegant look |
| Maintenance | High | Low |
Clear Glass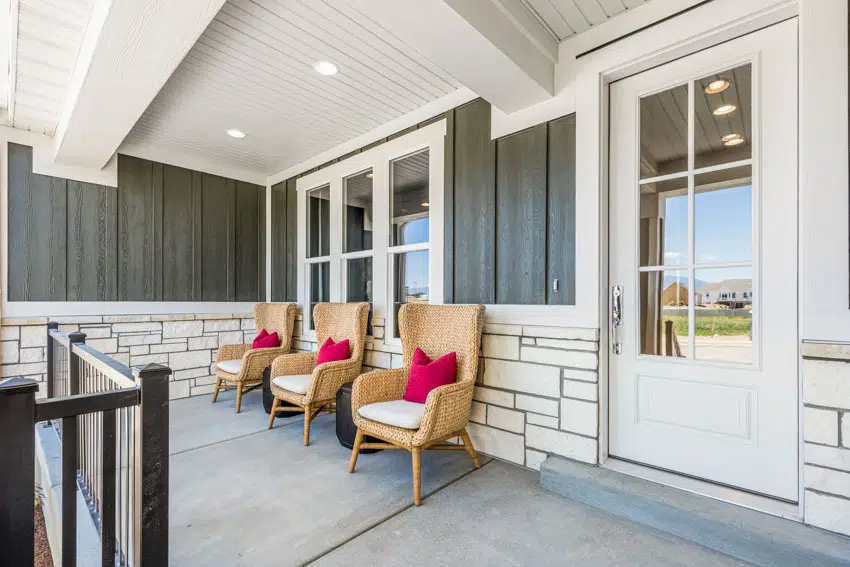 Clear glass is associated with a clear and transparent finish made possible with the material being manufactured without any tint in the float line. Here are some of the pros and cons when choosing clear glass for your front door.
Pros of Clear Glass Front Doors

• Provides maximum natural light: Clear glass can allow the most amount of natural light to enter your home compared to frosted glass, giving way to a brighter and airier space in your welcoming entrance.
• Features modern aesthetics: With the clear glass, you get a sleek and stylish appearance that will be ideal for modern and contemporary homes.
Cons of Clear Glass Front Doors

• Has privacy and security issues: With clear glass on your front door, anyone can see what's inside your home, compromising your privacy and security since possible intruders will be able to see your valuables clearly and can be very tempting for break-ins. See our tips on how to cover glass doors for privacy here.

• High maintenance: Clear glass is prone to dirt and scratches which can easily be reflected on the surface so you will need to regularly clean the glass to keep it in good condition, especially if you are installing it on your front door.
Frosted Glass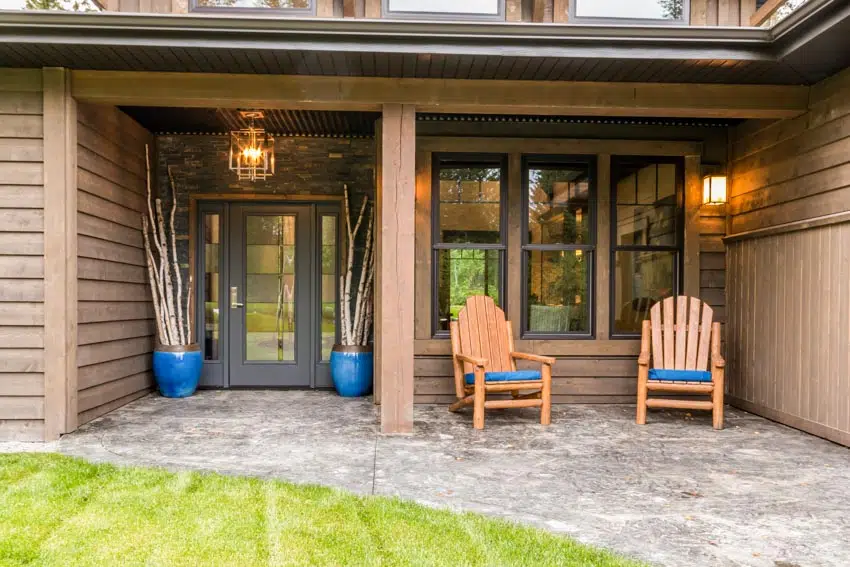 A frosted glass refers to a clear glass that has undergone specific processes that turned it opaque. Some of the processes used to make this possible are acid etching and sandblasting. When the light hit this type of glass, it scatters but is still able to obscure visibility. Here are the pros and cons you can explore when compared to clear glass.
Pros of Frosted Glass Front Doors

• Features an elegant look: Frosted glass when installed on your front door adds elegance and class to the door, in result adding a wow factor to your home.
• Supports your privacy: Frosted glass front doors help keep your privacy by blurring all the items behind the door, making sure the nosey neighbors and possible intruders won't be able to see all your valuables inside your home. And the best part is that natural light can still enter from the frosted glass.
• Low maintenance: Since frosted glass doesn't easily streak or scratch, cleaning and maintaining will only require minimal effort like wiping on the glass.
Cons of Frosted Glass Front Doors

• Restricts the natural light: If you want to make the most of natural light to enter your home, frosted glass is not an option since it's not as effective as clear glass. It creates a darker and dimmer atmosphere.
• Condenses space: With limited natural light entering the home, this will also make the space look smaller compared to if you use clear glass.
What Kind Of Glass Goes In A Front Door?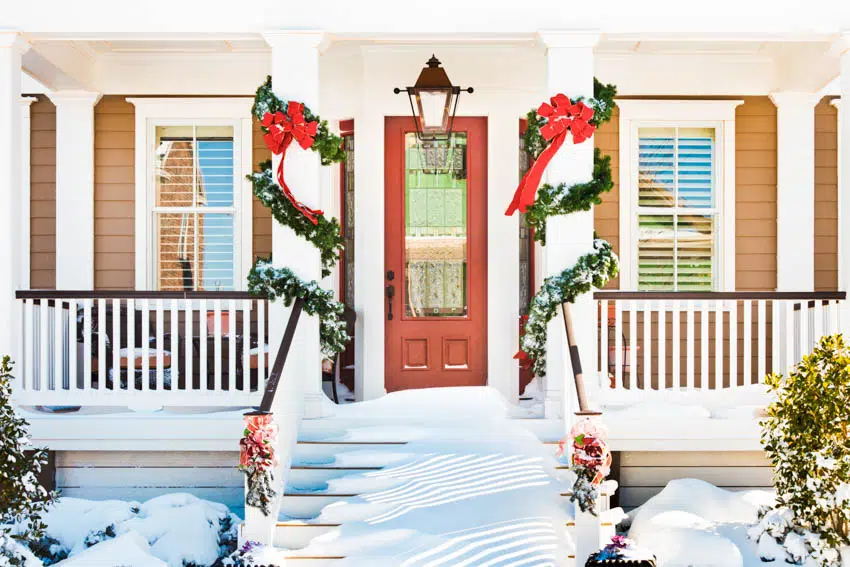 The front door of your home garners the first and last impression that guests would have. It is important to make sure that even with just your front door, you can induce the vibe you want to inspire.
And one of the ornate materials you can add to your front door for aesthetic purposes is glass. If you're looking into the different kinds of glass you can use for your front door, there are several that are worth considering and taking note of.
• Clear Glass: Considered the most common glass option for the front door, clear glass offers the most natural light into the home but also offers very little privacy. When installed in the front door, it becomes a decorative element perfect for modern-styled homes.
• Textured Glass: This type of glass refers to the ones with a nice variation that allows you to keep everything inside private. Textured glass is a great option for the front door not just for privacy but also for aesthetics. Some of the variations of textured glass include rippled, frosted, water glass, glazed, and beveled.
• Stained Glass: If you want something unique and quirky, this is a good option for your front door to add colors to your home. This type of glass is usually paired with wood to showcase a vintage look.
• Toughened Glass: Popularly used for automobiles, buildings, and glass partitions, toughened glass is designed to be resistant to breaking.
• Insulated Glass: If you're looking for protection against cold weather, this type of glass is the ideal option for you. It's made from two or more glass sheets tightly sealed together. Dry air is then inserted in between.
How To Choose The Best Glass For Your Front Door?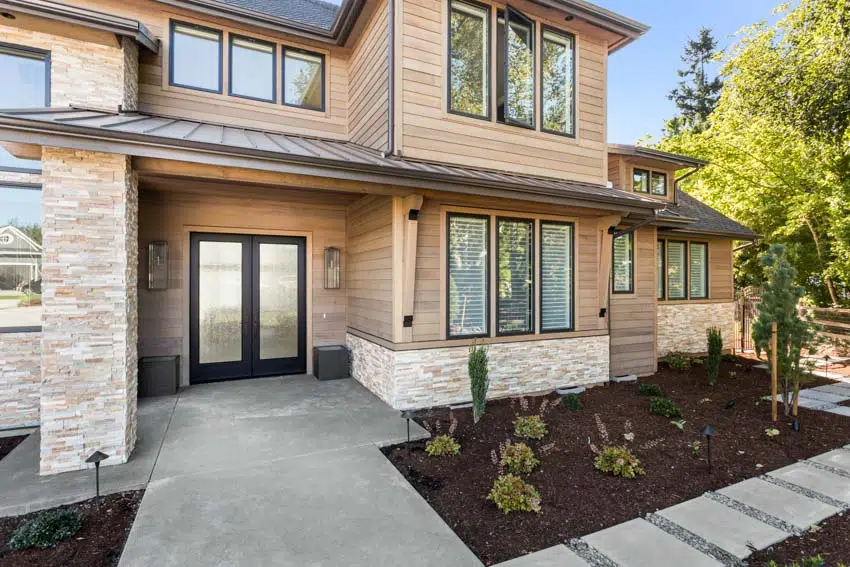 If you're in the process of choosing the ideal glass you can use for your front door, there are several factors to take into account before making a decision. Some of these factors include
• Safety and security that the glass can reinforce your front door and home with.
• Aesthetics and appearance are featured and supported by the different types of glass.
• Functionality and efficiency of the glass and its function in the door
• Maintenance
How To Frost Front Door Glass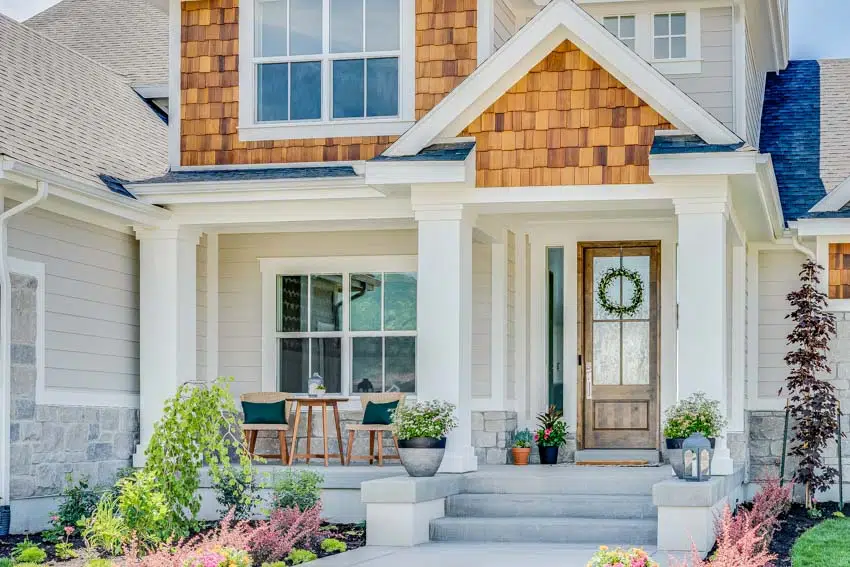 If you're going to DIY your frosted glass front door, you need to know how to create this effect. And there are several ways you can do this, including the following:
• Frosted glass spray paint: Manufacturers have created a special spray paint you can use to create the frosted look just by spraying it on clear glass. Simply tape off the edges of clear glass and the area you don't want to be affected before spraying it on the glass.
• Window film: You can apply the non-adhesive film on the clear glass just using static cling.
• Removable window adhesive: Carefully stick a frosted contact paper to a glass surface and slowly peel off the film to complete its application.
• Etching: A glass-etching cream can be applied to permanently create the frost effect on your glass. Ideal for smaller surfaces, this cream is easy to apply but you just have to make sure that it won't make contact with your skin while you work with it.
If you want a step-by-step guide to frosting your glass, here are five simple steps to follow and they apply to both etching cream and spray paint.
Steps for Frosting Glass
• Step 1: Clean the surface of your glass with a paper tower/squeegee and a window cleaner and dry it with a clean cloth
• Step 2: Stencil a pattern on your glass using stickers and painter's tape
• Step 3: Cover the surrounding areas with plastic bags and drop sheets so that they won't be accidentally sprayed on or applied with the cream
• Step 4: Wear a protective give before doing any work like goggles and protectives gloves (Especially when using etching cream since it is harmful to the skin)
• Step 5: Frost the glass (Spray on your glass panels or apply the cream on the surface of your glass
Are Glass Doors Easy To Break Into?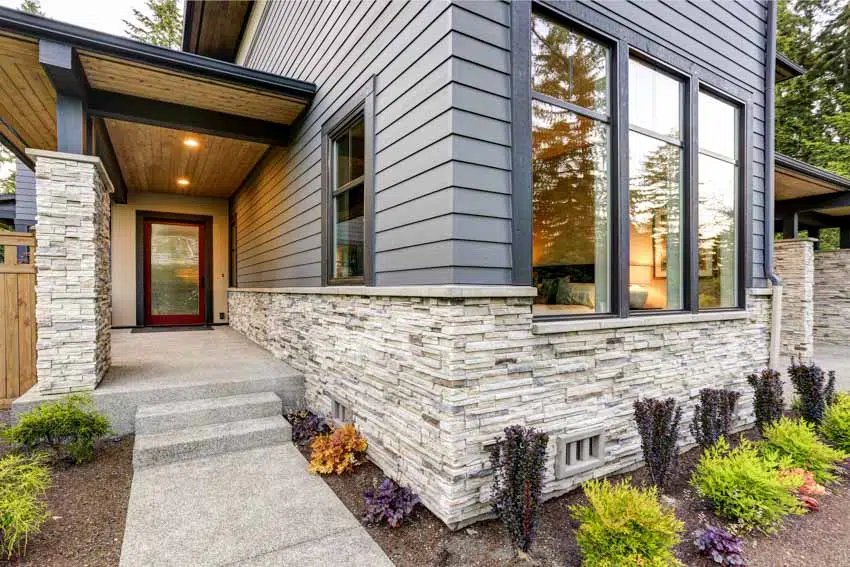 No, glass doors are not easy to break into, not like what you usually see in movies and TV. If this is your key concern when considering a frosted glass front door, rest assured it won't break just by punching on it. Of course, you will need to take into account the type of glass used on the door.
Most front door glasses are made of tempered glass, which is way more difficult to break compared to the glass used in the types of windows. This is also known as double-strength glass or safety glass due to its durability.
This type of glass is typically an eighth inch thick compared to the 3/32 inch glass used for windows. This thickness makes the glass way more difficult to break.
How To Secure Glass Doors
Let's face it, glass doors (however durable they may be) will seem like a fragile material maybe because of years of misconceptions or influences from TV shows and movies.
While it's true that standard glass doors can easily shatter, some are not easily breakable. To be sure though, securing them properly is the best thing to do.
To secure the glass door, you can choose from the following options:
• Security window film
• Polycarbonate glazing shields
• Bars or grills
• Laminated security glass
You can base your choice on aesthetic preferences and security needs. For example, while metal grills and bars are the most traditional and common way to reinforce doors, they are not aesthetically friendly and can feel quite restrictive.
This is different if you choose to apply a security window film on top of the glass doors. While it may not prevent it from actual breakage due to impacts, the film will hold the shards together in place.
Laminated security glass on the other hand offers sturdy and durable support to the glass doors and actually resists impacts. The glazing shields are similar to this glass though more powerful and virtually unbreakable.
See more related content in our article about front door colors on this page.