Welcome to our guide to bay window vs bow window designs, including the differences between styles & cost.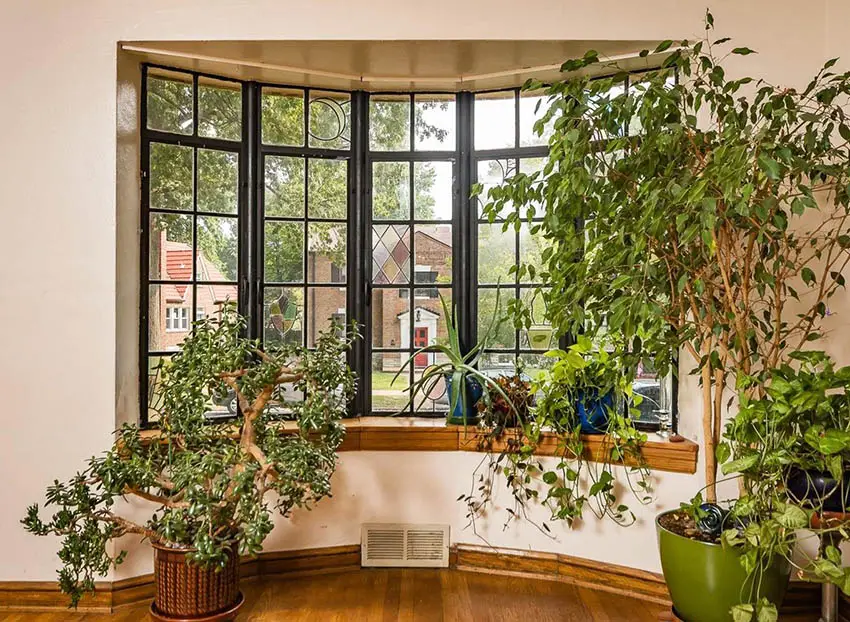 The most important factor to consider when you are choosing between a bay window and a bow window is the space required for installation. Bow windows are much larger than bay windows. Both bay windows and bow windows need to be placed in exterior walls.
One advantage of a bow window is that it can be installed in a corner, opening up views from two sides of your home and expanding the visual area of the space. A bay window requires only a single wall. Bay windows have the functional advantage of being able to fully open, while bow windows let in more light and can be customized to provide adequate ventilation as well.
If you've been picturing yourself curled up inside a cozy nook with a hot beverage and a good book, you've probably been thinking about a bay window. These usually have a bench-like sill that juts out from the house, creating a perfect little reading seat.
A bay window, on the other hand, tends not to have such a deep sill. Of course, the layout is customizable, and an expert can help you achieve your desired look.
Difference Between Bay and Bow Window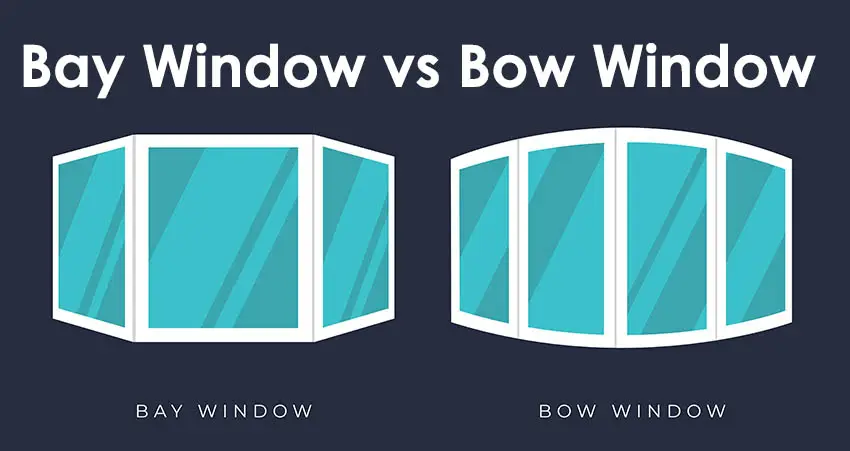 The major difference between a bay window and a bow window can be observed easily. All you need to do is count the number of windows.
A bay window has three windows — a large center window (sometimes called the 'picture window') flanked by two smaller windows. The largest window runs parallel to the exterior wall of the building.
The two flanking windows sit on the diagonal, connecting the large window to the exterior wall. When viewed from above, the footprint of a bay window is a trapezoid.
The footprint of a bow window, on the other hand, is more like a half-oval. Bow windows always use at least 4 windows, sometimes, more, to achieve a rounded, sweeping effect.
Although each individual pane of glass is still a straight line, they are arranged so that the finished product forms an arc. Bow windows have minimal framing and hardware so as not to interrupt the view. For more options see our types of window designs page.
Size Differences Between Bay and Bow Windows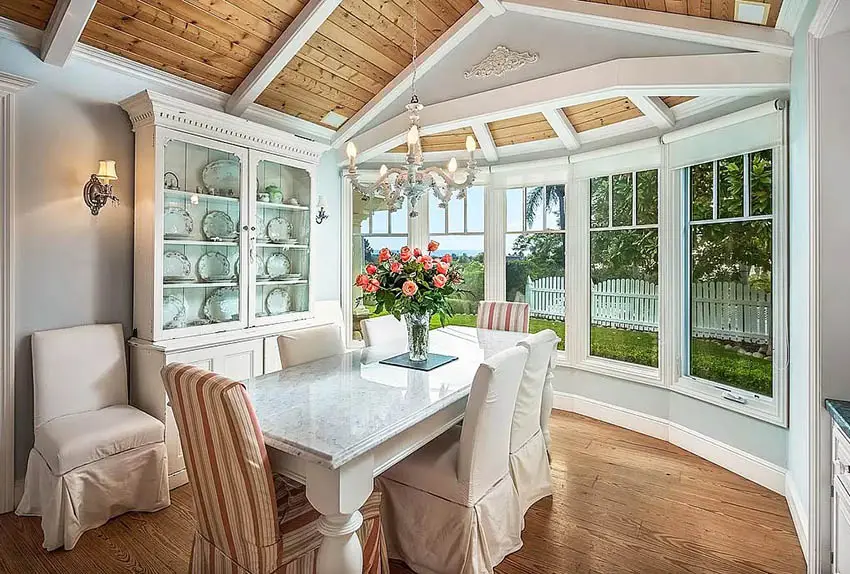 For a bay window, you will need to allocate at least 40 inches of wall space. A bow window is much bigger, requiring at least 80 inches of wall space. See our standard window size charts here.
Style
The bay window is associated with contemporary homes, with its angular lines and flat planes. You might have seen bow windows in architecture from further back in history — they were very popular during the Victorian era.
However, there are no hard and fast rules about what style is appropriate for your home, and if you have your heart set on either style, with careful planning and expert advice, you're sure to enjoy the result.
Lovely bay window seat in the kitchen.
Light
Both bay and bow windows will increase the amount of light let into your home. A regular window, which lies flush with your wall, will only capture light head-on. But because they extend beyond the exterior limits of your home and face in additional directions, a bay or bow window will catch additional sunlight.
A bay or bow window facing southern exposure, for example, will allow light not only from the south but also from the east and west, due to the orientation of the windows.
Bay windows let in more light than traditional windows, and bow windows let in even more light than bay windows. If a bow window is installed in the corner of a house, it will also allow you to enjoy the view in two directions. When opening your home to more light is your highest priority, bow windows are the obvious choice.
Ventilation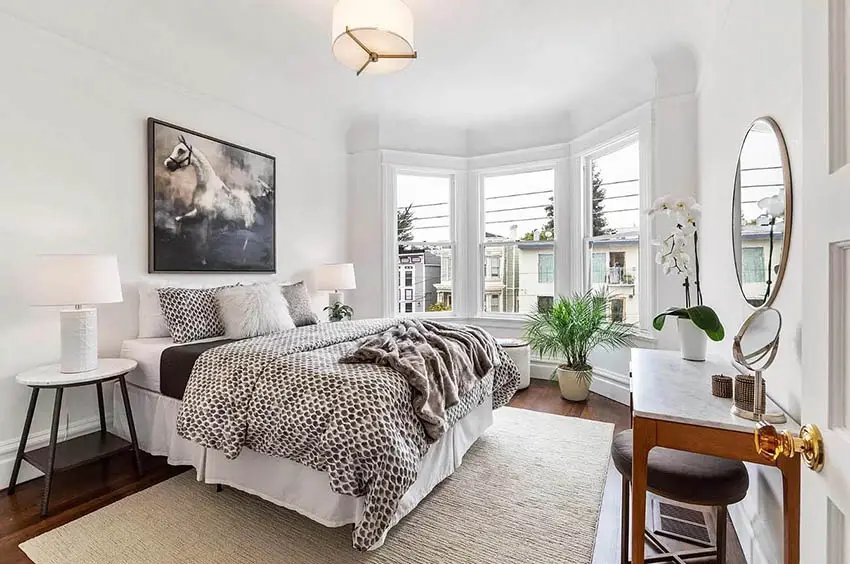 Of course, light and style aren't the only reasons your home has windows — they're also there for ventilation. In a bay window, you essentially have three windows placed together.
Each can have its own opening mechanism, just like a standard window. Note that if you have a window that opens with a crank at the bottom, this will intrude into the sitting area created on the bay window sill.
A bow window, on the other hand, tends to have fixed pieces of glass without opening mechanisms. This is a beautiful and streamlined look that will show off the view of your surrounding property.
However, it doesn't have to feel like a fish tank — you can build in selected windows that can be opened or unlatched, allowing for ventilation and circulation of air. Work with an expert to determine how to get what you need for the space without sacrificing the look that you're working towards.
Bay Window vs Bow Window Prices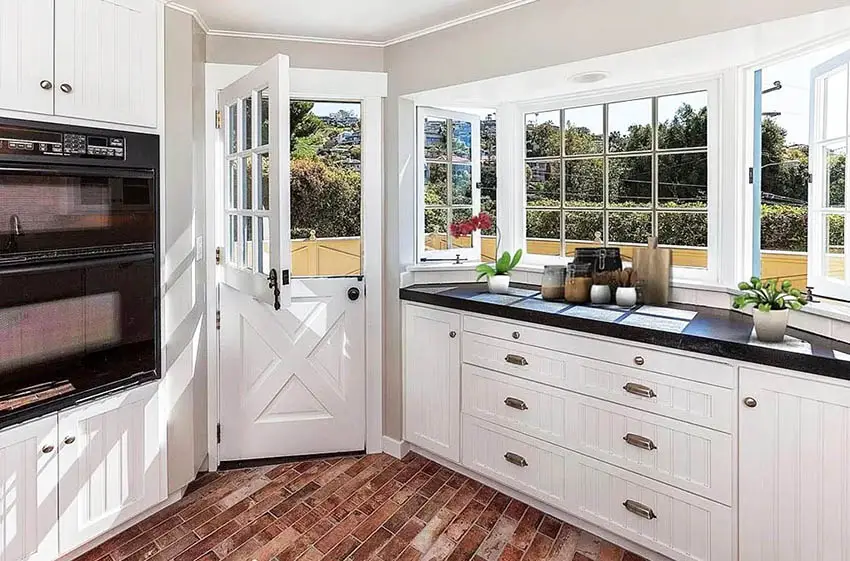 A white cabinet kitchen with bay window and dutch door.
At this point, a bay window is a fairly standard construction installation. The entire 3 panel bay window project should cost between four thousand to six thousand dollars.
A bow window requires a more customized approach, more space, and additional materials, which increased the cost.
The cost to install a bow window can start around $5000 to about $8000 depending on the type selected, size and its location. However, one can expect to spend $10,000 or more on a custom bow window installation.
Bay vs Bow Window Installation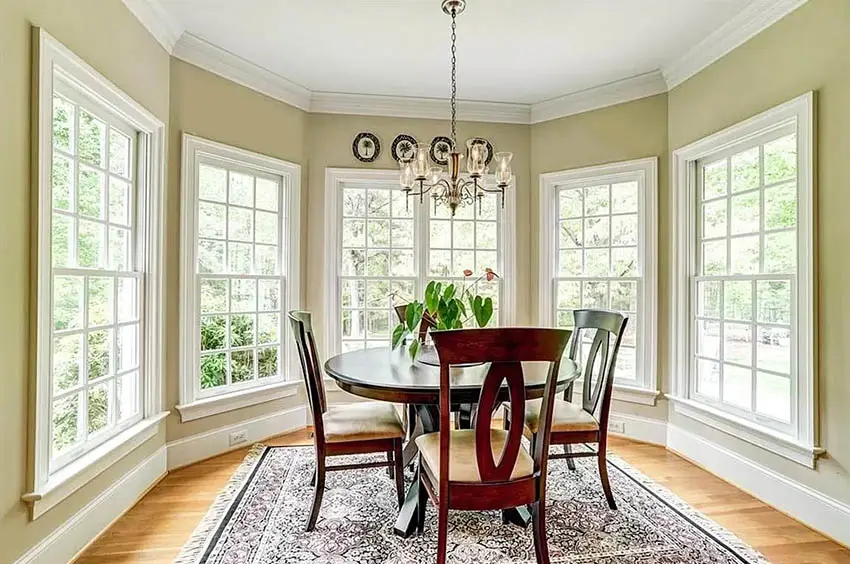 The relative ease or difficulty of installing a bay or bow window depends largely on the existing structure. You'll need to know where the load-bearing studs are in your exterior wall and what electric and duct work is running through the space. You will also need to have a plan for removing the old window and inserting the new window on the same day.
Whether or not you need professional assistance depends on your confidence and experience. It's a dusty, difficult, and exacting process.
First, the room needs to be sealed off so that the dust doesn't enter the rest of the home. You may need to install temporary structural support since you're likely to be cutting through the studs that hold your roof up. The old window needs to be removed, and then a larger opening cut into the wall of your home. Any electric cables will need to be rerouted.
When the opening is the right size, the new window can be inserted. After that, it's necessary to trim the outside and inside of the window, so that it feels like part of the house, not an afterthought. Add cushions, pillows, or curtains if you like, or just keep the glass crystal clear and enjoy the view.
For more related designs visit our gallery of kitchens with garden windows here.