Discover all about RTF kitchen cabinets, including what they are, their finishes, cabinet doors, durability, and whether or not they can be painted over.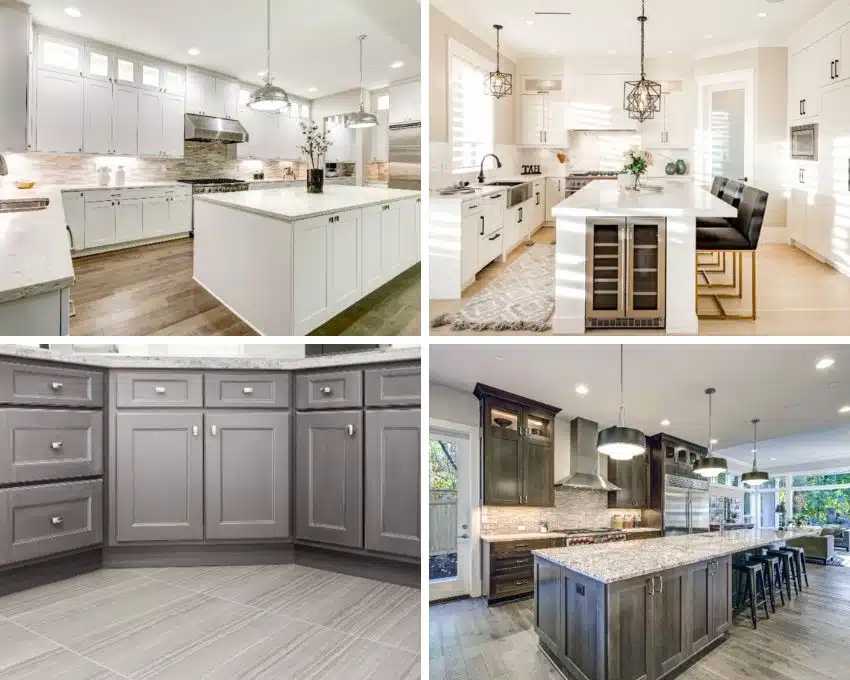 RTF (Rigid Thermofoil) has been gaining popularity in recent years, offering an excellent solution for home renovations, especially for the upgrade of kitchen or bathroom cabinets. With the right information, you can decide if RTF cabinets are the right choice for your renovation project.
What Are RTF Cabinets?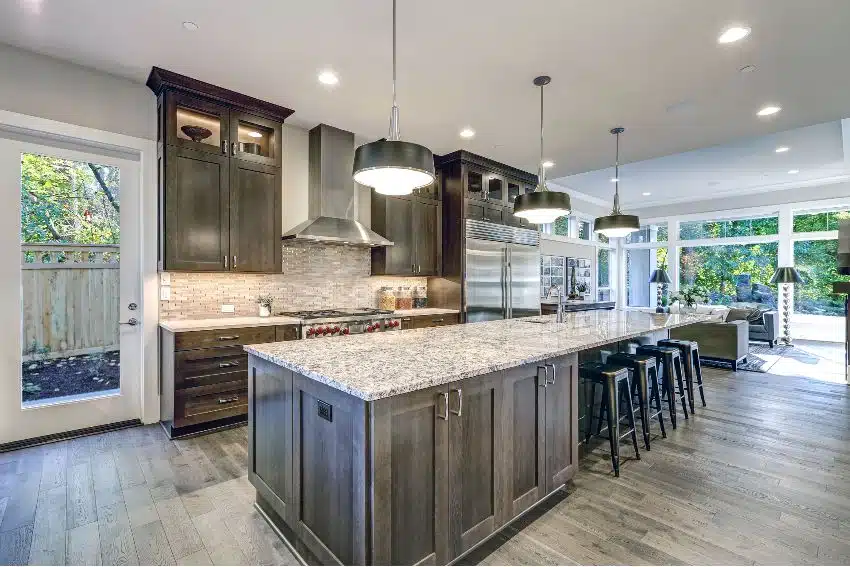 RTF cabinets are composed of thin layers of vinyl bonded to a Medium Density Fiberboard (MDF) surface through the application of high heat and pressure in a large vacuum press. This process produces a durable and aesthetically pleasing product that mimics real wood's look.
MDF is not suitable for cabinet doors and drawers because it is prone to chipping, and swelling, plus MDF on its own is difficult to paint. Rigid Thermofoil is incorporated into the medium-density fiberboard to strengthen, seal, and protect the door front.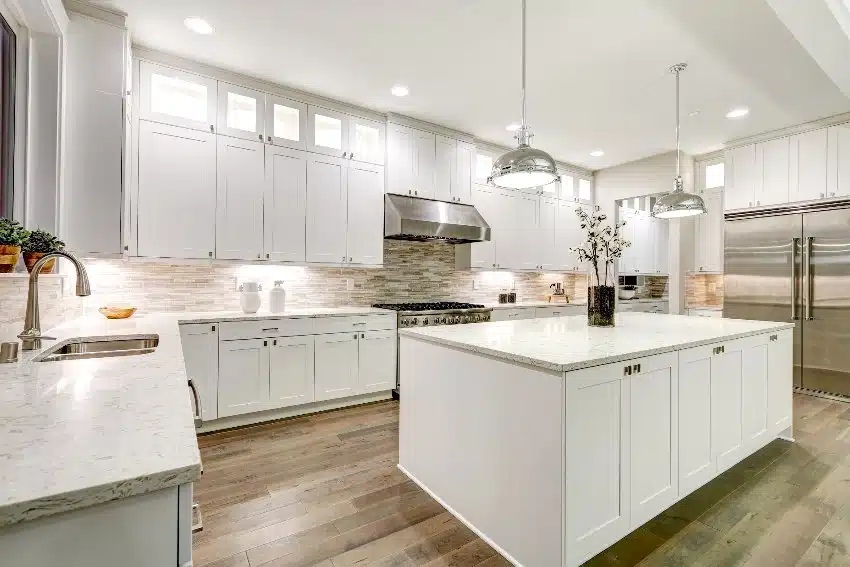 Additionally, RTF cabinets are characterized by a seamless construction, color consistency, and resistance to stain. RTF cabinets are quite easy to maintain and clean. In most cases, RTF cabinet doors are a good option for remodeling since they cost less than buying solid wood components.
RTF Finish On Cabinets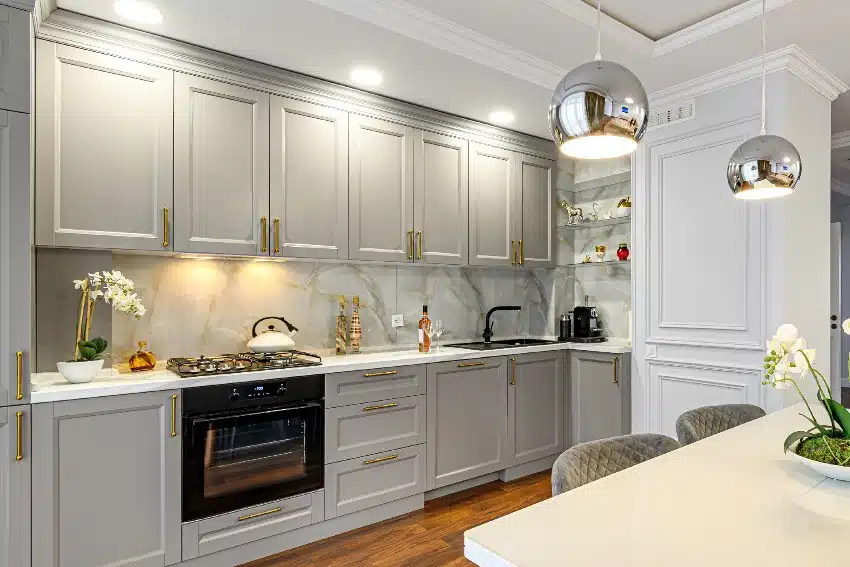 RTF cabinets can be customized to any style, color, or finish. The RTF finish on cabinets features smooth, uniform, and consistent colors free of knots and grain patterns. Their wide range of color and pattern options is a major advantage of cabinets with RTF finish.
Cabinetry surfaces with RTF finish may be formed into an assortment of patterns and shapes that allows a variety of choices, from a basic flat cabinet to a cabinet with an embossed design. RTF on cabinets offers a choice of matte or glossy finishes.
These cabinets have excellent moisture and warp resistance. They are less likely to twist, chip, or crack easily, even in high humidity, as long as the vinyl laminate coating isn't damaged.
Additionally, cabinets with RTF finish have low maintenance compared to natural wood and are easy to clean and maintain. Its laminate surface resists stains; grease and other stubborn residues can be easily wiped down with a mild all-purpose cleaner.
RTF Cabinet Doors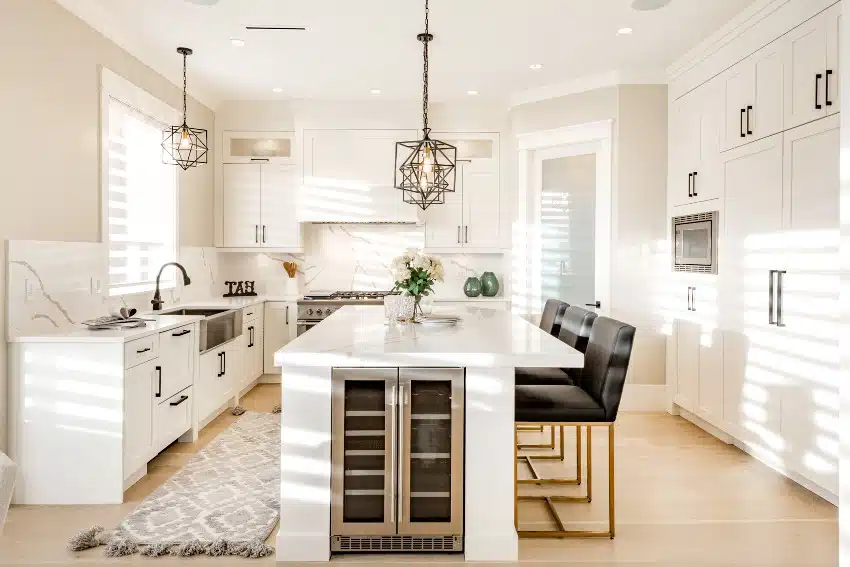 RTF cabinet doors include a piece of laminated 3/4″ piece of a medium-density fiberboard core that allows ease in routing out the pattern or style of the cabinet doors and drawer fronts.
However, due to the MDF material, RTF cabinet doors weigh more than traditional wood cabinet doors, making it more difficult to install and align properly.
After the MDF panels have been cut to the size of the cabinet doors, they go to high-end pre-programmed routing machines to create the respective door styles.
It then goes through another machine that clears all the dust and then lightly sprayed with a thin coat of adhesive that will help stick the thermofoil to the cabinet doors.
Once the doors dry, they are taken to the presses, where the foil is laid over all the surfaces and sent into the press. The thermofoil only covers the front and four sides of the cabinet door, and the back is covered with a simple white melamine finish.
The press clamps down over the door for several minutes through heat and vacuum pressure, fusing the foil to the cabinet doors. The excess foil is then trimmed off each of the cabinet doors and produces a seamless surface.
RTF raised panel doors styles in white resemble raised panel doors with a painted finish, but they do not have the sharpness of detail at inside corners (they're rounded to some degree) – Herrick Kimball, Refacing Cabinets, Making an Old Kitchen New
There are various detailed profiles are available in RTF cabinet doors that come in different colors or faux wood grain in textured patterns, matte, high-gloss, and even metallic styles. However, flat doors are the most popular and most common application.
RTF Vs. Wood Cabinet Doors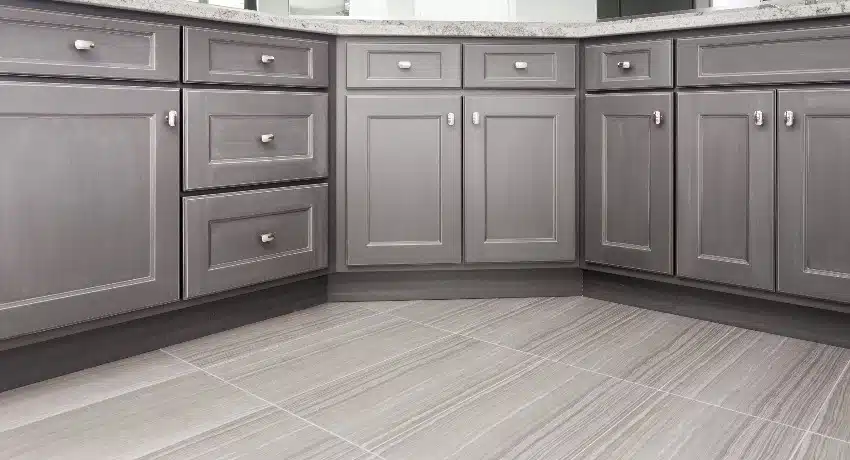 Investing in your cabinetry includes choosing the best high-quality material, useful functionality and considering its price point.
RTF cabinets and wood cabinets can execute the same function. However, there are specific aspects that make each one stands out from the other. RTF is a water-resistant material that won't stain, chip, or crack in high humidity compared to wood cabinet doors.
The seamless joints and corners of RFT cabinet doors prevent the buildup of germs or bacteria, which is particularly important in the kitchen. It is also less expensive than solid wood, so RTF cabinet doors are extremely popular.
However, one of the limitations of RTF cabinet doors is that they can only be put on engineered wood such as MDF. When applied to solid wood, it tends to peel off quickly.
In addition, if RTF cabinet doors are cut, dented, or scratched, exposing their MDF core, it can lead to irreversible damage, and the whole door must be replaced. The edges and corners of the RTF doors are rounded and don't have that sharper aesthetic as with the natural wood cabinet doors.
On the other hand, cabinets made from hardwood tend to resist scratches, dings, and dents. They can be easily refinished, refaced, or repainted, giving them the advantage of being reusable and renewable. These wood cabinet doors are also exceptionally durable and resistant to heat.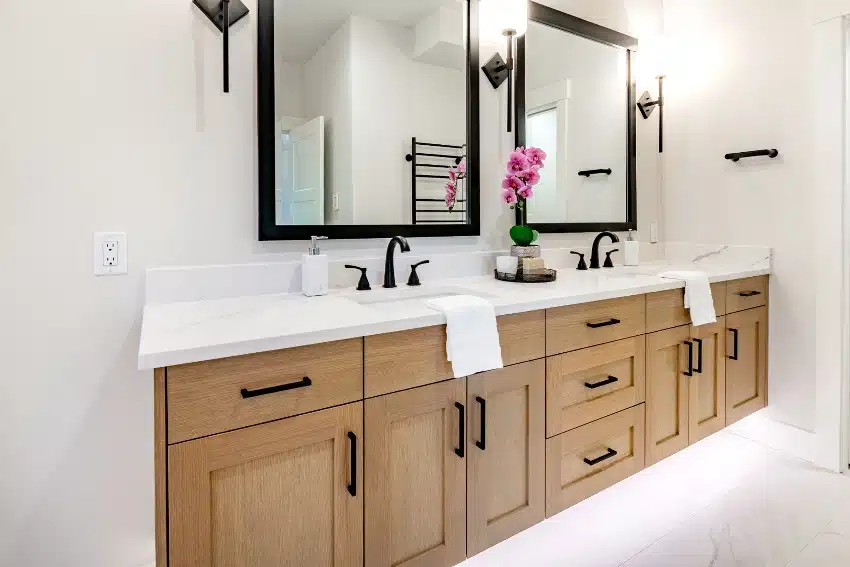 There is an endless possibility for the right style of wood cabinets having a wide variety of wood species, door styles, paints, stains, and lacquer finish. Wood cabinet doors offer uniqueness and natural beauty that can add flair to any cabinetry.
Although solid wood cabinets tend to be more expensive to purchase and install, it has been noted to increase property value when it comes to selling or buying homes.
How Long Do RTF Cabinets Last?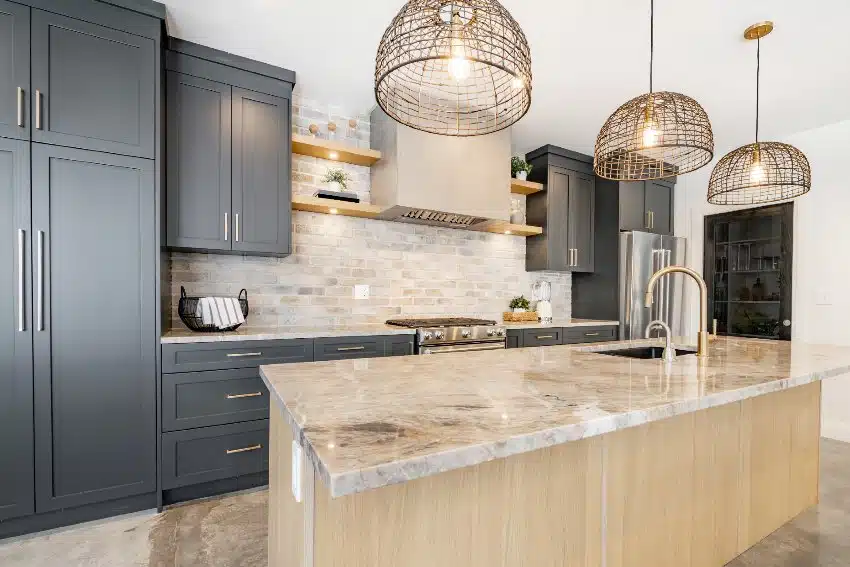 The lifespan of RTF cabinets can remain in perfect condition for around ten to fifteen years if properly maintained due to their manufacturing process and ability to withstand humidity and temperature fluctuations.
The vinyl laminate makes the cabinets resistant to corrosion, ultraviolet light, and scratches. A well-manufactured RTF cabinet is tough and has a seamless surface that is resistant to moisture, making it less prone to warping.
However, one major concern with RTF cabinets is that it is extremely vulnerable to heat damage. RTF cabinets regularly exposed to steam can melt, peel, or blister. To protect RTF cabinetry from high-heat appliances like ovens, toasters, kettles, or even coffee makers should be equipped with thermofoil heat shields for additional protection.
Although RTF cabinets can handle humidity and are water-resistant, they do not warp or expand easily, they are not waterproof. Prolonged exposure to water can still penetrate the MDF, causing them to deteriorate and rot. This is why it is important to provide proper maintenance to keep RTF cabinets as long as possible.
Can RTF Cabinets Be Painted?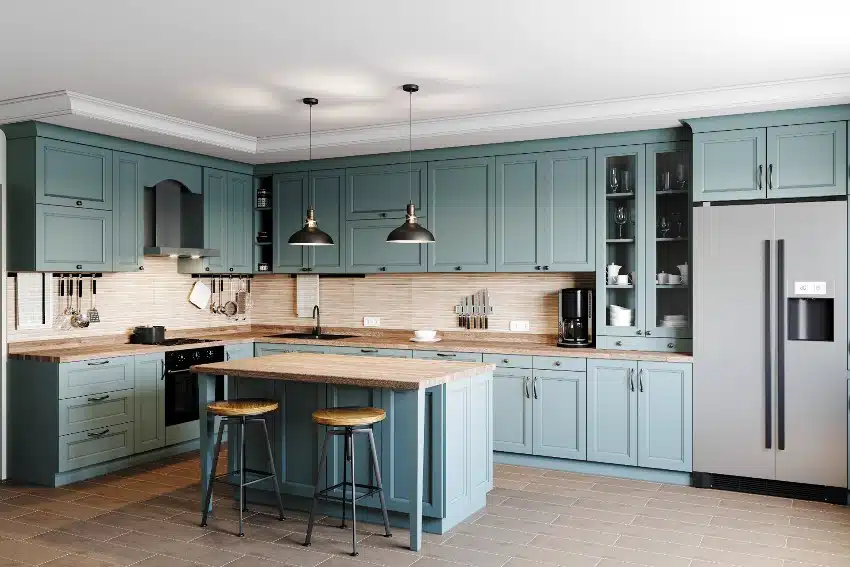 Painting RTF cabinets is a widely debated topic, but since these cabinets are made from MDF that is laminated with a thin layer of thermofoil the overall aesthetic is similar to laminate cabinets. And so, with a bit of preparation and the right equipment, it is possible to paint over this surface.
When preparing the RTF cabinets for painting, remove all residue of cooking oil, grease, grime, or dirt that may be trapped on the surface. Use warm water, some dish soap, and a clean sponge to clean the surface of the cabinets and dry with a clean cloth or paper towel.
Using 220 grit sandpaper, lightly sand all of the cabinet doors. Once the cabinets have been sanded, wipe everything off with a paper towel to remove the dust before washing all the cabinet doors to ensure that any remaining grease and dirt on the cabinets are removed. This will help the paint would adhere properly.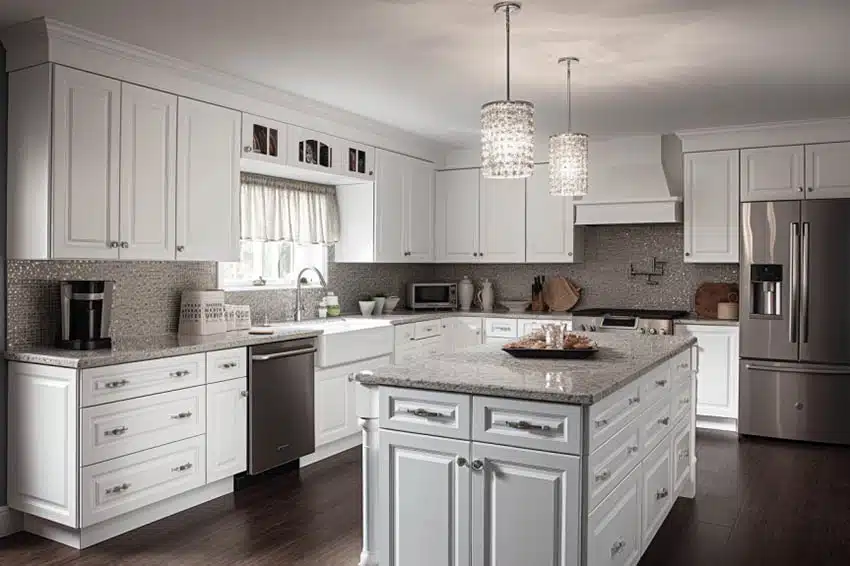 Allow the cabinet doors to air-dry before applying primer with a paintbrush. Start over the main flat area before carefully painting the corners, grooves, joints, and any intricate details of the cabinet. Do this in a well-ventilated space.
You may need two or three coats of primer surface to make it look nice, smooth, and even. Start off with applying the second coat of primer after the first one has dried using a roller into the inset and then on the outer edges smoothing out the surface. This is recommended especially when changing the cabinet color completely.
Once your cabinets have been prepped and primed, apply paint using a paintbrush to the cabinet, getting into all the small details. A paint sprayer can also achieve a smooth and even surface.
You can lightly sand between coats of paint with 220-grit sandpaper quickly before the paint dries. Allow the paint to dry fully before applying the second and third coats. This could take several hours, depending on the type of paint and the temperature or airflow.
Lastly, coat the cabinet doors with water-based polyurethane after the coats of paint have dried. It is the best way to extend the lifespan and durability of your RTF cabinets. These topcoats come in matte, glossy, and satin finishes.
Check out our guide to Thermofoil cabinet's pros and cons for more ideas.