Here's our bean bag dimensions guide including adult medium to extra large bag sizes, adult & chair models, popular brand dimensions, and bean bag size chart.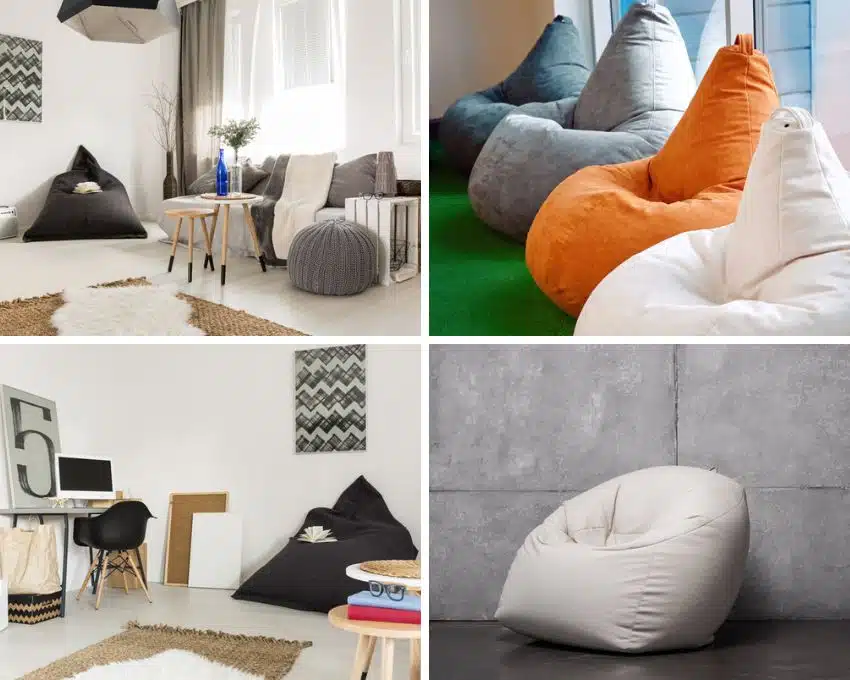 Bean bags are a great seating option because they are available in many sizes that will cater to different uses, whether a homeowner is looking for a bean bag for them to lay their whole body on or a bean bag big enough for their kid's rooms. Because of all these and more, choosing the best size before purchasing is necessary.
Bean bag dimensions are available in many sizes to match certain human weights and measures. There are larger ones for adult needs, which can also mean a kid can lie down on it entirely, but there are also smaller ones that would work well for tiny kids and teens.
Adult Bean Bag Dimensions

There are three sizes for adults to choose from when it comes to a beanbag. Although this is the case, the size of the room where the bean bag will have its home is essential to note.
If the homeowners have a smaller apartment, the best bean bag to get is the medium bean bag with a diameter of 32 inches or 81 centimeters. The only downside to this size is that it will only fit some adults, depending on their size.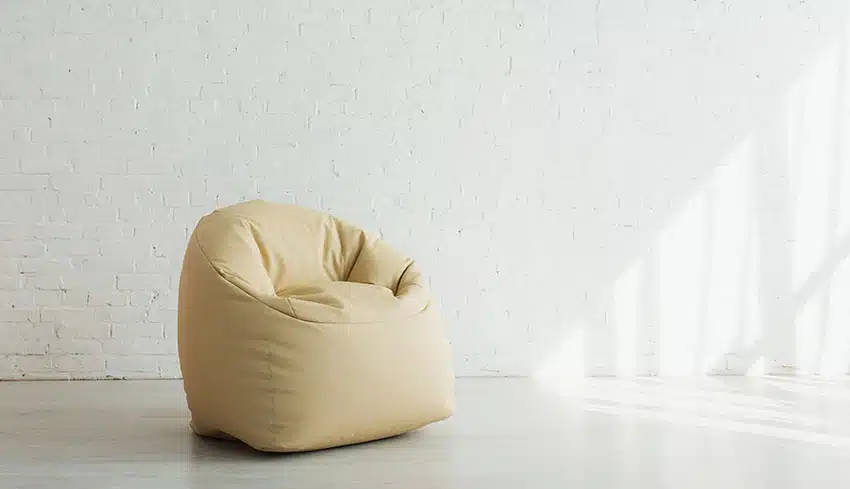 The next bean bag is the large one that is 37 inches or around 94 centimeters in diameter. This is a great size because it will fit many sizes other than regular adults.
The last bean bag that will work for many adults is the extra-large bean bag chair which offers more room which means more coziness for taller people. On average, this bean bag has a diameter of 52 inches or 132 centimeters.
Bean Bag Large Dimensions
One that can be considered as the standard size for bean bags is the large adult-sized bean bags. This is also a tremendous and sizable size for kids and teen rooms. Large bean bags have a diameter of 37 inches or 94 centimeters overall.
But, they are also functional pieces of furniture that comes in all shapes and sizes and with all sorts of different covers and fillings, and for every age group. – Evolution of the Modest Living Room Bean Bag, Daniel Lay
This size is light enough that it will be easy to move it from one place to the other, especially if the bean bag's filling is made of dense material. All in all, the floor area that this bean bag will require and cover is 3 feet or around 36 inches; take or leave a few inches.
Bean Bag XXL Size Dimensions

The largest standard bean bag anyone could get is the 57 inches one, but besides the regular chair, there are also other options for homeowners looking for a more oversized bean bag for added comfort.
The first is the loungers which have sizes up to 68 inches or 173 centimeters in length with a width of 30 inches or 76 centimeters.
Sofa bed bean bags larger than extra-large bean bags are also popular, and they come in lengths from 69 inches to 175 centimeters to 79 inches or 200 centimeters. Widths can range from 35 inches or 90 centimeters to 47 inches or 120 centimeters.
Slab bean bags are a great combination of a great seating option and a comfortable bed all in one. They are available in many sizes, from small to XXL, with lengths ranging from 49 to 79 inches or 125 to 200 centimeters. On the other hand, widths can vary from 39 to 55 inches or 100 to 140 centimeters.
Fatboy Bean Bag Dimensions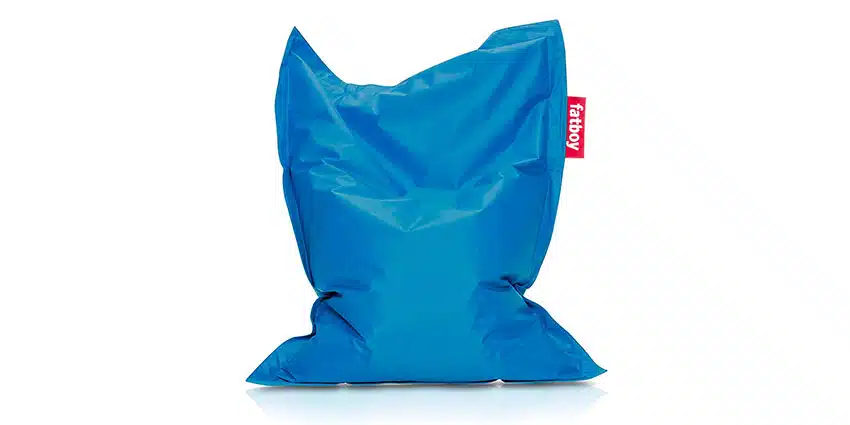 See this bean bag at Amazon [sponsored link]
The Fatboy has been one of the most famous bean bag brands for over 20 years. Not only are there a lot of variations in features and style to cover, but there are also various sizes to choose from. They have the Fatboy original, which has a dimension of 55 by 70 inches or around 140 by 180 centimeters.
They also have a junior edition perfect for children, which is 39 by 51 inches or 98 by 130 centimeters. More oversized bean bags are also available with the Buggle-Up, which is 54 by 73 inches or 137 by 185 centimeters.
Lovesac Bean Bag Dimensions
Dubbed as the world's most comfortable seat, Sac by Lovesac is another option for a great bean bag. There are six sizes to choose from, ready to cater to any bean bag imaginable.
The first is the GamerSac which is 2 feet and 6 inches wide and 2 feet and 8 inches high, and then there's the CitySac which is 3 feet wide and 3 feet and 3 inches high. Both are great for individual users.
Bigger LoveSacs are also available, starting from the PillowSac, which is 4 feet by 6 inches wide and 6 feet 3 inches high. MovieSac is 4 feet wide and 3 feet 7 inches tall, while SuperSac is bigger at 5 feet in width with a length of 3 feet and 10 inches. The Big One is great for couples to lounge in, and it is 6 feet wide and 4 feet by 1 inch high off the ground.
Bean Bag Chair Size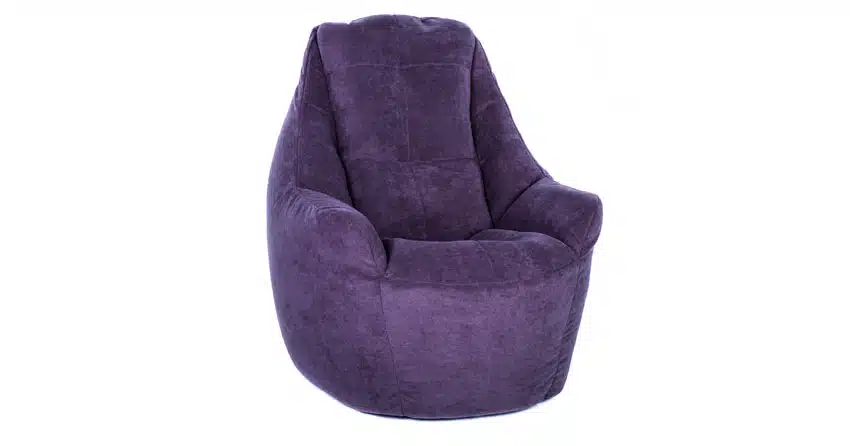 There are many bean bag chair sizes to choose from, with the standard sizes being the most purchased since they can fit an average adult or be sizable enough for a kid to lounge on fully.
This size can range from the smaller 32 inches or 81 centimeters bean bag to something bigger at 53 inches or 132 centimeters in diameter.
Big Joe Bean Bag Chair Dimensions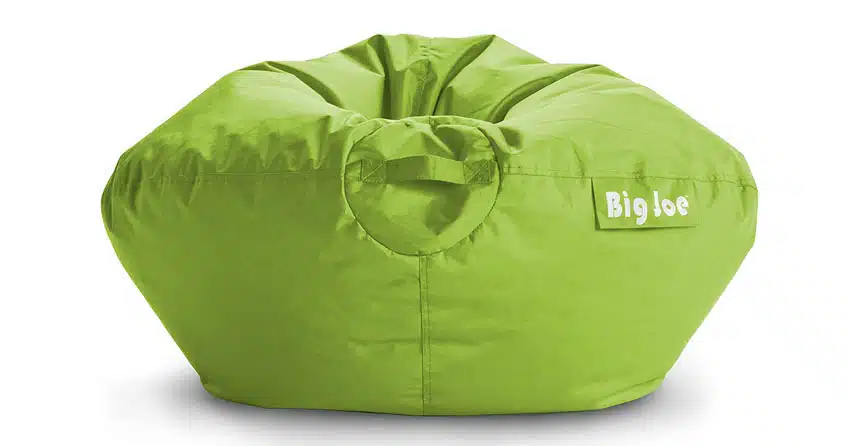 See this bean bag at Amazon [sponsored link]
The classic of all bean bag chairs someone might think of when they hear the word bean bag is the Big Joe bean bag; whether little ones or even the big kids, this bag is a comfy spot to sit on.
It is 28 inches or 71 centimeters in diameter with a width of 27.5 inches or 70 centimeters and a height of 16 inches or 41 centimeters.
Bean Bag Size Chart
Here is an easy cheat sheet for homeowners wanting standard bean bag sizes.
| | | |
| --- | --- | --- |
| Standard Bean Bag Size | Diameter in Inches | Diameter in Centimeters |
| Small | 28 inches | 70 centimeters |
| Medium | 31 inches | 80 centimeters |
| Large | 35 inches | 90 centimeters |
| XL | W: 35 inches L: 45 inches | W: 90 centimeters L: 115 centimeters |
| XXL | W: 47 inches L: 45 inches | W: 120 centimeters L: 115 centimeters |
Visit our 15 bean bag chair alternative ideas for more related content.