Below are the popular fence gate sizes including standard gate dimensions for residential, commercial & industrial fences and different types of fence gate materials.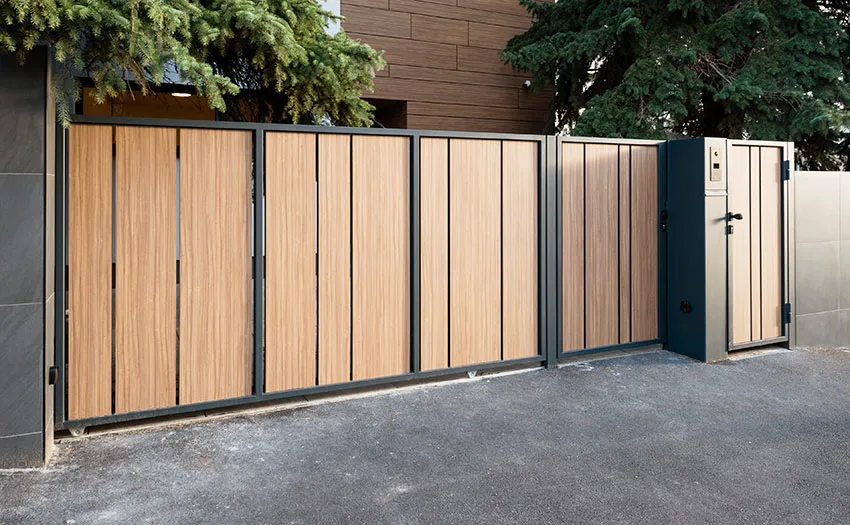 One of the many things any new homeowner would need is a high-quality fence and gate combo to add a design element but also to provide additional privacy and security measures for the home. Installing your desired fence to hug a house would require you to look at gates to help you move in and out of the property easily.
Matching your gate with your chosen fence is the way to make everything look cohesive. There are a variety of choices for any homeowner, from fence gates made of vinyl to ones made of wood or picket and even bamboo.
Standard Fence Gate Size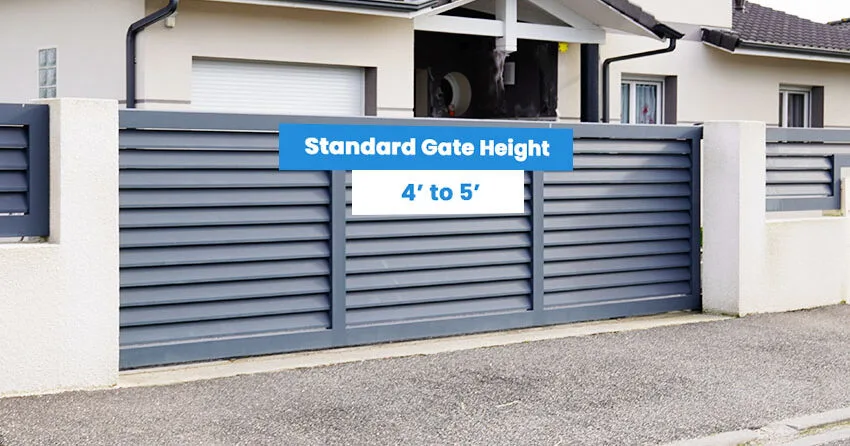 Fence gates can be made custom to fit any design and size, but they are also available in standard fence gate sizes that will be easy to incorporate into any home.
One vital thing to recognize is that there are also different types of gates that homeowners can utilize according to uses, so one of the first things required is figuring out where the gate will be placed.
Most standard fence gates will be used for access to a home, whether on the front or back entrance. The connected fence will usually determine gate heights, but the height averages at about 4 to 5 feet or 1.22 to 1.52 meters.
Standard Fence Gate Width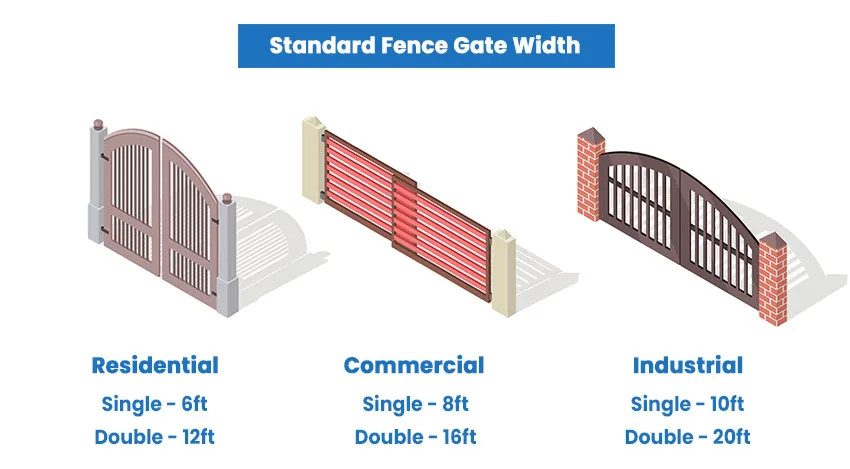 Although the manufacturer or a home store can easily dictate fence gate heights, it is harder to figure out the widths because they are not actual. This is because gate widths will most likely include measurements for hinges spacing plus the gate lock. Both of these considerations in sizes are deducted by the manufacturer where you are looking to acquire your gate.
For residential homes, standard gate widths are available in three widths: single, double, and estate. Single residential gates are 6 feet or 1.82 meters wide. On the other hand, a double or estate fence gate will be 12 feet or about 3.66 meters.
For commercial gates, widths are available in two sizes: single and double or estate gates. Singles will have a width of 8 feet or about 2.44 meters, while a double or estate commercial gate will be 16 feet or approximately 4.88 meters.
Industry-standard gates are enormous and are available in a couple of sizes: single and double or estate gate width. Single will be 10 feet or 3 meters wide, while a double or estate can go up at 20 feet or about 6.10 wide. It is common for bigger homes to use gates either from the commercial or industry size.
Average Fence Gate Width
Although gates can be available at 6 feet or 1.82 meters wide, there are standard fence gates that follow the minimum gate width, primarily if they are not used as a driveway gate.
These gates are called garden gates, and since they are primarily used for walking through in and out of the gated property, they can be wide enough for an average-sized person to walk through.
Usually, they will be 26 to 32 inches or about 81 to 91 centimeters. Heights will usually vary from 4 to 5 feet.
Chain Link Fence Gate Opening Size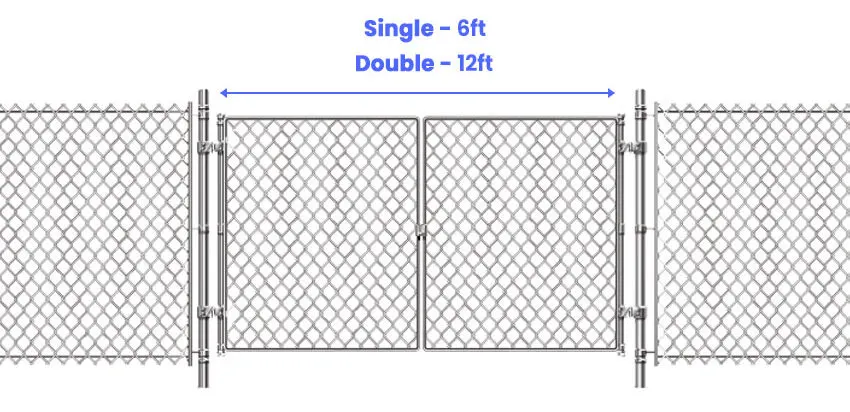 To specify the opening size for particular types of chain link fences, we first need to determine the difference between opening and finish size. The opening size will dictate the distance from one hinge post to a latch post, measured on the insides. On the other hand, finish size dictates the width of a gate, measured on the outsides of gates.
There are two set sizes for chain link gates: single and double driveway gates. The single-chain link gates will be 6 feet or 1.82 meters wide, while the double driveway gates double at 12 feet or about 3.66 meters. To determine gate opening size, give or take a few inches to make way for hardware like hinges, etc.
Vinyl Fence Gate Sizes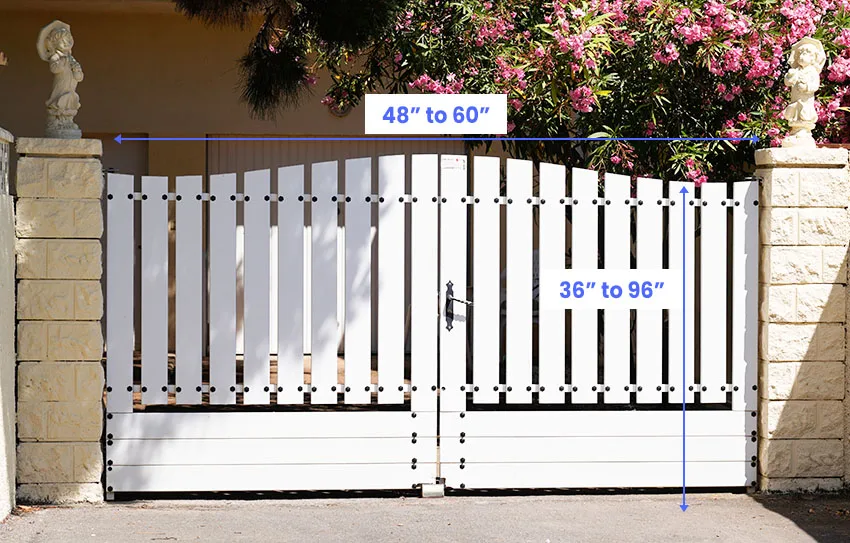 Choosing a fence gate is a critical decision you need to make because it will be the most used part of your fence design setup, and getting one made of strong and durable material will ensure that it will not fall apart or break easily.
One durable option is going for vinyl fence gates; they are not only tried and tested to last but are also cost-efficient.
Most residential vinyl fence gates will come with a standard width of 48 to 60 inches or 122 to 152 centimeters. They will come with heights to match the fence from 36 to 96 inches or .91 to 244 centimeters.
Wooden Gate Sizes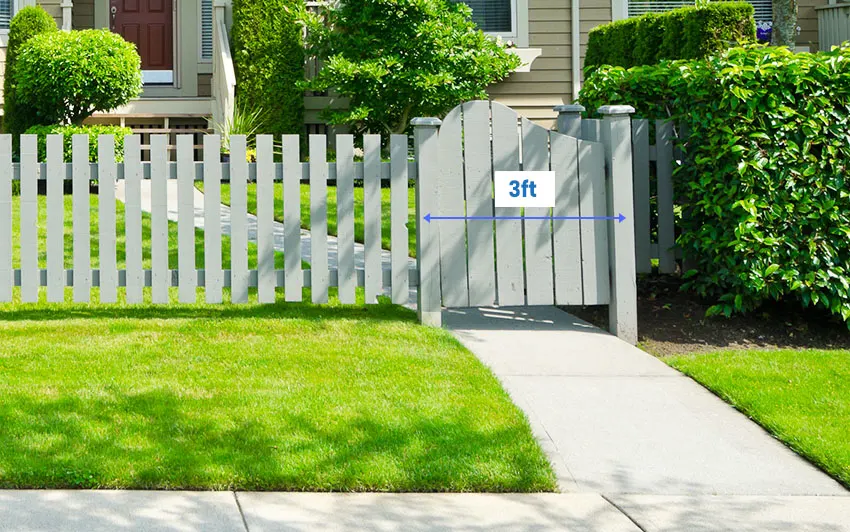 Another material for gate options is wooden gates. A wooden fence gate will give you that rustic and timeless look you want for your fence and gate.
However, if it is not made of weather-resistant wood, or properly treated it won't be as weatherproof. This can make the gate more prone to sagging and possibly need replacing in less than ten years.
The smaller the width of the wooden gate, the less prone to sagging it will be. The most popular recommended size is 3 feet or 0.94 meters wide for the wooden gate's width.
How Wide Is A Garden Gate?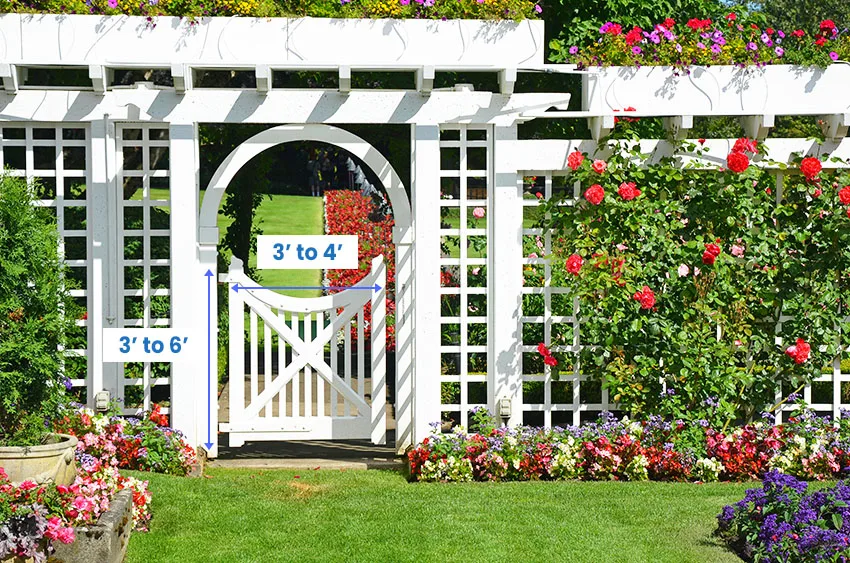 A garden gate will set the tone and feel of your outdoor space, and choosing one gives you a lot of options from type of material to decorations if you want the addition of an archway to your garden entrance.
Many utilized garden gates are 3 to 6 feet or 0.91 to 1.83 meters tall, with a width of about 3 to 4 feet or 0.91 to 1.22 meters. With the most common ones being the 6 feet tall ones with a width of 3 feet.
Picket Fence Gate Size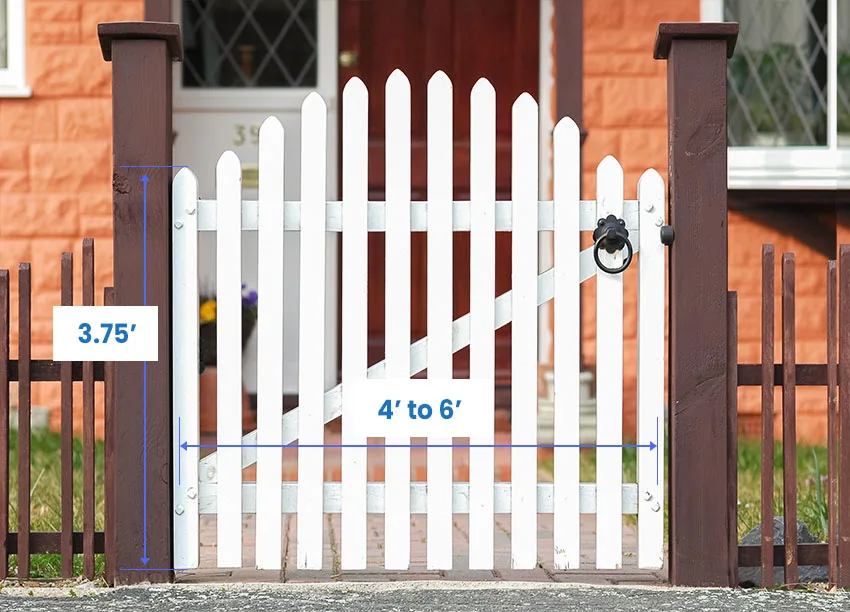 When you hear the words picket fence, you might have those quintessential white ones on your mind, the ones we usually see on movies and tv shows. A picket fence gate size will usually follow the size of standard fence gates with a width of 4 to 6 feet or about 1.22 to 1.83 meters.
Although ready-made ones usually have a height of 3.75 feet or 1.14 meters and a width of 3.46 feet or 1.1 meters.
Privacy Fence Gate Size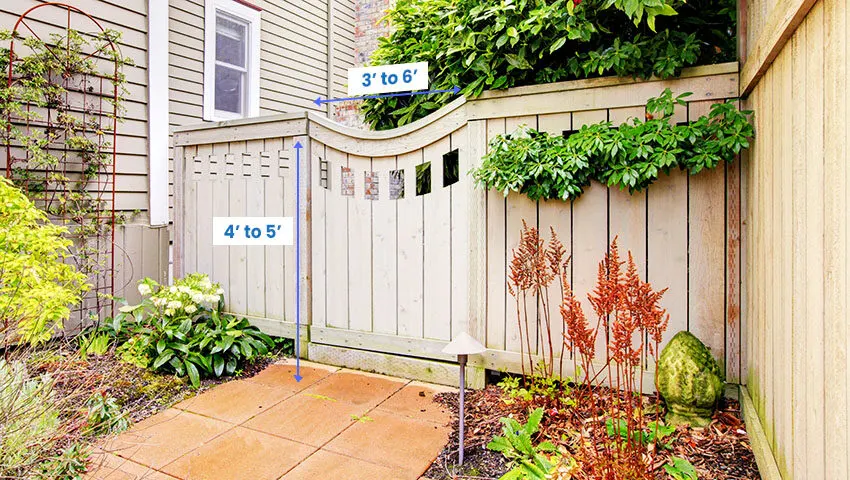 Privacy fence gates will follow the typical gate heights and widths for a standard fence gate. The connected fence will usually determine gate height.
However, the height averages is about 4 to 5 feet or 1.22 to 1.52 meters, and it can have widths from a smaller 3 feet or 0.91 meters to a standard residential fence at 6 feet or 1.83 meters wide.
Driveway Gate Sizes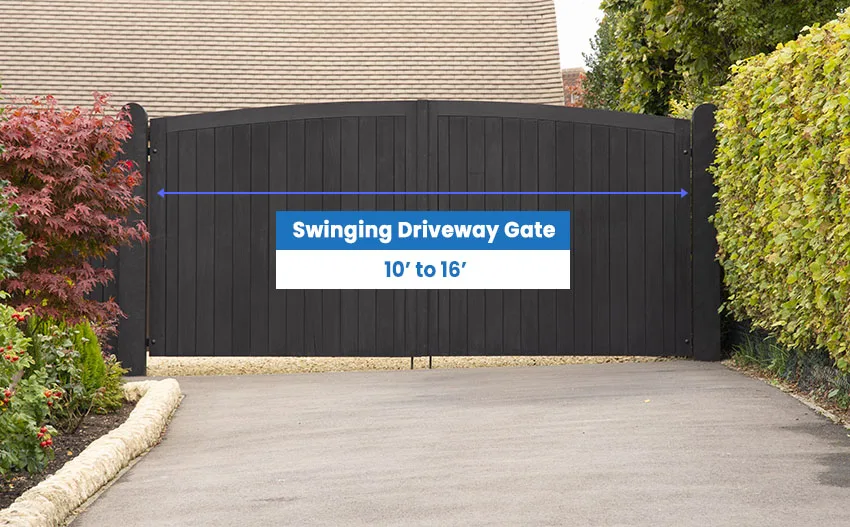 There are two types of driveway gates any household can have: sliding or swinging driveway gates. Sliding gates for driveways are effective for houses with many automobiles since they can easily slide in and out to open or shut for each car. These gates can be as wide as 10 to 12 feet or about 3.05 to 3.66 meters.
Swinging gates are the most common for residential areas and can be as small as 10 feet or 3.05 meters or as wide as 16 feet or 4.88 meters, depending on many factors. Visit our driveway gate ideas here for more information.
How To Size A Fence Gate?
Most fence gates have a set standard size upon purchase to make choosing easier for the homeowners. To know what to get for your project, decide on the best fence gate sizes before completing the entire fence. This will help you avoid finding the chosen gate will not fit and will require more work in the end.
To size a fence gate measure the opening distance between the fence posts. It is best to take three different measurements. Measure at the bottom, middle and top to ensure the posts are aligned properly and to get the most accurate measurement.
If there is a slight discrepancy you will want to use the smallest of the measurements for your opening size which will allow your gate to properly fit. Then deduct 1/2 inch from the opening size to provide some leeway.
It is advisable for most single opening gates, to construct them with no more than four feet width to help prevent sagging. For longer gate openings you will want to construct a double sized gate that meets in the middle for support.
For another related article, visit our gallery of modern driveway gates and ideas here.