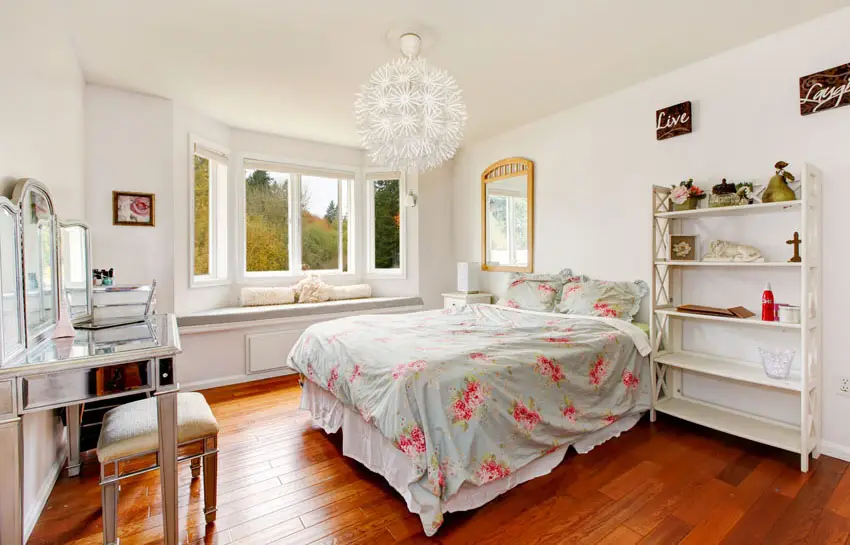 Welcome to our gallery of fun teen girl bedrooms. Designing for a teenager's room could be very challenging as it is a period of many changes, both stylistically and physically for its user. It is a period when one tends to want to express more of herself and her personality into everything, and it could be challenging to express their personal style and translate it into the design of their bedroom.
As the bedroom is a very personal space, it should allow its user to be able to express their individuality, to encourage self-expression and boost confidence.
In the picture above white walls and solid Mahogany flooring create a nice blank canvas for any style of room and will work for any gender. The plain white walls makes it easy to add more textures, colors and patterns to other elements in the room, such as the bed sheets in this example.
The sage green with red floral patterns stands out and emphasizes the feminine appeal of the space. Other elements such as the mirror finish vanity and the dandelion lamp also contribute to give this space a more feminine appeal.
Teenage girls, just like adults, have different tastes, hobbies and interests, which will also reflect in their bedroom preferences.
As a general guide, keeping basic finishes (walls, flooring and ceiling) neutral is advisable as it allows more freedom and flexibility, giving you more leeway to use bold colors and patterns on other items and finishes.
Decorating for a teen girl's bedroom could also prove to be quite a challenge, but here are some ideas of what you can use to give a bedroom a more youthful vibe:
Accent Lighting – Unique lamps and mood lights is able to create different moods and create a different ambiance to any room.
There are many different and unique ceiling lamps which you can use such as a dandelion lamp to give it a feminine charm, or a driftwood lamp to give your room a mysterious feel at night. Other fun lighting ideas for teen bedrooms would be fairy lights or marquee signs.
Accent Chairs – Simply adding a unique accent chair to a room helps spice it up. You can use something that stands out or reflects the individuality of its user. You can add a hammock, a swing chair, a bench, a bean bag, or something as simple as a ghost chair.
Wall Accents – This could be in the form of framed art pieces, wall sculptures/art installation, or even something as simple as cut-out initials or wall decals.
Patterns and Prints – bold and unique combinations of patterns and prints can easily be applied on accent pillows, bed sheets/covers, and even on furniture upholstery.
What you need to remember when designing for a teen girl's bedroom is that you should not be afraid to experiment. You should not be phased to use bold colors, prints and patterns into the design, as there is always a way to infuse them without looking tacky.
Below are some gorgeous examples of teen girl's bedrooms we can use as reference: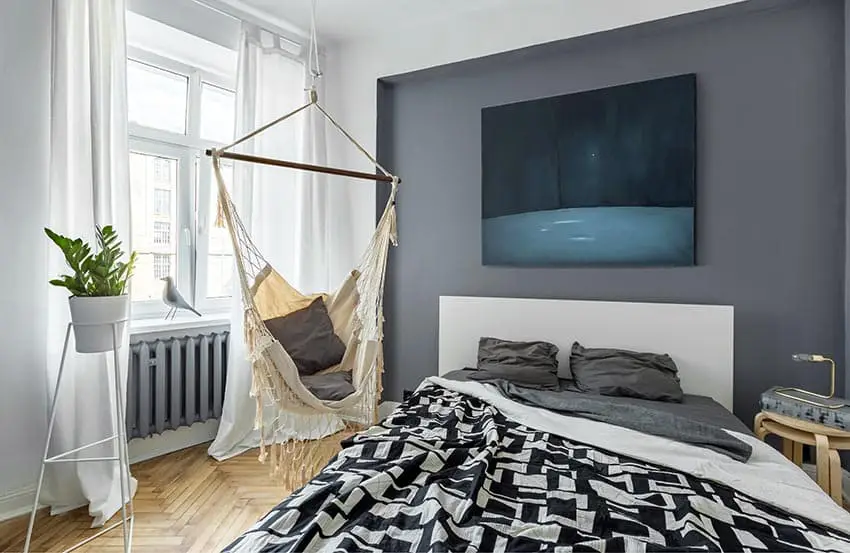 Hanging bedroom hammock
You can't really confine femininity with pinks and pastels and flowers. Sometimes, a girl prefers more neutral tones, and that's what this teen bedroom is composed of.
It has a neutral color scheme composed of whites and grays and has a sophisticated minimalist feel, which will definitely still be in style even as she grows into adulthood.
One notable element of this bedroom wood be its hammock chair placed by the window, which gives it a unique and a more laid-back feel.
For ladies who love flowers and pink, this bedroom would be a dream come true with its dainty white and pink color scheme. Plush carpeted floors were combined with soft pink walls and is furnished with all white furniture pieces, giving it that dreamy & dainty feminine look.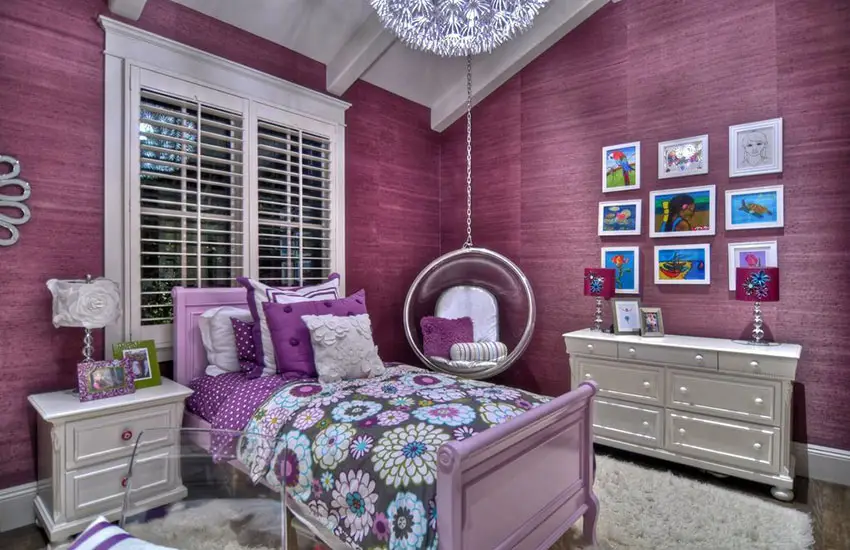 Hanging bubble chair

Violet or Purple gives a more sophisticated & mature feel, as it is a color often associated with royalty. This fun bedroom has gorgeous textured wallpaper in a gorgeous marsala color, and is furnished with classical-inspired pieces, painted in solid whites and purple.
Adding more eclecticism to the design are the clear acrylic furniture pieces such as the bubble chair and the acrylic chair.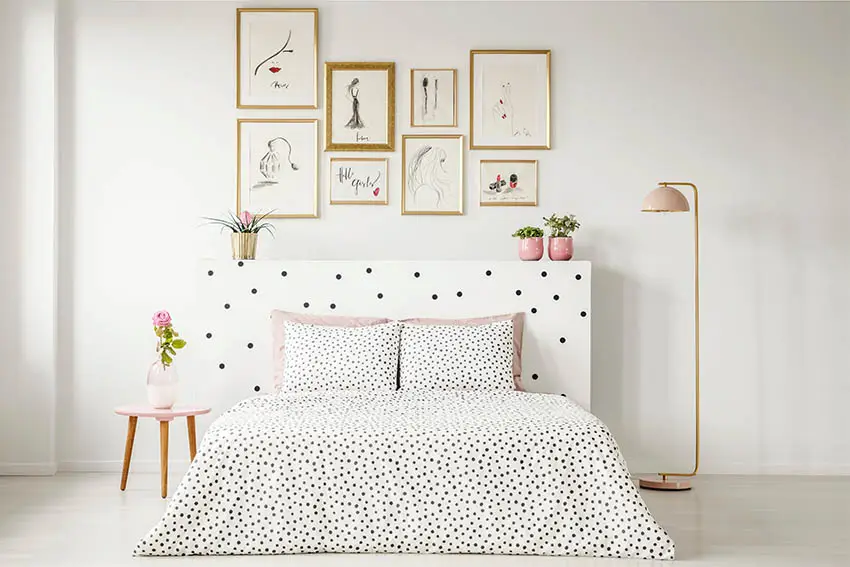 An all-white color scheme is also a great choice for teen girls bedroom, as white can easily be transitioned and combined with other colors and styles, as one's taste or trend changes.
This bedroom uses all white furniture pieces and even fabrics, and the only other colors you will find will be the wooden floor and the black prints on some of the accent pillows and bed spread. The teen's art pictures hung on the wall adds a personal touch.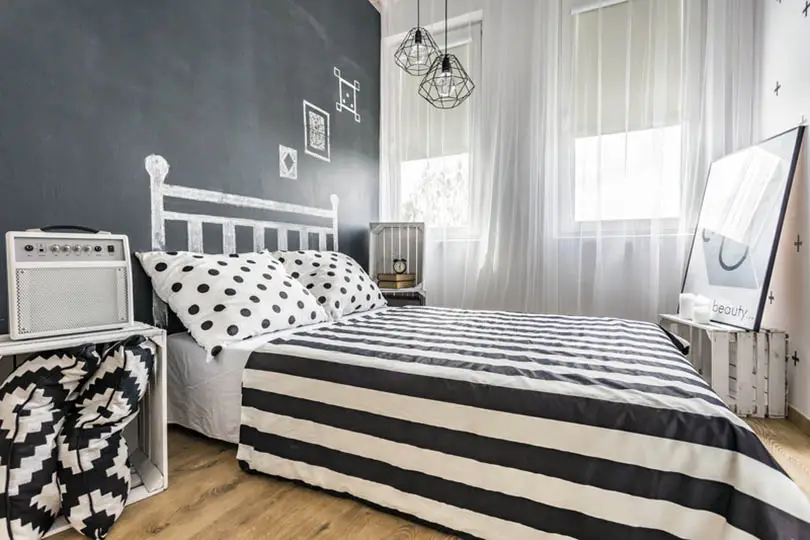 A quirky teen bedroom with a monochromatic color scheme, it mainly plays with the combination of different black & white patterns to create a fun and youthful feel to this small bedroom. You will see stripes, crosses, polka dots, and it even uses chalkboard paint as the accent wall, making the surface writable and multi-functional.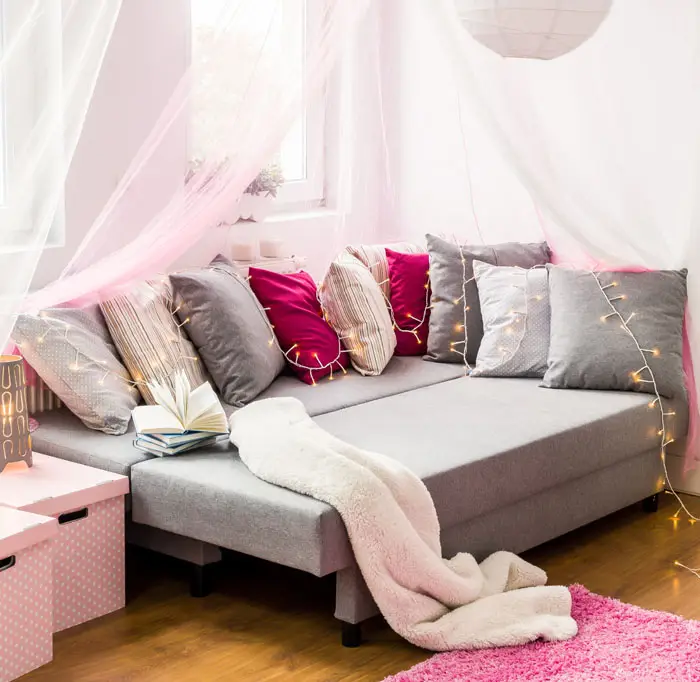 This bedroom focuses on multi-use and functionality to maximize the limited available space. Instead of a regular bed, a gray sofa bed was used and a soft pink tulle canopy was added to give it a dream-like appeal. Pink accents were also used to give it a more fun and youthful vibe, while the fairy lights adds a romantic illumination to the space.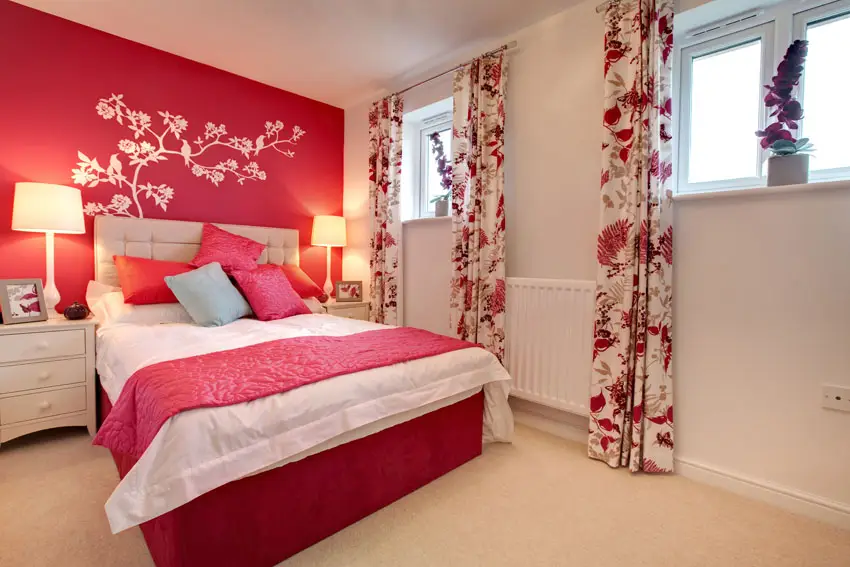 Using red in a bedroom could be tricky, but was pulled-off well in this teen bedroom. It keeps the neutral finishes of the walls and floor, but adds a consistent shade of red as an accent wall, and was also used on the accent pillows and the curtains. The consistency of reds used in the room makes it look cohesive and organizes, creating a bold and adventurous feel to the space.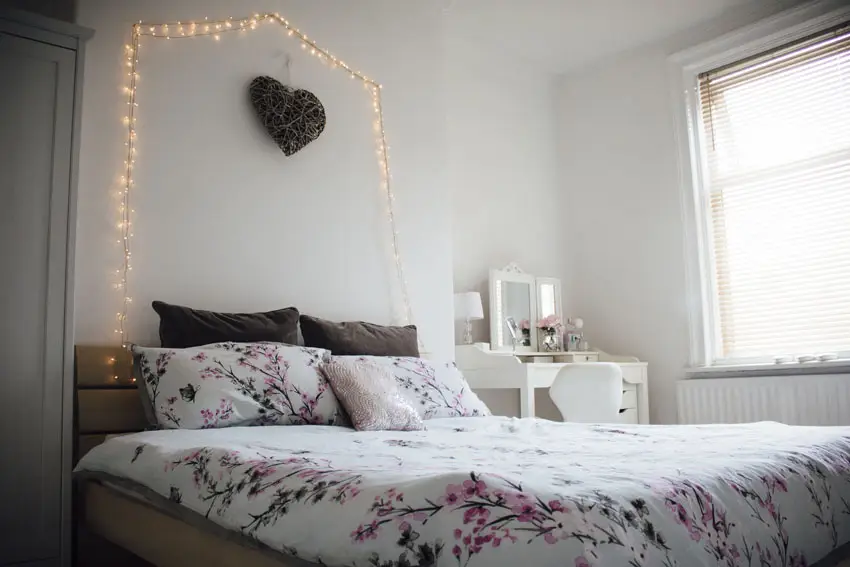 This is a very simple teen girl's bedroom with a very subdued feminine appeal. The bedroom has a neutral color palette with its bisque walls, white furniture and maple wood bed. The boldest color in the space would be the soft pinks found in the cherry blossom pattern on the bed sheet, which gives the space a subtly feminine feel.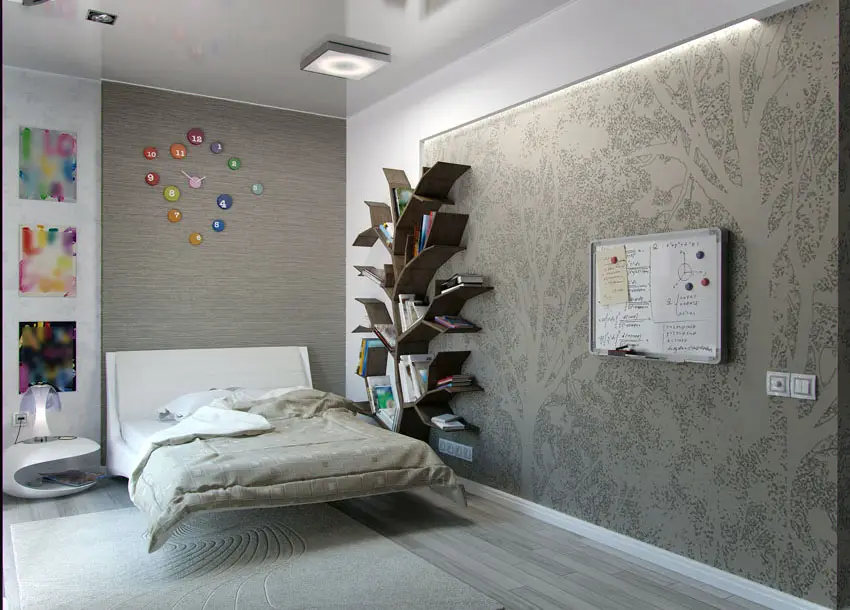 Using a neutral color palette for a teen girl's bedroom isn't necessarily boring. You can still achieve a youthful vibe to any space without making it look tacky, as demonstrated in this example. The bedroom uses elegant wallpapers and generally neutral finishes, but adds fun elements such as a tree bookshelf, a fun and colorful wall clock and some unique and colorful artworks to inject that youthful vibe to the space.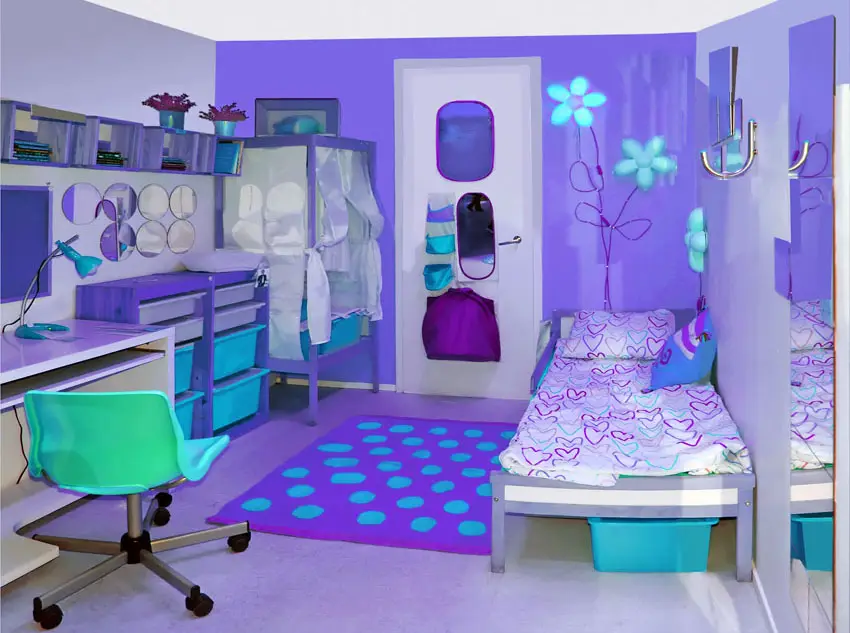 An eclectic and psychedelic bedroom which features a unique combination of purples and reflective colors/finishes makes this bedroom come alive. It features different modern patterns and finishes which seems to glow in the dark giving it a modern and futuristic appeal.
This bedroom will make you feel closer to your dream of becoming a modern-day princess with its gorgeous Rococo-inspired styling. The gorgeous bedroom is inspired by Rococo, and interpreted in a more modern aesthetic, by using soft neutral colors and toning down the general Sardanapalian tendency of the Rococo style.
The white tufted bed is framed by soft white, pink and tulle canopy, and instead of heavy damask patterns and gilded panelings, the paneled walls were painted white and curtained to give it a fresh and modern feel.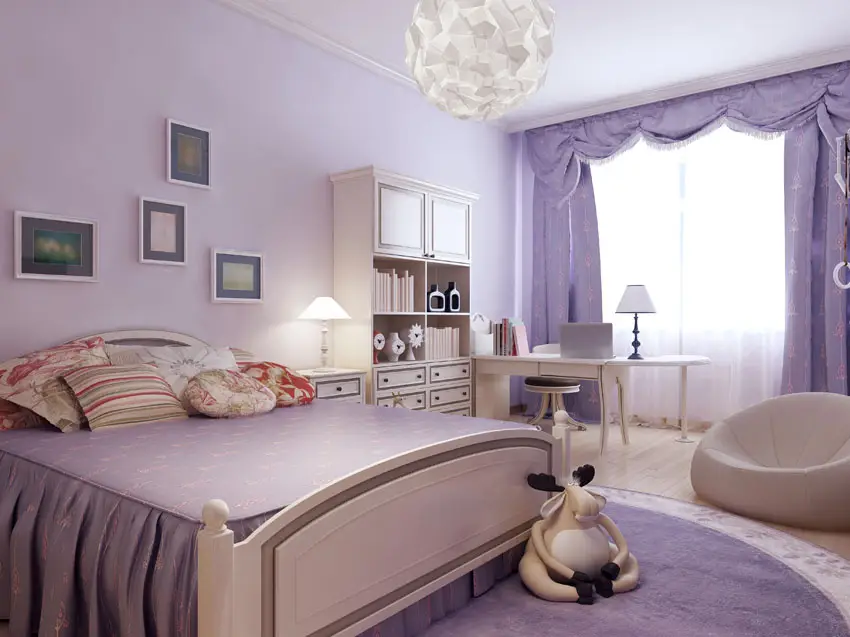 Soft lilac painted walls, maple wood floors, and white furniture pieces create this dreamy teen girl bedroom. It features matching furniture pieces, as well as matching fabrics on the bed and the curtains for a very cohesive look.
Related Bedroom Galleries You May Like:
25 Purple Bedroom Designs – Hanging Chairs for the Bedroom – Bedroom Ideas for Girls