Here's our guide to turning a living room into a bedroom including a variety of designs and creative ideas.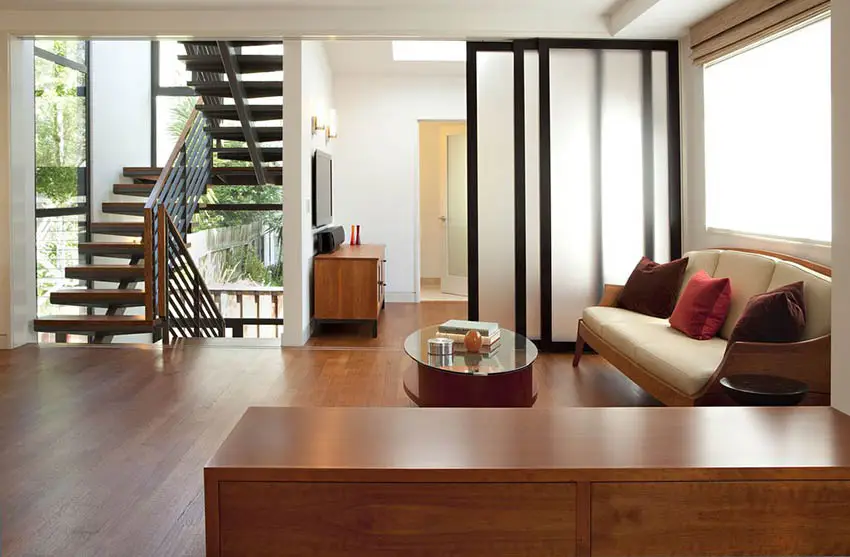 Living small is a big trend right now, and it isn't going to end anytime soon. Whether you are part of the small house movement, trying to save money in a studio, or cramped in a tiny dorm apartment, here are some tips of the trade to get the most out of your small space.
How to Turn a Living Space into a Bedroom
When faced with a tiny space, do what the designers do, measure your room and make a basic sketch, including a list outlining what you want that space to do. Turning a living room into a functioning bedroom requires more than slapping a sleeper sofa into the corner. You want it comfortable, inviting, practical, and beautiful.
Consider what you want to use for your "walls", where you will store your clothing, and whether or not you will be entertaining in this space. Do you want to transform your space into a living room bedroom combo totally, or do you want the room to transition between the two? You need to sort out these details before designing your room.
How to Divide a Living Room Into a Bedroom
Experts tell us that in order to have restful, meaningful sleep, we need to designate a place just for sleep. This means a space away from the tv, away from the work space, and a space just for sleeping and recharging.
If your space is small, a comfortable twin-sized Captains Bed is a great place to start, it has drawers for storage under the mattress, and some headboards have shelving so you can ditch the bedside table. Captains Beds can be arranged daybed style or standard twin style.
Divide this space by surrounding it with beautiful draperies suspended from the ceiling. At night, you can pull the draperies closed to give you the division you need for restful sleep. During the day, you can pull the draperies open and use your bed as a lounge area.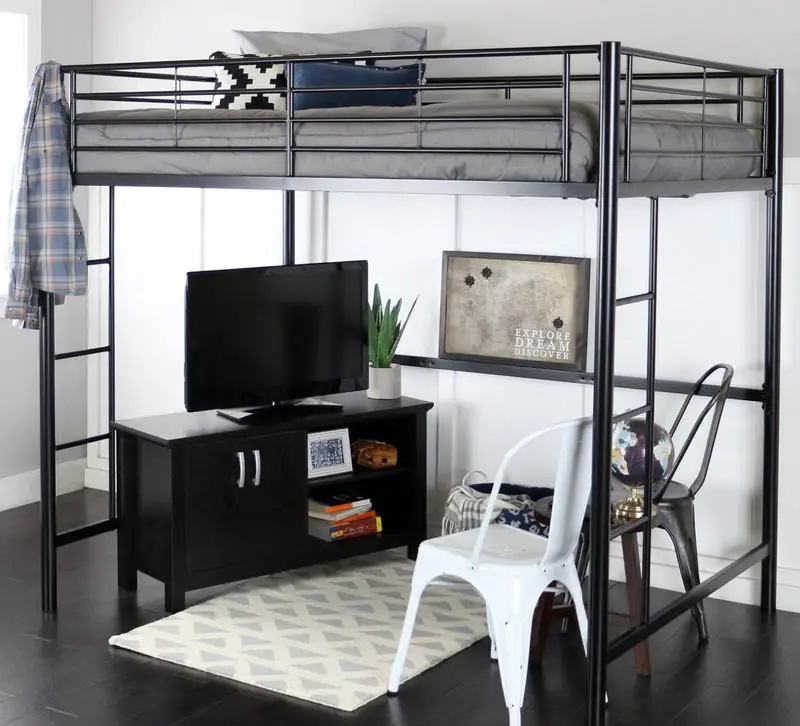 ( metal loft bed)
In apartments with tall ceilings, a loft bed has a lot going for it in terms of privacy and style. Loft beds come in many styles and sizes and can even be custom made to suit your exact needs.
Some loft beds are more like a room in a box, they include dressers, bookshelves, and desks on rollers that store right under the bed to free up floor space when they aren't in use.
To keep the look sophisticated, choose a bed that will look built-in or spruce it up with trim that matches the trim in your home for a built-in, custom-made look. This will allow it to blend in seamlessly and keep your living space intact as a living space.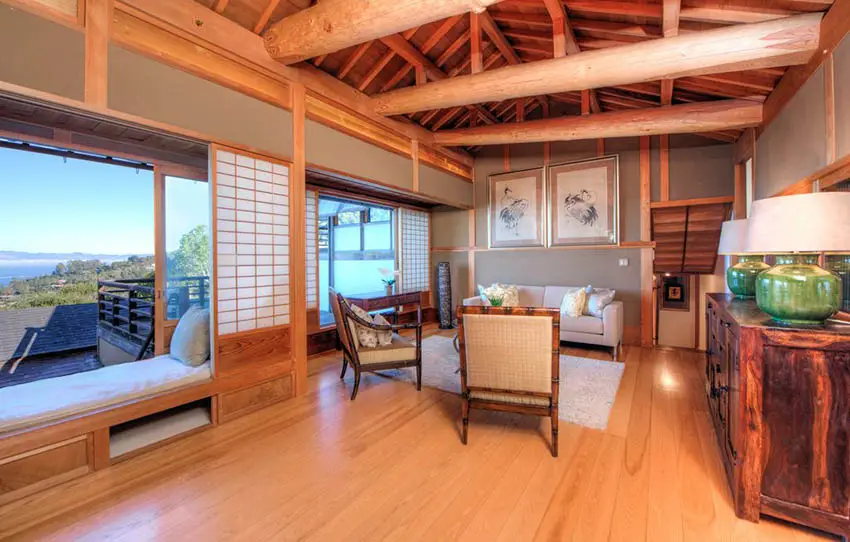 For a truly flexible space, take some inspiration from Japan, land of small spaces! Line an entire wall of your living room with built-in cabinetry.
If you are on a tight budget, you can get the look of built-in cabinetry by hacking shelving from just about any big-box store; there are several tutorials available for these hacks. Everything needs to go into this cabinetry, your tv, your workspace, your clothes, and your bed. Yes, your bed!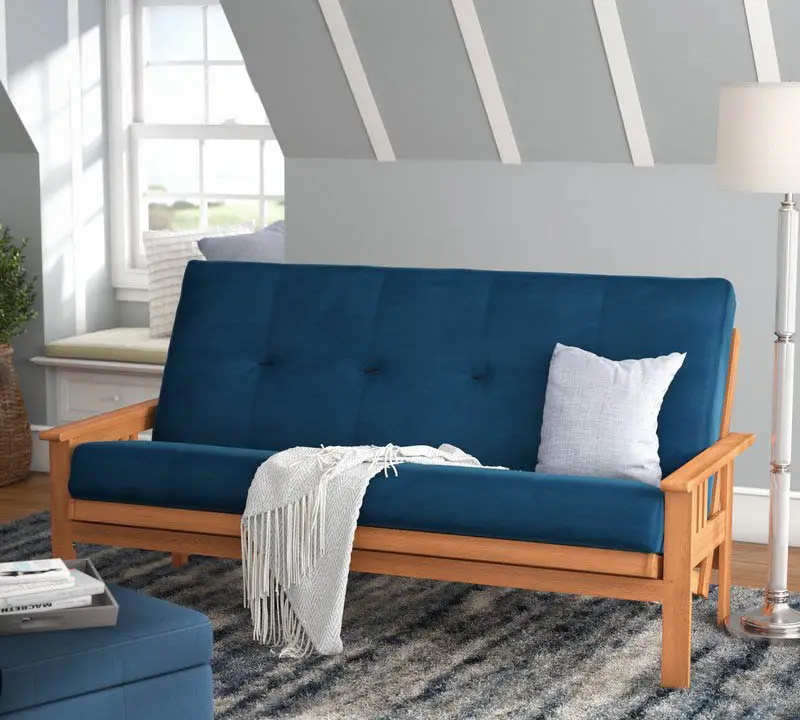 (Futon bed with mattress)
A futon is a true space saver, it doesn't need a frame, it folds up and stores away when it isn't in use, it is easy to clean, easy to move with, and comfortable.
All you need is a comfortable occasional chair, a nice rug, a couple of useful end tables, and you have a classy, relaxing bedroom.
If sleeping on the floor isn't your thing, use a twin-sized bed on a modern platform. But give the futon a try; you'll be surprised at how comfortable and practical they are.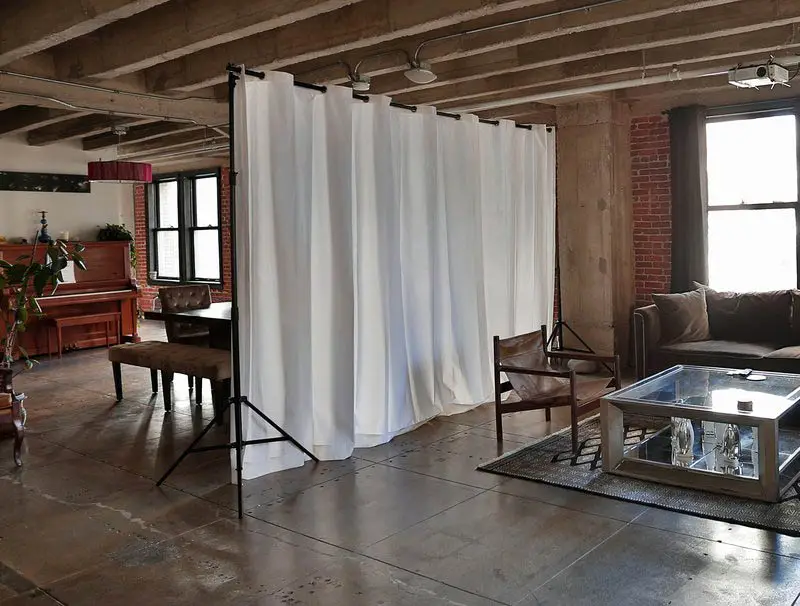 (Room divider kit)
Room dividers can help you create division yet keep the open flow of your small space. One way to accomplish this is to buy a room divider kit that includes a curtain and hanging hardware.
These can be freestanding units or attach to existing walls. There are also a wide variety of accordion style panel dividers that can create separation from the main living area and the sleeping quarters.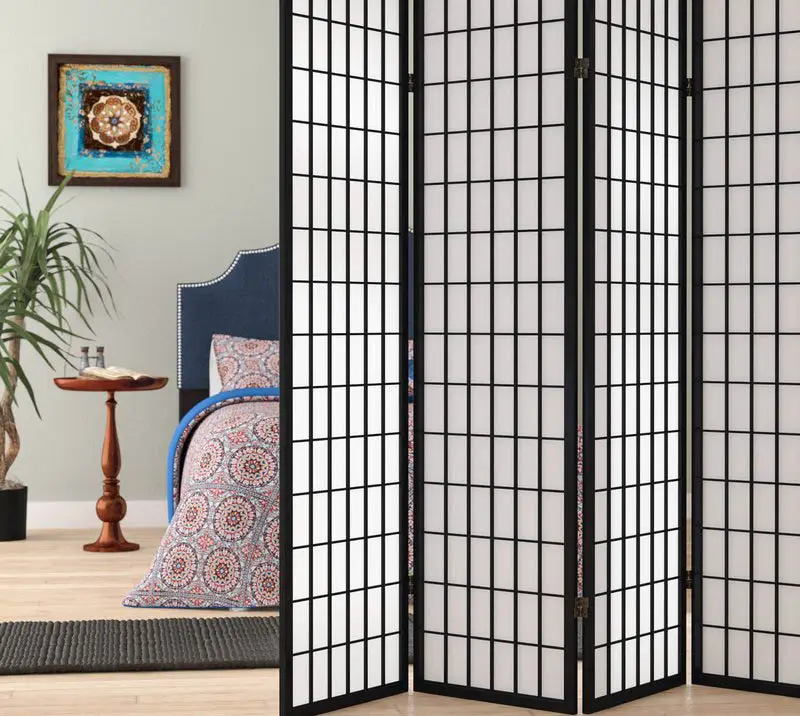 (Shoji style room divider)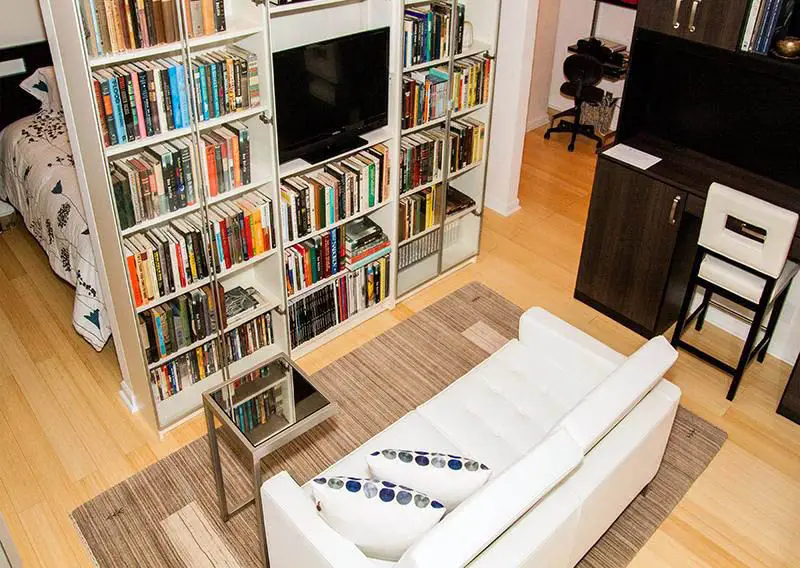 Simple bookshelves with a simple piece of peg board attached can transform an open shelving unit into a practical design feature. It acts as a wall between your living and sleeping spaces, gives you privacy, and multiplies your storage exponentially.
The open shelving can house books, plants, and artwork on the living side. On the bedroom side, the pegboard gives your nearly limitless options, use hooks, shelves, pegs, bins, a full-length mirror, and rods to create the closet storage that you need.
Attach a small shelf at bed height to use as a bedside table. For this to be successful, it needs to be strong, so use solid, sturdy shelving, and stain or paint the pegboard to match the shelving.
Install locking caster wheels on the bottom of the unit for extra flexibility. If you don't like pegboards, several slat board options can be used as well for a clean, modern look.
For the apartment dweller with a green thumb and a sense of whimsy, try a living wall as a room divider. Start with a coat rack that has frame with a top rod and shelving on the base. Create a trellis with wire or hemp string.
Place your plant pots on the base and let your plants climb the trellising and over the rod to create a beautiful, room purifying, living wall.
If your space is sunny enough, you can even grow a food-bearing living wall or vertical garden with vining fruits such as tomatoes and aromatic herbs such as rosemary and basil. It is the ultimate conversation piece, practical yet unexpected, a divider with a twist.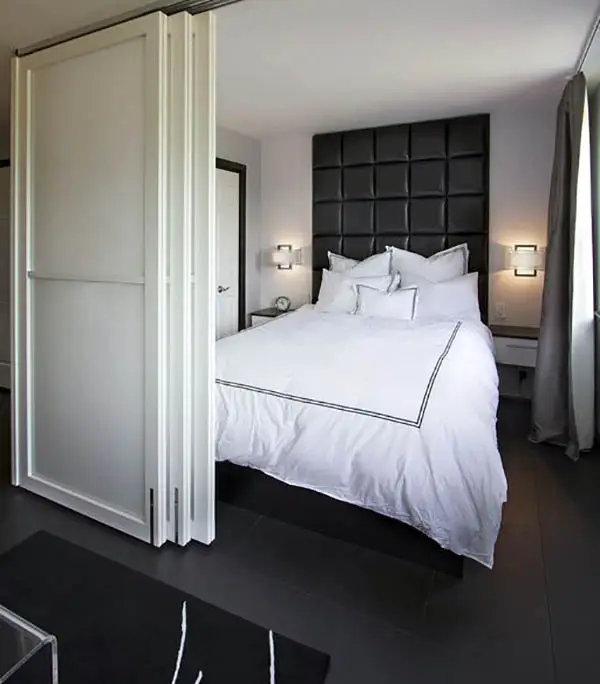 This bedroom utilizes sliding doors to provide separation from the main living area. One can find an assortment of retractable doors to choose from. For those who want a rustic look, sliding barn doors may provide the privacy you need.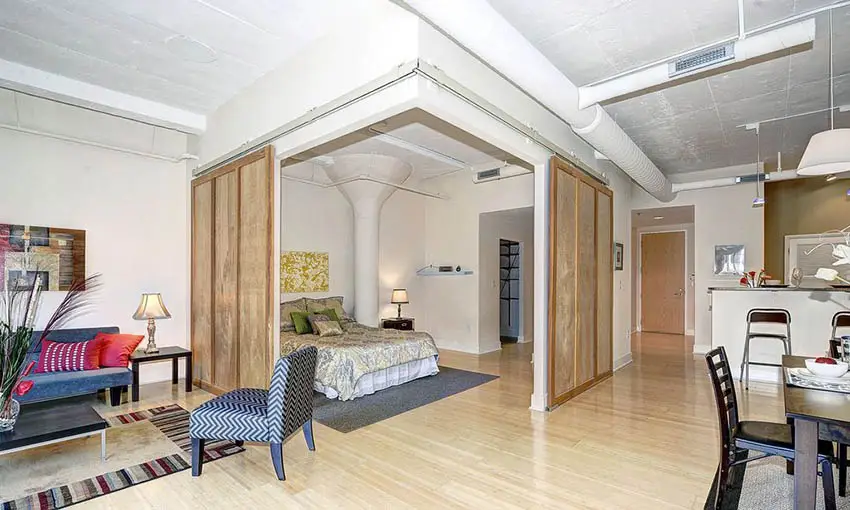 The loft living room bedroom picture shown above features sliding barn door partitions to creatively separate the two spaces. Bamboo flooring is used throughout the apartment layout and brightens the space. Get more ideas for living room flooring here.
Sometimes it can be overwhelming to move into a small space, especially if you are downsizing. Plan your space, look at it with a critical eye, measure it, sketch it, look vertically, and utilize every inch of floor-to-ceiling space.
Step outside of the expected, if you see a textile that you love, use it as a divider regardless of what the intended purpose of the textile is.
Place a narrow table at the foot of your bed and push your sofa against it; the table acts as a small divider and gives you a space to place a lamp and some books for easy access from your bed or sofa.
Keep your furnishings simple and to the scale of the space, think modular and multi-purpose furniture. Use locking casters on furnishings so you can quickly move them around the room when it is time for a change. Think outside of the box a bit and your living room can function as a bedroom without sacrificing style or functionality.