These modern farmhouse fireplace ideas share the best designs to consider, mantel options, how to incorporate a TV, and decor pieces to use.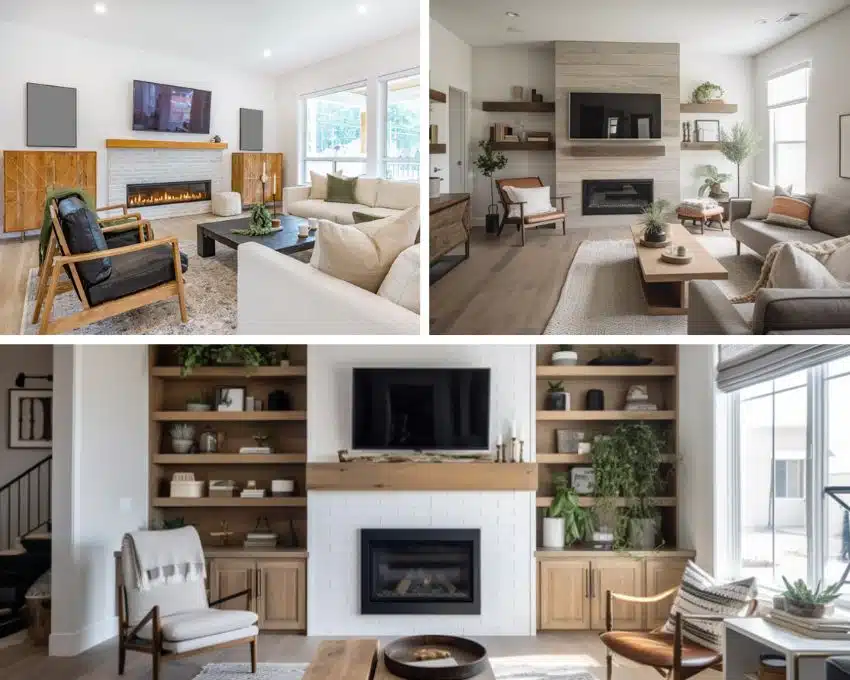 As the modern farmhouse style becomes increasingly popular, homeowners seek ways to incorporate this comfortable and beautiful aesthetic into their houses. What better way to do so than by installing a fireplace?
The fireplace is frequently considered the heart of the home, offering warmth, comfort, and a stunning centerpiece for any space. Including the most beautiful focal point wall design can assist you in turning your living room into a peaceful sanctuary.
The ideas we are about to share with you, ranging from rustic stone surrounds to streamlined and minimalist designs, are likely to give you inspiration for your next home remodeling project. Therefore, get yourself a cup of coffee, snuggle up in your favorite blanket, and prepare to be captivated by the fascinating world of modern farmhouse fireplaces.
Modern Farmhouse Fireplace Wall Designs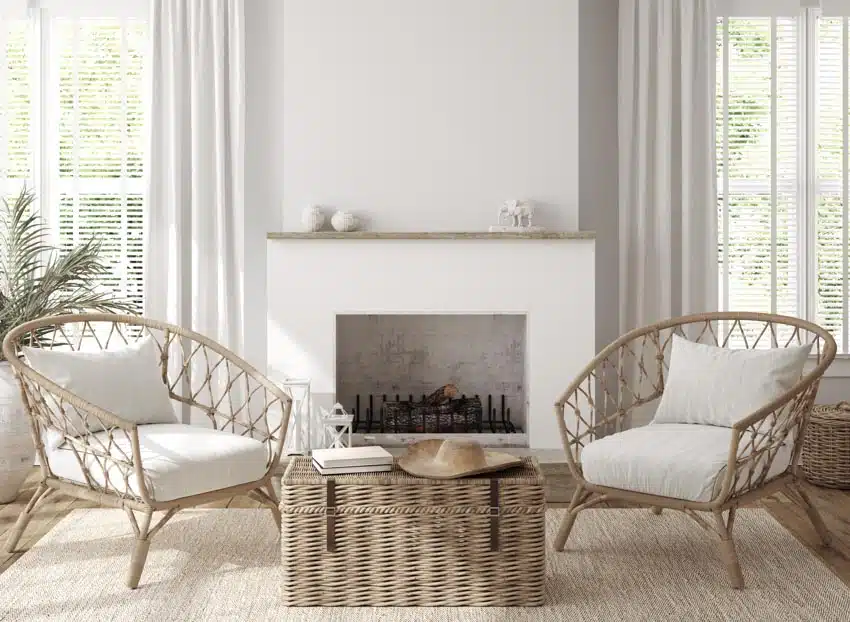 As expert interior designers, we are constantly looking for fresh and imaginative solutions to incorporate the newest design trends into our projects. Interestingly, adding a modern farmhouse-style fireplace wall is one of the most defining qualities of the modern farmhouse style, which has grown in popularity in recent decades.
For farmhouse-style enthusiasts, a fireplace is often the element that is synonymous with the character of natural dwelling. – City Farmhouse Style: Designs for a Modern Country Life, Kim Leggett
Any room's fireplace wall serves as the room's focal point and establishes the mood for the entire area. This wall in modern farmhouse design is generally distinguished by natural materials such as wood and stone, along with simple, clean lines. Here are some of the best-loved modern farmhouse fireplace wall design ideas.
Fireplace Tile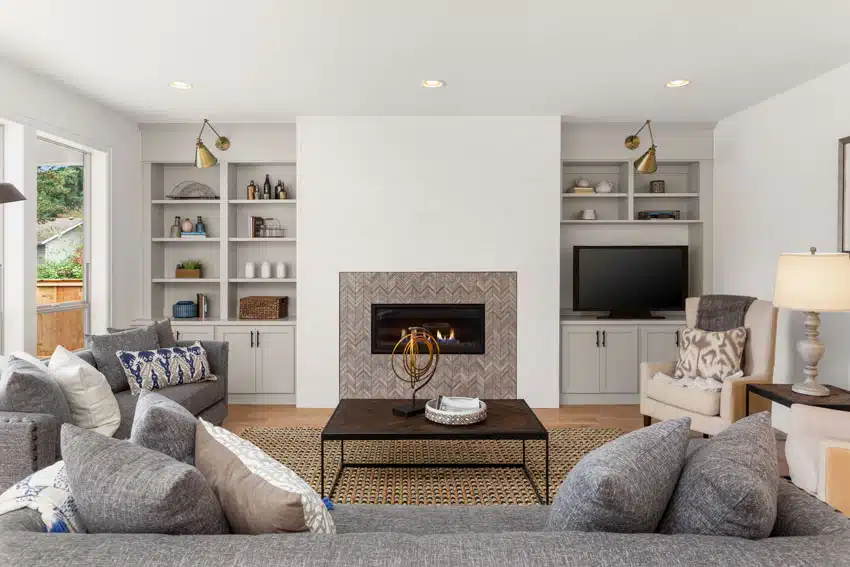 To make a modern farmhouse fireplace wall, tile can be arranged in a wide range of designs and colors. Although subway tile is a well-liked selection, there are many other choices as well. The entire wall, a decorative element, or even the hearth enclosure might be made of tile.
To create a more elaborate modern farmhouse design, another excellent alternative is to utilize mosaic tiles. These tiles may be utilized to create a stunning centerpiece around the insert, and they are available in a range of patterns and colors that can help bring the whole space together. You can consider using large-format tiles with a distinctive pattern or texture for a more dramatic impact.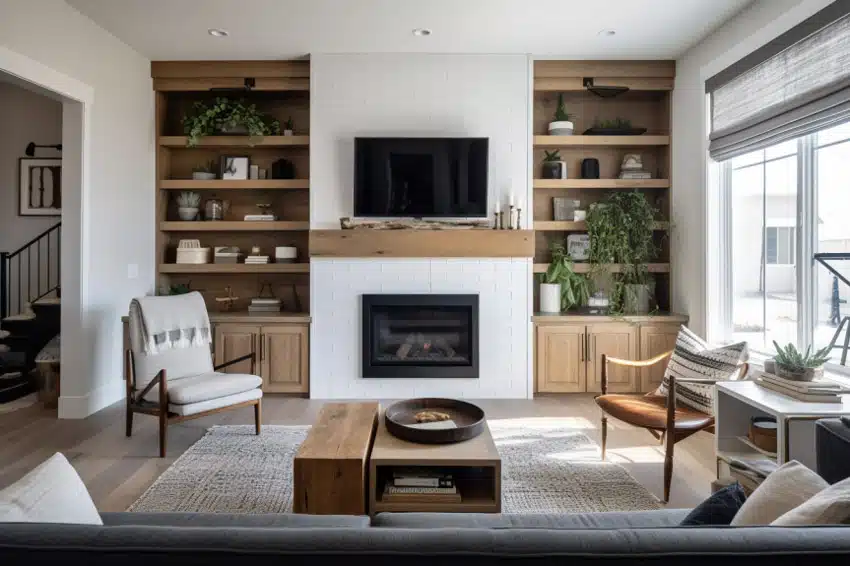 If you want to establish an inviting and homey atmosphere in the room where your fireplace is situated, you may try to select earthy tones such as brown, blue, or green. You can also use tiles in neutral hues like beige with a glossy surface for a more modern design.

Stone Fireplace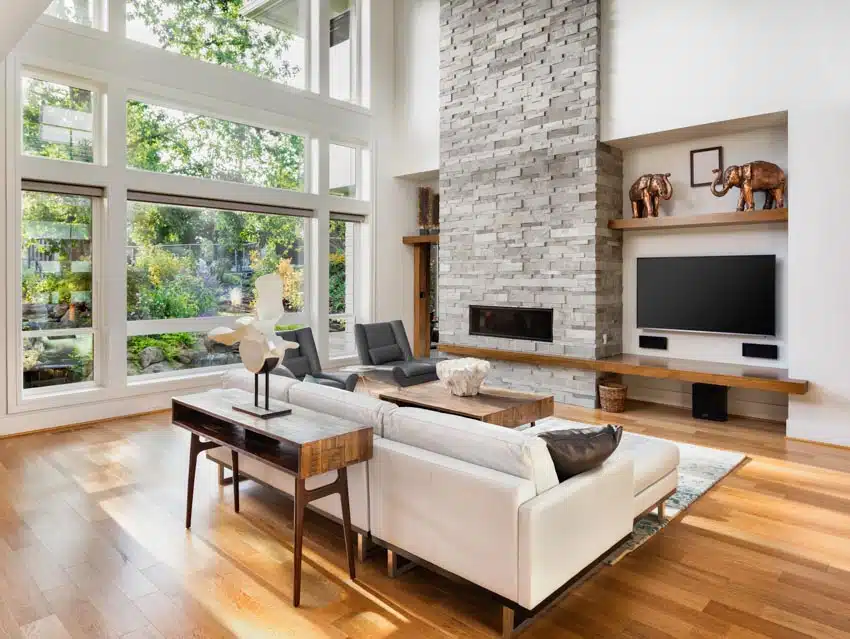 Natural stone is a timeless and eye-catching material that works well in modern farmhouse design. A wall made of stone can be both low-profile and attractive. It is also a versatile material that can be used for everything from a modest hearth surround to a stunning floor-to-ceiling accent wall.
Moreover, the stone is versatile enough to make a focal point by covering the entire fireplace wall or just a section of it—the stone's hue and texture range from polished and sleek to rough and rustic.
Nonetheless, if you want to achieve a more textured and eclectic aesthetic for your stone feature wall, keep in mind that it can be achieved by combining various stone types and sizes. This method works especially well with a smaller fireplace wall or alcove when a more intimate and cozy atmosphere is envisioned.
Homeowners can also select from many stone colors as well as finishes to obtain the intended appearance. Light stone colors, which include white or beige, can generate a brighter and more open atmosphere, whereas darker stone colors like dark gray or black can create a more powerful yet somber atmosphere.
Shiplap Wall Fireplace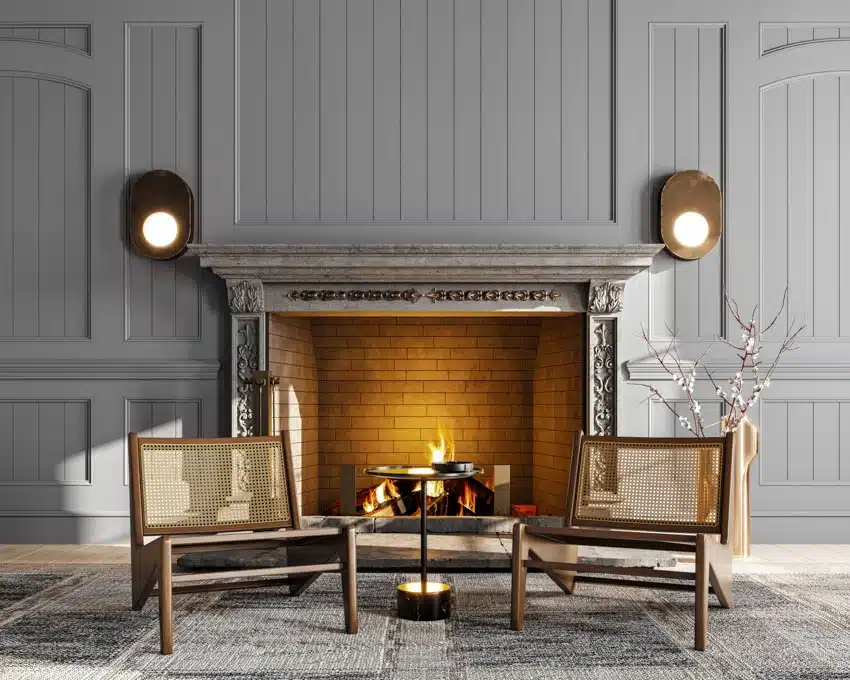 A modern farmhouse fireplace shiplap wall merges the ageless appearance of shiplap with the comfort and intimacy of a cozy fire. Shiplap is a type of wood plank that is frequently used to impart a space with a vintage or farmhouse impression. Shiplap may provide depth, texture, and individuality to a wall when utilized as a surround.
An accent wall behind the fireplace is one technique for incorporating shiplap into the wall. You can strategically arrange shiplap boards vertically or horizontally to accomplish this effect. A horizontal installation might give the room a more modern aesthetic, whereas a vertical shiplap can provide height and intensity.
In addition, you can consider painting the shiplap wall in a neutral color like white, gray, or beige to emphasize the modern farmhouse style completely. This can produce a clean and fresh appearance ideal for this style of home. Nevertheless, if you wish to showcase the inherent beauty of the wood, you are free to leave the shiplap wall unpainted.
Reclaimed Wood Fireplace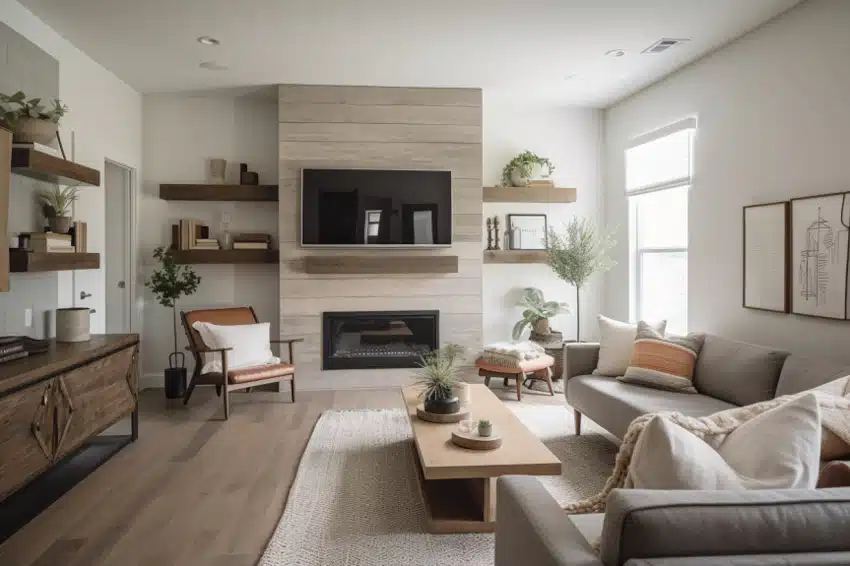 Reclaimed wood is a commonly used material for modern farmhouse fireplace walls, and it is, in fact, a key element in this decor. This provides the room with a rustic and organic feel. It can be utilized as a whole wall cladding, as a mantel or surround, or as a decorative accent.
Aside from that, the subtle imperfections in the wood give the area character and warmth, which renders it lived-in and homey. Indeed, reclaimed wood can be used to make a statement wall, and homeowners can select from a wide range of wood finishes, ranging from light and clean to dark and distressed.
Brick Fireplace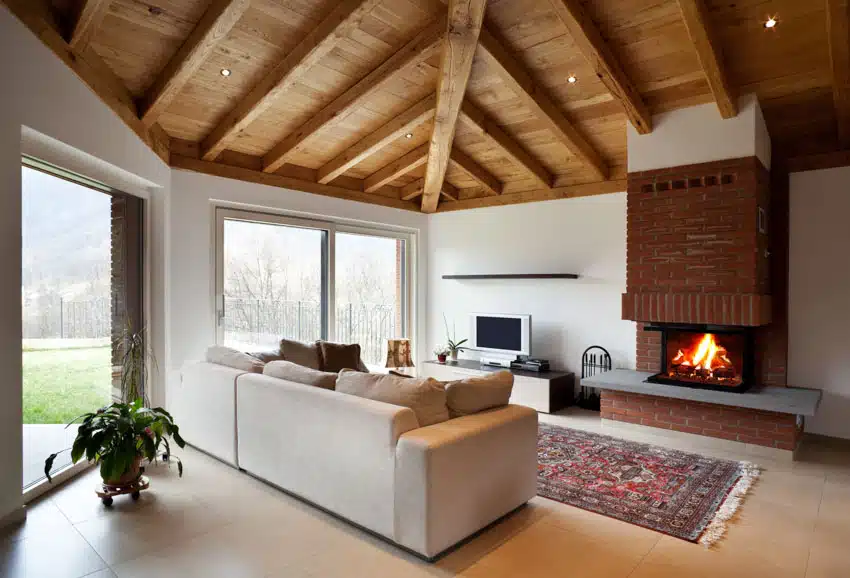 Brick is another classic natural material that is a favorite option for modern farmhouse design. Truly, a brick fireplace wall can add an abundant amount of warmth and character to the overall space.
A white-painted brick surround or a floor-to-ceiling feature wall are both great options, not only for a modern setting but for those considering building a farmhouse industrial living room as well.
Mixed And Matched Fireplace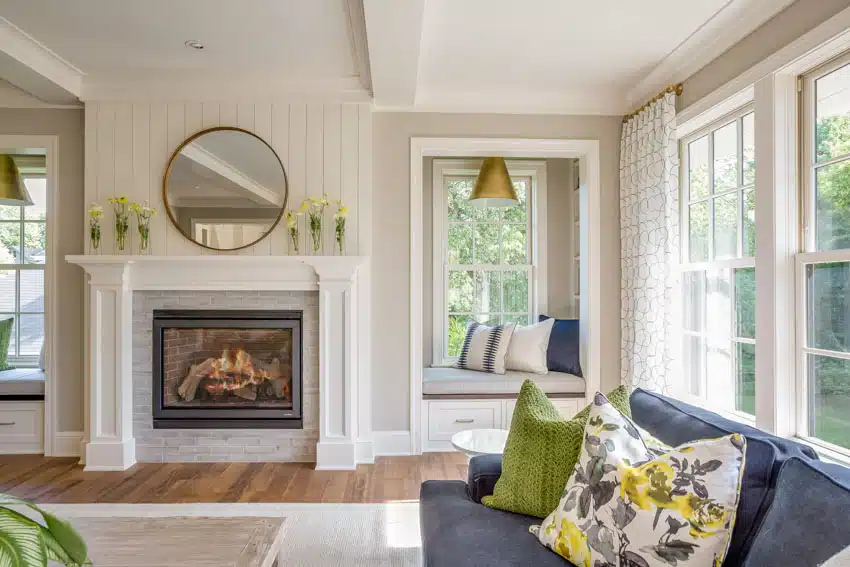 One of the most creative modern farmhouse fireplace wall ideas is to mix and match different materials. Using a combination of natural materials such as wood, stone, metal, and brick can create a unique and eclectic look that is both modern and rustic.
Concrete Wall With Electric Fireplace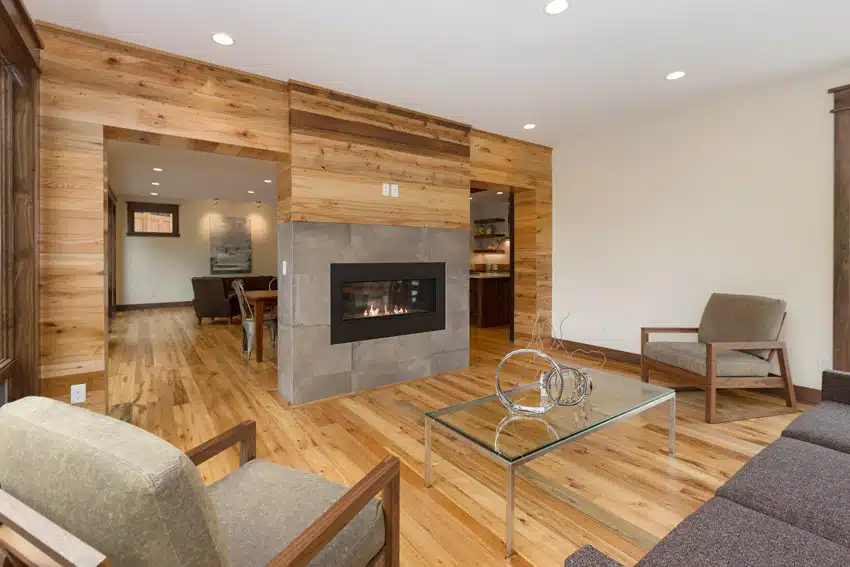 An electric fireplace is a style of electric insert that is made to look like a classic wood-burning hearth that would be seen in a classic farmhouse-style home. An electric insert is often designed with a mix of rustic and contemporaneous characteristics.
This style of electric insert can be bordered with metallic or wooden accents, and it may feature farmhouse themes, including shiplap or raw brick. The overall style is frequently minimal and clean, with an emphasis on practicality and relaxation.
A modern farmhouse electric wall fireplace, as opposed to traditional fireplaces that burn wood or gas, is driven by electricity. This implies that it may be turned on and off with the click of a button and that no special ventilation or chimney is necessary.
Furthermore, the vast majority of electric inserts are intended to provide additional heat to a space. They often offer an array of heat settings and a thermostat to help regulate the heat. The heat generated is usually measured in BTUs (British Thermal Units) and can range from around 5,000 to 10,000 BTUs, depending on the variant.
Modern electric inserts usually employ LED lights and mirrors to give the impression of a burning flame to produce an authentic flame effect. To add authenticity, some models may contain a wood set or other ornamental components.
Lastly, these insert sizes are available in various measurements to meet different room floor plans and layouts. Some types are intended to be wall-mounted, whereas others are intended to be fitted into a pre-existing firebox opening. Many electric inserts are simple to set up and do not require any specific expertise or tools.
Stucco Wall And Gas Fireplace
A modern farmhouse gas fireplace is intended to evoke the appearance and sensation of a traditional farmhouse-style wood-burning surround while integrating sophisticated design features.
Frequently, the design is clean and simple, with an emphasis on natural elements like wood, stone, and brick. The gas insert may include a mantel, hearth, and surround designed to meet your home's aesthetic.
A gas insert, as the name implies, is powered by natural gas or propane. This implies it needs a gas line and a venting system to function. An electrical specialist or professional contractor must install a gas fireplace for a renovation to guarantee safe installation and functional operation.
Gas heating systems are available in a number of sizes to accommodate various room sizes and arrangements. Some types are meant to fit into an established hearth opening, while others are built to stand independently.
Additionally, gas inserts generate a lot of heat, making them excellent for bigger rooms or open-floor layouts. They often come with an array of heat options and might come with a thermostat to help adjust the temperature. Depending on the model, the heat output might vary from 20,000 to 60,000 BTUs.
A burner system fueled by natural gas or propane produces the flames in a modern farmhouse gas unit. The flame effect is customizable, allowing you to modify the visual effect of the flames to your liking. To add depth, certain models may contain a wood set or other artistic features that enhance the beauty of the modern farmhouse style.
Horizontal Planks With Fireplace And TV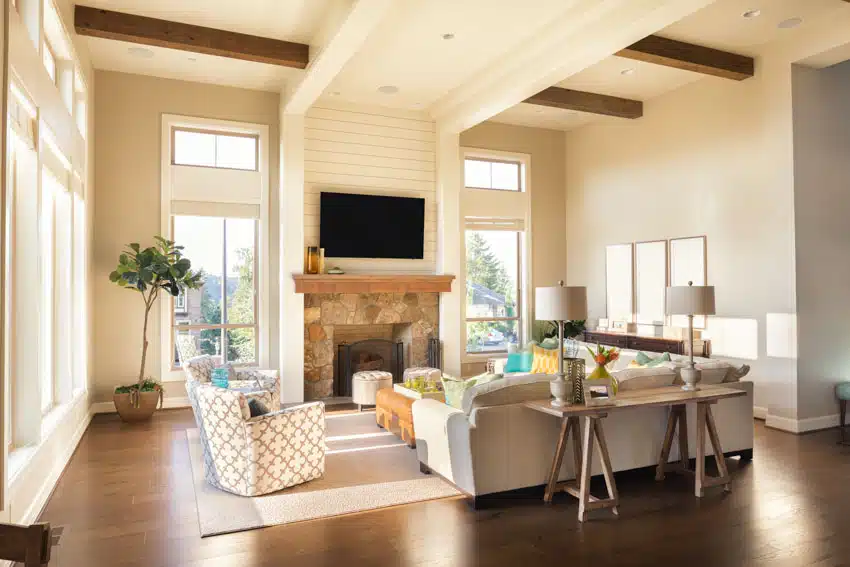 Due to the considerable heat and smoke produced by wood fires, it is frequently not safe to hang a TV over a wood-burning fireplace. Any heat and smoke that does not escape through the chimney will flow over the mantel as well as the TV, which might end up causing damage to the electronics.
Nonetheless, there aren't many things cozier than watching TV next to a crackling fire. Because of the location of some homes, in addition to personal aesthetic choices, putting your TV over the hearth is often the ideal option.
A living room with a mounted TV is a visually appealing and beneficial center of attraction for any home. Its design combines traditional farmhouse components with a modern twist, resulting in a unique and attractive design suitable for any type of home. The TV is typically installed over the fireplace, giving it the ideal spot to curl up and watch your favorite movies or TV programs.
The versatility of this floor plan setup is what makes it so appealing. It may be tailored to meet any style or taste and can be integrated into any room, from a quiet living room to a big open-plan kitchen and dining space.
Keep in mind that there are various advantages to installing a TV over your hearth safely. Houses occasionally have a recessed niche over the fireplace for TV positioning. The niche is outfitted with all of the outlets and jacks needed to connect your TV.
This eliminates any complex and perhaps problematic wiring project. However, you must still evaluate whether the viewing angle is appropriate for you and also if your fireplace produces too much heat for a TV.
If you need to make the most of a tiny living room, consider mounting, or even decorating around a TV. This can help with planning by providing the room with a single focus point instead of trying to establish distinct seating zones around the hearth and TV. It also eliminates the need for a TV stand, which would take up valuable floor space.
If you have a gas or electric insert that emits very minimal heat, you can probably mount your TV above it. You have the option of employing a temperature gauge to compare the unit's heat output to what your TV instruction manual says is acceptable.
Check with a licensed contractor if in doubt whether this is acceptable. Also, if you do not intend to use your fireplace or if it is inoperable, keep the area above it in mind for installing your TV.
Shiplap And Quartz Surround Fireplace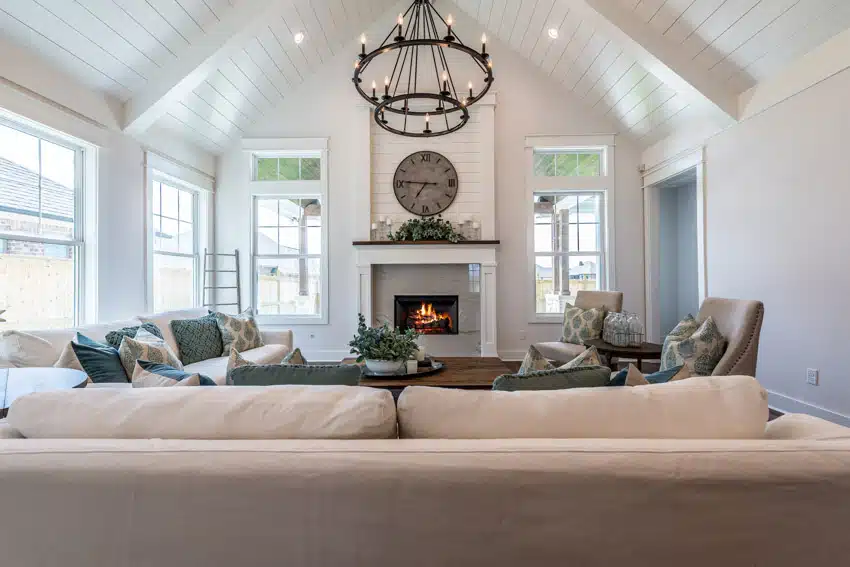 Installing shiplap is an excellent method to add uniqueness to your home. You have definitely seen a lot of plank walls as well as some stunning farmhouse shiplap fireplaces. Shiplap is a sort of wooden paneling that is commonly used in modern farmhouse interiors and is made out of overlapping boards that produce a distinct, horizontal pattern.
Shiplap paneling is often used when creating a surround for the fireplace, providing it with a pleasant and rustic appearance. To create a fashionable and modern feel, this is very often mixed with modern design features such as a minimalist mantel or sleek black hearth.
The application of natural materials, including wood and stone, to generate a cozy and welcoming atmosphere is one of the major aspects of a shiplap design. This can be accomplished by incorporating reclaimed wood for the shiplap panels or brick or stone for the surround.
Furthermore, the great thing about shiplap is that it can be used in a variety of ways to construct your fireplace. A vertical or horizontal shiplap placement is a lovely feature of any interior design that can change its look. Depending on the type of your home, you can further achieve this effect by installing white or dark shiplap.
Another important aspect of making a lovely shiplap hearth is to keep the overall design minimalist. You do not want to pack too many elements into the fireplace.
However, dark shiplap is an excellent choice for a more alluring design style. Dark shiplap can add a clean and classy aesthetic to your fireplace. Dark shiplap can also be used to achieve a rustic impression.
If you want to go for a more rustic aesthetic, consider using distressed wood for the shiplap. This will make your surround appear more country and genuine. Regardless of the style you choose, shiplap is a terrific way to add charm to your fireplace as well as the room where it is situated.
Fireplace Mantel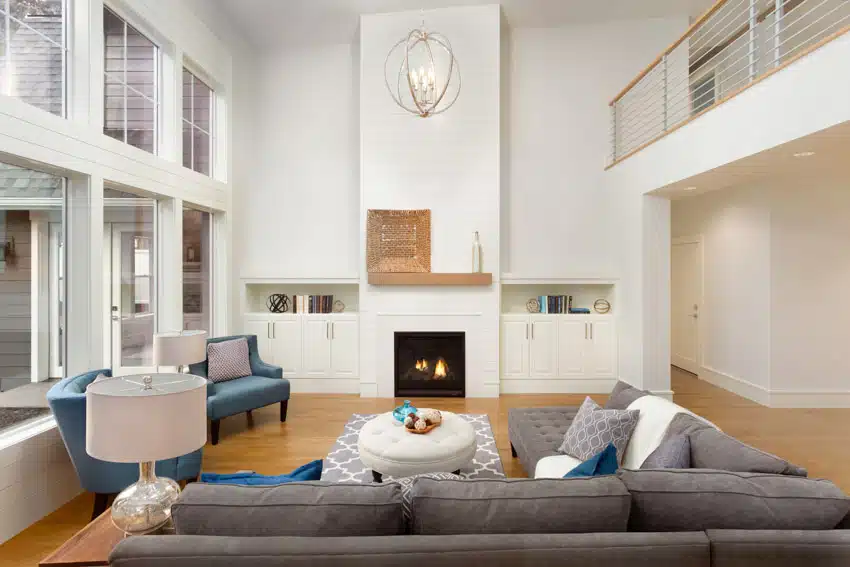 A modern farmhouse fireplace mantel is a stylish framework that accompanies and surrounds the fireplace. It can either be built of wood, stone, metal, or even plaster.
The use of basic, sleek lines and neutral hues is a major component of a modern farmhouse mantel design. The mantel is frequently painted in a subdued shade of white, gray, or beige, allowing the natural textures and materials to pop out while creating a coherent design that integrates easily with the remainder of the space.
Moreover, the use of subtle ornamentation is another crucial aspect of a modern farmhouse mantel style. Accessories such as candlesticks, picture frames, or small pots of fresh flowers can be used to bring a bit of flair and character to the mantel without overpowering the room.
Fireplace Decor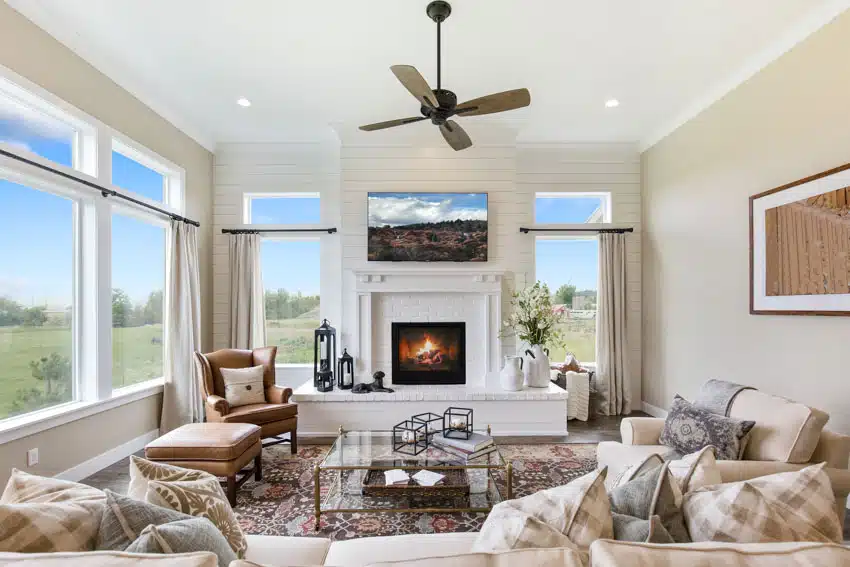 There are a few crucial factors to consider while enhancing a modern farmhouse decor – first and foremost, the fireplace must be the focal point of the space, with a practical and visually pleasing mantel.
Numerous modern farmhouse fireplace mantels are composed of reclaimed wood or natural stone, with different modern farmhouse living room decor ideas, such as corbels, brackets, or wrought iron fittings.
Regarding accessories, their hearths frequently combine old and modern objects. Antique candlesticks, for example, may be matched with sleek metal vases, or rustic wooden signs may be hung above a modern abstract picture.
Generally speaking, the idea behind modern farmhouse fireplace decor is to produce a warm, welcoming environment that feels both contemporary and timeless.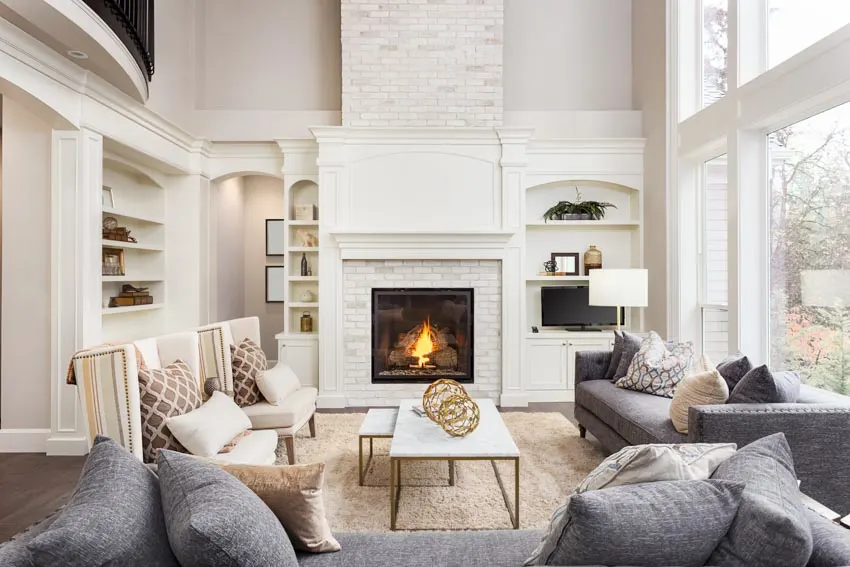 The focal element of this photo is indeed an authentic modern farmhouse-style masonry fireplace with a stone surround. As you see, the insert is huge and magnificent, with a natural stone finish that adds a rustic appeal to the room. The cream-white paneled walls, with the neutral backdrop of beige paint, allow the central feature wall to take center stage.
A mixture of beige and gray sofas with a white and gold center table effectively brings warmth and comfort to the seating space. The mix of these neutral colors produces a warm ambiance ideal for unwinding with family and friends. Plus, open shelving has been installed and embellished with frames and vintage decorative elements to lend a personal touch to the room.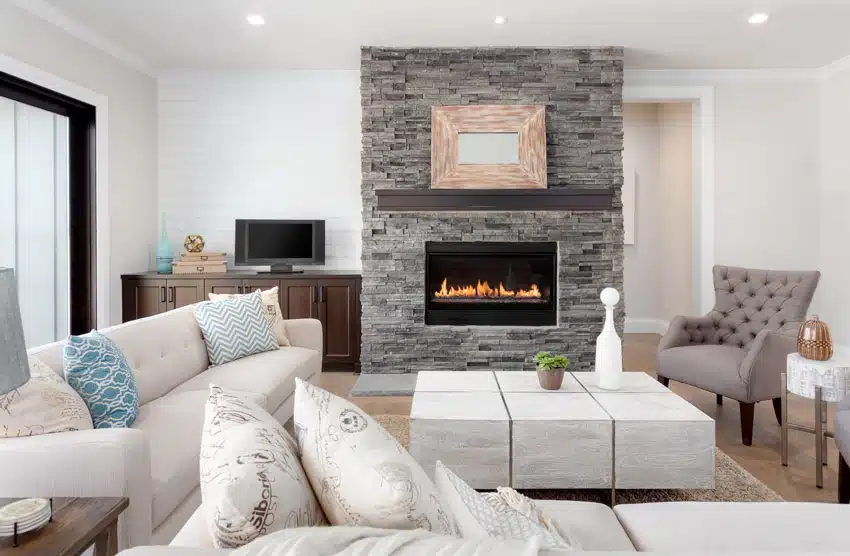 The focal point of this photo is a beautiful gray stacked stone fireplace. The combination of the black frame insert and brown composite mantelpiece works with the furniture and built-in cabinetry to add a touch of luxury to the atmosphere.
A TV on the built-in cabinet is an afterthought to the stone statement wall. The white walls create a clean and bright backdrop for the gray stones, allowing it to stand out.
The cream-white sofas in the room provide a pleasant and inviting atmosphere. The white wood center table adds a touch of refinement, whereas the gray armchair gives more seating and a subtle splash of color to the space. The room's general color scheme is neutral, with tones of white and gray prevailing.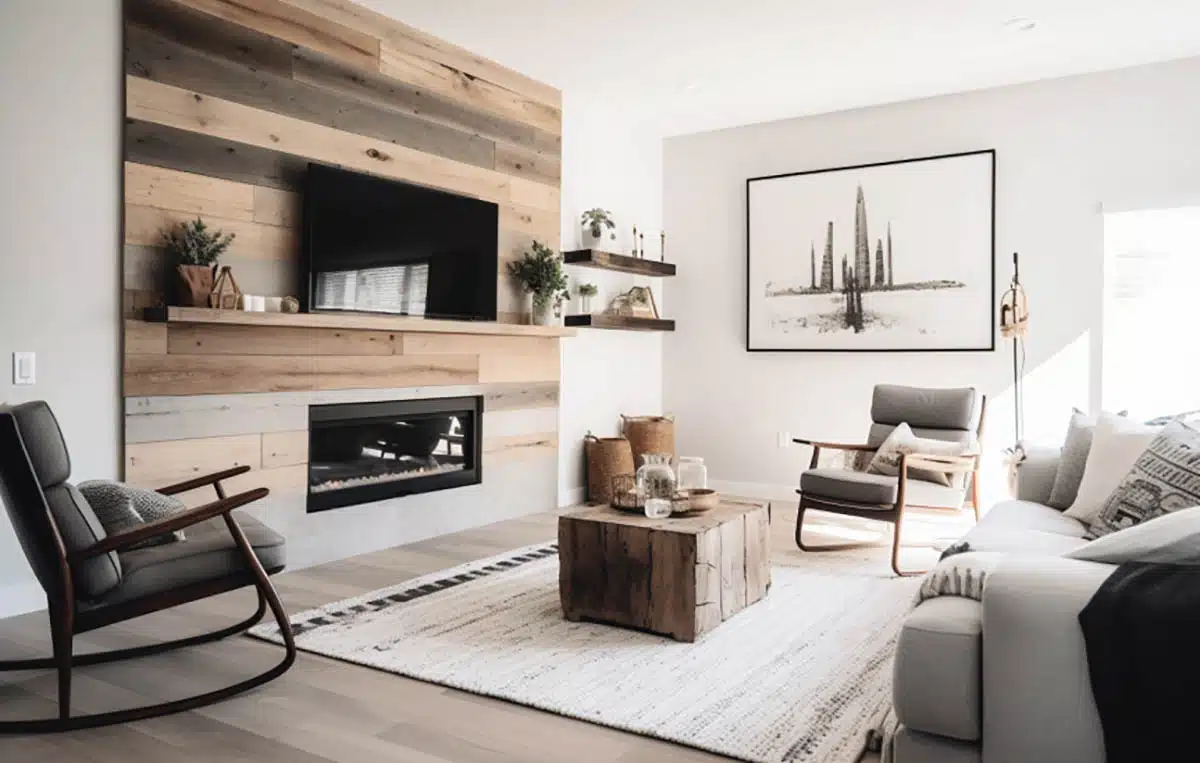 This beautifully decorated room creates an attractive place for entertaining and socializing in front of the fire. Horizontally laid wood planks create an intriguing accent wall with plenty of character. Furniture pieces such as the coffee table and armchairs tie the theme together.
Meanwhile, open shelving and the mantelpiece provide the opportunity to introduce small green houseplants, candles, and other related decor items. Wicker baskets are a thoughtful touch for those empty corners that need something to spruce them up.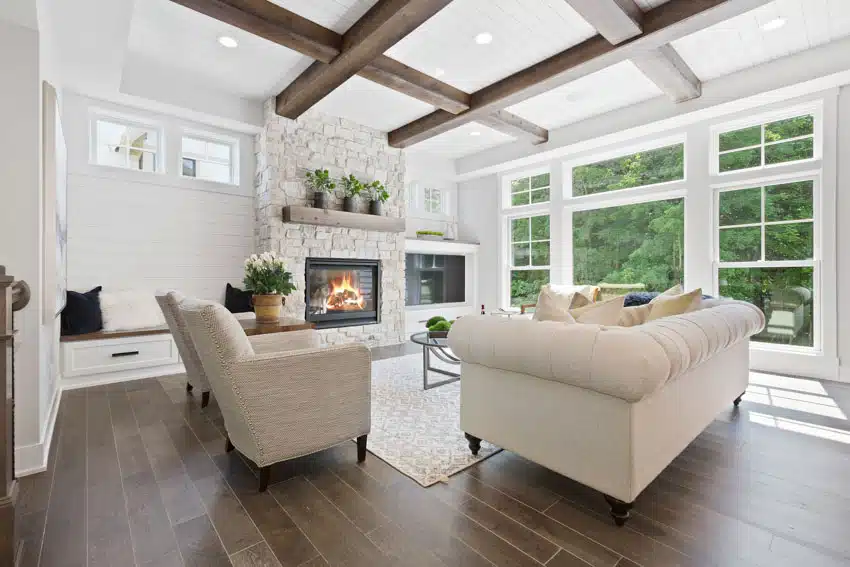 This photograph shows a comfortable modern farmhouse-style living area with a white stone fireplace wall and surrounds and a black metal insert frame. House plants are arranged above the reclaimed wood mantel to provide a touch of nature and life to the space.
The cream-white sofas make the area feel cozy and inviting, while the dark brown hardwood floors offer warmth and contrast. The exposed wooden ceiling beams add a rustic touch to the area, making it snug and inviting.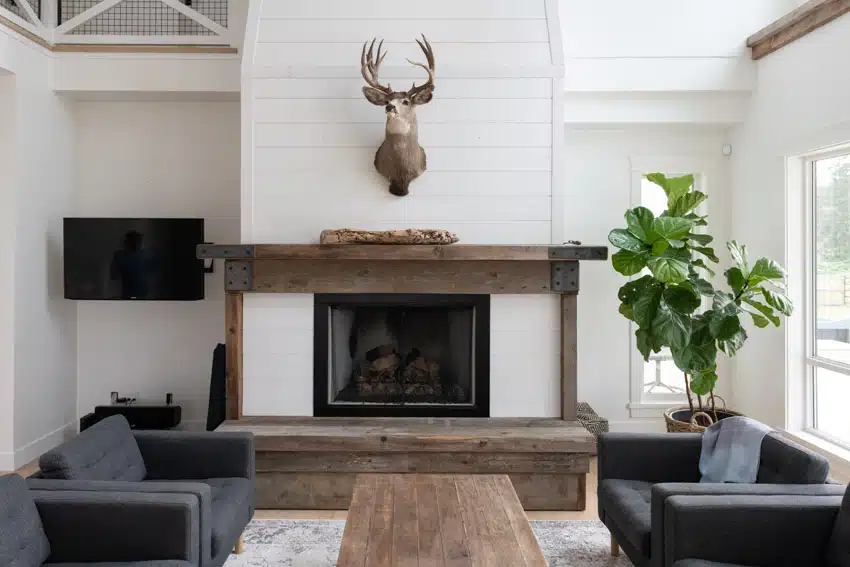 This photo shows a modern farmhouse-style living room with a fireplace against a white nickel gap shiplap wall. An eye-catching mule deer sculpture hangs above, bringing a one-of-a-kind touch to the room.
A large houseplant in the corner adds freshness, a touch of green, and texture to the space. A pleasant entertainment space is created by hanging the TV on the side. The reclaimed wood center table gives the room a rustic feel, whereas the black sofa adds a modern and fashionable touch. The room's general color scheme is neutral, producing a relaxing and pleasant atmosphere.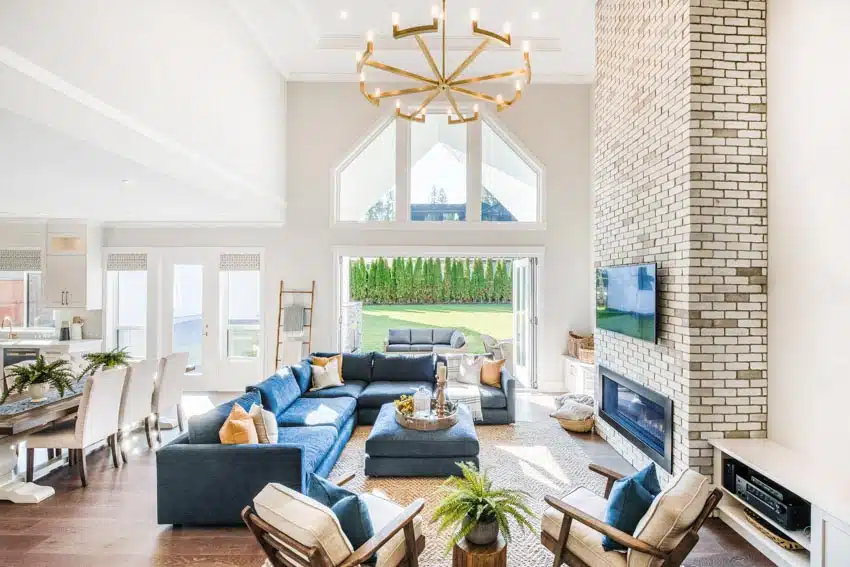 Here's a contemporary and elegant living area with a whitewashed brick fireplace wall with a black-framed electric insert as the focal point. Mounted on the bricks is a TV, giving an ideal space for entertainment and relaxation.
The blue sofas with brown throw pillows provide brightness to the space while also providing comfy seating. The gold minimalist chandelier gives a sense of beauty to the room while also providing a pleasant and inviting atmosphere.
A wooden armchair with tan upholstery and blue throw pillows fits the modern design scheme and gives another seating option. The blue upholstered center table brings a contemporary feel to the area and is ideal for extra decorations. The white walls give a clean and cheerful background, allowing the colors and textures of the furniture pieces to shine out.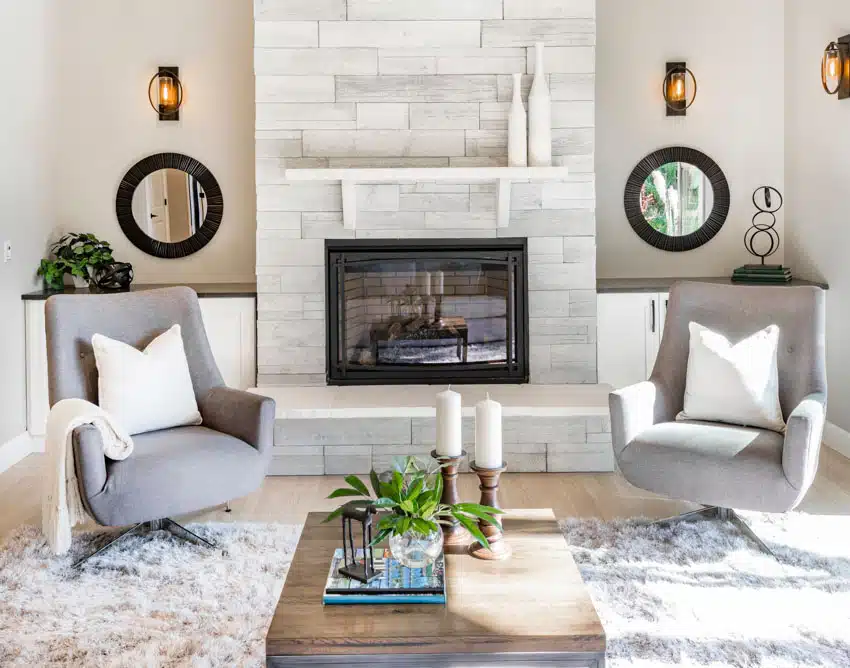 The focal point of this modern farmhouse-style room is a pleasant living area with a grey stone surround as well as a black-framed fireplace. The stone mantel gives a wonderful space for adding decorative items, with a pair of vintage-designed candlelights on each side of the hearth and vintage mirrors contributing to the tranquility.
Two cozy gray armchairs with white throw pillows provide a delightful seating arrangement, creating an ideal place for leisure. A houseplant and candles on the reclaimed wood center table bring a touch of nature and coziness to the space.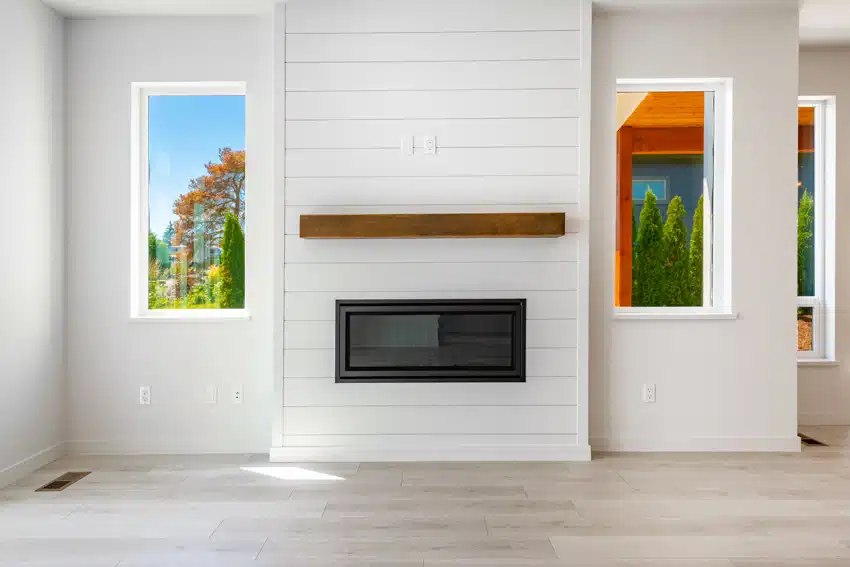 The fireplace's black metal frame gives a streamlined and sophisticated touch to this modern farmhouse decor, whereas the white shiplap surround adds a classic farmhouse vibe. The off-white walls create a neutral and peaceful backdrop for the crisp white planking and floating mantel, allowing them to take the spotlight.
The wooden mantel is both useful and stylish, allowing plenty of space for exhibiting ornamental artifacts while also lending a touch of warmth to the space.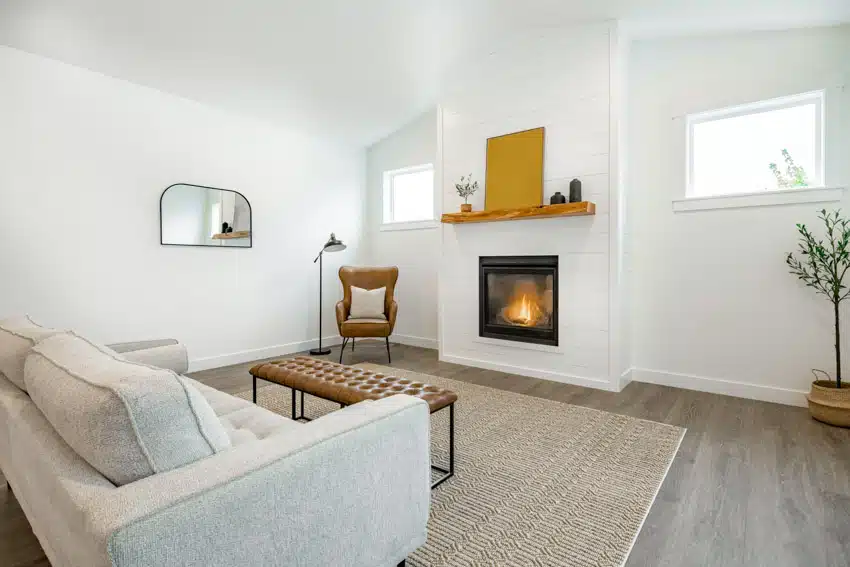 The pristine and airy white walls and ceilings create a clean and airy backdrop to the modern minimalistic farmhouse-style space, producing a feeling of spaciousness and serenity. The off-white sofa and beige carpet lend warmth to the space, whereas the metal center table with brown surface adds a sleek, contemporary touch.
The horizontal shiplap walls that surround the fireplace design lend a traditional farmhouse atmosphere. The open shelf mantel above the design in the golden brown wood finish provides a useful and elegant feature to the space, providing adequate space for exhibiting artistic objects while also bringing a sense of warmth.
The brown armchair, with its beige throw pillow and sleek metal floor lamp, makes a comforting and inviting nook, ideal for reading and relaxing.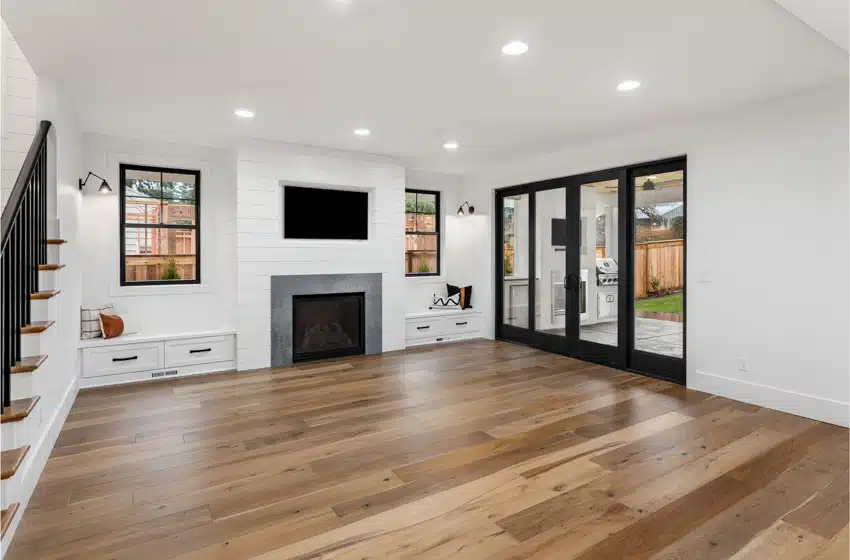 A gray-framed fireplace with shiplap walls and a TV above it anchors this modern farmhouse living room. The pristine white ceiling and white farmhouse wall colors provide a clean and bright backdrop for the area, whereas the hardwood floors give warmth and character.
Bench seats with storage provide functional seating possibilities while also adding storage space to this living area, making it ideal for tiny spaces. A classic shiplap wall combined with a modern hearth frame produces a sophisticated and timeless aesthetic that is guaranteed to impress.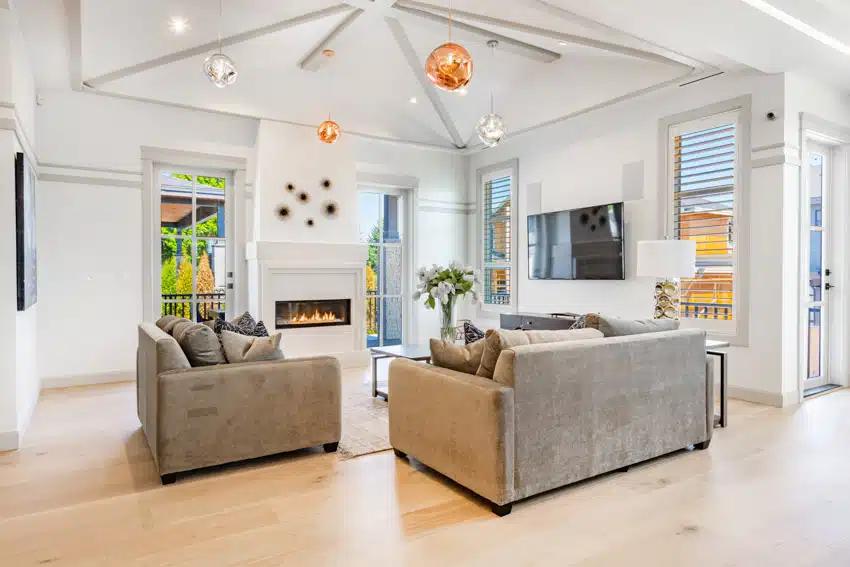 A sleek, compact black-framed fireplace with a white-painted reclaimed wood surround graces this modern farmhouse living room. Two gray two-seater sofas offer maximum comfort – one sofa is facing the electric insert, and the other is in front of the TV.
An attractive floor lamp beside the TV provides extra lighting, while hanging white and rose gold pendant lights lend a stylish and beautiful accent to the space. The white walls and ceiling provide a bright and open atmosphere, adding to the room's modern and minimalist vibe.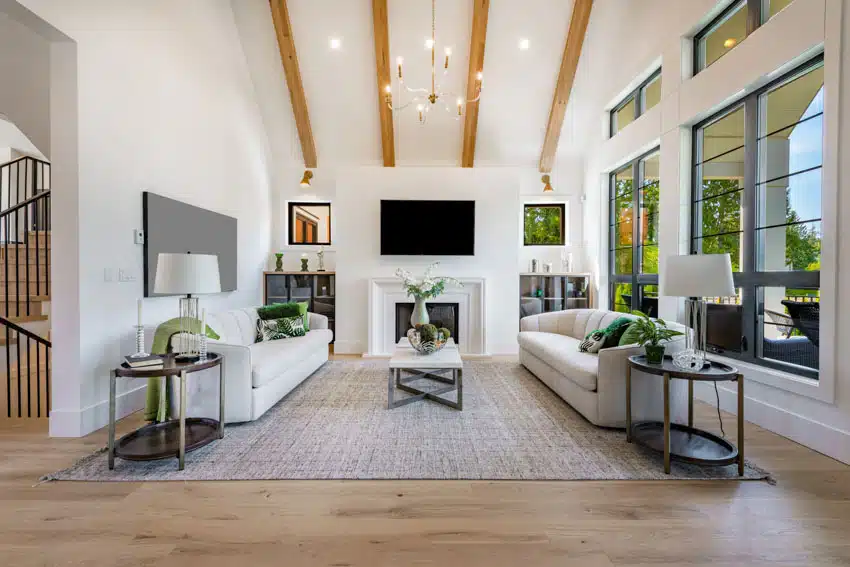 A magnificent white vaulted ceiling with wooden beams gives this modern farmhouse living room a sense of old-world charm. A TV positioned above a modest fireplace with a white-painted wood surround makes for a warm and inviting centerpiece.
Gray carpets provide an elegant and comfy flooring option, whereas two end tables next to off-white sofas provide extra surface area for decorations or drinks. Vintage decorative items are stored on shelves on each side of the fireplace, which gives the space a charming and quirky feel.
Large windows offer breathtaking views of the outside and abundant natural light. A hint of freshness and color from houseplants on white center tables gives the room a warm, friendly ambiance.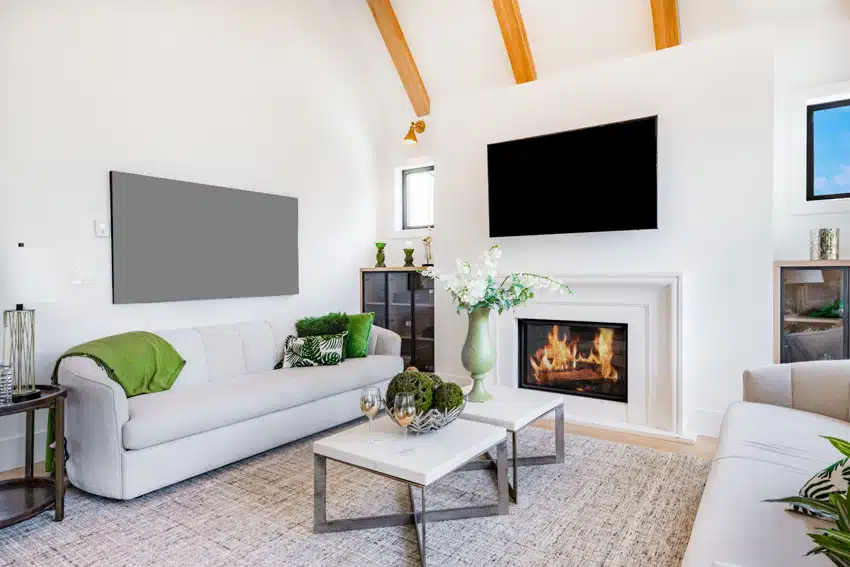 White walls and a white ceiling with golden brown-finished wooden ceiling beams create an airy atmosphere in this modern farmhouse-style living room. Glass cabinets with old-fashioned ornaments on top give the room a sense of earthy character and elegance.
The heart of the room is a small fireplace with a white-painted wooden surround and a TV above it. The warm ambiance of the room is enhanced by two white ceramic center tables with houseplants and vintage decorations. A white sofa with green accent pillows offers cozy seating and gives the space a bright pop of color.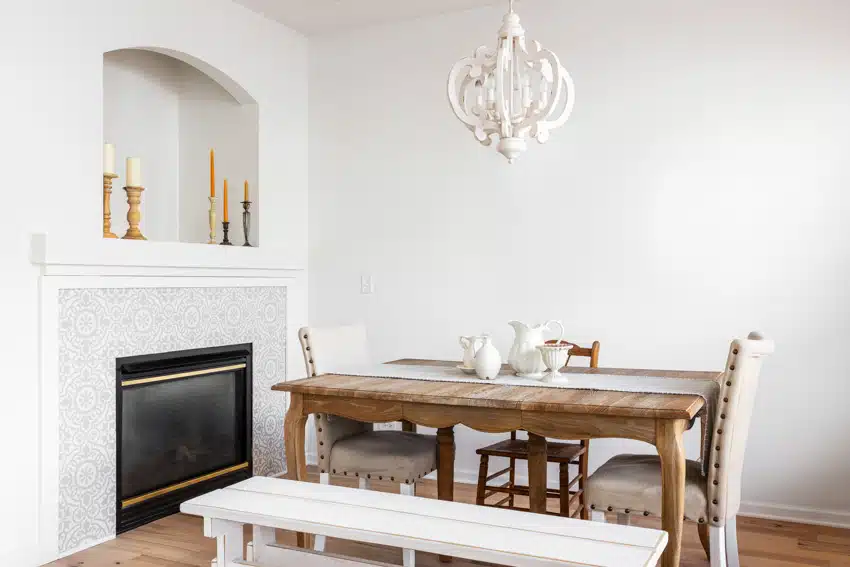 A minimalist yet elegant white chandelier provides this dining room in the modern farmhouse design with a hint of class and sophistication. A modernist fireplace with a decorative tile surround gives a warm glow and friendliness, while the white walls make the space appear cheerful and clean.
Family and visitors can eat at a wooden dining table in beige-upholstered dining chairs. An eye-catching and primitive touch is added to the dining room with an arched storage or display area over the fireplace with delightful vintage candles. The blending of modern and traditional features provides a classic and attractive dining room that is ideal for meeting and sharing meals with loved ones.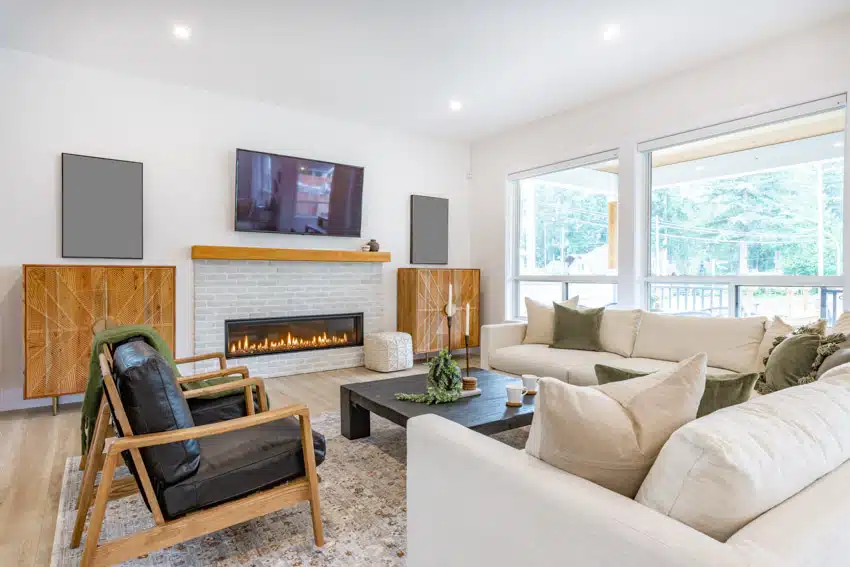 The long, sleek horizontal fireplace in this modern farmhouse living room offers a stunning white and gray stone surround. The TV hung above the fireplace provides entertainment, whereas the simplistic open wooden shelves above give a magnificent and efficient storage solution.
A dark wooden center table with vintage decorative accents supports and gives visual character to the space, while massive windows allow natural sunlight and provide spectacular scenery of the outdoors. White walls and ceilings create a fresh and airy feeling with recessed lighting fixtures.
Moreover, the comfortable seating is provided by the combination of cream-white sofas with sage green throw pillows as well as two wooden armchairs with black leather upholstery, which combine modern and farmhouse styles.
See more related content in our article about this modern farmhouse house plan with studio apartment on this page.