Here's all the latest about the farmhouse industrial living room style including ideas about what it is, characteristics, decor, furniture options, and a comparison to traditional farmhouse designs.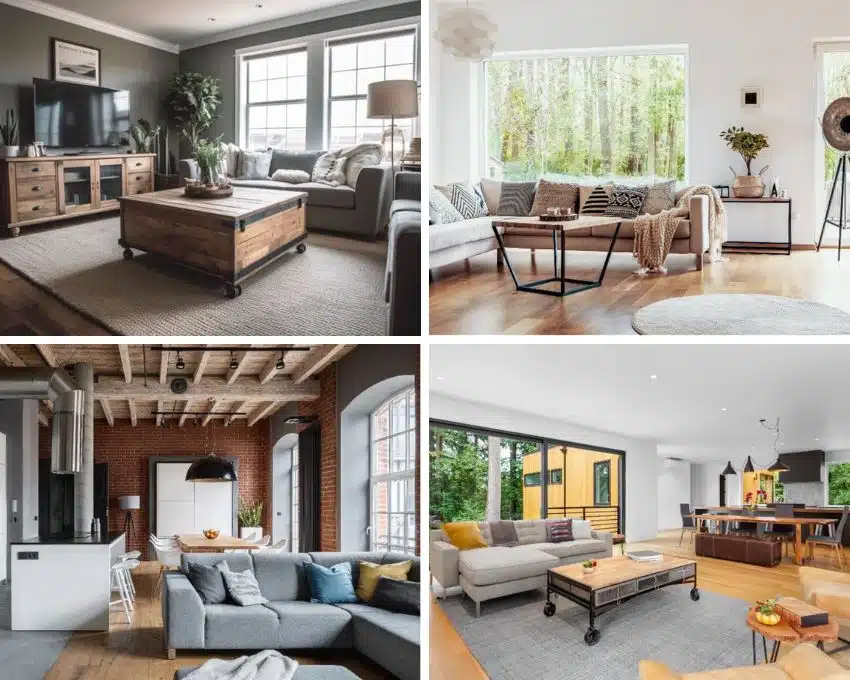 The living room is a great space to style and work on. You can go for the basic traditional style or the modern style. You can also get a mix of two styles just to have something different like the farmhouse industrial style.
A farmhouse industrial living room can offer a welcoming and comfortable ambiance to your home. The combination of these two styles brings out the best in each and if you want to make the most of that, the perfect area to apply this style is the living room.
Today, the combination of styles is becoming more popular because of its fresh take on the different traditional styles. So if you want something as trendy as this, you can try going for a farmhouse industrial living room to elevate the look of your entire home.
What Is The Farmhouse Industrial Style?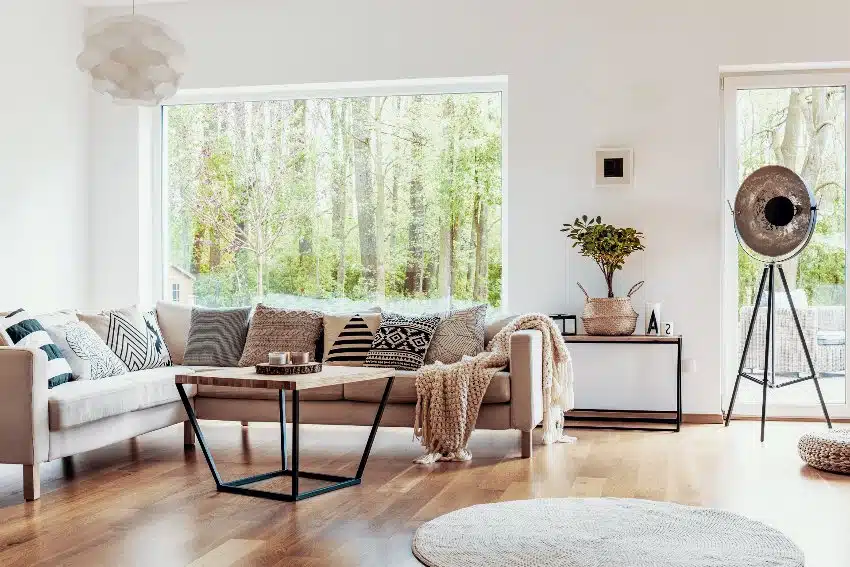 The farmhouse industrial style is a combination of two styles way different from each other, farmhouse and industrial styles. This modern trend can be traced back to the agricultural and industrial boom, followed by the popularity of the modern farmhouse style.
This gave many homes a new definition of rustic combined with sleek modern aesthetics, balancing cold and warm finishes with old and new vibes. The goal of the mixed style is to structure comfortable and livable spaces with timeless and trendy aesthetics.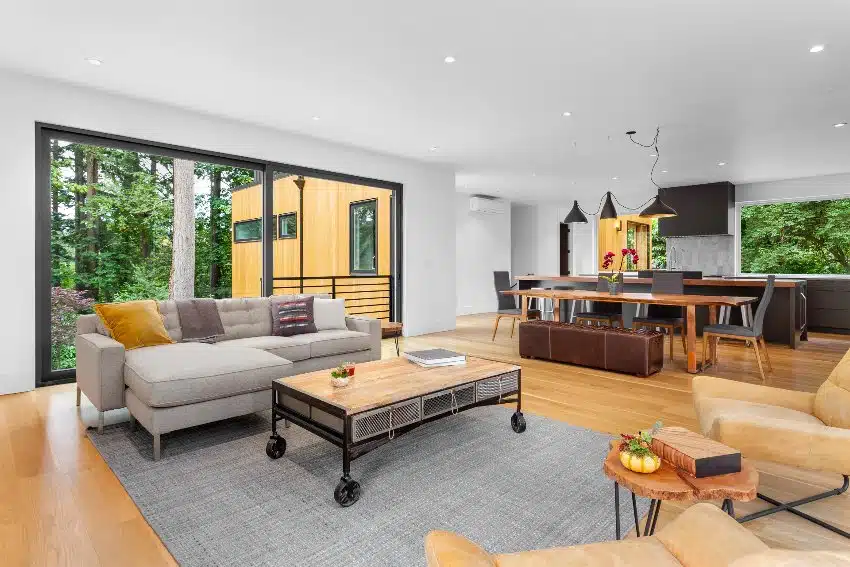 Industrial style is heavily influenced by the Industrial age and the need to transform abundant factories and warehouses into chic and trendy homes and offices, featuring resourceful architecture and elements along with rugged and edgy lines. The farmhouse style, on the other hand, centers on simplicity and practicality featuring rustic rural architecture and aesthetics.
The industrial style feels a bit sleek and cold while the farmhouse style is cozy and warm. Finding the right balance between these two opposing styles and vibes is the key to understanding industrial farmhouse style at its core.
The farmhouse style helps the industrial style to be more welcoming and less harsh and sterile. The industrial style gives the farmhouse style an edge and a trendy look to integrate into its simple and bare aesthetics.
Farmhouse Industrial Living Room Characteristics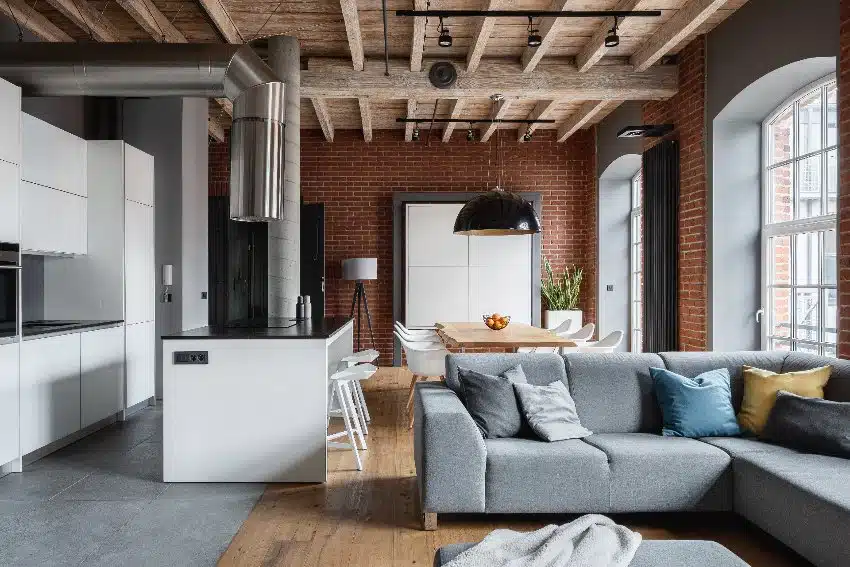 In styling your living room with a farmhouse industrial style in mind, there are characteristics and elements that will make it clear that the space carries this mixed style. If you are planning to elevate your living room, here are some of the key elements to look into.
Open Floor Plan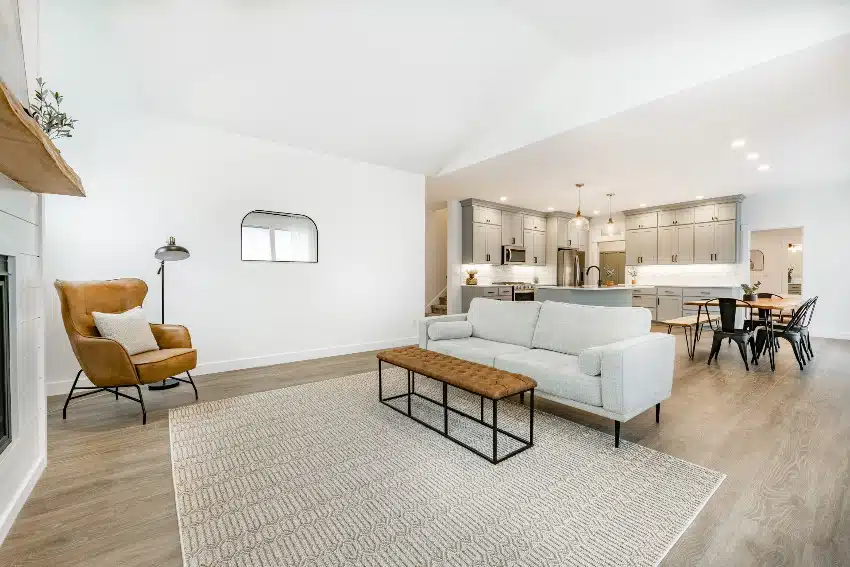 Warehouses and farmhouses are usually expansive and this characteristic is carried over to the styles they inspire. Having a big space will help to set up an authentic farmhouse industrial look for your living room. And this can be accomplished through an open floor plan.
An open floor plan is one thing you can find similar to both industrial and farmhouse styles. Take down the wall that separates the living room from the dining area to have a bigger and more spacious area to spruce up. You can also raise the roof for a higher ceiling to achieve this expansive space.
Raw Materials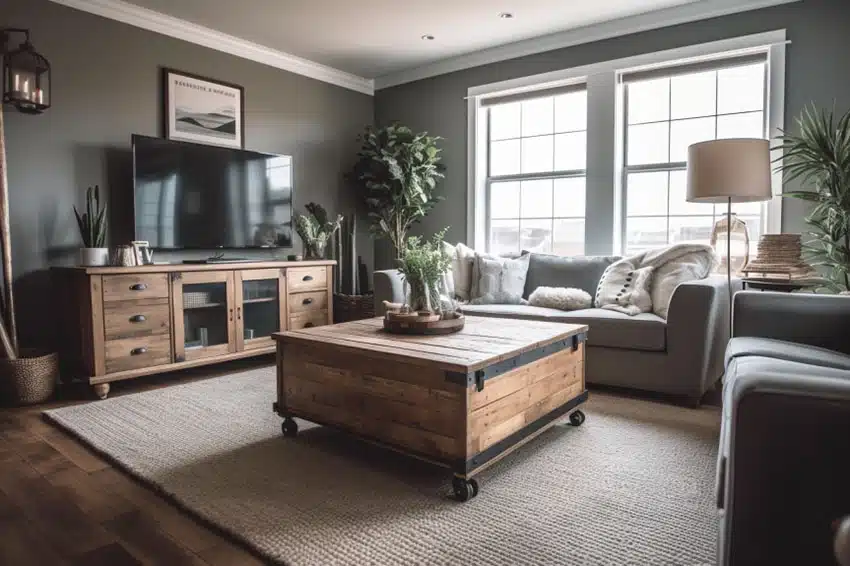 Farmhouse industrial style makes use of raw materials and the most common ones used are wood and metals. Wood is a material staple in the farmhouse style while metal is abundant in the industrial style.
These two raw materials offer a balance of cold and warmth in the aesthetics. Here are some wooden and metallic elements you can add to your living room.
• Raftered ceilings
• Floorboards
• Reclaimed wooden coffee tables
• Steel-legged chairs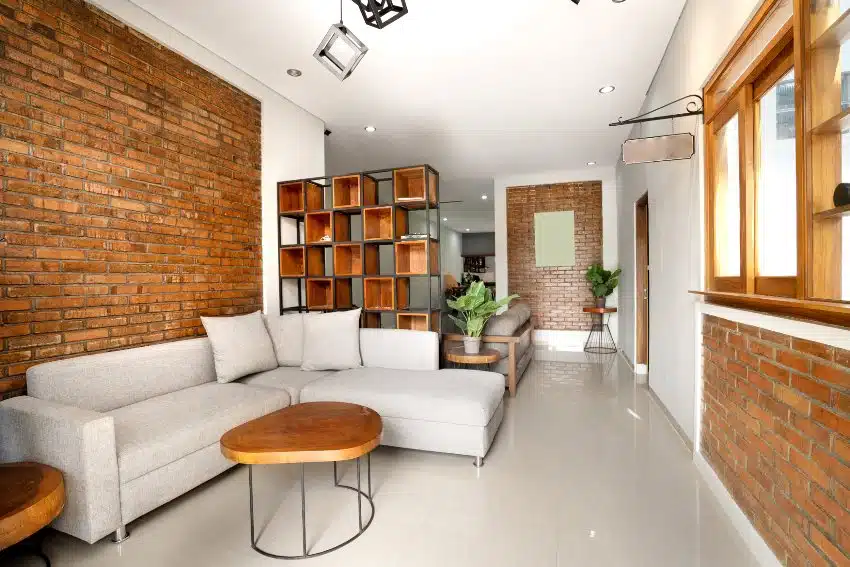 These raw materials often come in a distressed, worn, and weathered look, which can add depth and a rustic feel to your living room. More than just wood and metal though, you can also try out the following materials:
• Brick Walls
• Concrete Floors
• Glass Dividers
Metal Accents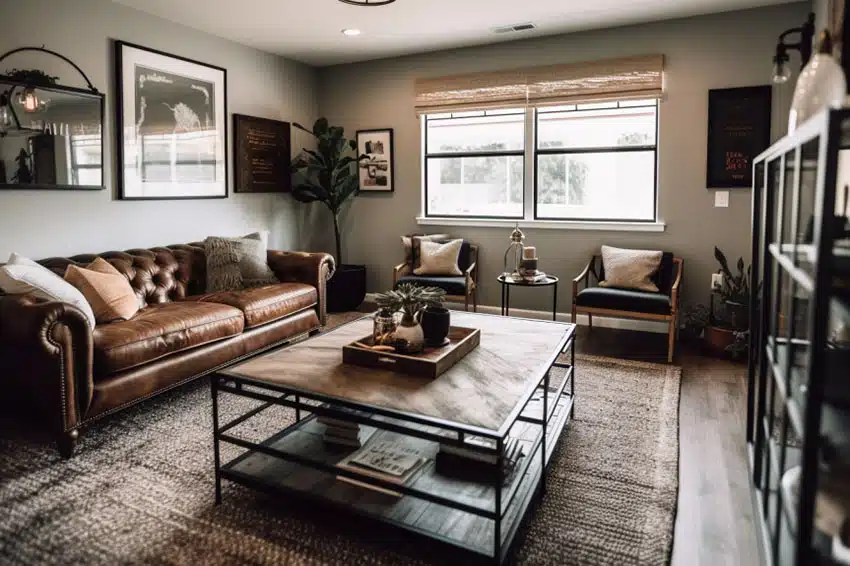 The industrial style is dominated by metallic elements and this is the same way with the farmhouse industrial style. Black steel and iron are commonly used as metal accents, whether it's through metal chairs or wall decor. You can also use copper and oil-rubbed bronze for a unique look.
Lived-In & Worn Architecture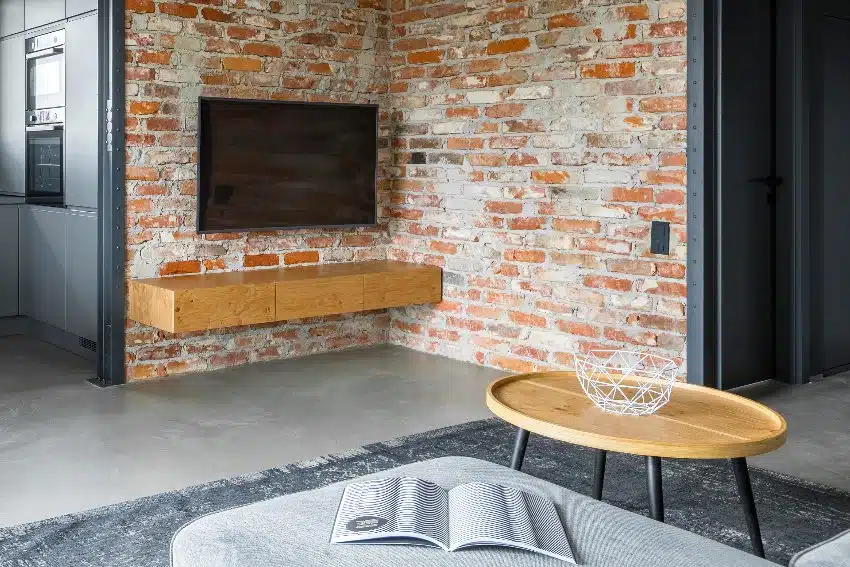 Another element of a farmhouse industrial living room is lived-in and worn architecture. More than just strong and clean lines, existing structural elements can also be used to your advantage. This means you can benefit from the following elements:
• Exposed piping
• Showing ductwork
• Large metal-grid windows
• Exposed wiring
• Rustic wood ceiling beams
• Polished concrete floors
If your home is not an old structure with newer builds, you can use materials that can make your living room appear older like reclaimed or distressed materials.
Pared Down & Neutral Color Palette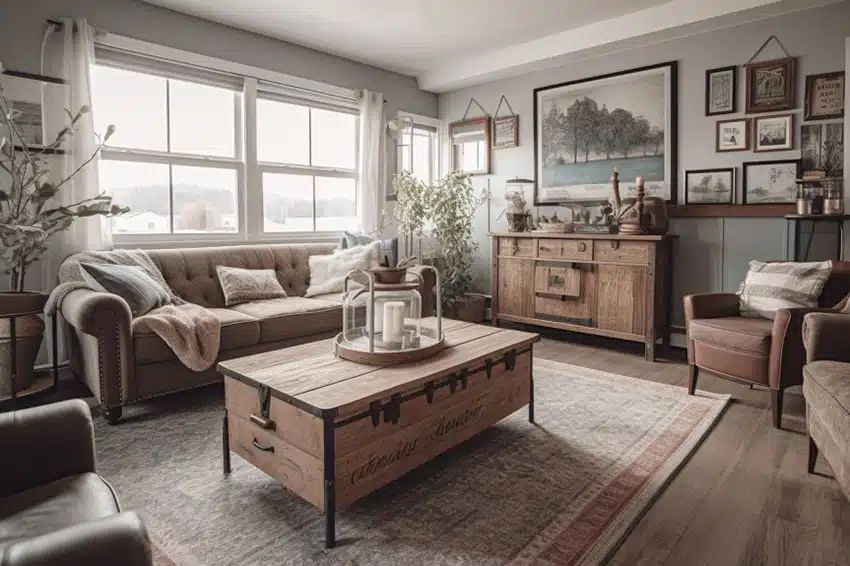 When it comes to color palettes, the farmhouse industrial style tends to have a neutral color palette, specifically the darker shades like charcoal gray, brown, and black.
So soft that it seems almost invisible, a neutral color scheme consists of hues that have been neutralized by adding their complements. – Color Harmony Workbook, Lesa Sawahata
Occasionally, you can use the color white to create layers and textures but darker colors usually dominate this mixed style.
Industrial Lighting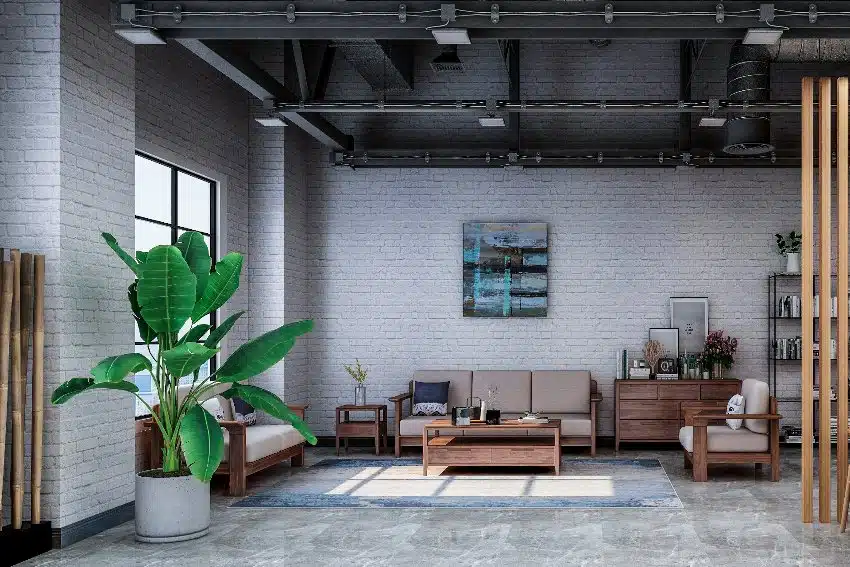 With a farmhouse industrial living room, industrial lighting is the best way to go. To elevate the space further using this style, you can use the following elements in the lighting fixture:
• Visible wiring
• Rustic metal finishes
• Vintage light fixtures
You can go for an antique crystal chandelier or low lighting using vintage lamps.
Victorian Vintage Touch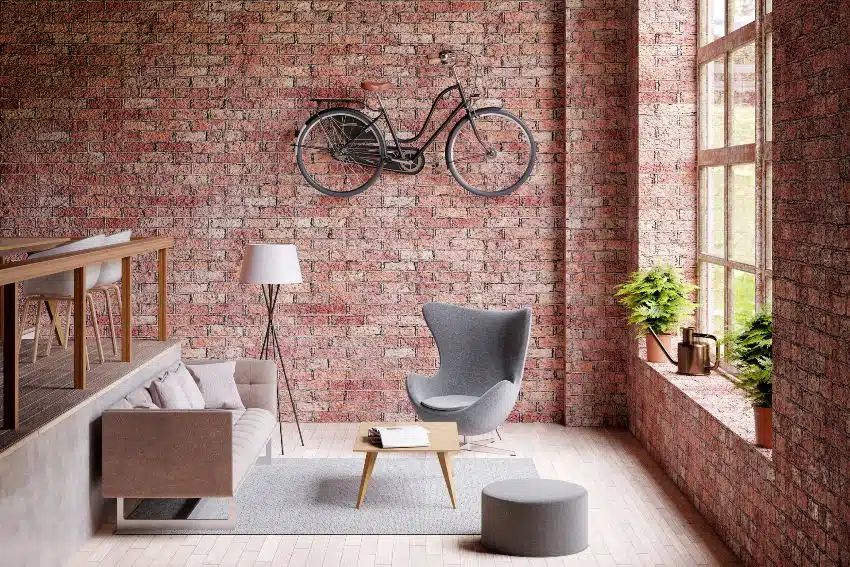 With the industrial style, Victorian vintage is trendy and you can apply touches of that in your farmhouse industrial living room. Vintage decor can go a long way in elevating the look of your living room with just the addition of several elements. You can use the damask textile pattern on your walls to add a touch of the Victorian era.
Handmade Decor & Elements
For a more authentic farmhouse industrial style in your living room, use handmade elements for decor, as well as antique and repurposed elements. Add DIY elements and pieces of furniture, including drapes made from painters' clothes, barn light fixtures, and floating shelves using old pipes.
Industrial Farmhouse Living Room Furniture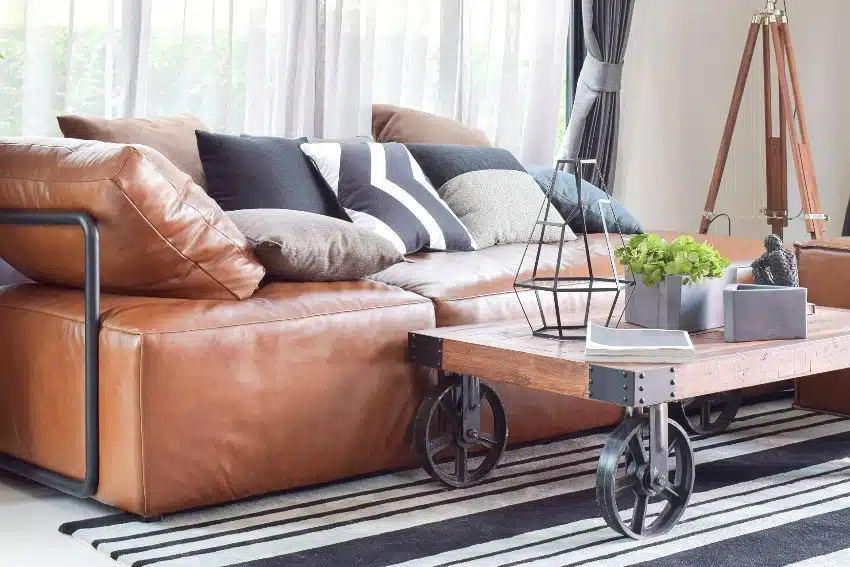 The pieces of furniture you add to the living room will help you spruce up the space to have that industrial farmhouse style. If you want some suggestions and ideas for your living room furniture, here are some that will add functionality and aesthetics to the space.
You can scout the flea market for authentic vintage and old-school pieces of furniture or you can DIY them and use materials with a worn and lived-in look like reclaimed wood. This is one of the best things about the industrial farmhouse style. Some of the furniture you can look for are the following: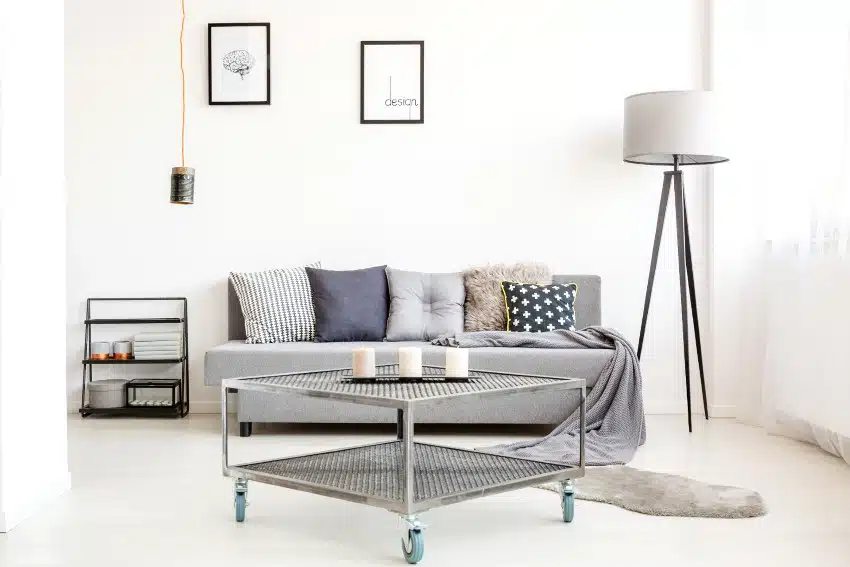 • Open shelves with dark metal brackets
• Barn door matte black cabinets
• Black metal frame partitions
• Reclaimed wooden coffee tables
• Metal bookcase
• Fainting couch or chaise lounge
Industrial Farmhouse Living Room Decor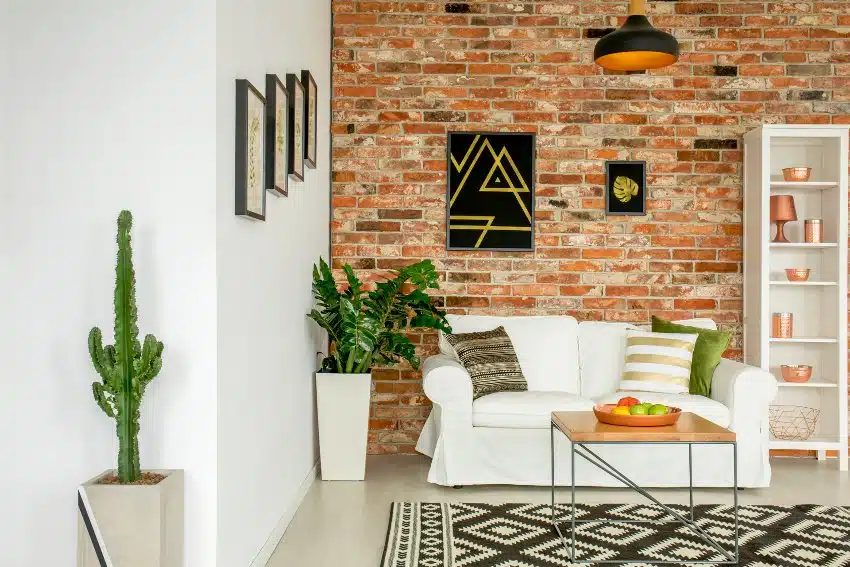 One of the ways to stay true to the style is to use raw and worn materials. Metal decor works wonders in the industrial farmhouse style. There also needs to be a rustic touch in the living room, which you can accomplish through vintage portraits.
Another way to ensure that you stay true to the industrial farmhouse decor is by choosing handmade and repurposed elements. Use materials that can provide that vintage factory ambiance. Use reclaimed wood, exposed bricks, and piping as part of your living room's decor to achieve this.
Farmhouse Vs Modern Industrial Farmhouse Design
The traditional farmhouse design focuses on simple and bare aesthetics, offering a warm and nostalgic vibe that you will usually see in rustic style.
A modern industrial farmhouse design, on the other hand, offers more cool and clean elements. Farmhouse design can take you to rural areas while modern industrial farmhouse design is a city style.
The key elements of the farmhouse and the modern industrial farmhouse design may have similarities and differences. Here are some that are worth taking note of.
Key Elements of the Farmhouse Style
• Materials: Repurposed or new but natural materials with rugged and weathered look
• Color Palettes: Warm neutral tones
• Structural Elements: Exposed brick walls, ductwork, wiring, piping, and open floor plan
• Architectural Fixtures: Warm and cozy texture
• Aesthetics: Rustic and inviting vibe
• Accessories: Elegant and sculptural details with minimalist and geometric decorative elements
Key Elements of the Modern Farmhouse Style
• Materials: Repurposed or new but natural materials with rugged and weathered look
• Color Palettes: Dark neutral colors
• Structural Elements: Exposed brick walls, ductwork, wiring, piping, and open floor plan
• Architectural Fixtures: Clean and strong solid lines
• Aesthetics: Cool vibe with a bit of warmth
• Accessories: Metallic details, including stainless steel and wrought iron accents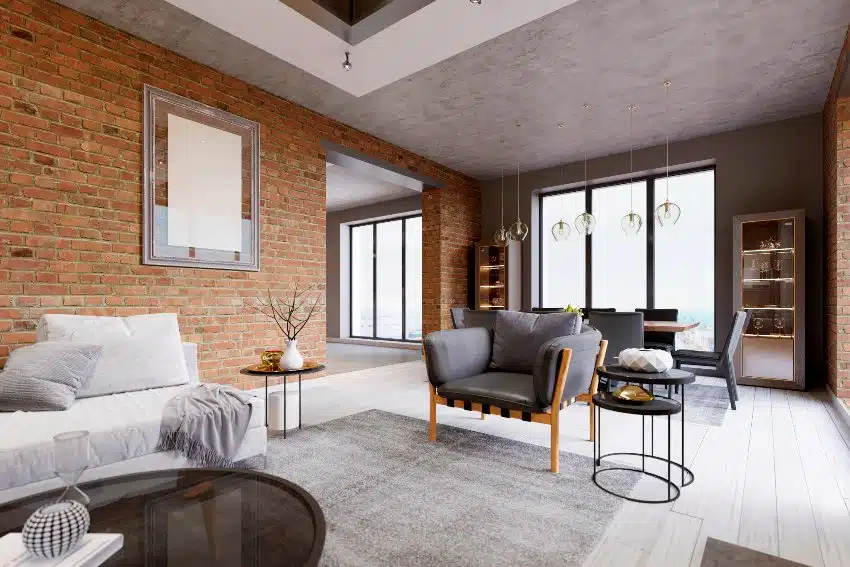 Both farmhouse and modern industrial farmhouse designs commonly use neutral color palettes. The big difference though is that while the former style tends to use warmer neutral tones like white, greige, off-white, and taupe, the latter uses darker tones like gray, brown, and black.
When it comes to accent colors, both styles prefer bolder and darker shades, including navy blue, deep red, and mustard yellow. These colors add that unique pop you would need to make the aesthetics look more interesting.
Both farmhouse and modern industrial farmhouse designs make use of raw materials but the latter tends to use more metal elements and accents to assert that industrial style addition to the design. This gives the trendy look that many homeowners would usually refer to as lacking from the traditional farmhouse style.
If you want that more modern look complete with sleek and clean lines, choosing the farmhouse industrial style will be an incredible option to explore. With this mixed style, you will bring something from the past while at the same time staying trendy and current in style.
Visit our gallery of homes with modern farmhouse designs for more interior & exterior ideas.