Here we share brick wall living room design ideas including popular paint colors to match your room's style.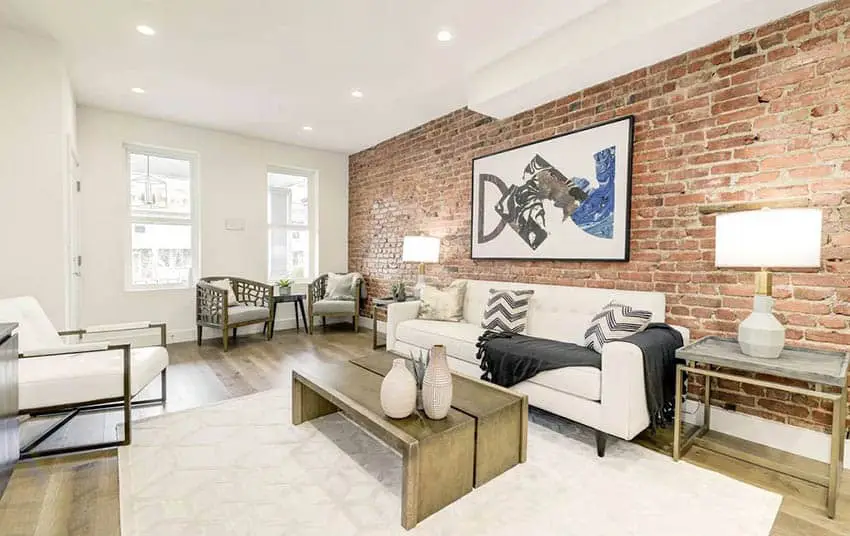 Brick walls have been around for a long time, and was a common sight especially in older homes or buildings. When drywalls, pre-fabricated walls and building blocks weren't invented yet, the ol' brick wall was a necessity. Nowadays, you can still see them in older buildings, as well as buildings that wants to retain that old world look. Oftentimes, you can also see bricks being used as a decorative & aesthetic element in interiors, adding a sort of rough and rugged appeal to the space.
There many contemporary ways to install or apply brick finish to your living room. Methods and techniques vary, as well as materials, depending on the look you want to achieve. Brick walls are often used as accent walls, usually behind the sofa, the wall of the fireplace (real or otherwise), or even the TV wall. The depth and texture it gives instantly sets an attractive focal point in the space.
Bricks are one of the materials that have proven their timelessness. Not only do they look good, but they are also sturdy, which is why older buildings still have their original brick masonry intact! No matter what the style of color scheme of your space, a brick wall will surely be a great additional feature.
If you have a modern space that mainly uses white or any light colors for the walls and furniture, a red brick wall is an excellent choice to add contrast and texture to the space. The example above uses the home's original vintage bricks to give it rough, imperfect edges and create visual interest.
Exposed Red Brick Wall Living Room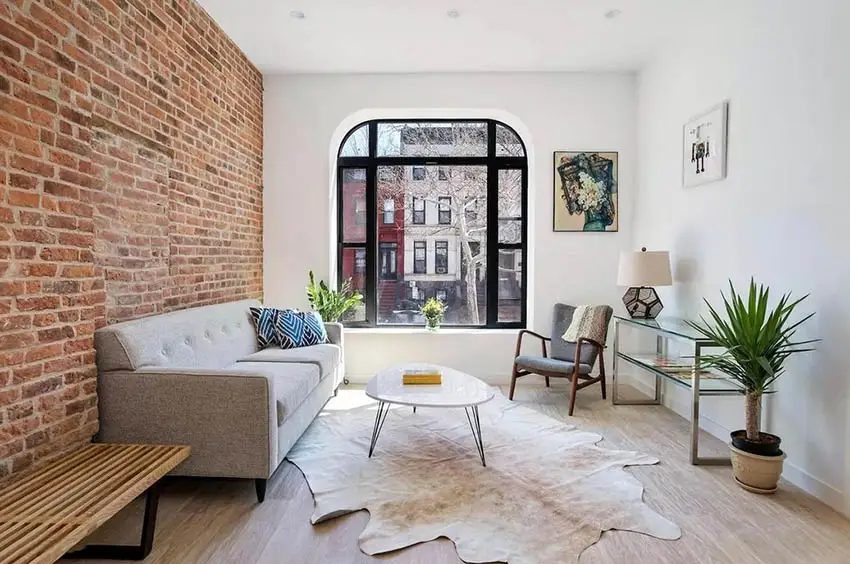 Exposed brick walls are often left unfinished, showing their natural color. Depending on how old or new your bricks are, and where the material is sourced, your bricks could be a bright terracotta color, or a more washed out red or orange. These bricks are often used as accent walls, and works well in spaces that mainly uses whites or other subtle colors. Bricks are also often painted over, allowing just its texture/pattern to be seen through.
You might be surprised what you'll find on your walls when you tear down plaster walls or cement on old buildings. This small apartment living area pictured above has been transformed into a perfect 'instagrammable' space just by exposing its original brick walls. The white-painted walls and the light laminate flooring looks gorgeous paired with the red bricks and the simple, mid-century modern furniture pieces.
Living Room with White Brick Wall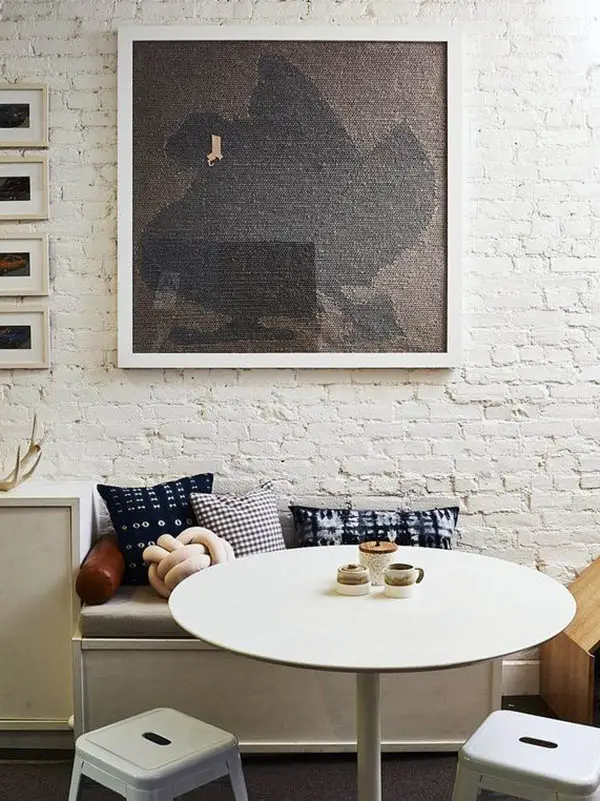 The rough, imperfect texture of this white-painted brick wall adds more style and attitude to this small nook in the living area. Painting the bricks white allowed the space to keep its white and gray color scheme, creating a light and refreshing atmosphere.
For spaces with colorful schemes or furniture pieces, white-painted brick walls are often used. For a little bit of contrast, you can also use gray or black painted bricks, to make light colored pieces stand out. Other popular colors used over bricks would be yellow/cream colors and mint. There are many different combinations you can play around with to make your brick walls work for your space! Just remember that you color choices will affect the overall look of the space!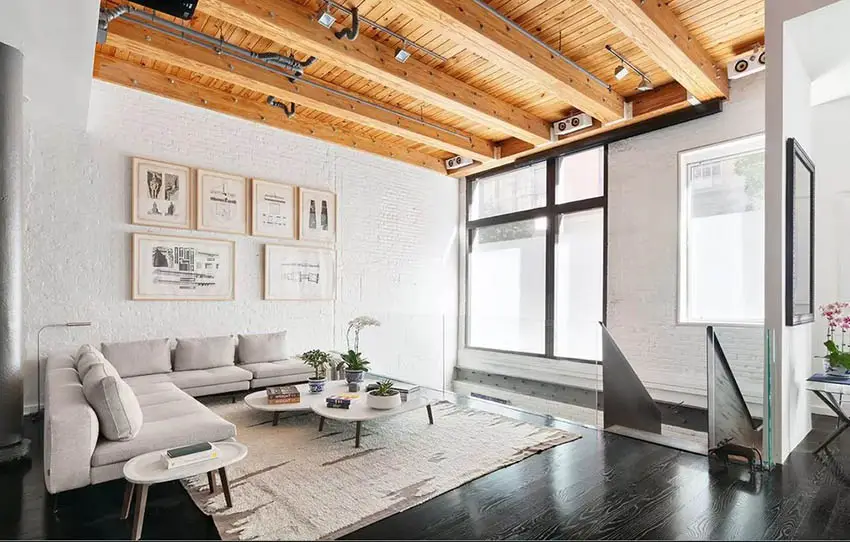 White-painted brick walls is a popular feature in mid-century style spaces, and modern spaces in general. As seen in this example, the white-painted bricks allows the unique brick texture to shine through. while keeping the wall surfaces subdued to help the furniture pieces stand out in the space.
If you have existing wall paint that you would like to keep, you might wonder what paint colors go well with exposed bricks. If you have white walls, then it's a no-brainer that it would look good with exposed bricks.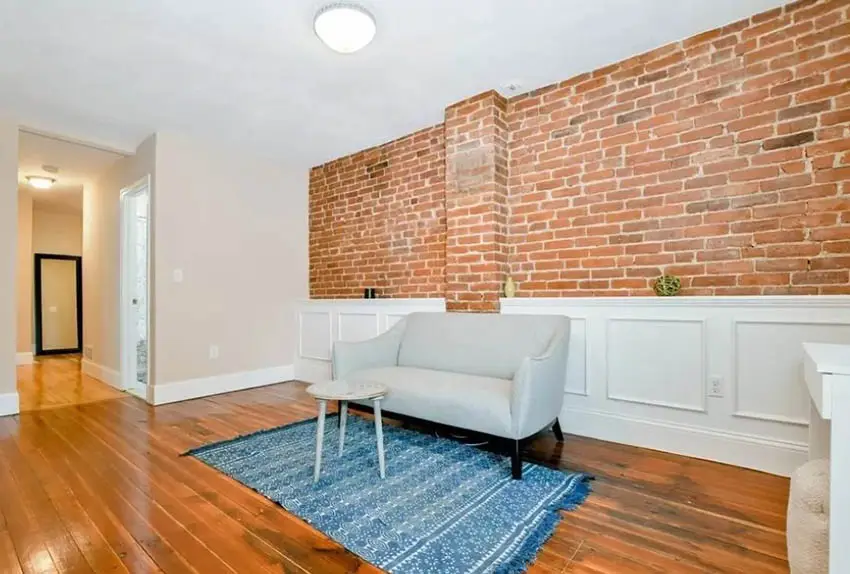 This living room adds a touch of elegance to its exposed brick walls by adding some wainscoting wall panels. This ties up the whole look together and also makes adding convenience outlets easier. Pairing beige wall paint with red bricks is also a cohesive design choice.
The colors that would complement exposed bricks, however, depends largely on the color of you bricks. Because bricks are made out of clay, its color will vary depending on your location. You will have to determine the dominant color of you bricks, and determine its perfect pairs from there. Here's an easy guide you can follow.
Reds – exposed bricks that have primarily red undertones work well with whites, light cream colors and cool greens
Beige/brown – yellow-toned bricks go well with neutral paint colors such as taupes and grays. Both warm and cool-toned neutrals would work well.
Brick Wall in Living Room with Fireplace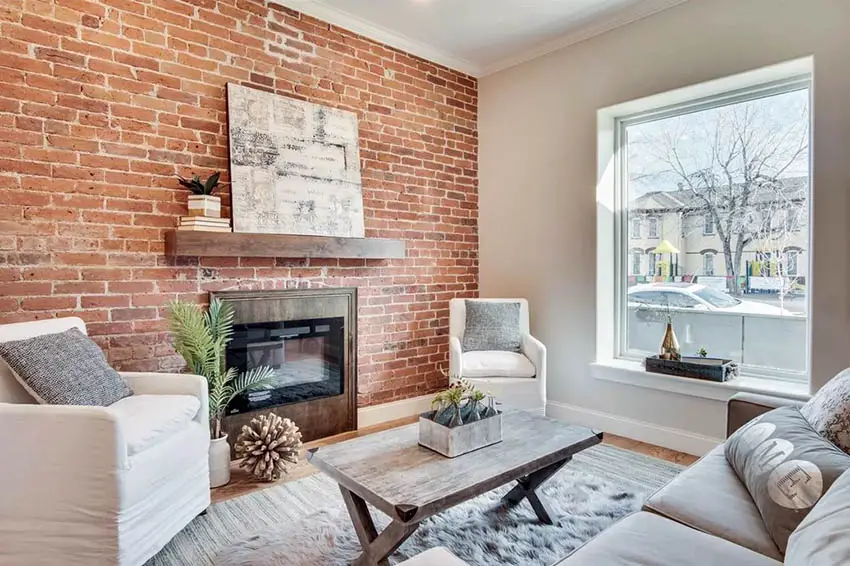 Bricks are known for their fireproofing capabilities, so they are often used on exterior walls, and around fireplaces. Which is why most old fireplaces would most likely be made out of bricks. Bricks are very easy to decorate, as the material in itself already brings attention. Artworks, framed or unframed, really look extra appealing placed on brick walls, especially with excellent lighting.
You can easily add bricks to any modern space. The country style living area above installed thin cladding bricks on the walls of its electric fireplace and wooden mantle to make it the focal point of the space. The natural red color of the bricks gives it a warmer and cozier vibe.
Brick Accent Wall Living Room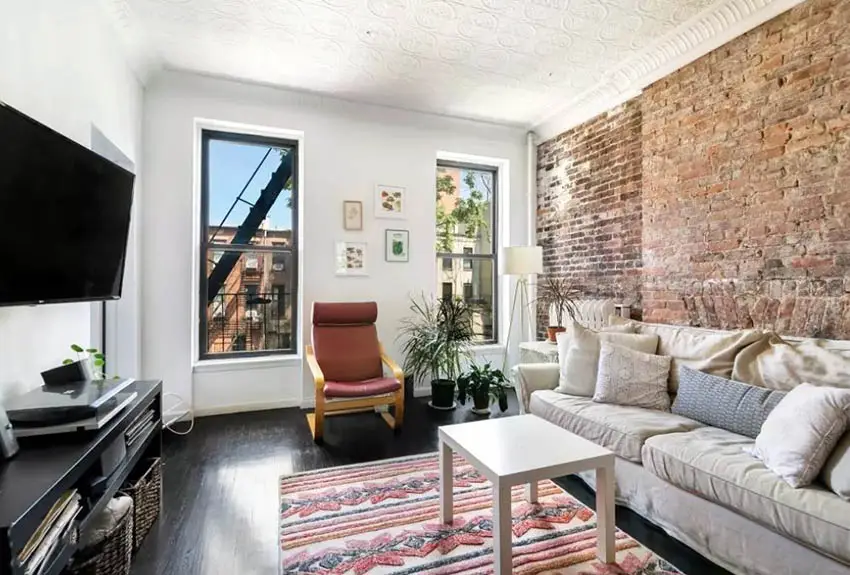 Finding beauty in imperfections is what makes design so fun and interesting. Uncovering gorgeous brick walls from layers of plaster and making it the defining characteristic of the space, easily gives you a conversation piece in your home. The uneven surface and varying colors of the bricks adds a nice touch of texture and contrast to the simple color scheme of the room.
The many grooves/spaces between bricks also make it very convenient to place nails or screws, so you will also find wall-hung shelves on brick walls. Over-all, bricks may seem a little intimidating at first, but it's a pretty easy material to work around with. You can apply it to a whole wall, or just apply it to certain areas, either way, bricks would instantly create a focal point in any space.
Faux Brick Wall in Living Room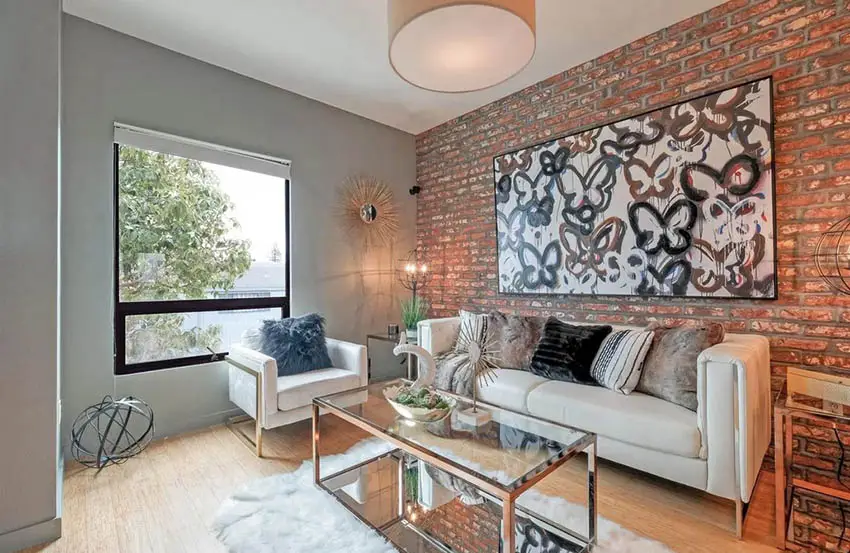 If you want to add that brick wall look but your apartment doesn't have the right walls to install one, or you don't want the mess involved with brick-laying, you can opt for a really realistic-looking brick wallpaper just like this modern living room did. The bricks also complements the orange tones in the painting placed on it.
If you'd like to achieve a realistic brick wall look, but you don't want to bother with the installation process of real bricks, there are many faux brick options available which you can use depending on where you want to apply it. Here are some faux brick options you can consider for your living room:
Brick wallpaper – excellent quality brick wallpapers would definitely look like the real thing when installed properly. For walls not exposed to excessive heat or moisture, wallpaper would be a good alternative and would be faster to install. There are also textured wallpapers available if you want to give it a little more realism!
Faux brick panels – if you want a more 3D effect, but want the installation ease of wallpapers, you will find faux brick panels on your local hardware stores or even online. These panels come in different sizes and usually made from MDF or foam boards, and has a relief texture that mimics actual bricks. They usually have interlocking seams so that it installs seamlessly.
Brick ceramic tiles – available in most hardware stores, faux brick ceramic tiles can come in varying sizes and color options. This is a great choice if you're installing it in areas prone to water/moisture exposure. Try to choose interlocking style bricks so that the seams would look natural.
Brick veneers – the most popular type of brick veneers would be the Z-Bricks. They are basically thinner pieces of bricks used for facing/aesthetic purposes. They are lighter than normal bricks and doesn't require a metal framing to install.
DIY methods – there are many different DIY methods for faux bricks using different materials. The most popular ones include the use of putty or joint compounds, cut MDF boards and even styrofoam.
Most of these faux brick options, except paper wallpapers and foams, can be painted or whitewashed. Please use the correct paint materials according to your substrate to achieve the best results!
Modern Living Room with Brick Wall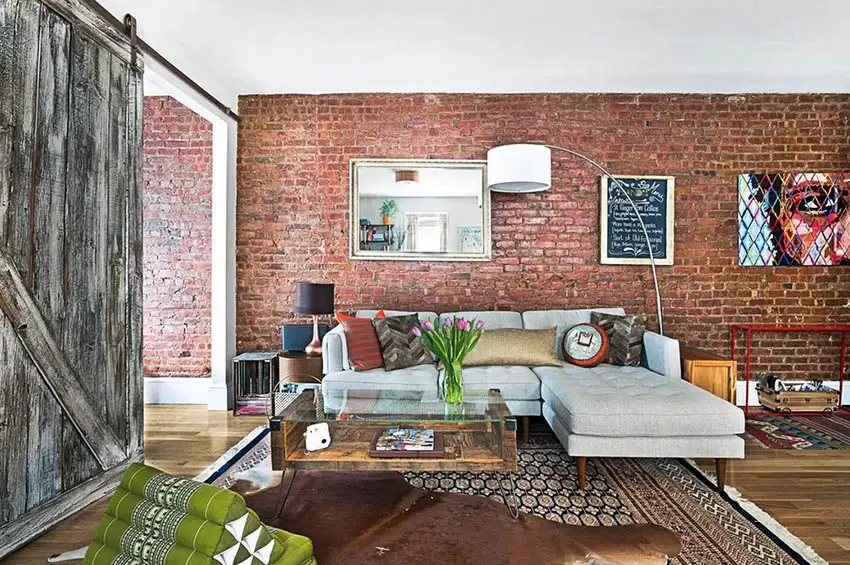 One style that particularly looks good with brick accent walls would be Mid-Century modern. The light, simple and cozy silhouettes help tone down the texture-heavy surface of brick walls. Mid-century spaces tend to use white walls a lot, so adding a brick wall will add a bit of variety in textures. The natural wood accents of the barn door and flooring really tie the brick design together for a cohesive look. See more examples of living rooms with barn doors here.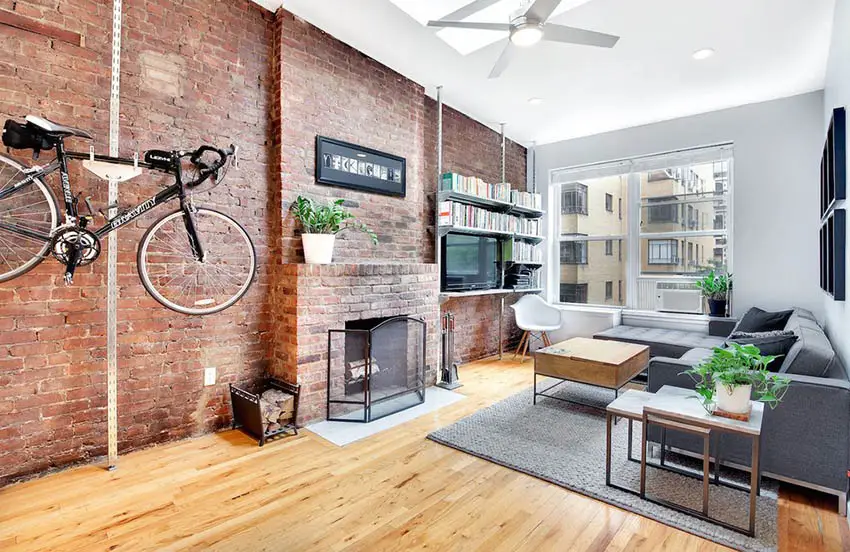 Mid-century modern style apartments definitely maximizes the charm of terracotta brick walls. The accent wall features a fireplace, TV and a hanging rack for bikes, making it the main feature of the living room. The terracotta red bricks complements the soft tones of the modern furniture pieces and enhances their simple charm.
Traditional Style Brick Wall Living Room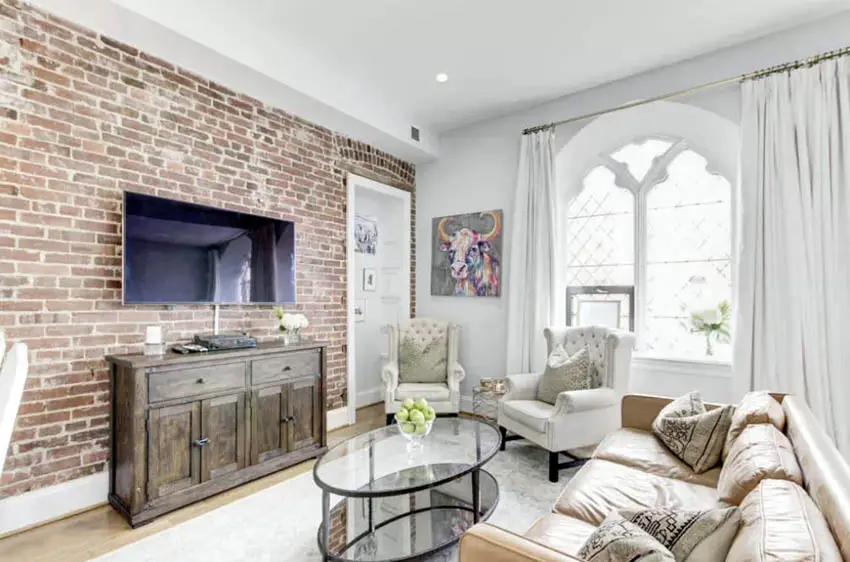 Classic style living rooms with white walls and arch ceilings, combined with washed brick walls creates a really cozy and laid-back atmosphere. The brick wall serves as a great accent wall that complements the clean and simple lines of the living room area.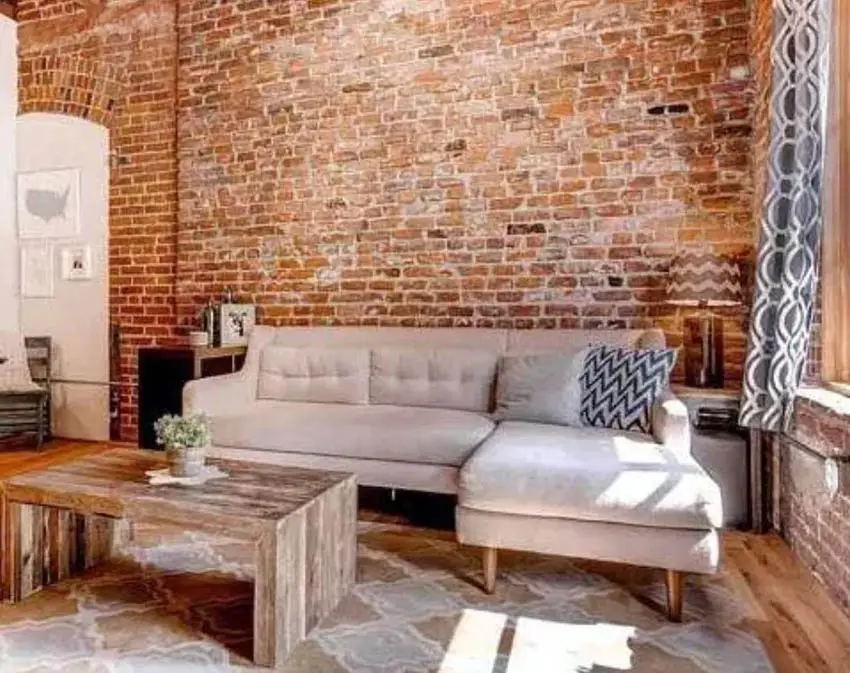 Going for a rustic mid-century vibe, this living room kept the original red brick walls of the space intact. Coupled with a combination of modern and rustic furniture pieces, the space evokes a unique atmosphere.
Small Living Room with Exposed Brick Wall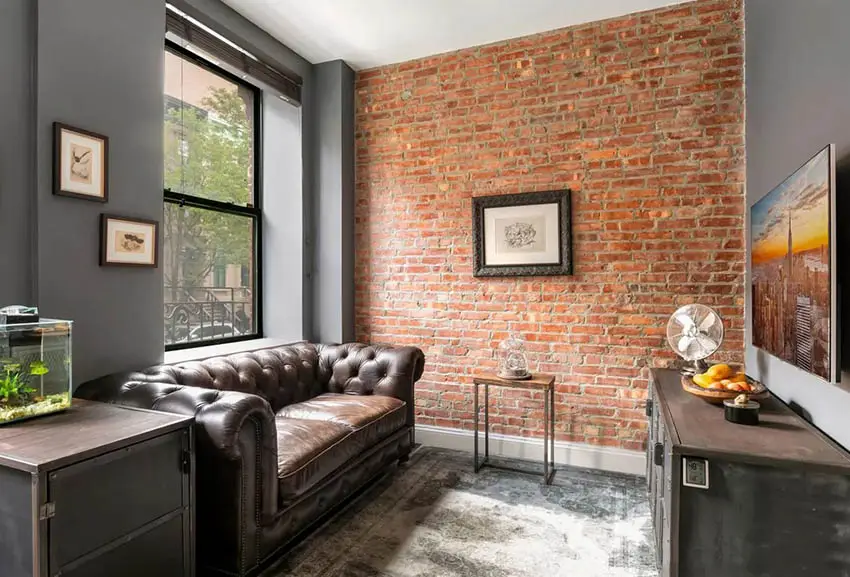 A dark gray wall paint can make an attractive design when paired with an exposed brick wall. This small living room uses dark wood and leather furniture to give it a masculine style.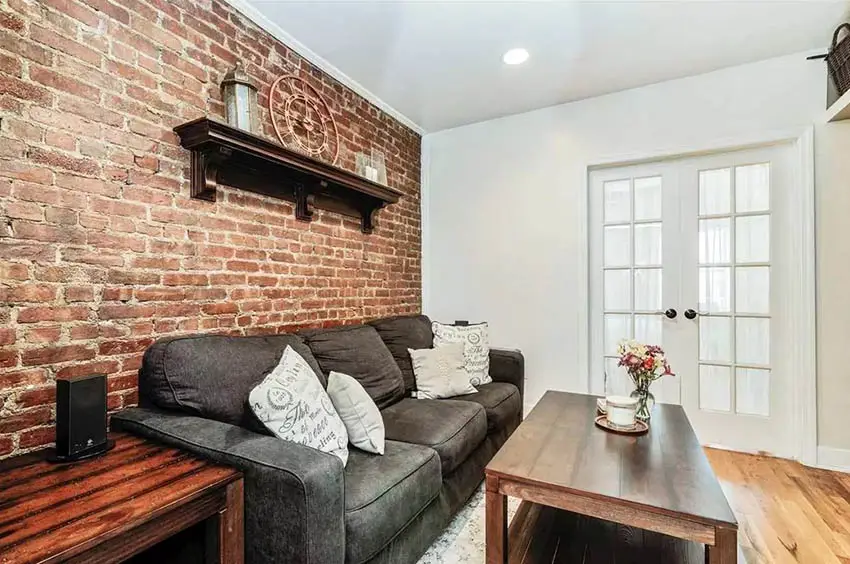 This small living area goes for a laid-back ambiance with a rustic touch. It combines natural brick walls with wood finishes and a soft plush sofa to balance out the hard surface textures. A small wooden shelf with a neoclassic look was also installed, giving you extra display space.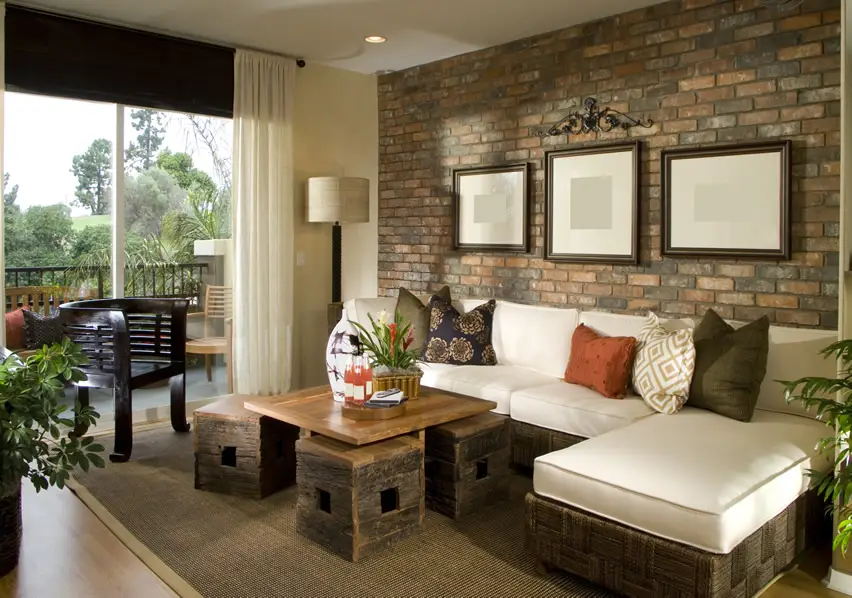 Instead of red terracotta bricks, the accent wall of this resort-style living area uses multi-colored brick tiles, which imitates the natural color variety found in natural stone bricks. Unlike terracotta bricks, the colors are more subdued and earthy, matching the natural wood finishes of the furniture.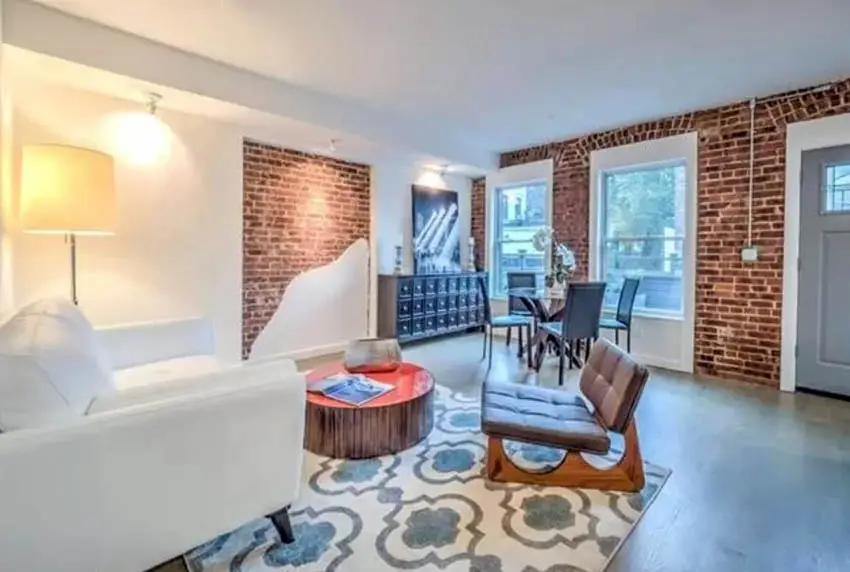 This tiny living room stripped down the plaster on the walls to reveal the red bricks underneath. But instead of removing a whole wall, only select parts of the wall were exposed, and the rest were left as plain walls. For this room, the walls where the doors and windows are has the exposed bricks, allowing us to see the structural details of the bricks.
Loft Brick Wall Design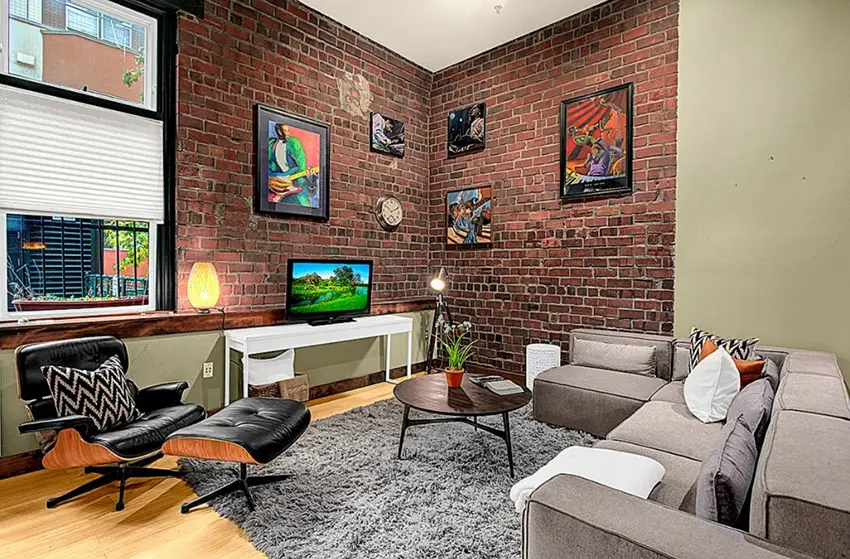 Bold red terracotta bricks is an excellent material of choice when you want an art wall that will stand out. This loft living room uses bricks perpendicular walls, creating a small art wall corner. The bright modern artworks look even better placed against the rugged brick walls, and it also complements the simple modern furniture pieces used in the space.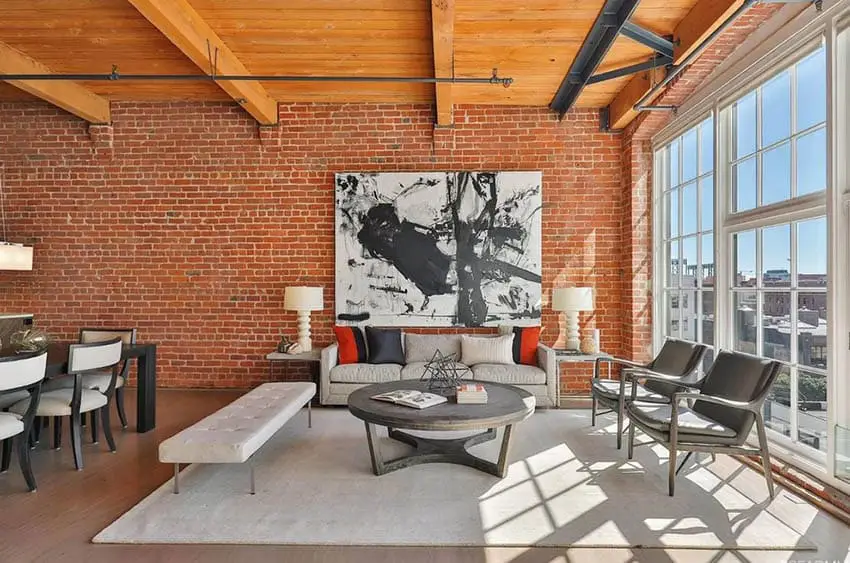 This loft living room benefits from high ceiling and large windows to create a bright environment that helps keep the brick wall from looking too dark.
White Washed Brick Wall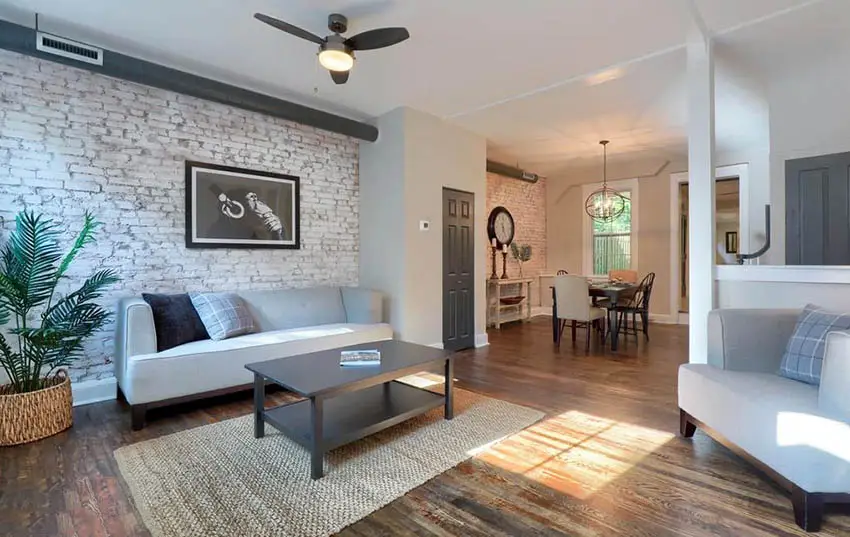 The imperfections and strong textured in the white washed brick wall is a testament to its natural age. The strong texture is toned down with the white paint and complements the simple silhouette of the modern furniture pieces used in the living room. See white washed brick fireplace designs here.
Black Brick Wall Living Room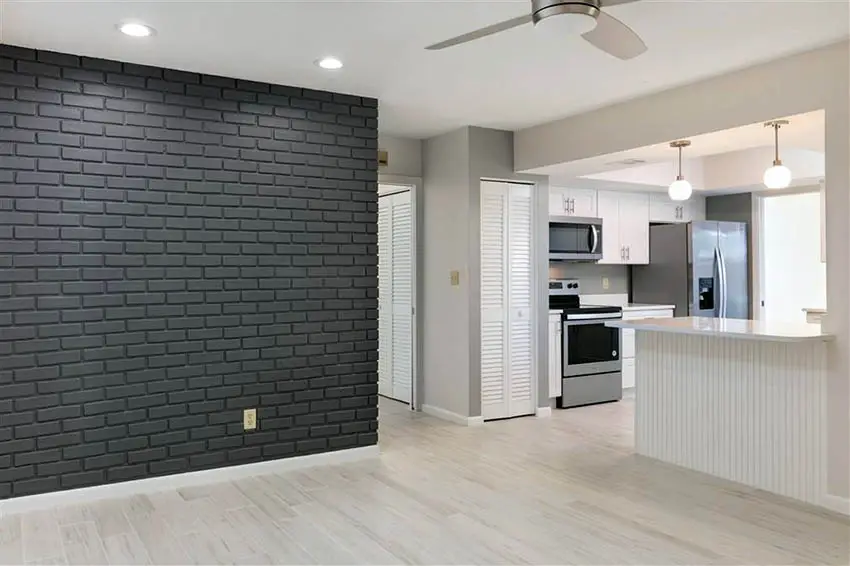 If you have a gray and white color scheme on your walls, a black-painted brick wall would be a good option for your accent wall. It gives your space a bold statement wall that will definitely make whatever you place against it stand out.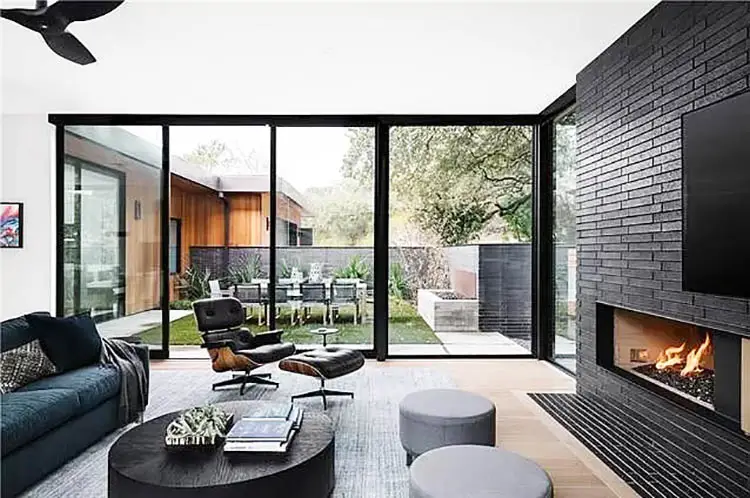 The brick-clad fireplace wall was painted in a matte black color to match the very sleek masculine feel of this modern space. The bricks used has clean edges and were installed very symmetrical to be consistent with the contemporary aesthetic. See more black brick fireplace designs here.
Gray Brick Wall Living Room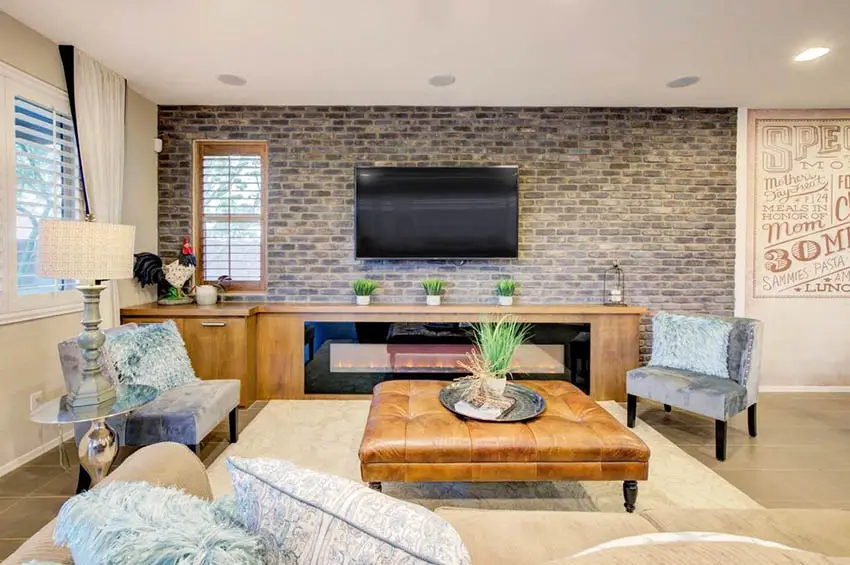 Gray bricks is also a nice option if you want add a more outdoor-like feel to your living room. These bricks are also available in thinner profiles which is perfect for cladding/decorative purposes like accent walls. This example makes use of thin gray bricks on its TV wall. The gray bricks matches the gray furniture pieces and is a nice complement to the warm brown pieces in the space.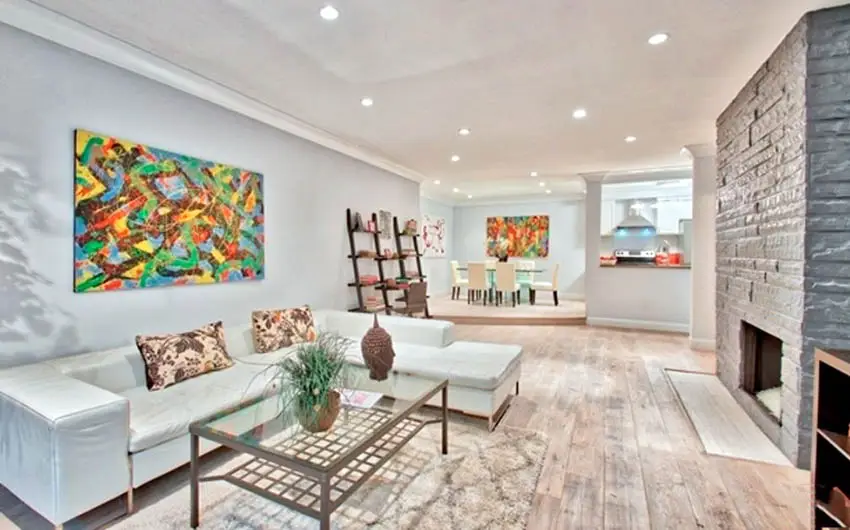 Gray brick ceramic tiles can easily be found in the market and is easier to install than brick tiles. This is a great alternative for modern spaces looking to find a way to add a textured wall in their space while keeping the modern aesthetic.
Stacked Stone Brick Wall Ideas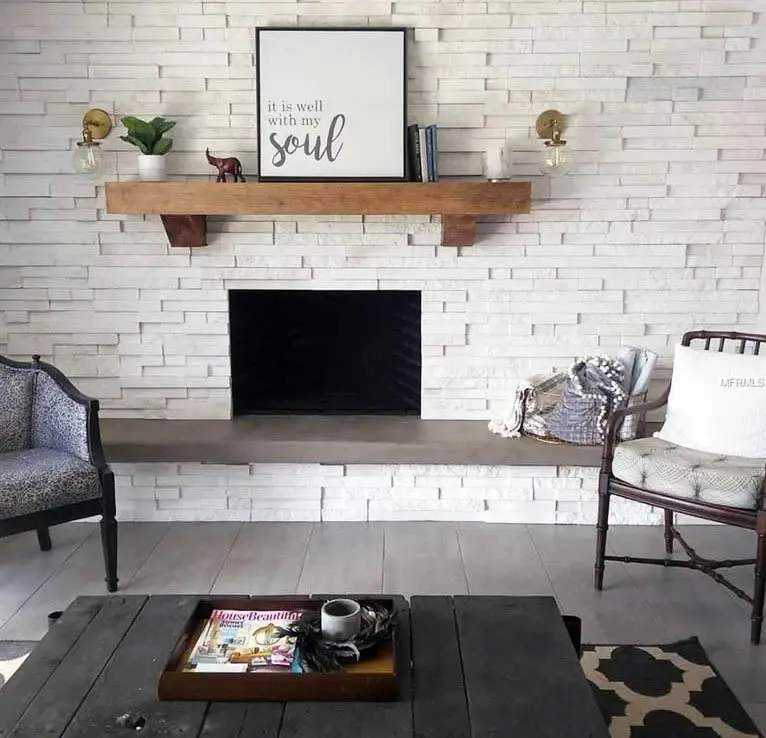 White slate tiles is also a great alternative if you don't want to deal with the complicated installation process of traditional bricks. Slate tiles come in different sizes with pre-arranged random widths and thickness of slate, adding more texture and depth to any surface you apply it on.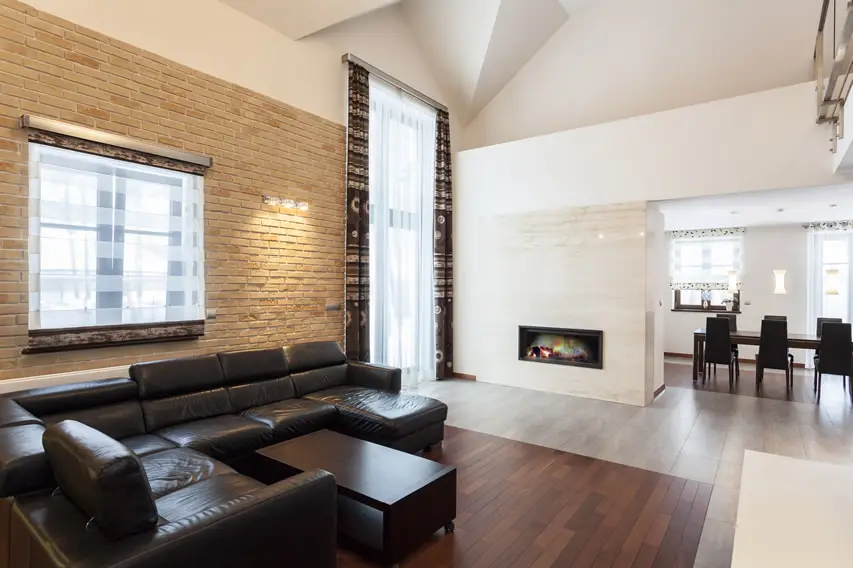 If red terracotta or painted bricks isn't your style, you can also consider cream-colored bricks. Although not as common, cream bricks adds the same texture and depth to the space, but has a naturally neutral color that matches any style.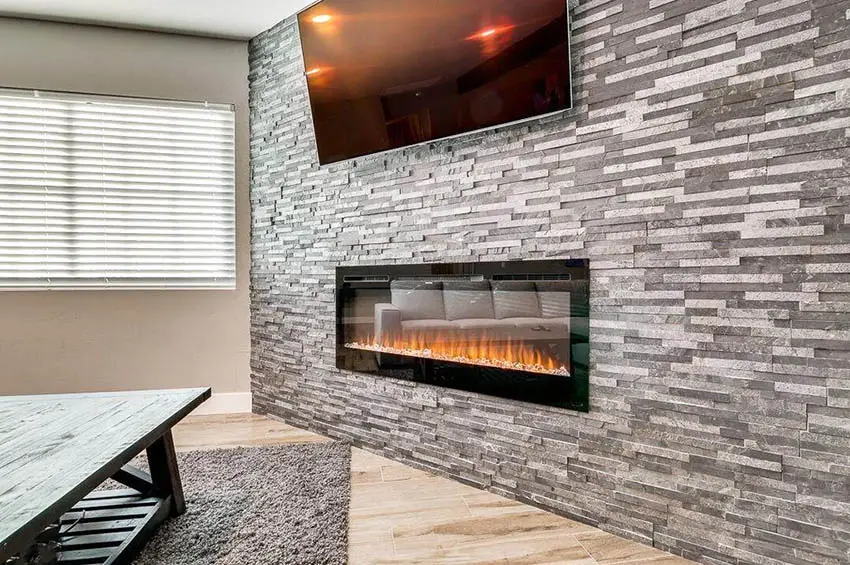 Black slate tiles is another great alternative to actual clay bricks. They also add a natural texture and depth to any wall and can be applied both indoors and outdoors. Slate tiles specifically look really good in modern spaces, so this material is the best choice paired with the electric fireplace and wall-mounted TV installed on the walls.
Painted Brick Wall Interior Fireplace Ideas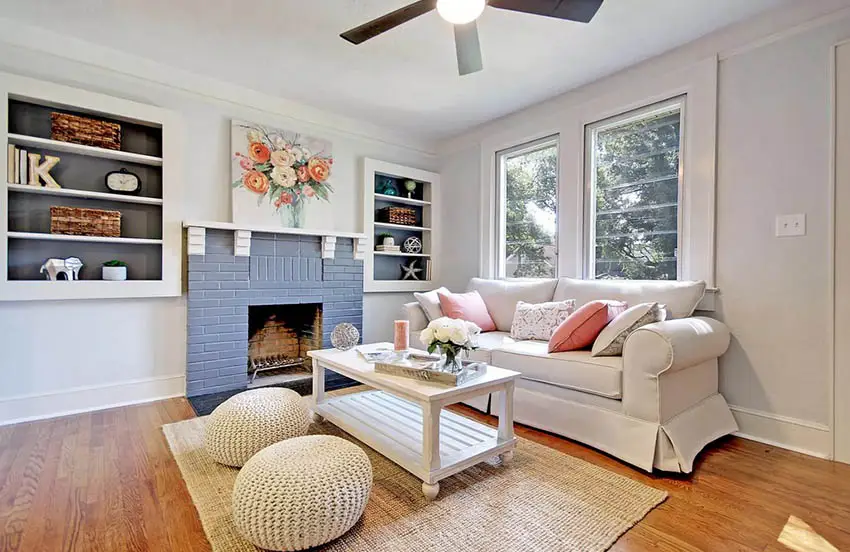 Using bricks for the small fireplace area adds a subtle rustic touch to this Country style living room. The bricks were painted in slate gray to give it a more modern vibe that matches with the overall look of the space. For more information on how to clean a brick fireplace check out this page.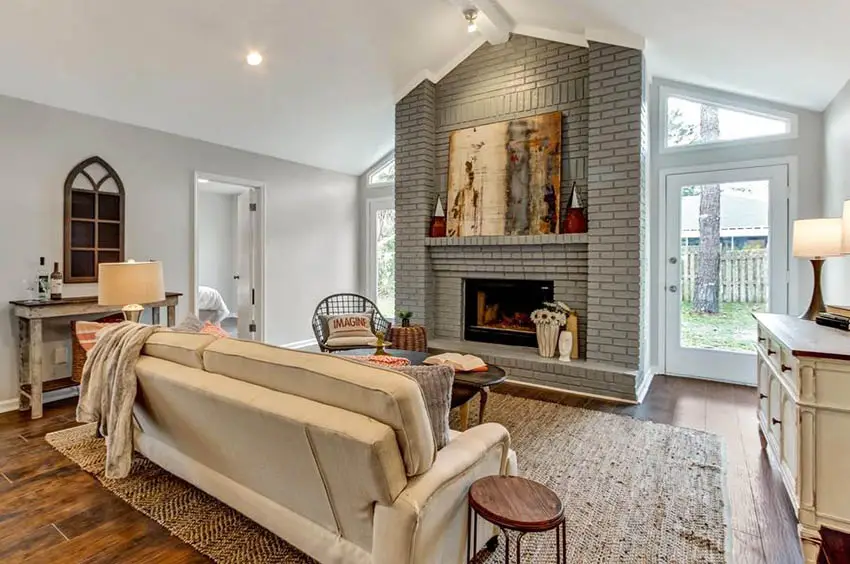 The use of gray-painted brick tiles on this fireplace all definitely makes it standout, even against gray walls. The added depth and texture of the brick-clad mantle already makes this small space the focal point of the living room.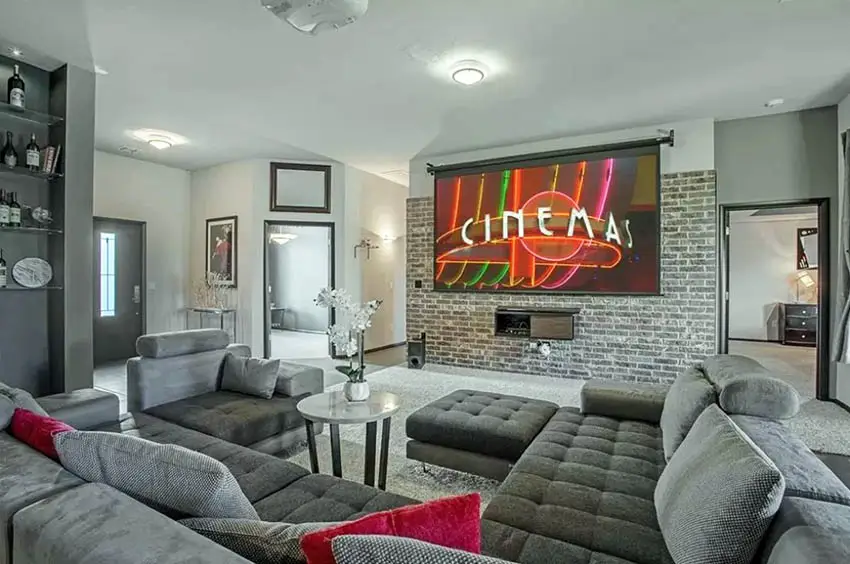 These washed bricks are actually ceramic tiles that has a 3D texture, giving the effect of a real brick wall, but less of a pain to install. This is a great alternative for those who would like to achieve the look without having to spend too much downtime for the installation and curing of bricks.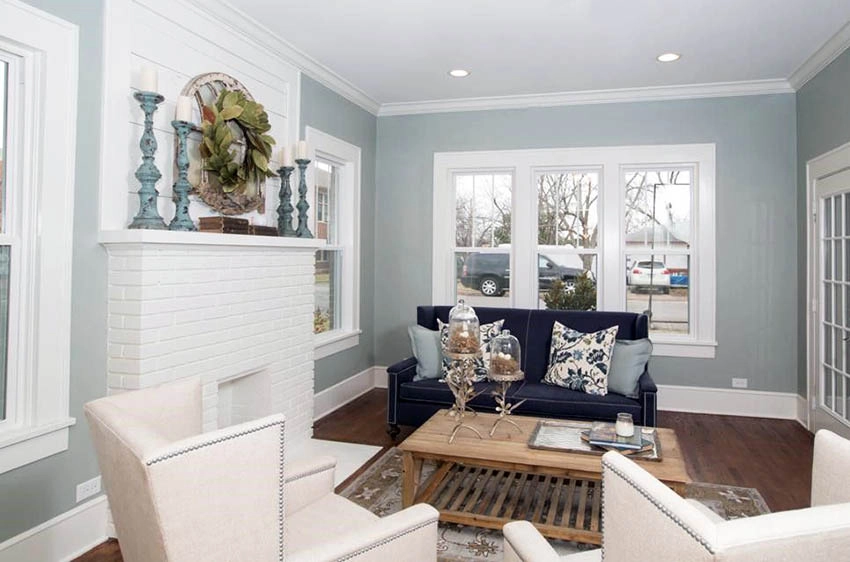 You don't always have to cover a whole wall with bricks. This example shows the fireplace area clad in bricks and painted over in while to add just the right amount of subtle texture in this classic style living room with French doors.